Donor appreciation events are an absolute stroke of genius for two reasons:
They improve donor retention. 46% of donors leave if they do not feel appreciated or valued by nonprofits.
They serve as excellent platforms to market your nonprofit organization. It allows new donors and other supporters to witness the number of people who support your organization and how they do so.
In addition to these two reasons, this image highlight why a donor appreciation event is a good idea to pursue–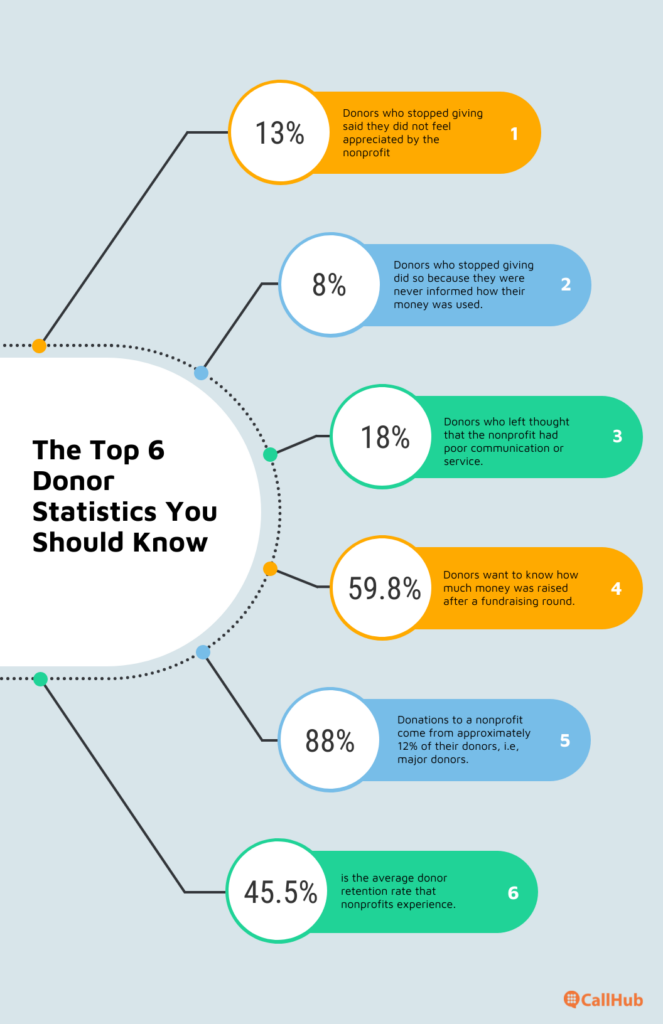 For these reasons, you must plan and organize your donor appreciation events to the best of your ability. This blog aims to help you with just that. Read on.
Ideas for donor appreciation events:
It is essential to nail down exactly the type of donor appreciation event you would like to conduct. Once decided, you can begin planning the rest of the steps around it and holistically approach your strategy.
Here are some in-person and virtual donor appreciation events that you can organize–
| | |
| --- | --- |
| In-person events | Virtual events |
| Unveil a donor recognition wall. | Host a live-streamed event, such as a movie night. |
| Inaugurate a new center. | Host an online networking event for donors. Allow donors to speak about why they support your organization. |
| Host a dinner. | Let the beneficiaries of your nonprofit activity talk about your impact on their lives during a virtual event. |
| Host an awards ceremony. | Host a virtual auction. |
| Organize a fair. | |
| Host a 'spend a day with' event where donors can spend a day with people impacted by their donations. | |
| Host an improv show, stand-up special, etc., to make the night entertaining and relaxing for donors. | |
Once you get your team together and brainstorm these donor appreciation event ideas, it is time to begin planning.
Read Also: Donor Recognition Ideas: 10 Creative Ways to Thank Donors
How to host a donor appreciation event?
We've listed all the steps to ensure you have a successful donor appreciation event. They are–
Starting with the basics.
Budget planning.
Creating a schedule.
Inviting speakers and guests.
Dividing roles and responsibilities.
Creating a follow-up strategy.
Let's explore these in detail.
Starting with the basics
To begin with; you need to determine a few basics while you are planning your event. These include–
Why are you hosting the event– Understanding the larger goal of the event– whether it is a means to thank donors, retain high-value donors, attract new ones or market your nonprofit– goes a long way in determining all other decisions. Your budget, involvement, and activities you conduct during the event will all be determined according to the goal of your event.
Who to invite– Do you want to invite major or legacy donors only, all your donors, or make it an open event for anyone. Making it an open event will get newer people to donate to your organization, while an exclusive event can make your high-value donors feel special.
When to host the event– Decide on a suitable date that will most likely be convenient for your donors. A good date will not coincide with a long weekend, festival, or important community event. Select a date and start setting timelines for all your tasks.
Where to host the event– A good event venue can make or break a deal. Ensure your event venue is easy to reach, accessible, and has basic facilities that will positively impact the donors.
How to get the word out– Marketing your donor appreciation event needs to be a top priority when planning the event. An event to appreciate donors is an investment on the part of your organization to retain and attract more donors. A good marketing strategy will further boost this goal.
Additional goals for the event– Apart from appreciating donors and marketing your nonprofit, a different goal could be to raise money for a new initiative, involve donors in other projects, etc. Once you work these out, you could develop ideas such as setting up a kiosk to let donors know about new initiatives.
You May Also Like: How To Create Donor Recognition Levels For Your Nonprofit Today
Budget planning
A budget is one aspect of event planning that can go out of hand pretty quickly if you do not keep an eye on it. Determine the budget your nonprofit organization is willing to set aside for this event and split it into different expense categories.
You will need to budget for –
Creatives and invitations
Marketing and outreach
Event venue
Food and beverages
Entertainment if any
Hires or volunteers if any
Creating a schedule
Your donor appreciation event needs to be planned and executed in the most detailed manner. It will be one of the most significant events in the annual calendar for your nonprofit. You want to leave donors feeling great about your organization.
One way to ensure that donors are impressed is to create a schedule for the event and stick to it. Depending on the type of donor appreciation event you are hosting, you need to accommodate time for–
Welcome speech
Other speeches, if any
Main event and entertainment
Thank you address to donors
Food and networking after the event
Read Also: Donation Incentives: The Right Way To Use Them And Raise More Money
Inviting speakers and guests
Want to attract new and repeat donations? If you are strategic about it, then the speakers and guests that you invite will do the job for you. They can act as social proof for donors that your nonprofit is a trustworthy organization.
Invite speakers and guests who believe in your organization's work, have previously donated to you, and will say nice things about you on stage. Here are a few considerations for this stage of event planning–
Who is ideal for reaching out to– An expert in your field, major donors, trustees, etc.
How to invite them– Reach out to them via direct mail, through mutual contacts, a personal visit to their office, etc.
Other logistics– Do you need to arrange for their transportation, food, stay, or any other requests they may have.
Dividing roles and responsibilities
Pulling off an excellent donor appreciation event is a team effort. Knowing who is responsible for which department within the organization boosts coordination and ensures you have all areas covered. Here are a few roles you need to assign–
Outreach team.
Host team.
Finance and sponsorship team.
Marketing team.
Event hosting.
Creating a follow-up strategy
Once you're done planning the event, you need to create a follow-up strategy. A follow-up strategy can–
Help you collect feedback from donors about the event.
Serve as an opportunity to speak to visitors and new donors.
Allow you to pitch a new fundraising initiative.
You can collect feedback from donors by conducting telephone surveys, text messaging, or building online forms. You can also get event attendees to fill out forms in person at the end of the event by placing a desk at the exit.
Share an email with highlights of the event to all your contacts, make social media posts or send a thank you email to donors for attending. These are some ways in which you can market your event.
For a detailed guide to planning your donor appreciation event, you can also read our article 4 Major Steps to Plan Your Next Fundraising Event, which gives you event templates you can follow.
With your event planning in place, there are some do's and don'ts you must follow to ensure your event goes on smoothly and gets you the results you expect.
Important Dos and Don'ts for donor appreciation events
We list important dos and donts for your donor appreciation event that you must follow.
The do's that lead to a kick-ass donor appreciation event
Turn your event into a party
Appreciation events are all about being less formal, talking to donors, getting to know them, and spending a fun evening together. In other words, turn your event into a party!
Promote the event
Advertising your donor appreciation events early helps you build interest and hype around the event. Make follow-up calls and send out text reminders to confirmed attendees 2-3 days before your event. And keep people posted on social media too.
How to promote your event:
Social media– Create events on Facebook, share posts on social media platforms, and create a countdown story on Instagram.
Texts- Share text messages with donors reminding them of the event. You can even share links via text messages so that they can RSVP.
Calls– For high-value donors, ensure you are running a calling campaign to personally reach out to them and invite them to the event.
Personal invites– Personal invites are a great way to promote your donor appreciation event to trustees, sponsors, supporters, and donors.
Encourage board members to play an active role
Encourage board members to officially welcome donors. Have them engage donors in personal conversations and introduce donors to each other. Keep the conversation casual without alluding to any kind of ask.
Pay greater attention to large donors
Your recurring and major donors need special attention. Before your event, find out who they are, why they have given to your organization, and any other information that can be used as a conversation starter. Put down the list and assign it to your staff, volunteers, and board members, so they don't forget to talk to them during the event.
Follow-up with all your attendees
Within a week of your appreciation event, send thank you messages to attendees. Promptly and personally thanking attendees is essential to cultivating the relationship you established at the event. Your no-shows should get a message describing the event's impact to motivate future participation.
Read Also: Donor Recognition: Best Practices to Nurture Donor Relationship
The don'ts that contribute to event awesomeness
Most nonprofits send impersonal invites to all donors
Donors catch on to the fact that they're just another name on a list if you blast them with a generic invite. The time spent segmenting and personalizing your event ask can have a huge impact on donor loyalty and, therefore, their willingness to accept your invite. Take the time to tailor your ask.
You stick to a single channel to deliver event invitations
Emails are a great way to provide prospects with every detail around the event. But the average open rate of 20 – 40% means that more than 60% of them don't see your beautifully crafted invite. Compliment your email campaign with a multichannel approach that uses text messages, phone calls, and social media to ensure that prospects hear about your event.
Read Also: Donor Appreciation Letter: Everything You Need To Know To Craft The Perfect One.
You're not using the opportunity to sell branded products
Having a branded product that your attendees can wear or sip out of for the next few months does wonders for your brand awareness. You don't have to actively hawk merchandise, but having a stall at the venue is a good way to get more traction from your event (plus raise some funds).
You forget to convey the impact their gifts have made
Most donors (87%) who attended an appreciation event say it positively influenced their decision to give again. This is because of two things:
Nonprofits tell donors how they intend to use their gifts, and
Donors get the opportunity to learn what their contributions are achieving.
Use your event to drive home the impact of attendee donations.
Do not outline future involvement opportunities
In addition to celebrating with donors, outline opportunities for their continued engagement with your organization. Encourage donors to be your organization's ambassadors in the community. Show them ways to contribute outside of a donation. Your goal must be to leave them more inspired, more committed, and ready to further engage with your organization after the event.
Ultimately, the purpose of your donor appreciation events is to get to know your donors on a personal level and drive home the impact of their actions. Keep these tips in mind while organizing your next event.
The way forward
Donor appreciation is one part of donor retention. CallHub has several resources to help you navigate your donor relations.
Read our article Demystifying Donor Retention & Strategies That Can Improve It to learn more about retaining donors.