If you thought email marketing for nonprofits is obsolete in this age of social media, think again.
A study shows that nonprofits that engage in email marketing:
See higher engagement with key supporters
Larger gift sizes
Increased levels of participation from volunteers.
With the pandemic restricting movement, email marketing becomes all the more important for nonprofits. Instead of letting COVID-19 set them back in time, nonprofits have increased email communication by 62%!
Let us look at the best practices and tools you can utilize to get the most out of email marketing for your nonprofit.
Why is email marketing important for nonprofits?
Marketing campaigns bring in volunteers, donors, and funds to sustain a nonprofit's cause. To ensure your appeals don't get lost in the void, you need to:
Utilize channels that people prefer to discover nonprofits
Use messages that appeal to them
Engage in channels that people prefer to communicate with nonprofits (which may be the same or different from how they found you).
Email marketing for nonprofits checks these boxes. Let's have a look at why:
Why email: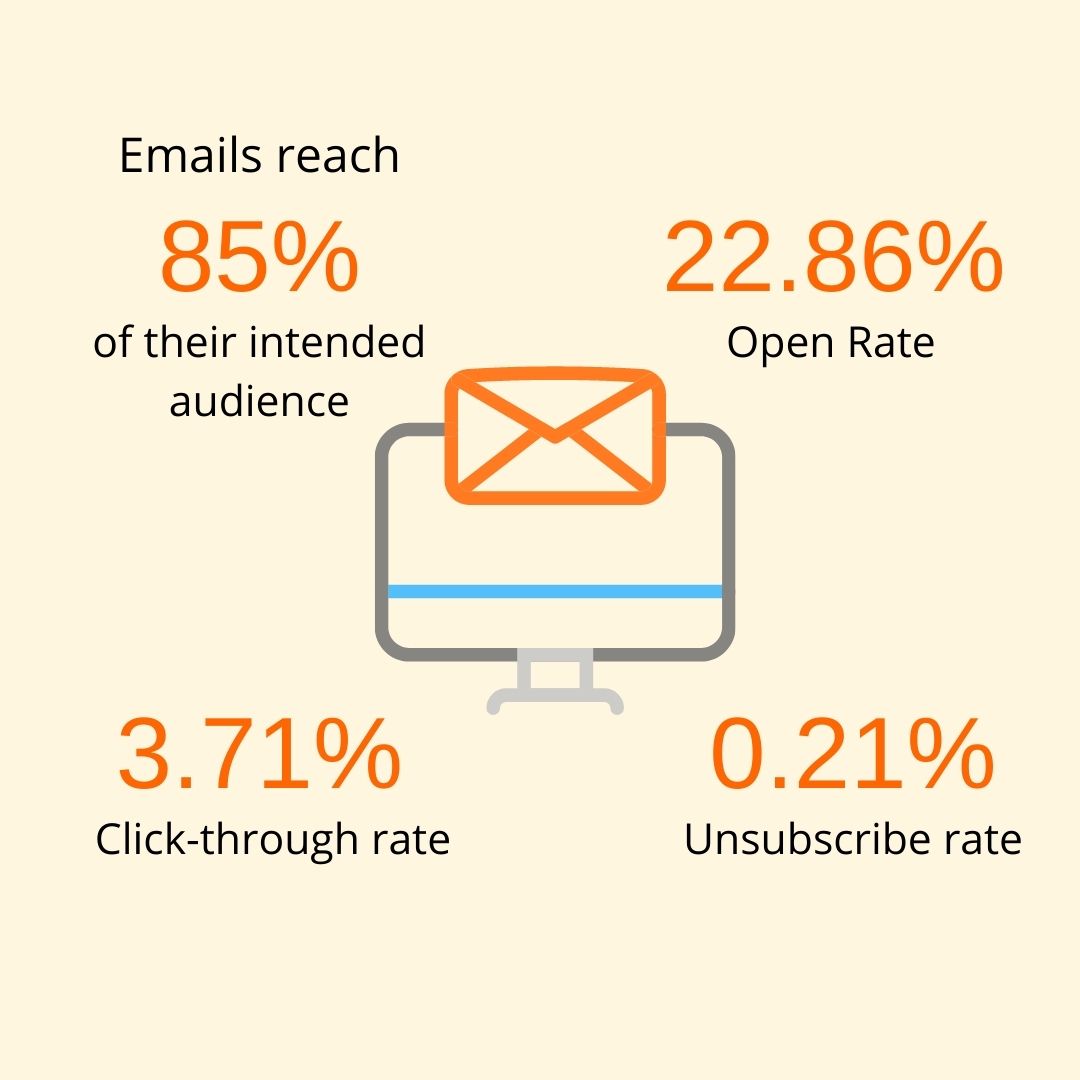 1. Discoverability: A study by Campaign Monitor showed that when it comes to online methods,
39.5% of respondents said they discovered the nonprofit of their choice on Facebook
27.5% said online research
22.3% said emails and
19.8% said Instagram.
Social media and online research require some initiative from people.
They will have to put in the effort to search for your cause (on Google) and even then you will need to make sure that you rank above your competitors.
Their connections should be actively engaging with your content for it to appear on their feed.
Their locations, interests, and search history must be similar to yours for your content to come up in their recommendations, and that is not always likely.
On the other hand, email marketing for nonprofits is your initiative and involves approaching potential supporters proactively.
2. Preferred mode of communication: About 42% of respondents in the Campaign Monitor study said that they prefer nonprofits to send emails for communication.
3. Drives donations: In 2017, 28% of all online nonprofit revenue was generated by email marketing for nonprofits.
Why marketing:
Now it's very well to use emails to communicate with your nonprofit's supporters. But why must you drive marketing through this channel?
Good email marketing for nonprofits or charities can:
Expand the base of recurring donors by taking them through a good nurturing flow
Nurture new donors or volunteers to retain them and get them more involved with the organization
Widen your reach within the community by sharing news and updates about your campaigns and encouraging participants to share them.
Help you raise funds when you make donation appeals in your emails and add prominent, user-friendly donation links/buttons.
Nonprofit email marketing best practices
The average person receives well over 121 emails daily! These also include business correspondence. But how does your nonprofit stand out from the chaos of an inbox? Here are some best practices you can adopt.
1. Build and segment your email list
In 2019, nonprofits reported an 8% decline in fundraising from email despite having an extensive email list.
So it is not about the number of emails you shoot into an inbox. The quality determines the success of your nonprofit marketing. List building for nonprofits is thus an essential prerequisite for a successful email marketing campaign.
Avoid buying lists, instead try to encourage people to sign up for the email list through pop-ups, sign-up forms across your website. This gives you a list of relevant leads who are genuinely interested in your content and would actually want to receive emails.
When you have a good email list, the next step is to segment it. Categorize your supporters into different segments (Donors/volunteers, prefer updates Vs. prefer stories, engagement) and stitch different email campaigns suitable for each segment.
Personalize. According to a study by Accenture, 44% of donors are willing to give 10% more donations if they can get a personalized experience in return. Addressing the donor by name, mentioning their donation history and the impact it created, etc. are small personal additions but go a long way. 
2. Diversify your emails
Your supporters should feel a sense of belonging when communicating with you. You cannot bombard them only with donation appeals.
Good email marketing for nonprofit organizations includes a mix of:
Updates and reports
Donation appeals
Volunteering opportunities
Feedback, surveys, and questionnaires
Newsletters
Donor recognition messages
Incentives (gift vouchers, coupons, etc.)
Beneficiary stories and donor testimonials
You can shuffle the order according to your audience's preference and your insights.
3. Make requests that resonate with the level of engagement
Consider this. You are at an art gallery, admiring this beautiful sculpture when a man introduced himself as a patron for struggling artists. You appreciate this, but the person asks you to join him with a contribution right away.
There was no opportunity to check his past work, impact, and build trust. You are most likely to decline this request.
The same goes for email marketing for nonprofits.
Your marketing emails must resonate with the level of engagement of your supporters. When a person has just joined your email list, start with building trust, and gradually climb up the ladder of engagement.
Include impact stories and ask them to follow your social media handles for more updates.
When they start following your accounts, ask them to share your stories on their social feed.
Those who frequently engage with you on your social media show a higher level of trust. Ask them to donate a small amount.
New donors can then be turned into recurring donors.
You can then request donors to volunteer or to increase gift size.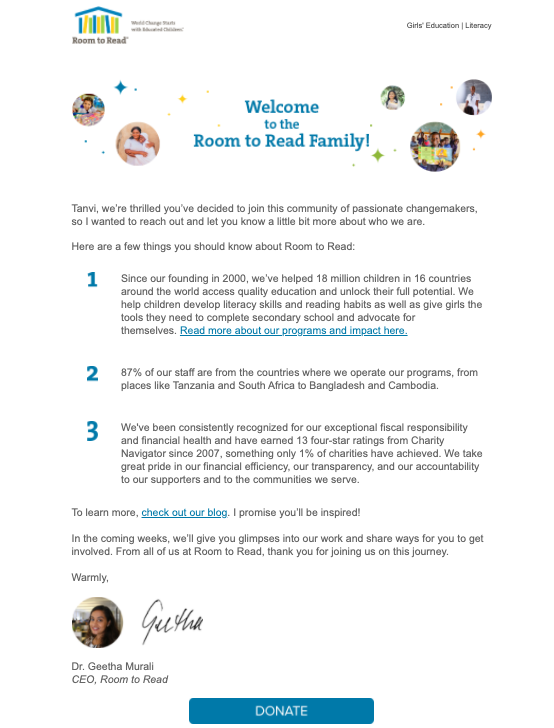 A welcome email by Room to Read, complete with an introduction, personalization, link to the domain, and CTA.It includes a link to a specific page (programs and impact) for readers on lower steps of the ladder of engagement.
For those with more engagement, the mail has a link to their blog (for further resources and readings)
And for those who already trust the organization, they have included a donate button at the end.
4. Craft compelling email copy
When it comes to email marketing, content is king. Here's a cheat sheet for a strong email: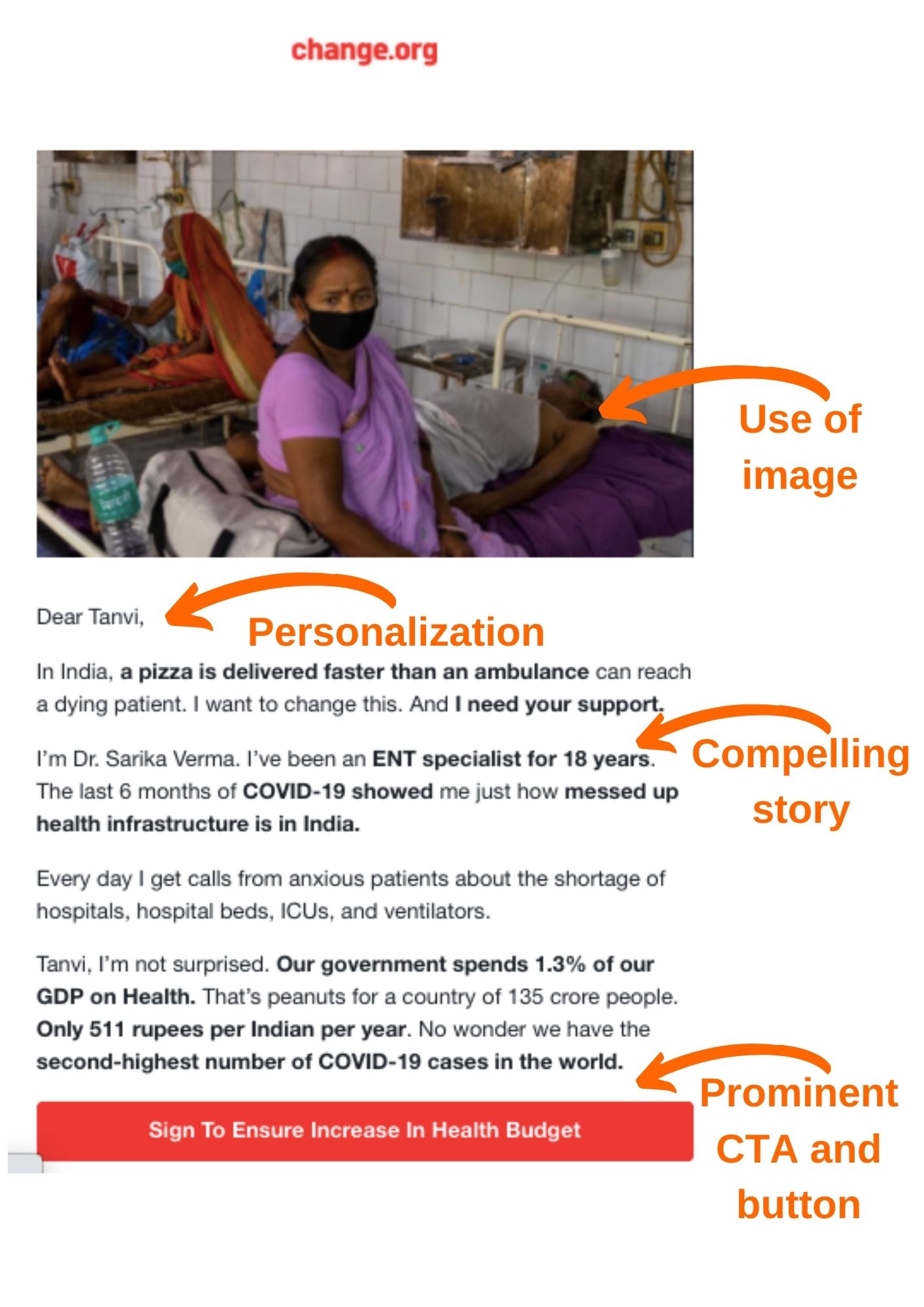 5. Ensure your emails have a mobile-optimized design
46% of emails are opened on mobile phones. Design your emails in a manner that is mobile-friendly so people can read them on the go.
Write short subject lines (mobiles replace part of long subject lines with ellipses (…).
Use a single font. Use bold, italics, or different colors, only to highlight.
Add prominent, clickable donation or sign-up buttons in the email body to keep the attention alive.
Use clear but medium-sized images. Large images are not mobile-friendly.
Make sure that the CTA leads to a mobile-optimized page for a graceful user experience.
6. Track insights and evolve strategies accordingly
A good nonprofit marketing plan involves tracking insights and trends as they happen. If a specific nonprofit email marketing strategy shows encouraging trends, you continue with it. If the results are unsatisfactory, you experiment with a new tactic.
Insights on email marketing for nonprofits involves tracking the following (and in this order):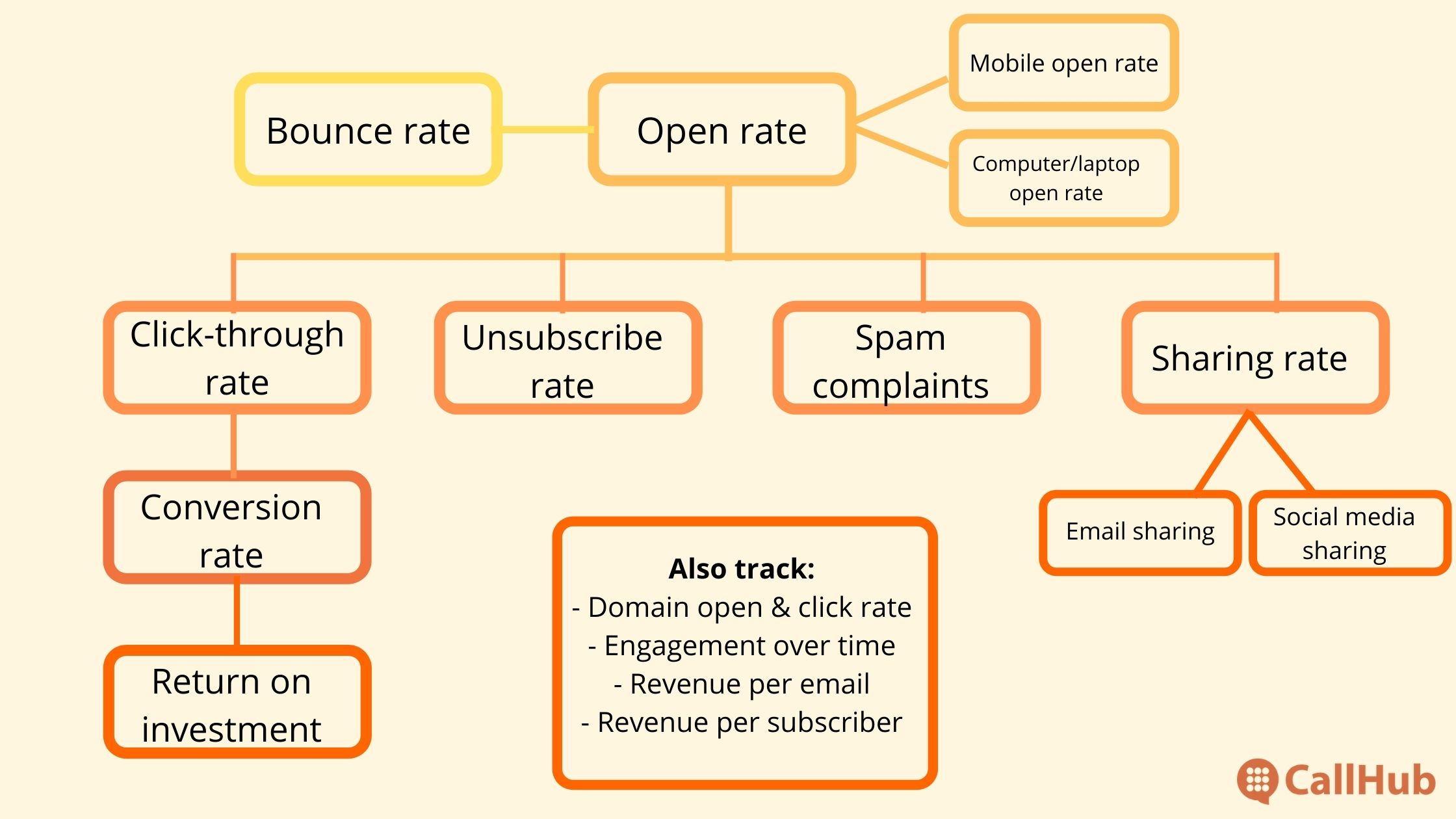 7. Use social media along with email
We have seen previously that social media enables a substantial number of people to discover nonprofits. Combining the reach of social media with emails can help you widen your reach without spending a bomb.
Share opt-in options on your social media handle, to get your followers to subscribe to your emails
Ask current email subscribers to follow you on social media as the first step on your ladder of engagement. Add social media handles and sharing buttons in your emails to encourage them to do so.
Use Facebook, Instagram, Youtube, and other social media to run fundraising campaigns. Share them via email with existing donors.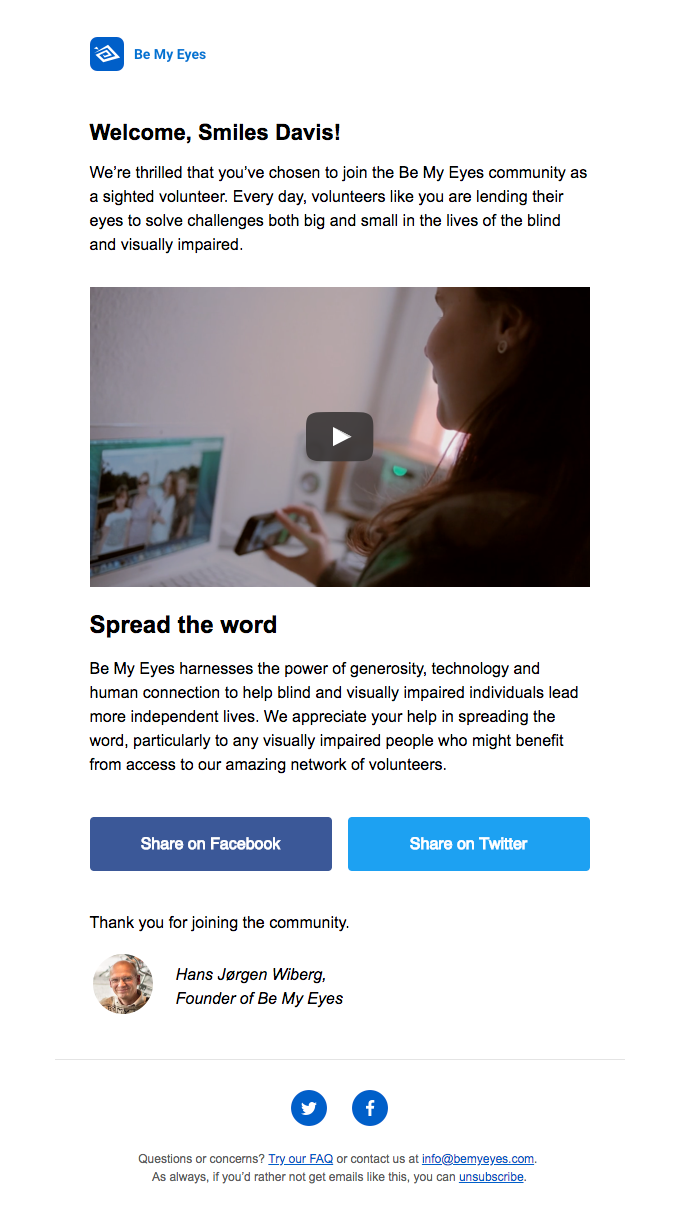 Related Reading: Social Media Fundraising: The All-in-one Guide
Types of marketing emails that work like a charm for nonprofits:
8 best nonprofit email marketing software
To ensure your email marketing goes smoothly and gets desired results, you need reliable and effective tools. Here are eight nonprofit email marketing tools you can use:
Mailchimp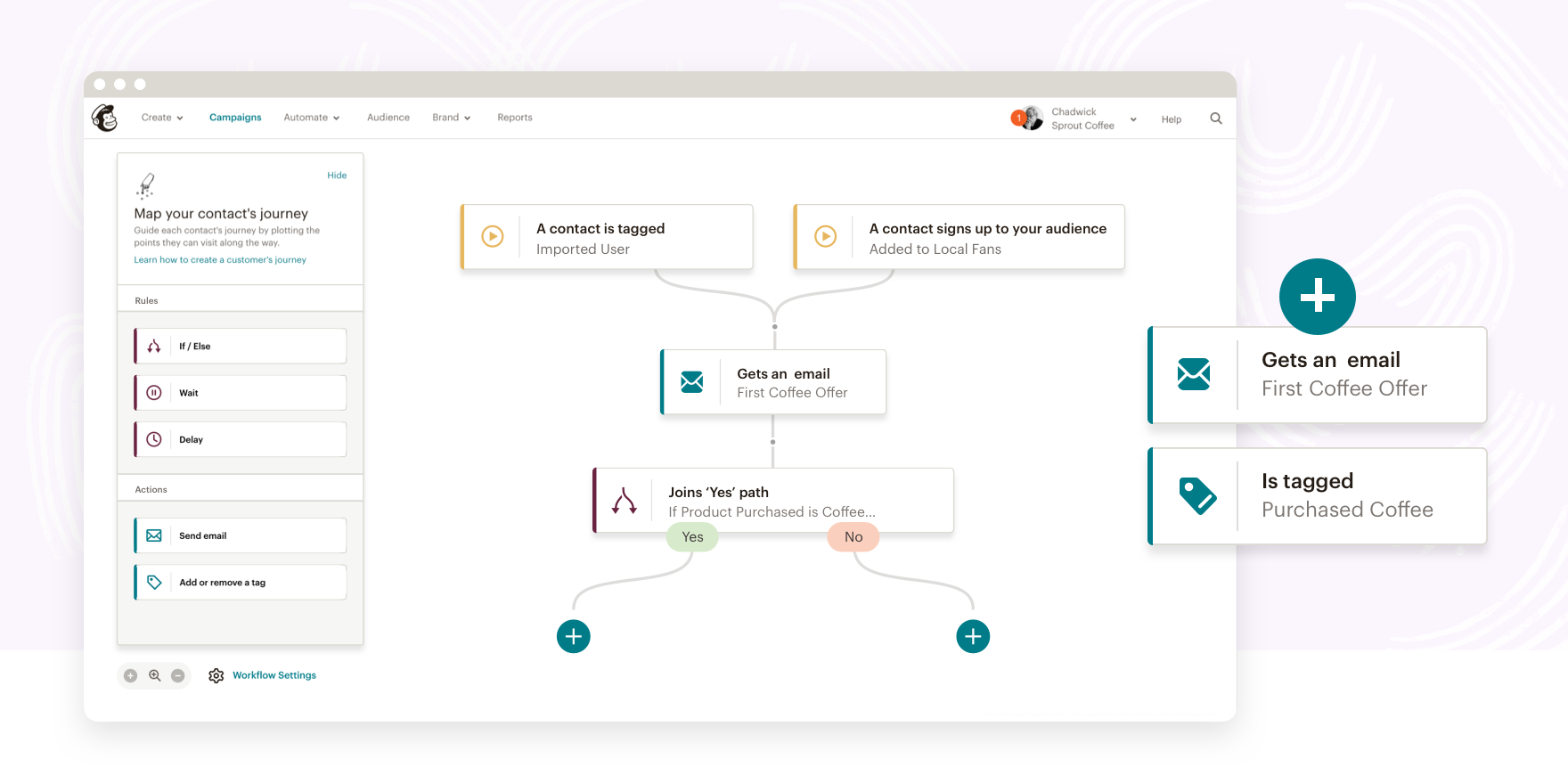 Notable Features:
Create custom sign-up forms with relevant fields you need for personalized, high-quality emails. Add the forms as popovers, embeds, or shareables.
Add triggers for automated messages. Mailchimp's sophisticated AI personalizes the automated messages.
Pave customer journeys to send relevant messages to the segmented audiences automatically.
Undertake A/B tests, learn from Mailchimp's database, track sales, audience growth, purchase likelihood, and more.
Active Campaign
Notable Features:
Broadcast emails to give shout-outs to all contacts. Follow them with triggered emails for those who open and respond. Email autoresponders ensure your supporters get a reply, always.
Email automation in Active Campaign guides you in nurturing new leads, so they turn into loyal supporters.
Test your subject lines, content, CTA, images, and sender info to optimize email marketing for your nonprofit.
20% discount for registered nonprofits.
Campaign Monitor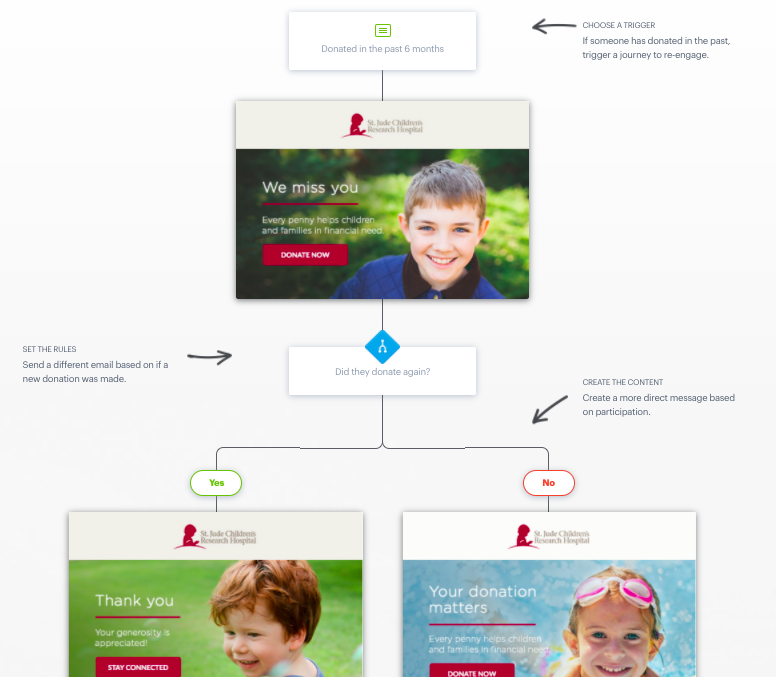 Notable Features:
Campaign Monitor is an email-creation tool for nonprofits that do not have professional writers or graphic designers on the team. You can choose from pre-designed templates to quickly compose an email.
Set automated emails to welcome new subscribers, send reminders, share offers, and more. Create customer journeys to retain new customers, nurture existing ones, and bring back potential attritions.
The email marketing tool offers a 15% discounted price for nonprofits.
Benchmark
Notable Features:
Benchmark offers RSS emails for nonprofits without code developers. For teams that prefer more customizations, they have an HTML editor too.
Email marketing is often full of experiments- right from subject lines to the CTA. The tool offers A/B testing options and insights to track what works for your audience.
Their contact database, list verification feature and white labeling let you send branded emails to high-quality contacts.
For beginners, Benchmark has a step-by-step practical guide to teach you the basics of email marketing for nonprofits.
Vertical Response
Notable Features:
Automated follow-up emails that help you increase reach and improve open-rates. Set a date, time, and a new subject line to resend emails to those who did not open the first one.
Some people prefer reading emails in the morning. Others, when they are returning home in the evening. Track such behavior and set up an automated email series for varying audience segments.
Integrations with CRMs like SugarCRM and Salesforce help you sync your contacts and build your email marketing upon them.
Vertical Response offers 10,000 free emails per month for 501(c)(3) organizations. If you are a high-volume sender, they give a 15% discount on monthly plans.
SendX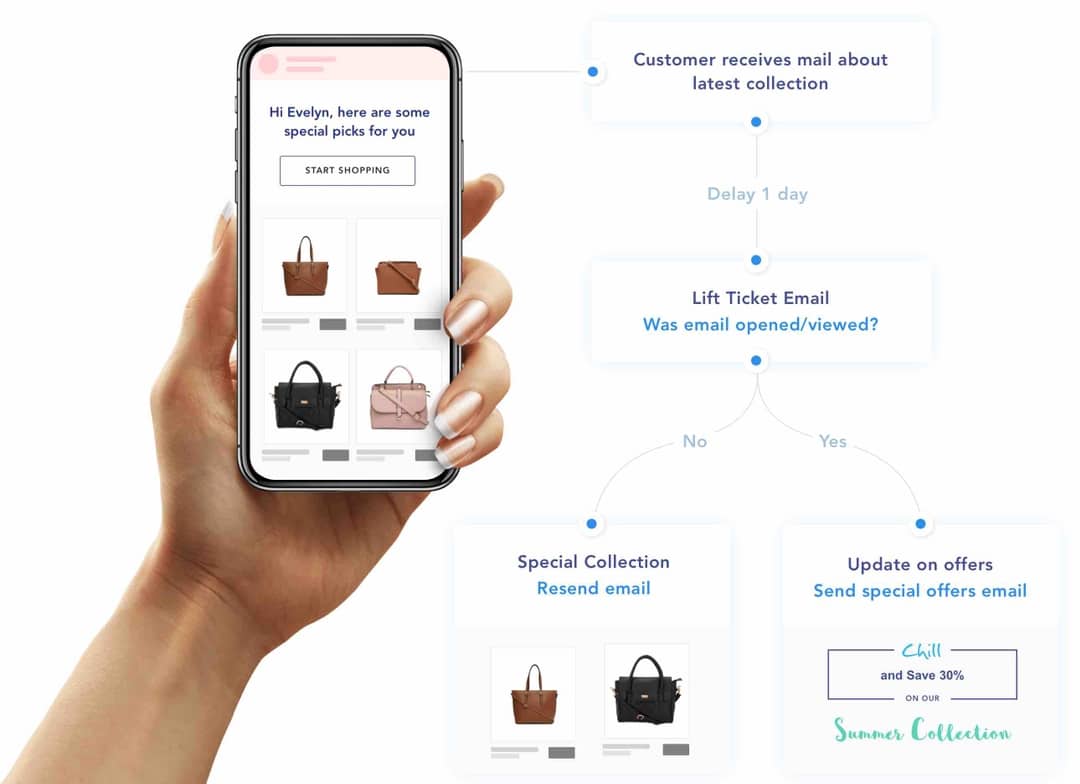 Set up automated drip emails, so your supporters won't forget about you even if you fail to send reminder emails manually.
Optimize emails to look great and be user-friendly on computers as well as smartphones.
SendX allows unlimited email sends to your opted-in supporters.
Heatmap reports for your emails for easy campaign analysis.
Salsa Labs
Nonprofit CRMs, online fundraising, email marketing, and more, all under one roof. Salsa Labs offers a one-stop solution for nonprofits who have limited financial or human resources.
Mobile-optimized layouts that utilize tested best email marketing practices, so you get desired results.
Build supporter segments based on subscribers, major donors, petition signers, interaction history, gift size, location, campaign, and more.
Direct email donation solicitations for a seamless donor journey.
Combine email marketing with form builders and social media marketing to avoid missing out on any potential supporter.
Sendinblue
Personalization options ranging from as basic as supporters' names to something as personal as their favorite color. Use these details for high-quality, tailor-stitched email marketing campaigns.
Sendinblue has dedicated software for newsletters, so your emails reach the right audience at the right time, in the proper format.
Set up intelligent customer journeys.
Email marketing for nonprofits is all about understanding your leads and nurturing them so they support your cause for an extended period. And like any marketing campaign, this requires intense planning. Check out our guide on building an effective marketing plan here: Nonprofit Marketing Plan Template: 9 Simple Steps to Achieve Your Goal.
Feature image: Mohamed Hassan/Pxhere