Is social media fundraising effective?
Let's see.
In November 2018, the International Community Foundation (ICF) had an unprecedented crisis.
Quickly, they needed to raise funds to help more than 5000 asylum seekers in the Mexican-California border city- Tijuana. Their rapid response team rose to the challenge. In a matter of hours, they raised more than $30,000!
How?
They leveraged the power of social media fundraising! ICF partnered with Ana Lorena Sánchez, an American actress who is also passionate about the issue, to reach thousands of people on Instagram.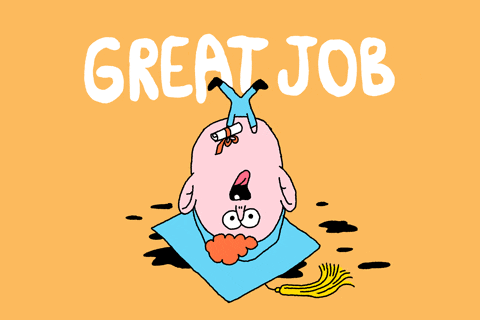 That is just one success story. Numerous other nonprofits, like Charity: water and Truth Initiative, have used social media fundraising successfully to see returns.
So, to answer that question, YES!
Social media fundraising is one of the most popular ways for nonprofits to raise money. However, with many ways to approach social media fundraising, how do you know which is the best path for your nonprofit? How do you get people to donate?
To see maximum success, you need a social media fundraising plan and strategy that focuses on using the proper channels in the right way and targets the right audience.
This guide helps you find out which platform best fits your social media fundraising and shows you how to go about it.
Social media fundraising platforms
With 7 out of 10 Americans being on social media, you need to learn where your target audience is and what social channels they prefer.
Start here.
Every social media user has an average of 8.4 accounts, i.e., they are present on at least 8 different platforms. You need to figure out which among these makes the most sense for your organization to target for fundraising through social media.
Consider asking these questions:
Which is most frequented by your audience?
On which platform can you gain maximum engagement from your audience?
Which is the best platform for your content?
For example, if you want to target Gen Z and Millennials, TikTok is the right platform.
If you don't have the answers to these questions, let's start with the most popular social media fundraising platforms for nonprofits and the success strategies for each:
Facebook
Number of active users- 2,895 million
Facebook adoption is higher among women(77%) than men(61%).
If we consider the age group, Facebook adoption is the highest among the age group 30-49(77%).
73% of adults aged between 50-64 use Facebook.
In the youngest age bracket, 18-29, 7 in 10 people use the platform.
Source: MarketingCharts
Success strategies
Create descriptions with your donation link at the beginning of the post, so people can see it even if they choose to not hit the 'See more' button.
The ideal length for Facebook posts is between 1 and 80 characters. According to a study by Jeff Bullas, a digital marketing expert, posts with 80 characters or less receive 66% more engagement.
Including hashtags helps you to be found easily through the Facebook search results, improving your page's visibility. Say you use a hashtag called #nonprofit in your posts. When somebody searches for nonprofits, your post will appear in the search results.
Live stream your fundraiser events on Facebook and inspire your followers to donate.
If you're using Facebook for fundraising, you can add a 'Donate' button to raise funds directly from your Business page. All you have to do is set your page's category to 'Nonprofit Organization' to set up the 'Donate Now' call-to-action button. Once you register as a nonprofit organization on Facebook, you will automatically get access to a 'Donate' button under the 'add buttons' section.
Instagram
Number of active users- 1,393 million
The use of the platform is the highest among 18-29 year-olds(71%),
48% of users are between the ages of 30 and 49.
50-64 year-olds constitute 29% of users, and
13% of users are aged above 65.
Source: MarketingCharts
Success strategies
Use relevant hashtags when you publish content. Using more than ten hashtags can reduce the engagement rate by 68.2%, so ensure you keep the count no more than 9.
Livestream fundraising by adding a 'Donate' button to the live video. Your followers can donate in real-time, and you can see the total funds raised while you're live.
In Instagram, the Donation sticker is used by your followers to raise money for your cause. That is, every time they post a story, they can choose to add the 'Donation' sticker, directing to your nonprofit. When users from their network click on the sticker, they will be prompted with a donation tab to complete the donation.
Geotag your posts to reach more people around your location and establish credibility.
Add a 'Donate' button to your profile to raise money directly from your Instagram business account. See how you can do this.
Twitter
Number of active users- 436 million
Twitter adoption is slightly higher among men(25%) than women(22%).
42% of adults aged 18-29 use Twitter, while the percentage drops with each successive age bracket.
Source: MarketingCharts
Success strategies
Be concise in your wordings and support your story with an image or a video. Twitter has a character limit of 280, so 'show' as much as possible.

Engage with your audience and other accounts with the same target audience as yours.
Keep a close eye on the trending hashtags, start a conversation, and promote your nonprofit every time you find an opportunity. For example, #CharityTuesday is used to create awareness and encourage people to donate. Here's a list of nonprofit hashtags.
Create a hashtag for each of your campaigns and consistently use them in your posts.
LinkedIn
Number of active users- 774 million
31% of men and 26% of women use LinkedIn.
Adoption of the platform is the highest among 30-49(36%), followed by 33% of adults aged between 50-64 using it.
3 in 10 adults aged between 18-29 use the platform.
Source: MarketingCharts
Success strategies
Feature your donors through posts on LinkedIn and tag them. If your donors engage with your posts, they will show up on their network's feed as per LinkedIn's algorithm, increasing your reach.

Join communities around your mission and contribute your insights regularly. This can give you more visibility and get more connections.
YouTube
Number of active users- 2,291 million
YouTube adoption stands at 81% among US adults.
The distribution is almost equal among men(82%) and women(80%).
The platform's usage is the maximum(95%) among the age group 18-29, which is the broadest adoption rate across all demographic groups.
83% of adults aged between 50-64 and 49% of adults who are 65+ use YouTube.
Source: MarketingCharts
Success strategies
Optimize your profile for search engines by using keyword-optimized descriptions.
Use YouTube Nonprofit Program to connect with your supporters and donors. This helps you direct your viewers to your fundraising page directly from your videos.
Create and put up educational videos to create awareness of the issue your nonprofit is concerned about.
Pinterest
Number of active users- 454 million
The gender gap in the number of people using Pinterest is considerable. While 46% of women use it, only 16% of men use the platform.
Source: MarketingCharts
Success strategies
You can use Pinterest to sell goods and raise funds. Put up the images of your products and link them to your store.
Promote gift-giving-oriented pins around holiday seasons as people are more likely to use Pinterest to look for gift ideas.
TikTok
Number of active users- 1,000 million
24% of women and 17% of men use TikTok.
The use among adults aged between 18-29 is the highest(48%), followed by 22% of people in the age bracket of 30-49 using it.
Source: MarketingCharts
Success strategies
Showcase your work and the impact it had using videos to build awareness.
Important reminder: Each social media channel is different, so your posts must be customized to fit a particular channel. Don't follow the "cut and paste" approach; it'll just make your work look sappy. For example, if you consider Instagram, stick to storytelling through images and videos.
How can social media be used for fundraising?
So, you have chosen the networks you want to use for social media fundraising.
What's next?
Here is how most nonprofits would proceed,
Set up an account.
Post updates(images, videos, etc.) asking for donations.
Use sponsored posts to reach new audiences and request donations.
Share a donation-appeal post every day to "keep up the momentum."
While this approach may work, it is not the ideal way to use social channels. The fundamental flaw in this method is that it sees social channels as just a means to raise funds.
Here are a few fundraising tips in video form:
Instead, it has to be used to engage supporters and inspire donors, among other things that drive your brand.
It does seem like a pretty daunting task- to post stories that move your audience so much that they engage with your brand and eventually become supporters and donors.
But hey, I got your back!
Here are some ways you can use social media fundraising.
1. Customize your pages/profiles for social media fundraising
Once you've narrowed down on a social channel, you need to customize your profile. Your profile must reflect your organization's mission and stay consistent with the brand.
It must include:
The difference that your nonprofit makes
A link to your nonprofit's website for people to learn more about you and donate.
Cover photos to announce new events or raise awareness about your cause. You can also ask for donations through your cover image.

2. Tell your nonprofit's story
When posting on social media, it's not just about the pitch. You need to tell your followers your story.
Give people the chance to learn about your social mission and feel like a part of your cause. Your story should offer a compelling reason to hit that donate button.
Take inspiration from the Instagram accounts of Charity: Water, UNICEF, and The Humane Society of the US that are doing an amazing job in telling their stories.
3. Celebrate milestones and show the impact
Donors want to know the impact of their contribution to your cause. Show that to them through your posts. These kinds of posts act as strong proof and let people see the impact of their donations.
Here's an example: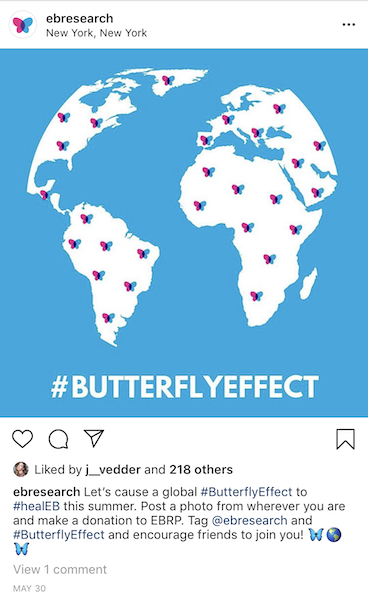 These kinds of posts work well on social media if you use audio, a video, or a contest accompanying it.
For example, make thank you videos using testimonials from those receiving the benefits of your campaign, spotlight volunteers and donors showing why they are a part of your campaign, and more.
4. Thank your donors
Thank your donors publicly by showing the world the impact it created. Along with a 'thank you', tell your audience how you feel about it.
Here is an example: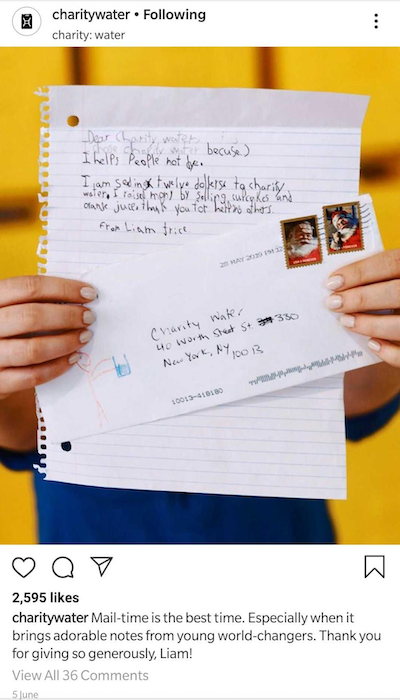 This update by Charity: water on Instagram is remarkable in three ways:
As a thank you note, it does an excellent job of acknowledging the donors' support.
Sharing a handwritten letter (and the envelope it was mailed in) shows their audience the kind of support they receive from their followers.
It evokes an emotional response from their audience! If you squint hard, you can see that this post has 36 comments. This kind of engagement wouldn't be possible for, say, a generic thank you post or from a stock image.
You can see that with a single post, they managed to make their donors happy, convey social proof and also increase engagement. If your thank-you posts can do the same, you are on the right track.
5. Inspire participation
"Social fundraising is when people (supporters, donors, evangelists, fundraisers, etc.) share with their personal networks the actions they take related to a cause, all through the megaphone of their mobile devices and social media"
– Gary Wohlfeill, GoFundMe
It's clear from this quote that to improve the success rate of your social media fundraising efforts, you have to encourage your donors and followers to share their stories.
This does two things well:
Benefit from the power of the crowd
The word virality might strike a note. Most aim for campaigns like the Ice Bucket challenge, but only a few get there. However, even a small amount of engagement is a sign of great promotion. So, create share-worthy content, promote it, and let the crowd take care of the rest.
The audience would be more inclined to take action for your cause when they hear it from someone they trust.
Drive loyalty with social proof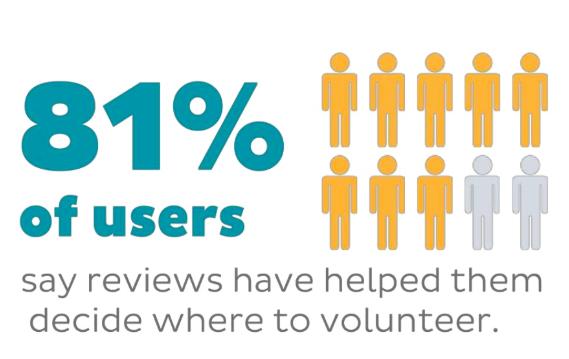 Real stories shared by real people have a more convincing ring in shaping your audience's mind. This comes with the added advantage of building trust with a new audience.
Also, remember that, unlike a peer-to-peer fundraising effort, you are not encouraging your audience to set up a social media fundraising campaign actively. You are simply encouraging your followers to share their stories on why and how they support your cause. The idea is to reach like-minded people via their (your supporters') personal network and bring in more followers and new donors for your organization.
An excellent example here is the Bill and Melinda Gates Foundation. They do not have a Pinterest page. However, because their content is so powerful (and shareable), you can find many of their supporters pinning and repinning their posts. This helps them build a brand on a platform without even having an official presence.
6. Share real stories
The World Bicycle Relief empowers people worldwide by giving them a sustainable mode of transportation (yep, a bicycle). One bicycle makes a world of difference to disaster victims, healthcare workers, and entrepreneurs because it improves accessibility and productivity.
Here is a snapshot of one of their Facebook post: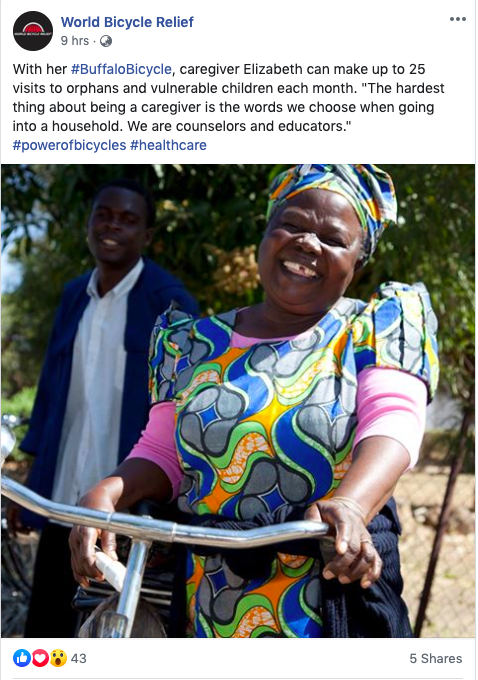 It tells the story of how their cause improved the life of a healthcare worker. It puts a face to the organization's efforts and shows the donors how their contribution has helped and inspired their followers by showing tangible impact.
You do not have to go looking far for stories like these. The fundamental idea behind your nonprofit is to make a change in people's lives. Look at the community you are looking to help, and you will find a wealth of stories that you can share. It is these stories that inspired you to take up the cause. If their stories have such a profound impact on you, they will impact your audience too!
7. Inspire change
Social media is a powerful platform to bring change by creating awareness, and your posts too, should educate your audience about your cause. If these posts are powerful and catch your audience's attention, the now-educated audience will turn into followers, then supporters, and donors in due time.
Take the example of The Story of Stuff Project. This nonprofit talks about the underside of the consumerist society we live in. Using videos, it educates its followers on how the production and manufacturing industry negatively affects the lives of certain communities and the environment as a whole.
Their video on "bottled water", released on World Water Day, caught my eye. It has a call to action at the end, where it appeals directly to the audience. More importantly, they have a host of links in their video's description on their video page that encourages their viewers to interact with them.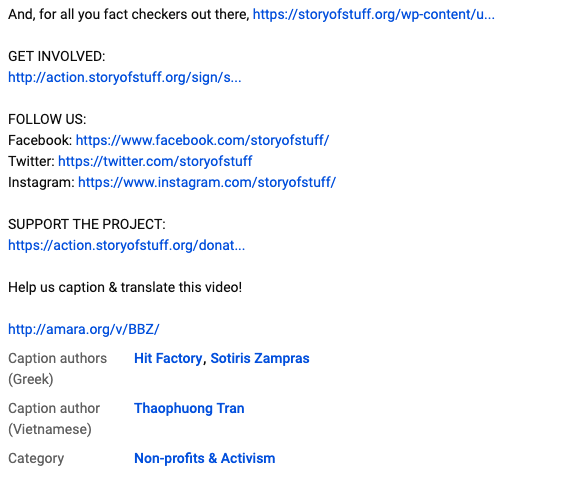 Since 55% of engaged audiences eventually take action, facilitating such engagement via every channel you are present in paves the way to gaining new donors.
8. Engage in conversations
Social media fundraising is not a one-way street, so you'll need someone to monitor and engage in conversations. Every interaction you have should receive a response, even if it's a simple thank you.
Get more involved with your donors by sharing and retweeting posts from influencers. Once you've developed a friendly relationship with your supporters and donors, use tools to understand how often they engage. Tools like Commun.it helps you better understand supporter engagement.
Join groups (Facebook, LinkedIn) that other organizations relevant to your nonprofit are a part of. This will give you an idea of how they engage with their donors.
Once you have built relationships and trust on social media, activate those donors. You can do this by:
Creating a Hashtag campaign: Encourage your members and donors to tweet about your organization. This will help in spreading the word. Use an original hashtag to do so and include it in your follow-up mail.
Creating a brand ambassador program: Make your top donors and influencers your brand ambassadors. The program should be mutually beneficial, so give them something in return, say, a free pass to your next event, an opportunity to be a guest speaker, etc.
9. Collaborate with micro-influencers
Yes, you read that right. I did not say influencers. I specifically said micro-influencers.
Fact check: Micro-influencers have better engagement rates than regular influencers.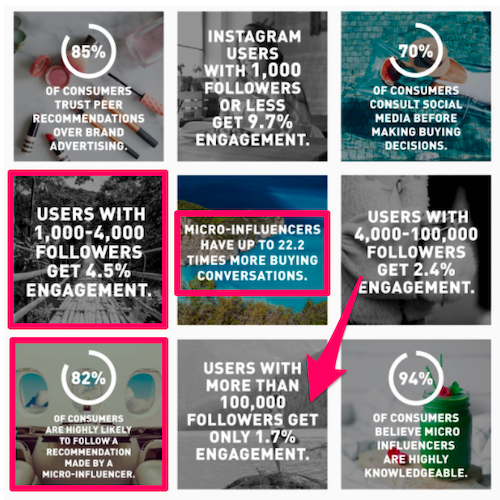 Micro-influencers are those who have a follower count of between 1k and 100k. Their engagement rates with the said followers are considerably higher, thus making them quite valuable for your organization.
Look for those micro-influencers actively speaking up on matters that relate to your cause. They have a network that actively engages with a set of people you want to reach.
Every time they share your posts or talk about your organization, you are essentially bringing your cause in front of their highly engaged network, which shares the same sentiments.
Note: Celebrity fundraising can also be an option if you have access to the required resources.
10. Run paid campaigns
You can always look at paid campaigns or sponsored posts to reach a new target audience. While it needs an initial investment, you can quickly start seeing returns if you target your audience right.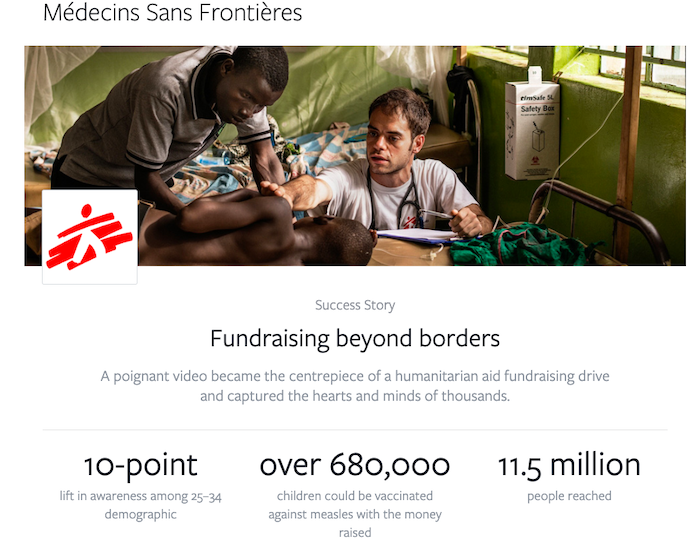 In the above example, Doctors Without Borders (MSF) wanted to boost their donations over Christmas and New Year to fund their humanitarian work better. They took to Facebook to promote a video talking about what they do. I must say that the campaign strategy here was brilliant.
They initially rolled out the video ad as a reach and frequency campaign for relevant audiences. Then, after five days, they looked at who had engaged with that video and re-targeted them with a donation ad.
This is highly similar to any other fundraising effort. You do not make the donation ask in the first interaction – you build up to it. MSF used the same formula to win funds from prospects.
This shows us that regardless of the channel, the fundraising principles of donor acquisition and making an ask are the same. Also, as with any other effort, online fundraising too needs immense planning and careful strategy to come to fruition.
11. Move offline efforts online
We saw that the key objective behind social media fundraising thus far has been to engage your audience. On that score, all the above ideas are a huge win.
However, never forget that social media is just one channel for your audience to engage with you, and they are also interacting with you offline. So, it is up to you to encourage those offline interactions to be shared online by your supporters.
For instance, say a supporter has just bought a ticket to your fundraising event. Then, after the purchase, send a message that encourages them to show that purchase to their social media network.
12. Use online stores as a part of social media fundraising
You can sell merchandise online to promote your cause and advertise it on social media. Use sites like Shopify to build e-commerce sites. Next, promote it within your Facebook page or other social channels.
13. And of course, the direct fundraising ask
Let us also focus on those posts that directly appeal to the audience for funds.
Here is an example of one such post: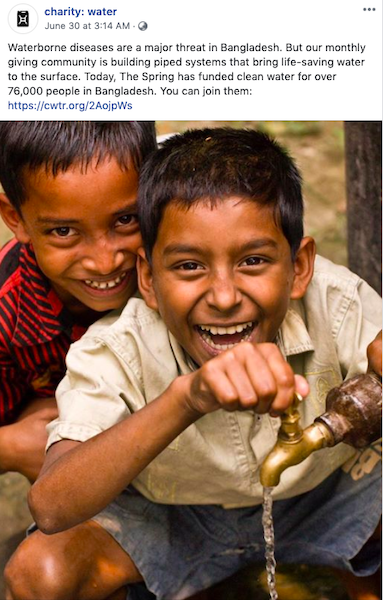 I like this post because, instead of a point-blank ask, it talks about what the cause is trying to achieve, what they have accomplished, and then gives a CTA to the reader.
Instead of a generic stock image, they have used a photograph from the community they are working for.
All these touches make it a pretty compelling ask!
Important reminder: Add a call to action to all your updates. It reminds people to take the next step. When someone sees your post, chances are they want to help, and they need a reminder to do so. For example, click here to donate, share this post, link in bio, help spread the word, etc. Whatever you want your result to be, add it to your posts.
Social media fundraising for nonprofits: tips and best practices
Share content on your social media platforms regularly. Here's a guide on how often to post on social media.
It starts with educating people about the issue you're focusing on. Share content that will do this.
55% of people watch videos online every day. So, invest in videos in your social media efforts.
Engage with your audience by responding to the comments, mentions, shares, etc.
Monitor the insights on your social media posts to optimize your strategy.
Social media fundraising examples
Many nonprofits have used social media fundraising exceptionally well. Organizations have used different strategies individually or in combination to do this.
Here are two such examples of social media fundraising.
Movember's campaign to raise awareness around men's health
Movember partnered with TikTok to raise awareness around men's health, such as prostate cancer, mental health, testicular cancer, suicide prevention, etc. Creators like Nicole Scherzinger, Jimmy Bullard, and more participated by sharing various facts around the issue using the hashtag #Movember.
The campaign has gathered over 1.5B views to date. TikTok donated £1 to the nonprofit for each video posted using the hashtag.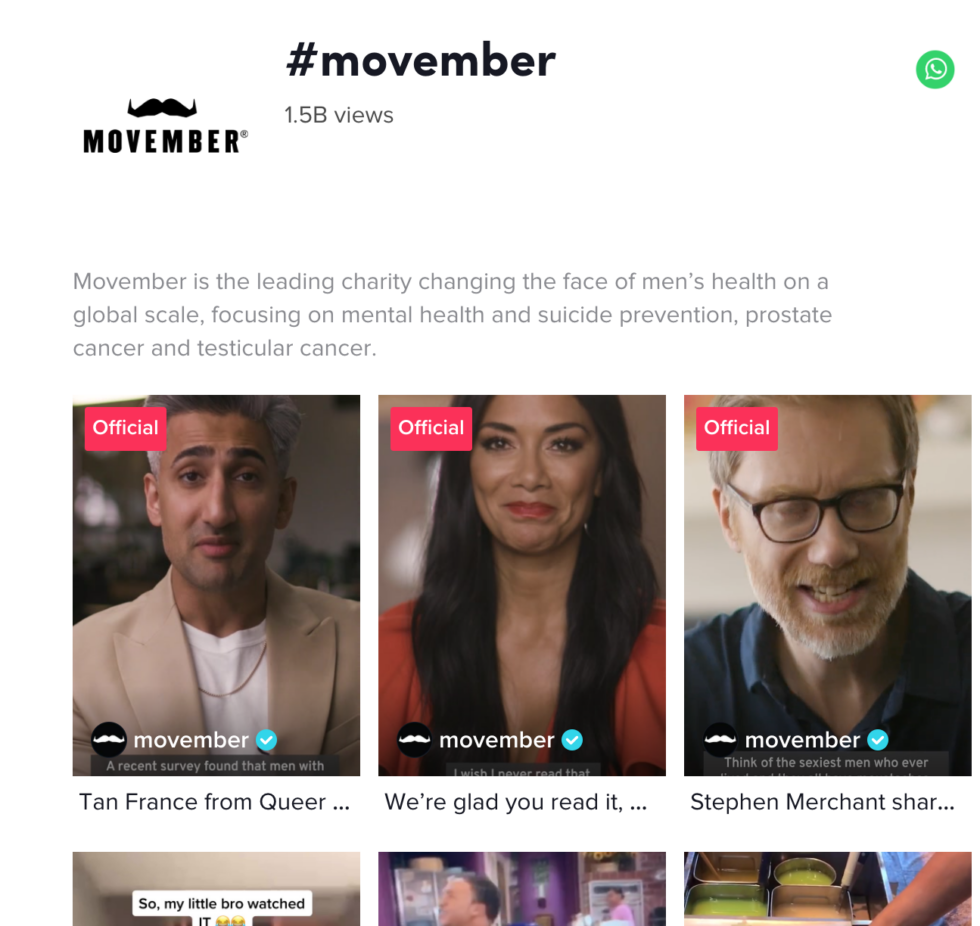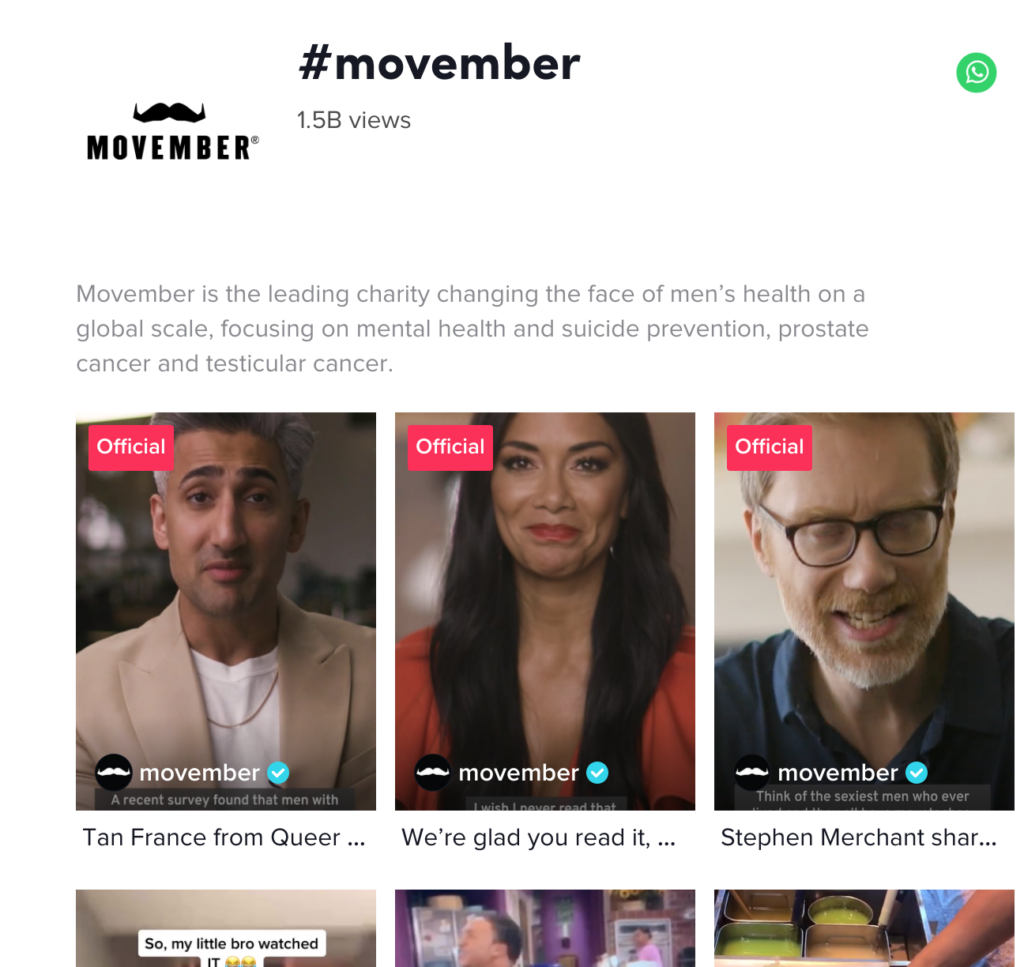 The Natural History Museum's Virtual Race for Nature campaign
Virtual Race for Nature focused on social sharing to raise funds for their nonprofit. The campaign encouraged participants to run, jog, walk or wheel by tracing out the shape of an animal along the path.
The participants could use apps like Strava, Map My Run, etc., to record the route and share it on social media along with the hashtag #RaceForNature. The participants could raise funds from their network through social media.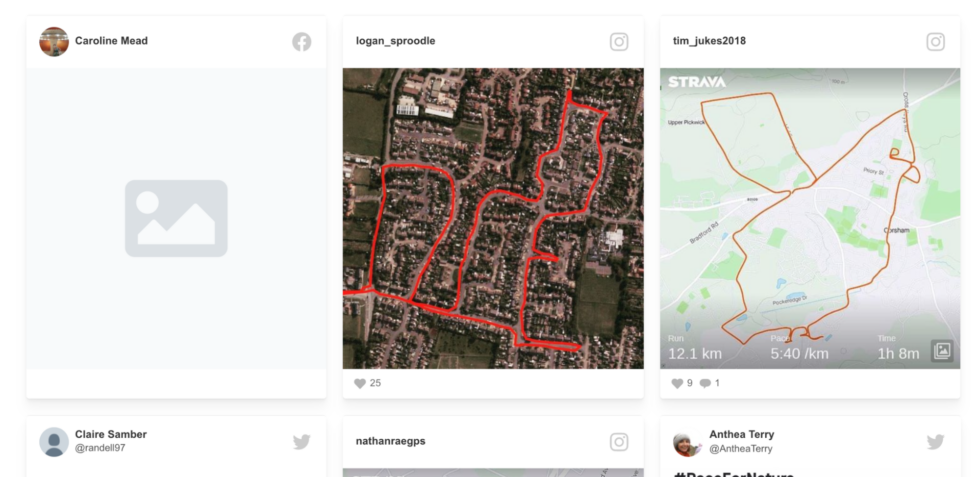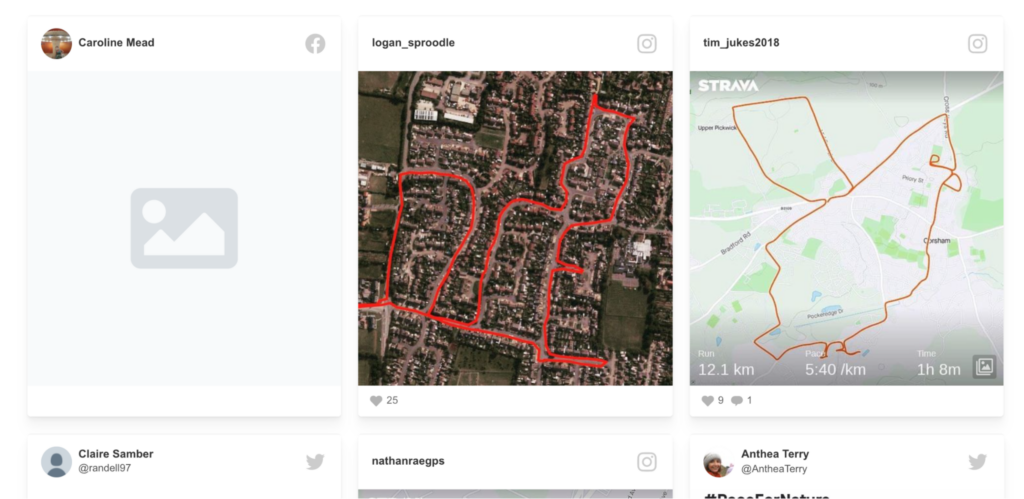 Social media fundraising: final thoughts
Social media fundraising is all about building a relationship with your followers, which takes time and effort. If you go back to the ICF example we spoke about initially, you will notice that they had spent considerable effort building that relationship before going ahead with their campaign.
Also, remember that social media fundraising cannot be a standalone effort, and it is the cherry on top that bolsters your other fundraising efforts.
Thanking donors personally is the first step in nurturing them into becoming lifetime supporters. Send them a 'thank you message' after their donation, followed by regular communication to retain them.
Featured image: Photo by Tracy Le Blanc from Pexels