A survey of nonprofits found that 66% of charities are worried they will miss out on opportunities for digital fundraising.
Why?
Only 3% of these charities rated their board and executive leadership as being digitally savvy.
This lack of exposure results in them crafting plans with traditional fundraising methods and not exploring digital opportunities as much.
This approach isn't just limiting fundraising opportunities for you. It is also increasing the difficulty for you to shift to online tactics as your counterparts continue to evolve online and conquer a majority of the market.
Plus, with social distancing becoming the new normal, you can't rely on traditional methods anymore. You need to shift to a digital-first strategy if you wish to keep going.
If you've been waiting for a guide to get started, here's one. In this post, we'll talk about some easy online fundraising ideas that you can implement easily to raise money for your charity.
Why do you need online fundraising?
If you're still not convinced, here are 4 statistics to help you make up your or your board members' mind.
1. 62% of donors worldwide prefer making donations online
Making a gift online is quick and easy, which is why a majority of donors prefer it, as you can see in the chart below.

2. Median online gift size was $178, whereas the offline gift size was just $20
Online fundraising can bring more revenue than offline methods.
Apart from that, online fundraising doesn't require costly resources (for instance, venue and infrastructure costs for an event, etc.). With lower prices and larger gift sizes, online fundraising generates an exceptional ROI.
3. Reach 4.57 billion active internet users worldwide
Online fundraising doesn't pose any restrictions like maximum venue capacity (for events), regional coverage by volunteers (for in-person asks), cost restrictions for direct mail fundraising, etc.
WATERisLIFE used the hashtag #firstworldproblems to spread their viral video, the First World Problems Anthem and were able to reach out to 1.7 million people.
If you plan right, digital fundraising strategies can expose you to a much larger audience with lesser effort compared to offline methods.
4. 73% of nonprofits had to cancel fundraising events amounting to a cumulative financial loss of $644 Million
With social distancing rules in effect, holding fundraising events and making in-person asks is not feasible for a while.
That being said, organizations need to fall back to online fundraising strategies and make virtual fundraising asks, now more than ever.
Creative online fundraising ideas for your charity
Online nonprofit fundraising entails a lot more than a "Donate" button on your website or social media handles. You need a diverse set of strategies to get the most out of this lucrative fundraising channel.
Having diversified fundraising revenue creates stability and keeps you from being overly dependent on one source of funding, which is dangerous.

– Sandy Rees, CFRE, Fundraising Coach
That being said, here are a few unique online fundraising ideas that you can implement right now.
1. Partner with live streamers on Twitch
Twitch is a live streaming service that raised $30 million for charity in the year 2017. It draws in nearly 15+ million daily active users on an average, a majority of which are millennials and GenX'ers.
Take advantage of this huge viewer base by partnering with streamers on Twitch and asking them to request their followers to donate.
Most viewers are really passionate about these streamers and are more than happy to help them reach these milestones.
Tips to get started
To partner with live-streamers to raise money, you will have to:
Reach out to them over email or their social handles. Typically, most of them have their email listed publicly for such collaborations. Avoid contacting them over chat when they're streaming.
Set up a fundraising goal to achieve. Viewers are motivated to help live-streamers succeed, which is why having a goal would push more people to donate.
Promote the fundraiser on social media and wherever possible. Ask the creator to do the same.
When live-streaming, have someone from your organization engage with donors on the chat option available. In case someone needs their questions answered or to motivate more people to donate.
Example
Summer Games Done Quick (SGDQ) raised over $2 million for Doctors Without Borders in June 2018.
SGDQ is an annual week-long gaming marathon where gamers demonstrate their skills in completing various games in record times. It's usually held in front of an audience at a venue and also online.
When donating, donors have the option to put their money towards a particular incentive like bonus speedruns, showcasing additional tricks, in-game decisions (like character name), etc.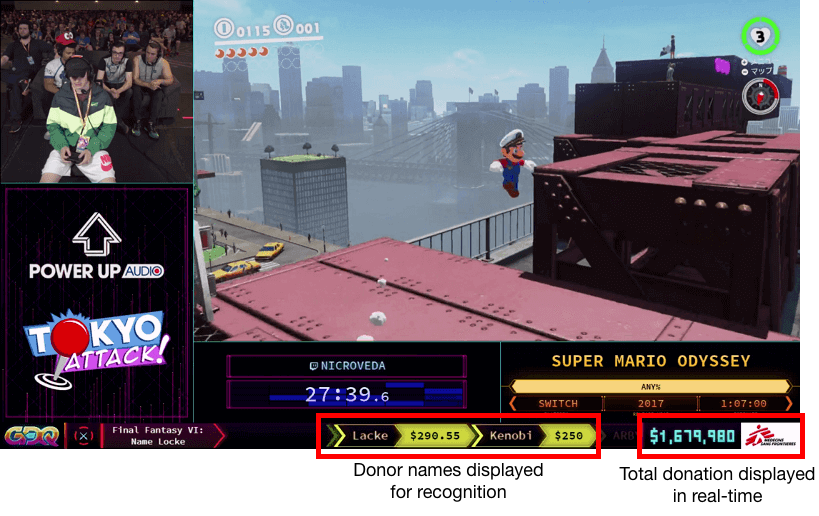 2. Ecommerce store checkout donations
Another great way to boost your online fundraising is by partnering with an online business and asking them to include a donation prompt at checkout. The idea is the same as having a donation box in a retail store, except that this is online.
A recent survey found that 69% of customers say yes when asked to donate at checkout. If you're able to partner with a store with a lot of traffic, this could amount to significant revenue.
Most organizations will be open to this idea as it helps elevate the brand's reputation as a socially responsible business.
Tips to get started
Shortlist and reach out to online businesses that resonate with your cause/charity. For example, a food-based charity should partner with a food delivery service or restaurant. Businesses will be more open to such partnerships, and it will also be easier to pitch to the prospect.

Decide on a schedule on how long you want to keep it up. This could be either for a few months or for the length of a campaign. You could also try to set up a permanent partnership with the business to keep it going forever, if possible.

Pre-select a small donation amount at checkout. Remember, people will have the option to deselect the donation amount, and selecting large amounts may put them off. There is a higher chance that people will go through with micro-donations (ranging between 50 cents to $2). Also, make sure to provide the donor with the option to change the amount.
Example
Love of Reading Foundation partners with Indigo for micro-donations at checkout
The Canadian bookstore chain Indigo asks people to donate a small amount to the Love of Reading Foundation at checkout. The foundation works to provide books and educational resources to children who can't afford them.
The checkout form pre-selects a $1 donation while also providing people the option to increase the amount. The bookstore draws 4 million monthly visitors on average. Even if 1% of these visitors convert to donate a dollar, the foundation can raise almost $40,000 a month.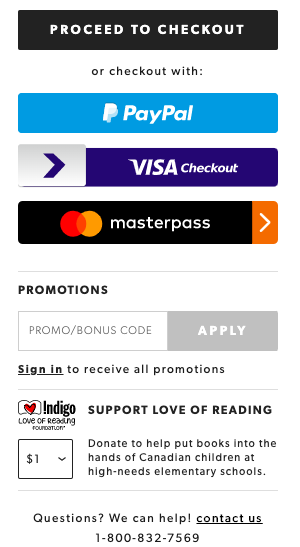 3. Partner with social media influencers
Social media influencers provide their followers with highly relatable content on a consistent basis, forming deep relationships, and gaining trust. This trust translates to a lot of influence over the decisions of these followers.
Influencers have a positive impact on the purchase intent of 8 out of 10 consumers. Nonprofits can partner with these influencers and have them help you by:
Making a donation to your organization and sharing their experience with followers. This would enhance your visibility by bringing you to the attention of a new audience and prospective donors.

Running a fundraiser of their own and asking followers to donate. A fundraiser run by them would bring in donations from their followers and others in their network.

Promoting your fundraising campaign. This could be done by giving your campaign a shoutout and posting something about it with a link to your donation page.
Tips to get started
Approach influencers with a relevant audience and not just a large one. For example, the audience of a food critic would be better for food provision programs rather than educational reform charities.
Decide the objective of your partnership and search for influencers accordingly. There are different types of social media influencers who are good for reaching different goals. For example, Social Butterfly influencers have a large but varied audience and are suitable for awareness campaigns. Thought leaders, on the other hand, are perfect for endorsing your campaign and raising money.
Example
WeRateDogs helps raise $10,000 for Moby (a pet dog) within a week.
WeRateDogs is a twitter account that rates people's dogs with humorous content. Over the years, the account has gained over 1.7 million followers and is leveraging that for good. The page often promotes people's GoFundMe campaigns to help dogs.
A recent example of this was Moby, a dog diagnosed with cerebellar hypoplasia, whose owners needed to raise money to provide him with proper care. The page helped them raise over $10,000 by giving them a shoutout.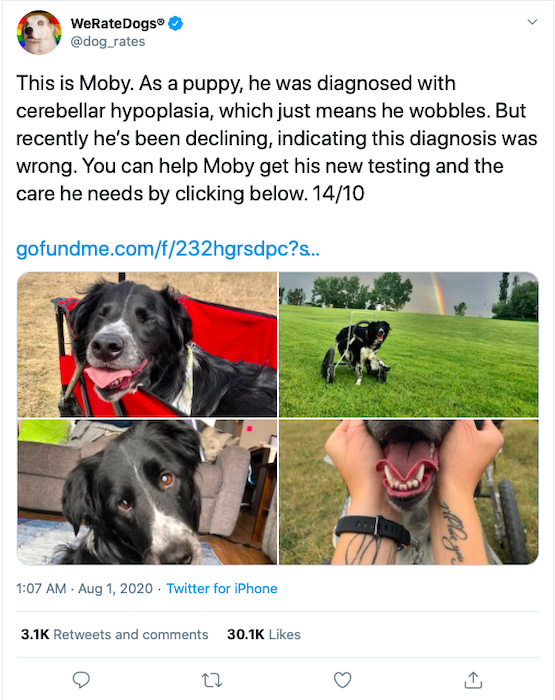 4. Social media challenge to raise funds
In addition to making appeals online, you can get creative with your online fundraising ideas and engage prospects with a fun challenge.
Ask them to do something specific and record themselves doing it. This could be either in the form of a picture or a video. Then, after making a donation, have them share the video (or image) on their social media and tag others to participate in it. Share the donation link along with the post and encourage people to share it further.
Not only will this help you raise money but also raise awareness about your cause and your work among new prospects.
Tips to get started
Before you start off the challenge, make sure to:
Include a unique hashtag for it. A unique hashtag will act as an identifier for the posts and make it more easily searchable on social media.
Begin with challenging your closest supporters. To achieve virality, you will need some momentum initially. Challenge your closest supporters and have them share it further. People are far more open to accepting these challenges from peers than organizations.
Create a landing page for the challenge. Participants will not just go ahead and donate without knowing the reason behind it. Create a landing page with all the relevant information to help them understand the cause (instead of having them scavenge information distributed on your website). Shorten the journey in this way to increase conversions.
Example
The Movember Foundation raised 10 million pounds in 2018 with the No-Shave November Challenge.
The Movember Foundation works towards generating awareness about men's health worldwide. The No-Shave November is a social media challenge that asks people to stop shaving facial hair for the month of November and share their before and after pics.
The challenge is hosted annually and has raised over $600 million in the 11 years it has been in effect. Now, both celebrities and corporations have started getting into the challenge.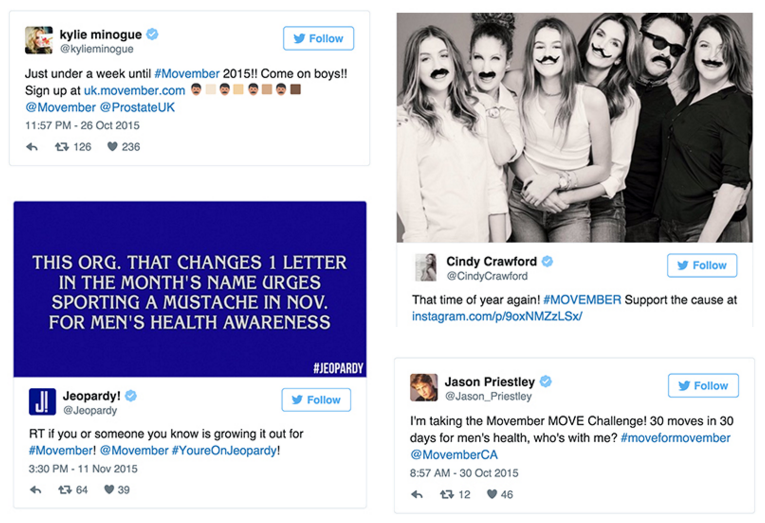 5. Conduct a virtual run/walk
Marathon walks and runs are some of the most popular fundraising events. It helps participants come together as a community, challenge themselves, and raise money for a good cause.
However, since you can't conduct these events outside anymore, you can get creative and do it virtually.
Get people to walk/run in their homes, backyards, or neighborhoods instead and live stream the event. If live-streaming seems like a stretch, you can also have people track their steps, and the distance they travel (using an app) and share screenshots. You can raise money through registrations, regular donations, and pledge fundraising.
Tips to get started
To conduct the walk/run virtually, you will have to:
Pick a date range to give participants more flexibility to compete. Typically such events are held on the weekends, but since the pandemic, schedules have become haphazard. Therefore, it will be better to give people the flexibility to compete as per their convenience.
Set up a system to track distance or steps. As mentioned above, you can do this with the help of an app. Apps like Runkeeper, Run with Map My Run, Runtastic, etc. can be useful. Make sure all participants use the same app to avoid confusion.
Example
The Hiawatha Bicycling Club raised $2000 through 50 riders who rode more than 4000 miles.
The Hiawatha Bicycling Club started a ride solo program during the pandemic to support a local food shelf. Members were challenged to go out and ride and report their mileage. For every mile, the club donated half a dollar to meet the goal of $2000.
Over 50 riders registered for the event and rode 4000 miles to reach the goal in less than three weeks. Everyone used the Runkeeper app to track their miles and shared screenshots of the same on the club's Facebook page.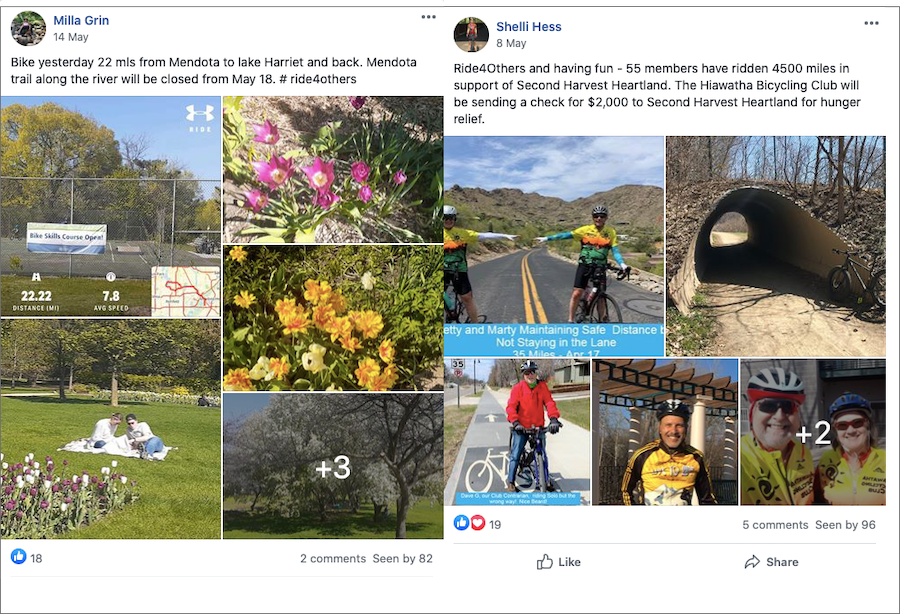 6. Virtual watch party
Apart from a virtual walk/run, you can also conduct a more fun and comfortable event, like a watch party. This online fundraising idea would be more suitable if your organization has a movie important in your community. Even if you don't have something that you've created, you can use other documentaries or movies that resonate with your cause.
Set a time for everyone to start watching the movie/video together. You can use a tool to synchronize the video with all the participant's devices. Prefer using a tool with a chat option that allows participants to engage with each other, ask questions, and maybe have a discussion after the movie.
You can raise funds either through registration or ask participants to donate after the movie.
Tips to get started
Assign a host from your staff to facilitate the chat. Apart from encouraging people to engage with each other, the host will also be responsible for answering any questions regarding your work or the organization.
Design a landing page for watch parties. This page will have the details for people to hold a watch party. It will also include CTAs for participants to take action at the end of the party.
Example
The Global Fund for Women has supporters host watch parties for their video series called "Fundamental."
The video series highlights the grassroots movements and community leaders standing up for human rights. They have a dedicated landing page for this with multiple options for supporters to get involved (donate, volunteer, or host a watch party).
People hosting the party are asked to fill a survey and are contacted by a staff member for the next steps. At the end of the event, the host shares the donation page link with everyone if they wish to make a donation.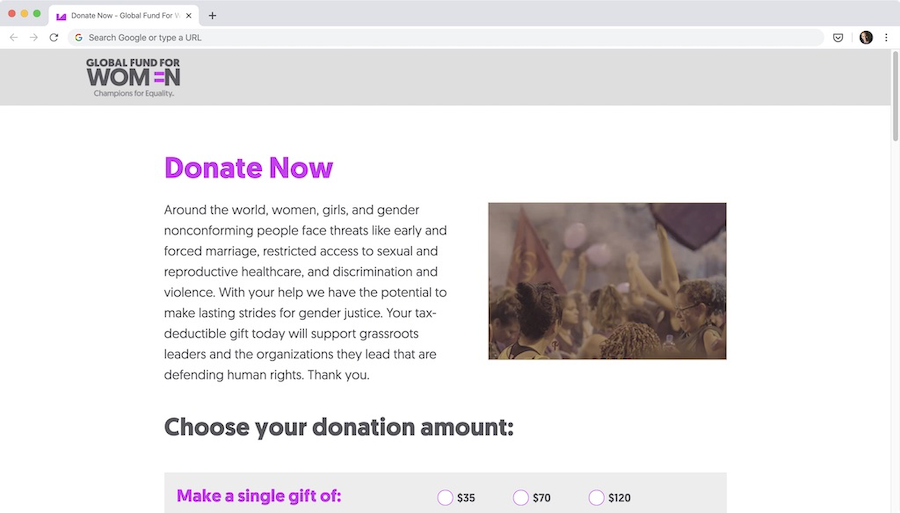 Watch the trailer of the docu-series:
7. Donate to win an experience
A raffle is another simple online fundraising idea that you can put to work. You can add a twist to make it more appealing. Instead of a cash prize, offer an incredible experience, like a virtual date with a celebrity, as an incentive for donating.
A unique experience as an incentive works way better than most others. Some fundraisers even claim that donate-an-experience platforms help raise nearly 40X more money than auctions or galas.
To achieve this, you will have to partner with corporations or get in touch with celebrities to support you. However, since most organizations and celebrities take social responsibilities very seriously, it wouldn't be too difficult to get someone on board.
The process is quite simple. You fix a price to enter the raffle and randomly select a winner on a given date. The best part is, all of this can be carried out online.
Tips to get started
In order to have the campaign run smoothly, make sure to:
Decide who you'll partner with and what incentives will you offer. Avoid starting a campaign without having a fixed list of incentives. You will need them to promote the campaign. Often organizations begin their campaigns while in the talks of a partnership. If the deals don't fall through, offering another incentive later delivers a poor experience.
Leverage platforms to manage all operations seamlessly. Platforms like Omaze or Pledgeling offer a range of services to help you carry this out.
Example
The All in Challenge raised nearly $60 million by offering unique experiences with celebrities.
The All in Challenge was created in response to the pandemic to aid food charities to help provide food to those in need. A number of celebrities took part in the challenge.
People had to donate just $10 to enter the challenge and a chance to win an experience. Some of these included a one day contract to play with the Mavericks, skating lessons from Tony Hawk, a role in comedian Kevin Hart's next movie, etc. Obviously, all of these experiences will be delivered when things go back to normal.
Here's a video of Tony Hawk talking about what he's offering in the All in Challenge.
8. Online T-shirt sales (or any merchandise)
Selling branded merchandise online is one of the most popular online fundraising strategies that can boost your efforts. It's a great way to raise money without people having to break the bank since they get a product to use in return.
First, you will create branded products like mugs, reusable bags, t-shirts (the most common ones), or any other merchandise. You can partner with a manufacturing firm to help you produce these for free or for a low price.
Then, you'll need to sell this merchandise either on your website or third-party websites like Amazon.
Tips to get started
While it's a pretty straightforward process, keep in mind a few things for maximum impact:
Make sure that the brand is visible clearly on the merchandise. Apart from raising funds, the merchandise will also help you generate awareness about your organization when people use it.
Provide multiple customization options (color, sizes, etc.). The more options you have, the more people will be interested in buying. A single product option won't entice enough people. If providing customizations seems expensive, you can leverage tools like Bonfire that don't charge money upfront but commissions from every sale.
Example
Boston Strong T-Shirt campaign raised over $1 million for One Fund Boston.
The T-shirt campaign was started by three Emerson College students. The goal was to raise money for the victims of the Boston Marathon bombings.
They designed and sold these t-shirts online and through stalls set up at various events. Although you might not be able to do the latter, the former is still a good option for now.
9. Online auctions
Thanks to advances in software, you're not bound to conduct a charity auction in-person anymore. You can do it virtually with ease.
Plan out the details exactly as you would have done for a regular auction. Post and upload photos of the items, allow people to place bids, announce the winners, and make the payments online. You can use tools like Auctria to facilitate the entire process.
Tips to get started
Prefer a silent auction format. Hosting a regular live auction may be a little complex and might end up restricting the number of participants. However, a silent auction format will be more suitable. Let people place their bids on an item online over a period of time and announce winners at the end of it.
Use SMS to convey information about the auction with prospects. Be it for new bid notifications or winner announcements; you need a channel with high open rates (to ensure that the messages are read).
Example
Japanese American National Museum raises $100,000 through a Virtual Silent Auction in 2020
The organization raised over $100,000 for the museum's education and program initiatives. The bidding was done over a week's window and people had another week prior to it to preview the items. They used the tool GiveSmart to keep track of the bidding.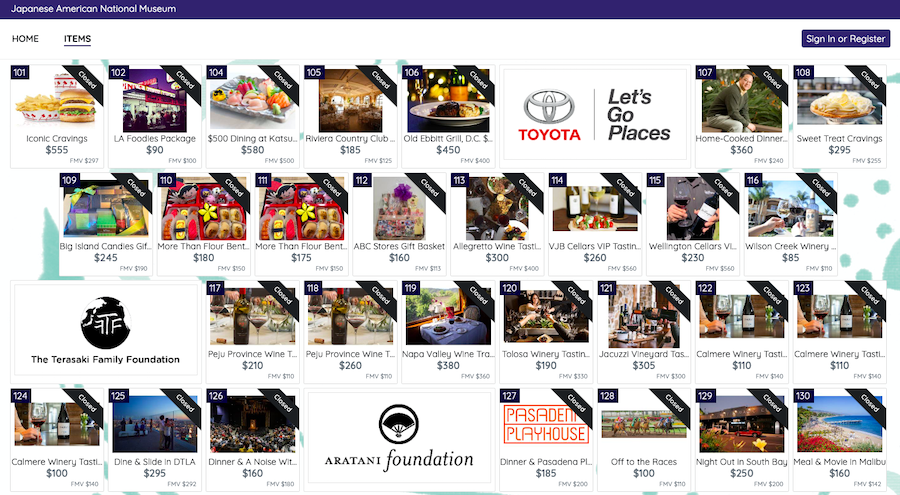 The main event was live-streamed in which the winners of the main prize were announced after keynote speeches.
Watch the event here:
10. Peer to peer fundraising
Since people are more open to accepting an appeal coming from a friend rather than an organization, peer to peer fundraising is one of the most efficient strategies. In fact, ⅓ of all online donations are from peer to peer fundraising.
In P2P fundraising, you encourage individuals to set up their own campaigns and raise money from their network.
You can employ software to provide fundraisers with everything they may need for the campaign. This includes a landing page (or micro-site), online donation tool integration to collect funds, etc.
Tips to get started
In peer to peer fundraisers, you let your supporters control how they want to reach the fundraising target. However, here are a few things you need to keep in mind to make sure they reach their goals:
Keep the motivation high with some healthy competition. You can display the scores (or funds raised) of top fundraisers on a leaderboard to encourage others to get creative and reach their goals. You can also have attractive incentives for top performers.
Maintain constant communication with fundraisers to provide them with relevant support. Most fundraisers may not be as experienced and may need your help to meet their targets. They may require technical support (like using the tool) or operational support (how to effectively promote the campaign). Help them in whatever way possible. Their success equals your success.
Example
The Greater Boston Food Bank raised over $670,000 through P2P fundraisers.
The organization is raising money to provide food to those in need via their partner hunger-relief agencies during the pandemic.
The organization helps fundraisers set up an appealing landing page. These supporters then customize the page with their own content and share it among their networks to raise money. The organization lists the top individual fundraisers and teams, as well as the latest activity to acknowledge donors as soon as they make a gift.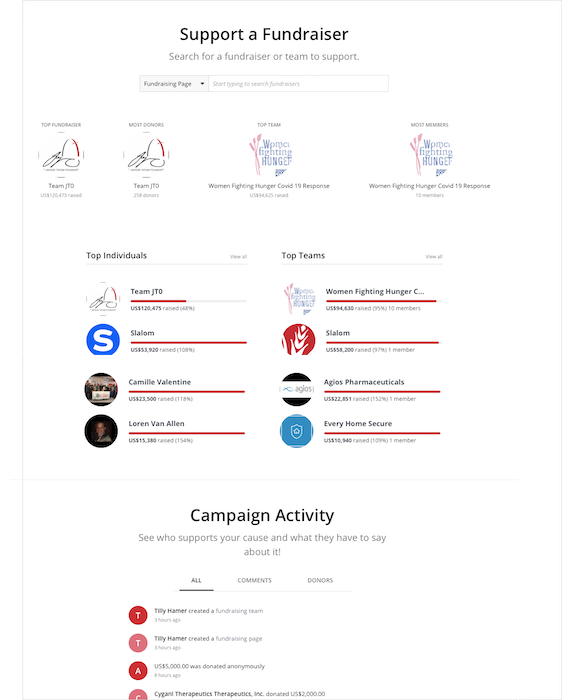 11. Text to donate or text to give campaigns
In 2018, mobile giving donations increased by 205%, and it has been on the rise ever since. Hence, it's hard to ignore this channel for fundraising.
To fundraise through mobile, you can set up a text-to-give or text-to-donate campaign. It starts with you promoting a keyword and a number that people send the keyword to in order to convey their interest in donating.
In text-to-give, a fixed donation amount is deducted from the donor's phone carrier bill when they send in a keyword. In text-to-donate, they are sent a link that redirects them to a donation page in response to the keyword.
>>There are pros and cons to both these models. Find out which suits your organization better in this article: Text-to-give Vs. Text-to-donate – which one to use for your nonprofit?
Tips to get started
Choose a relevant keyword and number for the campaign. Make sure that the keyword is related to the campaign to make it easy for people to remember it. Furthermore, prefer using a shortcode for texting. Shortcodes are also easy to remember which increases the chances of more people opting-in.
Choose the right mass texting software for the campaign. There are a few platforms like Snowball, QGiv, MobileCause, to help you set up text-to-give campaigns. These, however, require serious investments.
Text-to-donate campaigns, on the other hand, can be set up using text message autoresponders on any mass texting solution. Choosing a texting solution like CallHub with a flexible pay-as-you-go pricing model is extremely beneficial here. It helps enhance your ROI by charging you only for your usage and not adding unnecessary costs to the campaign.
Example
American Red Cross raised over $43 million through a text-to-give campaign for Haiti's earthquake victims
The American Red Cross was one of the earliest adopters of text-to-give. Following the Haiti earthquake in 2010, they encouraged people to donate $10 by texting the keyword "HAITI." They promoted the keyword and shortcode on television and in newspapers and ended up raising $43 million in relief funds.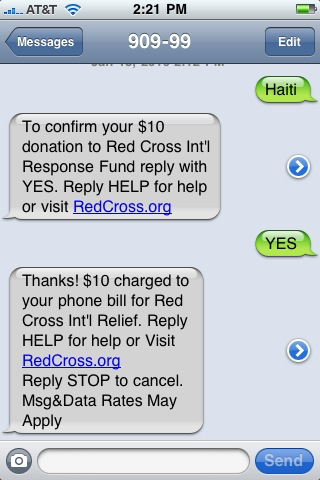 12. Social media takeover
Apart from partnering with influencers, social media takeovers are also a great idea for online fundraising.
If there is a business or organization that supports your mission, reach out to them, and ask them to donate their social accounts to you for a particular period of time. This could be a full day or maybe a few hours.
During this time, you'll be posting on behalf of your organization on their channels. You could share stories, details about your work, and even donation appeals. It's an excellent way to reach out to an entirely new audience and raise awareness. For the partner organization, it's a chance to showcase their social responsibility and elevate their brand.
Tips to get started
To get the most out of this social media fundraising strategy, here's what you need to ensure:
Avoid starting off with donation appeals. Sure, it seems tempting to get straight to the point. But people won't donate just because you partnered with an account they follow. Start by letting them know that you're taking over, introduce yourself, and tell a story; your story. Then gradually lead up to the appeals.

Make sure to encourage people to follow you too. While telling your story, make sure to make low-barrier appeals first, especially encouraging people to follow your handles. Even if they don't donate, at least you'll get new followers to nurture.
Example
Eight charities take over the Twitter account of Reason Digital to reach out to a new audience and spread awareness.
Beneficiaries of different charities posted their stories in a series of tweets. The objective of these stories was to raise awareness about various causes, highlight the importance of giving, and to raise funds for these charities. This takeover went on for 8 hours straight.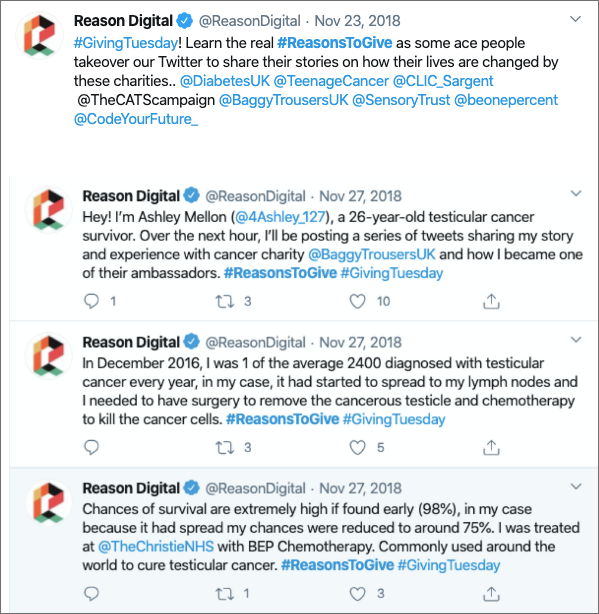 13. Email fundraising
Email fundraising makes up for 1/3rd of online donations. They are also a low-cost channel of communication, which is why fundraising emails are vital for online fundraising.
Send a personalized email to everyone in your donor database requesting donations. Make sure to keep your email concise and design your email to be less distracting. Maintain the reader's focus on the main email CTA. Add visuals to convey a major part of your message.
Make sure to provide multiple options to help you out too. Not everyone in your database may be in the position to help you financially right now.
Tips to get started
Plan out a 2-3 email series for the appeal. The average response rate almost quadruples after 2-3 emails series.
Segment your database to send targeted messages. For prospects who haven't donated, stress on the immediate need for action. For past donors, remind them how they made an impact in the past and how they can do the same again.
Example
Hands on Atlanta raised money through email to provide 60,000 meals to families
Hands on Atlanta is working tirelessly to provide meals to families affected by the pandemic. They send great fundraising emails to people with a clear and concise message stating their objectives and the help they need.
Apart from compelling language and visuals, they also provide readers with the option to volunteer (if they can't donate) without distracting them from the primary donation CTA.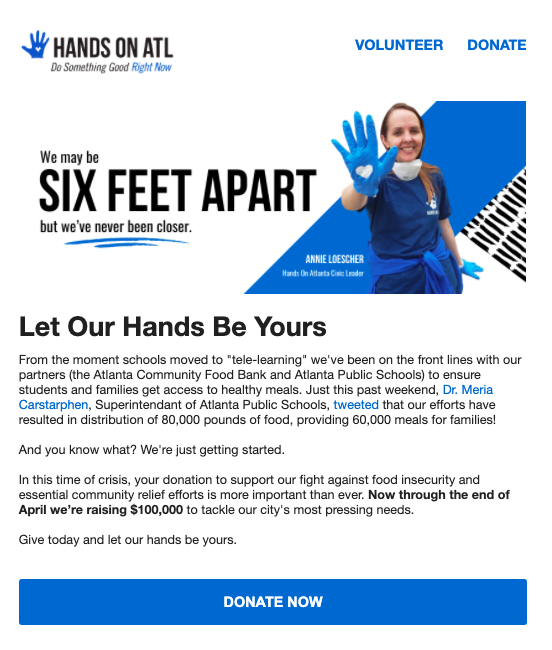 14. Online gaming contest
With over 2.4 billion people playing games on mobile in 2019, you have a large audience that you can tap into. Online gaming contests are more fun and engaging alternative to gaming live-streams on Twitch.
Invite them to play either single-player games with challenges (like the fastest time to finish the mission) or multiplayer games against each other. People can participate as individual players or in teams.
Most online gaming apps have intuitive features allowing people to play with each other from anywhere. However, you will have to ensure that there is a staff member or volunteer, facilitating and managing each game.
Tips to get started
Get local businesses involved to provide sponsorships or prizes. Incentivizing for top scorers and performers will add to the excitement and draw in a larger crowd.
Select an array of games to cater to a wider crowd. It might be difficult to draw in a large number of people for a single game. Arranging for an array of games (like family games, RPG single-player games) will get more attention.
Example
Boston Children's Hospital raises over $14,000 with the Big Family Game night tournament.
The Boston Children's Hospital invited participants to challenge friends and family in different kinds of games. They could do this over a video call or an online gaming app. Participants were asked to make donations (whatever they could) upon registration. The organization also shared impact stories to remind them why their participation was vital and appreciated.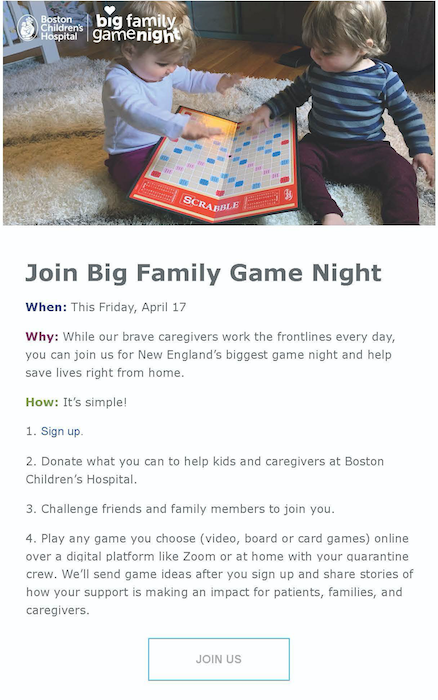 To conclude
Given that social distancing rules are going to stay in effect for a while, these online fundraising ideas will be great options to try.
Even when things go back to normal, having strong online fundraising strategies in place would be a great additional source of revenue for you. Hence, it's recommended you don't overlook these anymore.
Let us know of your experience if you have tried any of these before or any other ideas we may have missed.

Feature image source: United Nations Talenthouse