The world of online fundraising platforms has evolved, offering an array of features and benefits to help you reach your goals. In this essential guide, we'll navigate through the top fundraising websites in 2023 and delve into their unique offerings, enabling you to make an informed decision and elevate your fundraising success.
Key takeaways
Unlock the potential of your fundraising campaign with an understanding of tailored websites and features.
Maximize donations with customizable donation pages, automated tax receipts, donor management tools & more!
Enjoy cost savings and time efficiency while staying informed on legal/security requirements to ensure a successful experience.
Understanding fundraising websites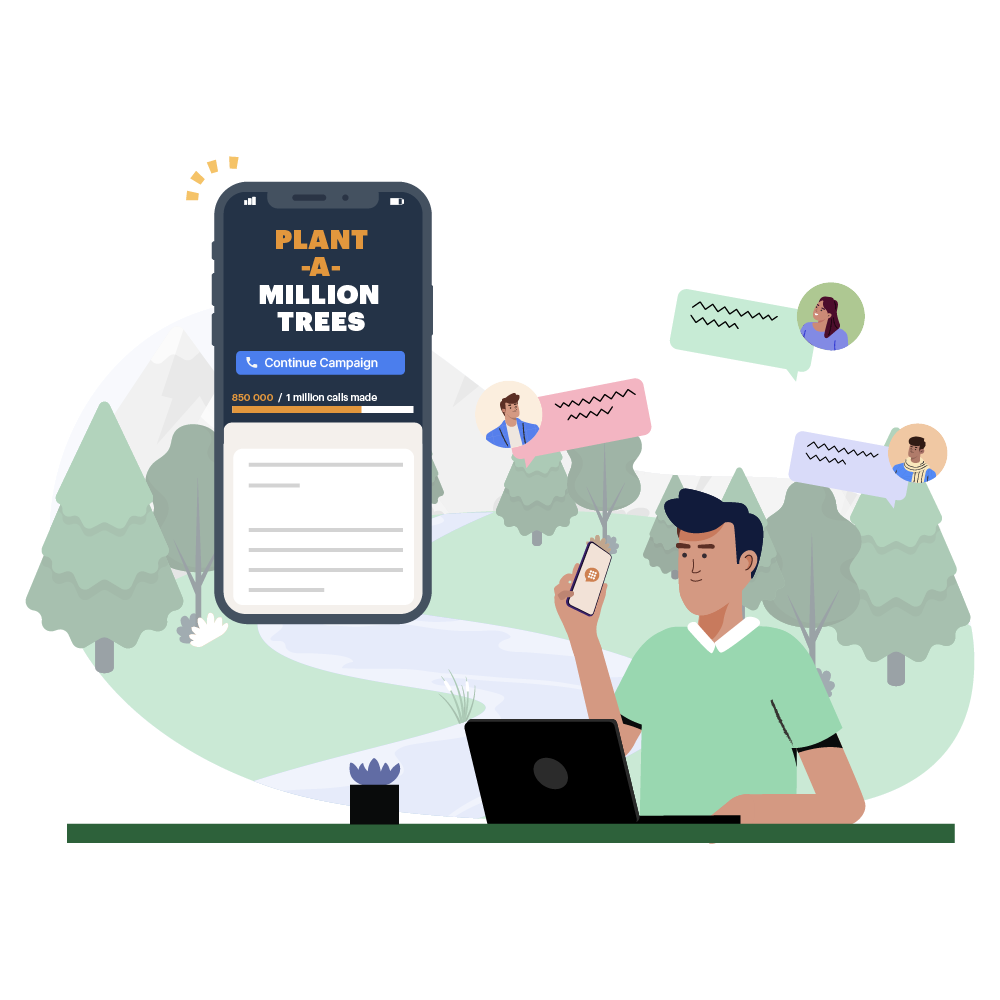 Explore CallHub's Fundraising platform.
Fundraising websites serve as a bridge between passionate individuals or organizations and their supporters, providing an online space to raise funds for various causes. These platforms have revolutionized the way we approach fundraising, simplifying the process and making it more accessible than ever before.
Understanding the types and key features of these websites is a solid step toward maximizing your online fundraising experience. From crowdfunding platforms to peer-to-peer fundraising sites, there's an option tailored to your specific needs. Coupled with essential features like social media integration, email marketing, and data privacy – your fundraising campaign is set for success.
Types of fundraising websites
There are several types of fundraising websites available, each catering to a unique audience and purpose. Some examples include:
Crowdfunding platforms: These allow individuals to raise money for specific causes by connecting with donors or investors on a global scale.
Peer-to-peer fundraising websites: These empower supporters to raise funds on behalf of your organization, amplifying your reach and influence.
Donation-based platforms: These provide a space for organizations to collect donations, offering various payment options and easy-to-use donation forms.
The selection of the right platform for your fundraising campaign plays a vital role. Consider the platform's features, user experience, platform fees, and payout models to ensure they align with your organization's goals and priorities. And don't forget to create a captivating campaign page that will inspire potential backers to support your cause.
Key features to look for in a fundraising website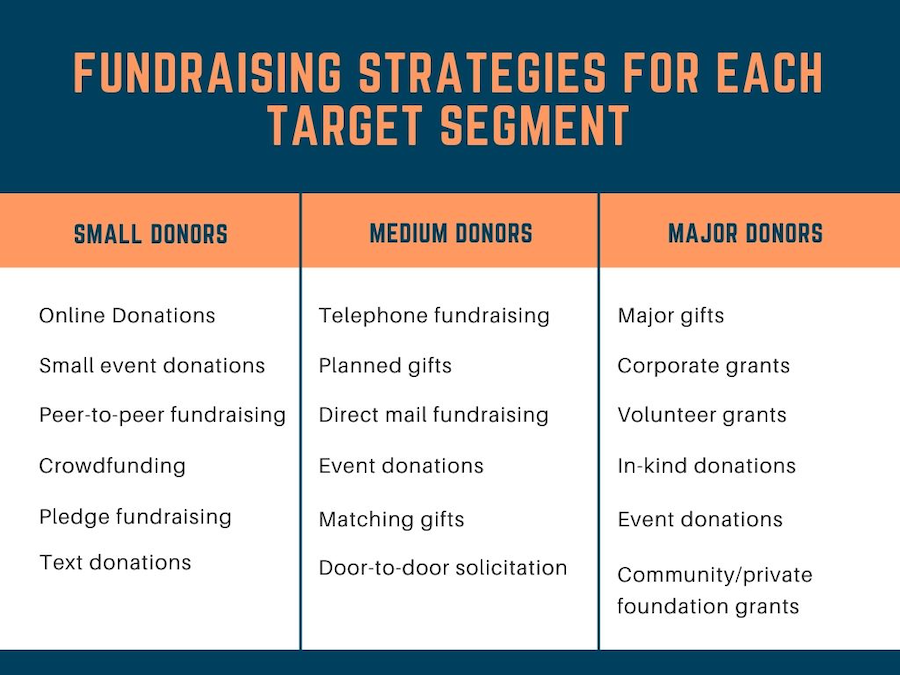 Source: Nonprofit Fundraising: The Most Comprehensive Guide/CallHub.
Identifying the key features that will enhance your campaign's success is a crucial factor when evaluating fundraising websites. A customizable donation page, automated tax receipts, and donor management tools are just a few examples of the features you should look for.
Moreover, consider a platform that empowers nonprofits to create dynamic membership campaigns, offers flexible membership tiers, and ensures data privacy and security. Features like these can help you build a strong donor base, streamline processes, and ultimately raise more funds for your cause.
Benefits of using fundraising websites
The benefits gained from using fundraising websites are immense. For one, they offer cost-effectiveness by enabling organizations to reach a larger audience through online donations while keeping expenses low. Traditional fundraising methods, such as printing and postage, are often more costly and time-consuming, making online fundraising an attractive alternative.
Time effectiveness is another significant benefit of using fundraising websites. By automating the donation collection, tracking, and reporting processes, these platforms help organizations focus on their core mission rather than getting bogged down in administrative tasks.
Cost-effectiveness
Fundraising websites offer a more cost-effective solution compared to traditional fundraising methods. By reducing costs associated with printing, postage, shipping, human resources, and physical events.
Organizations can allocate more funds to their cause through donation matching, benefiting local businesses as well.
Moreover, the wider reach of online fundraising helps organizations tap into a larger donor base, maximizing the return on their fundraising efforts.
Time savings
Utilizing fundraising websites can save organizations valuable time by automating the donation collection process. Some features of these platforms include:
Donation forms
Automated tax receipts
Donor data management
Recurring giving
These features streamline the fundraising process and make it easier for organizations to focus on their mission and achieve their fundraising goal.
Furthermore, these websites help track the success of campaigns, enabling organizations to make informed decisions and optimize their efforts.
Top fundraising websites to consider
With numerous fundraising websites available, finding the one that best suits your needs is imperative. Some top fundraising websites to consider are Donorbox, GoFundMe, and Mightycause. Each platform offers unique features and benefits tailored to different types of fundraising campaigns.
Whether you're a small nonprofit looking for a user-friendly platform or an individual seeking to raise funds for a personal project, these websites can help you achieve your goals. By providing an array of tools and resources, these platforms empower users to create compelling campaigns that resonate with potential donors.
Donorbox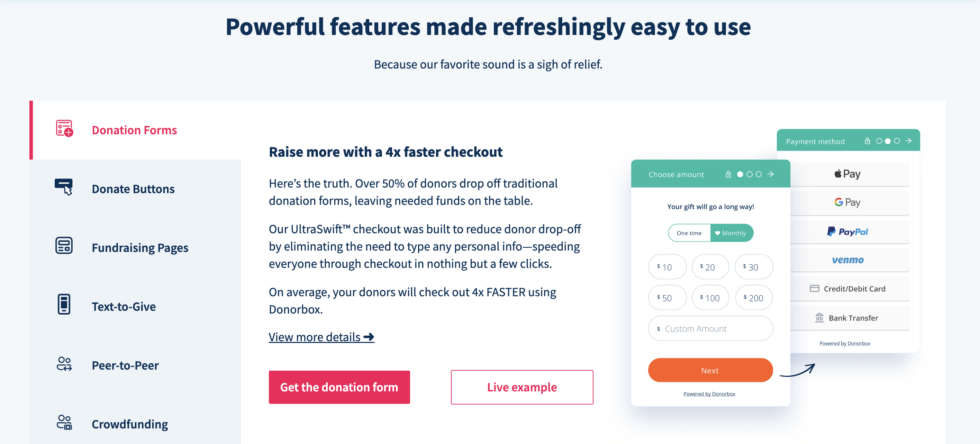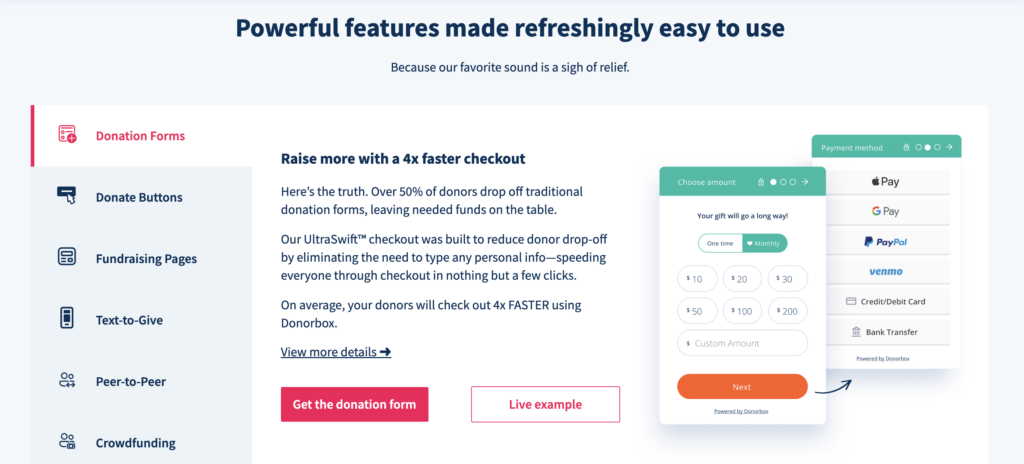 Source: DonorBox.
Donorbox is an all-in-one fundraising platform used by over 50,000 organizations worldwide. With a quick setup process and no start-up fees, Donorbox makes it easy for organizations of all sizes to begin fundraising online. This platform offers a range of features, such as customizable donation pages, automated tax receipts, and a donor management system, making it a one-stop shop for your fundraising needs.
Donorbox also provides robust security features, ensuring that your donors' sensitive information is protected. With automatic fraud detection, SSL/TLS encryption, and tokenization of financial data, you can rest assured that your fundraising campaign is in good hands.
GoFundMe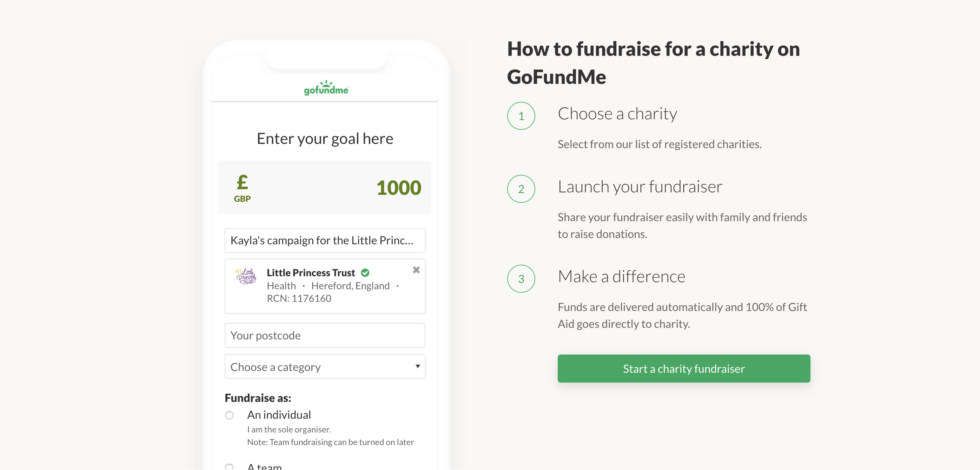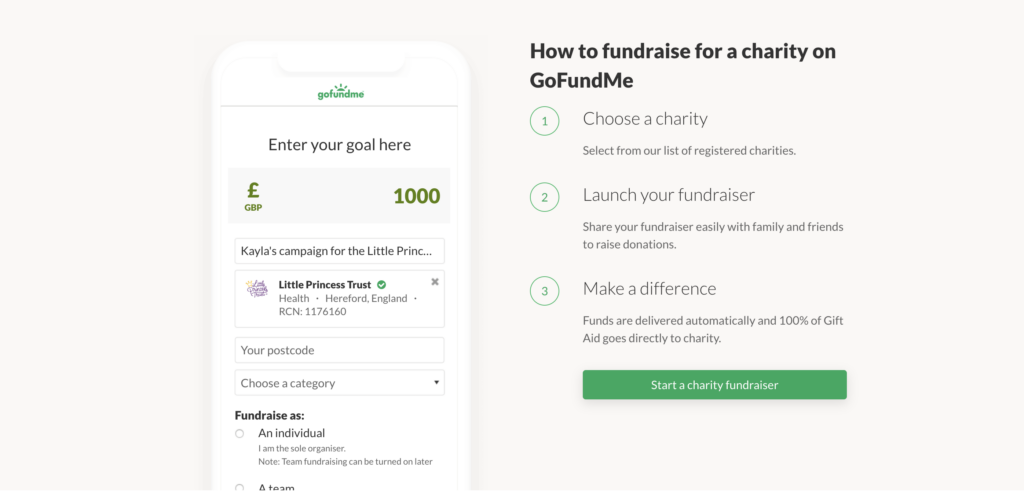 Source: GoFundMe.
GoFundMe is a popular crowdfunding platform designed to help individuals raise money for personal projects and medical expenses and even launch their own crowdfunding campaign. As one of the most well-known fundraising websites, GoFundMe has built a reputation for its ease of use and success in helping users reach their goals.
There are no fees to get started or manage your fundraiser on GoFundMe, making it a cost-effective option for individuals. Donations are subject to a small transaction fee of 2.9% + $0.30 per donation, allowing you to maximize the funds directed toward your cause.
Mightycause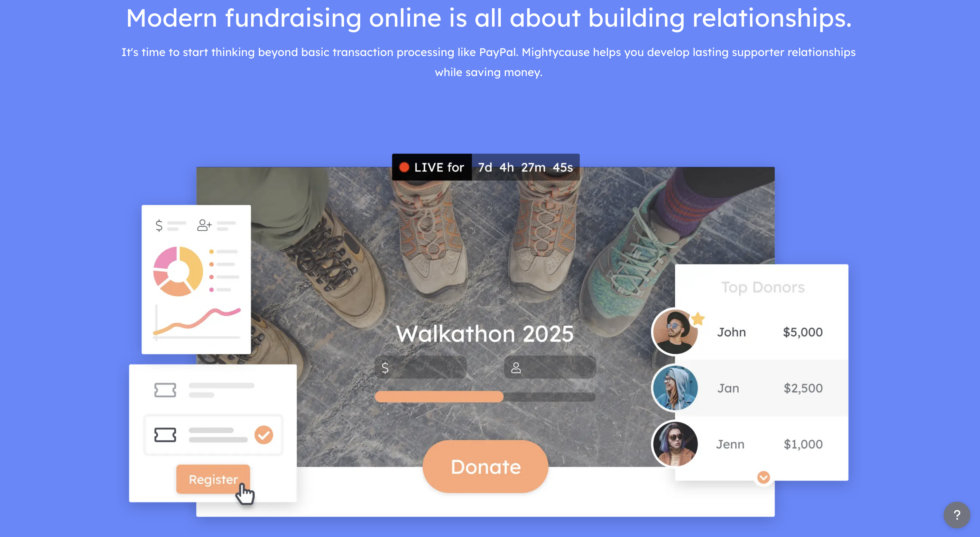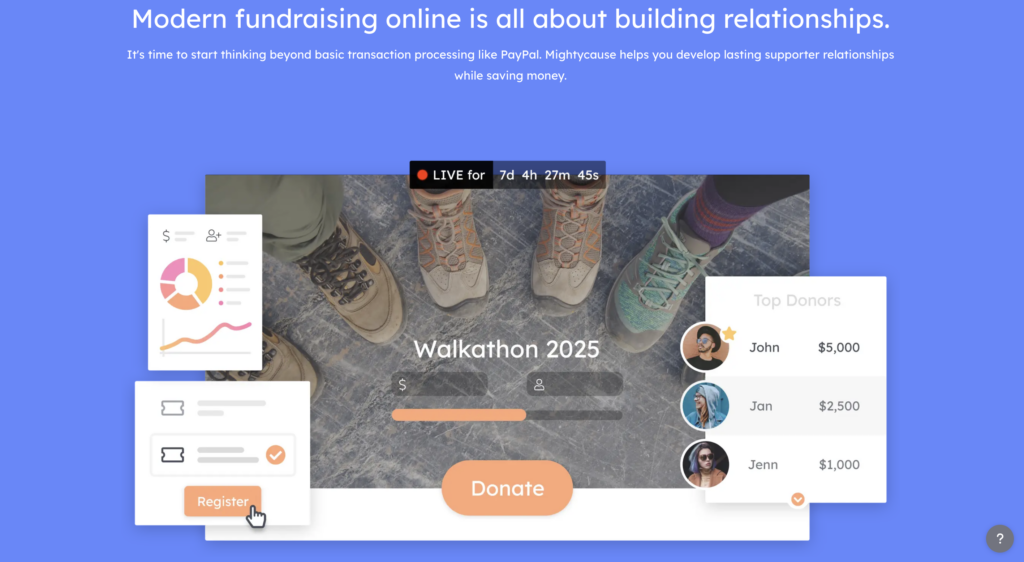 Source: MightyCause.
Mightycause helps organizations and individuals to fundraise easily. It provides essential donor management tools and peer-to-peer fundraising support. With two attractive pricing tiers, the Essentials plan for $59/month (billed annually) and the Advanced plan for $99/month (billed annually), Mightycause caters to organizations of all sizes.
This platform provides:
Unlimited fundraising campaigns
Unlimited peer-to-peer fundraising campaigns
Various donation reports
Social media integration
With Mightycause, you can streamline your fundraising efforts, engage your supporters, and ultimately raise more money for your cause.
Integrating fundraising websites with other tools
Organizations can reach a wider audience and simplify their fundraising efforts by integrating fundraising websites with other tools like social media and email marketing. By leveraging the power of social media platforms and email marketing campaigns, you can engage with supporters, share your story, and drive traffic to your fundraising website.
Not only does integration help broaden your reach and awareness, but it also allows you to capture valuable supporter information, ensuring enhanced security and fostering better donor relationships. By integrating with various digital tools, fundraising websites can provide a more comprehensive view of supporter engagement and help you make data-driven decisions.
Social media integration
Social media integration allows organizations to easily share their fundraising campaigns and engage with supporters online. By creating a presence on popular social media platforms, you can tap into a larger audience and attract new donors.
Furthermore, social media platforms offer built-in tools and features to help you promote your fundraising campaign and crowdfunding campaigns. By sharing compelling stories, collaborating with partners, and utilizing trending challenges, you can enhance your fundraising efforts and attract the attention of potential supporters.
Email marketing
The role of email marketing for nonprofits in keeping donors informed and engaged is highly significant. By staying connected with your donor base through personalized messages and segmented audiences, you can increase the likelihood of repeat donations.
Additionally, email marketing integration allows organizations to:
Track and evaluate the success of their campaigns
Monitor email opens, clicks, and donations
Optimize efforts and make data-driven decisions to enhance fundraising results.
Legal and security considerations
Legal and security aspects must be considered when using fundraising websites. Some important considerations include:
Data privacy and security: The protection of sensitive donor information is a must.
Compliance with tax deductibility regulations: Organizations must ensure they are following the necessary legal requirements.
Other legal considerations: Organizations should be aware of any additional legal requirements that may apply when using fundraising websites.
Fundraising websites can offer a secure environment for donors to support your cause by complying with data privacy laws, encrypting sensitive information, and ensuring the security of payment processors. It's essential for organizations to remain informed and up-to-date on these requirements to maintain trust and protect their donors.
Data privacy and security
Protecting sensitive donor information is a top priority for fundraising websites. By implementing data privacy and security measures such as encryption, consent-based data collection, and robust security safeguards, these platforms ensure that donor information remains safe and secure.
Staying informed about the specific regulations and seeking professional guidance if needed is key for organizations using fundraising websites.
Tax deductibility and compliance
Organizations must be aware of tax deductibility and compliance requirements when using fundraising websites. Some important considerations include:
Donations may be subject to specific regulations
It's crucial for organizations to maintain tax-exempt status
Accurately record and report donations
Provide donors with appropriate tax receipts
By staying informed and adhering to these requirements, organizations can ensure a smooth and successful fundraising experience.
Summary
In conclusion, fundraising websites offer a cost-effective and time-saving solution for organizations and individuals looking to support their cause. By understanding the types, key features, and benefits of these platforms, as well as integrating with other tools and ensuring legal and security considerations are met, you can maximize your fundraising efforts and make a significant impact. Now is the time to explore the potential of Donorbox, GoFundMe, and Mightycause and embark on your fundraising journey!
Frequently asked questions about fundraising websites
What website is best to raise money?
Donorbox, Kickstarter, GoFundMe, Crowdfunder, Indiegogo, Patreon, and Fundly are some of the best fundraising websites for nonprofits and individuals. These powerful crowdfunding tools can help extend your impact, making them a great alternative to GoFundMe.
How much does GoFundMe take on a $100 donation?
GoFundMe takes a 2.9% payment-processing fee and 30 cents for every donation, so on a $100 donation, it would take around $3.30. Additionally, there is no longer a platform fee, meaning that starting a fundraiser with GoFundMe is free.
What are the key features to look for in a fundraising website?
When considering a fundraising website, look for customizable donation pages, automated tax receipts, donor management tools, and social media/email integration for maximum impact.
How can fundraising websites help organizations save money?
Fundraising websites can significantly reduce costs associated with traditional fundraising, allowing organizations to save money and use it towards more important causes.
Feature image source: Carlos Muza/Unsplash.