In our post on the donor management process, we spoke about developing an efficient process that can significantly boost your fundraising ROI.
However, when this happens, you're going to need additional resources to help you keep up with this continual growth. One such important asset that you will absolutely need is a donor management CRM.
A donor management CRM will help you:
Collect donor data in an efficient way leaving no room for error due to manual data entry.
Store the data in an organized manner, making it easy for you to analyze and get insights.
Remind you about routine tasks (and even automate some of them) like sending out newsletters, follow-ups to previous communications, etc., so you can focus on what's important.
However, selecting the right CRM is not as simple. A quick online search will present you with a thousand options, therefore, making it difficult to select one that fits best.
To help you avoid that hassle, we'll go over some key features to look for when selecting a donor management CRM, along with some recommendations to get started.
What is a Donor Management System?
A donor management system (DMS) is a tool primarily used by nonprofits to help them manage donor relationships. It helps organizations collect and manage donor data and use that data to get relevant insights.
These insights expose donor behaviors and patterns that are then used to inform their fundraising strategies, engagement efforts, and donor retention strategies.
For example, you know that donors donating frequently deeply relate to the cause, which means you'll need to engage them in more ways (like volunteering or leading/running peer-to-peer fundraisers) to keep them loyal to your organization.
To think of it in simpler terms, a DMS is like a large filing cabinet with files on each donor containing a range of information. The only difference is that, in this case, the cabinet is stored in the cloud.
Is a donor management CRM different from a normal CRM?
When scouting for a donor management system (or a donor management CRM), you may come across a number of sites talking about a CRM instead of a DMS. Before you make a decision, it is important to understand the difference between the two.
A Constituent Relationship Management system is a software database that stores and tracks all of your organization's data, including donor data, communication flows, campaign data, etc. A DMS strictly focuses on donor data.
Therefore, a nonprofit CRM software is nothing but a subcategory of a CRM.
Typically, a CRM can do everything that a donor management system does but has more bells and whistles. This is why a comprehensive CRM is also costlier than a DMS.
This brings up the question, should you go for a CRM or a nonprofit CRM software?
That depends on three things:
The size of your organization: For organizations with large teams and a lot of departments, a CRM is a better tool. It automates most of the donor management processes and also syncs data coming in from different teams.
Your needs: In case you need a tool to help you manage additional aspects like events, volunteers, internal communications, etc., a CRM would be helpful. But, if strengthening donor relations is your key requirement, a DMS is a better choice.
Budget: CRMs bring in a number of additional functionalities and hence cost more. If you're on a tight budget, a donor management system would be recommended as it will help you manage the most important asset of your organization; your donors.
Key features to look for in a donor management CRM.
Once you've decided that a DMS is what you need (and not a CRM), the next step is to narrow down your choices. You can do that by looking for solutions with the following key features that are absolutely essential for developing an efficient donor management process.
1. Donor profiles
The DMS should allow you to create comprehensive contact profiles for each donor. These profiles should include the donor's
Contact details
Giving history
Communication history
Details on any other interactions they might have had with your nonprofit.
This profile should be updated in real-time with each new interaction and incoming data.
2. Donation tracking
Donor management CRMs should also help you track donors who have committed to making a gift. While it could be included in the donor profile, having a separate segment for this would make follow-ups easier. You wouldn't have to run filters on your database each time you want to track this.
3. Donor accounts
The donor management CRM should enable each donor to make an account of their own on your website. Give donors the ability to view and manage their giving history, recurring donations, tax receipts, etc.
4. List segmentation
You should be able to segment and create separate donor groups based on certain filters. For example, a group of lapsed donors who gave last year but not this. This makes it easy to personalize all nonprofit communication.
5. Automate routine tasks
There'll be quite a few routine tasks like sending out newsletters, follow-ups, etc. Your DMS should allow you to automate them. For tasks that cannot be automated, you should be able to set reminders.
6. Track relationships with donors
Another defining feature of a good DMS is the ability to track relationships among the donors in your database. For example, people working in the same company or those living in the same neighborhood. This can help you with personalization and reduce efforts of analyzing all your data manually to look for such relationships.
Apart from that, it should also enable you to automatically find duplicate records and merge them to keep the list clean.
7. Database backup
The DMS should run regular data backups to ensure that you don't lose any data. Moreover, it should also allow you to import this data to an offline source if needed.
8. Integrations with useful tools
Finally, you may be using third-party tools, like a call center software for telephone fundraising. The donor management system should be able to integrate with it to allow a seamless flow of data.
There may be additional features that you may want based on your specific needs. However, these features are an absolute must for you to carry out most of your donor relation efforts.
Donor management CRMs you can consider
Here's a list of donor management systems that we recommend to help you narrow your search.
1. Bloomerang as a donor management CRM
Bloomerang is a nonprofit donor management software that was designed with nonprofit fundraising in mind. This all-in-one solution takes care of your donor management and fundraising needs through one platform.
Apart from robust donor profiles, the solution's ability to track supporters through every stage of engagement with features like constituent timeline, social listening, website integrations, etc., comes in handy.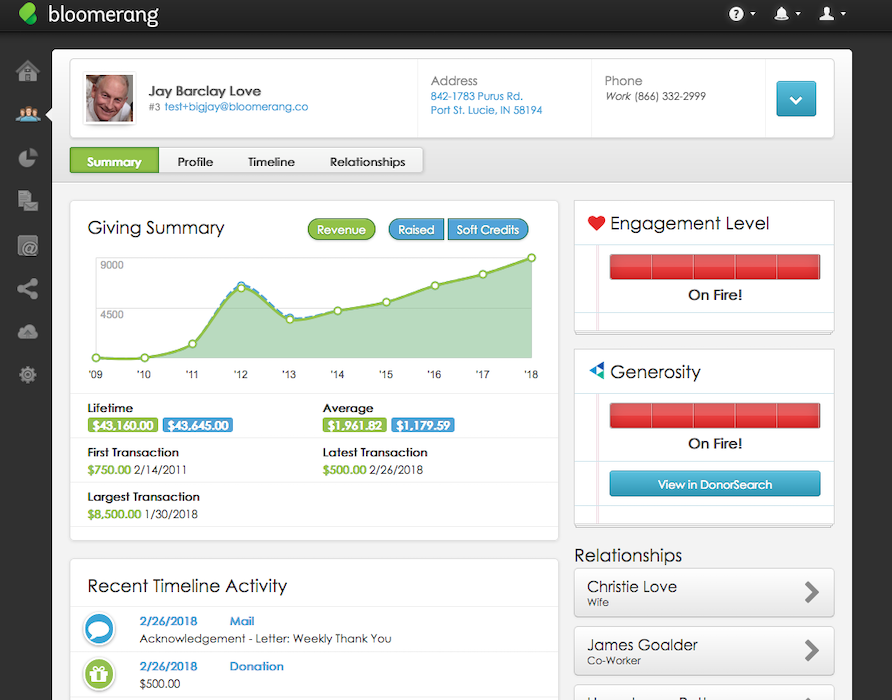 Pricing
0 to 1,000 records: $99/month
1,000 to 5,000 records: $199/month
5,000 to 15,000 records: $299/month
15,000 to 25,000 records: $399/month
25,000 to 40,000 records: $499/month
2. DonorPerfect as a donor management CRM
DonorPerfect is a donor management system with intuitive navigation for the donor database. It lets you customize donor profiles as per your needs making it easy for you to collate the data.
DonorPerfect's notable feature is its free mobile app that gives you access to the entire system. You can add and manage all your data on the go from your cell phone itself.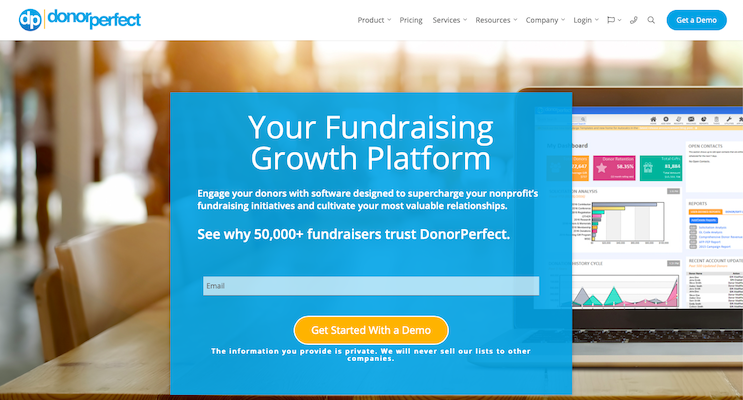 Pricing
Upto 1,000 records: $99/month
Upto 2,500 records: $179/month
Upto 7,500 records: $299/month
Upto 25,000 records: $499/month
Upto 75,000 records: $799/month
3. Little Green Light
Little Green Light is a completely cloud-hosted donor management solution that makes it easy to integrate with any other software like call center software or email automation tools. This, in turn, makes it easy to keep track of all donor communications and the data collected during these interactions, for example, a phone survey conducted using your calling tool.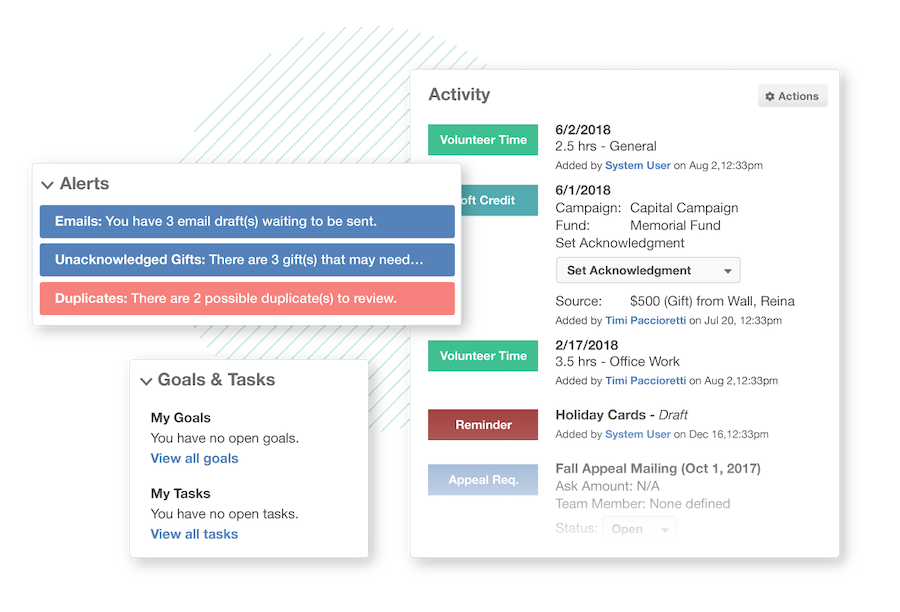 Pricing
Upto 2,500 records: $39/month
Upto 5,000 records: $49/month
Upto 10,000 records: $59/month
Upto 20,000 records: $69/month
The solution also offers annual plans at a 10% discount.
4. Lumaverse
Lumaverse is a comprehensive software solution that offers a dedicated donor management system under the name of NonprofitEasy.
This solution is suitable for nonprofits of all sizes. With this tool, your organization can manage all types of supporters, including volunteers, members, event participants, etc.
It comes with nearly 200 ready-made reports that you can use to analyze donor data. You can also create custom reports as per your needs.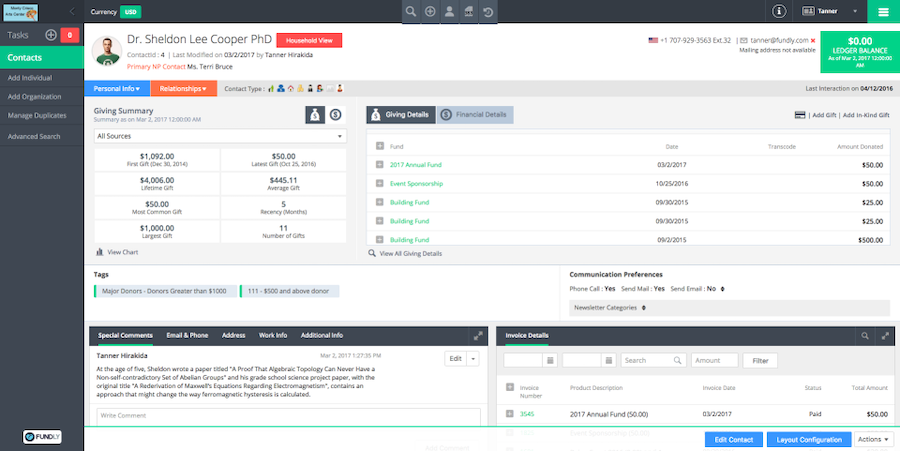 Pricing
Upto 1,000 records: $100/month
Upto 2,500 records: $175/month
Upto 5,000 records: $250/month
Upto 10,000 records: $350/month
Upto 25,000 records: $500/month
They offer a 30-day free trial to let you see if it's the right fit for you.
5. Arreva
Arreva is an easy-to-use donor management CRM that lets you view all donor data in one centralized location. You won't even have to leave the page to view it.
It easily integrates with all of your nonprofit marketing software and can generate insightful reports in one click. Another notable feature of this Donor Management CRM is that you can set reminders for specific actions for each donor if needed.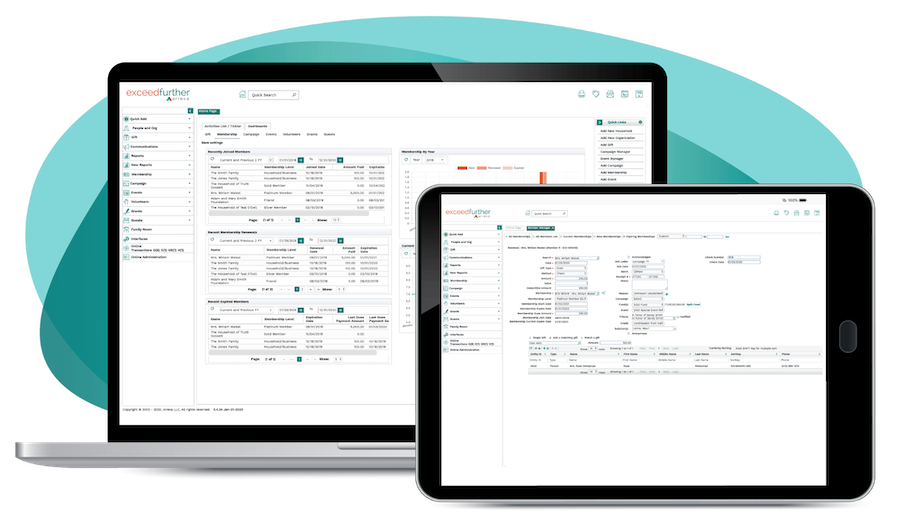 Pricing
Arreva's pricing plans start from $189/month. Apart from the number of records, their pricing also depends on the features you need. To know more about their pricing, you can schedule a demo or speak to their support staff to get the best package based on your requirements.
6. Kindful
Kindful is a comprehensive donor management CRM that lets you track, analyze, and report various aspects of the donor lifecycle. They also offer fundraising solutions and other integrations to carry out a multitude of functions from one platform.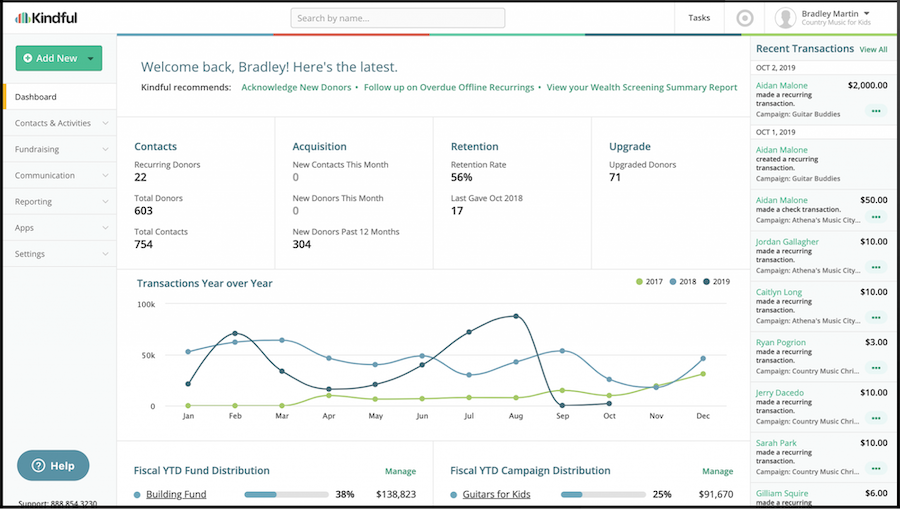 Pricing
Upto 1,000 records: $100/month
Upto 5,000 records: $200/month
Upto 15,000 records: $300/month
Upto 25,000 records: $400/month
Upto 40,000 records: $500/month
Upto 55,000 records: $600/month
Upto 70,000 records: $700/month
Having a donor management CRM in place can give your fundraising efforts the boost that you need. This, in turn, translates to exponential growth for your organization.
This would mean that you would also need a good CRM to support your donor management system and other efforts. At the risk of sounding blunt, we have to say that you'll be faced with the same challenge of having a number of options to choose from. Our post on the Best CRMs for nonprofits can help you narrow down your choices and choose the solution that fits you best.
Featured image source: Maksym Kaharlytskyi