Charity auctions are fundraising events where guests place bids to win certain items. The highest bidder wins the item, and the proceeds from the sale go to the nonprofit organization – a great way to raise money for a cause!
Charity auctions are highly beneficial to nonprofit organizations for two reasons ––
Fundraising.
These events give donors a chance to directly engage with your nonprofit, have a great time, and contribute to your cause.
But planning a traditional auction can be overwhelming, especially if you're doing it for the first time.
What type of auction should I go with? Should I hold an online auction or a live one? Where will I procure the items from? You might also need to consider procuring a license for your charity auction if state laws mandate them.
This article addresses all these questions and more and will help you plan an unforgettable auction event.
Types of charity auctions you can host
Before you dive in and run a charity auction, you must know the different kinds of auctions you can host and their pros and cons –– this can help you determine which type of event is the best fit for your organization.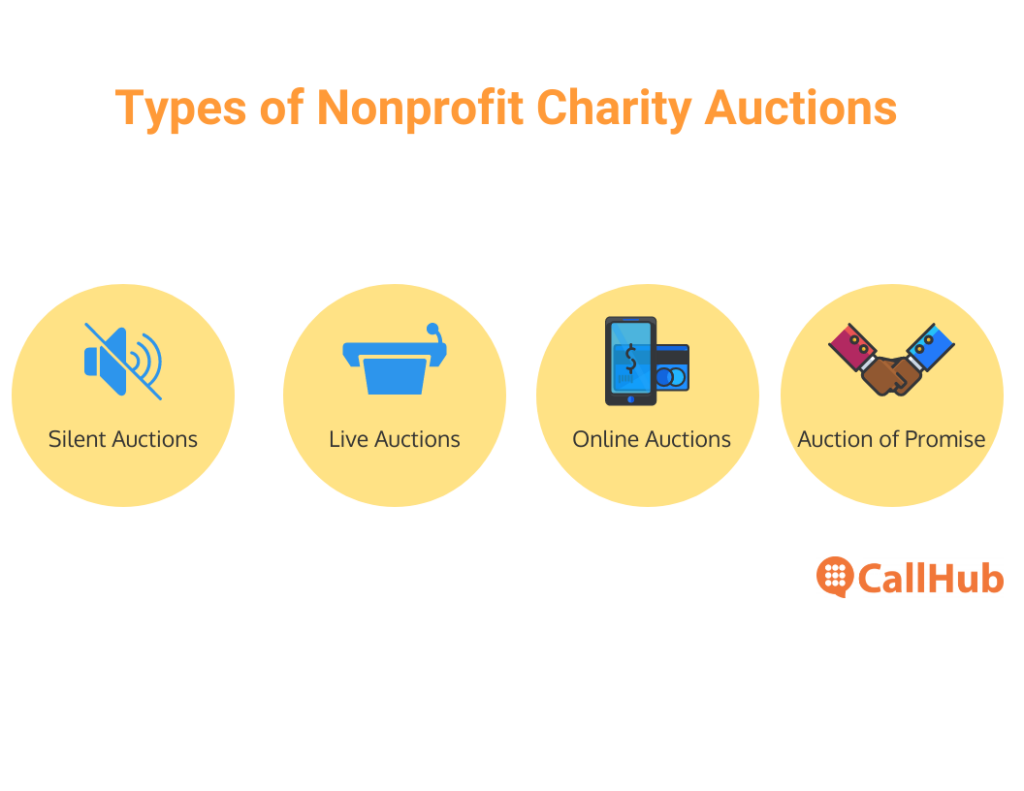 Let's explore the different types of charity auctions in detail.
Silent auction
In a silent charity auction, auction items are placed on tables throughout the venue for guests to look around and make bids. This type of auction is engaging as you have ample time to interact with your donors. It is also less formal than live auctions, making it easy to incorporate with any type of event. The biggest drawback of this kind of auction is –– it lacks a sense of urgency, due to which the bidding can fade into the background. To avoid this, send text messages to your guests alerting them when they've been outbid, when bidding for items will close, or when the bidding is going to start.
Live auction
Live auctions are classic charity auction events that are more formal. The bidding takes place with a live auctioneer listing off items. This is the only kind of auction in which bidding is not anonymous, encouraging friendly competition. Since the auction is the main focus, donors are more engaged and actively participate. Live auctions are far more expensive than other kinds as they involve a lot of logistics (host, professional auctioneer, emcee, etc.).
Online auction
As digital fundraising is on the rise, hosting an online charity auction can be a smart move for your organization. It's super convenient as donors can participate from their homes. You don't have to host a physical event, making it pocket-friendly. These auctions are very flexible as they can be hosted for longer than an in-person auction. The only drawback is that it lacks urgency. This is why you must actively promote them.
Auction of Promise
An auction of promises is a fun way to raise money for your nonprofit. This is an auction in which donors are promised service in exchange for donations to the organization. The prizes at an auction of promises could be about anything – from an hour of maths tuition to dog walking, cooking a meal, washing a car, or maybe something even more significant.
This is an excellent method of a charity auction, especially when procurement of rare items is difficult or when you have a lot of volunteers willing to provide a service.
Read Also: ​​14 Unique Online Fundraising Ideas Perfect For Social Distancing
Tips to run a successful charity auction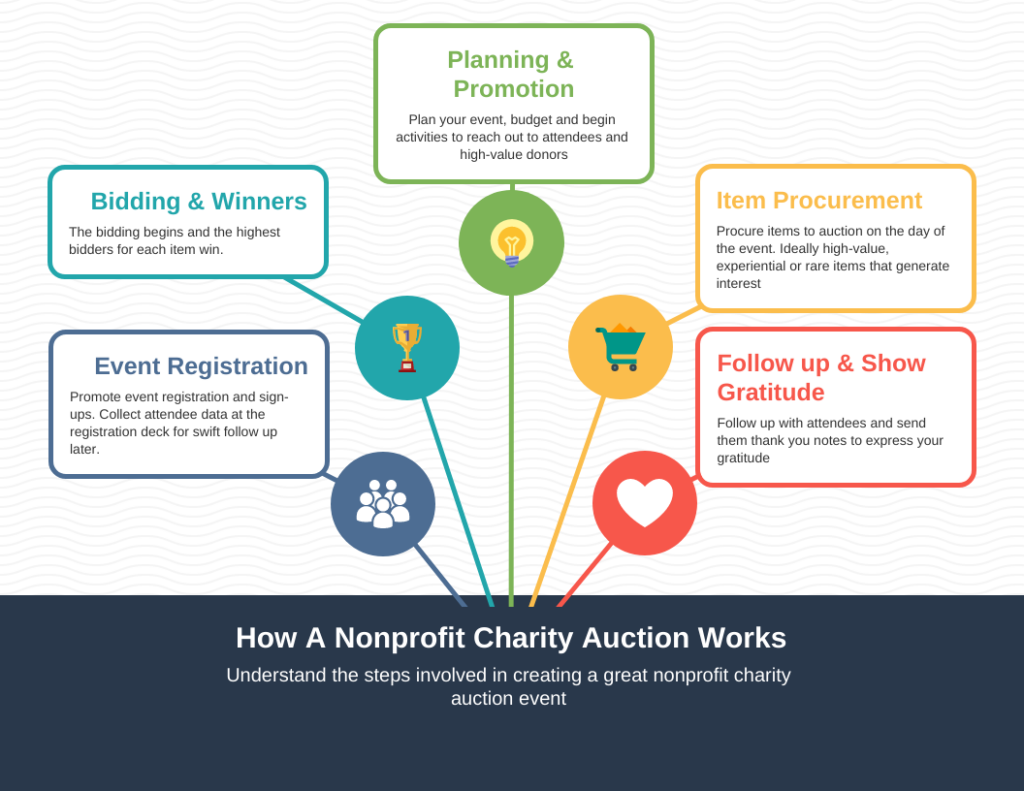 When planning a charity auction, there are several factors that you must consider to ensure the event is successful and raises the much-needed dollars you are aiming for. A few important factors to consider during your planning stages are listed below. To host a successful charity auction, you need to:
Pick items that generate the most dollars
Solicit auction items
Include other donation avenues with your auction
Gamify the auction to boost fundraising
Troubleshoot your charity auction
Pick items that generate the most dollars
For your charity auction to be successful, the items on display must excite your audience. Keep in mind that the more unique the item, the more buzz it'll generate.
Generally, experiential items outperform material items. Experiential items are those items that one cannot simply purchase from a store; instead, it is an experience that one goes through, such as a trip or sports event. It's precisely the kind of item you must pick to raise the most funds.
People like to spend less money on buying things and more on experiencing new and unique adventures – and telling the world about it online afterward. Giving donors an experience in exchange for donations (through your auction items) helps form lasting connections and make your nonprofit memorable.
Great experiences allow donors to share them with their friends and family on social media, spreading the word about your organization and resulting in a more extensive donor base for your next charity auction.
Solicit auction items
Solicitation of items is the most important part of auction planning. You must have a procurement team in place, and you could get a few volunteers or staff members to procure items.
Start by consulting your donor database, leveraging your connections (friends and family), and then move on to local businesses and retailers. Equip your team with a toolkit that includes donation pledge forms, event invitations, solicitation letters, item ideas, a list of people to approach, etc. This will help them have a clear idea of what to procure and how to make the ask.
While soliciting auction items, your team needs to look for items that are:
Rare or unique: this includes one-of-a-kind items and experiences.
Priced appropriately: it must fall under your supporters' general price range
Relevant: closely related to your organization's work.
Here's how you can solicit auction items:
Ask your team, volunteers, staff, supporters to donate items for the auction.
Turn to local businesses who might want to support your nonprofit, ask them to donate an item.
Look for gifts your nonprofit has received over the years and see what you can auction.
Visit thrift stores to find bargains on great items that you can list for your auction.
Include other donation avenues with your auction
You can't guarantee that every attendee will bid at your charity auction. And those who do might not go home with the items they wanted.
To appeal to your donors' preferences, make sure that everyone participates and gets something they like. Including other donation avenues at your event can help with that. It'll also make your event more profitable.
The donation appeals you can feature at your charity auction are
Live appeals: Live appeals are nothing but requests for donations. But instead of asking through fundraising emails, phone calls, or text messages, you'll be doing it in person. To pull it off, you must get someone from your organization, preferably a board member, to make a request at the beginning of the auction. This will give your fundraising a boost.
Raffles: You already have a lot of exciting items at your auction. So take one out and offer it as a prize for winning the raffle. Sell tickets before your auction and during the auction itself by setting up a booth. Promote it through texts and display it on your website.
Merchandise: Don't let donors who didn't win auction items walk home empty-handed. Start selling merchandise. This will help you generate more revenue and will also help in advertising your organization. Choose items that are relevant to your audience. For example, if you were raising money for a school, school supplies will appeal to your attendees.
Read Also: 15 Unique Fundraising Ideas We're Sure You Haven't Tried Yet | CallHub
Gamify the auction to boost fundraising
To get your attendees to participate, add an element of fun to your charity auction. You can do this by gamifying your charity auction. This will help you boost funds and keep your attendees engaged throughout the night.
A few games that you can use at your charity auction are:
Fundraising Thermometers: They are best for making live appeals. You can get the auctioneer to remind attendees to make donations and help your organization reach its fundraising goal by the end of the auction. Put a time limit before which you must reach your goal; this will create a sense of urgency, motivating them to donate more.
Auction Scoreboards: This will give your bidders real-time updates on auction items to make bids from anywhere. The board can feature popular bid items to get higher bids. It must also showcase items that haven't received bids yet to encourage bidding.
Text Notifications: To motivate donors to bid more for an item, you can send them text notifications. For example, send a text saying – Hey Jon, Melinda has made a higher bid than you. Up your bid, so you don't lose out! Such texts will encourage friendly competition among donors. Use the power of mass texting to send instant, relevant messages to attendees.
Countdown Timer: You can use this to inform donors that you are closing bids for a particular item. Doing this will encourage last-minute bidders and increase the value of the item.
Troubleshoot your charity auction
While running a charity auction; you usually face certain common issues. We made a list of the problems and provided quick solutions that you can implement to make sure your auction is a success.
When your guests aren't bidding on any of your items: this happens when you have a lot more items than bidders. In such cases, you can group a few similar items to create a package and give it a fancy name. Also, make sure that two guests can enjoy a single item. This will encourage competition, and you'll see bids coming in no time.
When your guests wait till the last minute to bid: Simply solve this issue by actively promoting your auction items. Send texts informing them that bidding has begun, make the minimum price clear for each item, and send texts informing them that bidding will be closed before an hour.
Some of your items are ignored: In such cases, make a list of items that may not be very popular among attendees and set the minimum bid price 15-20% lower than the market price. Hold an online sale after the auction if you still have leftover items.
These tips will ensure that your charity auction is on the right track to raising crucial funds for your nonprofit organization. To help your charity auction event reach greater heights, we've also compiled an auction event planning checklist to get your event smooth sailing in no time. Let's explore.
Charity auction event planning strategy for success
Planning a charity auction is no easy task. There are several factors to consider, including ensuring your donors and supporters are happy and well taken care of. In addition to that is the question of the budget – you need to ensure you are spending a lot less money than you intend to raise; otherwise, the event would be a futile exercise. We've collated an actionable list which you can refer to when you begin planning your charity auction.
Figure out what type of event you want to plan: You need to weigh the pros and cons of each type of charity auction event and figure out which one suits your goals the best. Do you have the bandwidth to host a live auction and hire the necessary staff? Would an online charity auction work better for you in terms of costs and number of people reached? Making this decision is the first step to hosting a successful charity auction.
Set an event budget: Since there are so many things to consider when hosting a charity auction, you must budget carefully and stick with it. Make a list of all the expected expenses and how much money you can allocate under each area. This table might help you:
| Expense Categories | Expenses | Funds Available |
| --- | --- | --- |
| Decoration | Insert amount | Insert amount |
| Volunteer/Staff allowances | Insert amount | Insert amount |
| Auctioneer | Insert amount | Insert amount |
| Paid social media ads | Insert amount | Insert amount |
| Creatives | Insert amount | Insert amount |
| Event budgets | Insert amount | Insert amount |
| Admin expenses, salaries, overheads | Insert amount | Insert amount |
| Software tools | Insert amount | Insert amount |
| Miscellaneous expenses | Insert amount | Insert amount |
Recruit a team: You need a dedicated team to run your charity auction smoothly. Some roles you might want to assign may include:
An auctioneer or host for the event
Marketing and outreach head
Finance and sponsorship head
Event planning manager
Food and beverage team
Set a date and book venue: An ideal location to host your charity auction would be your own premises so that people can visit your office and understand the kind of work you do. However, suppose you cannot host many people on your premises. In that case, you might want to book a great event venue and set a feasible date for your intended attendees (avoid long weekends or special occasions such as thanksgiving).
Promote your auction: For your charity auction to be highly successful, you need to invite as many people as possible. Here are some ways you can do that:
Social media: Create an event on Facebook and invite all your followers to it. Post stories on Instagram about your event and set a reminder that people can follow.
Text messages: Share event links via text messages so that people can easily register for the event. You can also schedule reminder text messages so that people do not miss the event.
Phone calls: Make your high-value donors feel extra special by reaching out to them via phone calls. Conduct a calling campaign a few days before the event to ensure people remember it and carve out time to attend.
Website: A nonprofit's website plays a vital role in ensuring people are driven towards their activities and donation campaigns. Add details of your charity auction on your website and encourage people to attend.
Follow up and thank participants: Showing gratitude towards supporters who attended and actively participated in your charity event is a significant step to ensure goodwill. People love it when they know they made a difference by spending their time and money on a just cause. After the event, prepare a strategy to thank your supporters adequately.
Read Also: Donor Recognition Ideas: 10 Easy Ways To Thank Donors
The way forward
Running a charity auction takes quite a lot of planning and effort. Keeping these tips in mind will ease your process and boost fundraising. Now that you know the fundamentals of running a charity auction, you are all set to begin.
CallHub has several resources that can help you boost your nonprofit's fundraising. Read our article Nonprofit Event Management: Vital Tips & Tools For Your Events to learn more and explore other exciting resources on our website.
Featured Image Credit: Towfiqu barbhuiya