The holiday season is here, and you must be ready to script your Christmas donation letter to supporters. This is a great time to solicit funds, considering:
Nearly 30% of giving occurs in December.
34% of Americans who donate to charity are more likely to do so during the holiday season.
During this time, the average gift size is between $32-110, bigger than the rest of the year.
It is essential to hit the right mark with your solicitation letter to ensure that these dollars come to your organization.
Writing an intelligent, appealing, and compelling Christmas donation letter is the way to do that.
Why use a Christmas donation letter to solicit funds?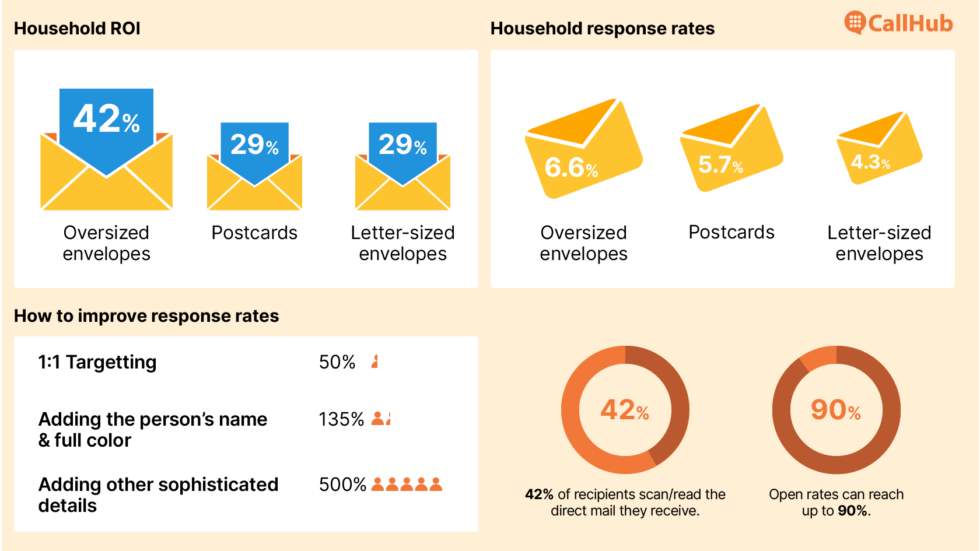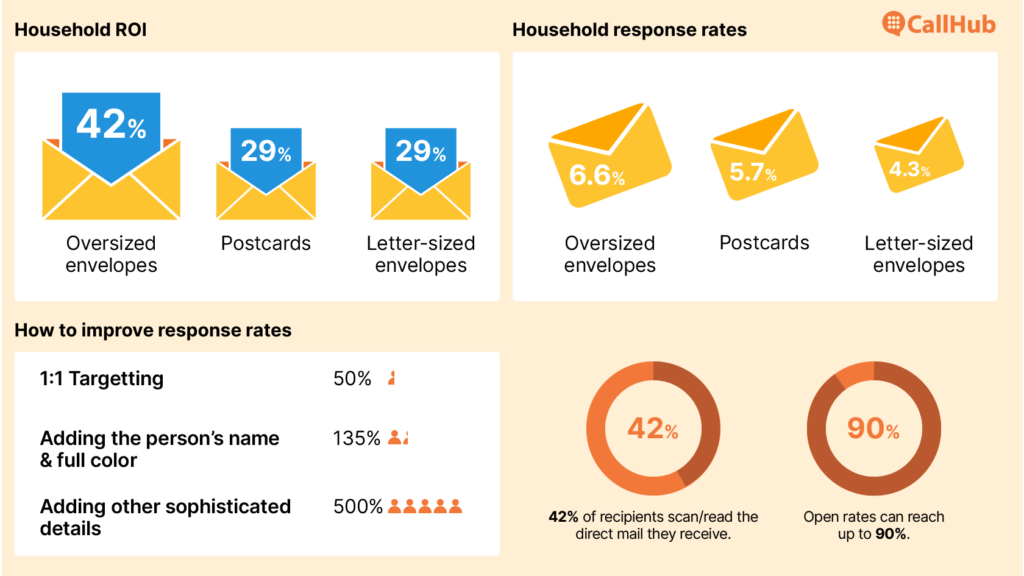 Here are four reasons why letters work:
They are incredibly personal: A letter is about as personal as you can get without meeting someone face-to-face. Handwriting, customization, and signatures convey the efforts you put into personalizing these correspondences.
Faster, more money-efficient way of soliciting major donations: Fundraising events are excellent opportunities to appeal for big contributions. However, they are time-consuming and cost a lot. Moreover, your supporters may be too busy to attend during the holiday season. However, donation appeal letters can help you stay true to your budget while making donors feel appreciated.
Quick results (for major donations): Responses (in the form of gifts) usually occur within a few days of receiving the letter.
Measurable ROI: Letters are typically tracked using the shipment merchant's tools or follow-up calls or texts. Similarly, by assigning unique codes to each recipient, you can track your response rate, gross income, and cost to raise a dollar.
Let's look at how you can draft the perfect letter of solicitation for Christmas this year.
What should I write in a donation request letter?
Every Christmas donation letter must be unique, but at the same time, it must carry a few basic elements to keep the correspondence sharp and effective. Always note the six things that must be part of a donation request letter:
Salutation
Introduction
Explanation of your cause and mission
Clarification of your needs
Clear CTA
Closing
Let's look at these elements individually.
Salutation
The salutation is the very first impression of the content of your solicitation letter. It must be accurate and appropriate.
Instead of going for a common salutation for all donors, understand your relationship with each of them, and address them accordingly.
For instance, a major donor who maintains a formal relationship with your organization cannot be addressed as 'dear'. This salutation can be reserved for young supporters who enjoy a more casual relationship.
Moreover, always write the person's name (first or last name, along with the right title) following the salutation.
Example: Dear Pam – Salutation for a casual donor relationship or a young supporter.Respected Mr. Nicholson- Salutation for major donors.Hello Michael- Salutation for a semi-formal relationship, small donors or first-time donors.
Introduction
The envelope may carry your organization's name, but it's impolite to start a letter without properly introducing yourself. Your introduction must have your name and designation at your nonprofit.
Example: I am David Elmer, a Donor Success Manager at the Home To All Organization. I am Sam Jackson, and I represent the Hungry Hippo fundraising campaign at Home To All Organization.
Explanation of your cause and mission
The next step in writing a Christmas donation letter is to explain the cause for which you are soliciting funds. This part must include:
An introduction to your cause
Your goals and objectives
How this cause is relevant to the current season
Example: If you are snuggling with your hot cocoa in this terrible cold, imagine the plight of the homeless who cannot afford so much as a warm meal. Our mission is to help 200 underprivileged individuals in New York with fresh food and warm beverages in the winter.
Clarification of your needs
Since the letter is written to solicit donations and not spread awareness, you need to explain your goals. This section of the letter includes:
A clear mention of your goal (how much you aim to raise)
Deadline
Your plan to raise these funds – through individual small donations, gift matching, major contributions, etc. (if relevant)
Example: We did the math. Every meal costs an average of $5 only. And that means we need to raise $120,000 to provide four healthy meals daily for an entire month. We rely on you, the loyal donors, to raise funds for this cause.
Clear CTA
So, how can the reader help you? Donate money, yes. But how exactly? A clear call-to-action makes the reader's work easy, and they know exactly what you expect from them.
A 2017 study showed that 81% of people who donated did so after (and because) they were asked. So if you don't have a clear, prominent CTA, you miss out on potential donors.
The CTA in your Christmas donation letter must include:
How the reader can help you (donations)
Different ways to donate
What gift size you expect from them
Example: Can you help us, Michael?
$25 buys a meal for five individuals.
$50 buys a meal for ten individuals.
$100 buys a meal for 20 individuals.
You could:
Text HUNGRYHIPPO to 39999, and we will share a donation link with you.
Visit our website (HomeToAll.org) and click on the DONATE button.
Visit us in the office (we'd love to meet you!)
Send us a check (To: Home To All, NYC)
Closing of your Christmas donation letter
A good send-off is all you need to close the letter now. All the vital information has been provided to the reader, and this is where you graciously exit the stage. Make sure your closing includes:
The mention of incentives and how a donor may receive them (if relevant)
Other ways to contribute if they are unable to donate at the moment
A thank you note in advance
Name and signature of the sender.
Example: We are giving a customized jacket to all donors who give over $250 and an Xbox to a lucky donor!
But we understand if you are unable to donate right away. That's okay. You can still help us manage the on-field work or volunteer time. Text VOLUNTEER on 39999 to enroll as a volunteer.
Thank you for your continued support- we are nothing without amazing donors like you.
Hope to hear back from you,
Warm Regards,
David.
Sample Christmas donation letter: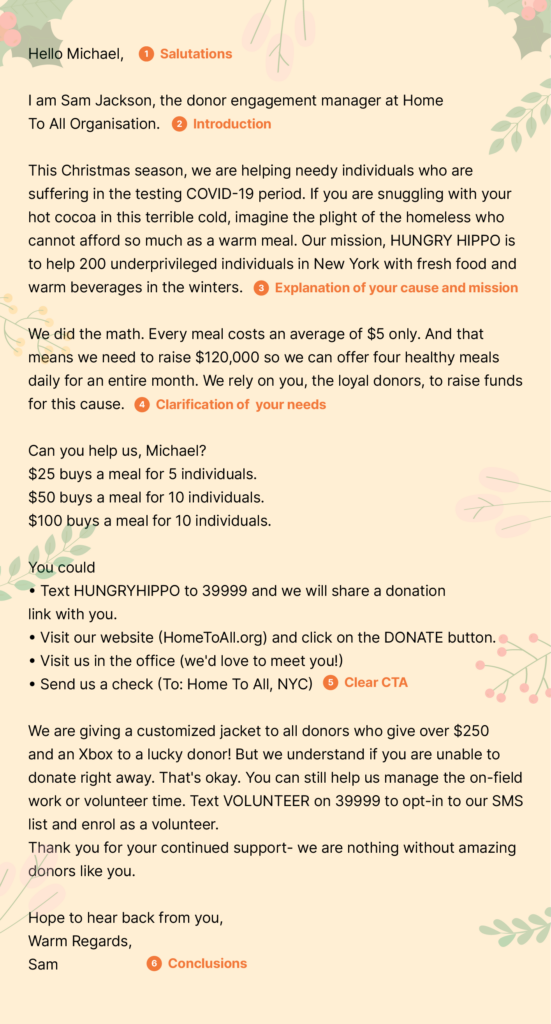 That's all the crucial elements of your Christmas donation letter. You can get creative with the letter. However, ensure that you have these elements in place, no matter how you craft the letter.
Let us look at the best practices that make your letter stand out and ensure positive results.
How do I write a Christmas solicitation letter?
Follow these best practices for an effective donation appeal letter this holiday season:
Keep the letter concise
Brand it with the season or holiday
Mention tangible impact prospects
Don't make generalized asks
Give multiple options to donate
Provide other ways of contributions
Follow up via personal correspondence
Let's look at the practices individually.
Keep the letter concise
Fundraising letters should be no longer than one page long. In case yours goes over this limit, make sure the CTA is mentioned on the first page itself.
Letters convey an intimate relationship between you and the donors. You don't want to go into irrelevant details, nor do you want to stray away from the point. Rather, you want to maintain the attention of the reader and compel them to donate.
What to include in your Christmas donation letter:
Real stories about volunteers or beneficiaries.
Vocabulary to shorten sentence lengths.
Highlighted parts to summarize the content of a paragraph or section.
What to avoid:
Lengthy explanations of the previous works of your organization.
A long introduction to you.
Other irrelevant details that may take the focus away from the protagonist of the story.
Brand it with the season or holiday
The Alzheimer's society uplifted a simple black and white letter and added the Christmas feels with just an image and complementary color scheme.
Such branding of your solicitation letter sets the mood for Christmas and helps establish that your cause is relevant to the season.
What you can do for such branding:
Use imagery and phrases that tie to the season.
Highlight why your cause and Christmas fundraiser are relevant during this season.
Why the reader should give now.
When branding with imagery, ensure the images and decorations don't overpower the text.
Mention tangible impact prospects
The Christmas donation letter, being extremely personal and seasonal, cannot be vague about the asks. You have established a strong relationship with the donor, and they deserve to know how their money will be spent.
A study by Campaign Monitor showed that 61% of donors appreciate knowing how their money is helping. Moreover, 91.8% of nonprofits believe that sharing tangible impact prospects and real stories is the most critical content for their donors.
When you mention the tangible outcomes of the reader's contributions, you increase the chances of getting the desired responses.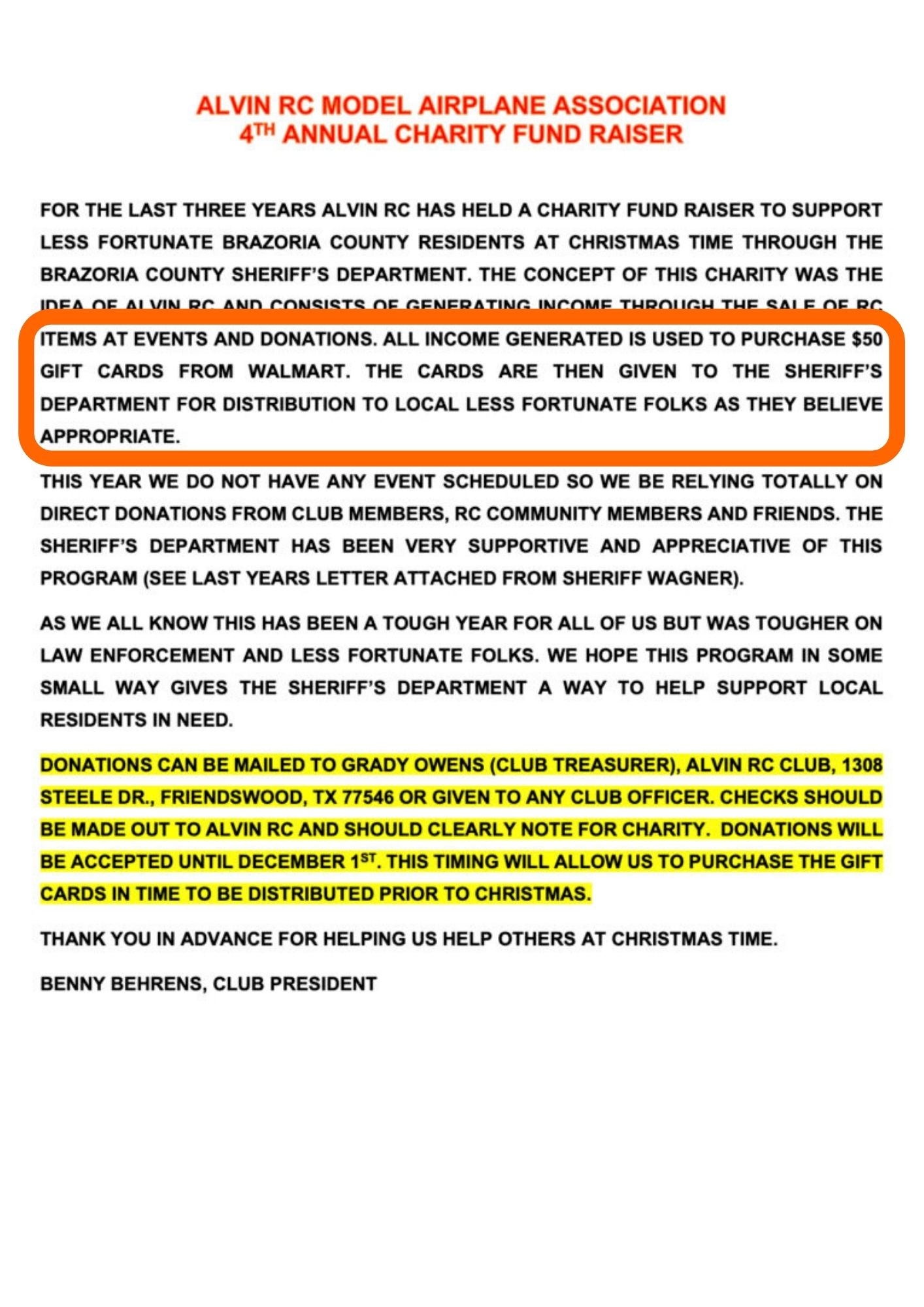 Personalize, personalize, personalize
93% of direct mail fundraising appeals are letters. Why? Because letters allow you to personalize content to the maximum, and people respond positively to correspondence tailored to them.
The first thing that the reader will notice is their name. So, when personalizing the Christmas donation letter, ensure you get the name right. Following that, personalize the content with:
The right salutation(s) and pronouns.
Subtly mention their previous contributions and how they helped you.
Mention any relevant interests or previous interactions that can nudge them to donate.
Add how you would like them to act now (continue previous support, contribute more than they usually do, etc.)
Adding such sophisticated details can increase the response rate by 500%!
Sample solicitation letter for Christmas: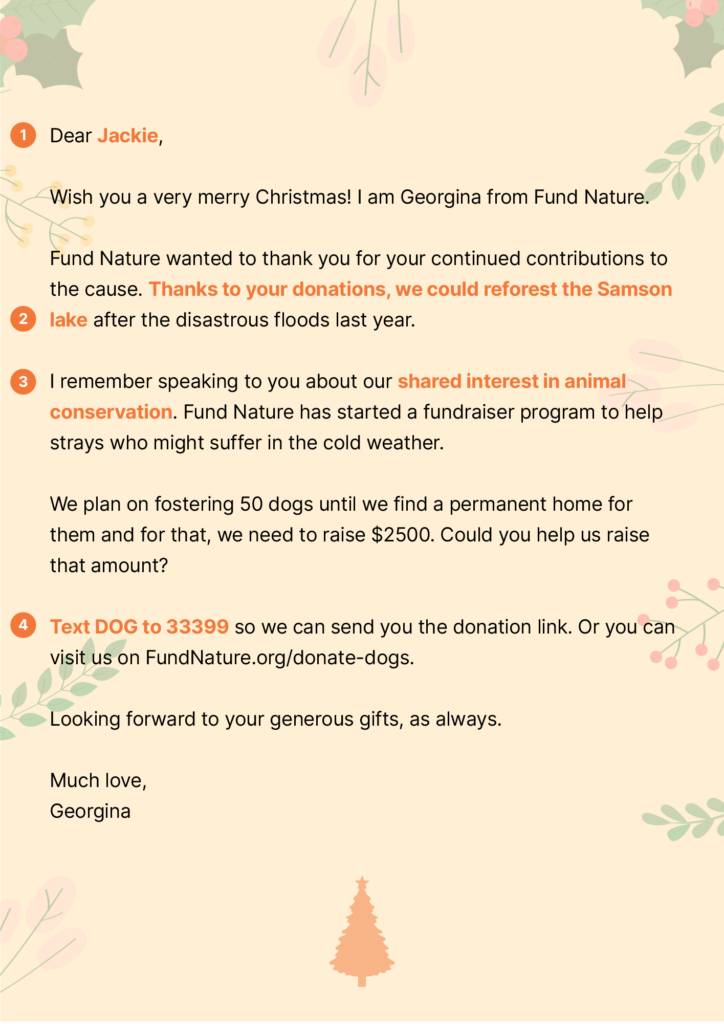 Give them multiple options to donate
The 2020 global trends for giving show that:
55% of donors prefer online donations with a credit or debit card.
12% prefer bank or wire transfers.
10% prefer to give by direct mail or postal mail. The same number prefers giving on PayPal.
8% prefer cash transactions for donations.
2% prefer donations via a digital wallet, 2% by text-to-give, and 1% by mobile money.
Related Reading: Text-to-Give Vs. Text-to-Donate – Which One to Use for Your Nonprofit?
Thus, it is important to include multiple giving channels in your fundraiser. Mention the various ways people can give in the closing part of your Christmas donation letter. If you are providing unique codes to track your ROI, this is the place to mention them.
Provide other ways to contribute
A 2019 study by The Ascent revealed that 21.5% of their respondents went into debt over Christmas.
If your target donors, too, are facing similar challenges, they may not donate. By providing other ways of contribution (volunteering, non-monetary donations, etc.), you give the opportunity to stay connected with your cause.
You can then nurture these supporters for future fundraisers.
Related Reading: Digital Organizing 101 – Tactics, Tools, and the Ladder of Engagement
Follow up via personal phone calls or text messages
If you are concerned that your Christmas donation letters haven't reached the right people or that donors need an additional nudge, follow up with them with one-to-one conversations.
Phone calls and text messages are both excellent ways to do this. They allow faster two-way communication and can be useful for addressing their doubts or inhibitions quickly.
What you need to do:
Segment recipients into categories such as donors, respondents, non-respondents, etc. Segmenting your list helps you decide who you want to call or text. It also helps in personalization, so you don't send a generic message (or follow a generic script) for everyone.
Decide which lists you will be calling and who you'll be texting. For example, you may want to prioritize calling major donors and sending a text to one-time donors.
Choose the right contact lists on your call center and texting software. Write scripts for these correspondences and upload them.
Assign agents and start following up about one week before your deadline.
Successful follow-up calls and texts will bring in donations during the final days of your campaign. When the deadline is over, the next phase starts- that of acknowledging and thanking donors.
Why is this necessary?
The top reason why donors who give $250-$2500 stopped contributing was a lack of acknowledgment/thank you from charities.
You don't want to lose such major donors if they can be stopped from going with a meaningful thank-you note. Read here how to write an appreciative, personal and heartwarming thank you note: Tips to write a captivating donor acknowledgment letter that doesn't bore your donors.
Feature image source: Kelly Sikkema/Unsplash