A major donor cultivation plan is your long-term plan to overcome commonly faced challenges in raising major gifts.
For a nonprofit, these challenges include:
Difficulty in identifying major gift prospects.
Spending more time on tasks that are not profitable or productive due to an understaffed office.
You are not sure about the best ways to approach major donors.
Your organization is not suitably organized for recurring major gifts.
A well-defined, well-structured major donor cultivation plan can help you prioritize goals and nurture prospects. It enables you to organize processes with the aim of:
Turning small donors into major donors.
Encouraging major donors to keep giving.
Adding new prospects to the list of potential donors and restarting the cycle of nurturing for them.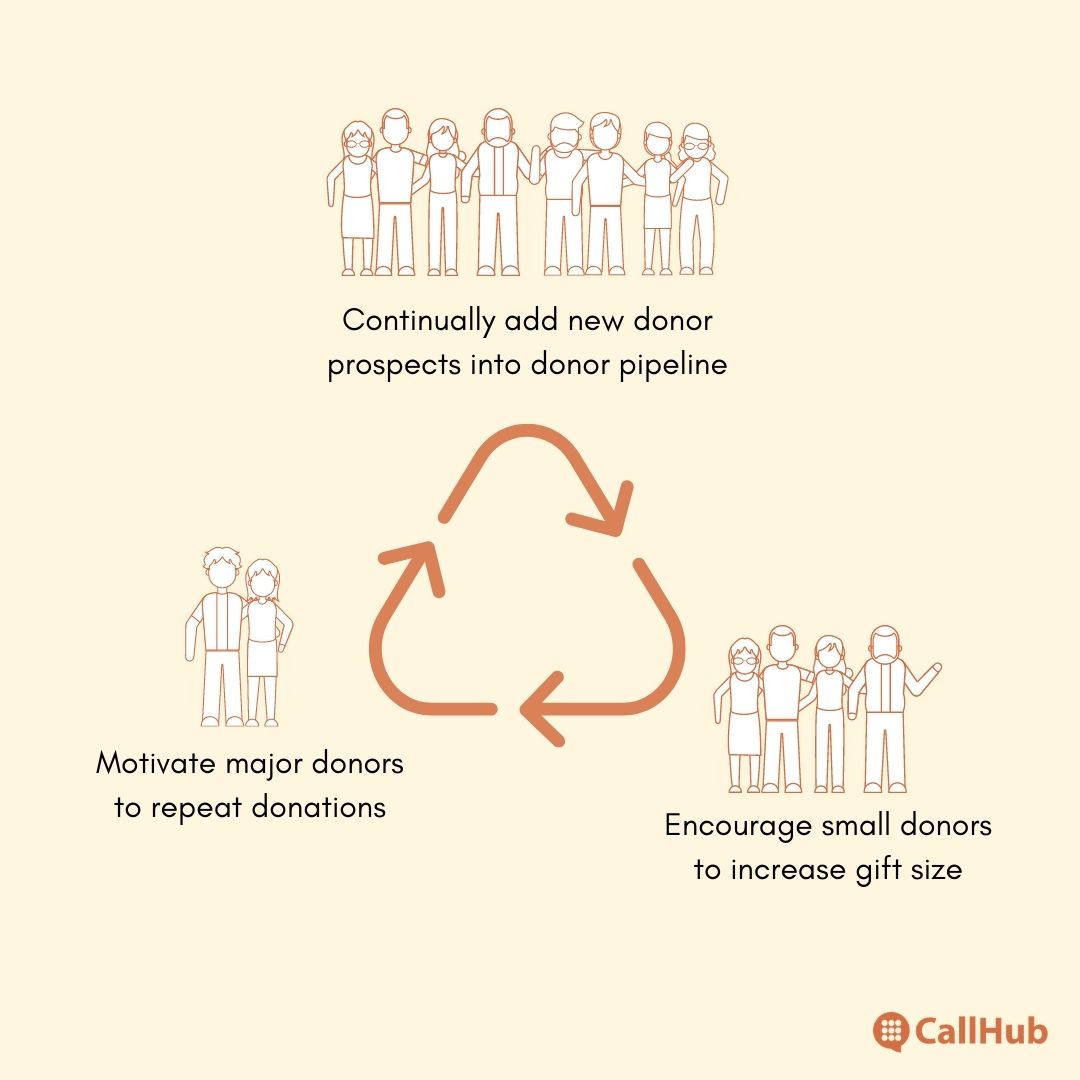 What is donor cultivation?
Donor cultivation is done to grow a relationship with prospects. Like any other bond, this relationship is based on mutual understanding, respect, and trust.
Only when you secure these three factors with your donors can you successfully ask for a major donation and motivate them to repeat the contribution. Donor cultivation is your journey to nurture prospective donors into loyal repeat donors.
To do so, you require a solid donor cultivation plan.

Elements of a cultivation plan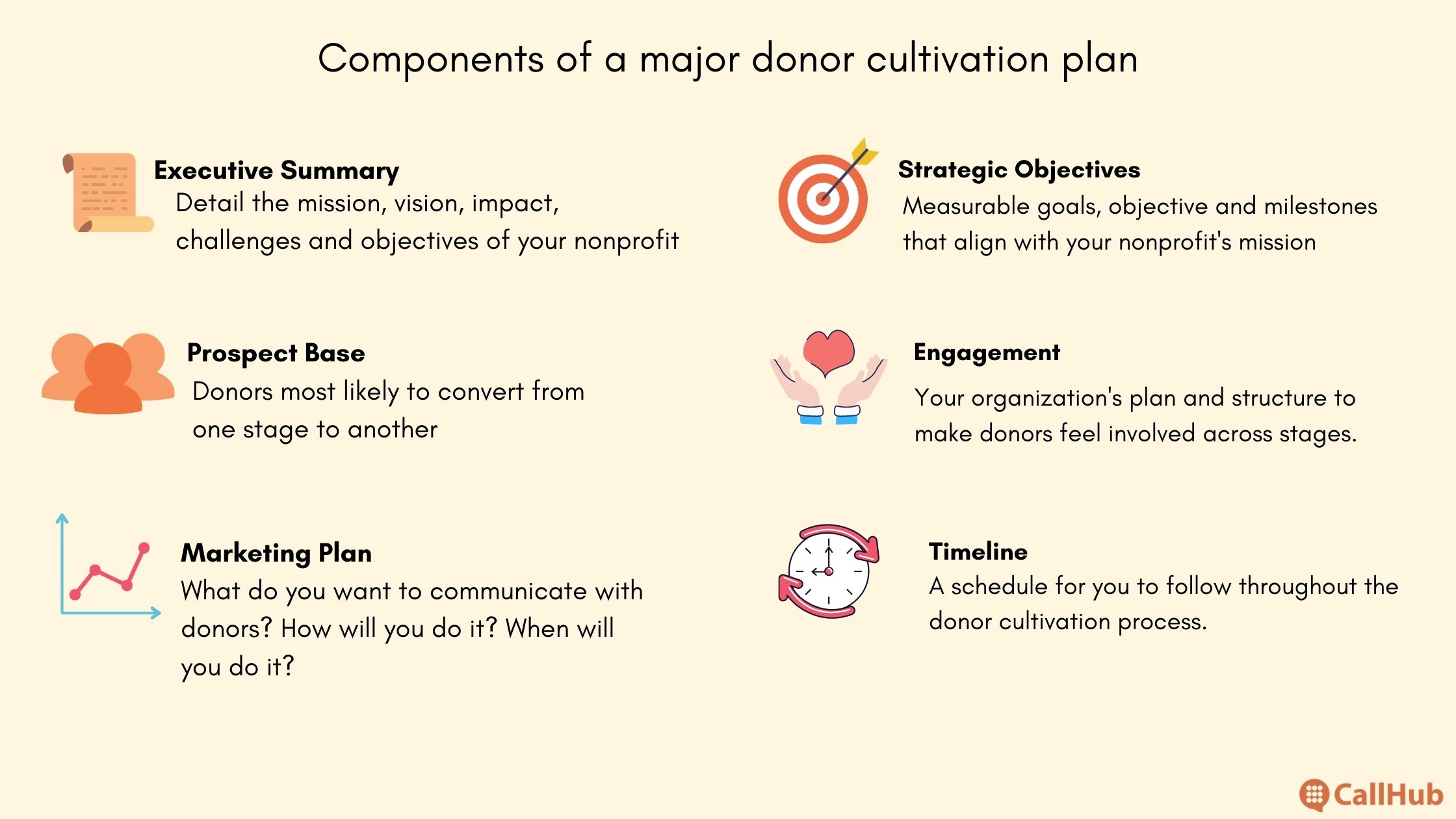 Here are your six steps to successful donor nurturing:
Your major donor cultivation plan in 6 steps
Allocate hierarchical time for donor segments
One would think that your current major donors should be given the highest priority because they are most qualified to give again. However, these donors have already passed several stages in your donor funnel, and so require less donor engagement efforts. New prospects, on the other hand, require more attention and time.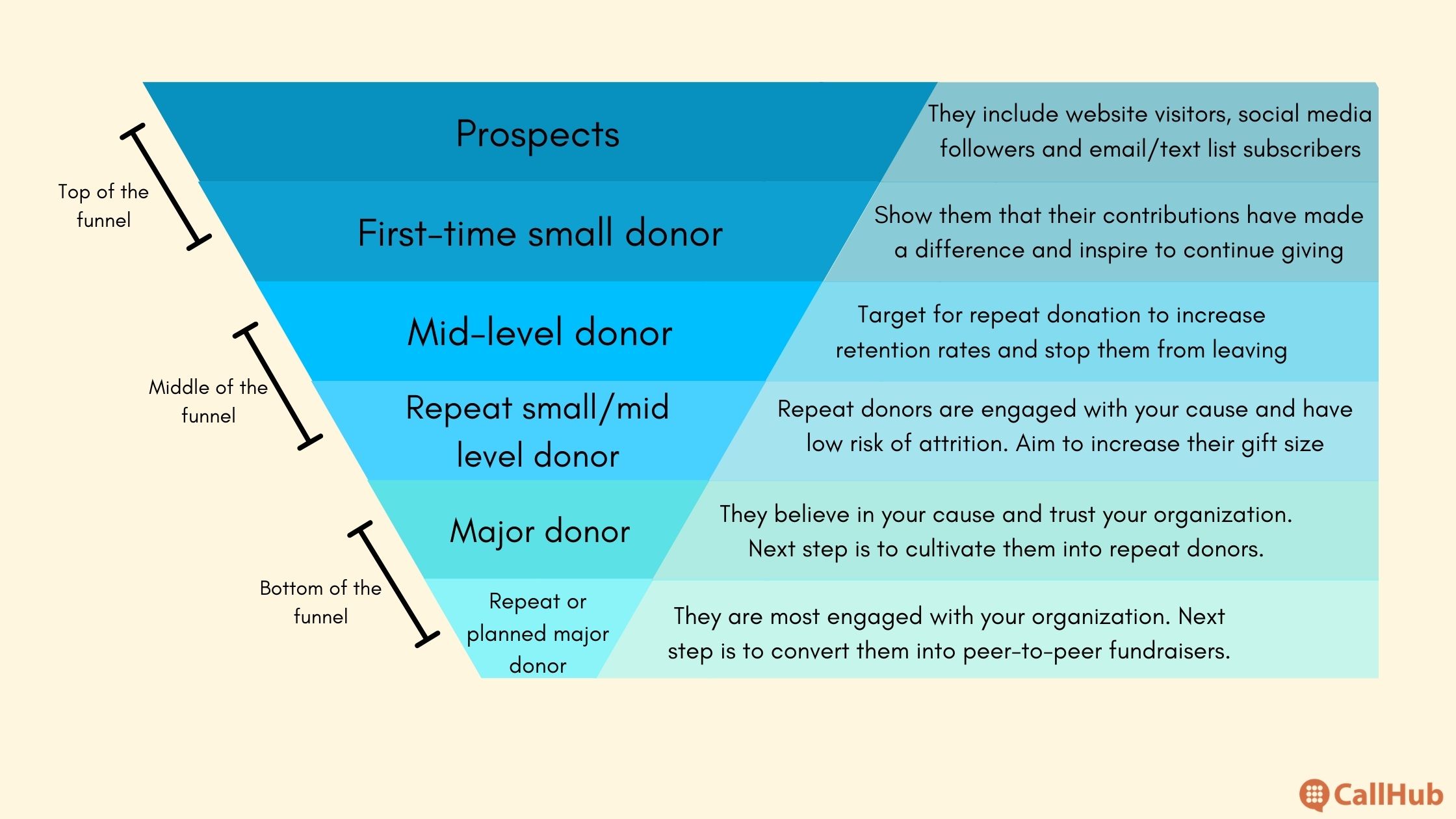 Take gardening as an analogy. A new sapling requires much more care than a tree; although the tree will give you fruits, the saplings are not likely to. The tree also requires some grooming, but a sapling will need more careful, more regular attention.
The extra effort you spend in caring for the saplings is so that the small plants can also bear fruit one day and add to the giving of existing trees.
Your prospects and first-time small donors are also much higher in number than repeat major donors. About 79% of them will leave after the first donation if they aren't appropriately nurtured.
They should thus get a more significant share of time in your major donor cultivation plan.
Here's a breakdown of how to allocate time to your segments:
Identify the number of prospects at the top of the funnel, middle of the funnel, and bottom of the funnel.
Set your goal: How much do you aim to a) increase the number of people entering your funnel and b) increase the number of people proceeding from one stage to the next?
Rank these segments by the time they need for cultivation.
Tip: Understand what about you inspires current donors to give. Reinforce that to other prospects or existing donors you wish to cultivate.
Identify your top 20%
The Pareto theory states that 80% of output results from 20% of input. While the exact numbers fluctuate slightly, the overarching principle stays true for nonprofit fundraising.
For instance, according to a study concerning small to mid-sized nonprofits, 89% of donations come from the top 14 donors (giving >$1000).
To start your major donor cultivation plan, implement this theory to identify your top givers and prospects. Identify the top 20% of your:
Recurring major donors
Major gift sizes (and donors who contribute them)
Candidates closest to giving a significant donation.
The objective is to shortlist and target these donors for the current donor cultivation cycle.
Your major donor cultivation plan aims to improve your nonprofit's donor retention rates and stop supporters from leaving.
After identification, make separate lists (or segments) of these donors and note down details such as:
Educational qualifications, income group, age (and other relevant characteristic details) – To create your major donor personas for future targeting.
Points for knowledge exchange (What donors need to know about you to increase/repeat donations, what you need to know about each prospect to make the right appeal) – To create an intelligent script and plan for donor cultivation.
Target amount and date for each donor – To set a tangible objective for your team.
Tip:
Begin by asking yourself if every donor in your shortlist is the right fit. Replace those who aren't. (e.g., A significant donor in your top 20% may have already informed you that they are not willing/able to repeat their giving. Even if their first contribution was significant, do not solicit from them again.)
Once you identify your target donors, the next step is to figure out how to reach them.
You May Also Like: How to Ask for a Major Gift: 3 Fundraising Major Gift Ask Sample Scripts
Answer the why, what, and how for your major donor cultivation plan
Simon Sinek argues that people don't buy what you do but rather why you do it.
While Sinek theorized this for businesses, the concept is equally true of nonprofit organizations. To convey this to major donors and increase engagement, you need to answer three questions about Sinek's "Golden Circle."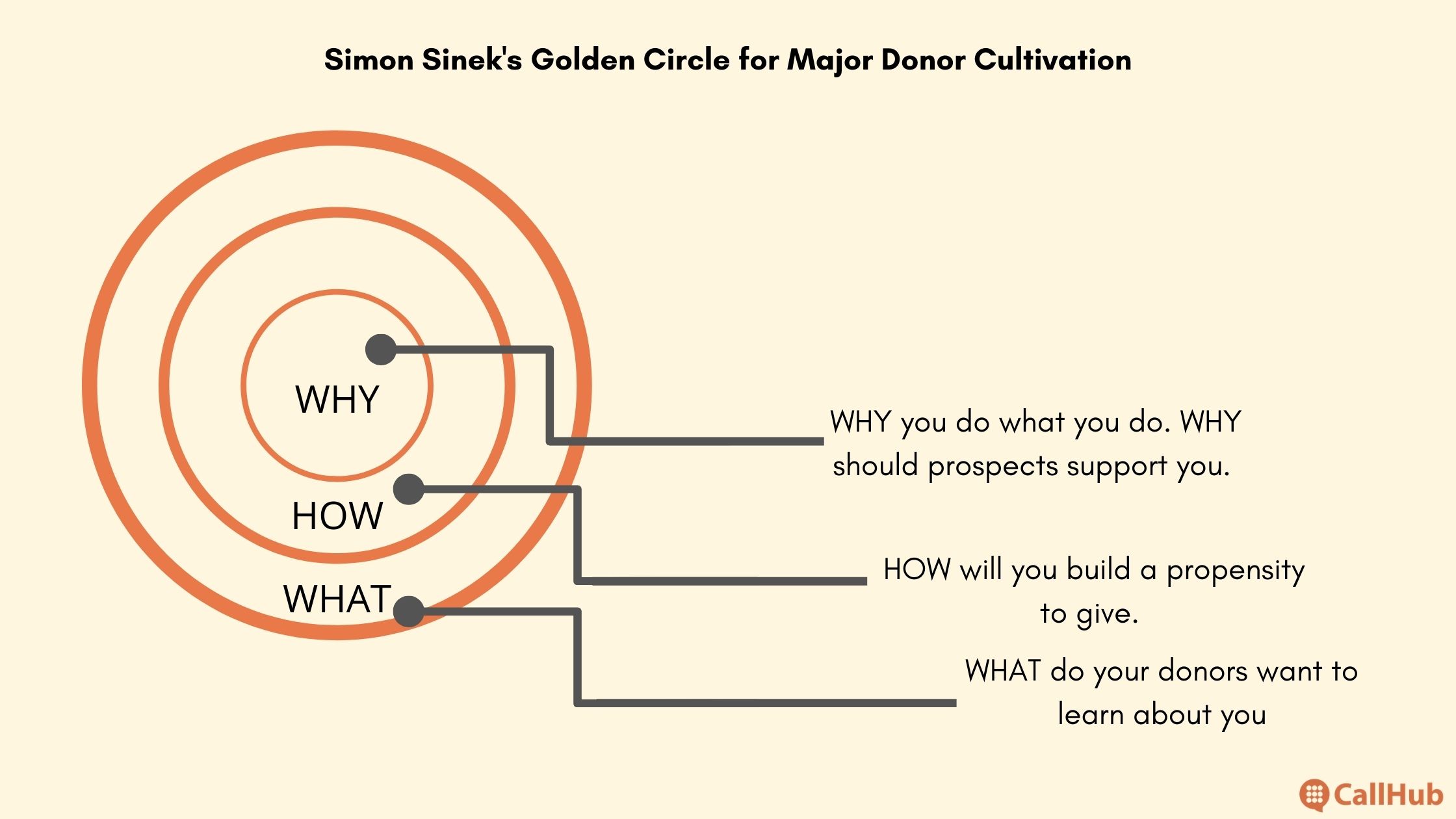 WHY should major donors increase or recur gifts/WHY should small donors turn into major donors.
HOW-
How will you make contact? Who will do the cultivating?
How will you inform prospects about your projects and build a propensity to give?
How will it be achieved and sustained?
WHAT is your learning agenda for them- WHAT will your donors want to learn about you to increase or repeat their givings?
Once you finalize the answers, you are ready to make a case to your donors by crafting these answers into donor cultivation strategies and stories to convey in your messaging.
Tip:
Cultivation is best done by expert staffers who know you, your cause, and your donors well. 
You May Also Like Donor Recognition: Best Practices to Nurture Donor Relationship.
Script your "move"
Your move is the meaningful contact you make with prospects and donors. Filling out the "How" in Sinek's golden circle will outline the communication methods you will adopt in your major donor cultivation plan.
The next step is to script your plan in further detail.
Pick from donor cultivation strategies that
Have worked for you previously (regarding major donors shortlisted in your cultivation plan).
Have worked for organizations like yours.
Are currently in vogue.
These strategies will vary according to donor segments. For instance, existing major donors will appreciate personal contact after significant intervals. On the other hand, one-time small donors will require more regular targeting using multiple channels for effective nurturing and donor engagement.
Some well-performing "move" strategies are:
Special donor cultivation events (special occasions for your organization, exclusive tours, special seminars).
Setting up personal meetings (to get better acquainted, to thank them, to seek advice)
Personal phone calls.
Personalized text messages
Tip:
Ask supporters to opt-in via SMS to your text messaging list. Send regular SMS and MMS mass texts about:
The impact of your work
Reminders to repeat donation/renew subscription
Surveys and feedback forms.
Initiate personal, one-on-one conversations with those farther down in your donor funnel. Use a peer-to-peer texting tool to initiate communications beyond donation appeals. P2P texting allows one agent to comfortably speak with over 200 people simultaneously while keeping that human, personal touch intact.
Every conversation with the donor is an opportunity to collect data, which in turn helps you further personalize the next conversation.
To know more about how text messages can help you in major donor cultivation, read:
→ Mass Text Messaging Service for Personalized Outreach Campaigns
→ Peer-to-Peer Texting Campaigns
Draw a timeline and make room for revision
Reverse planning is a useful best practice in drawing a timeline for your major donor cultivation plan.
Begin from your projected deadline and work your way backward. This deadline and timeline will be informed by the time allocated to every donor segment and will be different for every donor shortlisted as a prospect for cultivation.
Invest in a text messaging and calling software that integrates with CRMS like Blackbaud and Blue State Digital – to import and update your data as you interact with donors. 
For prospects and first-time donors, such integrations will enable you to automatically collect donor information that helps you personalize conversations and groom donors to donate or increase contributions and improve donor engagement.
For mid-level or major donors, CRMs can help build an engagement timeline by providing information about scheduled calls, donor history, and valuable inputs from previous conversations.
Read Also: Best CRM for Small Nonprofits Based on Features – A List
The points of contact, strategies of your move, and frequency will depend on:
The donor's level of engagement with you
Their preferred method of communication
Their position in the donor funnel
The resources at your disposal
Here's what reverse planning looks like in action:
Deadline ← Ultimate motivation to give ← Increased level of engagement ← Increased contact ← Positive response to first contact ← First contact by you.
→ For instance, say you are targeting Mr. Smith for a $1000 solicitation in the last week of December. You need to persuade him and confirm his interest in giving by mid-December at the most. (Deadline)
→ You understand his donation history, previous motivations to give, and his general interests. Mr. Smith has been a generous donor during the holidays. (Ultimate motivation to give)
→ You start targeting the Christmas angle about a month in advance. But even three months before the deadline, you send him wishes for other holidays and special occasions, surveys, and incentives. Responses from Mr. Smith indicate an increased level of engagement.
→ Why would Mr. Smith respond (or even care) about your messages? Because he gave a positive response to your initial contact, which did not include any solicitation.
→ So your first step is to make intelligent first contact with a prospect or donor, keeping three crucial things in mind-
– Timing
– Nature of contact
– Method of contact (should be personal but not invasive)
Tip: Leave space for changes in your cultivation plan. These changes will largely depend on major donors' responses to strategies and so must be flexible to accommodate their demands and feedback.
Read Next: Major Gift Fundraising: 9 Best Practices You Can Implement Today.
Assign your taskforce
When your blueprint for the major donor cultivation plan is ready, start assigning your staffers positions and responsibilities.
Go over the plan with them and explain the details thoroughly.
Train your volunteers and staffers (including soft skills, using your phone banking tool and text messaging software, etc.)
Assign donor success agents (staffers responsible for cultivating donor relationships) or hire a major gifts officer.
Set their goals (churn limit, target gift size, donor retention goal).
Assign managers to track progress and evolve strategy when necessary.
Tip: For donor success agents: Understanding donors outside of your professional transactions will help you adjust expectations and personalize communications and appeals. They also make donors feel appreciated and not as if you approach them only when you need funds.
In Conclusion
Fundraising and donor retention efforts are more successful when you consider supporters as relationships to nurture.
Having said that, fundraising is a primary goal for nonprofits, and just like major donor cultivation, a well-scripted plan increases your chance of success.
Here's a guide to help you draft an effective fundraising plan for your nonprofit, complete with a template: Writing the Perfect Nonprofit Fundraising Plan – In 10 Easy Steps.
Feature Image Source: Tom Ezzatkhah/ Unsplash