A donor who gave once was motivated by charitable interests. A donor who keeps giving is positively engaged with you.
Your donor acquisition strategies will get a prospect to the top of your lead funnel. But only with proper nurturing can you inspire them to donate repeatedly. To achieve this, you must understand the donor engagement cycle.
This blog covers precisely that. We define the six stages of the donor engagement cycle and share the most optimum communication methods to nurture your prospects to the consequent stage of the process.
What is the donor cycle?
The donor engagement cycle is a six-fold process consisting of
Identification
Qualification
Cultivation
Solicitation
Recognition
Stewardship.
Let's look at each stage in more detail.
The six stages of a donor engagement cycle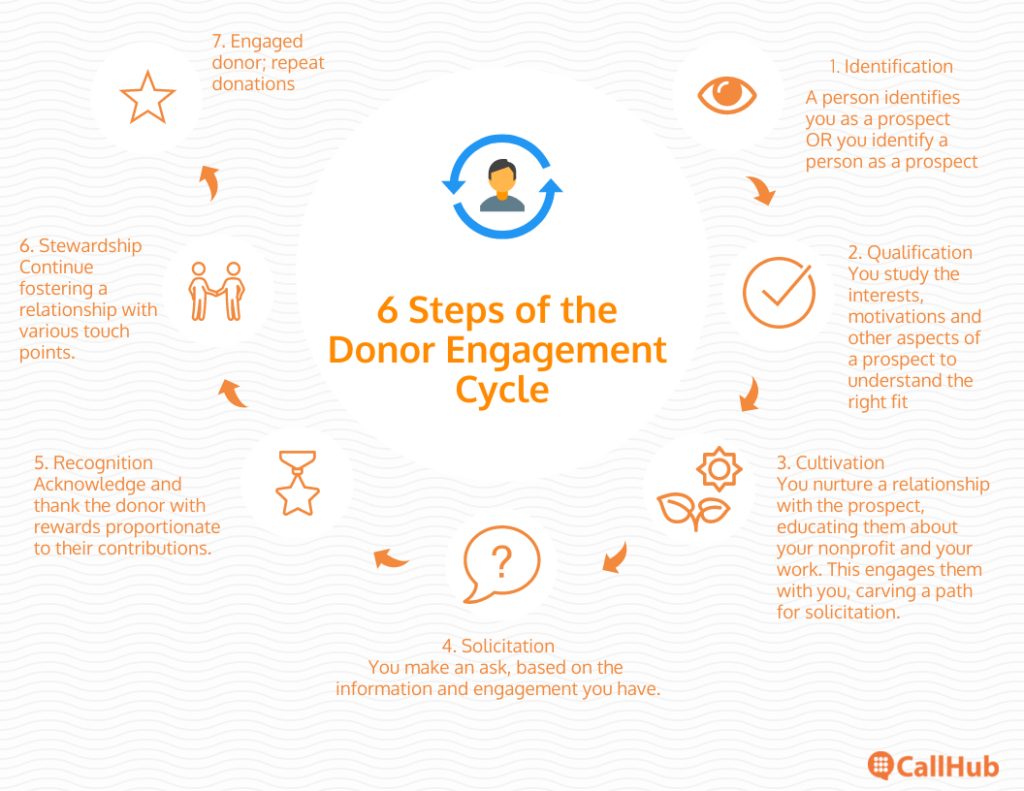 Every new prospect goes through a typical lifecycle, from getting identified as a potential supporter to being a loyal steward of a program. Of course, some (many, even) leave the engagement cycle midway, but that is expected in any lead funnel. In this article, we focus only on those who will complete all cycle phases. Here are the stages they will go through:
Identification
Identification or discovery is the first stage of the donor engagement cycle wherein either you identify a prospect or a potential supporter discovers you. Irrespective of the direction of the discovery, the finder identifies something of common interest with the other party.
This is the acquisition stage in donor engagement, where you know little about the prospect, but there is a spark. This is a delicate stage in the donor lifecycle, and the next step (qualification) will determine whether the person stays with you or drops off.
Expectations from a nonprofit at the identification stage
If a donor discovers you
If you identify a donor
You have some control over how a person discovers your cause or nonprofit (e.g., posters) but less control over who discovers you (even with targeting). So, it is in your best interest to put your best foot forward and show how a person can support you.
Your identification of a donor would be more targeted and anticipated. For instance, if you are running social media ads, you would add particular demographics and characteristics of your target audience. This way, you identify people who have engaged with your posts as potential donors.
What to showcase at the identification stage:
– Latest impact
– Greatest impact
– Ways to support
– Ways to connect (e.g., with SMS opt-in)
What to showcase at this stage:
– Impact and stories that are likely to interest your target audience.
– Ways to contribute on a small scale (since you are initiating the ask, not them).
– Ways to connect with you for more information.
Read Next: The Art Of Better Conversations: 10 Donor Communications Best Practices You Need To Follow
Qualification
Once you have identified or discovered a prospect, you start analyzing their qualifications to stay connected with your nonprofit. Qualifications mean different for a donor engagement cycle than they mean, say, for a job. 
In this context, it means understanding a prospect's:
Interests and motivations
Charitable giving in the past
Personal and professional background
Their capacity to give (ideal amount bracket, forms of giving, frequency, etc.)
When you have these donor data points, you can create a framework for how to approach a prospect, the best way to cultivate a relationship with them and an ideal ask. This will help you identify your approach to donor engagement.
Expectations from a nonprofit at the qualification stage
Use effective methodologies to create a persona for each prospect. You could do this donor prospect research using:
Available information from your database.
Hired consultants or external agencies to research for you.
Survey or sign-up forms to get the information directly from donors.
Cultivation
As the name suggests, cultivation is that stage of the donor engagement cycle where you foster (or cultivate) a relationship with your prospect. Asking for a one-time $10 donation is acceptable for the first step of the fundraising cycle. 
However, you want to engage donors and retain those who obliged the first ask. You want them to keep giving to you and, ideally, give higher amounts in the future. This can only be achieved by building trust and forming a bond with the prospect.
The cultivation stage of donor engagement is when you do that. 
Expectations from a nonprofit at the cultivation stage
As you know your prospect better, they should know more about your charitable organization too. Only then would they be open to contributing regularly and higher donation amounts. At this stage, a nonprofit is expected to:

• Send detailed information about ongoing programs or charitable causes (especially ones you want them to support).
• Stay in touch with donors without soliciting donations.
• Sending newsletters, updates, and broadcasts about the organization in general.
• Sharing personal stories about beneficiaries or other stakeholders.
• Initiating communication from board members, staffers, or volunteers to nurture a prospect.
• Ask for major gifts, monthly giving, or annual giving commitments.
Read Next: Major Gift Fundraising: 9 Best Practices You Can Implement Today.
Solicitation
If a prospect has engaged with you in some capacity until the cultivation stage, it is a good indication that they will follow through with your solicitation. So why not make the ask without it being considered an entire stage in the donor engagement cycle?
Because a wrong ask will lead to a drop, not a donation.
By a wrong ask, we mean any of the following:
Asking the wrong amount (e.g., a significant donation from someone doing an entry-level job).
Soliciting at the wrong time (e.g., at an inappropriate time, without adequate cultivation, or waiting too much before making the ask).
Asking the wrong way (e.g., through an inappropriate channel or not giving sufficient information before the request).
Asking for a wrong cause (e.g., a person was nurtured for campaign A but the ask was for a non-related campaign).
Expectations from a nonprofit at the solicitation stage
Here's what's expected from you during the solicitation stage:

• A clear understanding of the cause you are soliciting for.
• Complete information on how and when you want the donation.
• An exact amount or bracket of the amount you need.
• Details of how the funds will be used.
• How this charitable donation will benefit the donor.

One best practice when soliciting donations is to weave a story around your cause. Here's our guide on how you can inculcate that in your communications: The perfect nonprofit storytelling approach to create effective messaging that drives action.
Recognition
If you get a donation but fail to provide adequate recognition to the supporter, you risk losing them. After all, one of the top reasons donors stop giving is a lack of gratitude or recognition from the charitable organization.
The recognition part of the donor engagement cycle is two-fold: acknowledgment and gratitude. Let's look at what is expected from your nonprofit under these categories.
Expectations from a nonprofit at the solicitation stage
Acknowledgement
Gratitude
Acknowledgements are the immediate confirmations that a donor's payment has gone through to the intended party.
Gratitude is a more personal thank-you note from the nonprofit to the donor, showing valuable recognition to the giver.
You can send acknowledgments via:
– Automated emails.
– Confirmation text messages.
– Paper receipts.
You can thank donors personally with
– Personal phone calls.
– Personalized emails.
– Direct mail.
Remember that a donor thank you note should be proportionate to their donation or the impact they created.
You can make a donor feel special and retain them simply by recognizing their contributions in a personalized manner. Here are 10 ideas to do that effectively: Donor Recognition Ideas: 10 Easy Ways To Thank Donors.
Stewardship
Donor stewardship refers to the plan a nonprofit undertakes after a donation has been made and the donor is thanked. 
To ensure a donor feels valued and a part of your community (not just someone who makes contributions and is forgotten after), a charity must stay in contact without soliciting donations. Stewardship refers to that period after recognition and before nurturing a supporter for the next gift.
Expectations from a nonprofit at the stewardship stage
A donor typically expects these things from a nonprofit as part of stewardship:

– Updates on the causes they have contributed to.
– The impact their contributions made.
– Total funds raised and spent.
– Updates about other causes or aspects of a nonprofit (e.g., office expansion).
– Invitation to events.
– Opportunity to connect with other stakeholders.
As you might have noticed, communications play a pivotal factor in nurturing prospects in each stage of the donor lifecycle—whether it be updates, acknowledgments, or the perfect ask. Naturally, communication channels also determine how a message is perceived. For instance, a phone call from a board member would feel more personal than an email broadcast.
Let's now look at the different communication channels nonprofits use and how they fit in with the various stages of a donor engagement cycle.
How do you communicate in different stages of a donor engagement cycle?
Nonprofits invest in several channels to communicate with their donors and prospects. That is a great strategy, but at the same time, you should know which channel is optimum for which stage of the donor cycle. We cover that here.
1. Text messages
49% of donations originate from links sent via texts, and the average donation size is $135. It is clear that texts can get your donations even during the acquisition (identification) and solicitation phase. But that's not it.
Studies have shown that a strategic text (or call) program can increase
Retaining text messages during the recognition phase can help you sustain donors and donations.
Read Next: Text Fundraising: How To Raise Money Over A Channel That Your Donors Prefer.
2. Phone calls
A donor is four times more likely to give again if they receive a thank you call within 48 hours of their transaction. While receipts and automated thank-you emails can take care of the acknowledgment, a personal thank-you phone call will boost donor engagement further. 
Moreover, if a person has shared their phone number before the cultivation phase, get a high-value stakeholder in your team to call them during the cultivation phase for nurturing. Doing so will increase the chances of them donating.
Thus, phone calls become an important part of your fundraising communication plan during the cultivation and recognition phase.
3. Emails
About 12% of nonprofit emails land up in the spam folder—most likely because the senders haven't subscribed to them. On the flip side, nonprofit emails have a 4x higher open rate than other emails. What do these statistics tell you?
A person is more likely to open an email from you if they expect it. If they haven't subscribed or opted in, each "spam" email you send costs you high dollars.
That makes emails an excellent communication channel after a donor has been identified and qualified. Use this communication channel when a prospect has entered the cultivation stage of the donor engagement cycle.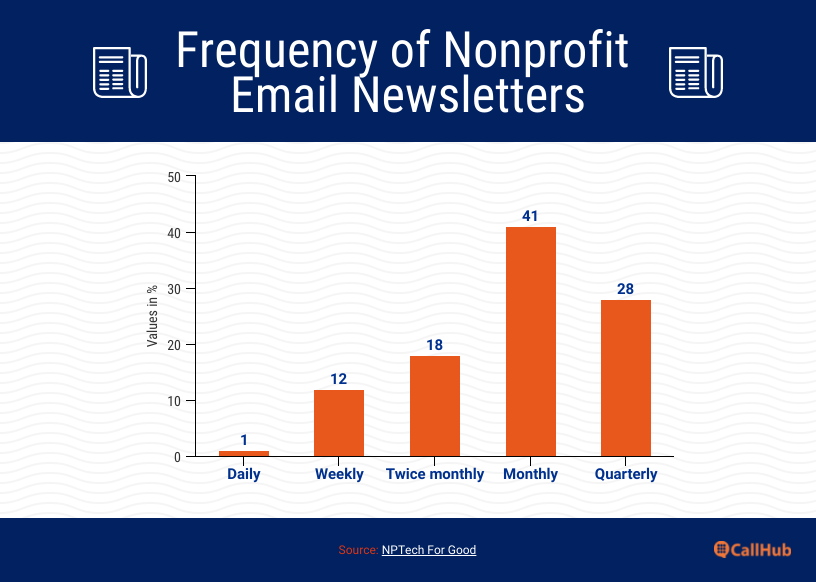 4. Direct mail
67% of Americans consider direct mail more personal than any online communication. Moreover, 70% of customers restarted a relationship because they were approached via direct mail. These stats make a strong case for direct mail as an excellent channel for recognition and stewardship stages.
Although we haven't considered lapsed donors in the donor engagement cycle, losing a donor is very much a possibility without adequate recognition or touchpoints after solicitation. Using a personal, high-value, and appreciated channel like direct mail in these stages can avoid that.
You May Also Like: Donor Appreciation Letter: Everything You Need To Know To Craft The Perfect One.
5. Social media
17-31% of nonprofits use social media channels daily to communicate with their contacts. Contacts here can mean followers or people who have engaged with the charitable organization in some capacity.
About 40% of people discover nonprofits through personal connections on Facebook, and another 19% find them on Instagram (without personal connections). Clearly, social media has become a great channel for identifying and qualifying prospects.
6. Events
In 2021, 28% of nonprofits conducted quarterly events, and 32% hosted 1-2 in a year. While also a channel for fundraising, events help donors feel appreciated and valued. They are typically reserved for highly engaged supporters and can aid in getting them engaged with your organization with proper stewardship.
Plan your events so that some focus on solicitation (fundraising events) while others concentrate on stewardship (donor appreciation events).
Choosing the right communication channel for the right phase of a donor cycle can boost nurturing and keep them engaged with your cause. 
Read Also: 7 Strategies That Will Elevate Donor Engagement
Takeaways
For a prospect to successfully go through all stages of the donor engagement cycle, your communications must be well crafted and strategic. Using the right channel at the right stage of the donor cycle is one way of ensuring that. This infographic sums it up: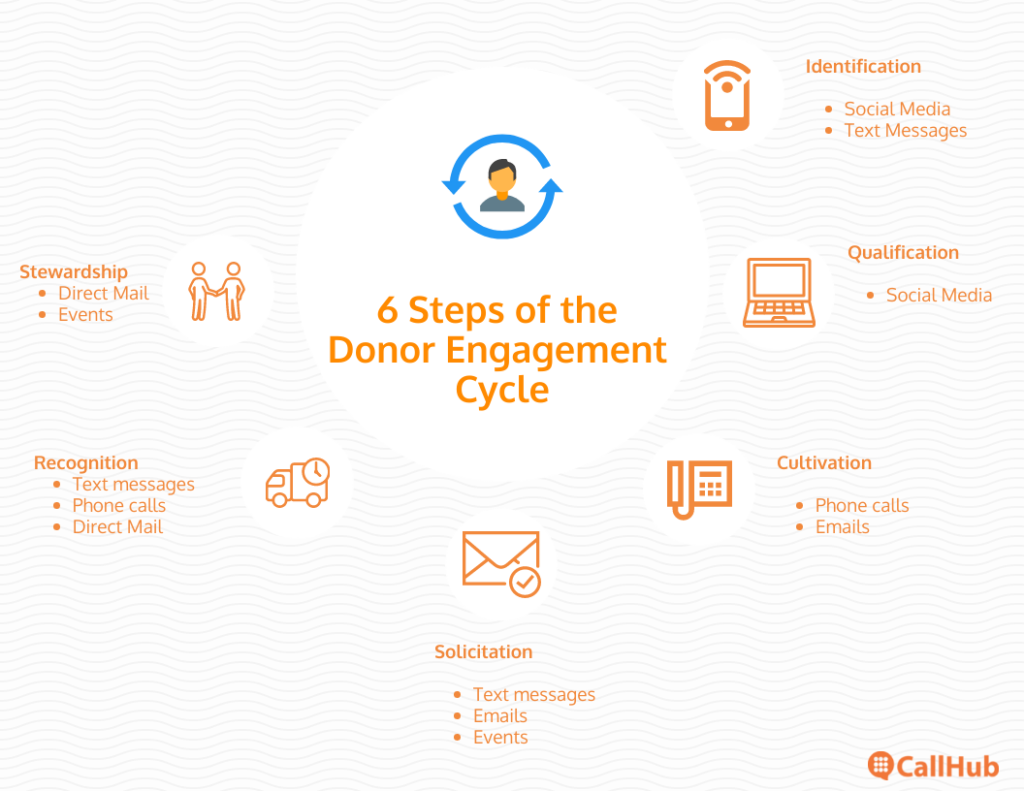 Read our guide on building a strategic communication plan for your nonprofit to keep supporters engaged. Building a Digital Nonprofit Communication Plan for the Donor Journey.
Feature image source: Marcos Paulo Prado/Unsplash.