A study by DonorSearch showed that donors who own $2+ million in real estate and those who own $1-2 million are 17 and 4 times more likely to give philanthropically than the average person, respectively.
So how does this information help you?
If you carry out prospect research and segment donors in your database who fit this description, you can tweak your donor outreach plan to prioritize appealing to them first.
It's because you know it will be easier to get them to donate (than the average person). Moreover, they also can donate more and get you closer to your fundraising goals quicker.
You would achieve a higher fundraising ROI because now you're efficiently using your resources to target a donor segment more likely to donate and with less nurturing.
This is how donor prospect research helps you. It makes fundraising more efficient and gainful.
So what does this research entail, and how do you go about it? Let's take a look.
What is donor prospect research?
Prospect research is the process of collecting helpful data about donors and building a comprehensive profile for each. It typically includes information like personal backgrounds, wealth markers, giving history, charitable motivations, etc.
Nonprofits and fundraisers can use this information to determine a prospect's desire and ability to donate to a specific cause or organization.
Benefits of donor prospect research
In overview, donor prospect research helps improve nonprofit fundraising by guiding fundraisers to divert their resources to get maximum gains. Here's how:
1. It helps analyze a prospect's ability and propensity to give.
The past philanthropic involvement gives you an idea of how inclined the prospect will be to donate to your cause. Moreover, the wealth markers will give you insights into their ability to give.
With this data at hand, you can prioritize outreach efforts by focusing more of your resources on those who are most likely to give to you (and give a higher amount).
When you carry out donor prospect research, personal information and wealth markers help you determine the right ask for each prospect.
2. It helps Identify the prospects' interests.
Personal information like the prospect's hobbies and communication preferences helps you determine what interests them and how to best reach them.
You can use this data to craft your fundraising script with a more personalized touch (to build rapport) and formulate your ask accordingly.
For example, you could ask prospects who are into cooking to help you conduct a bake sale. They'll surely be more than happy to showcase their talent and do some good while they're at it.
3. It helps you determine appropriate donation asks.
To improve your chances of getting a donation, you have to make sure that you ask for an amount that the prospect can donate.
For example, it wouldn't be appropriate to ask someone who started working recently for a major gift, right? A more appropriate appeal would be micro-donations or volunteering.
4. It helps you generate new prospects.
A prospect's personal information can also help you understand where you can find more donors based on their interests.
For example, if a few recurring donors say that they often spend their time browsing Quora, you know that you'll be able to find more donors like them by leveraging Quora ads.
By generating new prospects, you'll be able to target a much wider donor base and be able to raise more money for your cause.
Now that you know the "What" and "Why" of donor prospect research, let's look at how you go about the process.
You May Also Like: Donor data collection: 5 ways to do it right.
Choosing a donor prospect research approach
Generally, there are three common approaches that nonprofits can take for donor prospect research:
Doing it in-house.
Hiring a research consultant.
Leveraging a prospect screening company.
| | | | |
| --- | --- | --- | --- |
| | In-house | Prospect research consultant | Prospect screening company |
| What it entails | This involves assigning a dedicated volunteer (or a team) to conduct prospect research on donors in your database. Equip them with low-cost tools to aid the research. However, since there's a lot of manual effort involved, this takes time (unless you have a whole team working on it). | You can bring on consultants to take the lead on the research process. They also train your staff and help you develop or improve on your existing prospect research strategies. However, they come at a price. | Screening companies generally have tools to screen through multiple databases and provide you with comprehensive profiles of your donors. It is time-efficient but can cost a lot. |
| When is it best suited? | In-house prospect research is perfect for small organizations that may not have the budget for a consultant or a company but can spare volunteers and time. | Hiring a consultant is suitable if you are unsure about the research and your database is too big and disorganized. | Prospect screening companies are suitable for large nonprofits who have the budget for it, are short on time, and have very large databases. |
A quick online search will get you a list of donor prospect research consultants and screening companies you can hire.
But, if you're planning to carry out prospect research in-house, here's how to go about it.
How do you do donor prospect research in-house?
Typically, donor prospect research is a three-step process that involves:
Defining your objectives/needs.
Determining the data that you want to collate.
Executing the strategies to collect this data.
Let's take a look at each step in detail.
Defining your objectives and needs
When starting with your donor prospect research process, here's what you need to understand:
It is a continuous process. There are a lot of data points that you can procure for a single donor. For that, you have to screen online databases, go through social profiles, and even engage them in conversations to get information.
You cannot do all this in one go. All these strategies span over a period of time, and that data continuously needs to be updated.
There is no limit to the data that can be useful. Generally, organizations start with philanthropic indicators (like giving history, nonprofit involvement) or wealth indicators (like real estate ownership, employment status, etc.). However, your research doesn't have to be limited to just these points.
There is a lot more data you can collect which may be relevant to your cause.
Defining your objectives helps you narrow down the data points that you need to focus on collecting first.
For example, suppose you're looking to secure major gifts for a capital campaign. In that case, you should focus on wealth markers like real estate ownership and business affiliations rather than personal information like hobbies.
Determining the data that you want to collate
Here are some common data points (divided into three categories) that you can start with.
| | | |
| --- | --- | --- |
| Philanthropic indicators | Wealth indicators | Personal information |
| Previous donations– Past giving patterns help you predict future giving. | Asset ownership– This includes assets like real estate, investment portfolios, business ownership, etc. They help you determine the ability and the capacity of the prospect to donate. | Contact information and preferences– Details of their preferred mode of communication so it's easy to connect with them. |
| Donations to other nonprofits– This gives you an idea of what type of causes they are most inclined to give to. | Business affiliations– Their employment status, previous positions, and employers. This also gives you an idea of their giving capacity and provides you with a point of contact for different organizations. | Hobbies/interests– To leverage them to build rapport, help you out in non-donation ways, or even understand where you could find new prospects with similar interests. |
| Nonprofit involvement– Involvement in nonprofits in other ways like volunteering, advocacy, or board membership shows that the individual is philanthropic and may be easier to convert. Moreover, you could also warm up to a donation ask, starting with some smaller barrier asks. | Political affiliations and contributions– This gives you an idea of the causes that resonate with the donor. | Family details– To help you build a larger base of prospects by getting family members on board too. |
These are jumping off points for donor prospect research. Depending on your requirements and abilities, you can diversify data points further.
Executing the strategies to collect this data.
Once you have defined your objectives and decided on the key data you want to collate from your donor database, the next step is to collect this data.
Since donor prospect research is a continuous process, these strategies range from the point when a donor signs up or makes their first donation to the point when you're nurturing them for another gift.
Here are some of the most effective strategies that you can leverage:
Optimize your web forms to collect more data
When someone's donating on your website, they generally fill a form to do so. Typically, forms collect personal information like their names and email ids. But you can take it a step further and also ask for their mobile number, where they heard about your organization, etc.
A common practice is to add some extra fields to collect the donor's personal information through this form. But it doesn't have to be limited to that.
For example, check out how this Giving Tuesday donation form cleverly asks for the cause that the donor is inclined towards.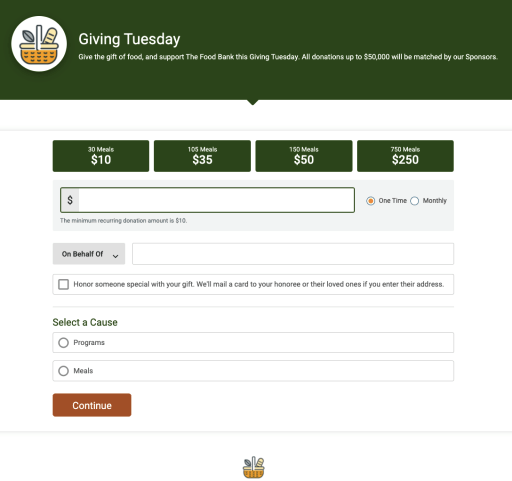 Collect data when donors opt-in to your SMS or email list
Whether it's to receive updates or newsletters, you will have some interested donors signing up to your SMS and email list.
Don't miss this window of opportunity. As soon as they sign up, get them into a conversation to get more data.
For example, when someone opts-in to your SMS list, you can create an automated text message flow to get personal and cause-relevant details from them. Here's an example of how 350.org collected some details when people signed up to join their campaign.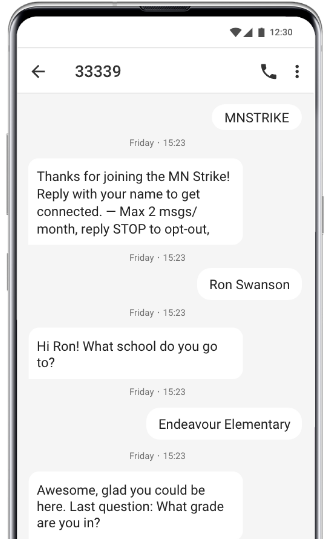 Read more about how they used this data in this case study.
Screen the social media profiles of your donors
A person's social media profile can tell you a lot about their interests, likes and dislikes, business affiliations, and even political inclinations.
The most straightforward way to screen social media profiles is to search for each donor's profile on different social media channels and go through it to understand more about them.
This, however, can be a herculean task. But, if you have the budget, you can have most of this information available to you at the click of a button with social discovery tools.
One such tool that you can look into is JustCharity.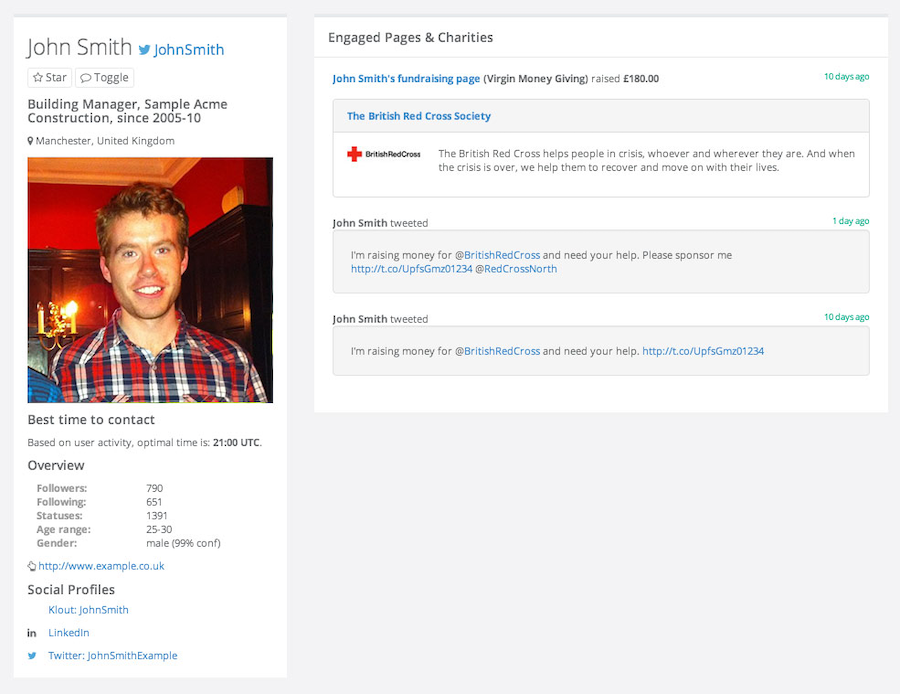 Conduct surveys to nurture and engage donors (and get more details)
An essential nonprofit communication best practice is to keep in touch with donors after they have donated.
This is important to keep the cause fresh in their minds, keep them engaged, and make them feel valued, so it's easier to ask them for a bigger gift later. This is what donor nurturing entails.
One smart way to stay connected with the donor and fuel your donor prospect research efforts is to get them into a conversation about them.
Send them a survey with relevant questions to get to know them better. You can initiate these conversations over:
Phone calls,
Texts,
Emails, etc.
These were a few donor prospect research strategies to help you with your efforts.
But collecting this data is just the beginning. Another major barrier that you have to cross when carrying out in-house donor prospect research is organizing and managing this data efficiently. Here are some donor database management best practices that you should follow to make the most of this data.
Featured image source: UX Indonesia