A 2018 study revealed astonishing figures about fundraising communications plan:
30% of nonprofit communication staffers receive very little training, and 10% do not receive any training for their job.
45% of nonprofit communicators believe their workload to be too heavy, and an additional 17% say it is much too heavy.
When your communications workload becomes too heavy, you risk it being generalized, undetailed, and lazy. Your supporters can pick on that easily and may lose interest.
A comprehensive fundraising communications plan will help you distribute your tasks well and effectively interact with potential donors.
Let's look at the elements and steps to help you frame an intelligent fundraising communications plan.
What should be included in a communications plan?
A nonprofit fundraising plan can be for short-term goals (30-90 days long) or annual goals. Both tenures require you to calculate potential progress and obstacles in advance and pencil a rough sketch of what actions need to be scheduled and when.
An intelligent fundraising communications plan includes:
Auditing
Defining goals and objectives
Setting the target audience
Deciding communication methods
Finalizing your message
Assigning teams
Soft launch followed by a hard launch
Track and measure
Here's what the steps entail.
1. Auditing
The first step in developing any fundraising campaign plan is to study reports of the past cycle and learn from them. It goes the same for a communications plan.
 Ensure your audits include a study of:
Communication methods– Check for response rates and ROI on each method (email engagement, social media engagement, SMS opt-ins, etc.)
Staff satisfaction: How easy/difficult did they find communicating and following up with donors? Do they have ideas to improve communication?
Donor satisfaction: Undertake text surveys to get feedback on previous fundraising communication methods.
SWOT analysis: Study the strengths, weaknesses, opportunities, and threats you encountered in your previous fundraising communications plan. Conclude the study by answering:
Can the strengths and opportunities be carried forward to this cycle? 
How do you plan to tackle the weaknesses and threats?
Here's what you need to collect and study to build on your upcoming fundraising communications cycle.
Audit
Objectives
Targets and outcomes of past fundraising cycles
Understanding if your goals were ambitious, attainable, or unachievable. This will help you establish current targets.
 
A best practice is to collect data on two or more fundraisers of similar nature (e.g., similar causes or duration)
Major contributors
Here, you aim to understand what kind of donors (major donors, small donors, corporations, government funds, etc.) contributed significantly. 

If your current campaign is similar, these major contributors can be the core target audience in the upcoming cycle.
Lapsed, repeat, and first-time donors
To segment them into different contact lists so you can personalize communication (the messaging) and nurturing plans appropriately for each.
The communication methods you used (e.g., Text messages, phone calls, social media, emails, events)
Study:
– Response rates
– Unsubscribe/bounce rates
– ROI
-Funds collected from each method. 

To decide what works best for you and which channels to avoid to reduce costs. 
Timeline
– How early before the fundraiser start date did you begin communicating with donors– do you need to start earlier this time?

– How did responses and donations change throughout the communications campaign?- You could use that as a brief to evolve messaging throughout the current campaign. 
2. Goals and objectives
While auditing previous reports simultaneously set the goals and objectives for the current cycle. Understanding the objectives for this cycle at this point will allow you to 
Compare strategies and successes of past fundraisers 
Make more informed decisions about what to carry forward and what to abandon.
This stage marks the why of your fundraising plan.
Common goals for a fundraising communications plan include:
Raising a set amount of money
Expanding donor base
Donor retention
Increasing the average gift size
Depending on your fundraising communications goals, you plan your outreach methods, write relevant scripts, and assign targets to the team.
You May Also Like: Writing the Perfect Nonprofit Fundraising Plan – In 10 Easy Steps.
3. Target audience
No two donors are the same– they may differ in gift size, frequency of giving, or reasons for giving. Similarly, to tailor communications for each of them, you need different approaches.
This is why your fundraising communications plan must have segmented lists of donors– so you can target each list independently with personalized messaging.
For instance, take the seven types of donors: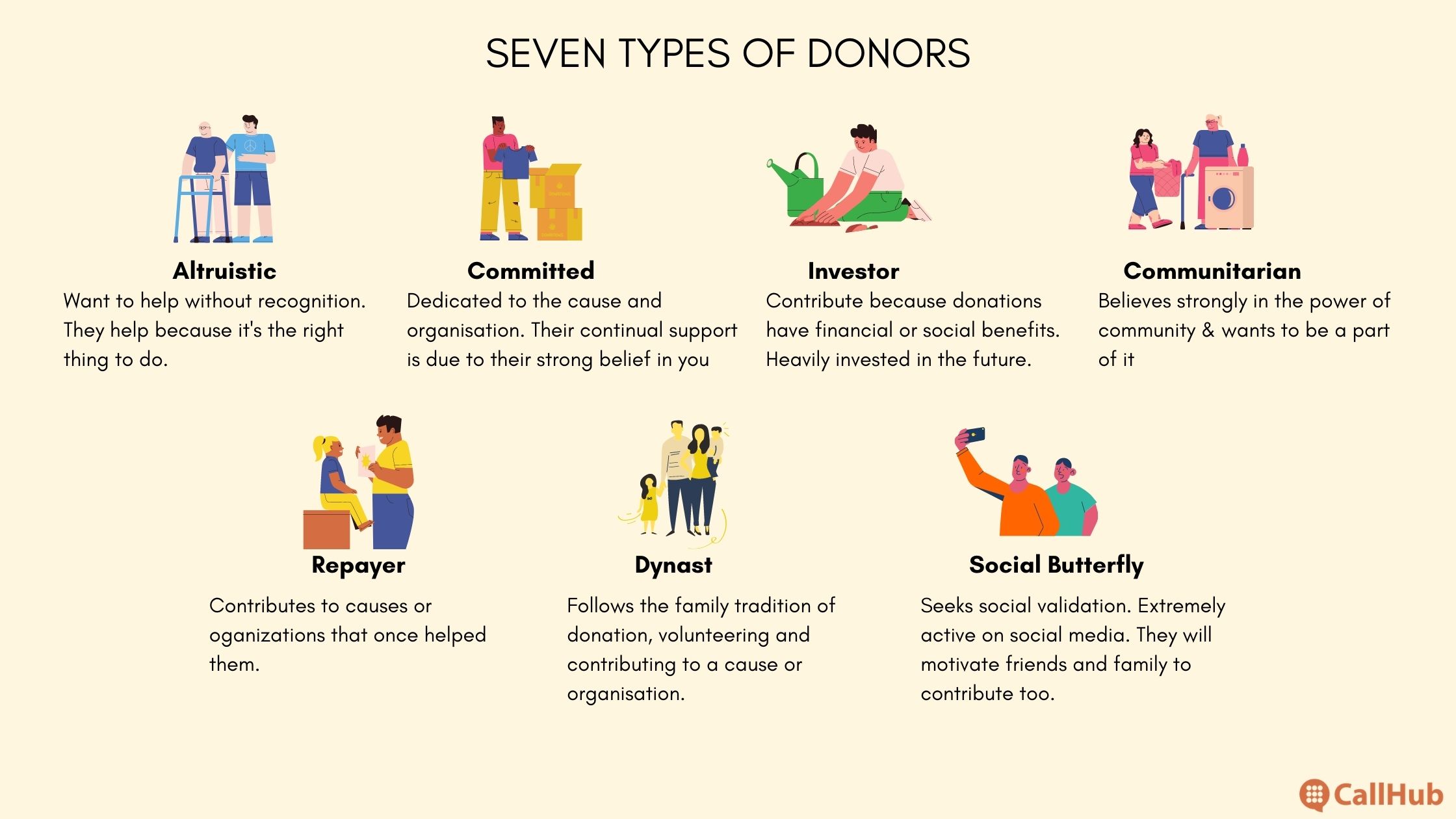 Each of the types brings unique value to your nonprofit. You thus pick and choose from the donors who best suit your current targets.
For instance, if your communication plan relies heavily on social media engagement, the social butterfly would be a better fit than an altruistic donor who doesn't want any recognition. Similarly, a communitarian would be an excellent choice for peer-to-peer fundraising. 
As you will see in the following section, the messaging, too, changes from one donor type to another. 
Target audiences separately for:
Donor nurturing
First-time donors
Repeat donors
For first-time donors and prospects, segment according to the data you possess (e.g., email ID or phone number), contact them, and start collecting data for further communications.
Once you establish contact with them, you can further personalize communications based on the data you collected and nurture them to give. 
Segment current donors by their interests, previous communications, donation history, and other factors to personalize messaging. 
Communication tools like CallHub, which integrate with CRMs, enable you to update such vital information from time to time and have extremely personalized, unique conversations with donors. Try it here for free. 
4. Messaging 
This is the stage where you pencil in what you want to communicate with potential donors and supporters. The messaging of your fundraising communication plan must resonate with your goals and target audience. 
For instance, if your goal is to increase donor retention, your messaging must not talk about why one must give; instead, how their contributions helped and why they must continue giving.
Here's an overview of how messaging changes according to the goals of your fundraising campaign plan.
Fundraising communications plan objective
Messaging
Raising a set amount of money
– The need for this campaign
– The impact you hope to create (bigger picture)
– How can people help you
– The impact of a contribution (microscopic look into the impact)
Donor outreach
– Impact of your organization so far
– Introduction to the current cause
– Testimonials from current donors and beneficiaries
Donor retention
– Impact of previous campaigns
– Impact of individual contributions
– Feedback
– Repeat donation requests or other ways to get involved 
Increasing the average gift size
– Messaging that leverages goal proximity effect
– Impact of past donations
– The reasons you need larger gifts
– Option to divide a large donation into smaller installments (this makes a big gift affordable to donors and can also help you in donor retention)
Each of the above goals coincides with a specific target audience. Taking from the messaging overview above, here's how your messaging should be for different goals and their respective audience.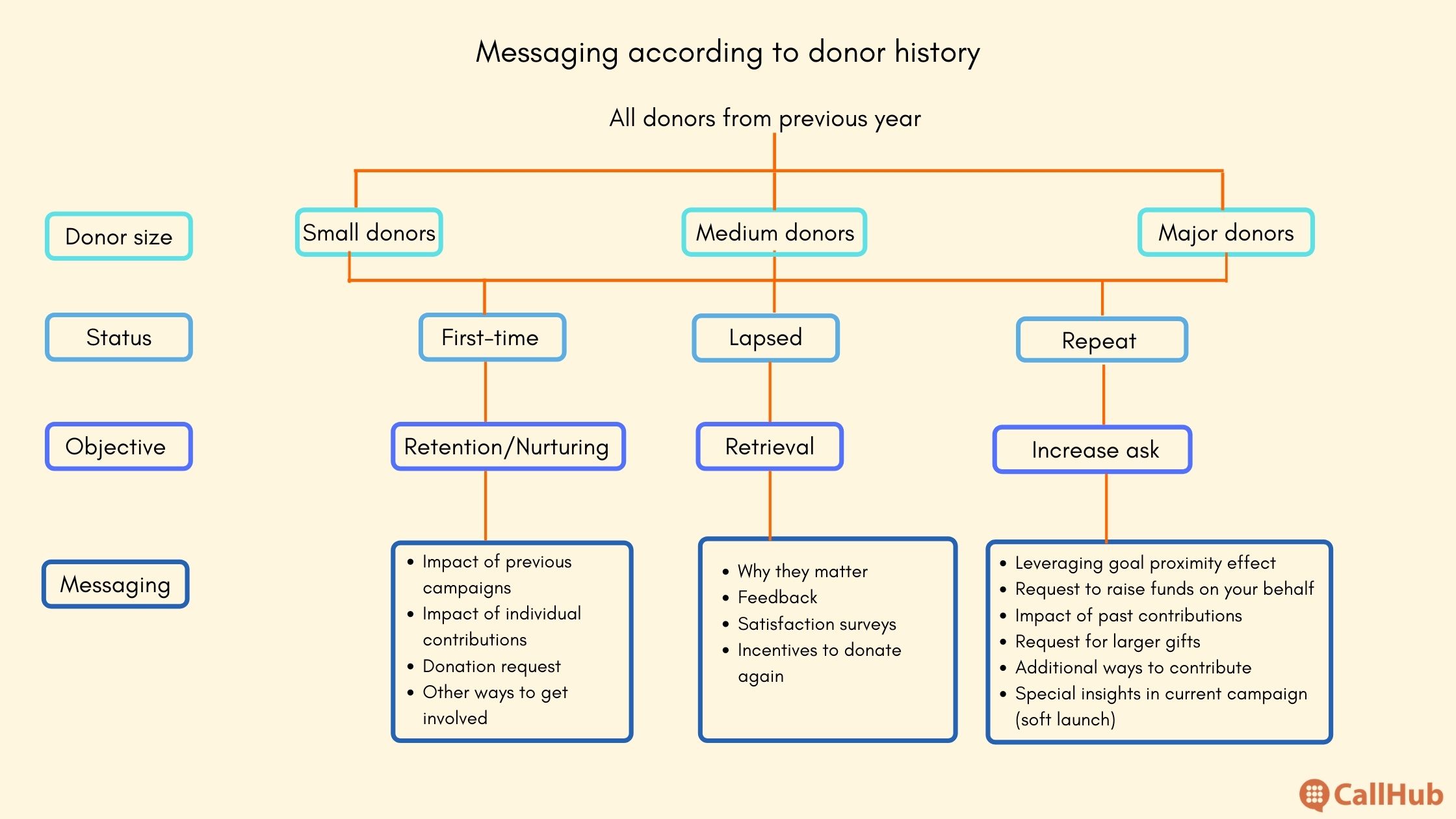 5. Communication methods
Next, you decide on how you communicate your fundraiser to potential donors and supporters.
What you need to consider while finalizing your communications methods:
Do they enable easy personalization?
Have they worked well for you in the past?
What resources are needed for your preferred communication methods? Do you currently have them? (e.g., finances, software for texting or calling, hardware, etc.)
Do donors currently appreciate these methods? (Research on your success rates and current giving trends)
Pencil all your existing and prospective communication methods and study what will work for you.
For instance, texting and phone calls can be extremely personalized and personal (what's the difference, you ask? Here it is). They definitely need to be in your communications plan. If you have seen a surprising number of donors unresponsive to emails, maybe don't bombard them with more.
Some communication methods for effective fundraising and donor outreach are: 
Text blasts
Peer-to-peer texting
Phone calls (Telephone fundraising)
Newsletters
Interactive emails
Surveys and feedback forms
Social media posts (on Facebook, Twitter, Instagram, etc.)
Direct messages on social media
Events
Personal meetings
Pick and choose from these methods according to the time and resources at your disposal.
You May Also Like: The Art Of Better Conversations: 10 Donor Communications Best Practices You Need To Follow.
6. Assign dedicated teams
Dedicate teams for each stage of your fundraising communications plan and give them specific targets to meet.
Assign the teams with the following steps:
Identify the required skill set for each stage and for each communication method.
Calculate the number of people required for each stage and to be responsible for each communication method. (e.g.,your team auditing past campaigns may need more volunteers than the one in-charge of setting goals and objectives) the fu)
Undertake training for all participating volunteers and staffers, especially first-timers.  
Convey targets and deadlines. 
Make provisions for regular updates, hiccup reporting, and progress charts.
Extreme ownership of a job makes team members strive to attain success more responsibly. Make each agent take ownership of their tasks.
7. Soft launch followed by a hard launch
A soft launch is the short pre-campaign period when you contact your strongest supporters and biggest donors and ask them to contribute.
This launch is typically done one to two weeks before you put your fundraising communication plan in action. 
These initial donations build your campaign's momentum and inspire first-time or small donors to contribute further.
The fundraiser communications can then go into a hard launch– when you open up the campaign to all your supporters.
The two types of launches entail:
What it entails
Soft Launch
Hard Launch
Objective
– To build momentum for the fundraiser.
– To show special appreciation to the most loyal, biggest donors.
To convey your message, goals, and motivation to current supporters.
– To recruit new donors.
Timeline
One to two weeks before the hard launch.
Launch day.
Target audience
Major donors, most loyal donors.
Small donors, first-time donors, repeat donors, lapsed donors, and prospects.
Best performing communication methods
– Personal meetings
– Letters/ direct mail
– Personal phone calls
– Surveys and feedback
– Events/virtual events
– Text blasts
– Email blasts
– Newsletters
– P2P texting
– Phone calls 
– Social media posts
– Direct messages on social media
Messaging
– Gratitude and appreciation for previous contributions.
– Details of the current campaign (includes your target and deadline).
– Expectations from donors. 
– Overview of campaign
– Impact prospects
– Methods of donation
– Fundraiser target and deadline.
Related Reading: The Persuasive Calling Cookbook. Boost your Cold Call Success Rate!
8. Track and measure
Having measurable objectives at the beginning of your campaign enables you to track progress throughout the tenure. Depending on the results, you can continue with current strategies or update them. 
Getting regular reports from volunteers and staffers is thus a core part of your communications plan.
Here are some metrics to track while the campaign is in progress:
The number of new website visitors: Google analytics is an excellent tool to map how many people visited your website, where they came from and how many were new etc.
Website traffic drivers: Where the visitors are coming from (email links, text links, Google searches, social media mentions, etc.) Use UTM parameters for such tracking.
Email responses: Use your email marketing tool to track these metrics. ActiveCampaign and SendInBlue are two examples.   
Social media engagement: Popular social media tools like Facebook and Twitter have in-built tracking tools. Track social media mentions, likes, shares, and comments to examine this campaign's social media engagement levels.
SMS opt-ins: Once you share your keyword and shortcode/long code, track the number of people who opt in. Setting text message auto-responses can start nurturing the contacts even before you begin tracking.
Text message responses: A text messaging tool like CallHub enables you to track the responses you receive. 
How to check responses received on CallHub:
Log in to your account → Campaigns (top toolbar) → Select campaign →  Overview (to check the number of responses) → Results → Show responses (to read messages).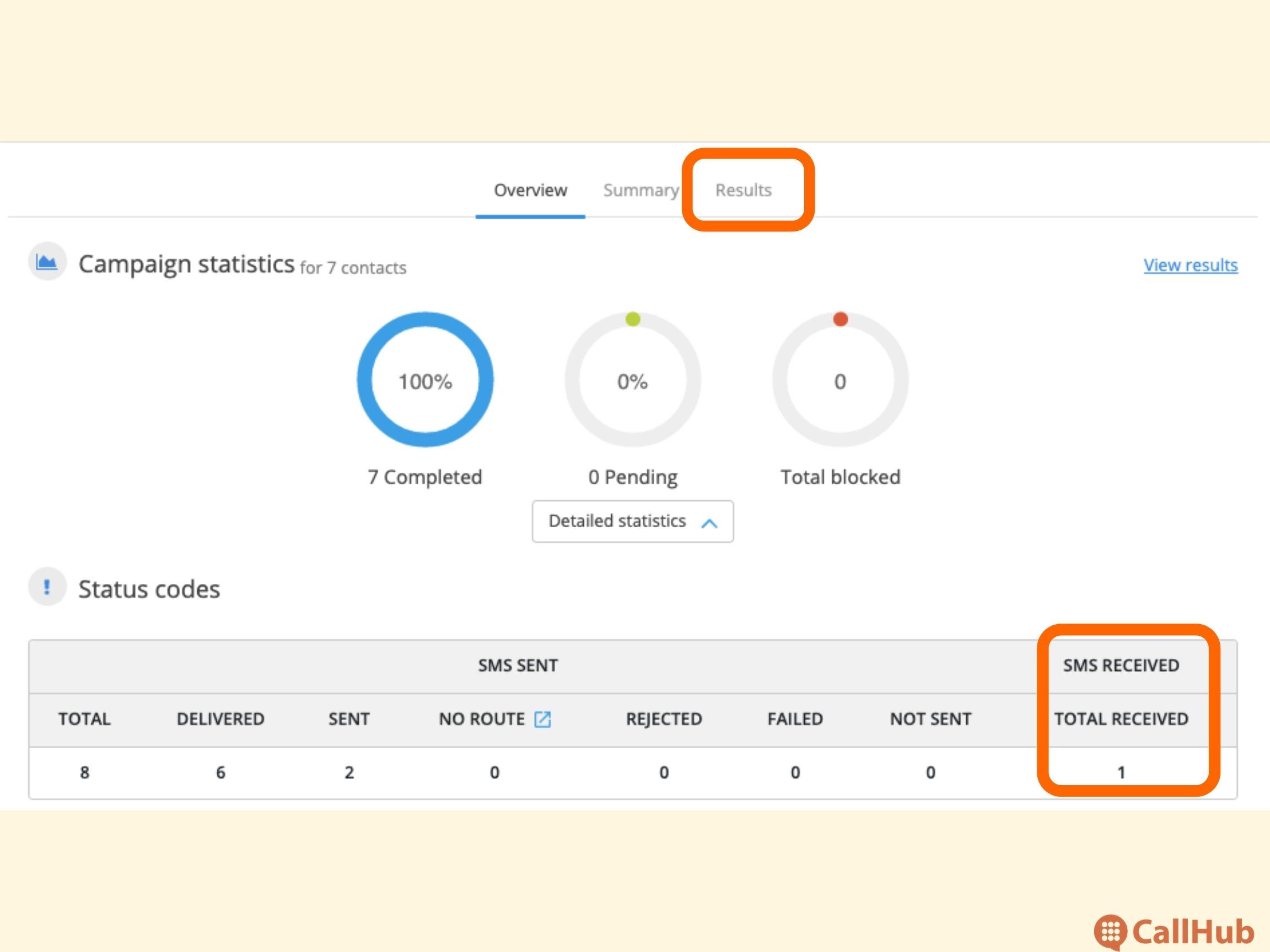 Phone call bad numbers/ no answers: If you have bad numbers, you need to find alternate ways to contact donors. If they haven't answered your call, you need to follow up with another call. CallHub lets you set call dispositions so identifying bad numbers or re-calling contacts becomes automated. You can also set up custom dispositions to suit your campaign's needs.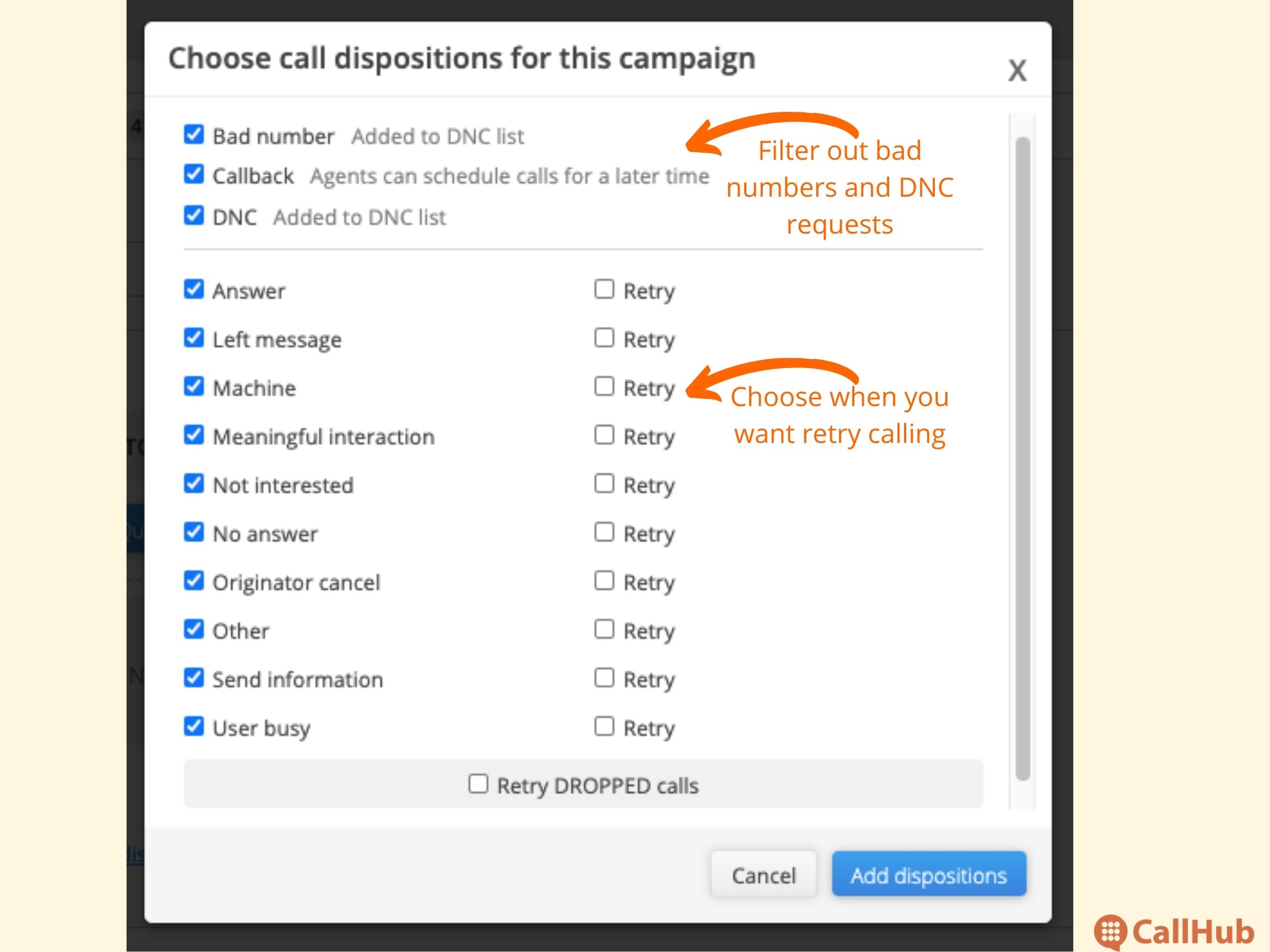 A fundraising communications plan is always a work in progress. To avoid chaos and ensure that the right communication is initiated at the right time, you need to script a timeline and stick to it. A sorted timeline can accommodate unforeseen hiccups and still ensure success.
How do you write a strategic communication plan?
Follow this timeline to write your strategic communications plan: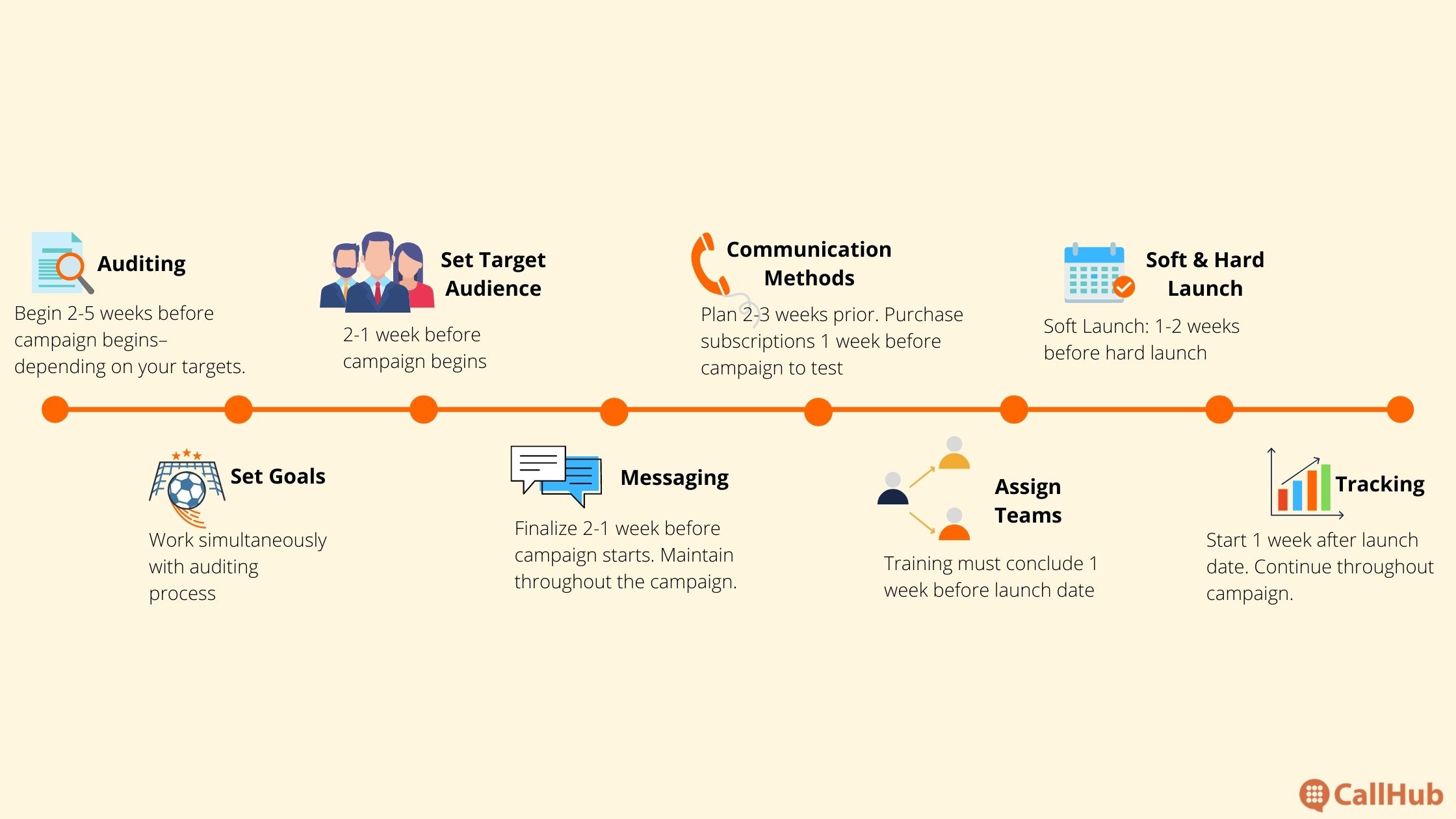 Once you have the plan ready, the next step is to dive into the individual aspects of each stage. For example, under the communication methods stage of your fundraising communications plan, enabling personal conversation is something you need to ensure. 
That would involve writing intelligent scripts for telephone fundraising and studying the flow for fundraising through text messaging.
Read here to understand how to raise funds using calls and texts:
→ A Quick Guide to Kickstart Telephone Fundraising
→ Fundraising Through Conversational Texting – The Beginners Guide
Feature image source: Katrin Hauf/Unsplash.