Before he dropped out of the election campaign, Bernie Sanders exemplified how grassroots fundraising could be successful if you hit the right note.
In January 2020, his campaign announced that
They had raised $34.5+ million in the final quarter of 2019.
These funds came from 1.8 million individual donors.
And the average gift size was $18.
Such grassroots fundraisers show that no fundraising goal is too big if enough donors are mobilized. They encourage political campaigns, nonprofits, and advocacy groups to maintain focus on their small donors and undertake grassroots fundraising efforts.
Let's look at the methods and top-performing grassroots fundraising strategies to help your donation box stay sufficiently full.
What is grassroots fundraising?
"Grassroots" is when a movement, effort, or campaign derives its resources and reason from a community/region/people with common interests. Grassroots activism, for example, is when individuals of a community unite to provoke a political or social change. Grassroots lobbying is the mobilization of common folk to bring out legislative change.
Similarly, when the desired amount of funds is raised with ordinary or small donors' contributions, it is grassroots fundraising.
Political campaigns, nonprofits, and advocacy groups undertake grassroots fundraising for different reasons.
Political campaigns: When a candidate or party doesn't have significant PAC support, media exposure, or big donor support, they rely on individual grassroots supporters to raise funds. They can also turn to such fundraising methods when their campaign opposes powerful lobby groups that influence the political party nomination process. Or when they want to rely on the communities, they represent instead of corporations having a hold on them.
Nonprofits: Charities and nonprofit organizations take the route of grassroots fundraising to minimize their dependencies on a few big donors, to cut the risk of volatility and unpredictability, and to level out potential dips in the funds raised in every cycle.
Advocacy groups: Advocacy groups are "for the people," and so, their grassroots fundraisers, too, are "by the people." Raising monies from the community solidifies their relationship with the people, keeps them engaged in the cause, and can even increase their donor and supporter base (through relational organizing, when a supporter or volunteer mobilizes their social circle to join them.)
Why is grassroots fundraising important?
1. Networking
Peer-to-peer solicitation (or P2P fundraising) forms a major part of grassroots fundraising. Volunteers and employees reach out to existing donors and their families and friends, asking for charitable contributions.
Conversely, fundraising at the grassroots level helps you expand the existing network when you use the current donor base to encourage similar people or communities to join them. Ultimately, it helps increase your organization's support base, which is a primary concern for a grassroots group.
The following chart shows how one current donor can influence several new ones: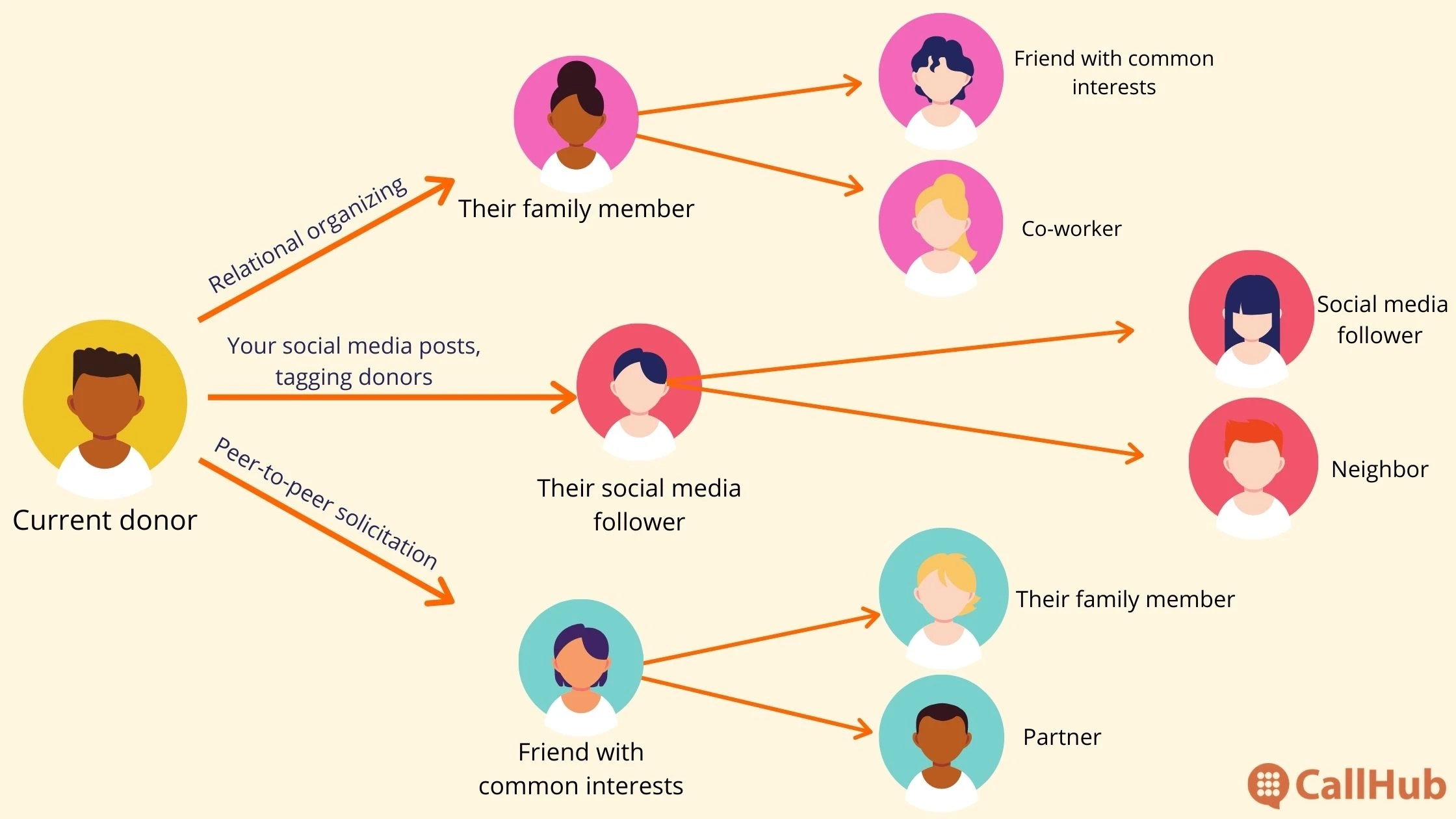 Tip: Nurture the early networks by initiating a conversation with supporters using P2P texting. If you convert one donor to a fundraiser to bring in three more donors, nurturing these new donors can further repeat the P2P fundraising process.
2. Minimizes dependency on a single source
"Don't keep all your eggs in one basket," goes the saying, aptly describing another advantage of grassroots fundraising. When you have many donors giving small gifts, you encounter low risk even if a few people stop giving.
Of course, you must still undertake donor retention strategies for them. But at least for now, you haven't suffered a significant financial blow.
When your only source of funds is big donors, you put yourself at high-risk. Even if one of them stops contributing,
You suffer a substantial financial loss
Retention is more challenging
You may have to invest financial resources for retention, thus giving yourself a further financial setback.
You May Also Like: 50% of Donors Don't Return – Donor Retention Strategies to Reduce Churn
3. Keeps focusing on your goals, not on donors
A few months before his triumphant announcement about his 2019 fundraising efforts, Sanders had spoken about his "working-class campaign" with Rolling Stone magazine. The "grassroots candidate" said that the small individual donors enabled him to keep fighting for his causes- those of corporate corruption and greed.
This shows how a thousand different donors, each giving a small amount, can help your campaign, nonprofit or advocacy organization focused on your goals.
When your finances depend on a few big donors giving lump-sum amounts, they also come with the liabilities of:
Prioritizing their wishes over your cause
The awkwardness of going against what they endorse
The threat of funds being withdrawn if you upset donors.
Grassroots fundraising methods:
Grassroots fundraising is all about reaching out to the masses and inspiring them to contribute financially to your cause. This means you are going to encounter a hundred different personalities, each with different preferences.
The three common points in every fundraising effort are:
Building trust in your work and organization
Igniting a personal connection with the potential donor
Showing them that their contribution will have a positive impact.
However, the way you approach donors to communicate these factors varies. While some people love having a conversation in person, the more reserved people may prefer text solicitation.
So let's understand the different ways your organization can reach out to grassroots supporters for funds:
1. Face-to-face solicitations
People will usually not give money unless organizations ask for it. Even then, several factors play a part in determining whether a solicitation is successful or not.
In-person solicitation ensures detailed and deep canvassing that increases your chances of securing donations. It could be in the form of door knocking, group meetings with existing donors or peers, soliciting during an event, etc.
Best used for:
Securing large gifts from new donors
Upgrading donors and increasing the gift size of existing contributors
Raising large sums for long-term campaigns like capital campaigns
Solicitation requirements:
Walk lists and set turfs with names, addresses, and other relevant information about potential donors, if available (for door-to-door solicitation)
A solicitation script to help volunteers (especially first-timers) to guide the conversation
Donor history for personal meetings with existing contributors.
Knowledgeable volunteers and employees who are comfortable advocating your organization to strangers.
Canvassing software that helps you cut turfs, prepare walk lists, manage teams, and streamline donations.
2. Personal phone calls to grassroots supporters
Phone calls are the next best thing to face-to-face solicitation if you want to have a personal, detailed conversation with potential donors. They are often used to initiate conversations with potential donors, keep in touch with existing contributors, and follow up with supporters.
Phone calls allow you to have a direct conversation with these supporters and address their concerns or objections that may be keeping them from donating (or keeping donors from fundraising for you).
Best used for:
Increasing gift size from current donors or getting them to enroll in recurring giving.
Reaching out to a large group of new or current donors with limited human resources.
Upgrading supporters to donors (eg., those who have joined your contact lists but haven't contributed yet).
Remote grassroots fundraisers (where you can't meet people in person but want to engage in detailed conversations).
Solicitation requirements:
Mobile or landline numbers of supporters (political campaigns and businesses may require prior permission to be called. Read our guide on outbound calling laws to stay compliant)
At least one agent to call numbers from your contact list.
A solid cold call script.
A call center software, like CallHub, that:
Enables quick outbound dialing
Sets call disposition for unanswered calls, bad numbers, machine answers, etc.
Has a callback feature, so you don't miss out on donors when calls aren't answered.
Allows you to send automated follow-up texts (so you can send donation links without fail)
Related Reading: A Quick Guide to Kickstart Telephone Fundraising
3. Text fundraising
Text-to-donate enables supporters (who have opted in) to give by simply clicking on a donation link and filling in their desired gift amount.
You send a solicitation text in response to the opt-in, complete with
An introduction of the agent
Details of the cause
Donation link.
The person on the receiving end only clicks on the link, fills in the details, and voila! Your cause is $x richer!
Alternatively, campaigns can also send a text blast with the solicitation message even if the supporters opted-in to receive updates (and not to donate specifically).
Text-to-give is another way nonprofits or political campaigns solicit funds from supporters. The organization or campaigns partner with telecom companies for this grassroots fundraising method.
When a person sends a dedicated keyword to a shortcode, a predetermined amount is added to their mobile bill and donated to the organization or campaign.
Best used for:
Repeat donors.
Acquiring new donors.
New supporters who have opted in to donate.
As the first point of personal solicitation (before you call/meet those who didn't donate or who have upgrade potential).
Solicitation requirements:
Mobile numbers of supporters and their consent to receive donation appeals.
Volunteers (at least 1) to send texts and communicate your requests efficiently.
A shortcode and keyword for people to opt-in.
A text messaging software, like CallHub, that:
Integrates with various CRMs so you can directly import your contact lists.
Allows you to send bulk MMS (add images, gifs, and videos) to make your text messages pop.
Can create mass texting campaigns for new opt-ins.
Can enable P2P messaging for people who have engaged with you previously.
Related Reading: Fundraising Through Conversational Texting – The Beginners Guide
4. Peer-to-peer fundraising
P2P fundraising upgrades your existing donors into fundraising agents. They reach out to their social network, advocate your cause and ask for donations. It's like a pyramid scheme, but for a good cause and with no risk for participants.
For a good P2P fundraising campaign, look out for two types of people:
"Sneezers"- people whose reach is far and wide
Those who are excited to advocate your cause even among a small social group
Best used for:
Expanding your donor base.
Solidifying the engagement of your current donors.
Turning micro-donations into recurring donations.
Solicitation requirements:
A base of loyal donors who are excited to take on more responsibility.
A P2P fundraising plan detailing channels to utilize, scripts to follow, rules and responsibilities.
A call center software, text messaging software, and email software to centralize the operations.
Managers to oversee and track progress.
Related reading: Peer-to-peer fundraising: A How-To Guide for Raising Money
5. Email marketing
Email marketing for nonprofits and advocacy groups remains a popular way of reaching out to new donors and making gift appeals to old ones. Grassroots fundraising, too, can benefit from this outreach channel.

Best used for:
Acquiring new donors.
Driving traffic to your donation links or websites.
Solicitations when email IDs are the only contact info you have.
Mixing advocacy and grassroots fundraising since emails allow you to include detailed texts, donation links, and images/videos in one place.
Solicitation requirements:
Email marketing tools that allow the creation of donor journeys and donor nurturing.
Email IDs of people, with their consent to be contacted for donation appeals.
An account on fundraising platform(s), or payment getaways,
A donation page—the link for which you add in your email body.
6. Events
Events go beyond grassroots fundraising and can also
Introduce new people to your work and impact
Build a sense of community among attendees
Get publicity and media attention to your organization
Best used for:
Strengthening relationships with existing supporters.
Raise large sums of money from grassroots supporters.
Upgrading existing donors (as more frequent contributors or as fundraisers).
Increasing their gift size.
Diversifying grassroots fundraising by adding new ways to raise money like ticket fees, selling merchandise during the event, etc.
Solicitation requirements:
The venue, volunteers, catering, and theme for the event.
Advertising, promotional resources.
Money to fund the event.
7. Social Media
A platform with millions of active accounts and a reach that no other channel can guarantee, social media is your megaphone for grassroots fundraisers. In addition to making donation appeals, it also
Increases engagement on your profile, and potentially, your follower count.
Makes strangers aware of your work.
Enables P2P fundraising among current followers.
Best used for:
Acquiring new donors.
Covering a broad base of potential donors in a short time.
Appeals for micro-donations or small donations (<$100)
Online fundraising events.
Solicitation requirements:
Content (images/videos/text) with potential of going viral. We recommend recruiting professional content writers and graphic designers.
Budget for paid advertisements.
Accounts on Facebook, Twitter, Instagram, and other popular social media.
Accounts on fundraising platforms, payment gateways, and a donation page (the link for which will be added in your copy).
How to make a viral fundraiser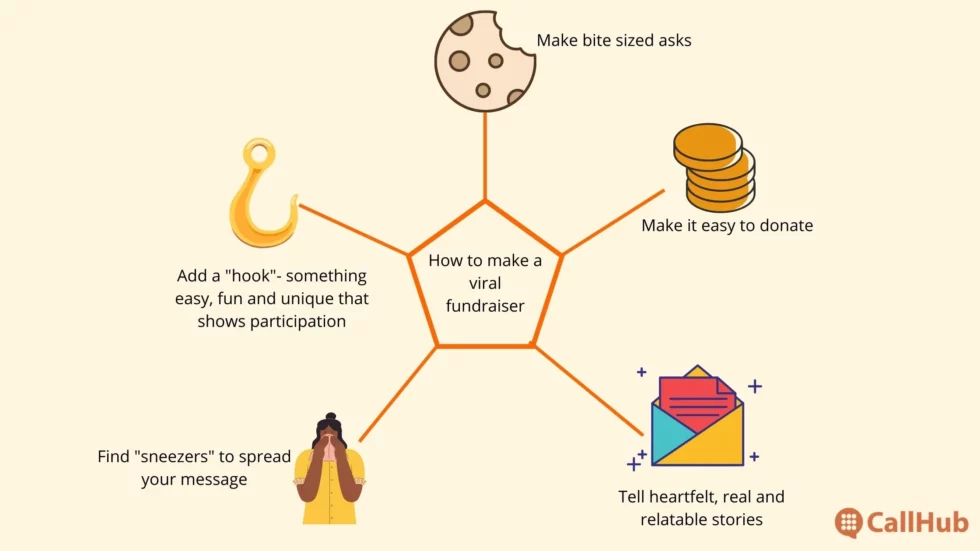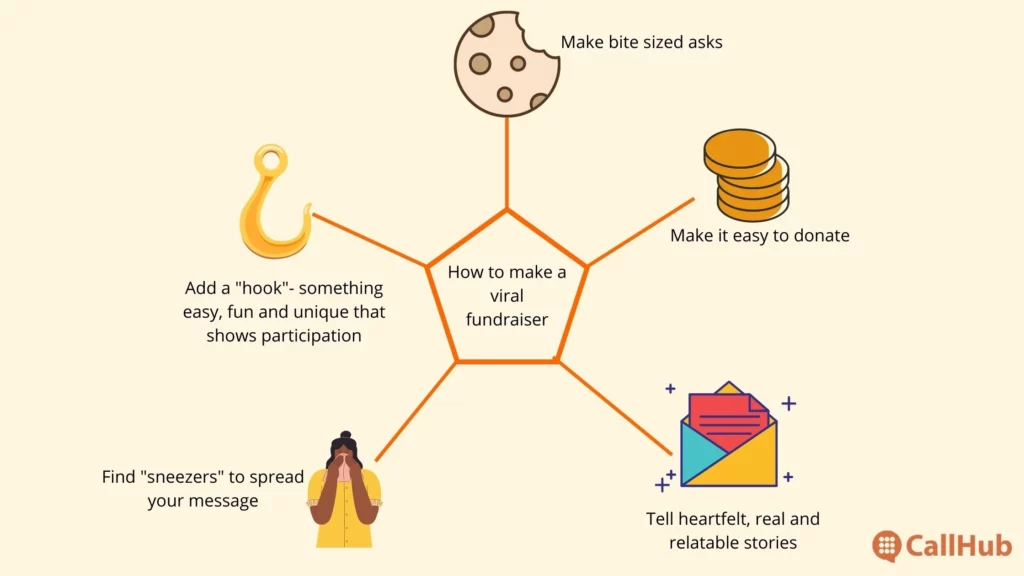 Grassroots fundraising strategies and ideas
Once you know the grassroots fundraising methods you want to adopt, the next step is to understand strategies that work for solicitation and include them in your plan. Here are five such strategies and tips for a successful fundraiser:
Write a good CTA
Enable recurring donations
Make timely donation appeals
Segment your donors and target them with different approaches
Mix advocacy with fundraising
Track and analyze your campaign constantly
Let's have a look at each point individually.
Write a good CTA
An ideal CTA is:
Inspiring: A reader will not act if they are not inspired to donate or contribute to your cause. A heartfelt, relatable story, your past impact, and personal messages can inspire readers to take the action you desire.
Specific: It should entail a strong action word and give definite directions the reader can take (eg., donate now, follow us for more news, subscribe, download here).
Urgent: Conveying a sense of urgency (we need to act now, donate now to save a forest) evokes strong emotions and can motivate one to donate (or take another positive action).
Enable recurring donations
Small donations are usually spontaneous. That means, once done, contributors tend to forget about them.
This increases your attrition rate and
Mandates you to spend equal or more resources in the following fundraising cycle.
Instead, enabling recurring donations, like a subscription plan, will ensure that opted-in first-time donors automatically convert into recurring donors.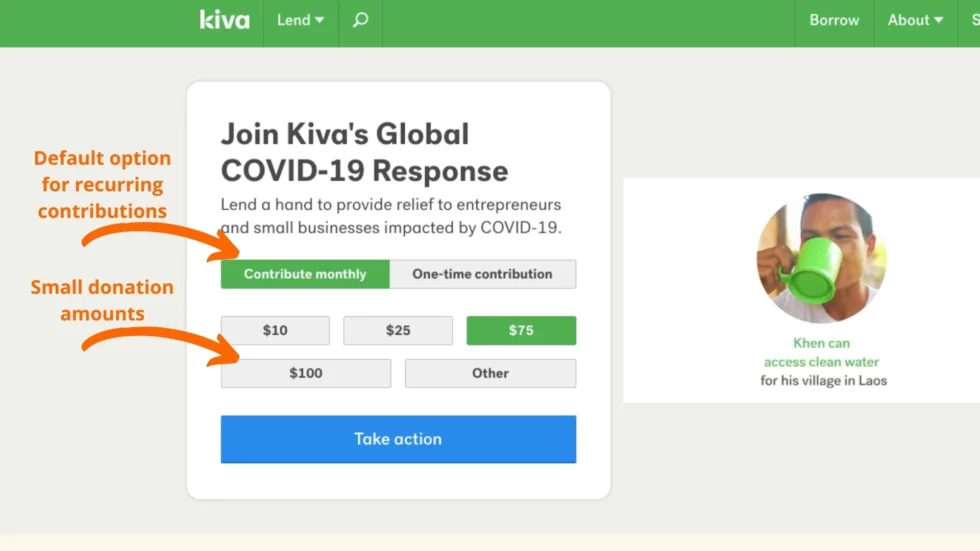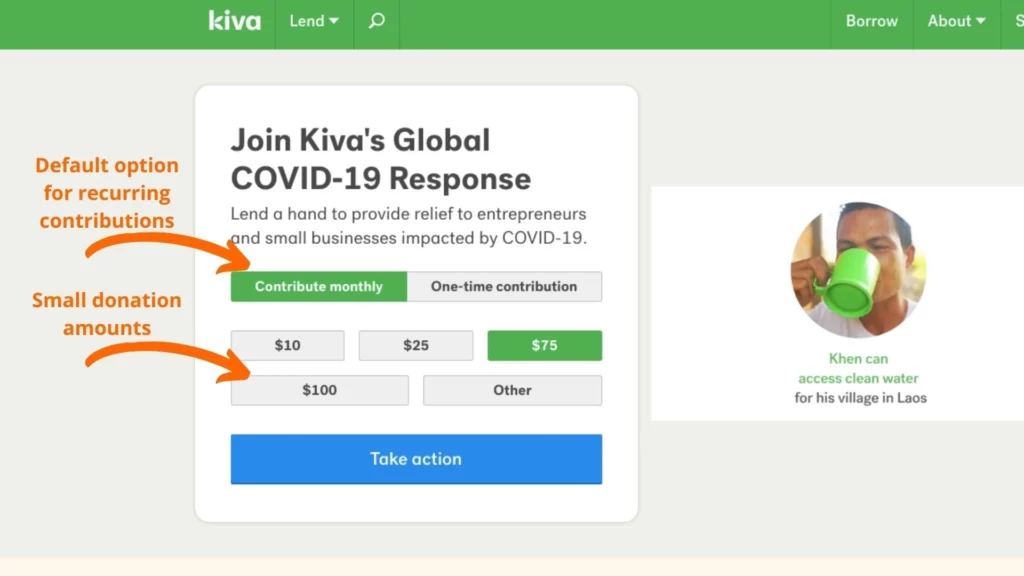 Even if they don't become recurring donors the first time, make sure to plan a nurturing flow that:
Shows the impact of their donations
Recognizes them for their help and values them as supporters
Motivates them to give again when asked or enroll in a recurring donation program the next time.
Make timely donation appeals
Within hours of the Boston Marathon bombings in 2013, Christopher Dobens and Nicholas Reynolds, students from Emerson College, started a T-shirt campaign to benefit the victims. The hashtag #BostonStrong was going viral on Twitter at the time, and they printed T-shirts with the term to raise funds for the victims and their families.
Soon enough, Dobens and Reynolds registered the One Fund Boston organization and started selling their apparel and other merchandise off stands and shops.
They could raise and distribute $80 million. One factor could have made this fantastic initiative just a fantasy- poor timing.
That's the lesson to learn from the One Fund Boston grassroots fundraiser- to keep it timely.
Build resources to act upon incidents that give no warning quickly.
Create a content calendar to build fundraisers around recurring events.
Leverage strong emotions like anger, sympathy, and patriotism for your grassroots fundraisers.
Segment your donors and target them with different approaches
For personalized donation appeals, you need to segment your donors and supporters according to their level of engagement, preferences, and history.
Categorizing them in such a manner will help you get a better sense of who is more likely to donate to what cause.
You can then mobilize appropriate resources for each segment.
For instance, say Ms. Ashley has engaged with your posts about education but not healthcare. She has replied to your text messages but never answered your calls. You know she has just finished university and is still searching for a job.
Ashley is more likely to donate if you send a text message, asking to donate <$25 for a campaign that educates children of homeless people. Segmenting her for fundraising campaigns about healthcare is less likely to bring satisfactory results.
Mix advocacy with fundraising
Your CTA must be specific, but don't restrict them to only donating funds. After all, some people may be unable to or may not want to donate.
Instead, give them a few more options to choose from, so you don't lose their support for this particular campaign entirely.
Standard options for CTAs include:
CTA
Methods
Level of engagement
Donation appeals
– Provide donation links
– Text-to-donate
– In-person solicitation
Such supporters are highly invested in your cause and organization.
Advocacy
– Ask to join a protest
– Request signatures on a petition
– Patch-through-calls
Supporters who choose advocacy over donations are more deeply invested in the cause than in your organization.
Spreading the word
– Provide relevant donation/fundraiser links and ask people to share them on their social media pages.
– Ask them to forward donation text messages/shortcode and keyword
– Ask them to communicate your fundraiser in their social circles
This CTA is for supporters who have medium engagement with your organization. They are not willing to donate but are more involved than just signing up to your email/SMS lists.
Sign-ups
– Ask people to sign-up for your email/SMS/call lists.
– Ask them to follow your social media handles.
– Ask them to sign up for newsletters or updates.
Supporters who prefer this over other requests have low engagement with your cause and organization.
Track and analyze your campaign constantly
To understand your supporters, the causes they typically donate to, and their level of engagement, you need to continually track their behavior.
For instance, call center tools like CallHub enable smart tracking of the best times to call supporters, the scripts that work better in your favor, and well-performing volunteers. Such metrics are great tell-tale signs of what works for what kind of supporters.
Engage in constant tracking to get an exhaustive file on every donor, so you can segment and target your grassroots fundraising efforts accordingly.
Fundraising

method
What to track
Face-to-face solicitation
– Number of doors knocked
– Success rate
– Amount contributed
Phone calls
– Answer rates
– Conversions
– Amount contributed
– Preferred mode of donation
Text-to-donate
– Open rates
– Conversions
– Unsubscribe rates
– Amount contributed
Email Marketing
– Open ratesSpam/unsubscribe rates
– Action taken (sign-ups/follow rates etc)
– Conversion rates
– Amount contributed
– Preferred mode of contribution
Social Media
– Number of people reached
– Conversion rates
– Amount contributed
– If another action is taken (follows/shares/likes/comments etc.)
Events
– Number of attendees
– Success rate
– Average contribution
In Conclusion
Grassroots fundraising has taken an online turn now that social distancing is the norm. Nonprofits and advocacy groups solely relied on email marketing and text messaging for online fundraising.
Now that remote grassroots fundraisers have gained more force, both these groups and political campaigns need more elaborate strategies for online fundraising, apart from email and texting.
If you are unsure how to shift most (if not all) of your fundraising efforts online, here's our guide to help you: 14 innovative online fundraising ideas to keep you going during social distancing.
Feature image source: Micheile Henderson/Unsplash