Giving Tuesday subject lines are the make or break factor for your #GivingTuesday email campaign. Consider the following email subject lines:
December #GivingTuesdayNow Newsletter
Your #GivingTuesday gift will be matched only today!
The second subject line creates a sense of urgency and establishes a clear goal. Meaning, it is more likely to get clicks than the previous subject line, which is not creative and does not invoke any emotion.
A strong subject line is how you capture your audience's attention for your fundraiser.
Why do you need compelling fundraising email subject lines?
Come November, and people are flooded with marketing emails, citing offers and donation appeals. It's a cluttered inbox, but you must navigate your way through the traffic and grab your reader's attention.
An attractive, intriguing, crisp, personal Giving Tuesday subject line is the only way to stand out in the noise. They are the first impression of your campaign, and so, it's important to put extra effort into crafting the perfect giving Tuesday subject lines.
How to write effective giving Tuesday subject lines?
Email subject lines have three functions:
To grab your audience's attention
To convince them to open
And to complement the email content so readers take action you desire.
Here are 6 types of Giving Tuesday subject lines that work
Posing direct questions
Conveying urgency
Conveying wishes
Making it personal
Using action words
Invoking emotion
Let's look at some examples and best practices for each:
1. Posing direct questions
Questions can pique a reader's interest and compel them to click on the email. When deciding on email subject lines that carry direct questions, try to:
Keep them open-ended.
Ensure the questions are relevant to the donor persona you are targeting.
Avoid using exclamation marks in the subject line that also carries a question.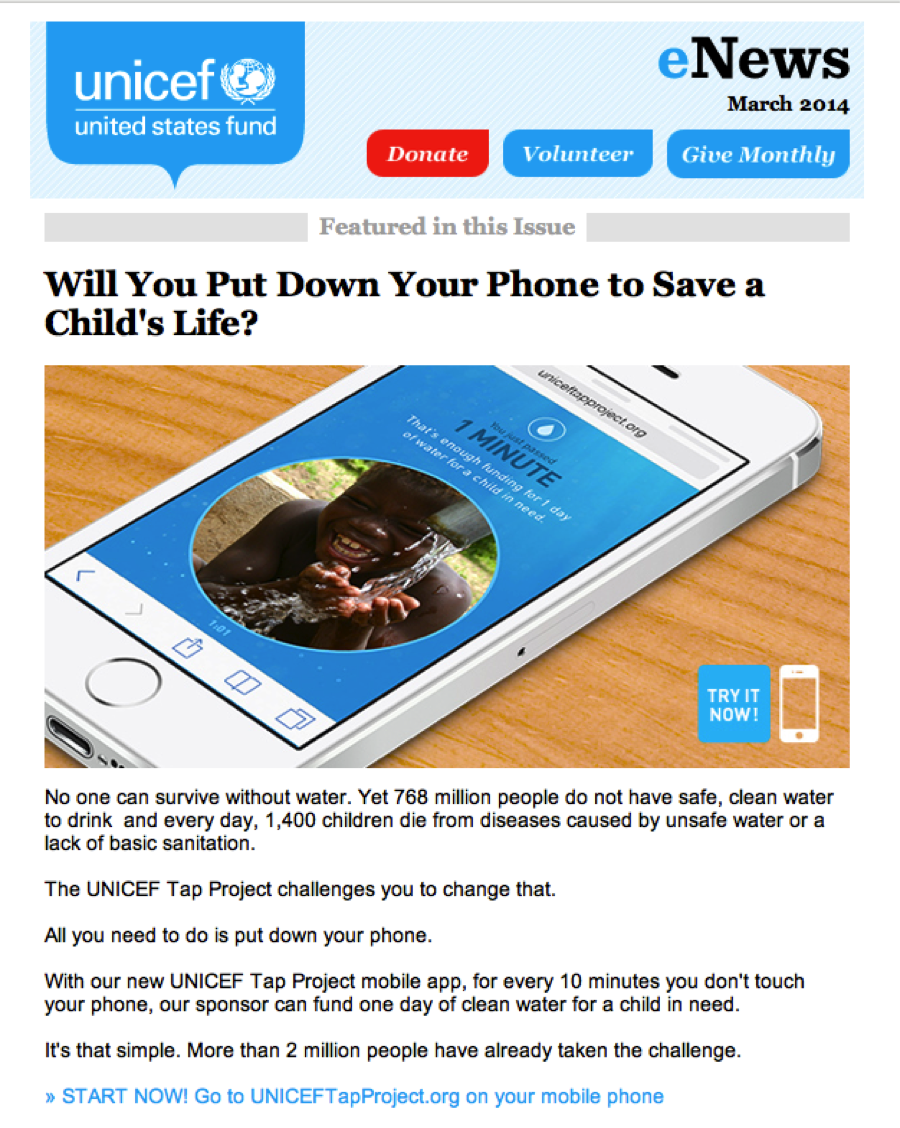 UNICEF does not mince words when posing a question to readers. Although this image (and the following ones too) carry email content, their taglines can inspire how a subject line is crafted.
Examples of fundraiser email subject lines:
Are you ready, [first_name]?
Tomorrow is Giving Tuesday – What's in it for you?
What happens to your dollar today?
UNICEF: How many children will you save today?
World Wildlife Foundation: Ready to change the future?
[first_name], did you make a difference this Giving Tuesday?
Pro-tip: Keep your questions direct but not rigid. For instance, use "Can you help?" if readers have the option of donating, volunteering or contributing in other ways, even if your primary goal is to raise funds.
Not all your readers will donate. But using inclusive words conveys that readers have more options for contributing. It prevents non-donors from ignoring your email. Consider this insight by Kathleen Murphy, the director of digital communication for #GivingTuesday.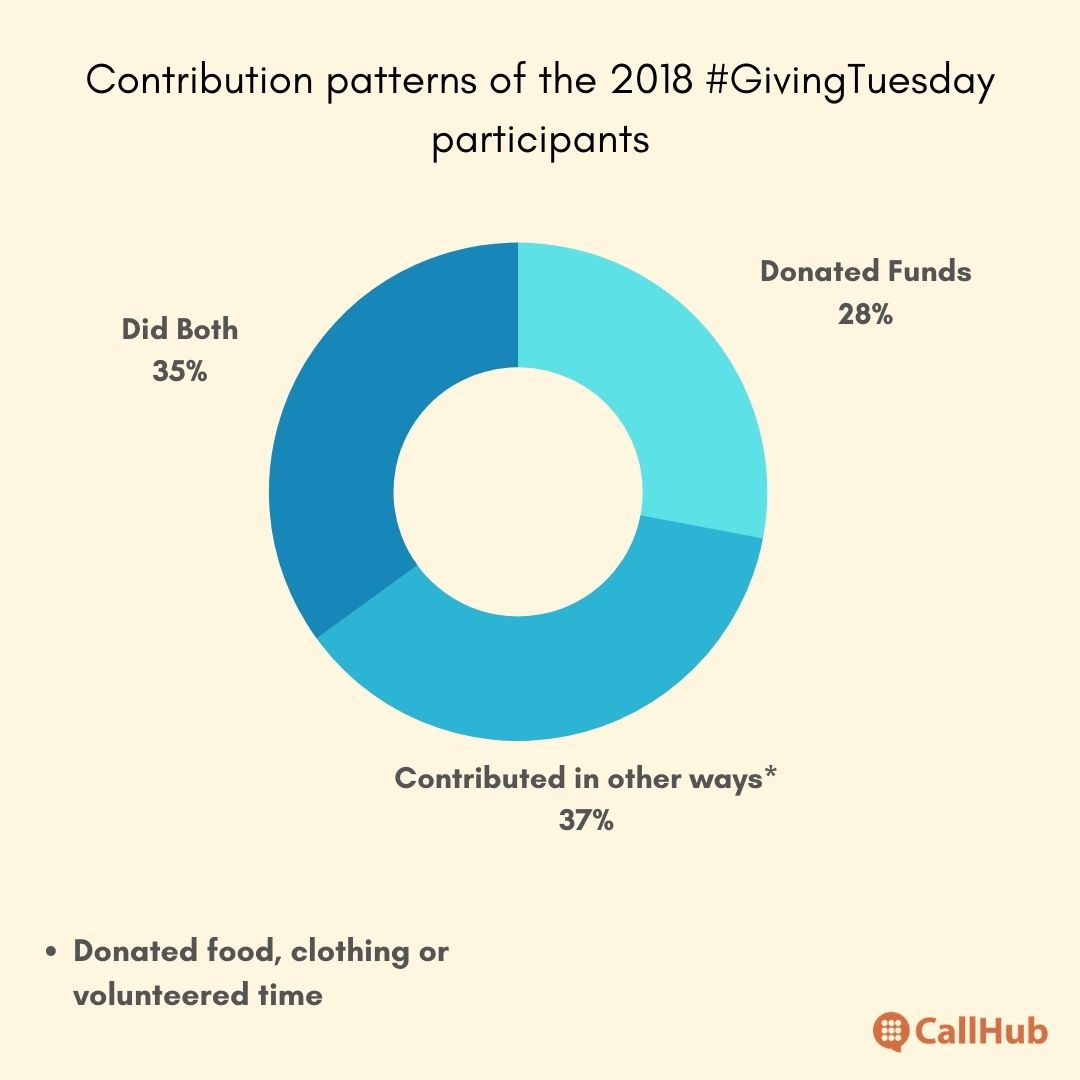 You May Also Like: Tips and Tricks for an Effective Annual Appeal Letter
2. Conveying urgency
Creating a sense of urgency is proven to motivate people to take action. When it comes to a Giving Tuesday fundraising campaign, conveying the urgency becomes easier because you already have a set deadline (1 December in 2020).
Depending on when your email is going out, you can convey the deadline in days, hours or even minutes! Check out what Animal League did to create a sense of urgency in their readers: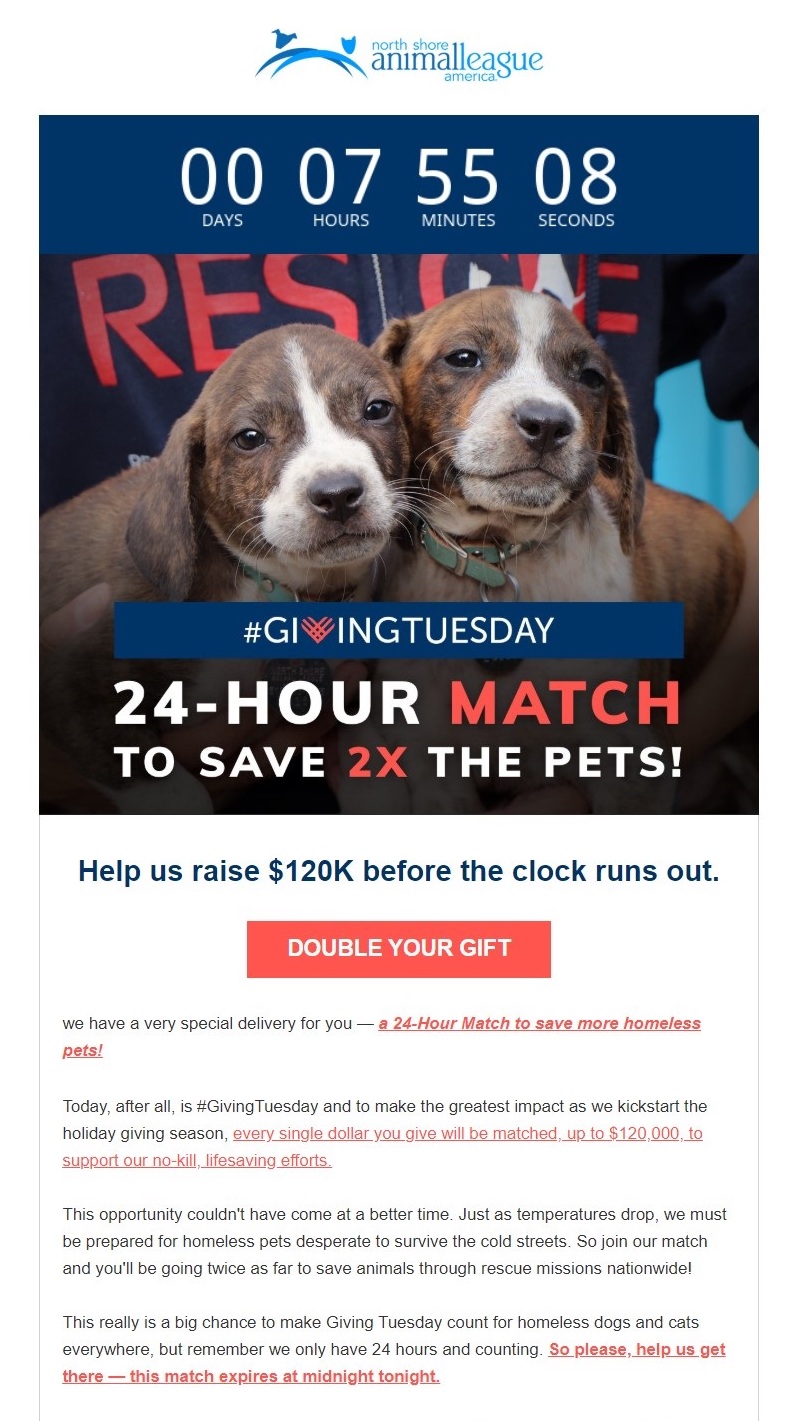 Examples of subject lines for fundraising emails:
Avaaz: 48 hours to save the bees
You need to know: match EXPIRING.
(MATCH) Hours left to double your gift, [first_name]
FINAL HOURS: #GivingTuesday ends soon!
[first_name], hate can't win: 2-to-1 match until midnight
More urgent than ever
RE: No time to waste. Stopping Trump's climate agenda starts now.
Double Second Chances for Seals–Just Hours Left!
Last Few Minutes to Make a Life Long Impact
Giving Tuesday: Last Chance to Have Your Gift Tripled
Last chance: Your gift is matched this #GivingTuesday
Help NMFA raise $15,000 in 24 hours! #GivingTuesday
Pro-tip: Brevity is of the essence when it comes to conveying urgency. Short subject lines will convey urgency better than long ones (which take time to read). These buzzwords convey urgency for Giving Tuesday subject lines:
Final [hours, minutes, day, chance]
Last chance
X [hours, minutes, days] left
[Chance, offer, match] expiring (option to follow up with time remaining)
Only [time] left
3. Conveying wishes
Giving Tuesday is surrounded by opportunities to send good wishes to your supporters and donors. Thanksgiving has just passed, Christmas is a month away and this is also an opportunity to reconnect with past donors and send thank you's for their previous donations.
This is an opportunity to exchange wishes while also giving a slight nudge for people to donate. Take this Giving Tuesday thank you email for instance: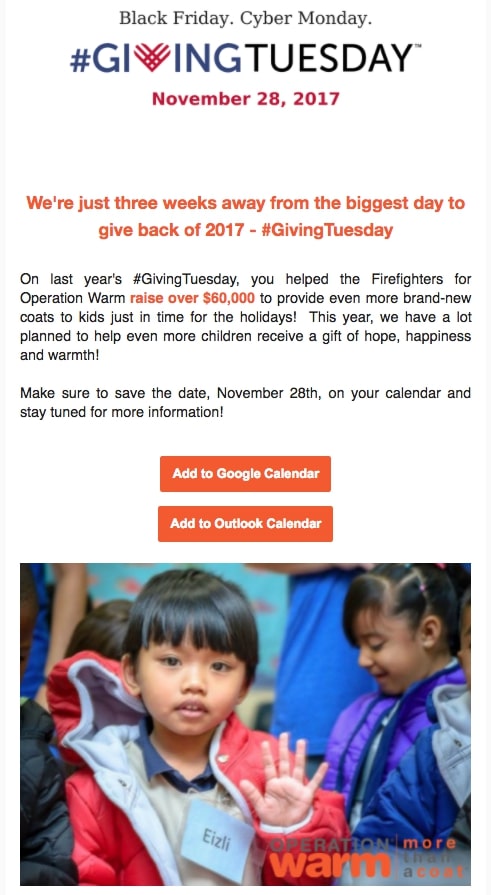 Giving Tuesday subject line examples:
A tasty thank you for #GivingTuesday
YOU made it happen!
The Marine Mammal Center: A special gift to thank you for all you do
Happy Giving Tuesday!
Special offer for you: Today only!
Pro-tip: Donor recognition, personalized holiday wishes, and season's greetings in your subject lines can improve your open rates. However, please do not use them as mere clickbait. The emails should carry content that resonates with the subject line. Instead, you could use the #GivingTuesday donation appeal as a nudge.
For example, Happy Thanksgiving, Linda! Save Turtles this #GivingTuesday
Happy Holidays, Linda! Spread the Joy this Festive Season
YOU Made #GivingTuesday2019 Happen. Keep the Ball Rolling!
Texts have a 98% open rate and a 45% response rate (vs. 28-33% and 6% for emails, respectively). If your Giving Tuesday emails aren't getting opened or conversions, use text blasts to follow up and nudge people to:
1. Read your email
2. Or text-to-donate.
Invest in a text marketing tool like CallHub. Try it for free here.
4. Making it personalized
Personalization is no longer only about adding the recipient's name to the copy. You need to really understand the donor history, preferences and engagement levels to make your email truly personal and human.
BlinkNow has mastered this technique as can be seen from the following email: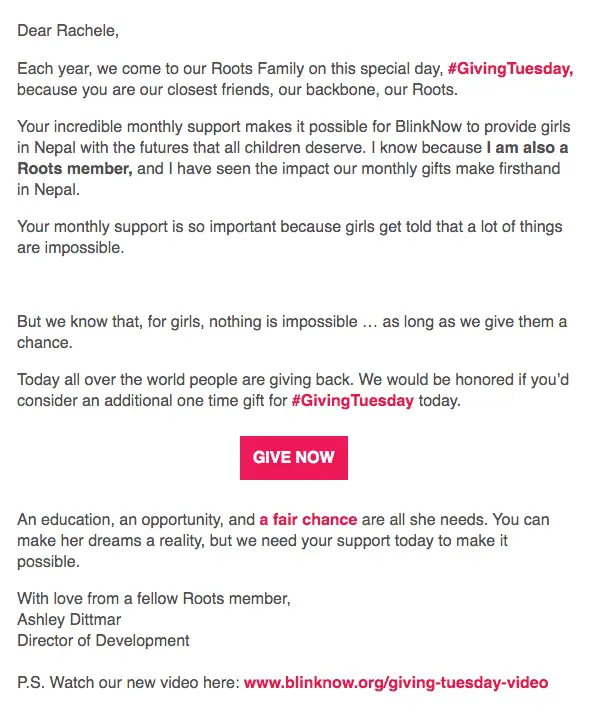 They start with the reader's name but also include:
Donor history (Your incredible monthly support…)
What motivates them to donate (… to provide girls in Nepal with the futures all children deserve)
Clear CTA for donation (We would be honored if you'd consider an additional one time gift…)
For a Giving Tuesday subject line, such understanding of a donor can be used for unique personalization and targeting.
Eg., Rachel, your monthly gifts helped girls in Nepal. What's next?
Rachel, thanks for your monthly gifts. Can we ask for a favor this #GivingTuesday?
Related Reading: How to create an effective call to action? (with examples)
Examples of fundraiser email subject lines:
A special Giving Tuesday challenge for [first_name]
[first_name], A Story of Inspiration and Hope Just for You
Will you be the first, [first_name]?
It's Giving Tuesday, [first_name]. Be a Hero.
[Sender_name]: Holiday gift deadline is tomorrow
Pro-tip: Adding the recipient's name in the fundraising email subject line increases the open rate by 26%! Make sure you use the correct greeting (dear, respected, hello or nothing at all!) for each reader, depending on their level of engagement with you.
5. Using action words
Adding a CTA in your subject lines makes emails more clickable. They set expectations for readers and nudge them towards the action you are seeking in your email bodies. Use strong action words like:
Give
Join (Us/the movement/the campaign)
Stop
Act
Change/Transform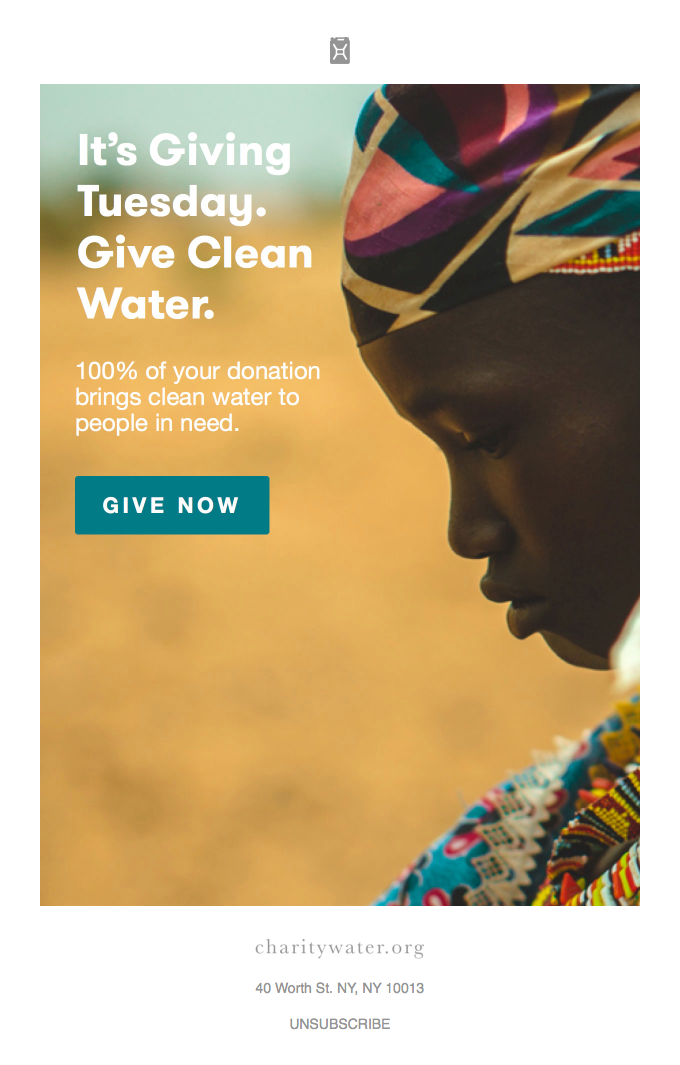 Charity: Water gives a clear CTA along with a prominent donation button in the email copy. Their tagline, "It's Giving Tuesday. Give Clean Water" is also an excellent subject line.
Some compelling donation request email subject lines:
Spread hope this #GivingTuesday
Give Back on #GivingTuesday
Oxfam: Before 2017 ends, change lives
Stop bird extinction this Giving Tuesday
This GivingTuesday, transform the life of someone like Molly
Tick-tock (please act fast)
Ready, Set, Give! #GivingTuesday
Friend, join me for #GivingTuesday!
Done shopping? Please take time to give!
Re: Give an Education, Get Your Donation Doubled
Pro-tip: Research by MailChimp showed that two commonly used words decrease open rates:
Moreover, their data also shows that readers tend not to open emails with a repeated format of subject lines. For instance, using templates such as: November Newsletter or Hello from [organization name].
Instead of these overused formats, be descriptive in your Giving Tuesday subject lines. Share a one-liner about what people can expect from the email body. This creates expectations and conveys what is required from readers once they click.
For example, #GivingTuesday: Make November special for healthcare workers
Our most awaited month: This #GivingTuesday, educate someone!
This November, get your donations doubled for #GivingTuesday!
6. Invoking emotion
Giving Tuesday is about helping. And only through invoking some emotion can you convince someone to help. There are various ways to spark sympathy, joy or curiosity and you must craft subject lines intelligently to hit the right mark. You could use:
Straightforward appeals
Humour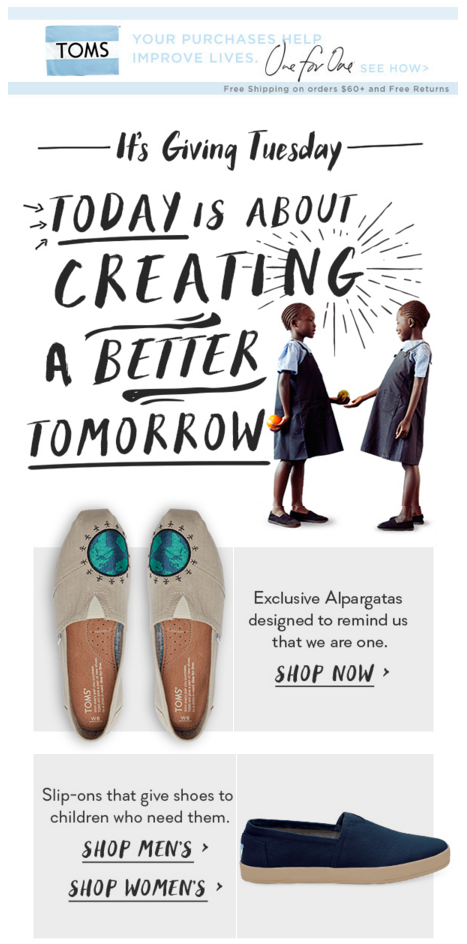 Examples of Giving Tuesday subject lines:
Moms don't give up. EVER.
We still need you. With your help, we can do more.
MoveOn: Help victims of the bush fire this Giving Tuesday
Giving Tuesday: Military kids are waiting for your support
Middle East Children's Alliance: Give 2,000 children in Gaza the gift of life
#GivingTuesday: Children in Crisis – help save lives
Giving Tuesday: alleviate hunger for refugees through World Renew
It's Giving Tuesday, feed a hungry child
How much to ship a chicken?
It's all on the line.
Pro-tip: Some strong emotions that work for nonprofits are excitement, sympathy, joy, curiosity, and urgency. Mix them up throughout the year in your email marketing campaigns to study which ones work best for you. In high-risk campaigns like Giving Tuesday, use those emotions for high returns.
Related Reading: Giving Tuesday Email Examples and What You Should Learn from Them
BONUS: Five tips to remember while writing Giving Tuesday subject lines:
Be concise and specific: MailChimp recommends using no more than nine words and 60 characters in fundraising email subject lines.
Don't overuse punctuations or emojis: Use less than four punctuation marks in one subject line. Using too many special characters, emojis, exclamation marks, or question marks makes the subject line look like spam.
Use limited capital letters: Capitalising the entire subject line is a poor practice for email marketing. Rather, use capital letters only to emphasize words like 'you', or the deadline or impact.
Convey why readers should give: Donors want to know how their contribution will help your campaign. Convey why you need their support or the impact you hope to create in the Giving Tuesday subject lines.
Test your subject line success rates: Do it throughout the year to check for open rates, CTR, and spam rates. Replicate the successful lines for your Giving Tuesday campaign.
Email marketing tracking metrics: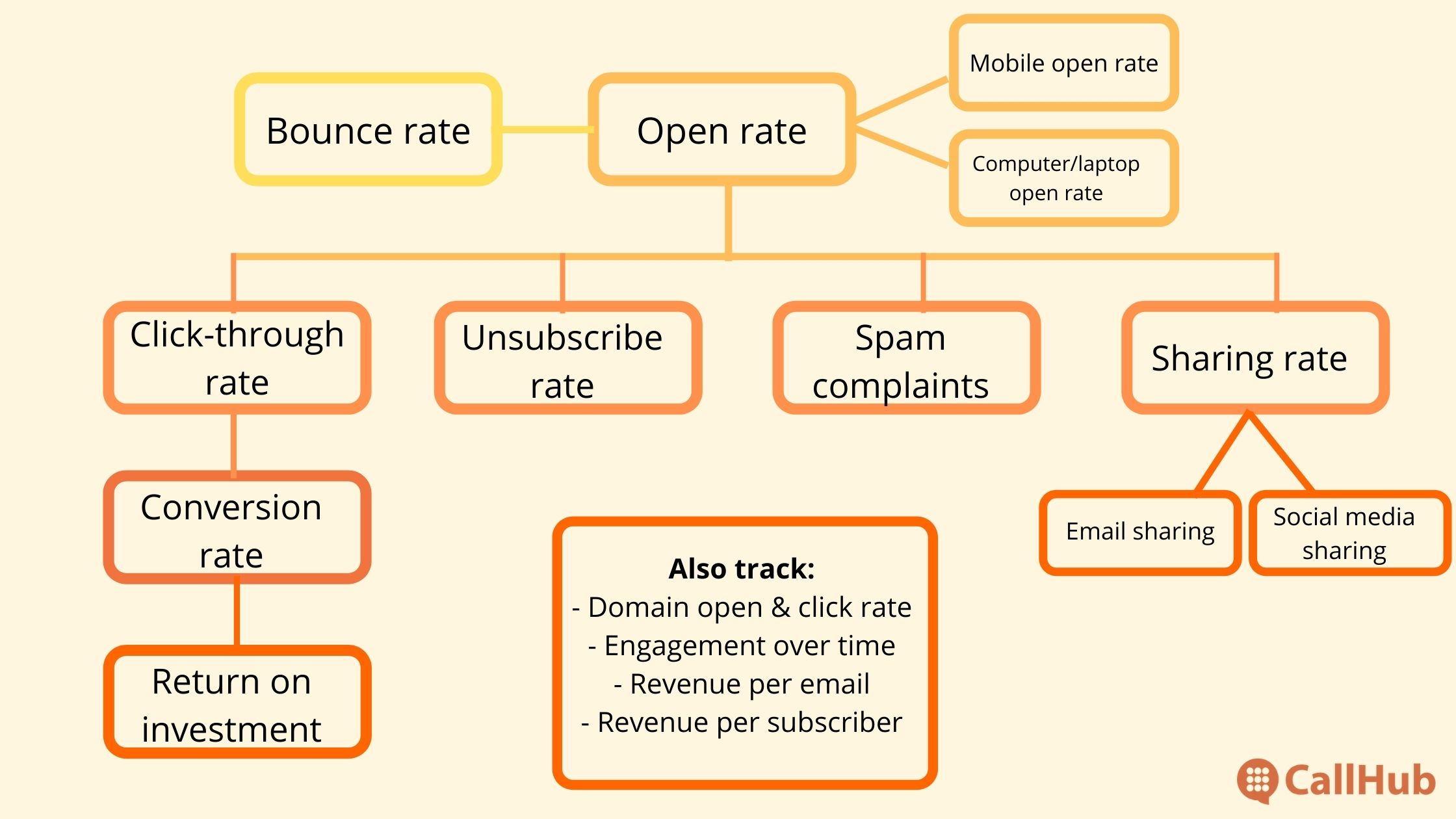 For software and websites to help you create a compelling Giving Tuesday email campaign read: Email Marketing for Nonprofits: Tools for an Effective Campaign
Don't use "no reply" email IDs: While personalizing your email subject line, don't forget the sender's name. When the email comes from a person (If possible, someone from a leadership position), it creates more impact than when the sender only sees the organization's name in the "from" section.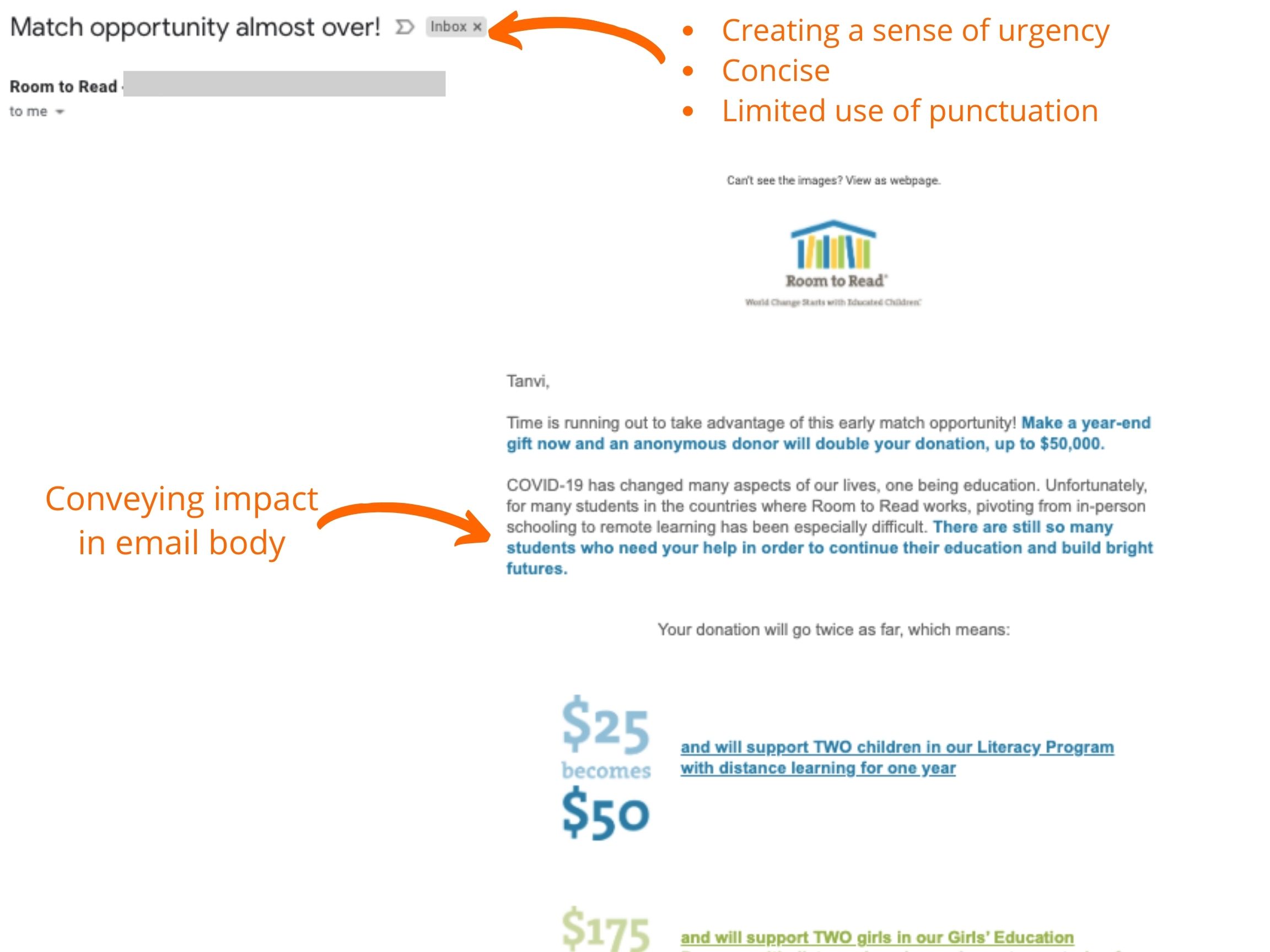 In Conclusion
To project the success of your Giving Tuesday email campaigns, you require constant testing throughout the year. Conducting A/B tests such as what kind of subject lines work, if your readers prefer image-heavy content, what emotions they react to, etc. can be quite hard.
If you are short on time or resources to test subject lines and are looking for more reliable additions to your communication repertoire, take a look at these text message statistics:
Texts do not require a subject line
They have a 98% open rate and a 45% response rate (Vs. 28-33% and 6% for emails, respectively)
All you need is a text marketing tool like CallHub that sends text blasts to as many as 100 numbers per second and enables personalized one-on-one communication at scale. Try it for free here.
Sources for Giving Tuesday subject lines:
Feature image source: Solen Feyissa/Unsplash