The holiday season is when everyone is in the spirit of giving, which makes it one of the best times to raise funds for your nonprofit. With creative and well-executed ideas, you can raise all the money you need for a successful year!
In this post, we discuss 17 unique Christmas fundraising ideas for during the pandemic and for the days to come after. Let's start with the pandemic-friendly Christmas fundraising ideas.
Christmas fundraising ideas during COVID
We hope your nonprofit established a firm foundation to survive the pandemic and continue fundraising. Several nonprofits have seen massive success with virtual fundraising, and many donors have continued to prove their support. For example, Farm Aid's Giving Tuesday campaigns have improved each year, with 2020 being their most successful yet.
Nevertheless, although people show holiday spirits, there's a lot of work to be finished to guarantee successful fundraising.
Online giving is a well-known fundraising method, and crowdfunding fundraisers usually acquire huge amounts of funds through the holiday season. Here are a few excellent means to increase your donations during the pandemic.
1. Craft workshop
Put your supporters' creativity to good use by conducting a craft workshop as part of your Christmas fundraising. Consider creating something closely related to your cause.
Get the registrations done a few days in advance so you have the time to deliver all the supplies needed to participate.
Outline of your workshop, and discuss it with your host. Here's an example:
Introduction
Demonstration
Q&A
Also, choose a video conferencing platform like Zoom, Google Meet, etc., to organize the workshop.
2. Employee matching gift programs
In employee matching gift programs, businesses match the contributions their employees make to nonprofit organizations.
Here's a summary of how it works:
Step 1: An employee contributes to a nonprofit organization.
Step 2: The employee appeals for a matching gift from their employer.
Step 3: The company makes the donation to the nonprofit organization.
Corporates generally match gifts at different ratios, and companies define specific eligibility criteria for nonprofits to receive this benefit.
These programs are highly beneficial because they help you acquire double the donations. 77% believe everyone can make a difference by supporting causes. Similarly, your donors may feel even more motivated to donate when they know their one contribution directly doubled or even tripled up with minimal efforts.
A simple way to start is to raise awareness about these programs among your donors, so they feel encouraged to submit their requests to their employers.
Here's a resource on the best ways to market these programs to help you get going.
3. Auction
A virtual auction gives you the opportunity to connect with your donors while you raise money. Also, because your supporters are winning a high-value object or an experience, they'd be thrilled to participate.
You may ask some of your high-value supporters to sponsor or donate the items to be auctioned.
There are different types of auctions, and each of them requires different types of planning.
WEDO Charity Auctions is an excellent mobile bidding platform to help you engage your supporters during your auction program.
4. Game night
Online gaming is getting popular day by day. Games are an excellent way to bring a very niche audience within your community and don't require a massive budget. Also, your audience would be having fun while raising money for your nonprofit.
You can have games from different categories, so there's a good mix. Competition in each category would even spice up the game night.
5. Virtual Christmas concert
Music and Christmas always go hand-in-hand. With so many concerts canceled in light of the pandemic, hosting one virtually is a good way for your community to gather and enjoy the talents.
If you have a few singing talents in your community, they can sing for you free of cost. If not, you can hire your local band and give them some exposure.
Play the hit lists from different times and genres based on your audience's demography.
You can charge a small entrance fee for the event. Using an event registration platform like Eventbrite makes this process smoother.
6. Selling goodies
Selling customized goodies is a great way to serve your audience's holiday spirit. Not only is this a contribution to your nonprofit, but it also helps increase your brand familiarity – It's a win-win!
As an alternative, you can find a corporate sponsor to buy different sets of items to sell. The merchandise can have the sponsor's and your nonprofit's branding on them, and the amount collected can go to your funds.
You will need to promote this program like any ecommerce platform does. Social media ads are a great way to do that.
Shopify offers one of the easiest ways to get started with selling your branded merchandise.
7. TED talks
You may have a few star speakers within your community who could give an inspirational talk. Host a virtual TED talk where multiple speakers from different backgrounds speak to your audience from the comfort of their own home.
You can host a series of short episodes during the holiday season and invite people beforehand. Make sure every speaker of yours ends the talk with a solid call to action to donate to your nonprofit. Have an online donation page ready so people can contribute right away.
8. Movie night
With people getting adapted to watching movies online, a virtual movie night serves as the perfect Christmas fundraising idea. For a movie night, you'll have to pick movies from different genres and conduct surveys to find the most loved movie. Stream this in exchange for a donation to your nonprofit.
Screen this on your big night and let your supporters enjoy it. Also, have a host who will entertain your audience till everybody joins.
Here are some of the holiday movies you may want to consider for your movie night:
Let it snow
Happiest season
The princess switch
A Cinderella story: Christmas wish
Jingle Jangle
Holiday in the wild
A Christmas prince
So far, we have looked at Christmas fundraising ideas for during the pandemic. In the next section, we'll look at some ideas for after the pandemic.
Christmas fundraising ideas for after the pandemic
Below are some great Christmas fundraising ideas for nonprofits to use when people don't have to be at a distance from each other anymore.
1. Gala dinner
Who wouldn't want a scrumptious meal, entertainment, and a bottle of wine? Despite the rigorous planning, galas have the potential to raise a high amount of funds for your nonprofit.
An added advantage is that a gala dinner offers the opportunity to connect with each of your donors personally and thank them for their offerings. You can bring up your future projects and talk about your organization in general.
You can also host a silent auction at the gala to keep it high-profile. Here are a few ideas:
Luxury resort stays
Gift cards
Club membership
Event tickets
City tours
Limited edition wines
Electronic objects
Galas are ideal events to obtain huge donations from major donors.
Here are some tips for hosting a gala dinner.
2. Christmas tree delivery & disposal service
Commonly, people are stressed during the holiday season with all the preparations ahead. A Christmas tree delivery or disposal service can help them take a bit of a load off their plates. Meanwhile, you'd also be raising funds for your nonprofit.
You can either buy the trees from a vendor in bulk and deliver them for a price or partner with a seller and only do the delivery. You will need to arrange for a truck to transport the trees.
Once you deliver the trees, you can lock them in for the disposal service too, to add some more dollars to your jar.
3. Christmas cookie
Know a few chefs in your community? Gather them for a cookie contest for your Christmas fundraising. Charge them a small entrance fee to participate in the contest. You can host the event in your own office.
The rest of your visitors can taste the cookies and vote for their favorites.
Give clear instructions to your participants in advance about what will be provided and what they are expected to bring. In the end, you can put all these cookies up for sale, and the money raised can go to your nonprofit's donation box.
4. Gift wrapping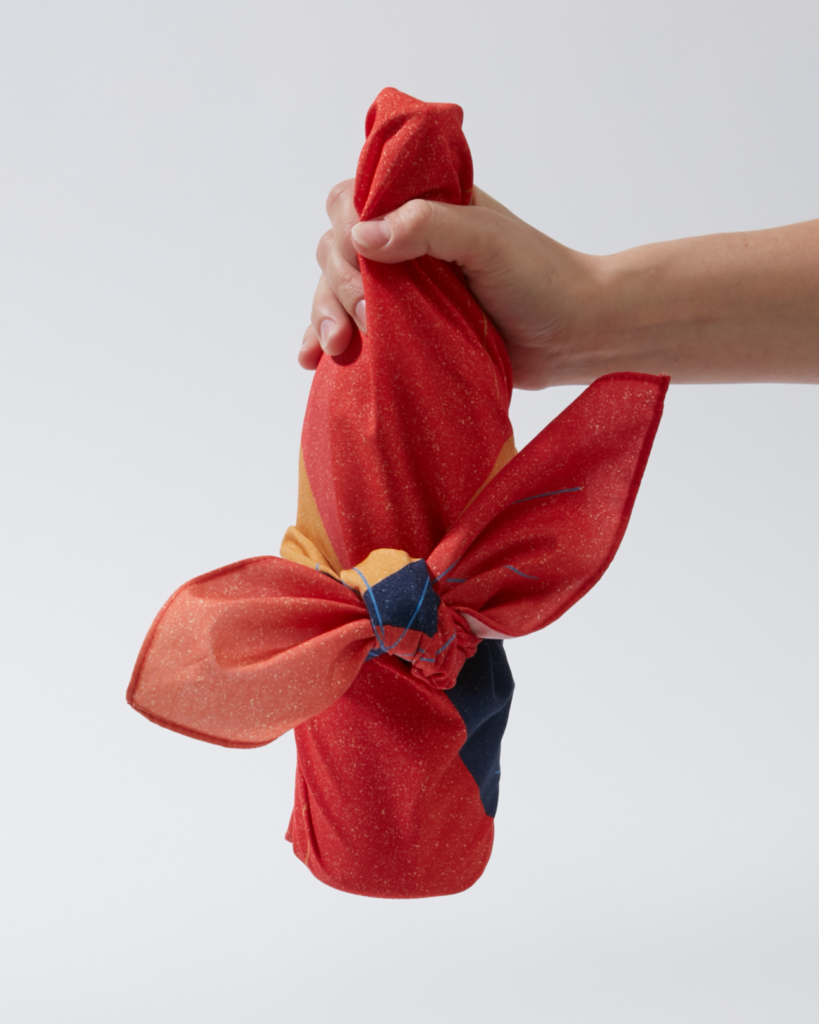 Before the holiday season begins, you can have your volunteers produce gift wraps out of waste. You can sell these recycled gift wraps and raise money for your organization.
If you have an event close to the holiday season, your event attendees can help you design some gift wraps in exchange for a free dinner.
You can also go a step further by partnering with a gift shop or a mall and setting up a gift wrapping station. For every gift wrap, you can charge a fee as part of your Christmas fundraising. Make sure you have all the supplies you need before you set up the station.
5. Cocktail party
A cocktail party is a versatile Christmas fundraising event. People can enjoy different varieties of drinks and connect with other supporters. You can incorporate different themes for your party based on the preferences of your audience.
See if you can rent a house with a pool from one of your supporters. Give them a shout-out before and during your party. Add more fun by keeping a small game – for example, your guests pick a bottle of wine from your collection, & the one that picks a bottle with a preset mark on it takes the bottle home.
Charge an entry fee and make everything available for your guests to have a good time.
6. Inside tour
Offer your supporters a tour of your nonprofit organization. Take them behind the scenes and show where your team works from. You can also serve some snacks and beverages for a small price.
At the end of your tour, make a donation appeal and give them the means to contribute. You could simply keep a donation box or have a digital method like text-to-donate in place.
Record your tour so you can stream it on your marketing channels and convert it to a virtual tour. Get as creative as possible and keep the tour interesting, so your supporters don't drop off midway.
7. Christmas gift baskets
Holidays are the time for presents and visits. Sometimes it can get a little confusing to pick the right gift. Take this opportunity to bring together a variety of small gifts into a basket and sell them.
You may have different sizes and items, so your audience can pick the one that fits their budget. Here's an example of a Hot chocolate basket: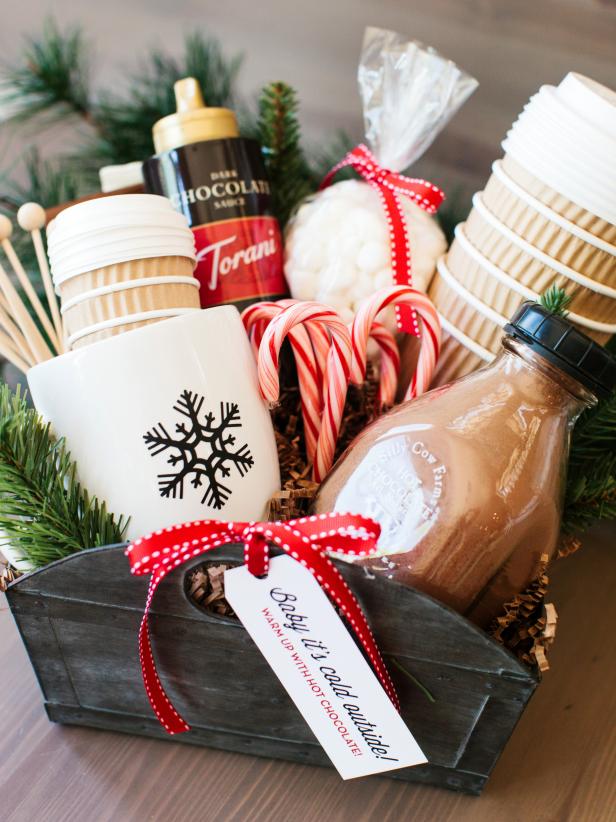 Here are a few other ideas:
College stationeries
Wine collection
Coffee beans collection
Snacks and dips
Fruit basket
Babycare products
Artist kit

You can also mix and match these and have a set of baskets of such kind. You may use your understanding of your audience's interests to develop ideas so you have a successful sale.
8. Community carnival
A community carnival is an excellent way to engage with your community and raise money as part of your Christmas fundraising.
Here are a few low-cost games you can host at the carnival:
You can charge an entrance fee for each game or a combination of games. A donation table is also an excellent way to bring in money.
9. Out in the field
There's a lot you can do out in the field. For nonprofits, walkathons and marathons are two highly effective Christmas fundraising ideas.
Walkathon is a long-distance walk, and a marathon is a long-distance race, both organized as fundraising events. If your nonprofit cause revolves around health, this is a highly relevant Christmas fundraising idea for you. Nonetheless, any nonprofit can use this idea.
You can raise funds by charging an enrollment fee for the event. To add some fun, you can keep it as a contest and offer a prize to someone who crosses a certain number of miles before others.
You will need to build an online registration page to collect these donations and promote the event through different channels to see great success. You can also sell branded merchandise like t-shirts for the event.
You can also run a peer-to-peer fundraising campaign to increase your reach. Marathons and walkathons are also great ways to get media attention.
A few other field events are hiking, gardening, swimming, cycling, etc. However, since these events can take a few months to plan, this Christmas fundraising idea is more suitable for nonprofit organizations with enough budget and a sizable team.
Your virtual Christmas fundraising certainly needs a higher use of technology than conventional fundraising methods. In this section, we'll address the use of technology.
Channels for Christmas fundraising
Most of these Christmas fundraising ideas require people's participation in different capacities. You will have to advertise your events using different channels. Here are some:
Landing page
Building a unique landing page on your website for each of your events is the first step. Include all the details of the event and a clear call-to-action to sign up for the event or make a donation directly.
It's one of the easiest ways to have all the details in one place and lead your audience to it from any platform with only a URL.
The page should include clear instructions on how to participate in a particular event.
Social media
Social media helps you reach an audience beyond your list. The platforms provide easy ways for your supporters to share your updates with their networks.
Keep people updated on the progress, so they can get their friends and family to participate.
Emails
Emails help you send out frequent updates. You can invite your audience to different events with detailed instructions. Even after the event, keep them updated on the outcomes and the total funds you collected.
Event promotion sites
Event promotion sites like Eventbrite make your promotion easier.
Texts
Texts are more effective than emails with a 98% open rate, while emails have only 20%. One of the best ways to remind your supporters of your upcoming event is through a reminder text.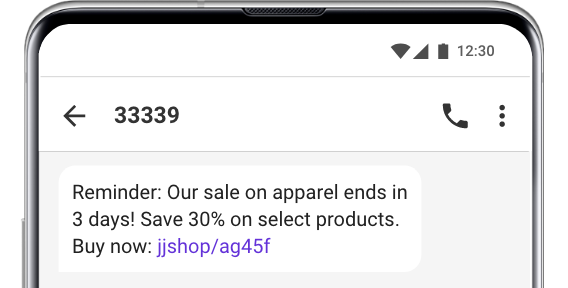 Phone calls
Phone calls help you break through the clutter and connect with prospects on a personal level. CallHub's call center software provides the required features you need for successfully promoting your Christmas fundraising event.
Collateral
Some standard collateral to promote your Christmas fundraising events include:
Posters
Flyers
Pamphlets
Signage
Successful Christmas fundraising starts way before your season starts. You need to keep in touch with your donors throughout the year. Learn a few actionable tips to engage each donor segment and boost donor relations with this guide.
Christmas fundraising campaigns
We have seen some incredible Christmas fundraising campaigns from nonprofits in the past few years. Here are two of our favorites to inspire you!
1. Save the Children's Jumper Day
Save the Children's Christmas Jumper Day 2020 is entertaining and inexpensive. Everyone puts on a Christmas jumper on a particular date and donates £2 to Save the Children. They also have other donation options if somebody wants to donate a custom amount.
They use a text-to-donate software to collect the donation for their Christmas fundraising campaign. The donors are then directed to a donation page where they can make a contribution.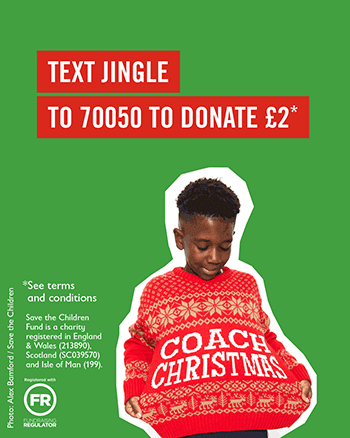 In 2018, the nonprofit partnered with Amazon to sell Christmas jumpers. They also have their own community shops from where people can purchase jumpers.
CallHub offers a text-to-donate solution to help you with your Christmas fundraising. With a text-to-donate platform, you can simply ask your community to send the keyword to your specified phone number. Make sure the keyword they need to send is easy to remember.
2. Starlight's wish-granting appeal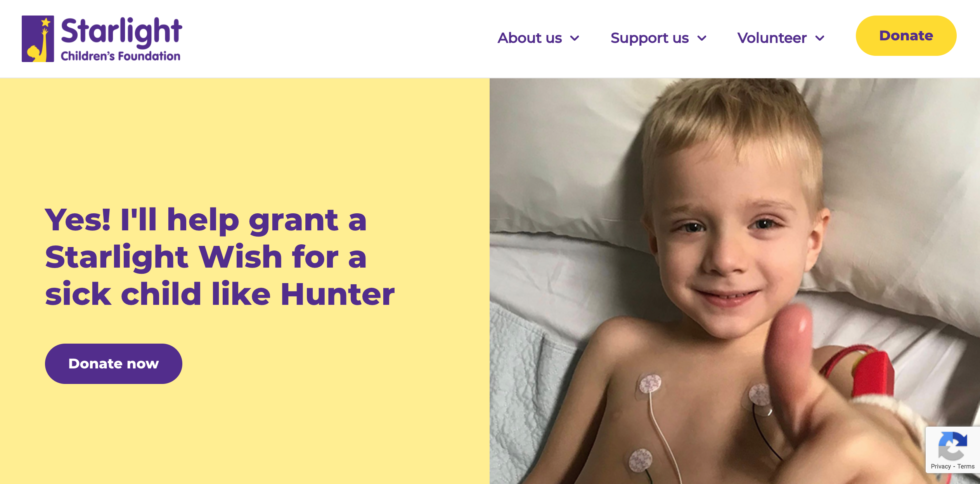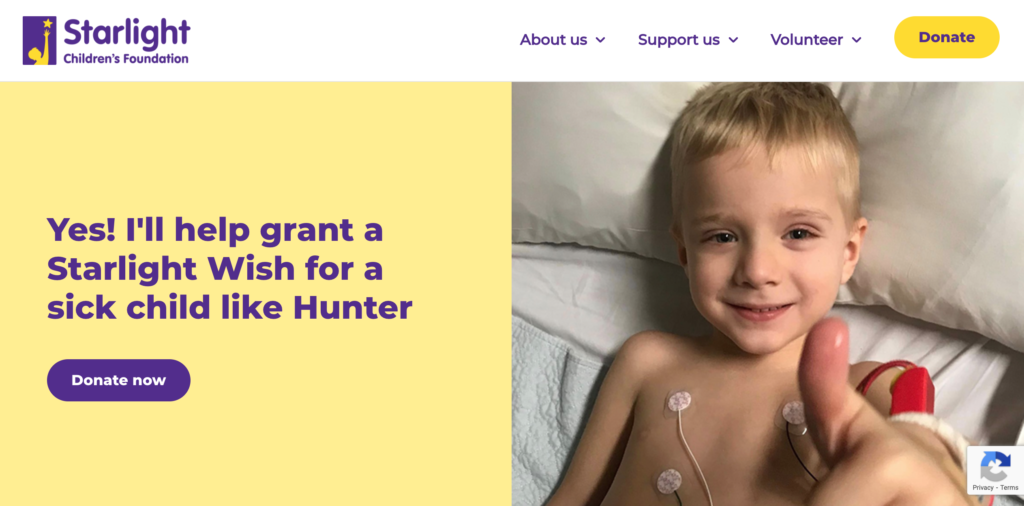 Starlight's Christmas fundraising campaign helps people grant a starlight wish for ill children. These wishes are focused on helping sick kids feel happier, more confident, and resilient.
The experiences range from a puppy training class to a once-in-a-lifetime wish. They have one-time and monthly donation options on their campaign landing page.
Christmas is a wonderful time to urge your supporters to think of those in need. Although it is a busy season, innovative ideas like these help catch your people's attention amidst the hustle.
Get started!
Start planning early for your Christmas fundraising. Use the season of giving to get all your supporters involved in securing funds and starting a great year.
For more ideas, read our blog post on online fundraising ideas.
Feature image: Photo by Katt Yukawa on Unsplash