Youth volunteering is on the rise. 26% of Gen-Zers and 21% of millennials volunteer their time for numerous social, environmental, and economic causes.
These young generations have grown up in the modern technological world, and so, they have ample exposure to these issues. They care about them immensely and are willing to contribute efforts for an affirmative, positive change.
Such teenagers and young adults may seem inexperienced, but they can be significant assets for your campaign. They make it more youthful, more dynamic.
Let's have a look at how youth volunteering is beneficial, how you can recruit them, and how to keep them invested in your campaign.
Advantages of youth volunteering
Asking for support and contributions of young people who are not eligible to vote may seem counterintuitive. But youth volunteering can offer a lot to your campaign. Their energy, enthusiasm, and unprecedented exposure make them valuable resources to your cause.
Let's look at what the youth can bring to the table:
1. The younger generations provide fresh perspectives to various causes
Signs of political change are visible everywhere now, and youngsters, like teenager Haley Zaker, are active participants in it.
In light of the mass shootings happening in the USA, Haley started a #StudentsDemandAction group in her school. She wants to run for Congress in the future.
Like Haley, such violence is increasingly worrying the young generation. A 2019 study showed that
39% of millennials and 46% of Gen-Zers are concerned about armed assailants.
In contrast, only 22% of Baby Boomers are worried about this issue.
Naturally, issues like gun control, public safety measures, and faster legal remedies will be crucial topics for such youngsters.
Having people like Haley on the team through youth volunteering can be a guide on what concerns the youth and help you leverage it for your campaign.
2. They are fluent in technology (which helps your social media game)
When targeting young voters, it is crucial to know where they are. For Pete Buttigieg (a millennial himself), the social media strategy wasn't to go where the majority of the population was, it was to target the niches where his voters were. Such instincts come naturally to the younger generation because:
Over half of American children own a smartphone by the age of 11
45% of teens say they are online almost constantly
Getting them onboard will open doors for your campaign to reach out to young voters.
3. They are highly motivated and energetic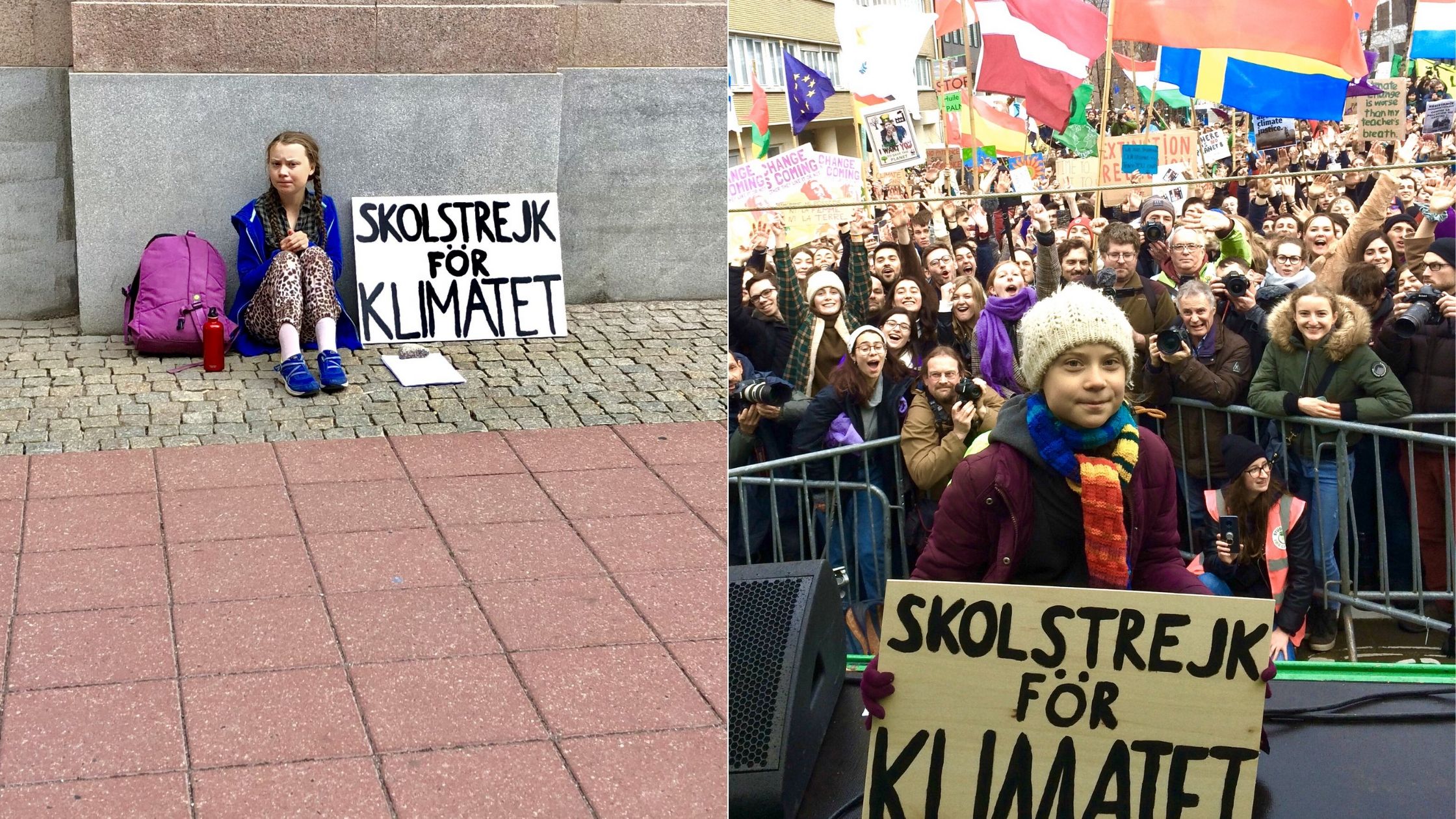 Greta Thunberg, a young teen, went from a lone schoolgirl skipping school to protest climate change to inspiring millions across the globe to follow her.
Many, if not all of these protestors were young, just like their leader.
This massive movement, predominantly led by students, teens, and young adults shows,
Young age groups are highly motivated
They are super energetic and always ready to take action
Once they find a worthy cause and a reliable leader, they follow through.
If your campaign resonates with the ideals of the young, you'll be able to build a huge, loyal, and enthusiastic youth volunteer base who'll drive your campaign towards success.
4. Youth volunteers can motivate millennial voters to support you
Teens and students in your campaign are likely to relate with young generations eligible to vote. Similar interests of these age groups lead to them agreeing on several causes. But it is not the same with baby boomers, due to the generation gap.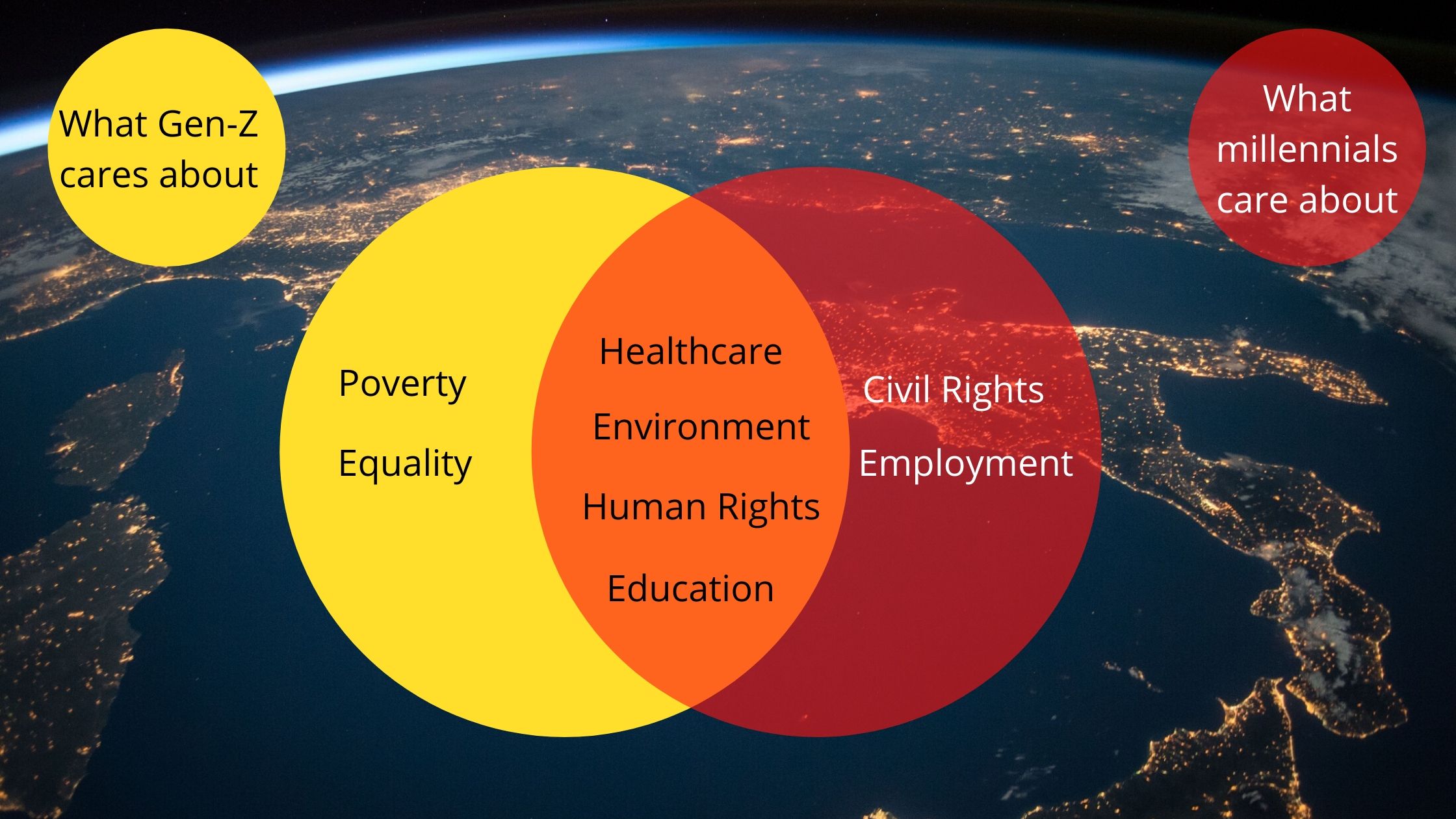 Among the many issues they are invested in, a few are:
Better healthcare reforms
Climate change and the contribution of humans in it
Human rights
Education prospects, costs and return of investment
These generations are quick to tweet, snap, or post about these issues, their involvement in reforms, what's working for them, and what isn't. You can harness this strong sense of networking and marketing from them to connect with millennial voters, garner their support, and ultimately their vote.
5. Young volunteers can themselves be a potential voter base in the future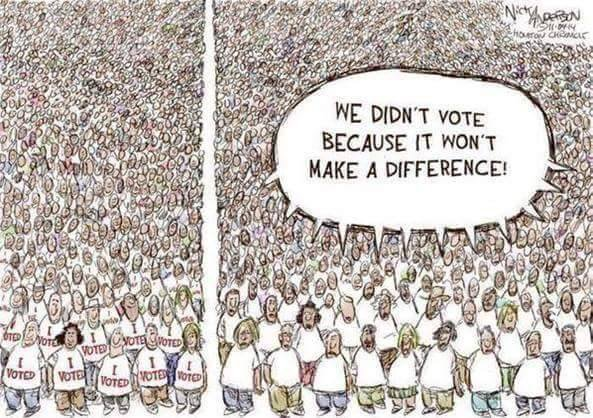 Among the primary reasons young people (ages 18-29) don't vote are:
Conflicting work or busy schedules (33.5%)
No interest (17.2%)
Forgot to send the ballot (10.2%)
While there's little to be done about the first reason, the other two can be managed by garnering interest in politics early on. Youth volunteering can be a motivator here.
In fact, a 2017 study showed a positive correlation between young volunteers and if they vote when eligible.
Instead of a myopic view of success, by engaging future voters today, you help your future campaigns.
How to find youngsters for youth volunteering in your campaign?
To improve your chances of being visible and recruiting young people to your campaign, you need to understand where they are located.
Youngsters are online quite often. They are looking for stories that inspire them; they are following social media influencers and want to act for causes close to their heart. If youth volunteering is something you want to explore, these are the characteristics you need to leverage to find them. Here's how you can do it:
Share your story, what you stand for
Use technology and social media
Leverage influencers
Out-of-the-box offline ideas to attract them
Connect with schools, mentor groups, etc
Let's look at each point in detail:
1. Share your story, what you stand for
Young people care about social change. But they have lost faith in politics leading to this change.
Alexandria Ocasio-Cortez followed this perfectly. She owns the fact that her mother worked as a house cleaner and that she worked as a bartender in college. This way, her story is more relatable to people who come from the same economic background, generation, or social circles. The results are clear as the sky.
In June 2018, Ocasio-Cortez beat the 10-term incumbent Joe Crowley in the New York Primary Elections
In the General Election later that year, she won 78% of the vote
Over time, she has secured endorsements from several progressive and civil rights organizations, including Black Lives Matter, Democracy for America, and politicians like Barack Obama.
Ocasio-Cortez is driving change in the political scenario. She may not have been as experienced as other Congresspeople when she started out, but with her story, she won popular imagination and support.
Related Reading: The SMS Strategy Guide to Improve Young Voter Turnout
2. Use technology and social media to encourage youth volunteering
Consumption patterns of news and information have changed drastically with technology. Young people now consume news mostly on their smartphones and via social media. It is imperative, therefore, to publish information about you on these platforms.
What is trickier than mere presence is visibility. With millions (even over a billion) of people accessing Facebook, Instagram, Pinterest, Twitter, etc., your posts may get drowned. It is crucial to plan a social media strategy that gets you on the screens of your target audience. For instance,
Facebook gives heavy weightage to video posts. (However, they change their algorithms often so keep yourself updated)
Instagram and Pinterest are designed to post and promote images.
Twitter posts are more eye-catching when you have quotes, stats, or polls.
By understanding these nuances, you can target youth volunteers on each channel.
Don't forget to invest in Search Engine Optimization tools, so you appear in searches of young people. For instance, "youth volunteering," followed by the city's name, is quite a popular keyword. By making your pages and posts be the answer to this query, you can get more individuals to join.
Also Read: The Most Effective Volunteer Recruitment Methods and Tools for Your Cause
3. Leverage influencers so youngsters apply for youth volunteering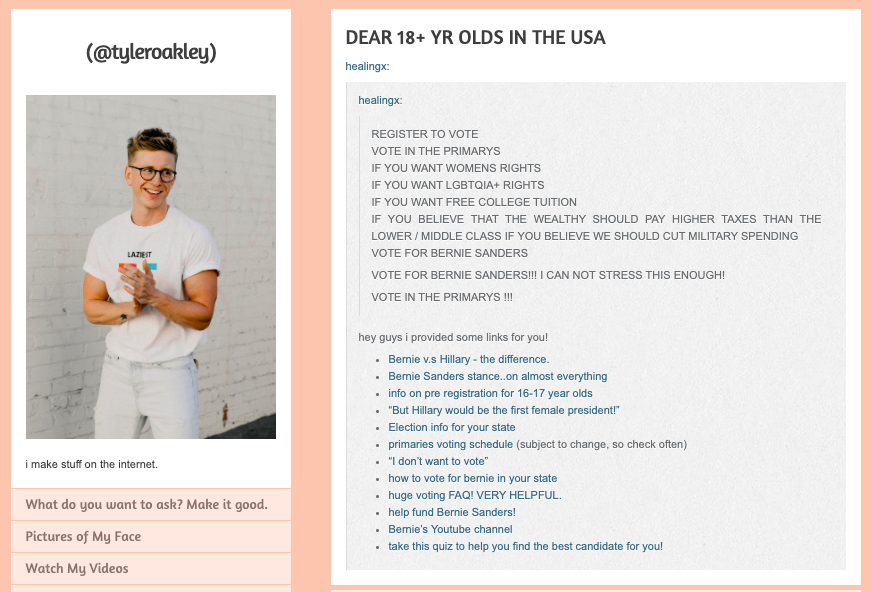 Social media influencers hold a lot of power today. They have thousands of followers and the potential to mobilize this following in the digital space.
As the name suggests, these people operate to influence followers to join a cause, work for social welfare (among other things). Get in touch with influencers who believe in the causes that you stand for and use their following to recruit youth volunteers.
In 2019 and early 2020, Bernie Sanders got several influencers to speak about his campaign and inspire people to join or vote. Among them were
Joe Rogan, a comedian, and podcaster. He has 8.99 million YouTube subscribers and 6+ million Twitter followers
Tyler Oakley, an LGBTQ+ activist and actor (and millennial) who has 7.1 million YouTube subscribers and 5.7 million Twitter and Instagram followers
Related Reading: 14 Best Volunteer Management Software to Recruit and Organize Volunteers
4. Out-of-the-box offline ideas to attract them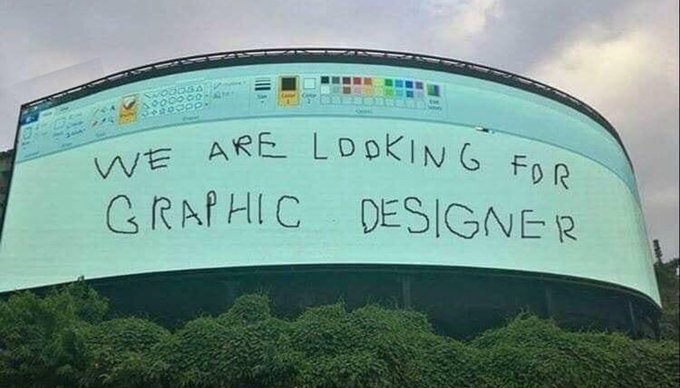 What's fascinating about this ad is that it's not visually appealing or detail-oriented. That's what makes it brilliant. Most of us are familiar with MS Paint- a very basic tool for graphic design. The advertiser has used it to convey their need for a professional in their team.
Such unique ideas will always pique interest in your campaign. Youngsters are creative, and they are looking for valuable experience to explore this creativity. With outstanding ads such as this one, you show that:
Your team is more than grunt work
Volunteers will be encouraged to be creative
A healthy sense of humor is welcome in the organization (if it gets the job done)
5. Connect with schools, mentor groups, etc
Like Haley Zaker, many teens are ambitious to run for Presidentship someday. Their schools, colleges, and mentorship programs are taking active steps to nurture this ambition and groom them for the future.
Approach such programs and tie up with them to inspire young teens and students to get involved in youth volunteering for your campaign. Working with them could be mutually beneficial. Aspiring politicians could benefit from experienced teams such as yours, and you could harness their energy to further your campaign.
Some mentorship programs that you can partner with are:
How do you engage young adults?
It's essential to have young volunteers be part of the team, yes. But even more important is to keep them invested and engaged in the work they do. If the work is rewarding, you will have less volunteer attrition. For this, one must understand why the youth opts for volunteering and give them opportunities that resonate with these reasons.
Here's how to keep them engaged:
1. Allow them to explore and refine their skills
What they want: Youth want volunteering opportunities to add experience to their resume. They also want a job that is meaningful and adds value to their time and effort.
What you can do: Make space for the young volunteers to explore their intellect and creativity. Perfect the balance between assigning menial tasks and jobs that challenge them.
Get them to interact with voters and on-the-edge supporters. This will help them learn more about you and polish social skills
Organize discussions and open platforms for the volunteers to voice their concerns- political, social, and about your work environment.
Bring teenage volunteers on the field occasionally. Many youngsters don't vote because they don't understand how the election or government works. Such activities will make them familiar with it.
Related Reading: How to train your campaign volunteers
2. Shed traditional working methods for modern policies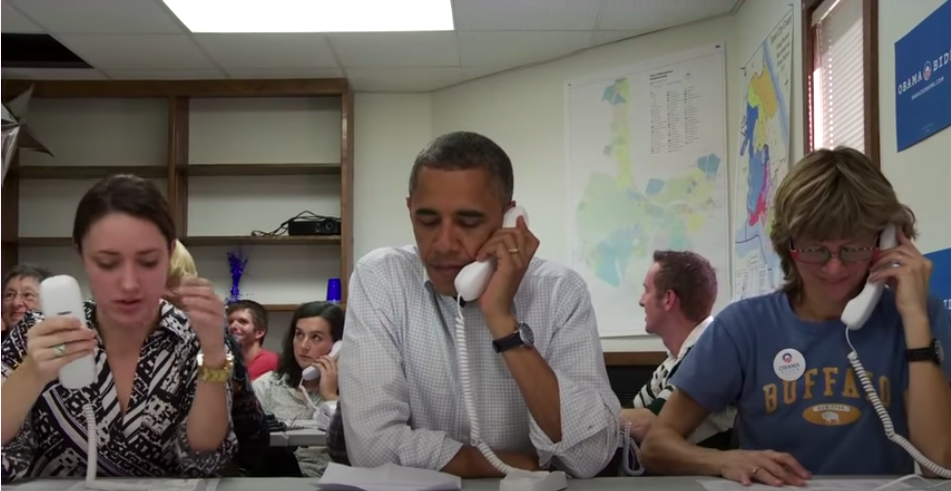 What the youth wants: A place where they can fit in, feel comfortable, and uplift their skills. Working spaces are evolving to be more inclusive, and the young are happier to work in such modern places rather than traditional ones.
What you can do: In 2012, incumbent President Obama called up supporters, asking them to cast their ballot on election day. GOTV efforts were not only the volunteers' job- they were the candidate's too!
Such initiatives are motivating to the youngsters who get to experience your style of working first-hand.
Go for an open-door policy to be approachable to the young volunteers
Round-table discussions where volunteers are free to critique, debate, and suggest, can make the operations vibrant. Youngsters have a lot of exposure nowadays, and they may have some valuable insights to boost your campaigns. Never mistake them for naive or underinformed.
Google's office does away from conventional desks arranged in cubicles. Instead, the staff is encouraged to be as comfortable as possible for maximum productivity. Why not take inspiration for your office too?
3. Overcome restrictions and milk capabilities to reach common goals
What they want: Physical, mental, emotional, and creative development can peak in adolescent ages. Teenage volunteers and students thus want a job that lets them explore these capabilities.
What you can do: While the energy levels are unmatched, young people volunteering for you are likely to have restrictions like unavailability of transportation, small allowances, and tight class schedules. For such youth, you want to reserve jobs accordingly.
Hand over calling outreach tasks, that can be done from home to young volunteers. For this, you'll need a call center software solution that allows you to seamlessly run distributed phone banking campaigns.
CallHub lets several individuals operate from various locations and updates interaction history and survey responses in your CRM in real-time. Know more about it here.
Phone banking can be carried out for the most part of the day from home. Assign calling outreach tasks to young volunteers so that their involvement is not hindered by these restrictions.
For youngsters, texting comes almost instinctively. So all your SMS campaigns for event invitations, fundraising appeals, GOTV, and others can be handled by your teenage volunteers.
Partner volunteers who have their transport with those who don't. Send them for canvassing campaigns.
Students and teenage volunteers can design or replicate posters, flyers, and other creatives- this can be done from home or the office.
4. Make the experience mutually beneficial
What they want: 60% of GenZers wish to work to make a difference. So it is not just about dazzling their resume anymore. It is about utilizing their time, efforts, and skills for the bigger picture- for a cause.
What you can do: Be transparent about how the tasks assigned to volunteers play in the bigger picture, what needs they serve, and how these tasks will help the youngsters. When you do this diligently, even chores like arranging chairs or sorting merchandise becomes meaningful.
Give titles to every position so:

Organizing becomes easy for you and

It helps volunteers be specific in their resumes
Help volunteers with reference letters, job recommendations, admission letters, and other professional fronts
Let the young volunteers decide which department they want to work in but rotate schedules so that every individual takes up miscellaneous tasks too.
5. Offer tangible rewards and incentives
What they want: Young people look for volunteering opportunities for their resume, experience, and self- development. But incentives can go a long way in attracting them to your campaign.
What you can do: The first step is to understand what incentives will be appealing to students and young people for volunteering activities. Such incentives must
Solve small problems
Help them identify with your cause
Provide instant reinforcement for their work
6. Play a part in their overall development
Such incentives can be small, but when personalized, they feel more rewarding. A good example is Bernie Sanders' "donor wall." The team printed the names of all their one million donors in their office.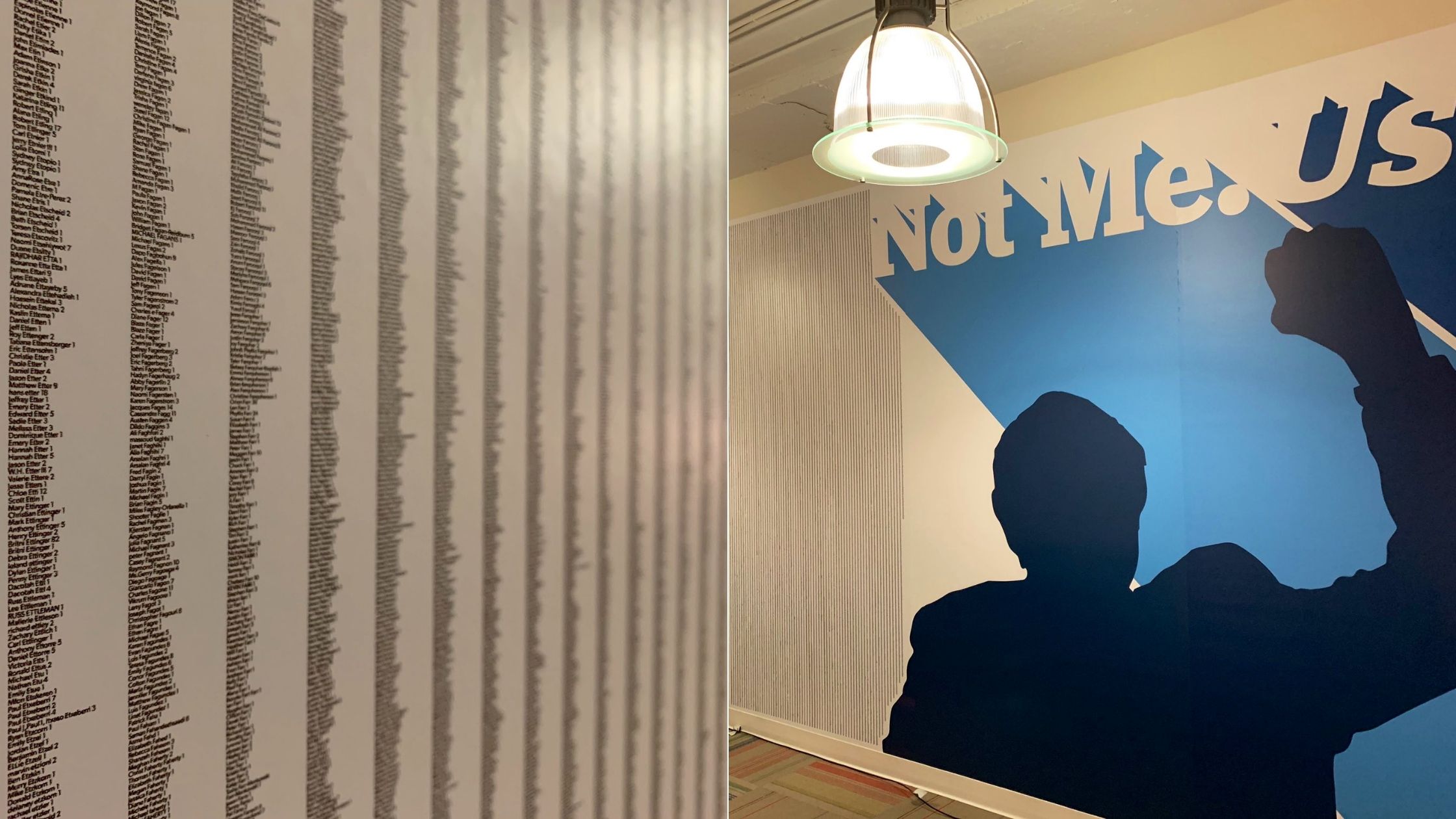 Here are some things you can provide as incentives:
Petty allowances
Branded merchandise
Identification of the volunteers (on social media, in the office, in campaign appreciation)
Refreshments
Certificates for their work
Recommendation letters
Help in admission processes
References to jobs or colleges
To conclude
The Gen-Zers and millennials are a largely ignored target audience for elections, but one with a lot of value. They strongly believe in social causes, environmental issues, and human rights and are willing to spend their time and effort in working towards them. By involving them in your campaign, you don't just make your team more diverse and dynamic, but also build a strong supporter base that no one else is actively targeting. Hopefully, the tips above help you reach out to them effectively.
Feature Image Source: PxHere