GOTV drives are synonymous with the final stages of voter engagement campaigns, where organizations are looking to drive as many supporters and registered voters to the polls. Since a campaign needs to do this in the shortest time, organizations must rely on various tools to get out the vote in a simple and scaled-up fashion.
Be it for door-to-door canvassing or making phone calls to constituents, there are several tools your campaign can use:
Autodialers to speed up your phonebanking process.
Workflows to automate your outreach.
Multi-channel communication to reach voters on all platforms.
CRM software to manage end-to-end communication.
This article explores the top tools to get out the vote. Read on!
Tools to get out the vote through different channels
GOTV is a campaign that uses a variety of platforms to get its message across. Different tools have different abilities to mobilize voters (phone banking, for example, leads to a 3.8% increase), and implementing effective tools is sure to boost your efforts.
Let's explore tools to get out the vote through different channels.
Door-knocking tools to get out the vote
Door-knocking for GOTV is one of the most preferred forms of pre-election outreach. Some studies have found that door-to-door canvassing leads to an increase of 19.8% in voter turnout. However, with its benefits also come the challenges, such as–
Door canvassing can take a lot of time. A volunteer can knock on 20 doors in an hour at best. Even if you have many volunteers, it creates the additional problem of managing them when they are spread out in different locations.
You need to coordinate the influx and outflow of volunteers.
Mapping out the locations volunteers will be covering, ensuring that the same localities are not covered multiple times.
Here are tools to get out the vote for door-knocking campaigns:
ECanvasser: With Ecanvasser's dashboard and mobile apps, you can sync your data, organize your volunteers and mobilize your supporters. Ecanvasser's walk app lets you assign a walk list and divide it between volunteers. Volunteers can also enter data that they gather on the trail. Here's a sneak peek into ecanvasser's dashboard: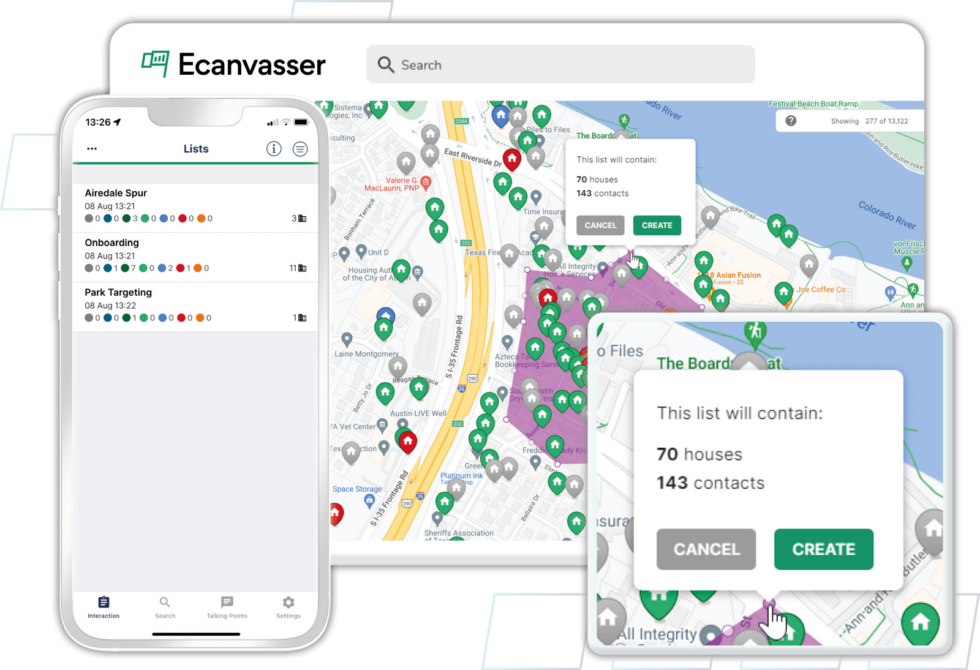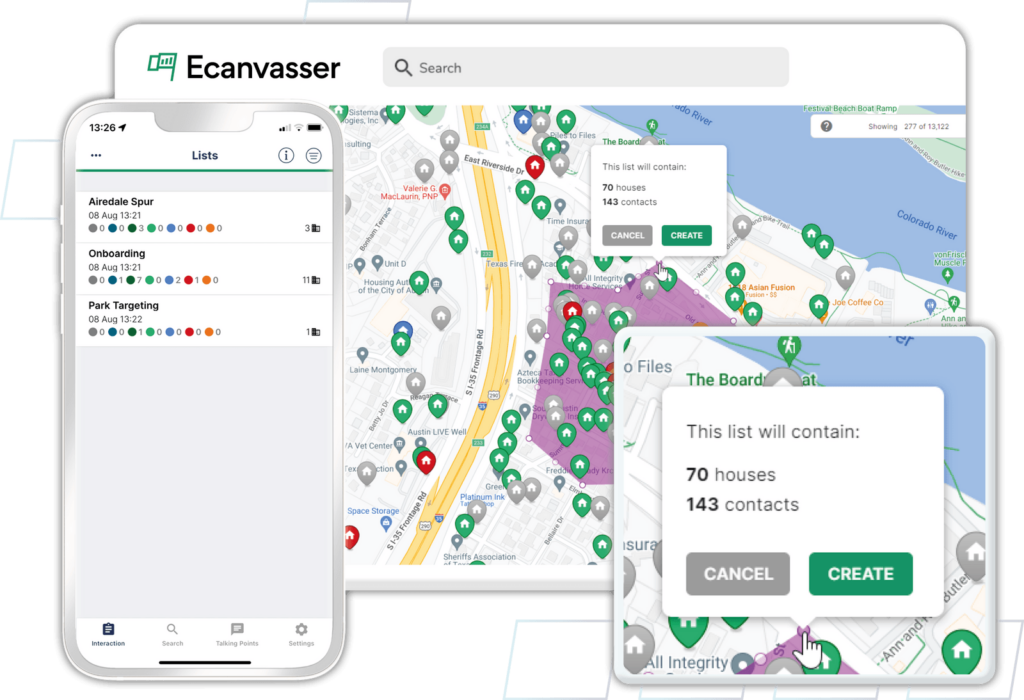 Voter Gravity: Voter Gravity is designed keeping the ease of volunteer management in mind. You can create walk lists for upto 500 households at one go, assign walking lists at the click of a button, create customizable surveys and track contributions by supporters.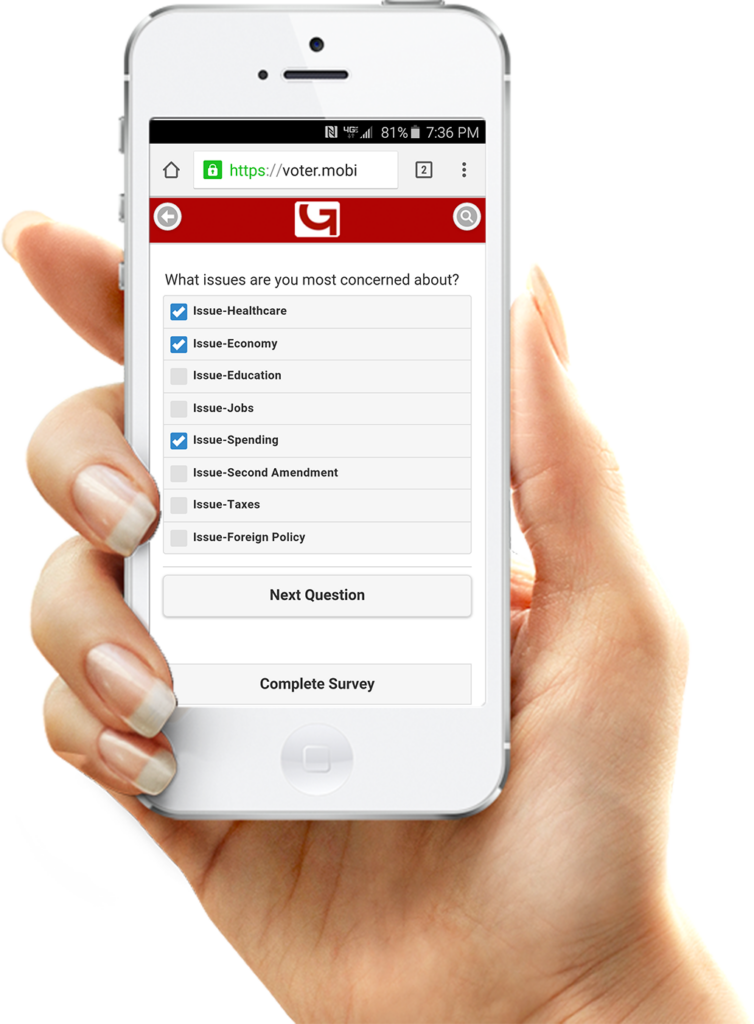 Organizer: Want to make field work simple for your volunteers? Organizer helps you build custom surveys for your GOTV efforts. It allows volunteers to update information in real-time, captures data instantly, and reflects real-time results.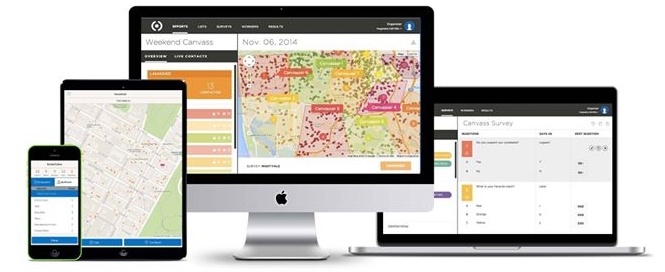 Texting tools to get out the vote
Texting has several use cases for getting out the vote. With texting, you can–
Remind contacts to vote.
Send information related to voting dates and polling locations.
Answer queries and assist voters with their doubts.
Share more information about your candidate in a last-ditch attempt at persuasion.
Let's explore texting tools for your campaign.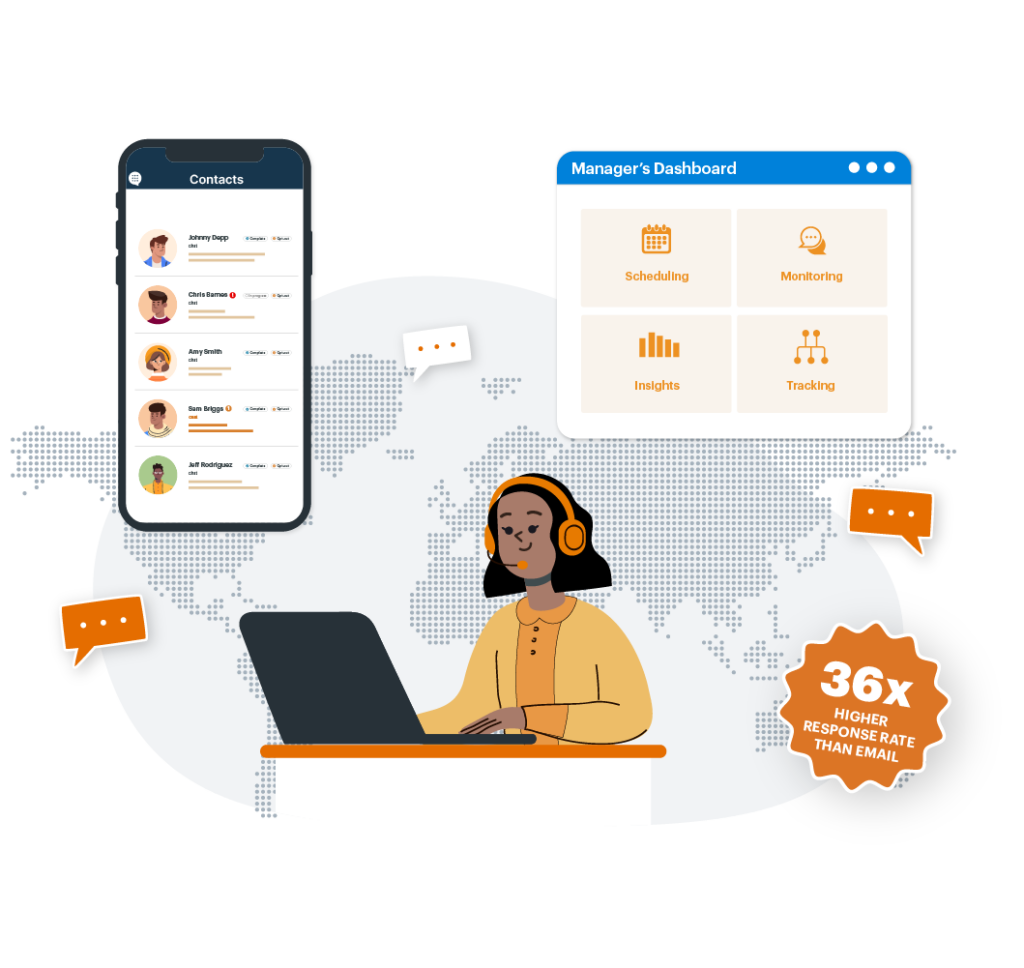 CallHub's texting dashboard comes with various features, such as HD video, that allow you to send high-quality video appeals to voters via text.
Here are CallHub's texting tools to get out the vote successfully–
Mass texting: Mass texts are ideal for sending voting reminders, sharing links with information, and helping out voters right before election day.
Peer-to-peer texting: Perhaps the most popular texting tool for GOTV campaigns, peer-to-peer texting facilitated two-way conversations between campaigns and voters. You can coordinate transportation with voters, help them make a voting plan via a text conversation, and more!
MMS broadcast: Visuals can lead to a 300% increase in engagement than plain text. Want to send out posters, voting information, or flyers quickly to your supporters? An MMS broadcast is the way.
If you want to accelerate your outreach to voters and make the last few moments before election day count, then CallHub's texting tools are the way to go.
Calling tools to get out the vote
Phone banking is a crucial part of get out the vote campaigns ahead of elections. It saves you time and is a cost-effective way to reach thousands of voters.
With the right set of phone banking tools, you can make upto 5x more calls to your voters and expedite your GOTV efforts. This is especially helpful in the last few days, during the run-up to the elections.
Hey, we're good and want to tell you why. CallHub's reliable and secure autodialers help you reach 10x more contacts per hour than a manual dialer. Our security is airtight, and with features such as dynamic caller ID and spam shield, which increase your pick-up rates by 20%, your GOTV campaign is in safe hands.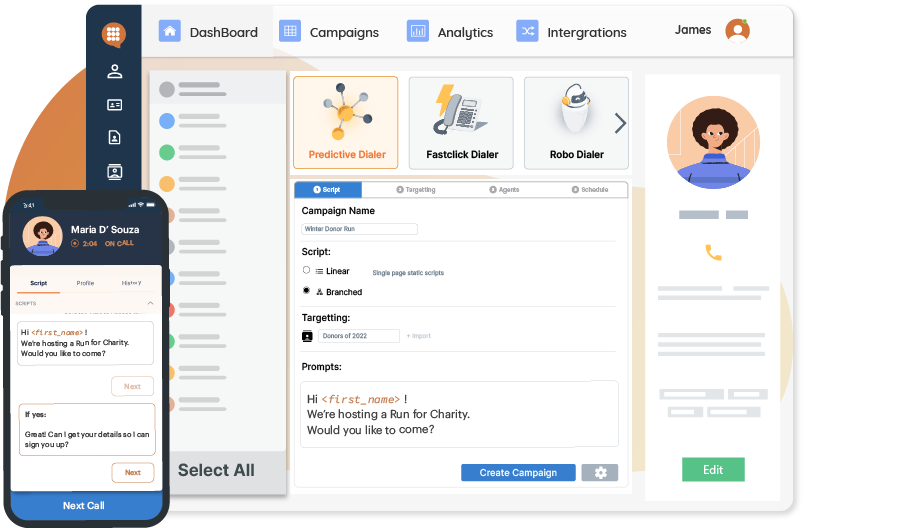 Here are CallHub's phone banking tools to get out the vote:
Autodialers: Reaching out to your entire contact universe would be impossible in the last few days before a campaign. But autodialers are here for the rescue.
Voice broadcasting: Best for sharing reminders when you have very little time to spend. Voice broadcasts or robocalls are a great way to reach out to voters to ask them to vote.
Spam shield: Using the same number to make hundreds of calls can get you marked as spam. Your pick-up rates drop, and your efforts are wasted. But not with Spam shield. It automatically switches numbers for your campaign in case they are marked as spam, thus ensuring it is as successful as possible. Here's what it looks like–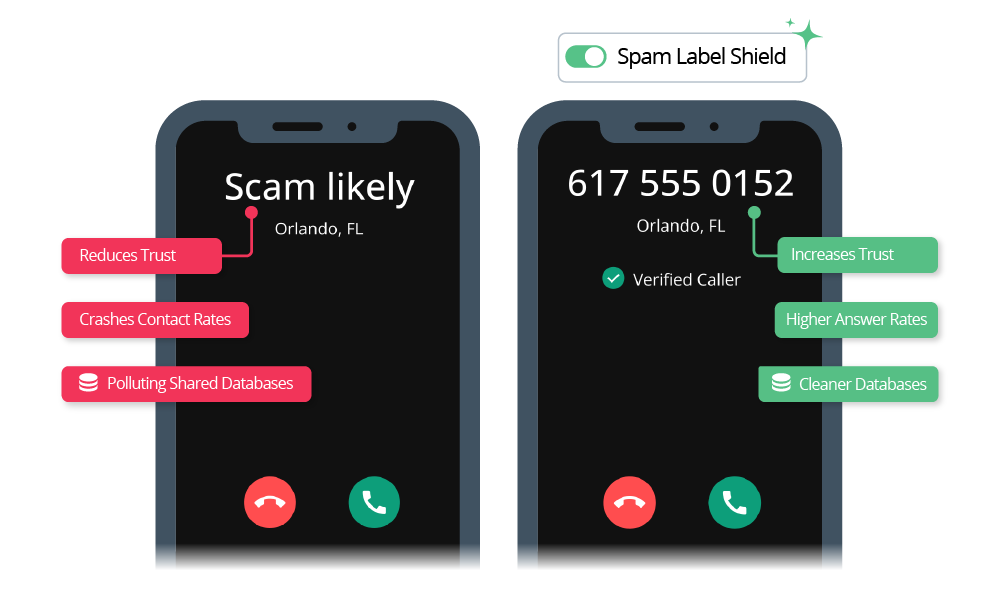 Read Also: The 7 Best Ways To Make Get Out The Vote Phone Calls
Email tools to get out the vote
Email is a valuable platform for getting your contacts' attention and mobilizing them to vote. An email management platform can help you–
Streamline and organize your GOTV emails.
Follow-up with voters.
Send personalized emails to different voter segments.
Create templates to compel people.
See voters who are engaged and interacting with your email.
Here are some email marketing tools to get out the vote:
CallHub: In our effort to integrate different communication channels, we have also launched emails to reach out to voters. Use ready templates, schedule emails, and combine calling, texting, and email as a coordinated outreach effort to increase voter turnout.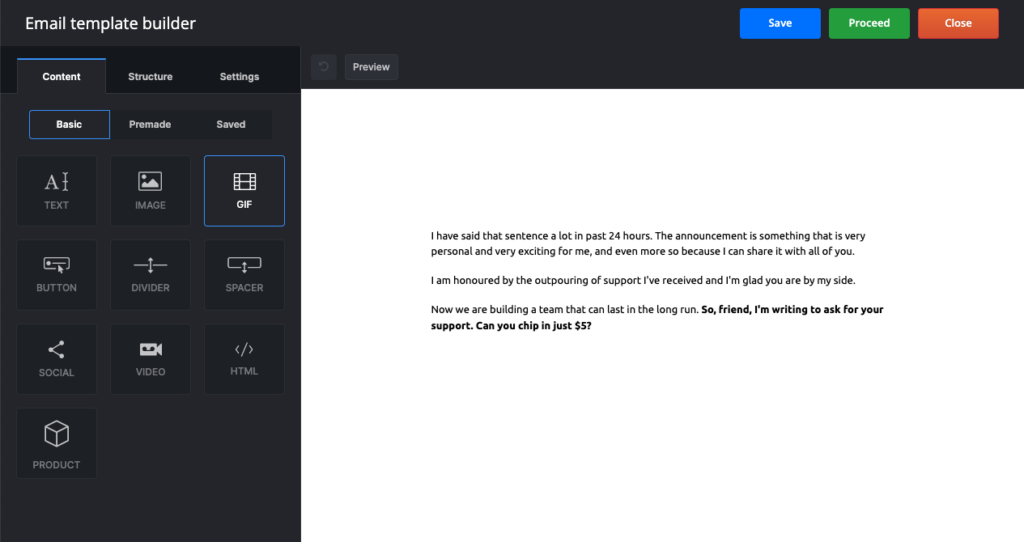 MailChimp: MailChimp is an email platform that is pretty easy to use. You can upload lists, create great email campaigns using their templates and track reports to analyze how well your campaign performed. You can also retarget voters who have not opened your email.
Autopilot: Autopilot's email marketing software lets you segment your lists and create customizable campaigns easily. Its in-depth reporting helps you make crucial decisions about your campaign, depending on its performance.
Social Media tools to get out the vote
Get out the vote campaigns on social media are a big hit! Take, for example, this post on Instagram: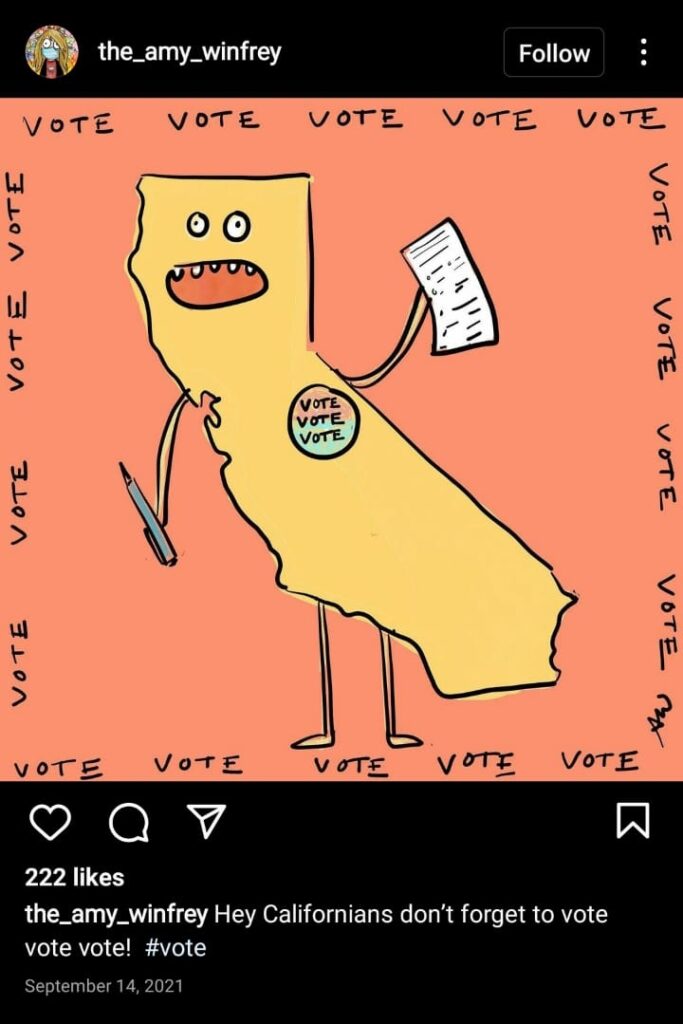 Posts such as these are fun ways to get out the vote and engage your followers in your campaign. Let's read more about each social media platform.
Facebook
With Facebook, you can
run ad campaigns
create GOTV events so that people can RSVP to them, and
share posts and stories to engage your audience.
With its advanced outreach features, you can also target specific audiences for different messages. For example, you can share empowering messages for the youth and ensure your young followers are shown these posts. You can set filters based on interests, demographics, or location.
With Facebook's lookalike audiences feature, you can get out the vote among people who haven't interacted with your page but whose traits are similar to people who have, including your supporters. By using analytics, you can figure out how well your posts are doing and even tag people as supporters in your voter file if they liked or commented on your posts.
Twitter
Similar to Facebook, on Twitter, you can target your audience based on interests or demographics and tweet out GOTV reminders or links. You can get your supporters or volunteers to retweet your posts to increase your outreach and mobilize more people to vote.
By using trending hashtags such as #GOTV, an audience relevant to your campaign can discover you.
You can also use promoted trends to ensure your Twitter hashtag appears on the top of your audience's timelines.
Since most Instagram users are millennials and young adults, this platform can help target young voters. You can run ads in your Instagram stories promoting GOTV and include links in your bio directing viewers to sites such as Get to the Polls. Use the targeting feature to be seen by the audience you want, and by ensuring your account is a 'business' one, you get access to analytics too.
Like Twitter, you can use relevant hashtags to attract the right audience. Instagram also lets users add stickers on their stories pertinent to election day (if it is popular) and shows them as a highlight story about the topic.
If you want to make your campaign fun, you can start a reel competition where your supporters make reels for your campaign and share them with you.
Snapchat
Use Snapchat's geofilter option to zero in on your intended demographic. Create your GOTV-themed filters for spreading awareness about voting and the upcoming elections. You can even use geofencing to target a tight geographic area, such as a specific neighborhood or college, and create your own Snapchat Lenses to advertise your GOTV campaign amongst supporters and their friends.
If you want to know more about social media tools to get out the vote, we recommend reading our article Get Out The Vote With Social Media – Tips For Different Platforms.
CRM tools to get out the vote
Once you have garnered all the support over months of the campaign, having integrated data for a successful GOTV campaign is a must. This is when you harvest the fruits of your labor and ask people to support you. This is where you reap the benefits of investing in a CRM campaign tool. The following are its benefits–
With CRMs, you can share and sync data across different platforms to ensure your constituent information is consistent.
With the added functionality of tagging and segmenting, your GOTV outreach can be targeted accordingly. For people tagged as "sure voters" in your CRM, you can remind them to vote, or those marked as "need transport" can be reached out to and offered transport.
Here are some CRM tools we recommend for your GOTV campaign–
NationBuilder: NationBuilder has several features with which you can run an integrated campaign. With tools such as NationBuilder's native features, you can get your voters to build their voting plan on the platform. You can share reminders, collect information and ask people to sign up.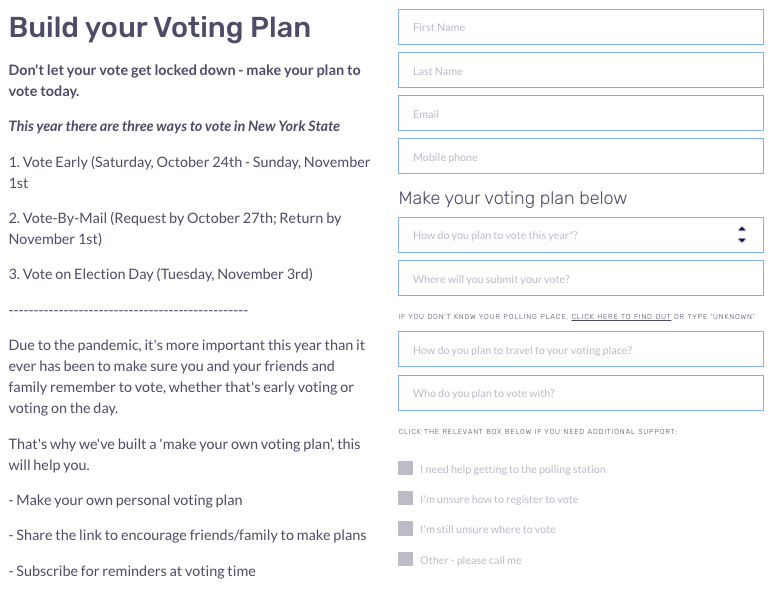 NGP VAN: NGP VAN is a leading CRM tool for democratic and progressive campaigns. They are a must-have for a coordinated GOTV campaign. It can help you with social network integration, fundraising, tracking online contributions, event management, and seamless integrations with other tools.
The Action Network: The Action Network provides advocacy and petition tools to campaigns, helps you run organized campaigns, and more. One of its best features is that it allows you to make activist profiles for all your campaigners on the ground. This way, your campaign and its supporters know who is running the movement at the grassroots level.
Relational organizing tools to get out the vote
Relational organizing helps you mobilize contacts in the immediate circles of your volunteers and campaign staff. It works on the principle that you are most likely to trust and be persuaded by people you know closely.
A dedicated tool to help you leverage contacts of your supporters, voters, volunteers, and staff can boost your efforts multifold, especially during the final GOTV phase of your campaign.
Here are some relational organizing tools to get out the vote that we recommend–
Voter Circle: Voter Circle lets you map relationships to gauge your GOTV campaign's efficiency while letting you use survey responses to identify which contacts will vote.
The Team app: The Team app lets organizers upload a list of contacts and let volunteers contact whoever they know from the list. It also lets them share useful content on Facebook for their friends to see.
Other Tools to get out the vote
Vote411.org
Vote411.org is extremely useful in obtaining all information related to elections, from absentee ballot information and early voting options to election dates and the ID requirements for voting. It also locates polling places based on constituents' addresses.
BallotReady
Directing users to this tool helps convince those constituents who are unsure about voting. BallotReady lets viewers understand the background of political candidates and compare them based on their stances or biography so that people can decide for themselves about whom they want to vote for and are motivated to do so.
What's next?
Getting out the vote is not an easy process. But hey, you've started by learning about tools that are best suited to run a great campaign.
CallHub's texting and calling platform has been used by campaigns of all sizes to run successful GOTV campaigns. What's more, is that CallHub seamlessly integrates with many top tools that we've mentioned in the blog.
Try CallHub for free for 14-days, and you will know how well it serves your GOTV campaign.
Featured Image Source: cottonbro