A membership management software automates the process of managing memberships within companies, communities, and other member-based organizations.
But, picking the right software requires a lot of research. So we've compiled a list of some of the most popular membership management software, so you don't have to search through hundreds of options.
What to consider while choosing a membership management software?
While picking a membership management software, there're plenty of things you need to know. You'll have to assess the usability, functionality, support options, and more.
Here're some things we took into consideration before listing down these software options:
Payment processing
Communication options
Event marketing options
Membership database
Membership management
Website management
Integrations
Reporting and analytics
Customer support
In the next section, we have listed some of our recommendations, considering all the features listed above.
Best membership management software
When you finish reading this section, you'll have a clearer understanding of which platform is best for your organization.
MemberClicks
MemberClicks is a cloud-based membership management software designed exclusively for:
Colleges and universities
Professional associations
Trade associations
Association management companies
Chambers of commerce.
The software offers database solutions for organizations of all sizes. MemberClicks is known for its ease of use and customizability.
Here are some things you can do with the software:
Manage membership database and relationships.
Automate online payments.
Maintain your website and content.
Target communication with tracking features.
Automate dues renewals.
Collect sponsorship.
Process event submissions and registrations.
Gain insights from reports.
Pricing: Contact MemberClick for a quote.
GlueUp
GlueUp is a membership management software focused on helping you nurture your members and maximize retention. The platform is exclusively designed for
Small associations
Nonprofits
Large chambers of commerce
Conference organizers
Corporations
Financial services
Consultancy firms
Training & Development organizations.
With this all-in-one software, you can:
Create custom online application forms and membership types to register new members.
Design membership renewal workflows by finding outstanding payments and sending reminders with emails and push notifications.
Create branded event pages and set up a customized registration form, tickets, coupons, and different payment options.
Launch email campaigns and send newsletters, event invitations, and more with a drag and drop or HTML editor.
Help your members create meaningful business relationships with networking features like one-on-one chat, business cards exchange, etc.
Analyze your community engagement with insights into members' activities.
Manage registrations, collect payments, and engage with members through a mobile app.
Pricing: Contact GlueUp to get a quote.
Regpack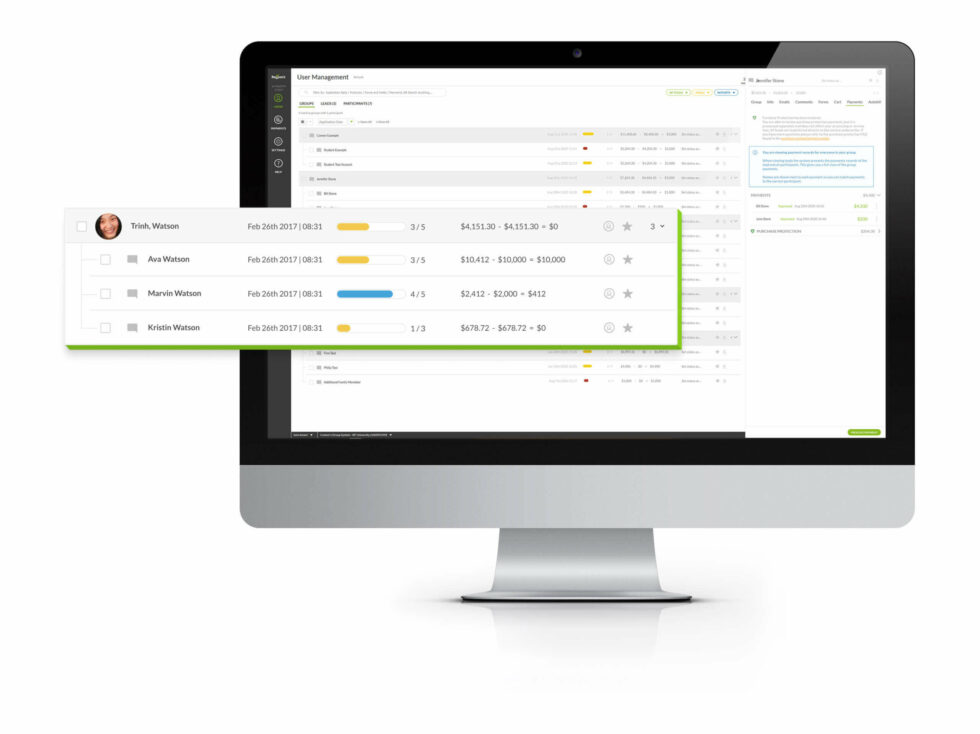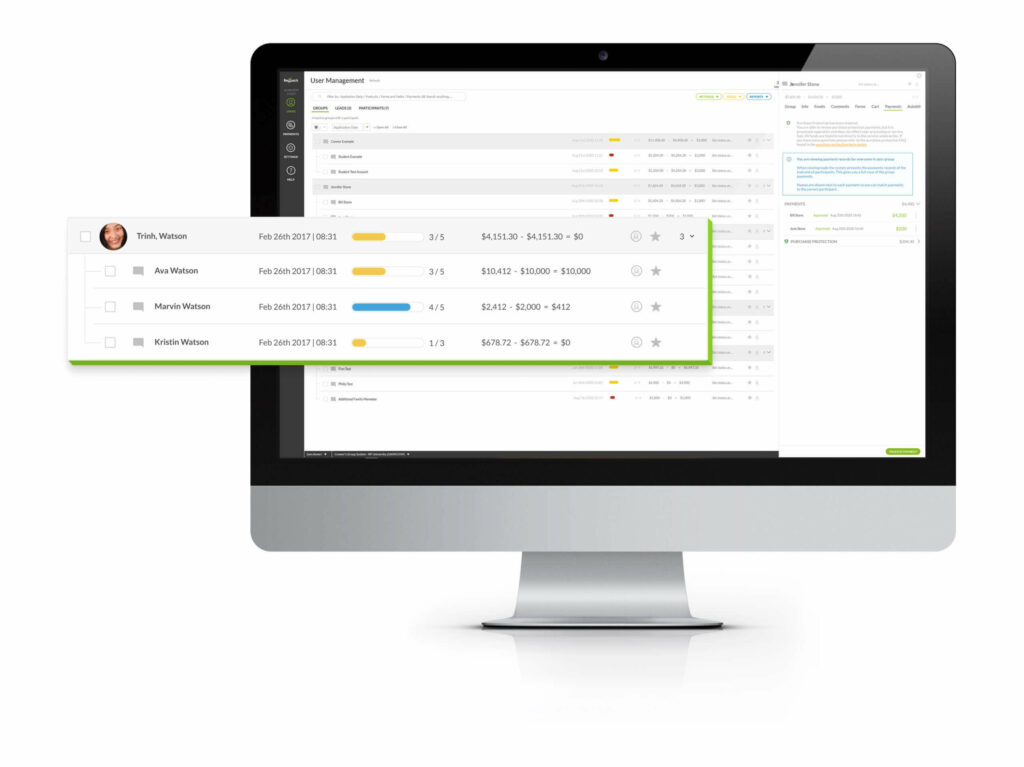 Regpack is a membership management software focused on driving online registrations and making payment renewals easy.
The software lets you:
Collect one-time and recurring donations from your website.
Create and send personalized emails to members.
Create a membership application process on your website with custom forms, terms & conditions, and membership options.
Set up event registrations.
Access, manage and update your member records in real-time with different filters.
Create customized member reports.
Price: Starts from $125 per month, per admin.
Wild Apricot
Wild Apricot has been awarded the #1 membership management software. It's a cloud-based software with all-in-one features to automate and simplify membership management.
Some notable features of Wild Apricot include:
Member database to search, update and store member data in one place.
Website builder with a drag and drop interface to build professional and mobile-friendly websites.
Easy-to-use online payment tool to securely accept and track payments and automatically generate invoices.
Event management tool to create a listing, customize a registration form and collect payments.
Email and contact database to manage your contacts and communicate with members with automated confirmations and reminders.
Mobile app to easily access and manage everything on the go.
Online store to sell products and collect payments instantly.
Pricing: Starts from $0/month.
Brilliant Directories
Brilliant Directories is a membership management software with a website builder. The platform is designed for
Nonprofits
Foundations and charities
Church and religious groups
Special interest groups
Sports leagues and clubs
Rotary clubs
Political committees
Alumni associations
HOA communities
Business owners, and more.
Notable features include:
Searchable member listings
Event listings and job boards
Paid member subscriptions
Monetization tools
Email marketing
Lead forms
Email notifications
Pricing: Contact Brilliant Directories.
memberplanet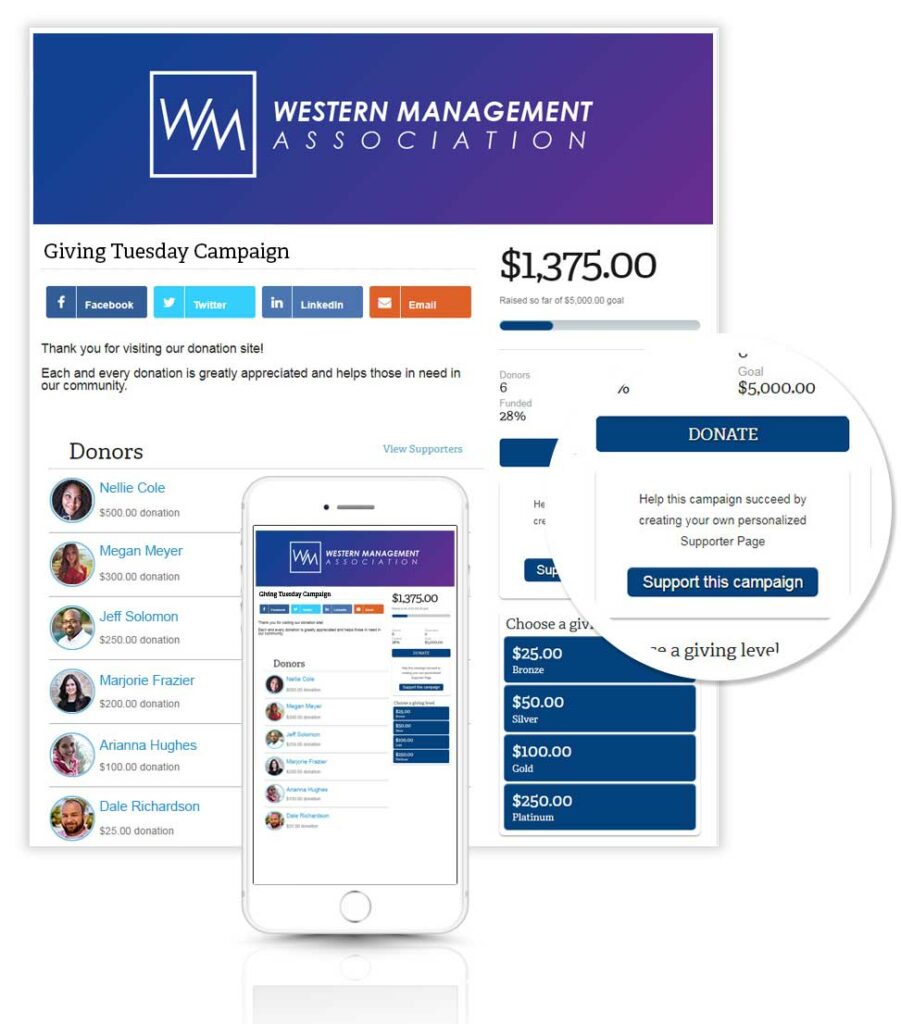 memberplanet is a cloud-based membership management software for
Nonprofits
Schools
Booster clubs
Fraternal organizations
PTAs
Homeowner associations
Educational foundations, and more.
The inbuilt tools help you simplify your day-to-day operations like onboarding, payment collection, etc.
All the tools integrate with the member database, which you can use by simply uploading your contacts list. The software provides API integrations for those who already have a database and workflow.
With memberplanet, you can:
Provide multiple payment options.
Collect member details with custom online forms.
Offer different levels of memberships.
Simplify the registration process with an email or link to join through a website or social media.
Set up an automated confirmation mail.
Allow members to update their profiles via email.
Segment members with different filters and tailor your communication for each segment.
Collect payments online and automate membership renewals.
Set up a custom all-in-one registration form to collect payments, event registration, survey response and optional donations.
Get reports with insights into payments, event registrations, membership renewals, etc.
Engage with your supporters through group text messaging, emails, and surveys.
Pricing: Starts from $0/month.
Doubleknot
Doubleknot is a membership management software also focused on fundraising. Apart from managing and helping increase nonprofit memberships, it also helps nurture and retain donors with optional integration with a CRM.
With Doubleknot, you can:
Create, manage and track multichannel fundraising strategies through different outreach methods.
Sell memberships and renewals at every touchpoint with your supporters and members.
Use reporting & analytics to find potential donors.
Use communication tools to strengthen your relationship with your members and donors.
Offer rewards to existing members and encourage others to buy a membership.
Apart from these highlights, some other features include:
Pricing: Contact Doubleknot.
MemberLeap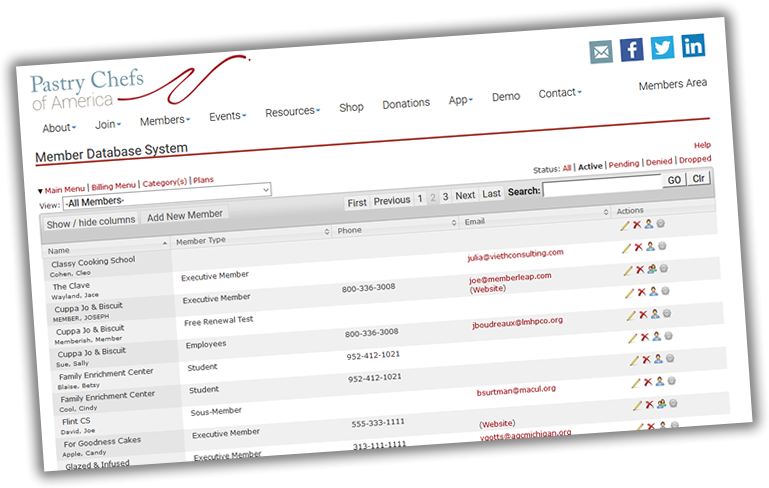 MemberLeap is a membership management software focused on helping you manage your member data, engage with them and plan events.
The software offers:
Billing to generate invoices.
CRM to track interactions with your members.
Event registration features to manage in-person and online events.
An event mobile app and a Zoom interface.
Email marketing to broadcast announcements and newsletters.
Texting tool to connect with your members.
News manager to keep your members updated.
Pricing: Starts from $50/month.
Read Next: Nonprofit fundraising 101: How to ask for donations for nonprofit.
Raklet
Raklet is a simple and easy-to-use membership management software. The all-in-one software focuses on helping you engage with your community.
You will be able to:
Get required information from your members.
Engage with your members through email and SMS.
Collect recurring membership payments.
Raklet offers a mobile application so you can engage with your members on the go. You can create push notifications and send in-app messages to your members. The software also lets you have a branded app.
This is how the app interface looks: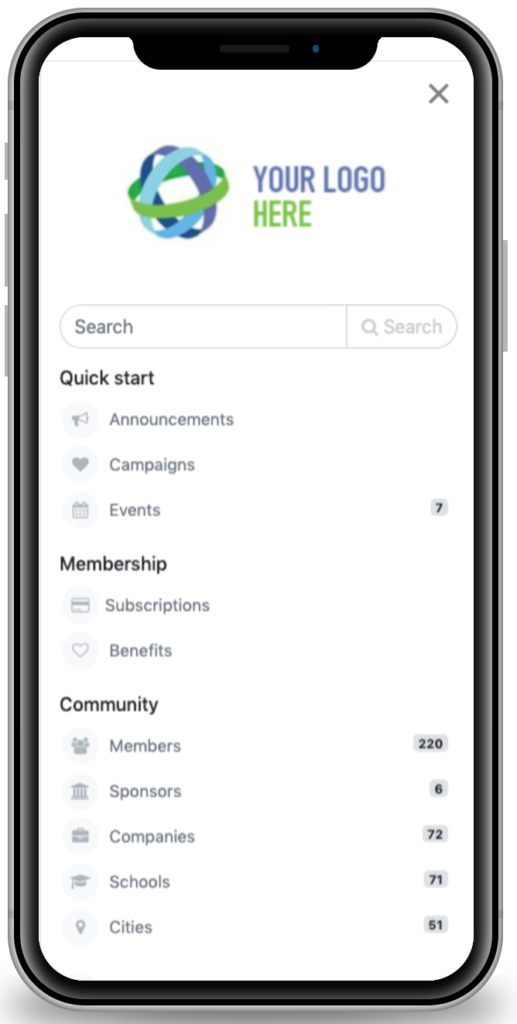 Here are some notable features of the platform:
A CRM so you can import, export and filter out your contacts.
A customizable application form so you can collect any information.
A streamlined membership renewal process to
Send automated reminder emails.
Set up renewal dates.
Collect membership fees with scheduled payments.
Login and update profile option for members.
Discussion forums which act as a social network for your members.
Physical and digital event creation with Zoom integration and ticket selling.
Tools for fundraising.
Customized digital membership cards.
Pricing: Starts from $0/month.
Now, if one of these membership management software suits you to a tee or even if you shortlisted one, we're happy for you.
But, what if you already have solutions in place for some of the features these software provide – for example, you may already have a website or subscription to an event listing platform.
In that case, we have another suggestion.
Read: Best Nonprofit Software Categories and Our Recommendations for Each
CallHub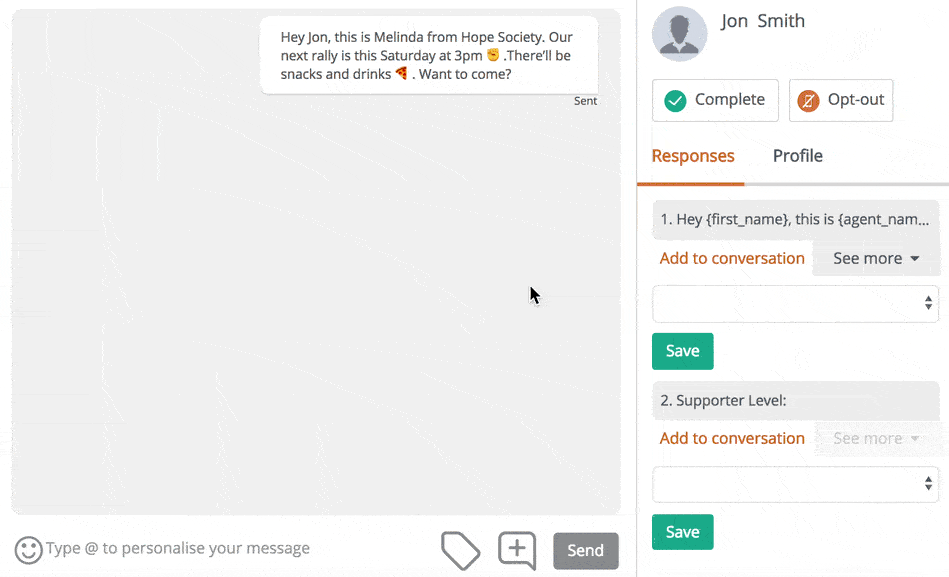 CallHub offers personalized communication solutions through voice broadcasting, calling and SMS marketing.
Personalized communication helps build a trustworthy brand and meaningful relationships with people, which is critical to attracting, engaging, and retaining members.
With CallHub, you can boil down your organization's needs and use the platform only when necessary. Our pay-as-you-go model even provides credits worth $3 on signing up that can be used for up to 23 minutes of calls or 750 texts.
Here's what you can do with the platform:
Drive repeat donors and membership renewals with periodic reminders.
Engage and retain your members with personalized & automated calling and texting tools.
Sign up new members with SMS opt-in campaigns.
Recruit and mobilize volunteers.
Run surveys and polls.
Raise funds with text-to-donate campaigns.
CallHub is known for its ease of use, even for non-tech-savvy customers. The software integrates with some of the most popular applications like Blackbaud Luminate, Databank Connect, etc.
The real-time reporting and analytics tools help you make informed decisions. You can either connect with your CRM or upload a list of contacts to CallHub. CallHub helps you stay organized by automating your communication tasks whenever you need them.
Sign up for a free trial here.
Get started!
The more data you have, the more difficult it gets to manage it. Organizing your data with the right membership management software can help you improve your members' experiences.
Featured image: Photo by Lukas Blazek on Unsplash