The National Association of Realtors puts the average lead-to-conversion rate at 0.4-1.2%. Realtors give a more optimistic number and estimate a 3-5% conversion rate. There is no doubt that real estate agents need a massive influx of leads to convert enough prospects to buyers to keep their businesses afloat.
But that's the impending question: How to get real estate leads?
The answer lies in communication.
In this article, we go over how to get healthy leads by improving communications on popular channels.
How to get real estate leads with online channels
The internet has become the first search point for homebuyers in recent years. In 2017, 95% of buyers started their search on the net, up from 89% in 2007. Unsurprisingly, this number will not downgrade in the current decade too.
As a realtor, you may already know that the internet is a wonderful mine of clients. By amplifying communications on online channels, you can harness its power with ease. Here's how:
Pitch your listings on online groups
Do a simple search on Facebook about renting, buying or selling properties in your location, and you will be flooded with group suggestions. While some groups aim to connect buyers to sellers directly, others allow agents to post listings too.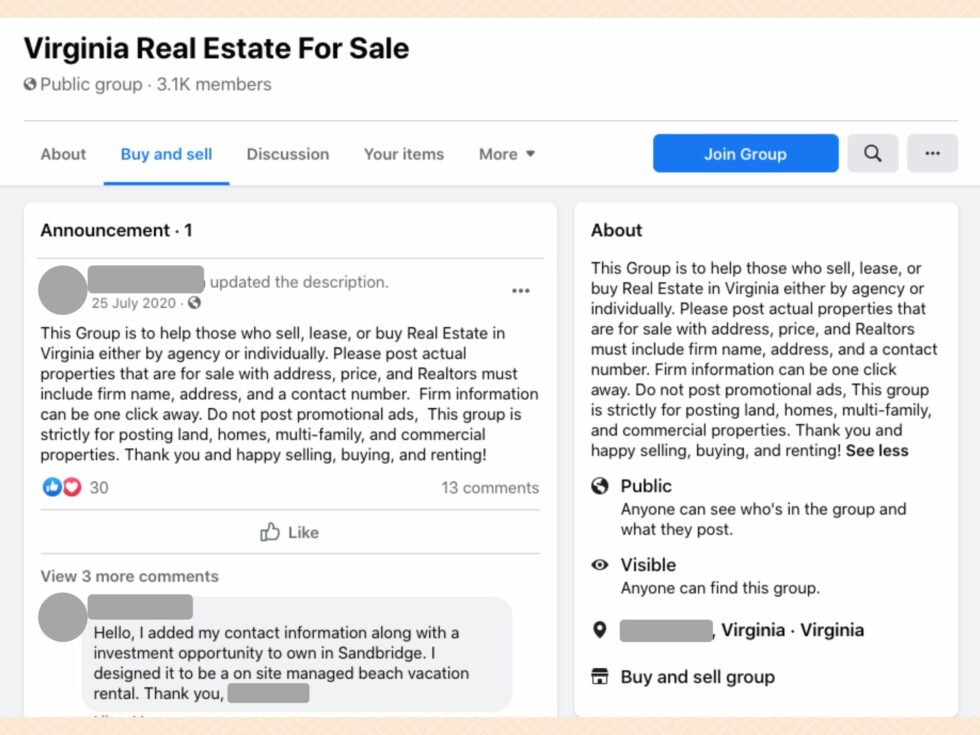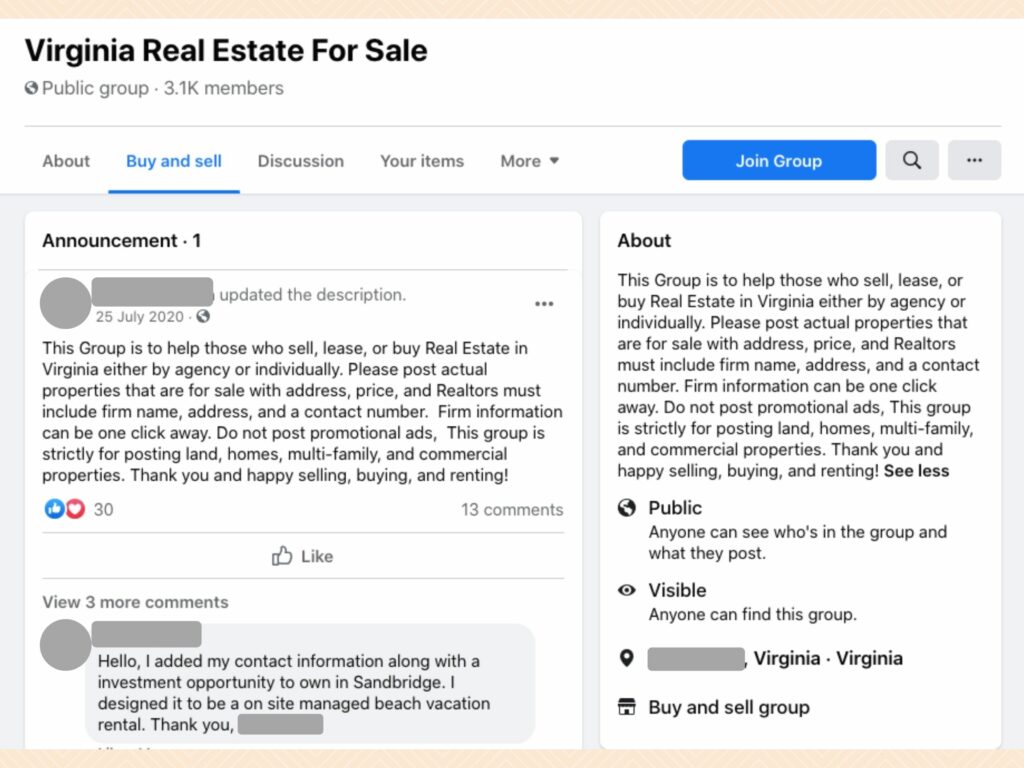 Posting your offerings on public groups such as these have the following advantages:
Inbound traffic of buyers or sellers (once the listing is posted).
Instant interaction with leads (transition from public comments to private messages before you secure additional contact information).
Peer-to-peer references (people tend to tag interested parties within their network, letting you expand your reach. All of this happens with no extra effort from your side.)
Invest in a smart CRM to generate leads
Significant life changes, like securing a well-paying job, moving cities, or changed marital status, can influence a person's decision to buy or sell property. Your CRM must have the ability to:
Store such personal information (that you can connect with the real estate industry and harvest benefits).
Indicate when a person may be ready to buy or sell.
Based on such intelligent insights, you can target online communications with prospects. This targeting can be done using:
Targeted advertisements on social media.
Sending personalized email blasts.
PPC ads on search engines or apps/websites the prospect uses.
Take the following example:
You have added "marital status" as one custom field in your CRM database. Set the automation rules to send an email or notify you when you update this status. (A couple is likely to buy a property when they get married. Or sell if they are getting divorced, or one person may move to a new place.)
Choose the appropriate messaging for the occasion and shoot targeted ads on platforms they are active on.
E.g., An email subject line, social media ad or PPC ad, reading: "Make this 3BHK villa your perfect new home!" OR "Cozy 1bedroom flat available for sale, perfect for bachelors!"
(For social media or display ads, make sure to add attractive, relevant photos too!)
Pro-tip: Invest in paid, smart CRM features like Zillow's premium "My Agent" pack. It provides actionable insights on clients but its USP is the "exclusive agent" feature. This is how the feature works:
Person A has spoken with you about a property. After the interaction, they browse through other properties.
Since you have purchased the "My Agent" feature, Zillow will show only your contact information as the buyer's agent.
Note that buyers will still get to see the listing agent's information on the agent's own listings.
Amp up personal social media communications
According to a 2020 report by Sprout Social, 79% of customers expect brands to reach out within 24 hours of sending a message. 70% expect them to respond within the hour. This means, for every DM in your inbox that goes unanswered, a prospect gets disappointed or disinterested.
The only way to cure this is to increase your activity on social media. This includes replying to messages more promptly but also involves:
Actively reaching out to prospects and dropping them a message.
Searching for relevant posts on groups or pages and commenting (typically with listings or offers).
Replying to comments on your posts.
Following up with engaged visitors on personal chat (e.g., a person who has "liked" your post).
Advertise on multiple real estate websites & apps
The National Association of Realtors (NAR) reports that the top four tech tools that provide the highest number of leads are:
Social media
Multiple Listing Service (MLS) sites
Broker's website
Listing aggregator site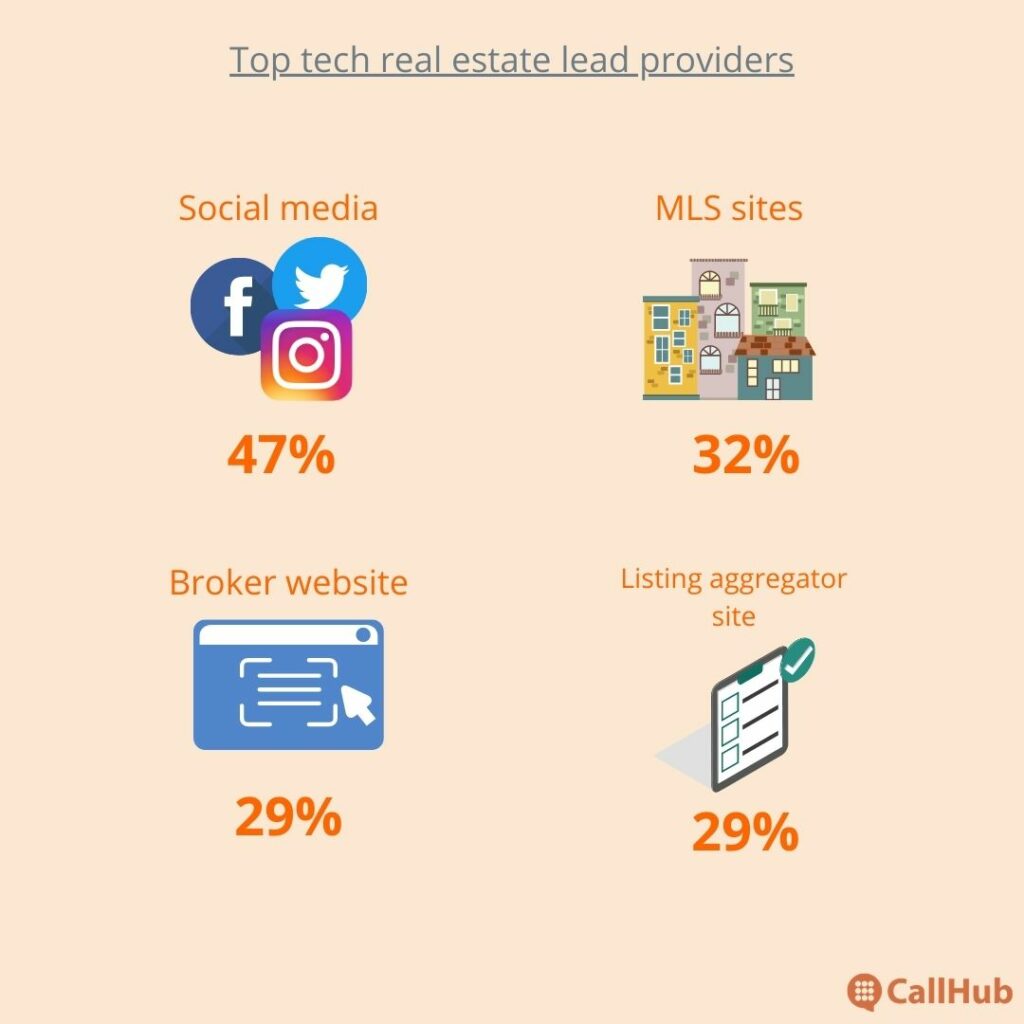 The numbers make it clear that realtors must make their presence evident on multiple online channels to procure a good number of healthy real estate leads.
Depending on the clientele you are seeking, here's what you can advertise online:
Looking for buyers
Looking for sellers
What to advertise
Properties
Your qualifications as an agent
Helpful details
– Location
– Description
– Number of bedrooms, bathrooms and other rooms
– Facilities
– Price
– Amenities included
– Additional information
– Success score
– Locations you operate in
– Commission rate
– Reviews from previous sellers
– Your USP
– What your buying clients are looking for
Leverage video content
Videos have a great recall value, and 80% of consumers recall a video they saw online in the past 30 days. Additionally, videos can increase the chance of purchase by 85%!
For a realtor who wants to stand out from their competition and ensure that their target audience remembers the ad well, video content is the way to go.
Some ideas for real estate video marketing are:
Customer testimonials
Demonstration videos
Virtual open houses (live streams)
Property tours
Self-advertising videos
Create your own website
A website is like your online office where you give prospects a tour of the services you offer, your professional history and convince them to bring their business to you.
It creates a brand value for your business and serves as a portfolio for prospective clients. Follow these best practices for real estate marketing:
Invest in creating an aesthetic and user-friendly website. Hire professional designers and developers for this. A website that doesn't look appealing or is unintuitive can put off visitors.
Redirect new audience or newly engaged prospects to your website. This includes traffic from google ads, social media and SMS opt-ins. Existing clients will still be familiar with your work so you can direct them to specific pages like (recently added listings) that may be relevant to them.
Let your website be "one-place-for-all". Allow visitors to browse through properties, interact with you and pay you (at least service charges) all from here.
If feasible, don't put ads (or excessive pop-ups) on your website as they will interrupt your visitors' experience.
With these online tools at your disposal, you can initiate conversations with prospects and interested parties. For those who are not active online or aren't tech-savvy, take the communication offline with calling and texting.
How to get real estate leads with personal communication
Kevin Markarian, the founder of a real estate brokerage in San Francisco, says that healthy communication is a non-negotiable for real estate professionals.
Writing for Forbes magazine, he says, "… I'm always seeking out the best residential real estate agents and spotting potential among rising stars; I talk to successful agents all day, every day… it's no surprise that I hear this one word more than any other: communication. Learning about ways we can all improve on communication is part of every agenda and a component of key takeaways from every industry event out there." Your real estate lead generation strategy should focus on this aspect to ensure better returns.
So how can realtors improve personal communication to get leads? Here are some fruitful ways:
Get. Calling. Contacts.
There is no real option to calling prospects and engaging in a personal conversation. However, when texts are overthrowing calls in terms of popularity, you must know the right time and suitable audience to call.
For example, once you get prospects engaged in a conversation on other channels, maybe ask if you can continue over a call.
This also includes calling lapsed clients.
Pro-tip: Set a target of calling 30-60 prospects every week and follow it strictly. By not allowing yourself (or your team) to slack off of this number, you will spend more time gathering leads on the top of your client funnel and using calls as a means to nurture them to the next step.
Use SMS to get prospects to opt-in
For real estate text marketing you must get due permission from prospects before contacting them. One classic and efficient way of securing this consent is getting them to opt-in for your texts.
Use an SMS opt-in tool like CallHub to rent a shortcode and keyword relevant to your business. Advertise them online and offline (e.g., bus signs, yard signs, benches, social media posts and your website).
Start conversations with opt-ins by collecting basic information like their name and purpose of opt-in and gradually nurture them to turn into clients. Here's an example of the basic information collected through auto-responders with an SMS opt-in tool.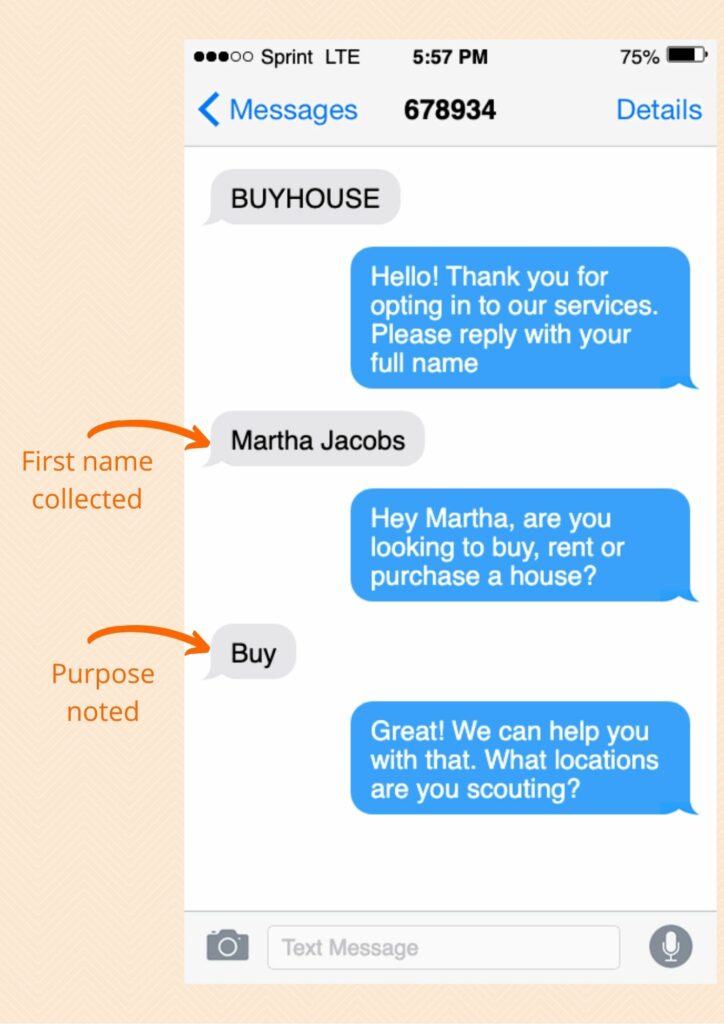 Try the SMS opt-in tool for free here.
Use texts to follow up or as reminders
Once a contact opts to receive communication from you, texts are an excellent way to keep in touch. They are non-intrusive, extremely user-friendly and can send your message across in a crisp, concise manner. Here are various ways you can use texts for reactivating existing contacts or generating leads in real estate:
Drop a text to contacts who didn't answer your call. This keeps them from wondering who called and increases the chances of a callback.
Send them reminders for open houses or other events.
Use texts to send lapsed leads updates about price changes, offers to a property they were interested in or such other messages to retain them.
If you can afford the technology, sync your website analyzer or CRM with your text marketing software and send a follow-up text to visitors who left without taking action.
Pro-tip: CallHub integrates with CRMs and helps real estate marketers keep in touch with leads through texts. It offers SMS opt-in, text broadcast (SMS and MMS) and peer-to-peer texting tools for personalized communication at scale. Try it for free here.
Keep in touch with your top 50 clients
Don't seal the relationship with clients after the deal is signed. For one, they may require your assistance in case something goes wrong with the property or agreement. But as a realtor, you must know that clients can be an excellent source for more leads.
91% of homebuyers say they would recommend their agent to friends. 41% of sellers got their agents through a referral.
Thus, maintaining a strong relationship with your client can result in getting you more leads if you utilize the opportunity wisely. Here are some best practices:
Use a non-invasive communication method like texts for post-transaction communications.
Use the platform to send pricing updates, news, new opportunities, or surveys or other valuable messages.
If you have a particular requirement, forward it to the existing clients and ask if they know a buyer/seller.
Reduce the frequency of messages post-transaction. But make sure to send 1-2 messages per quarter to keep them engaged.
Last but not least, you define your top 50 clients. They could be the most recent ones, those who fall within particular price-brackets or repeat clients.
Use texts or direct mail to re-engage lapsed leads
Unless they have already purchased/sold the property, lapsed leads are still valuable prospects. Use personalized messaging to re-engage them.
These texts can start with asking questions like "what went wrong" or sending a survey. If you get a reply, any reply, that's a sign to start nurturing the prospects further.
Additionally, irrespective of whether you get a reply, you can also send relevant property or opportunities to them (until they revoke consent to receive messages).
The optimist in me says that those who haven't yet found the business they were looking for will reply and re-engage. If they don't, or they unsubscribe, you will still end up with a clean list!
Bonus! Getting real estate leads by being at the right place, at the right time
In a flood of virtual conversations, do not forget the power of in-person communication. The good old coffee place conversations or advertisements are still relevant to get real estate leads offline. Here are some places where your presence can generate leads without any software or tools.
Be omnipresent at cafes and restaurants: Put up posters (displaying your services and a shortcode and keyword to opt-in to your communications). But also, nurture relationships with the staff members, be present at the location and utilize any leads that the staff provides you with.
Be a BPO broker and use the platform to generate leads: Debtors who cannot repay loans often have to sell their property before it gets seized. Being a Broker Price Opinion broker will provide you with such leads (make sure you are legally allowed to utilize such leads. If you sign an NDA, perhaps this is not an ethical way).
Pitch to owners with "For Sale" signs: Saw a "For Sale" sign? Knock on their door and introduce yourself. The chances are that the owners may not want a realtor's service. But still, you can politely ask them to keep your number handy in case they need you. Follow up with them (or visit the property to check for the sign) in a few weeks to stay updated on the status.
Utilize holidays: According to realtor.com, While Christmas Eve is one of the slowest days for real estate, the Sunday following Christmas is historically one of the busiest. Similarly, the Labor Day weekend is super busy for realtors. Clearly, holidays (and the weeks preceding them) hold great opportunities for generating real estate leads.
Be active during non-real estate events: When you took up a realtor's job, you accepted the responsibility never to put down that cap. Utilize every non-real estate event to remind friends and family of who you are and to send leads your way. (Make sure not to overdo this and annoy them to a point where they deliberately direct leads away from you).
Become a member of your local chamber of commerce: The local chamber of commerce provides networking opportunities within your profession. You can network with other realtors and exchange leads if one of you can't take up their business. It also acquaints you with other related companies that can help generate leads for real estate.
Network in open-houses (which you haven't organized): You don't want to form rivalries with or annoy other realtors. But open-houses can be a great source of networking with potential clients and finding real estate leads too.
Network with the right professionals: Maintaining a close professional bond with personal bankers, wealth managers, financial lenders, and life insurance agents can give you insights about persons that few other sources can. For instance, personal bankers and financial lenders can tell you who is saving up to buy a new home, or life insurance agents can point you where a recent tragedy has forced a family to sell their house.
Getting leads for real estate is all about being at the right place and communicating with people appropriately. As a realtor, you must be present at all places– online, over the phone and offline– and must be an active, energetic and pleasant talker.
I am confident that you have acquired these skills already. Now all you need is the suitable guidance for communication methods (which the article hopes to provide) and the right tools to get started. Read further for your text marketing needs: A quick guide to get started with SMS marketing for real estate agents.
Feature image source: Maurice Williams/Unsplash