According to the Hartford Institute of Religion Research, more than 40 percent of people say they go to church every week. Still, statistics show that less than 20 percent of the population actually attends. The numbers have also reflected on the per-church attendance. Digital marketing for churches is thus a fundamental requirement if you're looking to increase its congregation. We're sure you are!
However, we thought you should know that church attendance is constantly declining, particularly among millennials. To entice and attract new worshippers, digital marketing for churches needs to be interesting and effective to that demographic.
Do churches use marketing?
For many years, church promotion has involved traditional marketing tactics such as billboards, direct mail, advertising, etc. Now, since the outset of the pandemic, digital marketing for churches has turned to be a 'need-to-have rather than a 'good-to-have.
While some amount of digital marketing for churches has always been necessary, it has accelerated over the past year. But, like any fruitful and solid marketing plan, digital marketing requires you to curate a list of strategies that will get more people interested in joining you.
Digital marketing for churches is a huge pool and this post helps you swim through it.
How do you market your church online?
The ultimate focus of digital marketing for churches should be to form an engaged community. This section focuses on 8 such marketing strategies that help you reach that goal by boosting your online presence.
1. Create content online
Content marketing is a process where you create valuable content relevant to your target audience. So, basically, you would be helping people with online content while also promoting your church.
For instance, you could interview your pastor to answer a few most commonly asked questions. Share this content in the form of a video, podcast, an article, and social media posts with your audience. When you do this, your audience gets excellent insights, and you come out as a thought leader.
Digital marketing for churches is therefore incomplete without content marketing.
Getting started with content marketing is quite easy. You already have plenty of content in your pocket in the form of sermons, bible lessons, and more. The first step is to create an editorial calendar. Decide on the type of content, the platform, timeline, etc., while you're at it.
Here are a few content ideas:
Repurpose sermons into relatable blog posts.
Introduce your pastor to the public on social media.
Create podcasts on current events.
Promote events and meet-ups.
Post interesting sermons as social media posts or live stream them.
Publish videos of your church interiors on YouTube.
Post a Q&A with a pastor on Twitter.
Show your team in action on Instagram.
98% of people from a survey said that their church uses social media. This shows the value that social media marketing brings to the table. Here's an example of content on social media by Union Church.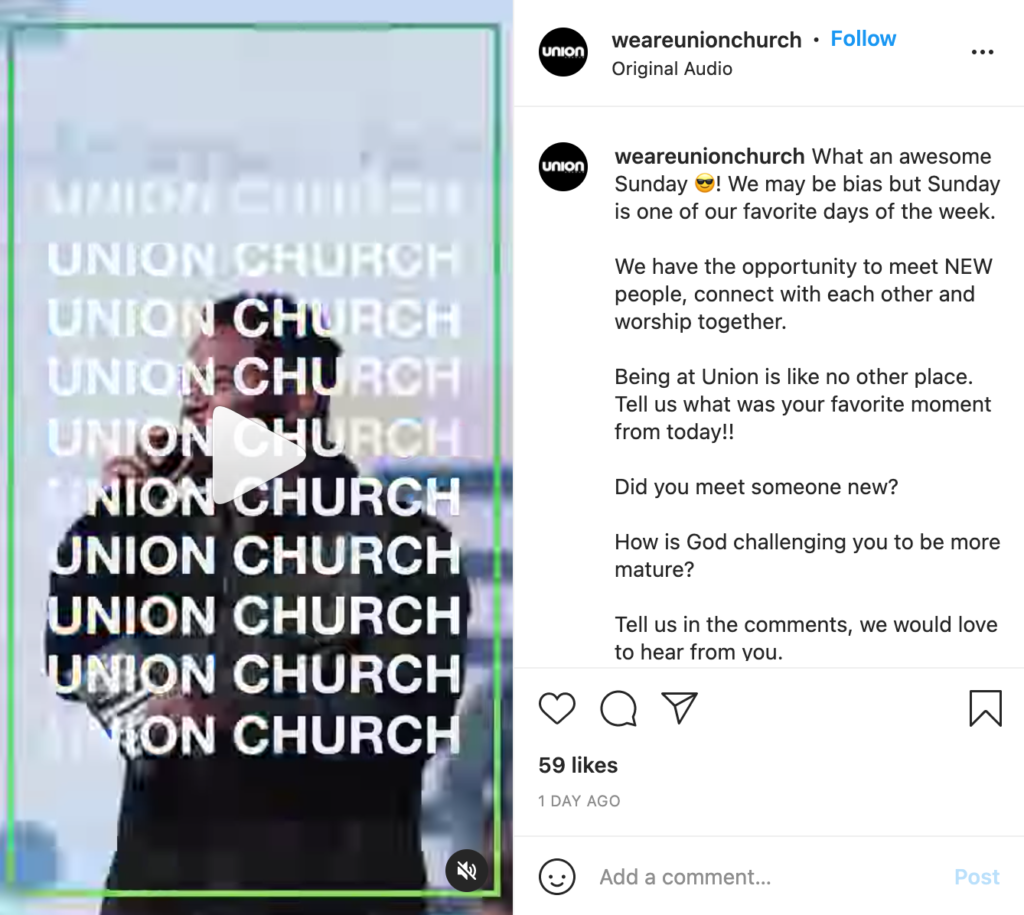 You can also create infographics around your church's story, offerings, and highlights and share them on your social media accounts/pages to engage your audience. Now, invite your current members, friends, and family to share your social media pages with their followers so you exponentially increase your reach.
Pro-tip: ​​The best way to execute the whole content marketing process is to put together a team. Divide the strategy and execution into segments, so it's easily manageable. For instance, you can have one team member take care of social media, one for blogs, and so on. You may decide on the number of people in a team based on your capacity; however, make sure everyone plays to their strengths.
2. Get your church listed on Google My Business
Say your audience comes across your poster and decides to look you up online. Ideally, they should find you immediately.
Registering your church on Google My Business helps you with this by improving your local SEO. People looking for you can find an overview of your church along with your contact information and location. They can also contact you from there, visit your church, visit your website, and do a lot more.
So, if you don't already have a profile on Google My Business, you're missing out on getting found by people.
For example, here's what Google shows you when you look for 'Menlo church'.


Here are some best practices to make the most out of Google My Business:
Keep all the information here up to date, so people aren't misinformed about anything.
Leverage the Q&A section by adding answers to some of the most common questions among your congregation.
Ask your congregation to leave reviews for your church.
Include photographs from your events, Sunday prayers, etc.
Reviews will tell your profile visitors about you and the experience your congregation has with you. While positive reviews increase your credibility, addressing the negative ones shows you're a responsible entity.
3. Reach out to your community
Digital marketing for churches is all about communication, and one of the most effective ways to communicate with your congregation one-on-one is through texting.
Why you ask?
Because people prefer texting. In fact, 33% of American adults prefer texts to all other forms of communication.
There are 3 ways you can communicate with people:
SMS opt-in: Let people opt in to your updates.
Mass texting: Send text broadcasts to a large group of people.
Peer-to-peer texting: Have personalized one-on-one conversations at scale.
Texting involves communicating with people through both SMS and MMS. You can ask for your visitors' contact details when they visit your church. You can also collect your prospective congregation's contact information through your marketing channels using an online form in exchange for a value-add. Once they share the contact details and opt-in (or give permission) to receive text updates, you can start sending automated updates via texts.
Using a church texting service, you can:
Send links to sermons
Invite your congregation to events
Send reminders
Distribute surveys
Update contacts with your news or notifications
Manage appointments.
CallHub offers a texting platform that is highly easy to use. We also offer a free trial along with credits worth $3 that come with 88 texts. Try it out by creating a campaign.
Pro-tip: Let the important updates go out in your pastor's name. Your audience respects pastors and would love to talk to them. This kind of personal touch would also add to their experience.
Also, people know that a pastor's schedule usually is tight. So, if they see that your pastor is making time to listen to your audience, there are high chances that they feel highly valued.
4. Have a user-friendly website
17 million people who aren't regular church-goers visit a church's website. This tells us that a website is the core of your online presence. It makes it easier for people to find you online and know more about you.
Here are some important pages every website needs to ideally have:
A 'Home' page that gives an overview of you.
An 'About' page that tells the story of your church and introduces your team.
An 'Events' page where you display all the upcoming events.
A 'Blog' page to share articles.
A 'News' page to share all the latest updates.
A 'Contact' page with your contact information: Address, phone number, email id.
There are multiple platforms to help you build a website. Some prominent tools include WordPress, Wix, Squarespace. They also allow you to update your website with fresh content regularly.
Pro-tip: To show up in the search results whenever people look for a church like you, strong SEO is what you need. Adding high-volume, relevant keywords in your website content is the first step to get you on the first page of search results.
5. Host online events
Run community events frequently, depending on your budget. This could be themed based on your community's interests. The idea is to attract a wide audience and expand your community reach.
Here are some event marketing strategies and ideas for your church:
Share your event with the local media to get the attention of the regional population.
Create a separate landing page for your event where your audience can find all the details.
Promote your events using mass texting.
Hire a few ambassadors to market your event on social media.
Distribute merchandise like a hat for people to wear for your event.
Create and share a newsletter around your event's focus and mission.
6. Run email campaigns and send newsletters
They say, "Ignore your customers, and they'll go away." This certainly applies to all organizations, including churches. Your marketing efforts don't stop at getting people to your church. The further effort is to let them know what you're doing and keep them engaged.
One of the best ways to do that is through emails and newsletters because newsletters are the most commonly used medium among churches to keep their community updated on the happenings.
Some ideas for your church newsletter are:
Upcoming events
Latest updates
Puzzles
Contests
Aim at keeping them interested, and you're one step closer to retaining them.
7. Register on online directories
Digital marketing for churches also includes partnering with or leveraging authoritative platforms to your benefit. One such avenue is an online directory.
Register your church on online directories so your parishioners can find you. Even if your website is not ranking on the first page of search results, by registering your church on online directories, you are increasing the chances of being found by your audience by expanding your presence.
These directories are authoritative sources for people looking for churches. So before your blogs are ranked, you can be visible to the right target group through a presence in these frequently visited directories.
Church Finder is one such popular online church listing site.
8. Invest in pay-per-click advertising
Research from HubSpot shows that 75% of users never scroll past the first page of search results. This is where church advertising comes in.
Running PPC ads on search engines and targeting people who live in your area or have moved there recently is an excellent tactic to show up on the first page. Because, when people look for, say, "church near me", they have almost made up their mind to visit one. Being the answer to their queries would increase your chances of drawing them in.
What's excellent in terms of cost is you only get charged when somebody clicks on your ad.
Pro-tip: Social media, too, lets you run targeted, local ads to take your message to your audience.
Digital marketing for churches: The way forward
You saw how different types of digital marketing for churches helps in improving your online presence. Now, see how you can build a communication plan that cuts through all the noise and helps you stand out from the crowd.
Featured image: StartupStockPhotos from Pixabay