A good alumni engagement strategy is one that
Brings tangible benefits to your organization (funds, career guidance to current students, high attendance at events).
Creates a network of your past students placed internationally.
Helps current students with course and career advice, and job prospects.
Universities invest resources to nurture alumni relations that bring these results. But with evolving communication landscapes and changing audience expectations, alumni networking has become tricky.
Ex-students are less engaged with their universities after graduation.
Alumni are not too keen on mentoring students or fulfilling pledges.
Events have low attendance.
Alumni are not responding to your outreach channels (no reply on emails, no answer on calls, no updates if an address is changed)
Existing members of the alumni network ask for more personalization, opportunities, and ease of donation or communication process. But you don't have enough resources to meet these demands.
This article aims to recognize and solve these alumni engagement challenges and share strategies and best practices to get alumni involved in your programs.
Nine alumni engagement strategies and best practices for your success
Mix broadcast and conversational texting for quality engagement
A study by CodeBreaker showed that
37% of respondents prefer receiving program information via text.
32% prefer text messages for other communications from the program.
Personalized texting can thus cut through the noise and give you a fast lane to reach alumni.
A common use case of using texts in alumni engagement is sending reminders with broadcast messages (for events like homecoming, virtual convocations, college fundraisers, or membership renewal).
Kendra Saldana, the assistant director of young alumni giving at Cornell University, shares with Higher Ed Live how they use mass texting for membership renewal.
"At the end of the fiscal year (end of June), we texted people who were either about to lose their membership because they hadn't yet renewed or people who would become members if they made their gifts… That campaign performed really well. It actually spans the entire age range. We got a lot of gifts from our most recent graduates and our oldest graduates that we were texting in this campaign."
Additionally, texting is an excellent tool to improve the quality of engagement with alumni. This increased involvement drives impact vis-à-vis increased participation at events, recurring donations, and more open communication with the university.
A peer-to-peer texting (or P2P texting) software enables you to have such one-on-one conversations at scale.
For step-by-step guidance on how to use the two methods of texting, read:
→ How to Use Mass Texting
→ Peer to Peer Texting Starter Guide
Understaffed alumni relations departments and budget cuts are two commonly cited reasons why texting is not adopted for alumni communications.
If you are facing similar concerns, consider text messaging tools like CallHub that enable a single staffer to handle around 200 conversations at the same time. They use pre-built templates and alumni data management to speed up and personalize conversations.
CallHub has a pay-as-you-go option, so you can avoid costly subscriptions and pay only for the messages you send.
Start your free trial of CallHub here.
Begin engagement in student life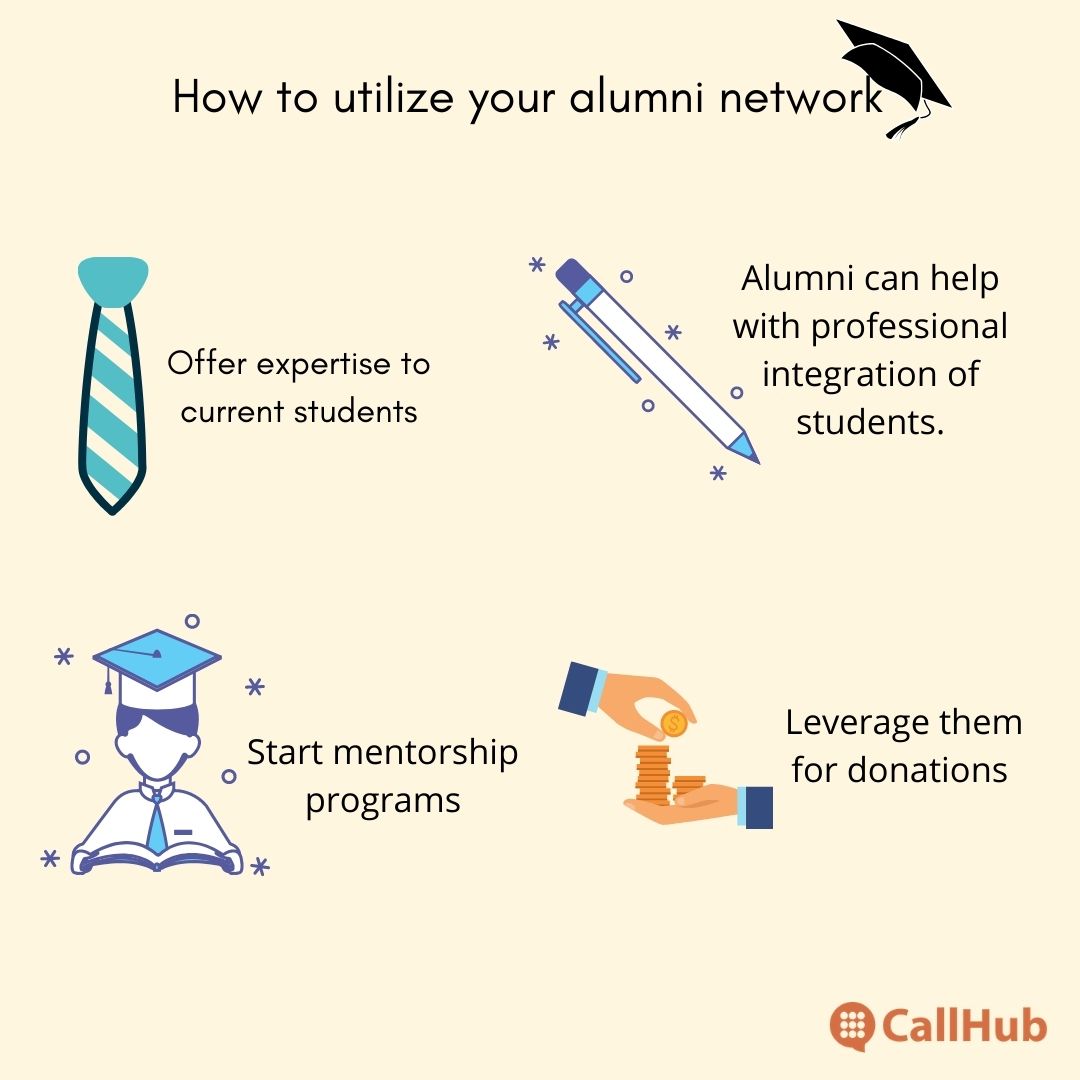 College and university students will spend a relatively short time at their institutions and long years after their graduation being your alumni. So, it's essential to engage them in your alumni relations program before they lose the bond with you.
An alumni engagement strategy that begins during college life must employ several communication channels:
Social media (LinkedIn, Facebook, Instagram, and Twitter): Share alumni news and university updates, and encourage current students to engage with alumni. An alumni relations department has similar goals to a nonprofit (eg., event participation, college fundraising, outreach), and so you can take lessons from them in devising your social media strategy.
Text messaging: Grow your contact list by asking students to opt-in via SMS to the alumni program.
When they sign up, send a confirmation text, asking for details such as name, year of graduation (predicted), what kind of messages they would like to receive, and preferred mode of communication. Add them to segments accordingly and begin outreach after their graduation.
Email: Dedicate an email ID for alumni communications such as events, seminars, and workshops. Ask current students (preferably in their last year of graduation) to sign-up for these lists.
You May Also Like: Contacting Alumni Email Sample and Tips To Enhance Your Interactions
Design your strategy around the needs of the alumni
The needs of your recent graduates will be different from those who passed out years ago. The former will probably be looking for job prospects while the latter already have established careers and can give back to you.
When devising an alumni engagement strategy, you need to focus on these evolving needs and expectations.
Moreover, you cannot take their involvement with your university for granted. Students may be dissatisfied with their courses, networking opportunities, or career prospects they got from you. The onus is on you to convince them of the benefits of your alumni network.
The third important aspect to remember is to always prompt action. It could be signing up for your alumni network membership, attending an event, donating, or simply following you on social media.
To summarize,
Understand the varied needs of your alumni and build your strategy to suit every need
Work your way up to earn their trust and involvement
Throughout this journey, prompt action that suits their level of engagement.
Related Reading: How to create an effective call to action? (with examples)
Design mobile-friendly content
A good alumni engagement strategy not only invests in communications on a smartphone but also makes content mobile-optimized.
Why?
Moreover, 75% of respondents in a CodeBreaker study said the likelihood of engaging with their organization would increase if the content is mobile-friendly.
Your information, landing pages, donation pages, websites, and forms thus needs to be accessible, aesthetic, and user-friendly even on the phone.
Salt Strong, an online fishing community from the USA optimized its website to include mobile-friendly popups. The result? 185% more conversions and 1000+ weekly new leads!
Start with popovers or landing pages (with integrated donation forms) that take relatively less time to optimize and try out its impact on your audience.
Once you see the results, replicate the effort for other landing pages or forms and expand the effort to other alumni engagement pages or sites.
Here are some tools to help you optimize your website to be mobile-friendly:
Google Search Console's Mobile-Friendly Test– Check how user-friendly your page is on a mobile device.
Opt-in Monster– Build popovers that don't disturb users from navigating your site (and save you from getting penalized by Google)
Google LightHouse- To check the mobile speed and SEO of your site.
Mobile-First by Pure Oxygen Labs- Check if your page complies with Google requirements and if content, links and visuals match mobile devices and desktops.
Google's Page Speed Test- To see how fast your page loads
Divi and Elementor- To easily design mobile-optimized pages on WordPress.
Browserstack– for cross-browser testing.
Keep an updated database
Your youngest alumni will be in their twenties while the oldest might be well over 65 years. This age gap reflects in their communication preferences (the younger generation usually prefers texting; the older generation prefers calling).
This is one example. A hundred other factors determine a person's preference in communication, engagement level, attendance at events, etc.
That is why you need to have an updated, segmented database at all times.
Why your data on an alumnus needs to be updated:
Change of address or contact information.
Giving ability changes over time (an intern may donate much less than an older alum who is at the peak of their career)
Level of engagement evolves (a recent graduate may hold stronger emotions towards their university)
Why your data needs to be segmented:
Some alumni are more inclined to give than others
Younger alumni can be more willing to mentor students due to a small age difference.
Alumni from higher income groups can be more willing to be major and recurring donors.
Older alumni are likely to be keen on attending reunion events.
To keep an updated and well-informed database, you need some data (mobile number/email ID/social media handles) as a starting point which can be collected during their time at college or when joining the alumni program. Here's how you can go from there: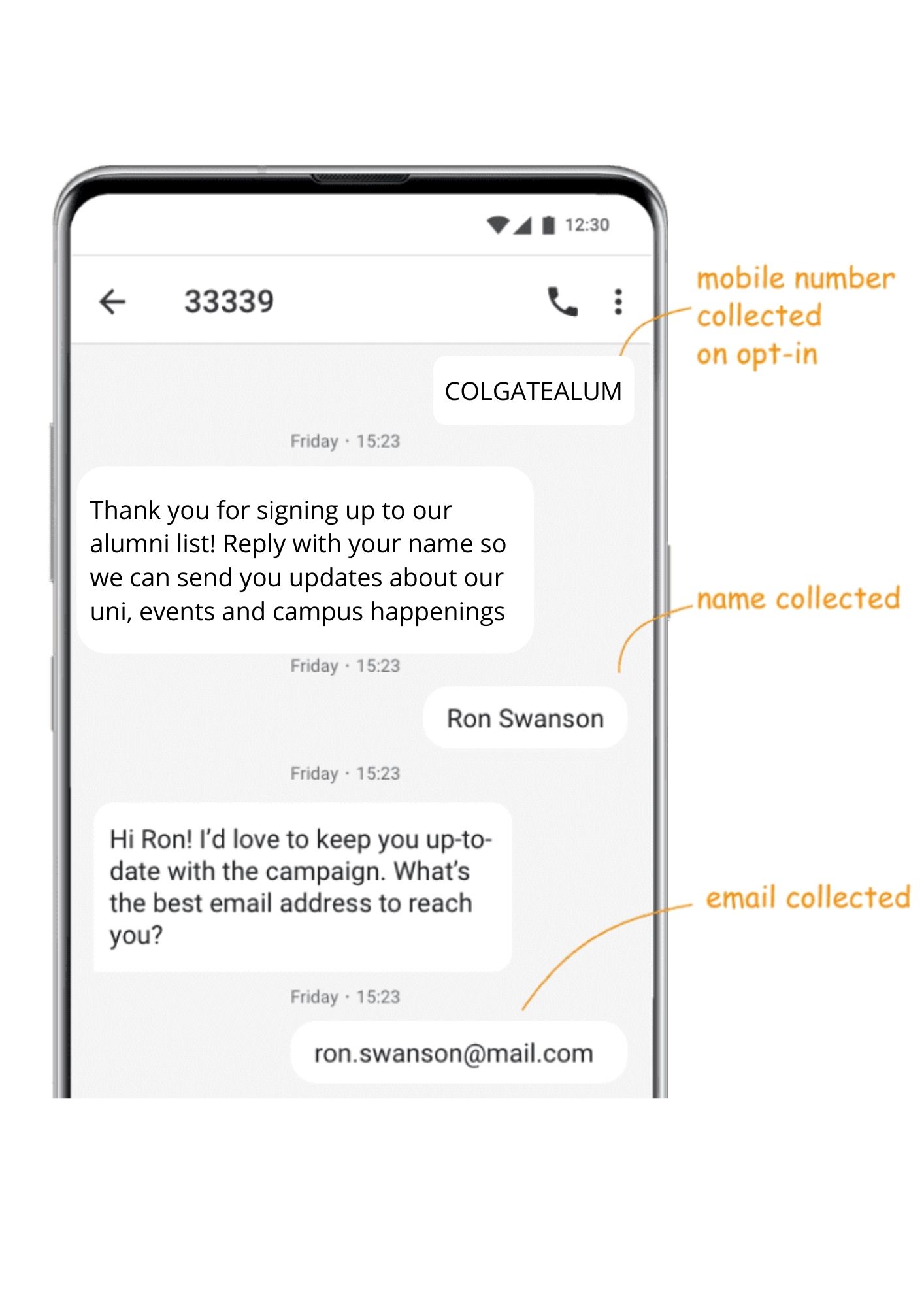 Following that, every touchpoint with alumni is a chance to keep the information on file relevant.
A P2P texting tool is an excellent way to do that. The donor information is available on your screen as you chat, and you can update it as soon as you get hold of new information.
Say a previously active donor hasn't replied to your texts in a while. You find an alternate number (which belongs to their parent), and you contact them there. The parent is only too happy to inform you that the alum secured a job overseas and has changed their number.
This is your opportunity to get hold of their new cell phone number and address, update your database and immediately ping them with a hearty congratulations!
CallHub collects such information on survey forms and updates the profile in your CRM for your next outreach.
The alum replied to your text positively.
You saw the opportunity and made a donation appeal for your year-end-giving event.
Success! They even pledged a gift.
The alumni engagement team marks the amount donated to the survey form.
This information can then add the alum to a list back in the CRM for future engagement.
This information, collected at every step of the process, helps you personalize your asks and conversations.
The task is not merely about adding a first name to the messages but also about learning the details and preferences of your audience and tailoring your communication strategies accordingly.
Form a network of local and global alumni
When you plan for your alumni universe, plan internationally. There are three things to bear in mind when considering prospects for your alumni engagement strategy:
Do not ignore the alumni who don't live in the same location as your university.
Always consider that even those who live close by may not attend an event.
Design events to accommodate a diverse audience (eg., donors Vs. networking people, locals Vs. international students, affluent Vs. lower-income groups).
Involving students who live in a different city, state, or country not just creates a global pool of your alumni but also increases your potential attendee count.
From UCLA, Julie Sina shares with Higher Ed Live how their events accommodate ex-students who live in different countries.
"One of the things that we're very cognizant of is how can we make everything we do… transparent but also available to alumni around the globe. So we really become very aggressive about utilizing our YouTube channel, using programs like [Higher Ed Live], using Google Hangouts," she says.
You could utilize this global network to guide students on life after university. For instance, Leeds University in the UK hosts a webinar where international alumni speak about real-life applications of what they learned at the Institute for Transport Studies.
Your seminars with alumni as guest speakers can cover:
How to do a job search
How to make valuable professional connections
Career opportunities in your country and internationally
Their career journey and challenges that students are likely to face
Financial planning (especially for those who have taken education loans).
Motivate alumni to reach out to you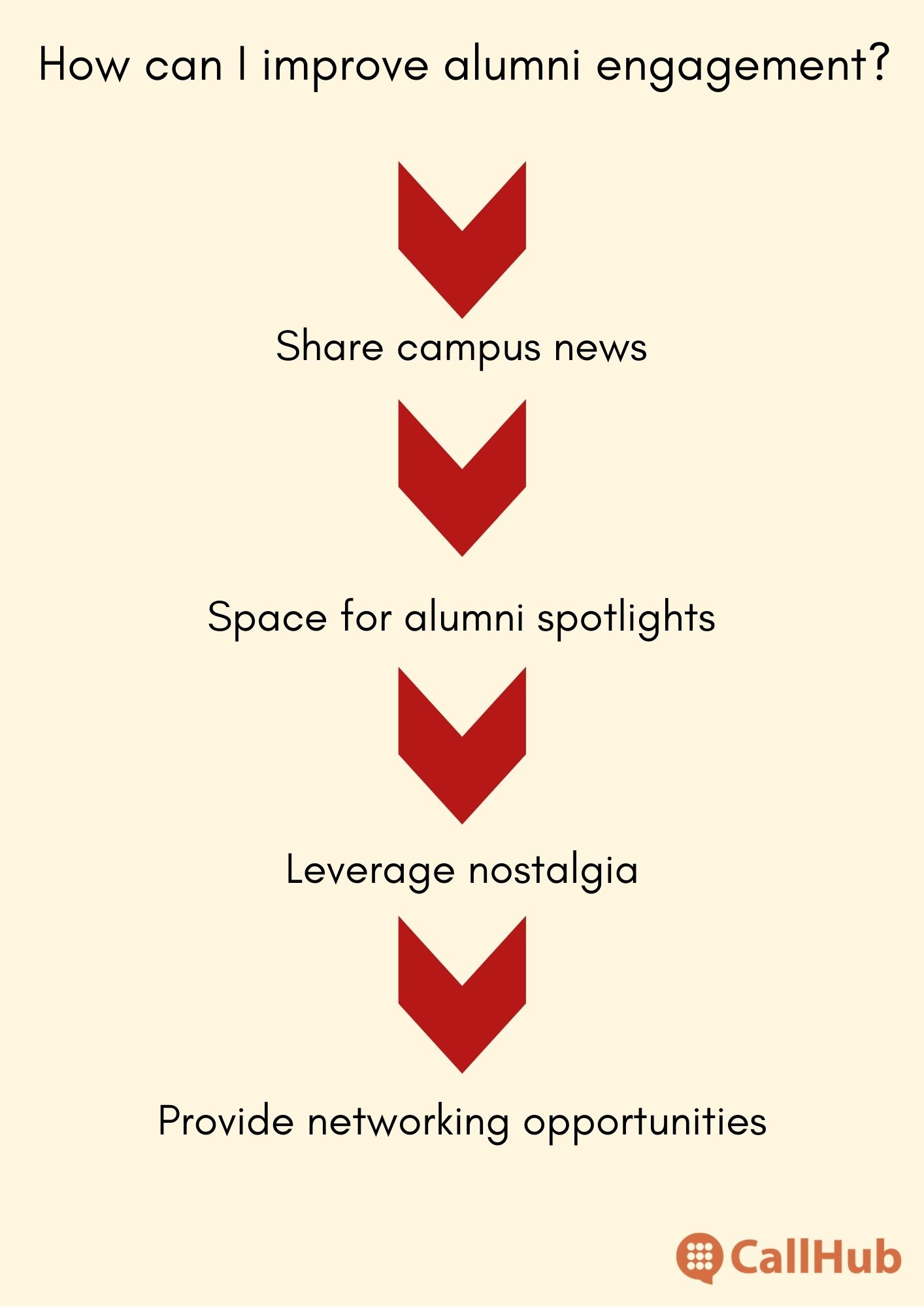 When your ex-students see value in engaging with the institution after they graduate, they will respond and keep in touch- even when they are spread across the globe. Two-way communication in alumni engagement is not when a person responds to your outreach, but when they initiate contact with you.
By continually creating value for alumni, you motivate them to reach out to you instead of you having to go after them with donation appeals and event invites.
To lead alumni to be proactive, you need to:
Make it worth their time to be part of the alumni network
Nurture the network, so they actively seek communication
Engage in communication tools that provide a direct line between alumni and the university. P2P texting, a dedicated call line, email, and social media are examples of such communication methods.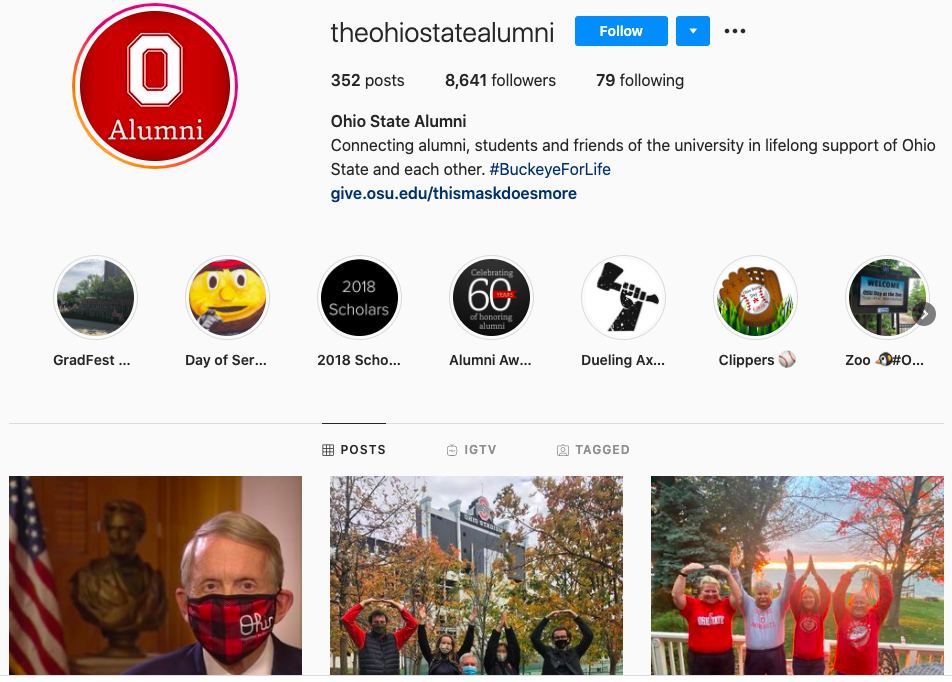 Alumni respond positively to:
Professional support: Professional networking events and career services.
Reunion events
Continued use of campus resources.
Higher education opportunities: Support, guidance scheme, and services.
Feedback channels: For the campus, courses, extra-curricular activities, campus facilities, alumni engagement efforts, etc.
Make introductions between interested alumni at events, e-seminars, and virtual events to promote camaraderie.
Content that makes alumni feel connected (user-generated content, alumni success stories, newsletters)
Social media images and videos, tagging relevant alumni.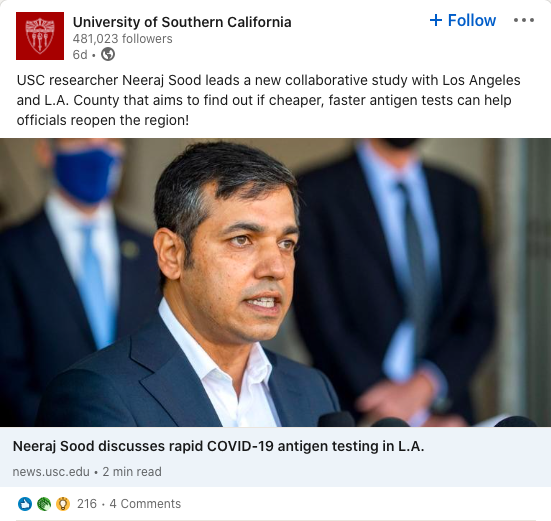 The University of Southern California shares exciting news about their alum, Neeraj Sood, on LinkedIn.
Mix up your alumni engagement strategies
If you only take and never give, your alumni will cease to feel engaged with their university. On the other hand, if you only send news and notifications, they will be passive recipients rather than an active audience.
Mixing up alumni engagement texts, emails, or posts helps keep the excitement intact. Here's what you can pick and choose from:
News and updates: With a hint of nostalgia to pique interest. Sufficient interest in university updates can translate into active participation in events, fundraisers, and voluntary initiatives.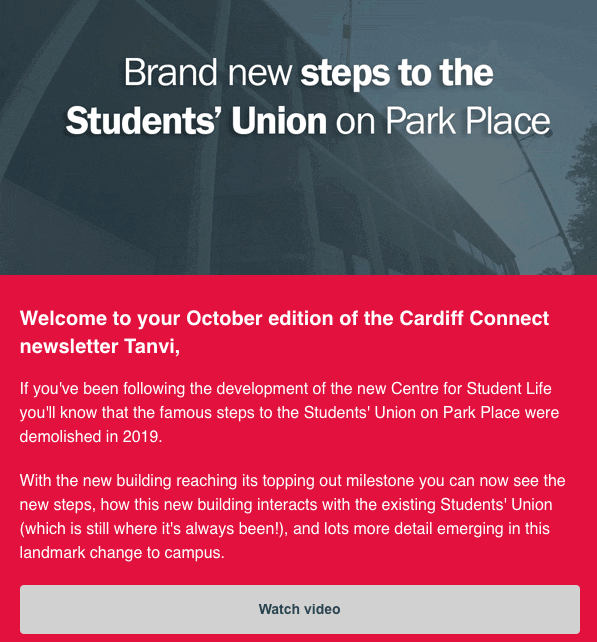 Incentives: Your old students could always do with some nice perks back at their alma mater. Send them limited edition gift vouchers, access to campus facilities, and invitations to events as incentives.
Donation appeals: Text-to-donate, social media fundraisers, and emails with links to donation pages are quick and easy ways to get engaged alumni to donate small amounts to your university. For major donations and appeals for recurring contributions, engage in more personal approaches like telephone fundraising, events, and personal visits.
Thank you notes: 74% of donors appreciate personal "thank you" for their contributions. Donor recognition can be done via P2P texting for small donors and personal phone calls or emails for major or repeat donors.
For more on how to choose the perfect donor thank-you strategy for your organization, read here: Donor Recognition: Best Practices to Nurture Donor Relationship.
Be consistent but not overbearing
The ideal number for an organization to contact an existing member is 15 every year. By spreading out your emails, texts, and phone calls evenly, you ensure a minimum of one contact every month but not so much that it frustrates your audience.
The trick is to engage multiple channels throughout the year, so you seem neither pushy nor distant.
Take this annual schedule, for instance: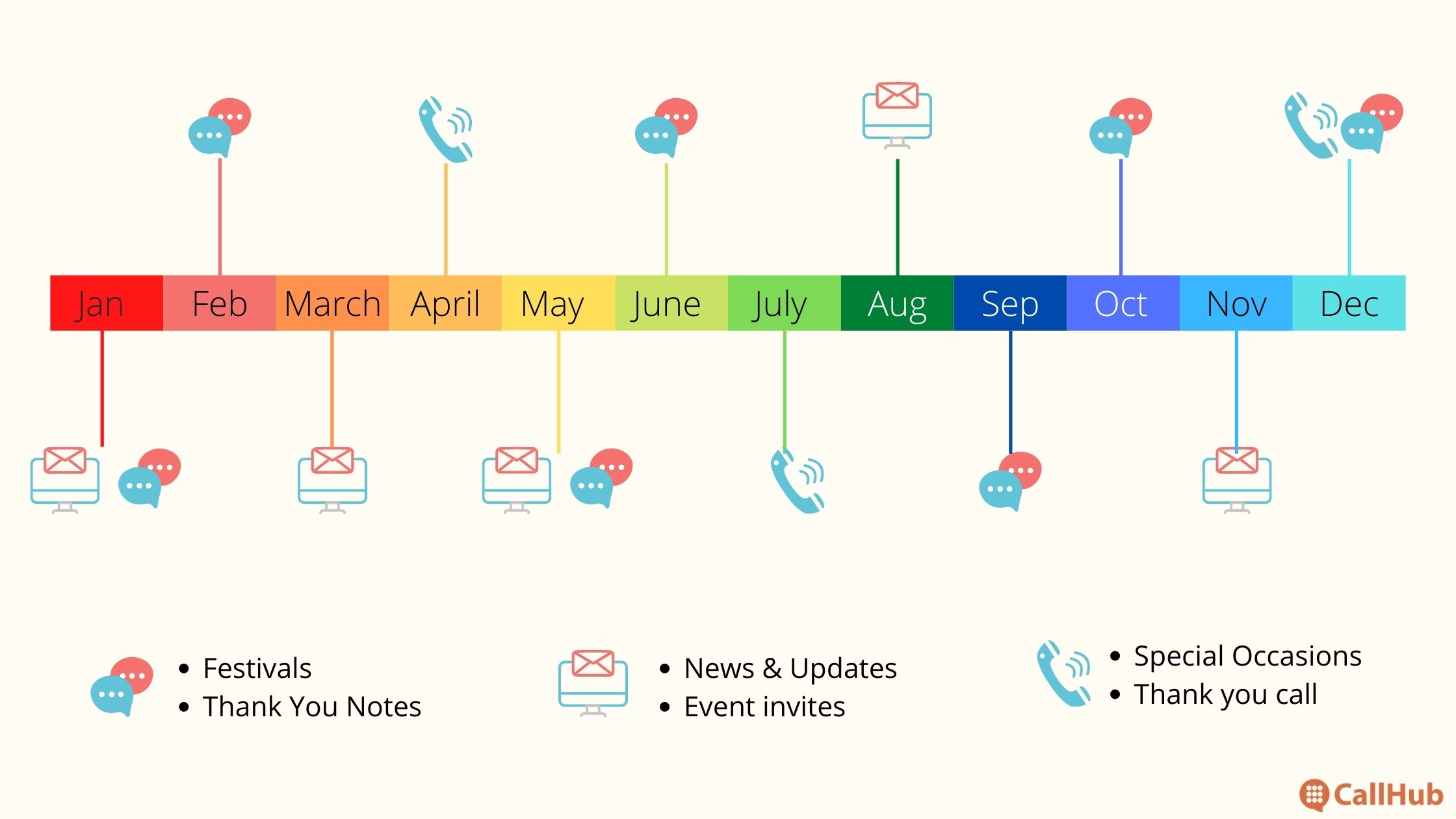 Here, the various communication channels add a mix of text messages, calls, and emails. Emails and texts take a bigger share of contact because they are personal but non-intrusive.
On the other hand, phone calls are reserved for special occasions (birthday, graduation anniversary), and thank you calls for major contributions.
When you segment your alumni by their donation history, special occasions, and communication preferences, it is easier to queue up communication channels throughout the year.
Your alumni engagement strategy is a long-term goal that demands consistent communication, evolving measures, and above all, an understanding of your audience.
One part of it, as we discussed earlier, is to initiate conversations on platforms they are most comfortable with.
Today, more young students than ever before have smartphones and prefer texting with friends as well as business. Even older generations have picked up on the trend (although the scale still tips towards the former).
If your alumni engagement strategy targets people between the ages of 18 – 49 years, you need to invest in services that cater to their expectations.
Check out these text messaging services to make your text campaigns automated, personalized, and user-friendly: Text Messaging Services For Schools And Universities.
Feature Image Source: Jasmine Coro /Unsplash