You had heard that a bake sale was a great college fundraising idea. But that did not go too well for you.
The footfall was much scarcer than you had anticipated. Even those who came were not entirely happy about the limited options of items to choose from.
Raising donations in college is a tricky affair. Your goals are high, student budgets are low, and your efforts almost always fall short.
What you need is to diversify your strategies to raise funds. Divide your ultimate goal and conquer it bit by bit.
Coming up with unique college fundraising ideas is time and effort-consuming. So, we have rounded up some useful suggestions to make your work easy.
Fundraising with events
A popular way of fundraising for college is organizing concerts and selling tickets. By organizing concerts, you can raise funds by:
Charging a fee for participation
Raising funds through ticketing
Selling merchandise
You can also take shows online and conduct virtual events to raise money. 
In-house shows by students
Penn Masala, a South Asian Acapella group at the University of Pennsylvania, performed a sold-out concert in 2016. The show was organized as a fundraising event, and the group donated a part of its proceedings to a charity educating children in India.
By organizing such events, you can raise money for your cause while giving much-needed exposure to your college's cultural groups and societies. 
In house show fundraising ideas:
* Traditional dance shows
* Music or orchestra concerts
* Art exhibition
* Drama or plays
Shows by the faculty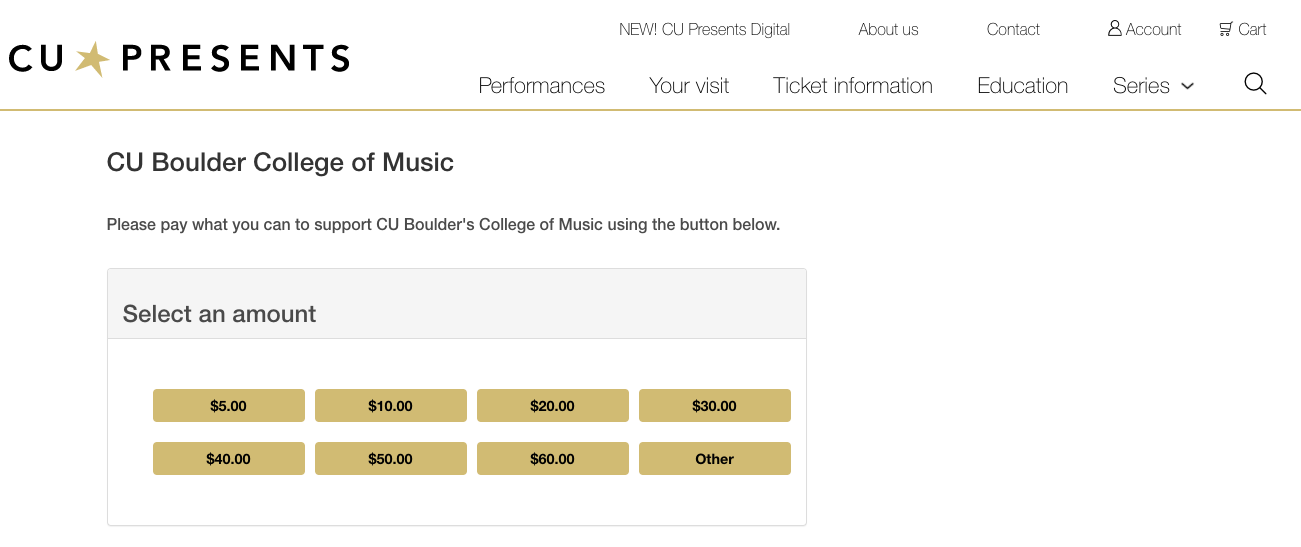 When looking for people who can perform shows for your college or university fundraiser, do not forget the faculty members.
The University of Colorado, College of Music, is live-streaming a piano duet by its faculty members during the lockdown period. Instead of fixed ticket prices, they have opted for voluntary donations- from $5 to $100- to keep the department running.
Faculty members are happy to showcase their talents to contribute to a cause. This way, they can become more than the staff and get actively involved with college activities outside of their job description.
Fundraising ideas for shows by the faculty:
* Music concerts
* Motivational/ TedX talks
* Science or art exhibitions
* Dance shows
* Plays
Shows in collaboration with budding and established culture groups
Years before Coldplay became a massive worldwide sensation, they were a local quartet called "Starfish." This band of students from University College London, University of Oxford, and Peter Symonds College, performed in pubs, festivals, and colleges.
Even then, they would have an audience of hundreds.
Hunt for local or college bands, theatre groups, or dance groups that you can collaborate with and conduct an event to raise funds. Organize a gig and charge a small entry fee to the audience. If you are hosting a competition or performances by multiple groups, also charge a participation fee.
Moreover, you can print merchandise like hats, pins, T-shirts, and posters to sell during the performances.
Events you can conduct in collaboration with groups:
* Music concerts
* Dance shows
* Plays
* College derby matches
* Film screenings
Since fundraising through virtual events may be something new and difficult for you, here are some ideas to help you get started: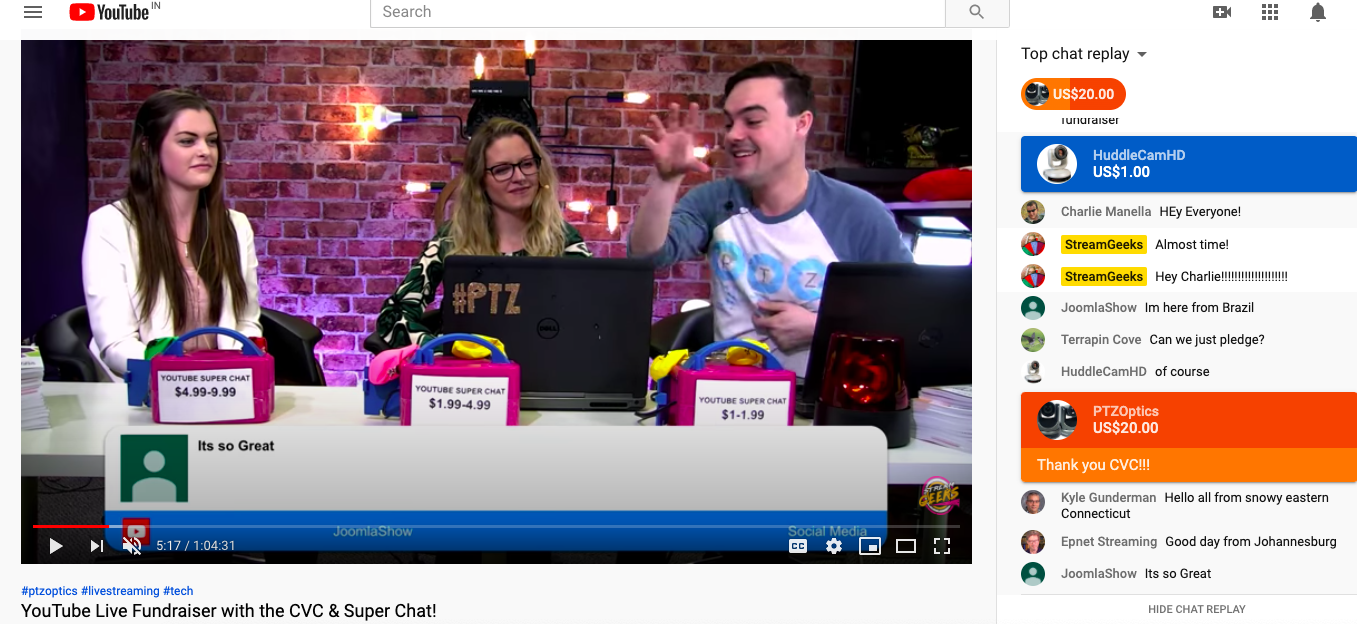 YouTube's Superchat feature is a great way to collect funds. Viewers donate a small amount to comment on the videos. The bigger the donation, the longer their comments stay on top of the chat. For example, in the image above, a comment is highlighted in orange due to the viewer's $20 donation.
Facebook's fundraising feature can be used for donation appeals. You could even offer these donors discounts on merchandise in return to get them to buy from you (and hence donate again).
Instagram has launched a fundraising feature for personal causes. Currently operational in the USA, UK, and Ireland, you can leverage the function to raise money for your club or college.
College fundraising ideas that leverage contests
A competition where the winner doesn't take all. Rather, it is a good cause that triumphs.
Cultural clubs, sports teams, and educational departments can compete against each other to raise money for charity.
Interclub competitions
One great way of raising the maximum funds from interclub competitions is to organize peer-to-peer fundraisers. Club and department members already have a sense of community and are competing against other groups.
Organize a competition where the group that raises the most money wins. Declare a large prize for the winner- most probably one that was donated or sponsored by someone. But also declare smaller prizes for crossing every milestone.
For instance, for the first $100 raised, teams stand a chance to win vouchers for a restaurant. For the first $250, they stand a chance to win discount coupons for a popular brand. Those who manage to raise $500 stand a chance to win a laptop. And the team that brings in the most funds wins a PlayStation.
Team up with brands to sponsor these prizes to minimize costs.
Interclub competition fundraising ideas:
* Quizzes
* Obstacle course
* Team video game tournaments
* Dance offs
* Beatbox battles
Interdepartmental competitions
College clubs form due to shared interests in cultural activities, sports, or hobbies. The motive is to polish their skills and specialize in them.
Hence, some competitions between them could be unfair and maybe even difficult to organize. For example, if you have arranged a basketball tournament, the basketball team is more likely to actively participate in it and even win it than a book club.
However, when it comes to interdepartmental competitions, the distribution of talent is more diverse. Thus, you have more scope to organize sports events or other conventional competitions between educational departments.
Some interdepartmental competition fundraising ideas are:
* Outdoor games such as volleyball, basketball, football
* Indoor games like poker, musical chair, Pictionary
* Online and video games
Open-to-all contests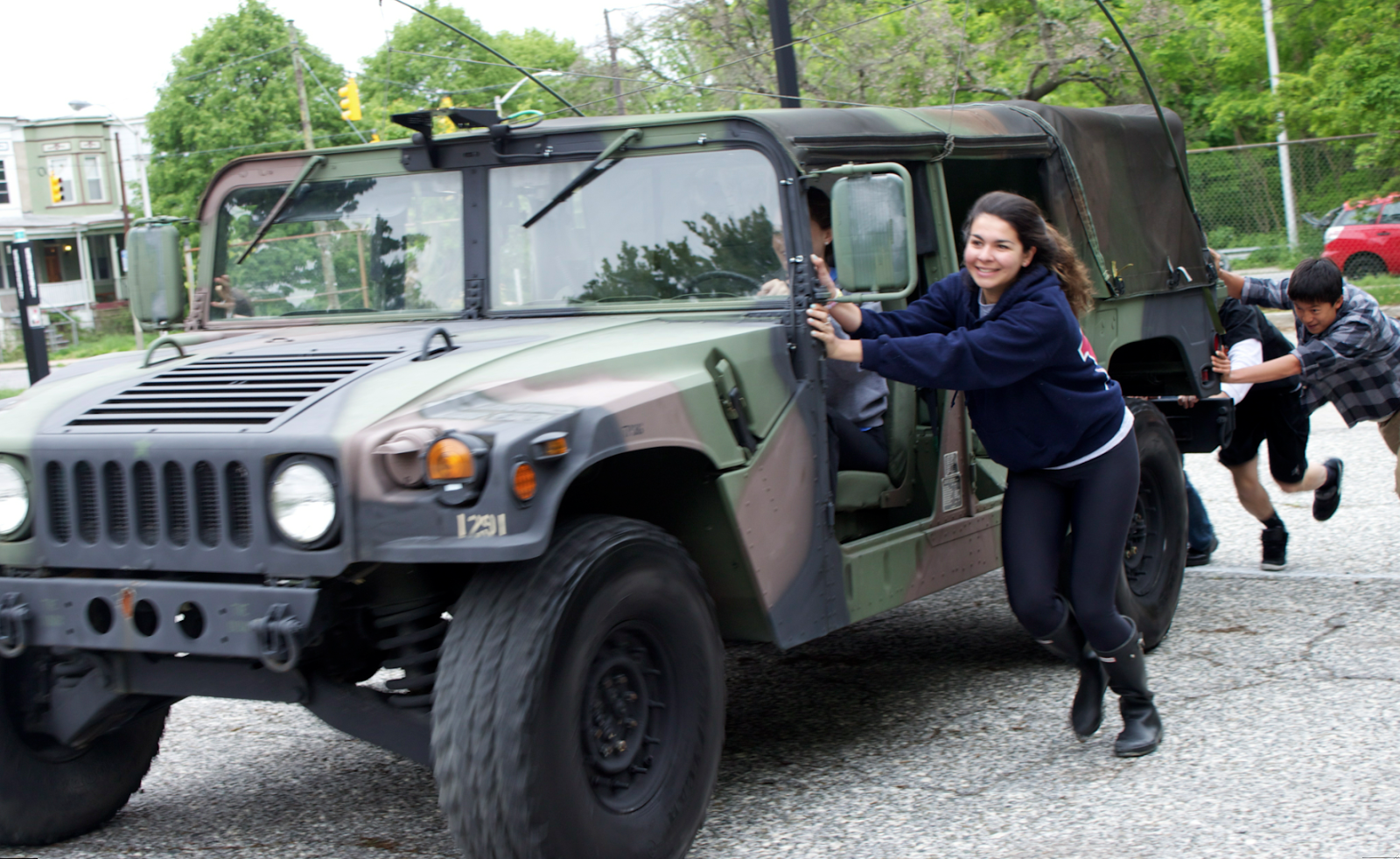 In 2012, students of John Hopkins University formed teams to push Humvees across a set path. This unique race aimed to raise funds for the United Service Organisation- a nonprofit that organizes live entertainment for the US armed forces and their families.
Each team consisted of 10 members, and the participation fee was $10 per head. 13 teams participated, and the organizers managed to secure some additional donations- tallying the total amount raised to $2000.
Such unique contests can pique students' interest and help you raise money without much investment.
Here are a few open-to-all contest ideas for fundraising:
* Talent night
* Walk-a-thons/ marathons/bike-a-thons
* Minigolf competition
* Treasure hunts
* Cook-offs
* Bingo
* Spelling bee
* Photo contests
Raise funds with sales – College fundraising ideas
Sales remain a classic way of fundraising in college. From second-hand electronics to merchandise, sales can be a profitable way of raising money for university or college fundraisers. Here's how:
Selling second-hand essentials
Cardiff University asks graduating or departing students to donate their used electronics, winter clothes, kitchenware, and other essentials to the Students' Union. The organizers specify that these donations will be sold to the next batch of students to raise funds.
The new students can purchase these essentials at half price or less- benefitting the buyer as well as the university. Three things you must keep in mind while organizing such a sale:
Only accept essentials that don't risk hygiene
These products must be cleaned at the time of donation
Make sure you price them at a considerably low rate
Fundraising ideas for second-hand essentials to sell:
* Electronics – Kettle, toaster, chargers, headphones
* Kitchenware – Pressure cooker, cutlery, pots, and pans, mugs
* Winter clothes – Jackets, mufflers, gloves, boots
* Miscellaneous – Closet organizers, files, hangers, small shelves, duvet
Apparel and accessories with group branding
Your department, fraternity, sorority, or team can raise funds by branding apparel and accessories. Team members or fans can purchase printed items (T-shirts, mugs, etc.) to raise money for your group or a good cause.
Branded merchandise fundraising ideas:
* Apparel: T-shirts, hoodies, scarves, jackets, cufflinks
* Stationary items and accessories: Fountain pens, face masks, bottles, pop sockets, mugs
* Accessories: Badges, flags, plush toys, laptop sleeves
Organize a college fair
Small businesses, local restaurants, and cafes can set up stalls on your college campus. Finalize an agreement with them that a part of their earnings through the fair will go towards your cause. Or you can ask them to pay a fee for their stall upfront as a fundraising effort.
Additionally, you can contact large businesses and restaurant chains for sponsorship or prize vouchers. In turn, their logos and banners will be displayed in strategic locations at the fair.
Stall fundraising ideas for college fairs:
* Food and drinks
* Games
* Merchandise
* Donation box (with small gifts as incentives)
College fundraising ideas that work round the year
Services for class and test reminders
The Shaw Academy in Ireland calls students to remind them of upcoming classes, tests, and webinars. These personal reminders are a much-needed human touch in times when online education is becoming the norm.
Students opt-in for these services, and the Shaw Academy team uses call center software to keep them updated. Similarly, you can offer your services to remind students in your department about important events and classes, required preparations, and what they can expect from the particular session.
Choose from texting software and call center software to see what is more cost-efficient for you.
Reminder service fundraising ideas:
* Classes (with mention of reference books and preparation material)
* Tests
* Webinars
* Submission deadlines
* Upcoming events
Related Reading: How to Start Texting College Students – SMS Marketing for Universities
Hobby or academic classes
The talents and skills of college club members can be used for fundraising.
Schedule hobby or academic classes every week, charging attendees per session. People pay a small fee of $5-10 only when they attend a class.
College students have a tight schedule and budget, which stops them from paying monthly or yearly fees. By going for a pay-if-you-come model, you surpass the need for a commitment.
If you have limited seats or expect a high response, opt for a booking system where attendees pay for a place in advance. In both cases, share class schedules spanning a few weeks to make planning easier.
Hobby class fundraising ideas:
* Dance class
* Courses to learn musical instruments
* Math classes
* Sculpting classes
* Art classes
* Grammar/ writing classes
Contact alumni for donations
Alumni have a special attachment to their college, departments, and clubs. If you want to raise funds for an event or cause, they are likely to help you out.
Colleges and universities have a database of student and alumni contact information. Using a call center software that integrates with your CRM, you can call the alumni and make donation appeals.
Cultural theme events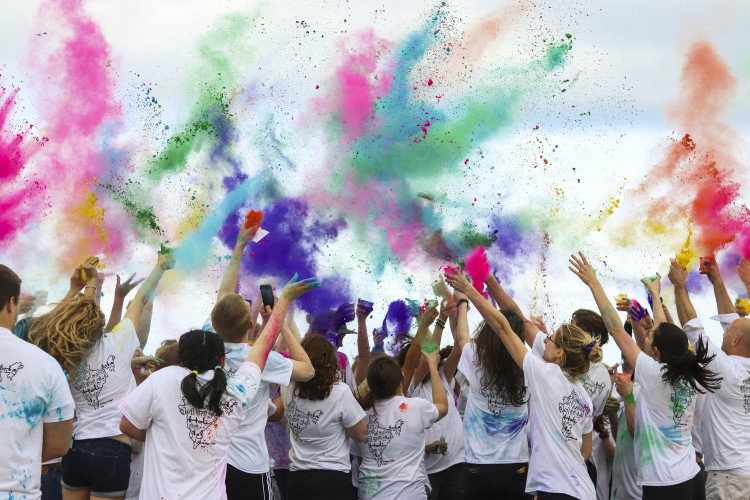 The Carthage University in Wisconsin organizes a Holi celebration every year. Anyone can attend the festival.
Such cultural events are trendy among students- especially in colleges with students of diverse backgrounds.
International students can contribute a great deal to such fundraising events. Food, art, and festivities can all be a part of it. You can choose between blending several cultures in one event or reserving different weeks for each country throughout the year.
Raise funds by:
Charging an entry fee
Merchandise, food stalls
Charging a fee for a stall space
Fundraising ideas for cultural theme events that you can organize:
* Food and beverage stalls
* Traditional arts and crafts
* Sale of traditional apparel and accessories
* Festival events
* History and culture storytelling or talks
Important tips for seamless fundraising:
Diversify strategies
You want to raise funds and target many different people- students, professors, businesses, and philanthropists. A single event or strategy will cater only to a specific audience group and will not get you far. To ensure your college fundraising ideas succeed, you need to diversify your strategies and space them out to make sure you're able to target all prospective donors.
Dedicate a committee for fundraising
Some people are great with persuasion, others have excellent accounting skills, and some may even have fundraising experience. People with such assets can lead the team from the front- forming a committee with specific targets to raise money.
Depending on how big your budget is, you can have separate committees for different fundraising strategies or a single "boss" team.
Amplify the buzz with online and offline advertising
Social media is an excellent way to reach out to students, professors, and other parties interested in your college fundraiser. To ensure maximum reach and impact:
Diversify your channels. post on Facebook, Instagram, Twitter, Snapchat, and everywhere else that your audience is present
Post frequently.
Respond to those engaging with your posts.
Encourage your team to share these posts from their handles to increase your reach
Offline efforts are just as crucial for your fundraiser. Spread out the word in and outside your campus by:
Using posters
Handing out pamphlets or flyers
Sending text message advertisements or calling potential donors
Advertising the event on the college radio station, newspaper, and magazines
Stationing volunteers in strategic locations and asking them to spread the buzz
Create different channels for attendance confirmation
It's relatively easy to record the confirmation of attendees online. All you need is a simple form that needs to be filled, and the attendee information is in your CRM. It's the offline confirmations that may be tricky.
One efficient way to ensure all the attendees and participants are recorded in your database is with an SMS opt-in system. Put up advertisements with your shortcode and ask those interested to send a text on it. Like so: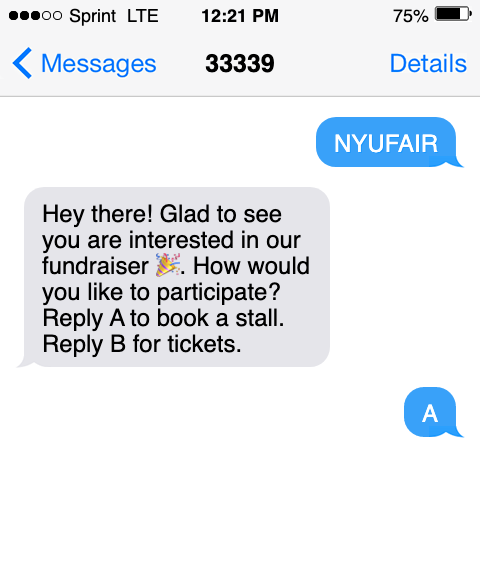 Get in touch with students personally
Reaching out to students personally can increase the chances of them confirming their attendance. Do this, especially for interclub, interdepartmental, and open contests. 
Call up students and give details about the event. Let them know that their contributions- either monetary or participatory will succeed in raising funds for your cause. If they confirm their availability, follow up with a text reminder before the event.
Details you should not miss giving:
Date and time
Location
Nature of the event
Reason for raising funds
Explain to donors and participants what the funds will be used for
Transparency is essential when it comes to securing donations or investments from students, businesses, and sponsors. Explaining the cause and how the funds will be used will increase their chances of contributing to the cause.
Moreover, if people personally relate to the cause (or your club, like alumni), it can lead them to donate more than you asked for or perform for free or spread the word for you!
Document and thank donors
Lastly, once you've tried and tested these college fundraising ideas, we have something for you. Even after the event is done and the shutters are down, there's one more thing left to do- Thank your donors and sponsors. Document the responses and amount or nature of contributions by them before the event. Once your fundraiser is successful, send them a thank you text or call them personally. 
Who knows? Maybe they'd feel appreciated enough to support you in your next cause too!
Related Reading: Donor Thank You Calls: Writing the Perfect Script (Script included!)
Raising funds for a college event, department, or cause can teach you a lot about leadership, people management, event planning, and even accounting. The experience can also be extremely demanding. We hope these college fundraising ideas did their bit in easing some of that challenge.
Feature Image Source: Arren Mills/ Unsplash