"Emails get reactions. Phone calls start conversations."

– Simon Sinek
Outbound calling campaigns are essential to any organization – political, business, nonprofit, and more. Reaching out to leads and making them a part of your nurturing flow for a sales conversion, a vote, or donation through phone calls leads to up to 9% conversion rates.
However, the success of your outbound calling campaign depends on how you strategize every aspect of calling. From preparing your campaign, determining success metrics, and crafting a great script, to creating a follow-up strategy – you need to optimize every element thoughtfully.
We've collated a list of outbound calling tips for your campaign. Read on.
Outbound calling tips for campaigns
Here are our top outbound calling tips for your campaigns:
Define your objectives
Know whom and when to call
Have a script but be prepared to modify
Measure performance (and incentivize agents!)
Be smart, use good technology
Practice and be prepared.
Outbound calling tip 1: Define your objectives and goals
When salespersons or managers make outbound calls, the goal of the call should be crystal clear. Determining your goals will help you determine the length of your campaign, understand your requirements and set realistic daily and overall goals.
Here are common outbound calling goals to remember:
The number of people you want to reach out to. Knowing the number of people you need to reach out to will help you set out daily, weekly, and overall campaign goals in terms of the number of calls you need to make.
The number of calls you need to make daily and your current capacity. Knowing that an average call agent makes upto 52 calls per day should give you a fair idea of how many agents you would require to meet your daily call goals. You can increase per agent call capacity using really good autodialer software.
For example, a power dialer will allow agents to speak to 5x more people than manual dialing. Agents can speak on a call, and write down notes, and only then will the dialer make another call. Alternatively, you could also explore a predictive dialer that can make upto 110 calls an hour. It predicts call durations and dials the next number while an agent is already on one call – ensuring an agent always has a live call ready to tackle.
How soon do you need to reach out to each person? This goal helps you decide whether you need to introduce more agents, faster technology such as autodialers, or combine your outreach with other methods such as texting or emails.
The average time you spend on each call. The average time an agent spends on calls will heavily determine how many calls get done realistically compared to the daily calls you must make. This would help you determine the number of agents you must-have, the kind of dialer you can use to reduce your time or optimize it, etc.
Outbound calling tip 2: Know whom and when to call
Before you call someone, you need to research your audience. By research, I mean knowing whom to call and when to call them. You can do this by–
Studying your contact lists.
Doing a cursory LinkedIn search
Looking them up on social media.
Conducting a pre-qualifying/research call campaign.
Collect as much information as you can concerning the demographics of your potential contacts. Age, location, profession, gender, etc., are some areas that should be looked into. Further segment this to match your needs.
Use the data you've collected about your contacts as you run multiple calling campaigns to know when to call them. Avoid peak hours such as Monday mornings or lunchtimes, when the chances of the prospective client picking up are less.
At CallHub, we studied 2 million calls to determine the best times to call your contacts. Read our article Political Phonebanking Timings That Have the Best Answer Rate to learn more about it. Here are some statistics from our research –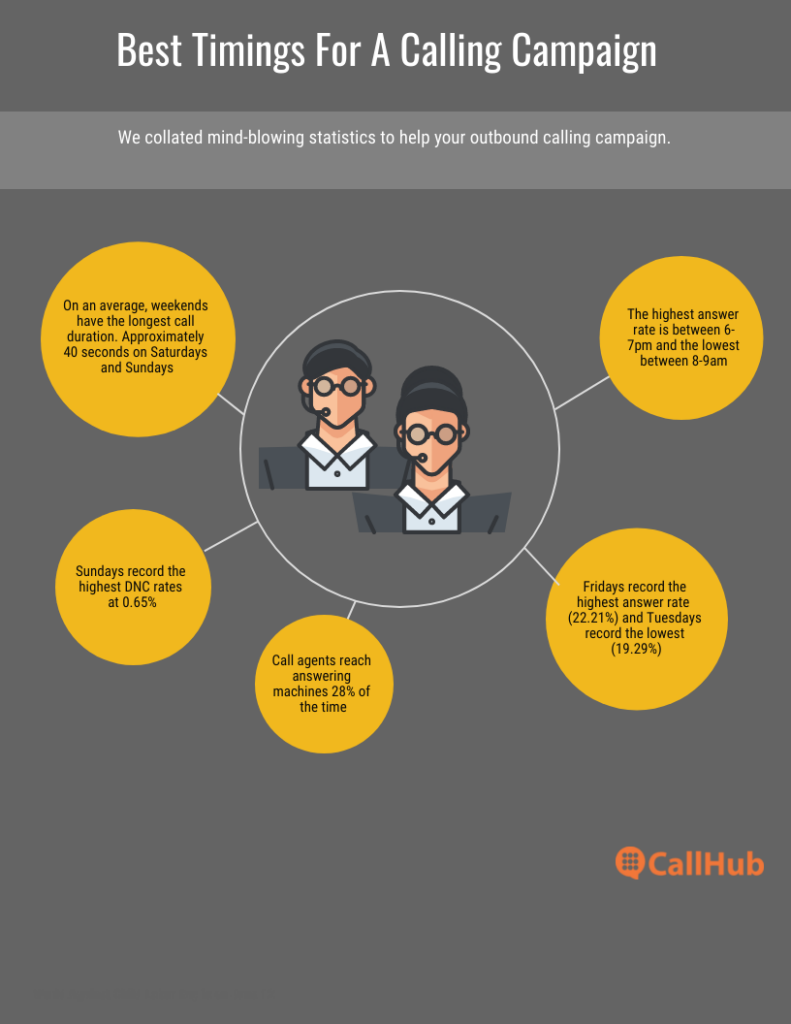 Outbound calling tip 3: Have a script, but be prepared to modify
A good outbound calling phone script ensures–
Uniformity across your team in terms of the message you send out.
The accuracy of the information conveyed.
Your audience responds well to your pitch.
A good outbound calling script will make your respondents feel compelled to take action and say 'yes' to what you are proposing. Of course, this also depends on how your agents are trained and deliver on the script. But step 1 to outbound calling success is designing a good script.
Elements of a good outbound call script are–
A brief introduction.
Your credentials or background.
The reason for your call.
A relationship-building conversation.
A good call-to-action or next steps.
In addition to writing a good script, you must ensure that your script is easily accessible to agents when making calls. You can do so by using a call center software that displays your phone script while your agent is on call.
Call center software like CallHub has features such as branching scripts that 'branch out' into different directions based on the responses received on call. For example, if your respondent says 'Yes' to the question "Do you care about climate change?" the script will take a different approach than if they say 'No'.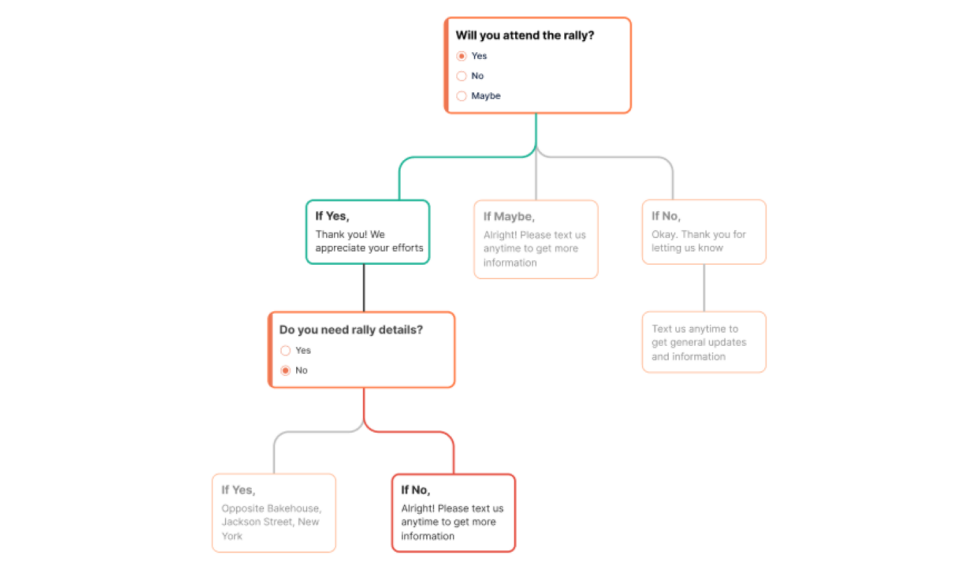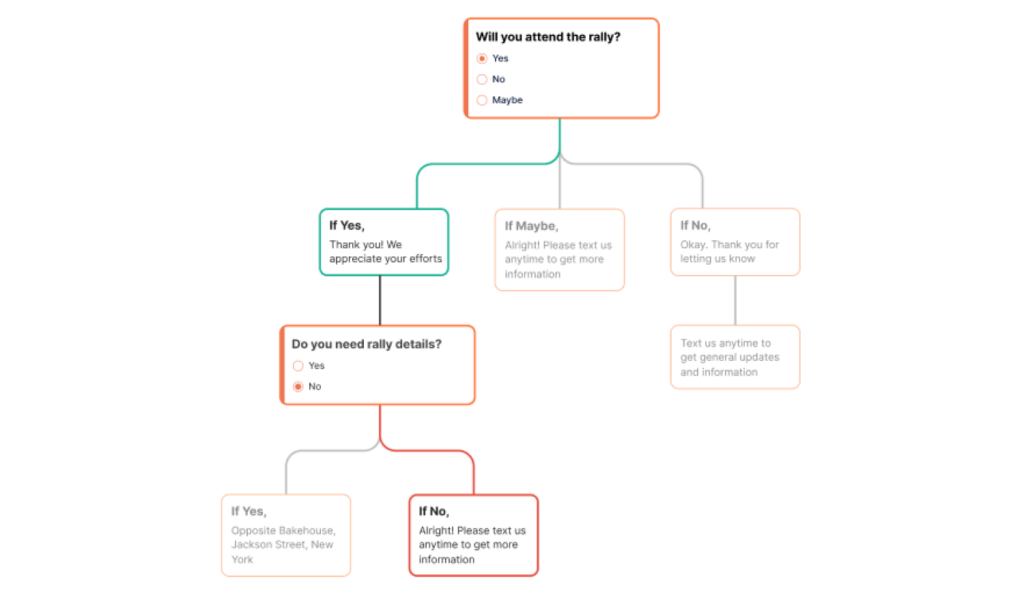 A peek into how logic-based branching scripts function.
Read Also: Building Call Center Scripts that Motivate Action (with examples)
Outbound calling tip 4: Measure performance (and incentivize too!)
All calls made must be assessed in some way. Common KPIs (Key Performance Indicators) for your calls would be–
Conversion rate: The effectiveness of the agent or script in converting prospective clients and making a sale.
Handling time: The average time they spend on a call, including the wait or the holding times. This measures how efficiently time is being spent; if a salesperson spends a long time on a call with no concrete output, they might not get the expected results.
Factoring KPIs like this into the equation will improve your calls and ultimately benefit your business.
CallHub gives you the option to use an agent leaderboard through which you can make your outbound calling campaigns a lot more fun! You can:
Track high-performing agents and reward them through recognition within the team or small gifts. Make calling exciting for agents.
Let agents see how they compare with other agents so they can work towards improving their metrics.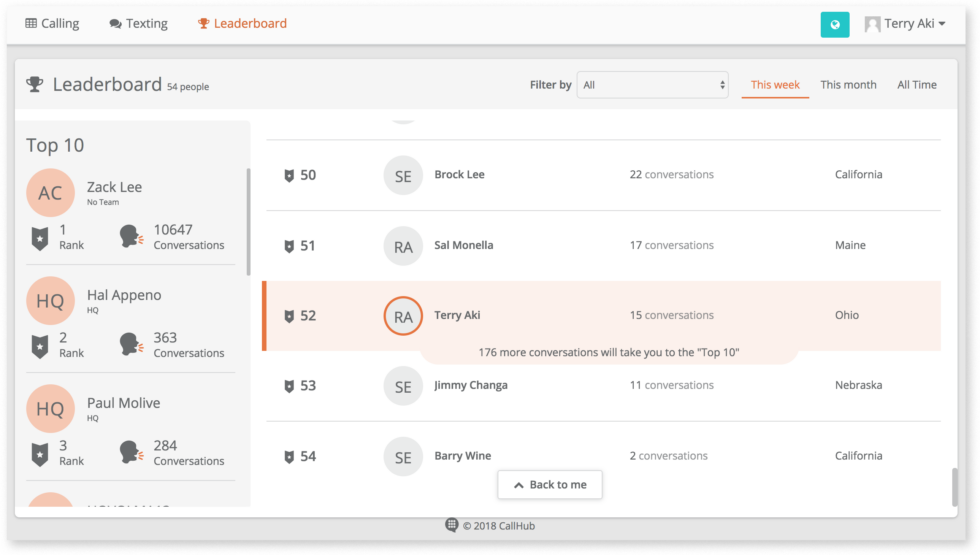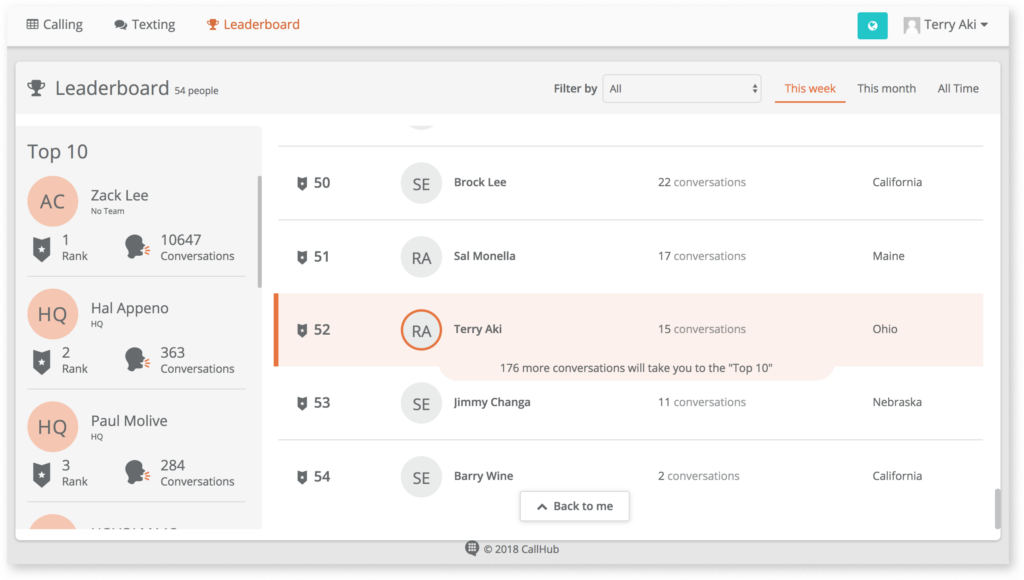 The agent leaderboard on the CallHub platform is perfect for boosting agent motivation.
You can also boost results and improve agent motivation by introducing interesting games while agents call. Read our article Top 7 Games Your Agents Can Play While Phonebanking to learn more.
Outbound calling tip 5: Be smart, use good technology
If there is one outbound calling tip that you need to pay the most attention to, it is this – use good technology for your calling campaigns. Now the question arises – what is good calling technology?
A good calling software will give you tools and features that are extremely important to run a successful campaign. For example, CallHub offers time zone calling, which allows you to determine compliant call timings based on your contact's timezone according to their zip code and state. This means you stay TCPA compliant because CallHub automatically stops campaigns beyond TCPA permitted hours. Your agents do not have to check compliant timings and can focus on the call.
Here are some more features that an excellent outbound calling software can provide–
| CallHub's tools for outbound calling | How it helps your campaign |
| --- | --- |
| Autodialer | Autodialers like the power dialer and predictive dialer make phone calls on your behalf, instead of manually dialing numbers. Save time and improve outreach. |
| Dynamic caller ID | With the dynamic caller ID feature, you can change your caller ID to match the location of your target audience. For example, your number will reflect a Minnesota area code if you are in New York and calling someone in Minnesota. |
| Agent leaderboard | You can make outbound calling fun by introducing an agent leaderboard and giving away prizes to top-performing agents. |
| Surveys | Surveys can act as an excellent resource for your outbound campaign. You can conduct text or phone surveys before or after your calling campaign to gain insights into the success of your campaign. |
| Text follow-up | You can increase conversions by immediately following up your call with a text message. |
| Analytics | One of the most essential tools of your calling software, analytics can give you great insights into your campaign, agent performance, etc., so you can make better quicker decisions. |
| SHAKEN/STIR compliance | Increase trust and confidence among your contacts and your answer rate through STIR/SHAKEN compliance. Your calls receive a 'Caller Verified' badge with this compliance. |
Read Also: Your Cheat-Sheet to Tick All Boxes on a TCPA Compliance Checklist
Outbound calling tip 6: Practice and be prepared
Here's what will happen without practice–
Your agents will not be able to answer questions your audience poses to them.
They may lack knowledge on specific topics.
They will be unprepared for different scenarios that are a natural part of speaking with hundreds of people.
The more that agents get to be prepared and practice before beginning a calling campaign, the better. It is even more critical for newer agents to be thoroughly trained and familiar with your processes before they face your target audience.
While most learning will occur on call, when agents are hard-pressed into challenging situations, your team members practicing with each other can ensure the learning curve takes less time to perfect.
Here are some ways agents can practice and prepare before you begin an outbound calling campaign–
Get agents to practice with one another. Split agents into groups of twos or threes and let them practice with one another with mock calls, allowing space for healthy feedback.
Use call monitoring to give feedback while the campaign is ongoing. When an agent is on a call, managers can listen in to the call and guide agents to do better based on their feedback.
Tweak the script till it feels more natural for agents to carry on the conversation.
Ask agents for suggestions on improving the script as and when they practice. For example, maybe some words are harder to roll off the tongue; you can use simpler words in that case.
Read Also: 5 Call Center Communication Skills To Train Your Agents On Today
The way forward
Outbound calling tips are pointers to head in the right direction for calling success. However, we still need to give you the best outbound calling tip – using CallHub for your campaigns.
With features that allow you to schedule timely follow-ups, record conversations, and stay compliant easily, CallHub makes the perfect companion to any outbound calling campaign. What's best is that you can integrate it easily with any CRM software your team uses.
Try CallHub for a free 14-day trial to see how it improves your campaigns.
Featured Image Source: Mart Production