Creating a political campaign budget
September 20, 2017 - 7 minutes read
Kicking off an election campaign would be a much less daunting task if you plan ahead. Right after you decide to run for election, the planning phase begins. Once you have announced your candidacy and start bringing in members to run the campaign, comes two crucial functions. One is designing the campaign's communication strategy and the second is creating a budget for the entire campaign.
We have already covered the steps to come up with a campaign communication strategy. Depending on the communication methods and staff you'd require, you can work on the budget for your campaign.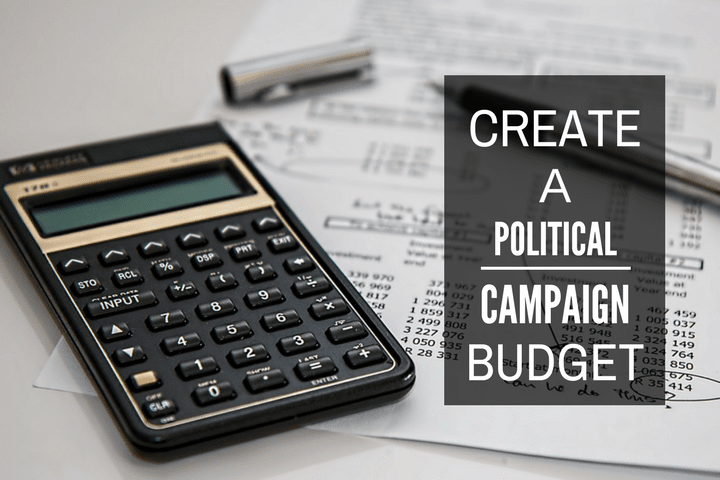 Remember that the goal of the campaign is to win votes. Your budget should facilitate the steps to reach out to the required number of voters to put you ahead in the race. The amount of money you end up spending is not what matters; what matters is how many voters you get through to by using that money.
What the budget includes
Let's look at what campaign functions and materials you should include in your budget.
Operations
Salaries

Consulting charges

Voter files and databases

Website expenses

Office space

Fees and extra charges

Office supplies

Polling and research
Voter communication
Direct mail

Radio ads

Digital ads

Phone banking

Yard signs

Literature and paraphernalia

Newspaper ads

Volunteer expenses

Events, meetings etc.

GOTV expenses
Fundraising
Fundraisers

Postage

Forms and letterheads

Donation cards
Reference for estimating expenses
Unless you have been involved in a recent campaign or have past experience in creating a budget, it is difficult to estimate how much each of the above processes is going to cost you. One way to get a rough estimate is from budget and expense sheets of previous candidates.
Fortunately for you, these records are easier to come by. Campaigns for political office have financial disclosure requirements. The documents would be publicly available to collect and would put your upcoming expenses in the ballpark.
Sources for raising campaign money
Once you have lined out all campaign tasks to invest in with an estimated budget for each based on past campaign records, you can set about deciding how you are going to raise the money for your campaign.
Here are some ways campaigns get financed.
Personal investment by the candidate. This may not be viable for every candidate. In case, you decide to take this route, put in the money as a loan. That way you stand to get some of it back when you raise donations.

PACs / Special interest groups that endorse candidates whose policies are in line with their interests.

Major donors of past campaigns have a habit of donating. Discover them through voter lists you buy.

Events and mail tend to take up expenses and the returns are variable for each campaign. Campaigns still stick by these traditional forms of communication.

Loans that you can apply for or get cosigned by someone supporting your run for office

Public funding programs. Some cities and districts have public funding programs to allocate taxpayer money into campaigns. You have to adhere to the strict terms to make your campaign eligible for public financing.

Some services like transport, printing and catering would be covered by supporters for free.
Factors that affect campaign budget
Depending on the office you are running for and the location, there are some variations in the budget that you have to consider. Some of these expenses are measurable at the outset while some are dependent on the support you draw or how your communication plan works out. Here are a few.
Electorate size – Primaries have fewer voters to contact than a general election. A local election campaign will have even fewer voters to reach out to.

Opposition – How many opponents are you up against? How close is the competition?

Newcomer vs incumbent – A candidate with a recognized name ID would need to spend less than a first timer to raise their candidate profile.

Voter communication methods – Your contact methods like phonebanking, door-knocking and community events have varying expenses.

Coverage by external sources – Political party endorsement, free press coverage and supporter action can cut your expenses as well.
Allocating your campaign budget
Dividing your budget among the complete campaign functions is also important. One way to do this is by separating all expenses into two categories. Direct voter contact and overhead.
Direct Voter contact covers anything that is used to communicate with the voters. Polls, website, ads and phone banking are all grouped under this category. About 65 – 70% of your total budget should be used in direct voter contact expenses.
Overhead covers staff, consulting fees and any other bills you rake up from traveling to renting. It is good to play it safe and keep some part of the budget aside for contingencies down the road. Around 10% of the budget should be held for such expenses.
A fine budget plan will see you through the entire campaign without the need to scrape activities or take the cheaper route. Plan in advance and consult with your campaign manager and consultant to draw a budget which will facilitate the campaign you hope to run.
campaign budget
,
campaign plan
,
campaign strategy
,
funding programs
,
political fundraising