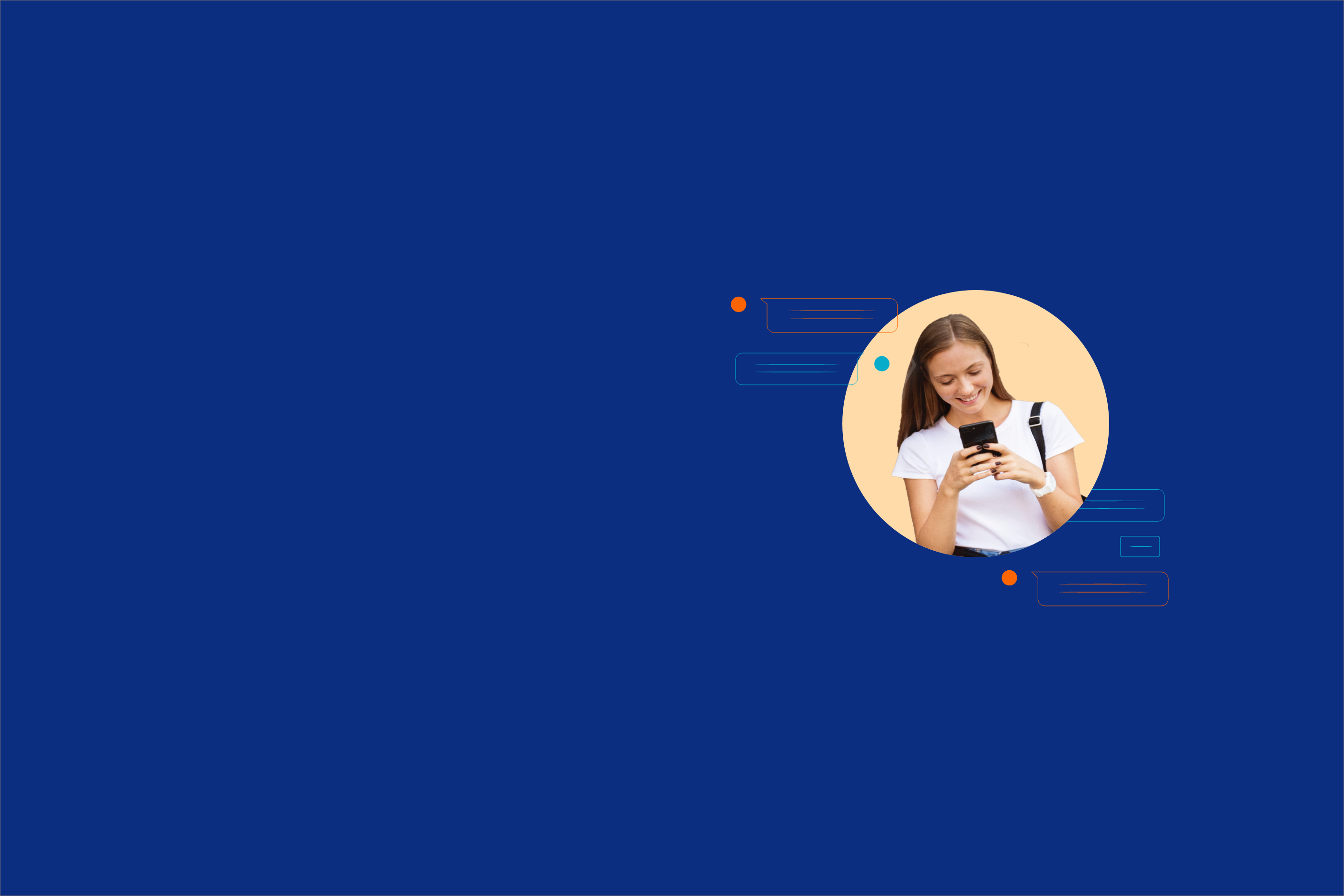 CallHub Guides
SMS Marketing Tactics Guide
This guide covers the ways you can use text messaging in your conversational marketing strategy. We've curated 16 tactics you can implement across the prospect journey.
Make the Call to action super prominent
Nothing correlates to getting more subscribers for your SMS campaign like a convincing call to action.
Now, there are two prominent ways to get people to subscribe to your texts.
If you're asking people to subscribe by sending a keyword (VP) to a short code (33339), have those two elements stand out in your message. For a willing audience, opting in through SMS is perhaps the easiest way to subscribe to your communications.
If you're using a signup form, make it prominent across your website. That means making it a constant feature across all your pages.
Announcing the VP candidate sometime between now & the Convention by txt msg & email. Text VP to 62262 or visit http://my.barackobama.com/vp

— Barack Obama (@BarackObama) August 10, 2008
Use memorable keywords
Take advantage of what makes words memorable when selecting your keyword for SMS opt-in campaigns.
Use a common term. Words like JOIN, HELP, VOTE, GIVE are all easy to remember.
The other route is using a keyword that is contextual to the campaign you are running. For example, the Obama campaign's use of the keyword VP to announce his pick for Vice President.
Hang a carrot on your SMS opt-in (offer an incentive to opt-in)
If you think the offer to subscribe to your communications isn't a good enough proposition on its own, try offering an incentive to make it tempting to sign up on the spot.
Non-profit organization, DoSomething motivates supporters to join the cause by providing helpful resources to people who opt-in.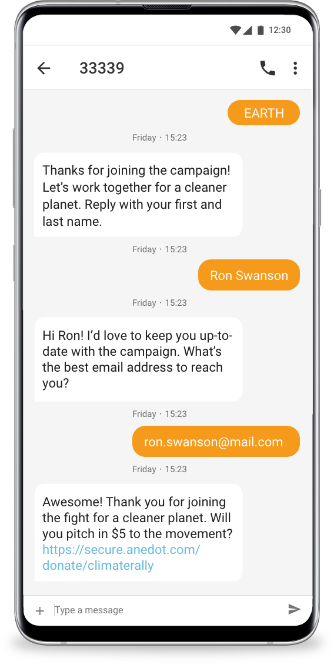 Collect important data on opt-in
Once people opt-in to your messages, you will still need to know what your prospects want to hear from you, and how you can personalize your messages.
You can set up your campaigns to send out automated messages to contacts after they opt-in.
Collect data like their first name or email address. By adding a custom tag (for example the contacts name) to the next automated message, you can even personalize the message with the data you just collected.
Use local numbers to send texts
It's a fact the people are more likely to engage with your message if they see that it's from a local number.
By renting a local number to use for your campaigns, you add this advantage to an already effective medium. CallHub automatically assigns a local number when texts are used as part of a two-way conversation.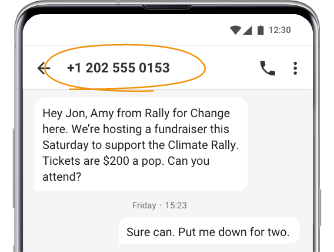 Allow quick responses with templated replies
People appreciate quick replies to their text responses. Avoid having them wait by providing templated replies to your agents or volunteers. Not only does that make for quicker conversations, it helps agents handle multiple conversations, and new agents that may need help answering questions.
Your agents can simply click on a template, make the edits they need, and send it out in a flash.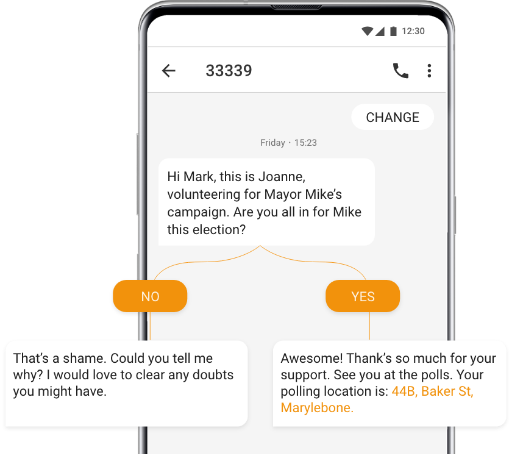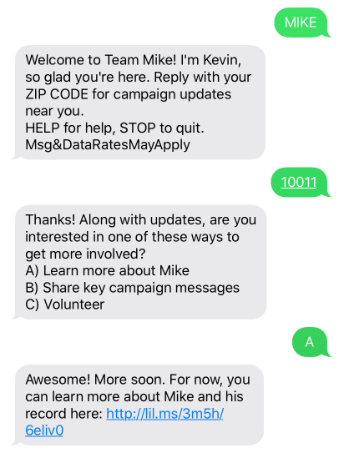 Limit the length of your welcome series
Taking cues from recent presidential campaigns, we can assume that a good number of messages when someone opts-in is 3-4. Anything more risks drop offs. Collect the information you absolutely require and stop at that.
Campaigns sent a thank you message confirming an opt-in, another message asking for a zip code or content preferences, and a final message asking people to stay tuned.
Use multimedia with your messages
Engaging gifs, videos and images help your text messages stand out from the rest.
MMS has 20 percent higher opt-ins than SMS. That means your campaigns are going to be more effective, simply by adding a visual element to your text messages.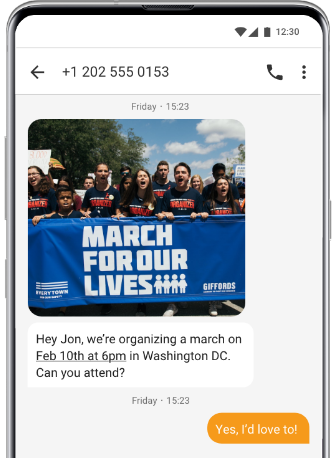 Let users set their preferences
Giving your contacts control over how you engage them is critical to building lasting relationships.
You can set up different keywords that people can text in to your number to be added to different contact lists. You can then target these contact lists with specific communications from your campaigns.
Another option is to send them a link to a page where they can edit their preferences.
Keep it conversational (But not always!)
Setting expectations should be the first thing on your mind when crafting a text message.
If you want to have a text conversation with your audience, make your initial text message conversational and apparent that there's a real person on the other side. That will intimate people to continue the conversation with a reply.
If you are sending an informational mass text, frame it in a way that it doesn't prompt receivers to reply.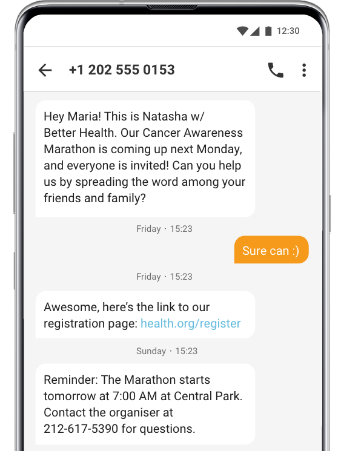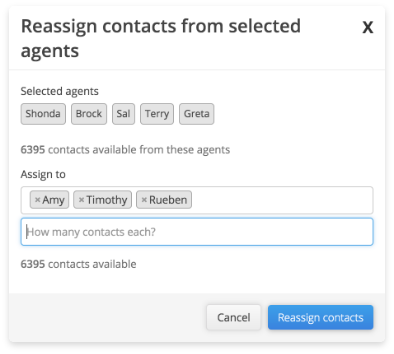 Run efficient texting campaigns
Making sure your agents are busy is key to running an efficient peer-to-peer texting campaign.
Long wait times means contacts will stop responding. In larger campaigns, around 30% of agents will consistently be sending text messages to their contacts. But the contacts assigned to the rest of your agents need to be engaged too.
With the ability to reassign agents to a set of contacts, you make sure you reach every contact on your list.
If any of your agents can't make it to a shift or contact the people assigned to them, CallHub identifies these agents and lets you move unengaged contacts to active volunteers.
Gather feedback from your audience
If you want to improve how your campaigns are run, gathering and implementing good feedback is essential.
With SMS, you have options:
• Have your agents collect information from conversations through CallHub's survey forms.
• Send a link to a survey in a text message.
Based on the information you gather from your contacts, you can tailor future outreach.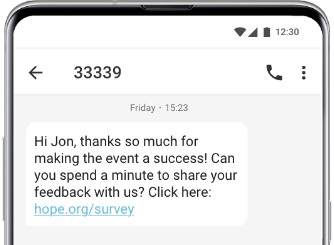 Send prospects messages that they want to see
Irrelevant messages can turn off contacts and lead to a speedy unsubscription, more often than not.
That means segmenting your contact lists based on the data you have on them. Agents can use CallHub's survey forms to collect contact details during conversations, allowing you to tailor future conversations to them based on their level of interest.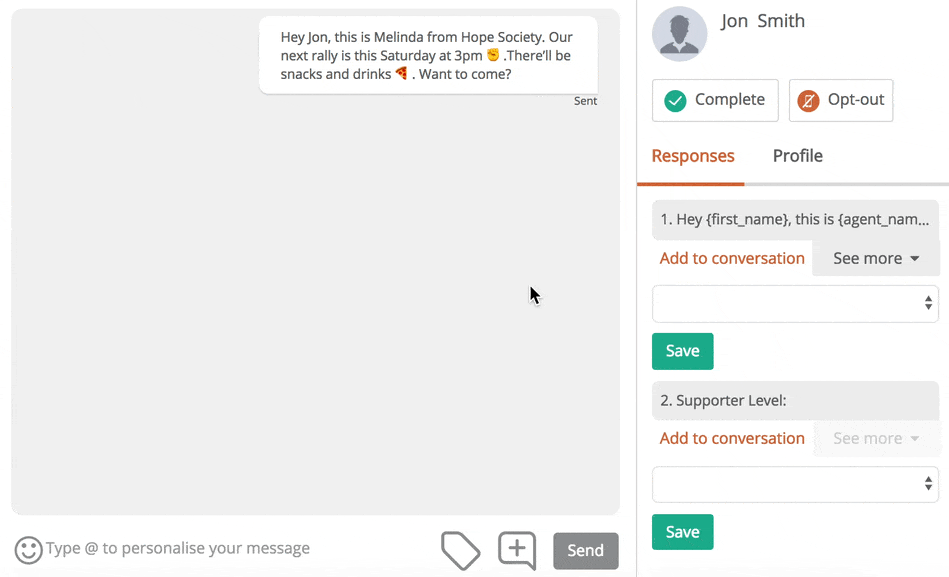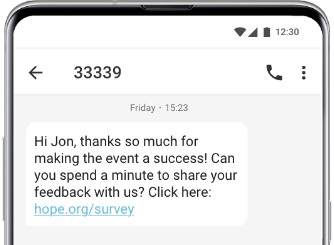 Always follow up
If you want to enhance the persuasive power of a message, a follow up is the best way to do it.
Follow-up with your audience!
After a text, after an email and even after a phone call. That way you make sure your message is on top of their minds. A relevant follow up after a call (a quick summary or a link to a donation page) can increase the effectiveness of your calling campaigns.
Time your texts right
You can often judge the effectiveness of a text by the amount of people that take a follow through action after receiving it. The time you send a text is a major factor.
Sending an appointment reminder? The best time to send a message would be 24 hours before the appointment. For getting people out to vote, a reminder on election day morning can motivate people to take action.
Obviously, you should never send a text message too late at night or too early in the morning. Try to time your texts between 9 AM and 8 PM. To find the most effective time for you, you will need to test your messages.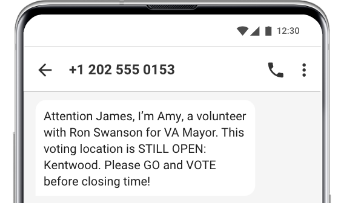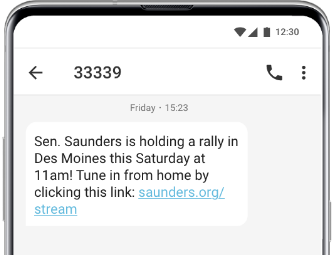 Prompt immediate action
Text messaging is the ideal channel to reach out to contacts with time sensitive information.
Want your audience to take an immediate action, such as tuning in to an event livestream?
Send a quick broadcast text message letting people know. With 90% of people reading a text message within 5 minutes, it's one of the most immediate ways to notify people about a live event.
All these tactics can give you a head start when it comes to getting your SMS campaigns up and running.