Universities worldwide invest in alumni engagement strategies, but many seem to not do a very good job at it. In fact, according to a 2020 study, 90% of respondents admitted they "need to do more" in engaging former students.
The first step towards this improvement is choosing the right alumni engagement metrics to measure your success.
Alumni engagement metrics measure how connected your former students are with your institution. Based on the results, they give you tangible goals to pursue through strategies, outreach, and communication.
If your university is only looking at outputs, you may be committing a grave mistake. Examples of such outputs include measuring alumni engagement only with:
The number of participants to events.
Total donations received.
Number of contacts in your outreach lists.
Social media followers.
The accurate measurement of alumni engagement depends not on these final numbers but on the number and nature of responses you get.
Why alumni responses are a more precise metric of alumni engagement than participation:
Let's define alumni engagement. According to Alumni Access, it is the level of attraction, connection, affection, and influence that an alum has with their school or university after passing out (in that order).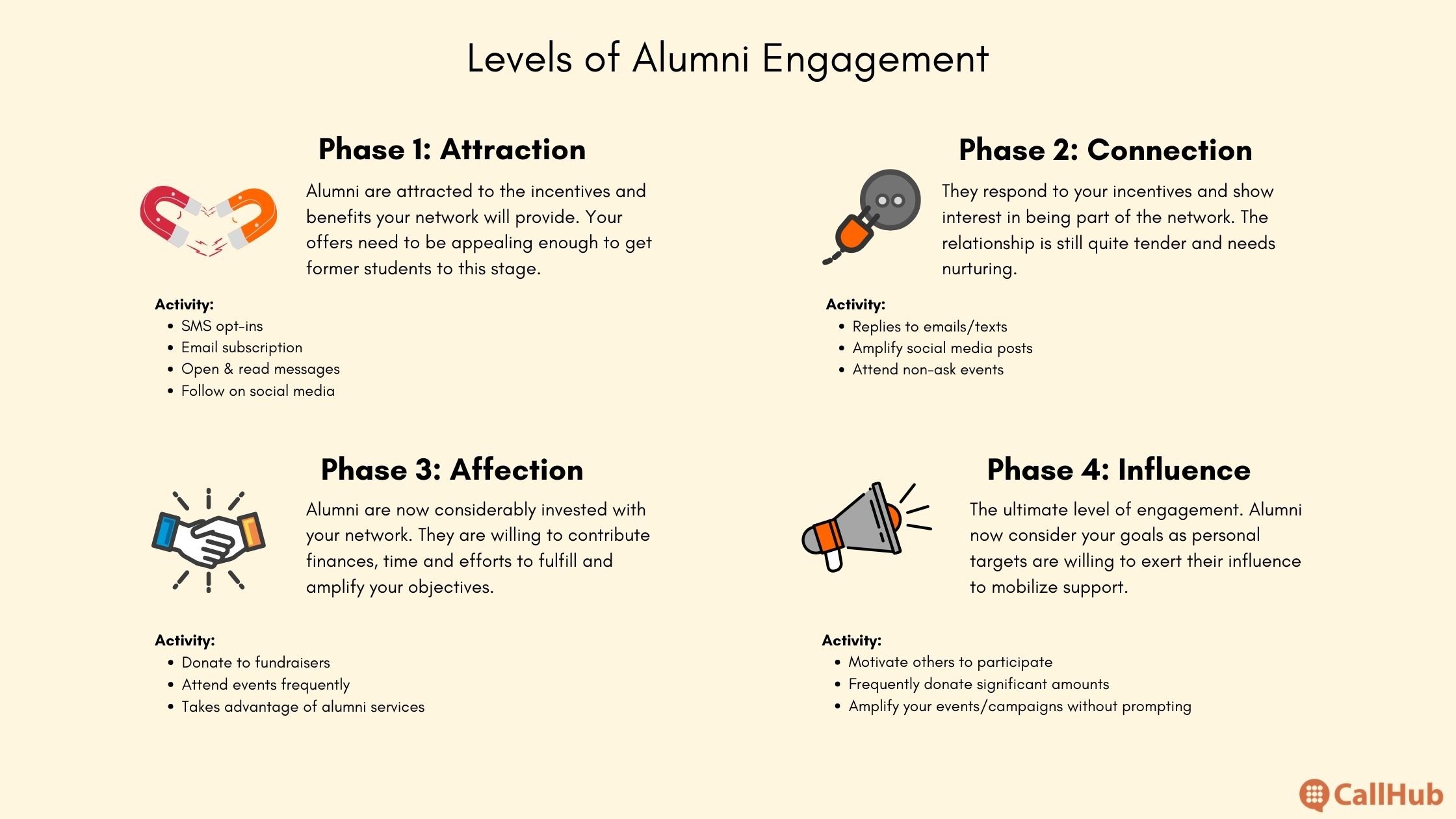 Communication with the university begins from the second stage of engagement, i.e., forming a connection.
Alumni in this stage, who have responded to your incentives, have developed a low level of engagement with you. They are not 'warm' enough to exercise their influence in the form of donations or attendance.
However, they still count for engaged individuals and should not be ignored in your alumni engagement metrics.
In fact, these newly or tenderly engaged individuals can be nurtured to form a more secure, active and mutually beneficial relationship. The assessment of their relationship with the right metrics can help you make intelligent planning and improve campaign success rates.
So, what are the actual metrics that give you a detailed picture of different levels of engagement your alumni have? Let's have a look:
How is alumni engagement measured?
You can measure alumni engagement in five primary ways:
The nature and impact of social media engagement
As an assessment of your communications
As a study of giving trends
Before and during events
With volunteer participation
How do you apply alumni engagement metrics under each of the points, and how do you improve engagement? Let's understand in detail.
1. Social media engagement
Who doesn't want a huge social media following? Institutions use several tactics to get people to follow them on Facebook, Instagram, and Twitter. However, a massive following is not worth much if the followers aren't engaging with the page or posts. Here are the more precise alumni engagement metrics for social media.
Mistake to avoid: Consider the number of followers as the sole success metric.
What to measure:
Number of website visitors: Use UTM parameters to check how many social media followers visit your website. Unique codes can be applied to text posts, images, videos, and more to understand their impact.
Number of SMS opt-ins: Post your keyword and shortcode on social media handles to ask folks to opt-in or donate to your cause. Track the number of people who respond, as this will show you how engaging and convincing your posts are. 
Track engagement rates on posts: Facebook, Twitter, and Instagram, provide in-house engagement tracking. Look out for:
Number of page followers that your post has reached (Fan reach).
Number of likes, comments, and shares on each post (people talking about).
Click-through rate.
Negative feedback.
Engagement percent (according to Facebook, engagement is "the number of people who clicked anywhere in your post").
Engagement Percent = Engaged Users ÷ Reached X 100
Number of people who contribute to UGC: If you run campaigns with user-generated content (UGC) like photos, memories, or quotes, measure the number of alumni who contributed. Add such contributors to a contact list for future communications.
How to improve social media engagement: Facebook, Twitter and Instagram use different algorithms for enhanced reach. Use the right format (images/videos/text) as well as relevant hashtags to get the most out of them. Here's a cheat-sheet for what posts perform well (as of 2020 Q4) on each platform:
2. Responses to your correspondence
If events and donation appeals show you who has the strongest affinity to your university, communication campaigns show who needs nurturing. Keeping close vigilance of communication patterns and responses will give you an accurate picture of alumni engagement.
Mistake to avoid: Measuring success by the number of contacts reached out to via emails, calls, direct mails, or text messages.
What to measure:
Email actions: Use your email marketing tools to analyze the actions (unsubscribe rates, open rates, click-through rates, and conversion rates). This analysis will tell you how connected each alum is as well as how effective email is as a communication tool.
Read Next: Contacting Alumni Email Sample and Tips To Enhance Your Interactions
SMS actions: Text messaging is one of the most popular communication methods for alumni and is likely to get positive results. Much like emails, study SMS actions by monitoring open rates, click-throughs, conversion rates, and unsubscriptions as the basis for alumni engagement metrics.
Number of new subscribers: A continual tracking of fresh email subscribers or SMS opt-ins gives you a new pool for nurturing. Set up nurturing flows on the respective tools, so a portion of the low-engaged alumni converts into more connected individuals.
Number of replies to alumni engagement surveys: Only engaged alumni actively respond to surveys. Track the number and nature of responses to send out appropriate replies in a short time.
How to improve communication: Quick responses keep interest alive. When dealing with a large group of people, manually responding to each person might get very difficult. Instead, invest in an email or text marketing tool that enables you to send out personalized auto responses instantly. This saves you time and, at the same time, helps you keep the conversation flow going.
Here are three ways to use SMS as an alumni engagement tool:
SMS opt-in: Promote your keyword and shortcode/long code around campus (and via other channels) to get people to opt-in to updates. When they send the keyword to your number, an auto-responder sends a reply instantly. Create a message flow to collect primary data (name, email address etc.) This tool is typically used to collect numbers to add to your contact lists.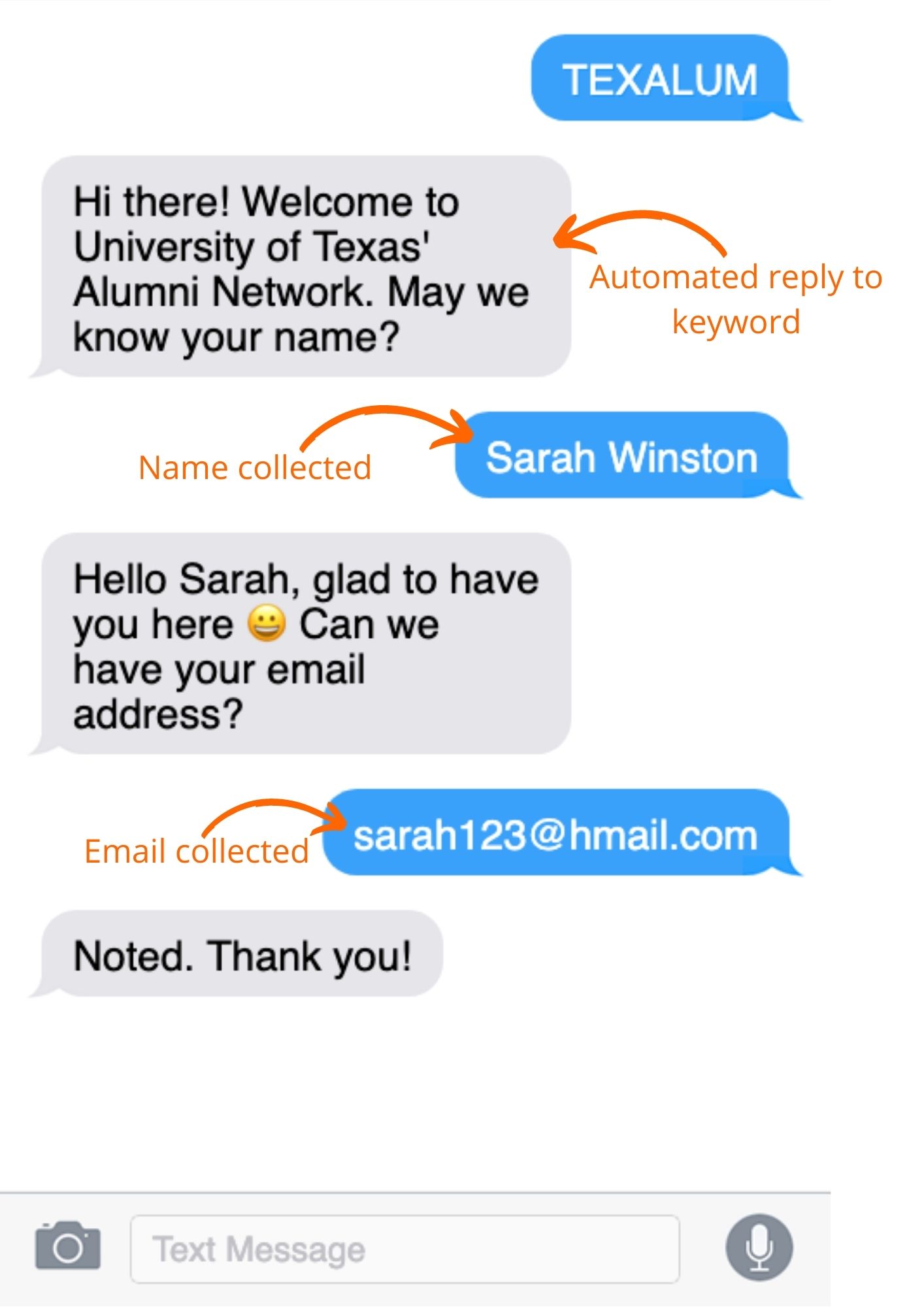 SMS broadcast: Broadcast your event invites, fundraisers and campaigns to folks who have opted in. You can add images and videos too, to nudge them to attend. Mass texting allows replies and you can set trigger words (e.g., Yes/No) to send automated personalized responses for each. This saves you time and gets people to confirm attendance without much manual work.
Peer-to-peer texting: Initiate 1-on-1 conversations with alumni who have engaged with you previously. This tool is beneficial to have personalized but subjective conversations (e.g., when you want to address questions about an event) at scale.
3. Giving trends
The reasons alumni donate, their preferred method of giving, and average gift size tell you a lot about their connection and affection for you. For instance, a first-time major donor is less engaged than a frequent small-donor but more than a first-time small donor.
These three types of donors require different forms of communication and nurturing to maintain or increase engagement.
Mistake to avoid: Setting a singular metric of measuring success by total donations collected.
What to measure:
Number of donations: Track the number of contributors for every cause and campaign. This helps you understand your average gift size and segmenting donors into various types (first-time donors/major donors, etc.)
First-time donors: The average first-time donor has a 23% chance of retention while a repeat donor has a 60% chance, and monthly donors have a 90% chance. It is important to identify first-time donors and nurture them into repeat contributors to increase your retention rate and guaranteed contributions.
Frequent givers: Alumni who donate consistently are very affectionate towards the university and can be quite influential in your events. When their loyalty is guaranteed, you can increase the ask by requesting them to:

Ask friends and family to donate (peer-to-peer fundraising).
Bring guests to events.
Take up responsibilities to improve the alumni network (e.g., hosting seminars, taking responsibility for reunions, etc.)
Helping your university in other ways (e.g., giving guest lectures, mentoring students, leveraging influence for career opportunities in their company).

Lifetime Giving: These donors are at the extreme end of your alumni engagement metrics. Often major donors, and alumni who have subscribed to give through their lifetime have firm faith in your institution. You can keep them motivated and happy by providing extra special donor recognition benefits.
Methods of giving: How do your donors prefer to give? Online donation pages, text-to-donate links, cash transactions, and checks are all valid methods of payment. Studying giving trends help you understand which of them gives the most ROI so you can push more focus on that channel (while still keeping other options open).
Motivations to give: Alumni donate for various reasons – some want to give back to their alma mater, others give because it's family tradition and some as a future investment. It's important to understand an alum's motivation to give so you can leverage them to compel each individual. Take a look at the various types of donors and use them as a clue to craft personalized messages to each type: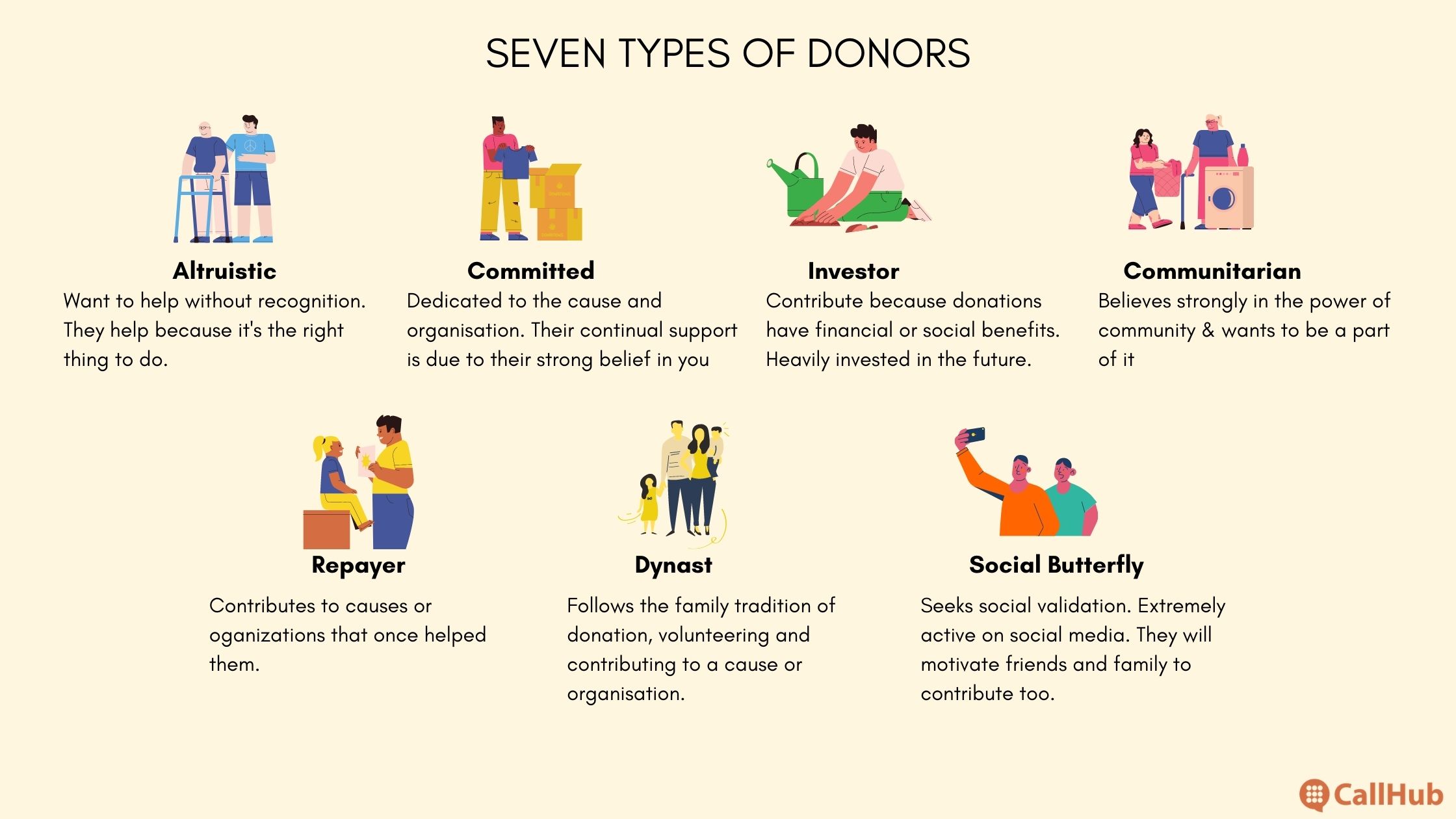 How to improve donor retention: Collect data on donors and engage them in conversations other than donation appeals throughout the year. Universities are already off to a great start since they have details like graduation year, subjects, and club/society membership. Leverage these details to make conversations more relevant and personalized.
Moreover, once they donate, keep them connected with the institution by:
Sending a personal thank you message.
Keeping them updated about the campaign progress.
Conveying how their individual donations helped.
Related Reading: Demystifying Donor Retention & Strategies That Can Improve It
4. Event attendance
Events are an excellent opportunity to share details about your institution or campaign with your strongest supporters. You get the highly engaged folks under one roof and have the chance to collect major donations from them right at the venue.
Mistake to avoid: Measuring success with the number of attendees.
What to measure:
The number of RSVPs: Keep track of your calling, text, email, and letter invites and the number of responses you get. Setting specific options like 'No', 'Yes', '+ 1/2/x guests' will give you a better estimate of attendees.
Alumni who contributed: Note down the names and details of attendees who donated, brought guests, signed up to volunteer, or contributed in other ways. Contributions show an even more advanced level of engagement than attendance.
First-time attendance: First-time attendance to fundraisers or other events show a newly achieved warmth towards your university. Such alumni are at the risk of attrition in the initial stages, and you must nurture them to secure their trust for future events, donation appeals, and other contributions.
How to improve attendance: Segment your target invitees as 'donated previously' 'attended events previously' and 'unaware of this cause'. Set up your marketing channels, messaging, and budget accordingly. This may shrink your pool of invitees, but the right marketing to the right people will increase the chances of those invited attending the event(s).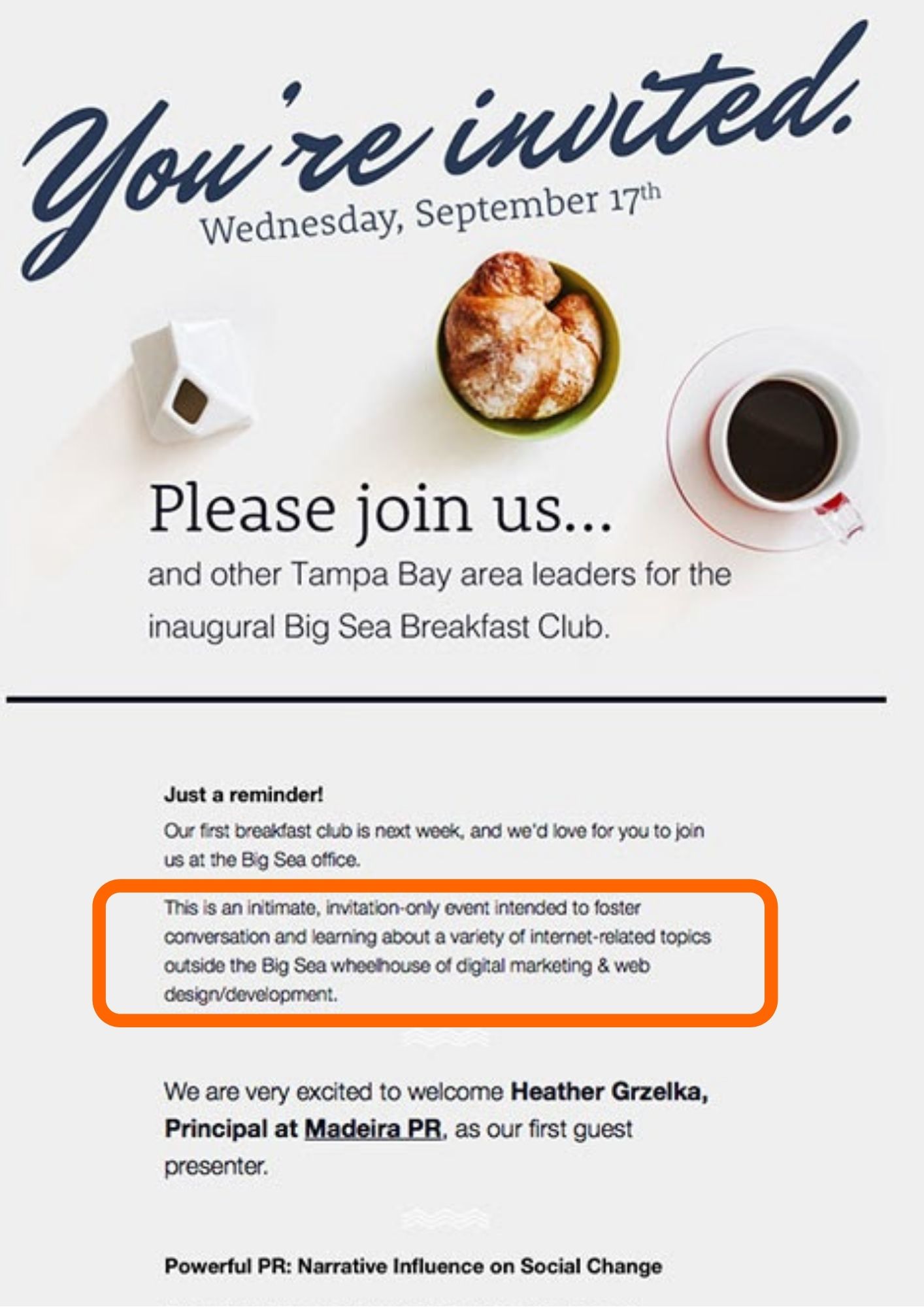 Related Reading: How To Plan A Successful Fundraising Event- Template Included!
5. Volunteer participation
The ultimate alumni engagement metric is the measure of how many are willing to volunteer for your campaigns. These individuals are willing to give their time and energy to help you host an event, contact people, or raise funds.
Mistakes to avoid: Don't use only the number of volunteers as a metric of success.
What to measure:
Click-through and drop-out rates: If your volunteer request is compelling enough, an individual will click on the given form/link to sign up. Measure this as a 'shown interest' rate. If they drop-out without submitting the form, create a nurturing flow that sends an email/SMS asking why they changed their mind and if you can do something to complete the form.
Number of people who responded with an affirmative but couldn't participate: If certain circumstances prevented them from following through with their confirmation, you can't do much. However, you could send them other options of participating and frame the messaging in a way that says, 'you don't have to miss out on the event. Join us in this alternate way!'
Number of responses: If an individual is motivated enough to respond, it indicates that they are quite engaged with your institute. Don't ignore them, even if they respond with a no. You have your foot in the door now, so instead of giving up the opportunity, make a smaller ask that they are likely to follow through.
Note: Your correspondence must carry the details of the event/campaign and requirements. Only then will the CTR be an accurate measure of engagement.
How to improve participation: Give various options of participation or contribution, each pertaining to different engagement levels (e.g., share the message/opt-in for updates/donate/attend/volunteer). Leave space for alumni to note the reason for non-participation. Those who respond are still more engaged with the network than those who fail to reply.
These alumni engagement metrics help you understand the level of commitment former students have with your university. Once you assess that, the next step is to evolve your strategies for optimum results. You need to tailor ways to reach out to alumni on different levels of engagement so they respond positively to your appeals.
Start by reading the best practices on such network nurturing strategies here: Alumni Engagement Strategies & Best Practices: 9 Top Ways to Nurture Your Network.

Feature image source: Cristi Tohatan/Unsplash