Two things that lingered on my mind when thinking and researching about voter registration by phone were:
Is it necessary?
Is it possible?
Naturally, the first one took precedence. Without established necessity or demand, the plausibility and functioning of voter registration by phone is futile. So let's consider question number one.
Is it necessary to persuade folks to register to vote by phone?
Definition of phone registration to vote:
Phone registration essentially means any way a supporter is guided and confirms their registration as a voter via their phone. This could entail:
A phone conversation that guides them to fill the form.
Informative text conversations for the same.
Using phone features like internet connectivity to submit online forms.
The root of the need to use phones for voter registration starts at low voter turnout. It is reverse-engineered from that final day of the campaign, like so: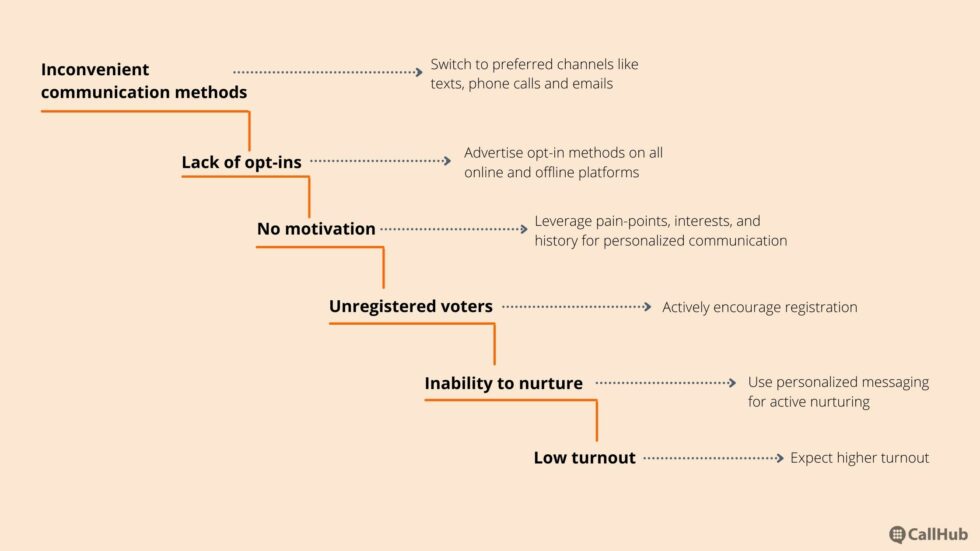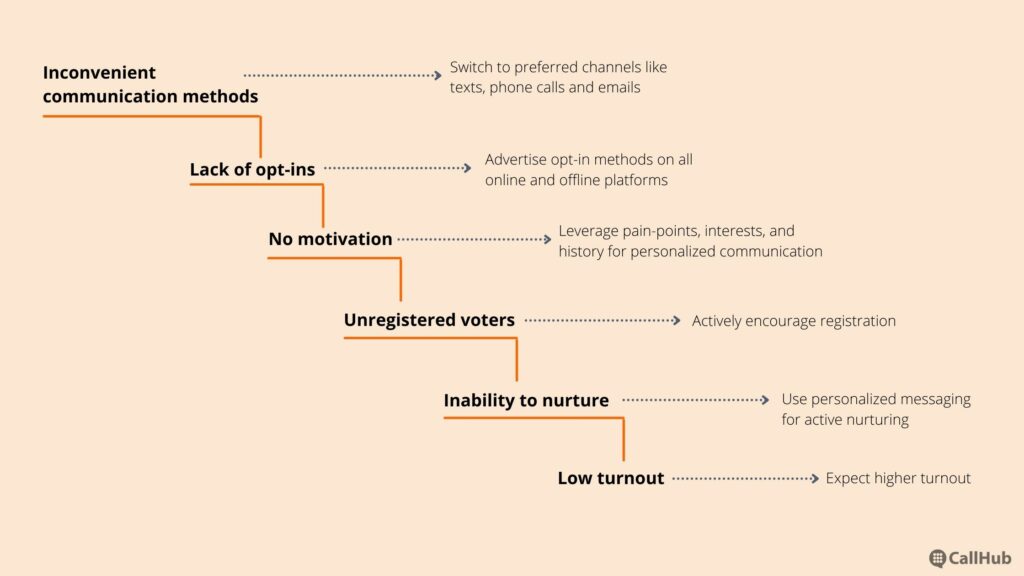 The average voter turnout in the USA does not show encouraging numbers. The average voter turnout in the USA from 2000-2020 has been so:
Presidential elections: 60.1%
Midterm elections: 41.52%
Local elections: 30% (2004-2016).
If these numbers show low motivation in voting, the statistics on voter registration are even more upsetting.
Nearly one in every four eligible voters in the USA is not registered to vote.
Without registering, nurturing people to vote for you is futile, if not impossible. So, to get more people to vote, you must first compel them to register as voters. To ensure more eligible voters register, you must employ methods that they find convenient.
The phone is that solution.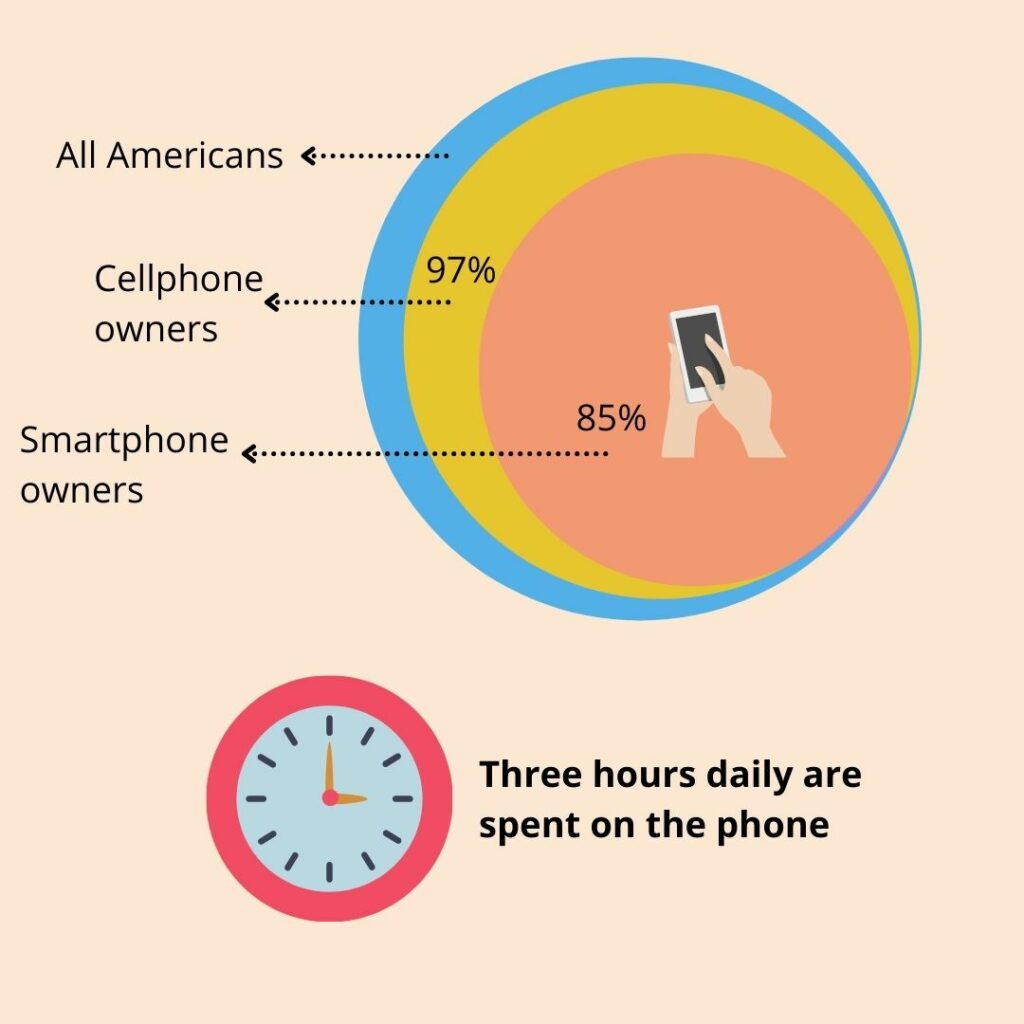 This brings us to our next question, is it possible to get people to register to vote over the phone?
Is voter registration by phone possible?
There is yet no federal law regarding voter registration by phone. State laws differ, and in most cases, they are still in the experimental or not-considered stages. However, campaigns can use the phone and its features to drive eligible adults to register as voters.
No, we are not trying to misguide you by pitching a long stretch between political phone banking or texting and voter registration. Voters are to register either online or with physical forms. And campaigns can leverage the phone to motivate them to do so. This method is as direct as the voters searching for the link online, except the motivation comes from you.
To make voter registration by phone possible at scale, invest in a political communication software that offers both calling and texting. Then follow these steps:
1. Get people to opt in
Your strongest candidates for voter registration are those that opt-in to receive your communications. In most cases, these individuals are interested in politics and, specifically, your campaign.
You need the right promotion channels to put the word out there about your opt-in methods so interested individuals can join your list. Remember, opt-ins are lawfully necessary to keep your campaign TCPA compliant.
Here are some ways you can get them to opt-in or sign-up for your updates/communications:
Forms on your website.
Physical forms.
Manual calling or calling with a TCPA compliant dialler to request opt-ins.
File all the opted-in contacts in your database and keep appending the list regularly.
2. Carry surveys asking people if they have registered as voters
Your communications with all opt-ins will vary, from voter identification to GOTV. After you've identified definite or likely supporters, run a survey asking if they have registered as voters.
You can undertake voter registration surveys on the phone in these ways:
Website surveys or online forms (for smartphones).
Social media surveys (for smartphones).
Email surveys (for smartphones).
These surveys are direct ways to identify your target audience for voter registration campaigns. Responses show engagement levels. So, even if you have identified an individual as a past voter, include them in the survey targets to determine their engagement.
3. Segment contacts into yes, no, and no replies
Segmenting your contacts at every step of a communication campaign helps you shoot personalized and accurately targeted messages. For instance, in this case, your messages to someone who has confirmed their registration and someone who hasn't registered cannot be the same. It will put them off.
Once segmented or categorized, target the "nos" and no replies like so:
| | |
| --- | --- |
| "Nos" | Non-respondents |
| 1. Ask the reason they haven't registered yet. Engage in 1-on-1 communication. | 1. Target more broadcasts with varied messaging—segment respondents from these broadcasts into relevant categories. |
| 2. Guide the willing supporters to register as voters. | 2. Move non-respondents to call campaigns. |
You can target the "yes" respondents for related but higher-barrier asks, such as getting their family/peers to register to vote.
One-on-one conversations via text can be carried at scale using a peer-to-peer texting tool, like CallHub. Here are some valuable features of the tool:
→ Default and custom fields to allow personalization via merge tags.
→ Integrations with several political CRMs and Zapier (to connect tools that aren't already integrated).
→ Ability to schedule messages ahead of time.
→ Pre-drafted messages for FAQs and expected responses.Unlimited agent capacity.
4. Send voter registration information to contacts periodically
Informative messages about voter registration can be helpful to the recipients and can also drive them to fill their forms. Some relevant information includes:
Last day to register (add a message invoking urgency).
Websites and resources to register online (send relevant links too).
Required documentation.
How to check registration status (offer your help in checking it).
State-wise rules for voter registration.
Registration for in-person voting and overseas or military voters.
Information about absentee ballots.
Spread out these messages to keep the information fresh and relevant in the voters' minds. Add your own elements to the messaging, such as invoking urgency to give an additional boost.
5. Continue the process of segmenting and nurturing
Lastly, compelling supporters to register to vote is not an event. It is a process. You must carry out the steps mentioned above periodically and continue segmenting and nurturing appropriately.
Set up a voter contact plan that establishes regular contact with supporters, accommodates various messaging, and nurtures prospects into confirmed voters meaningfully.
Here's how to build one: How to Build up a Voter Contact Plan for Apt Turnout in Your Elections.
What are the issues facing voter registration by phone?
While the world has advanced massively in terms of technology, there's a certain comfort and feeling of security in traditional methods of high-value or high-risk tasks. Voting is one of them. Perhaps that's why we still rely on ballots or mail-in ballots.
The other is voter registration.
The main issues challenging voter registration by phone
Coercion: Coercion is a real threat when registering to vote remotely and from a personal device like a phone. Coercion during registration can also lead to voter suppression during elections.
Malicious actors: Another issue facing this ambitious process is the infiltration of malicious actors. With fake or stolen identities, a person can register as a voter, threatening to disrupt the operation of democratic voting and elections.
Unset process and rules: Since end-to-end voter registration by phone is still not established, there are no set rules or procedures to follow. This can confuse campaigns and voters. Or, more unfortunately, it can discourage the latter from participating in elections.
The unknown devil: Until registering to vote by phone becomes a full-fledged process, we cannot be sure of the issues that crop up. Apart from those mentioned above three, there could be other damaging consequences or effects of the process that will arise only later.
When it comes to how and where to register to vote, there is some hesitation about remote mass mobilization and remote guidance. However, risk can be minimized with cybersecurity forces such as blockchains, two-factor verification, etc., that campaigns can adopt. Additionally, the forms of voter registration by phone that we mentioned in the post cover bases that lead up to registration, are all perfectly legal.
The way forward
The issues about voter registration by phone are serious, no doubt. But they are to be sorted when the registration is migrated to the phone entirely. For now, campaigns employ the phone to communicate with and nurture supporters to register to vote.
Of course, a call center and text marketing software would be the perfect accompaniment to such a campaign. And we have just the solution. Check out CallHub's tools here. For a step-by-step guide on how to micro-target contacts for voter identification and, subsequently, voter registration, check out our guide here: Beginner's Guide to Micro-targeting for Political Campaigns.
Feature image source: Kelly Sikkema/Unsplash.