Auto-dialers are set to become a $12.2 billion industry by 2028, thanks to the immense value they bring to political campaigns, nonprofits, advocacy groups, and businesses. Managers are assured of less idle time, more productivity, automation in workflows, and fewer human errors courtesy of smart auto dialer features.
I'm sure you clicked on this article because you are wondering if an auto-dialer is a suitable fit for you and, if so, what features you should look out for. Since this industry is growing rapidly, the next six years will predictably boost its usability and feature offerings. So, let's get you up to speed.
This blog covers all essential auto dialer features and answers some fundamental questions and doubts about auto dialers in general.
First things first. What is an auto dialer?
What is an auto dialer?
The TCPA regulations and federal laws dictate the use of auto dialers to call people. As usage and use cases evolve, so does the definition of auto dialers in legal terms. According to the old definition, an auto dialer is a system or software that automatically dials numbers in a list. It connects answered calls to live agents or plays a recorded message. Today, this is termed the "broad" definition of auto dialers.
The narrow definition, adopted in 2022, defines auto dialers as a system that has the capacity to store telephone numbers using a random or sequential number generator (RoSNG) OR can produce telephone numbers using a random or sequential number generator.
These definitions help you understand if an auto dialer is the right fit for your use cases and usability. For instance, if you conduct opinion polls and need a number generator, you look for auto dialers under the narrow definition. If you already have a contact list and need a tool to optimize dialing, you require an auto dialer by the broad definition.
Disclaimer: CallHub is not an auto dialer according to the narrow definition. However, it is a fast-paced outbound (and partially inbound) dialer. So if you are looking for a tool that can automate dialing from an existing contact book, CallHub will do your job. If you are looking for a number generator, we, unfortunately, won't be able to help.
For the sake of convenience and understanding, we are using the term "auto dialer" for an automatic dialing system in this article.
How does an automatic dialer work?
An automatic dialer (non-RoSNG) dials numbers on an imported or synced contact list at a rapid speed. It filters all unconnected numbers (e.g., a bad number, no answer) and connects only answered calls with live and available agents.
As the usage of such dialing systems increased, more matured auto dialer features got introduced in the market. The system also branched out into industry-accepted types of dialers that solved unique problems of different kinds of campaigns. Let's look at them next.
How many types of dialers are there?
Your campaign requirements determine your choice of the dialer. The requirements are any or all of
Execution speed (how fast or slow do you need to get through the list?)
Permissible time spent on each contact (do agents have quick questions or do they need to engage in a conversation?)
Answer rate (if you dialed 5 numbers on your list, how many traditionally answer the call?)
Agent availability (how many live agents does your campaign have?)
List quality (Have your contacts consented to receive calls from you or not yet?)
Based on these demands of a campaign, you have three main dialer options to choose from.
Predictive dialer
A predictive auto dialer dials multiple numbers in your list ahead of time and connects answered calls with live agents. This dialer is typically used for campaigns where the answer rate is low and getting through the list fast is of priority. The name comes from the fact that the auto dialer features use a machine-learning algorithm to predict the right number of contacts to dial per initiation. It studies the answer rate of your campaign and available agents and adjusts the dial rate accordingly.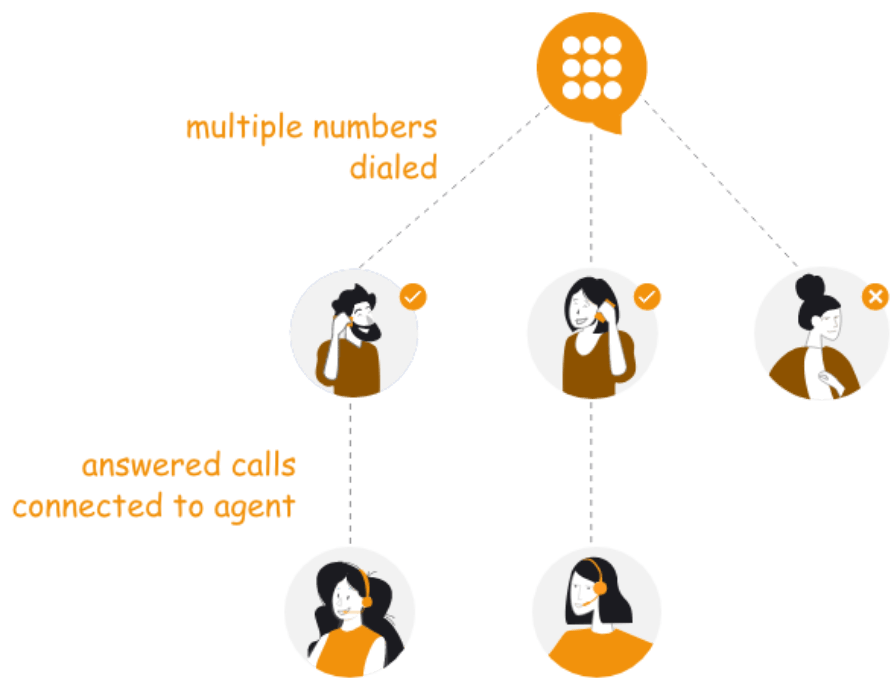 The Predictive dialer is perfect for your GOTV, cold calling, and last-minute reminder calls. Get speedy dialing for your organization here.
Power dialer or progressive dialer
The Power dialer or progressive dialer is the industry's answer for use cases when you want to have conversations with every contact on your list. This auto dialer calls one contact at a time and allows agents to complete a conversation, fill in surveys or add notes before dialing the next one. Unlike the predictive dialer, the power dialer will only dial a number when an agent indicates they are free for a call.
It still comes under the concept of an auto dialer because
Agents need not dial numbers manually, nor do they intervene in dialing a number. They simply indicate they are ready for the next call by closing the current case.
You get all the benefits of auto dialer features, as we discuss below.
A Power dialer is a great tool for fundraising, voter identification, voter persuasion, sales calls, event invitations, and use cases with a high-quality and high-value contact list. Try it out here.
Preview dialer
Like the Power dialer, a Preview dialer is suited for high-value contacts. In this auto dialer, agents get a preview of the person they are contacting with their history and other information. Agents study the person's file before dialing their number. This way, they know who they are calling before the number is dialed and can personalize conversations better.
The Preview dialer is best suited for high-value campaigns (e.g., asking for major donations) targeting high-value contacts.
Essential auto dialer features
An auto-dialer not just calls numbers on your list but clears the way for your agents to have the most productive time having conversations. That requires smart work, ensuring better answer rates and longer and more productive conversations for you. Here are 12 must-have auto dialer features.
1. TCPA compliance
TCPA mandates consent from contacts before calling mobile numbers with an auto dialer. This may not always be possible, especially if you are cold calling or using a purchased list. However, human intervention by clicking on a "call" button or selecting numbers stays safe from this rule.
CallHub offers a manual dialer (our FastClick dialer) that uses such human intervention to initiate calls. The "clicker" agent only selects numbers to call while the other agents spend time talking to contacts. This way, we ensure TCPA compliance while maintaining blazing fast calling speeds.
2. Branching scripts
Auto dialers will often allow you to upload a script that your agents can refer to. What these scripts miss, however, is the many turns or "branches" that a conversation might take, rendering agents to go back and forth hunting for an appropriate response. While this is happening in the background, their loss of confidence is evident to the contact.
CallHub introduced the branching scripts to solve this problem. Campaign managers fill out different turns the conversation might take and accommodate responses for each. The agent clicks on the responses as they get them and is directed to the saved answer. This way, the conversation remains on track and smoothly. Explore more about the branching scripts here.
3. Integrations with popular CRMs
An auto dialer would be one of the many tools you use to keep track of your contacts and contact them. Thus, one of the most crucial auto dialer features is its integration with popular CRMs like NGPVan, NationBuilder, Salesforce, etc.
A 2-way sync ensures all the existing information on a contact is available to agents when they start calling. Moreover, all updated information on a contact (e.g., notes, survey responses) sync, keeping you updated on the contacts for future touchpoints. Check for integrations before you finalize your auto dialing system.
4. Dynamic caller ID
A phone number with a local presence (state/city area code) has a 20% more chance of engagement. And you can establish such a local presence simply by renting a dynamic caller ID. CallHub will show a caller ID from the state OR capital OR the largest city to the contact, helping you boost your answer rates.
5. Unproductive number detection
One of the primary problems that an auto dialer solves is filtering out unproductive numbers, such as bad numbers (unregistered numbers/incomplete numbers), unanswered calls, and unconnected numbers. Like agents need not spend time manually dialing numbers, they also need not waste time trying to reach unproductive numbers.
Auto dialers let you set outcomes for call dispositions when creating a campaign to increase impact and reachability. For instance, you can schedule a callback for unanswered calls or leave a message for machine answers, so you have a foot in the door even if you aren't connected to a person. Moreover, setting these call dispositions helps you understand the quality of your list and measure your campaign's success rate.
6. Patch-through calling
Patching a contact's call through to a representative is a critical use case for political campaigns, advocacies, and nonprofits. You can direct thousands of citizens to elected representatives or decision-makers using the auto dialer feature of patch-through calling.
Agents share information with contacts, convincing them of the importance of talking directly with authority. When a contact agrees, they can patch the call directly to their office, turning citizens into actively participating activists! Learn more here.
7. List scrubbing
Serial plaintiffs and "lawsuit mill" litigators often file lawsuits against calling campaigns for calling them using auto dialers. These usually frivolous lawsuits can still cost you dollars and time. To avoid this, call center tools like CallHub offer litigator scrubbing facilities. We allow you to skip registered and known numbers of litigators and their friends and family, ensuring your security from frivolous charges.
8. Timezone-based calling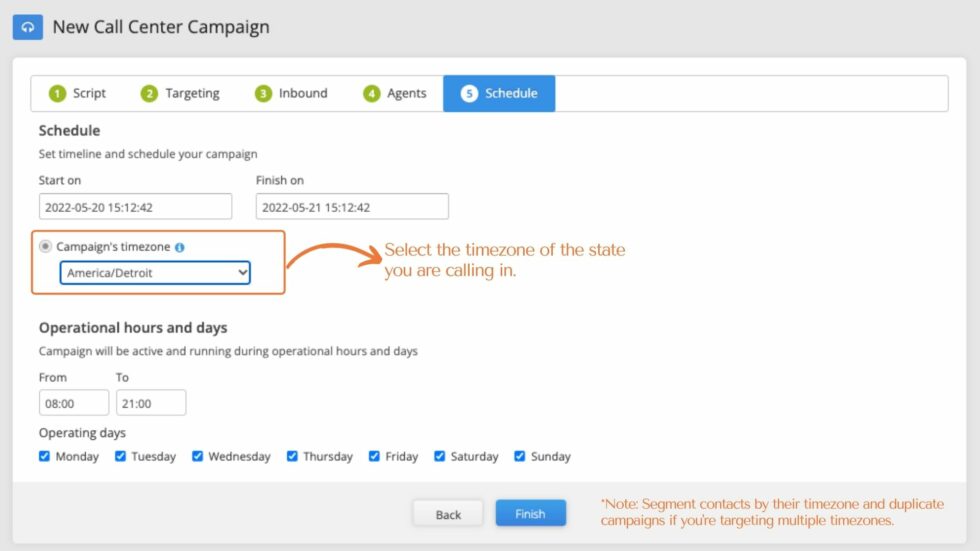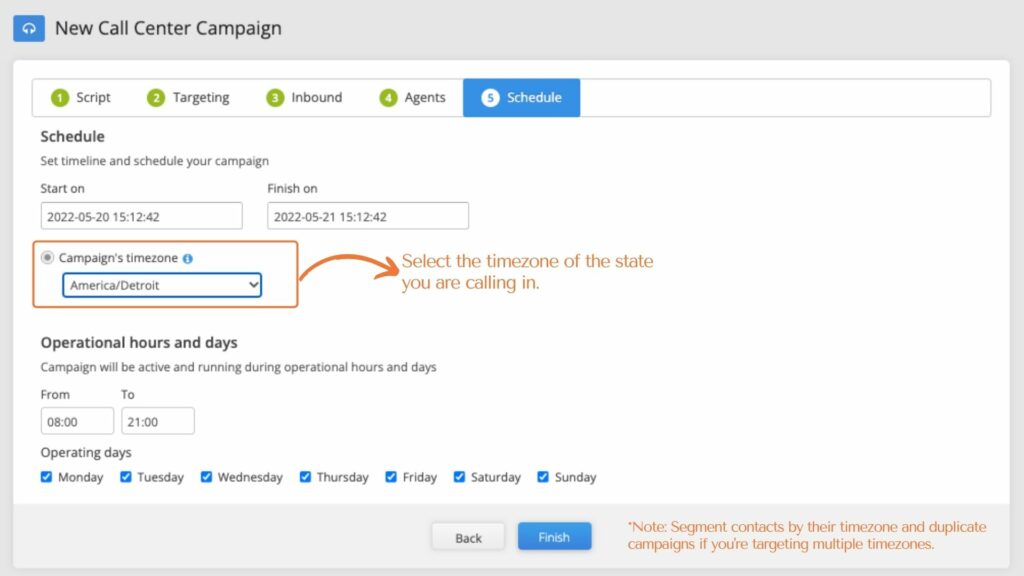 TCPA mandates that telemarketing and auto dialer-initiated calls be only between 8 am and 9 pm. Some states have even stricter rules (e.g., 9 am – 9 pm as permissible timings). These timings should be followed at the recipient's end, not the initiator's.
A timezone-based calling auto dialer feature thus comes in handy when you have a contact list that spreads across multiple states (or if your agents are operating from a different timezone than your contacts).
9. Call recording and monitoring
Call recording and monitoring is an essential auto dialer feature for quality assurance. Campaign managers must have the option to enable recording and shadowing a call when needed. Monitors can help agents with a conversation without the contacted person knowing this. This helps, especially when an agent is new to the game or when they encounter a challenging contact.
10. SHAKEN/STIR
In an attempt to reduce spam and spoof calls, carriers now validate and attest numbers before connecting a call. Depending on the usage, your number may be labeled as "caller verified" or "potential spam." The carriers block potential spammers.
CallHub has a SHAKEN/STIR compliance to ensure your calls get through to your contacts and are not marked as potential spam. You must look out for this essential auto dialer feature before finalizing the tool.
11. Texting from call center
Simply leaving a text after a call or if you couldn't connect a call can increase engagement by 15%! Thus, an auto dialer feature to text from call center becomes crucial in determining whether you want to go for a particular tool. Texting from a call center can be used in the following ways:
Leave an introductory text to non-answered calls.
Send a summary of the call.
Send additional information or links to take action.
CallHub allows automated texts (perfect for the 1st use case) and manual texts (appropriate for the other two) via our call center.
12. Merge Tags
Merge tags are one of the most basic and essential auto dialer features. They let you personalize conversations by adding personal details of the contact (e.g., their first name, age, or areas) without manual effort. Add the merge tags to your script, and the tool will replace the placeholders with actual values when an agent gets on call.
Moreover, you can sync survey and custom tags from your database for further personalization, like segmenting lists or creating custom asks for each person!
Additional auto dialer features
While the above auto dialer features will ensure you have an efficient, smooth, and compliant campaign, there's always room for improvement. That's where these additional or "good to have" features come into play.
1. App for agents
Younger volunteers tend to be more comfortable with their phones than laptops or desktops. They access everything on the phone. So, why should your auto dialer be left behind?
Cut costs on infrastructure while also keeping your agents comfortable with calling with a call center iOS and android app.
2. Inbound calling
40% of your calls will not be answered, and 15-20% of those people will call you back. An auto dialer that allows inbound calls ensures that you don't miss out on those leads. Look for this feature when making a decision on your tool.
The way forward
The above auto dialer features make for a perfect call center tool. At CallHub, we strive to build such features that make your job easier. No wonder then that we are trusted and used by 3000+ organizations.
Want to try our tool for free? Book a call with our experts here.