According to a study by Gerber and Green, door-to-door canvassing results in one vote per 14 houses visited. That knocking doors and in-person meeting with voters is an effective way to get out the vote is well known. But the causes of why you must visit many houses to secure just one vote are not always so obvious. Some of the pertaining reasons may be:
The person has jumped off the fence to your opponent's side.
They were not nurtured well enough by your campaign.
They weren't present or were busy when you knocked.
This post addresses the third issue and tells you why a door canvassing campaign for GOTV cannot be your last contact with voters.
Combining text messages with door canvassing in politics
A Research Gate study found a 3% increase in the likelihood of voting following a text message reminder. Political campaigns across ideologies have understood this power of text messages in voter mobilization and have adopted the technology to persuade supporters to vote.
However, door-to-door campaigning remains the most effective method of getting out the vote, followed by phone canvassing.
Why, then, should you combine text messages with a door-knocking campaign? The simple answer is to:
Reach the individuals you could not while canvassing door to door: 78% of American phone users say that political campaign text messages are the fastest way to reach them. If you miss them during your canvassing efforts or didn't get the opportunity to have a meaningful conversation, you can follow up with a text message.
Keep their interest intact and nurture them until election day: A 2016 study revealed that political canvassing is most effective when it happens well before election day. However, the effect is short-termed, and interest usually fades as election day arrives.
Text message nurturing can help you ensure that your well-planned door canvassing efforts are not in vain. This can include an acknowledgement or thank you text for those who interacted with you as well as a reminder to vote, closer to the election day.
With political campaign texting in the picture, the journey of canvassing becomes more systemized.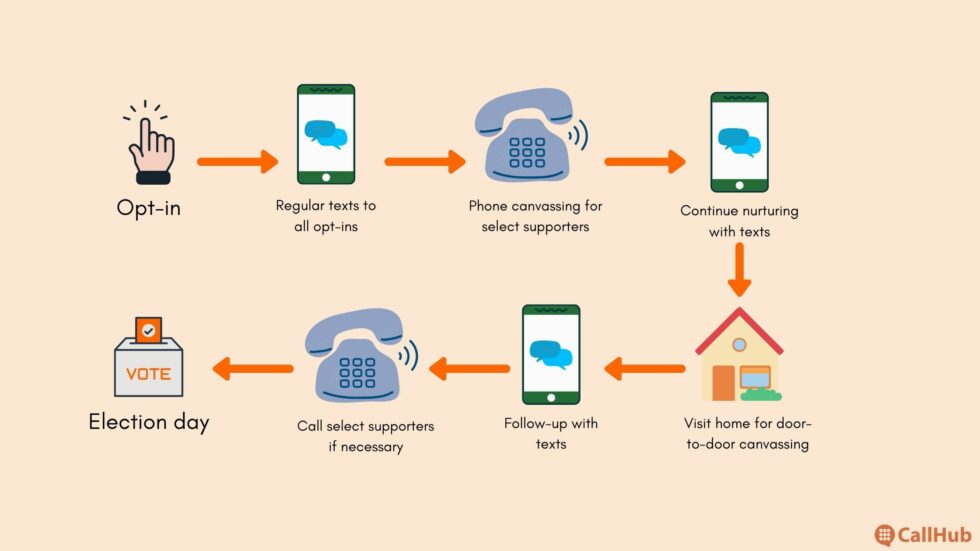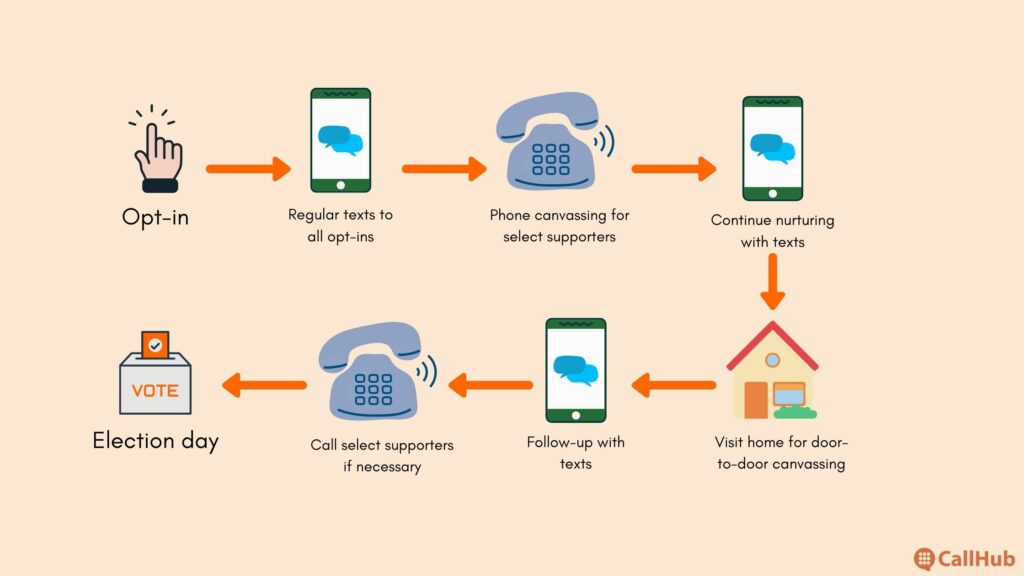 Let's look at the best practices to implement while using text messages combined with door canvassing to help you frame your messages effectively.
Best practices to use texts while door canvassing
Text messaging is a popular communication method among different demographics. However, you may be blacklisted (marked as spam, left on read, or ignored) by individuals if you don't get the messaging, timing, or content right.
The unwritten rules to ensure value with text marketing for political campaigns are straightforward, and these best practices help you adhere to them:
Note outcomes and segment supporters accordingly
Volunteers usually note outcomes of a door canvassing interaction on their canvassing software during visits. This is a great practice and must be followed strictly. These outcomes (e.g., meaningful conversation, absent supporters, additional information required.) inform your text message follow-ups with each individual.
Give a list of outcomes for volunteers to choose from (tip: add "other" as an option and ask agents to elaborate). When the shifts are over, segment the houses according to the outcome they fall under and draft templates accordingly (e.g., "Guess you weren't home when we visited. What's a better time to talk?" for absentee supporters).
Noting outcomes, segmenting contacts, and sending them different messages accordingly ensures that your messages are heeded to because they are relevant to supporters (opposed to irrelevant, generic messages that would be ignored). Moreover, this practice also gives you an acute expectation for election day (number of supporters most likely to vote)!
Personalize messages
It's a no-brainer for political campaign text messages to personalize their messages to the supporters. But personalization doesn't end at adding the recipient's name. It is a three-fold strategy involving:
Identification: Adding the person's personal details like name, neighborhood, photo, age, etc.
Customization: Creating a feeling that this message was tailored to their needs, benefit, or history (with you). This can include phrases like "especially for a long-term supporter like you."
Contextualization: Adding some context to the message that is unique to or very closely related to the recipient. This includes mentioning their history (with you) or other contexts (e.g., profession, ethnicity, income bracket, etc.) that show why the recipient is receiving this message.
Here's an example of a personalized message that ticks all three essentials: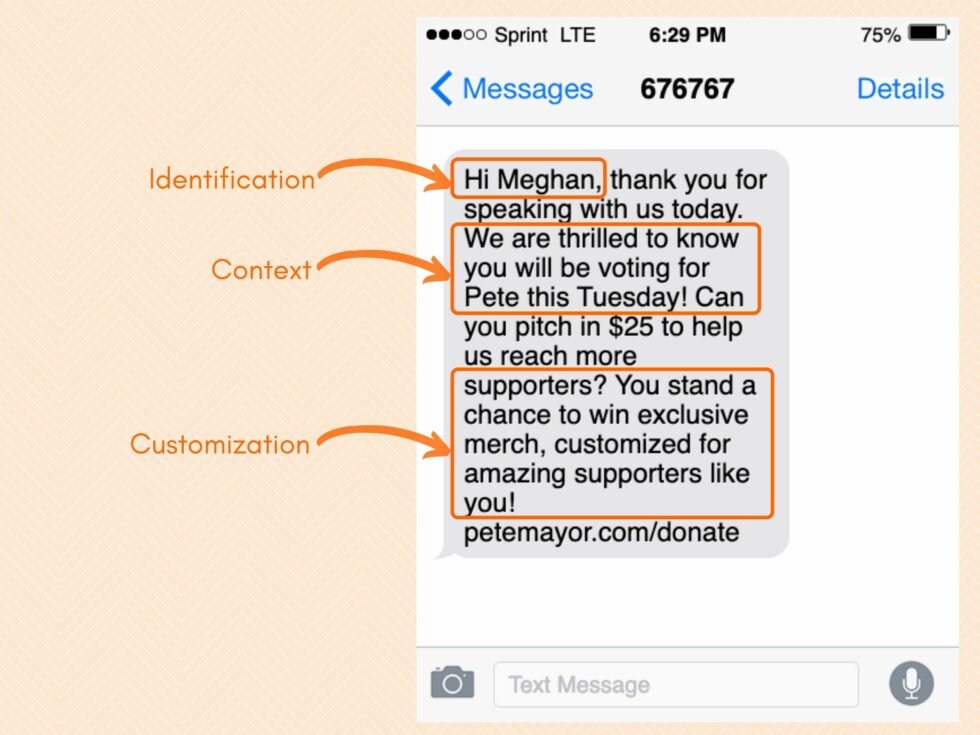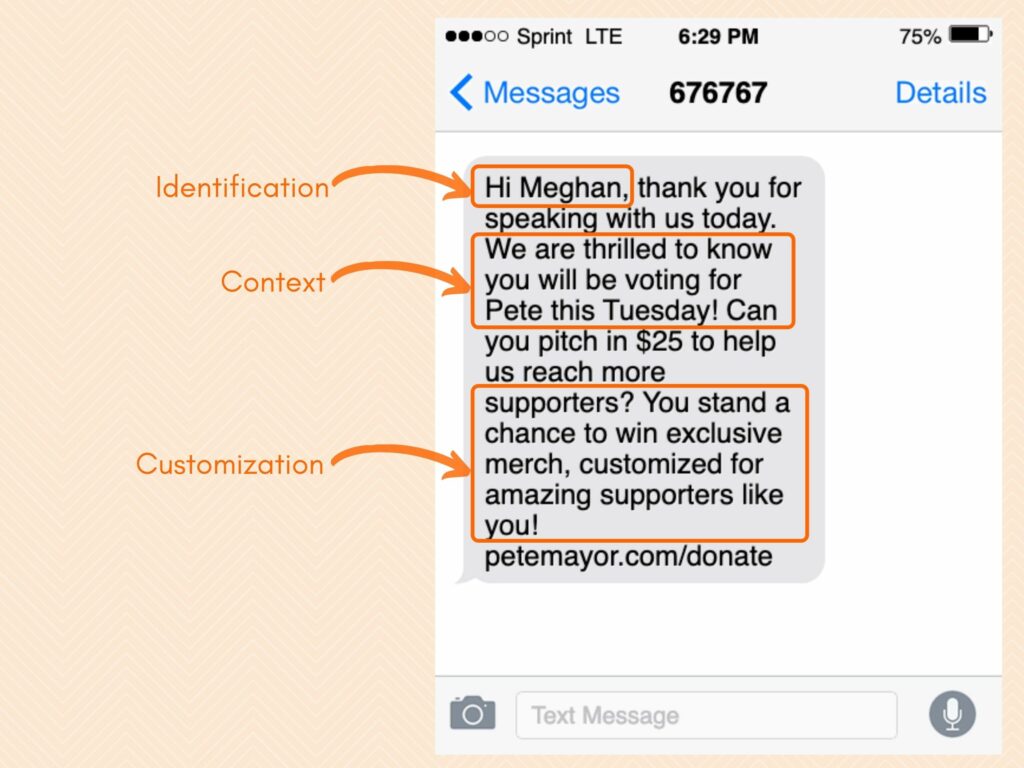 Send messages the same day as you visit
Sending acknowledgments, thank you, or follow-up messages days after you went out to canvass for votes may feel like an afterthought. You know, like that friend who only ever inquires about you when they need something. Sending a timely text after door canvassing can avoid that easily.
The ideal timeline to send the text would be the same day as you visited supporters. However, if you are past the hours of operation for political text messaging (8 am to 9 pm), make sure you line up the spillovers and send the text within 24 hours of visiting.
Include relevant and important details in your texts
Your text messages must be crisp and include all relevant details in them (so cut down on the fluff and focus on the text's objective). These details include:
Election date and time
Ballot location (tip: ask them to reply with their zip code to send the precise location)
Strong CTA
How to opt-out
A helpline number they can reach out to if they need help on election day.
Here's a guide on the effectiveness of canvassing: "How Effective Is Political Canvassing?" and What Candidates Must Know Before Knocking on Doors
Text messaging software for your GOTV efforts
An intelligent text messaging software will help you follow these best practices with its features. The tool must automate responses, personalization, schedules, and do more to ensure your campaign is smooth-flowing and requires minimal human intervention.
For a text messaging campaign that accompanies door canvassing, here are the features you must look out for:
Merge tags
Merge tags help you sort out the identification part of your personalized messages with automation. You only have to add pre-existing tags (e.g., name, email ID, agent name) or custom fields (which can be other details on your CRM that are not currently available on your texting software) to your message draft.
The algorithm will sync the relevant details with tags and make your text sound tailored to the individual.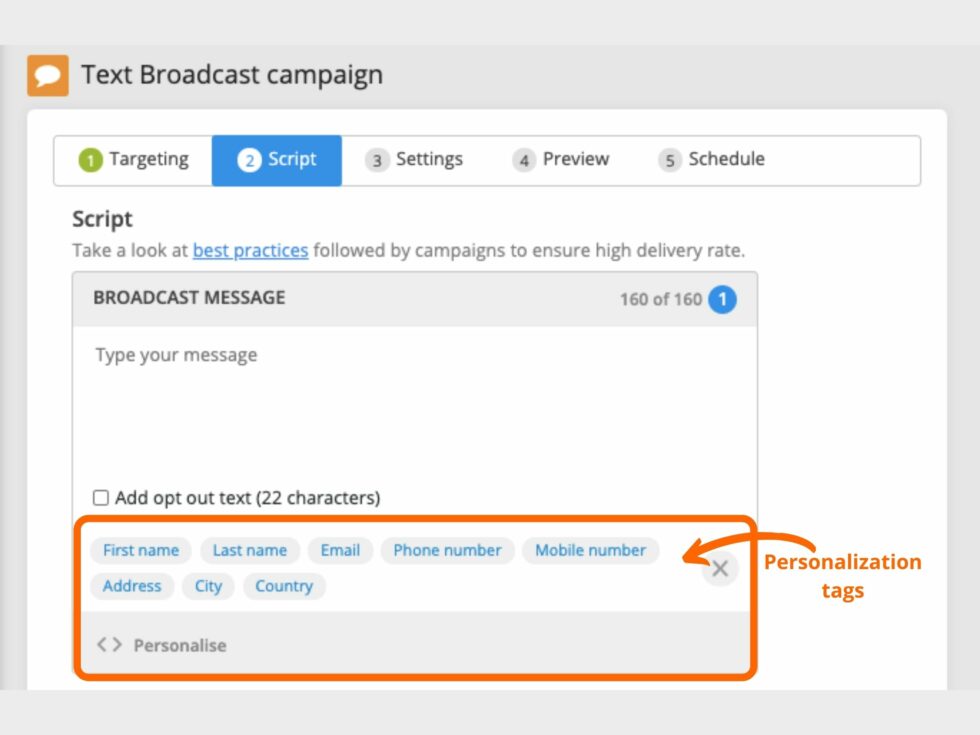 Integration with CRMs
Find a tool that integrates with your CRM (or integrates with a tool like Zapier to sync CRMs that cannot be directly integrated). This integration syncs your existing data on the text messaging tool and enables volunteers to update information after door canvassing in real-time, so your messages can be informed accordingly.
Check out CallHub's app integration directory here.
Saved Responses
This feature is useful when you are sending P2P texts (conversational messages that allow open-ended responses).
Saved responses can save a lot of your volunteer's time when the flow of messages is super high. It makes it easier to keep supporters engaged, thanks to the shortened time gap (it takes much less time to tweak a saved template than to type out the entire message).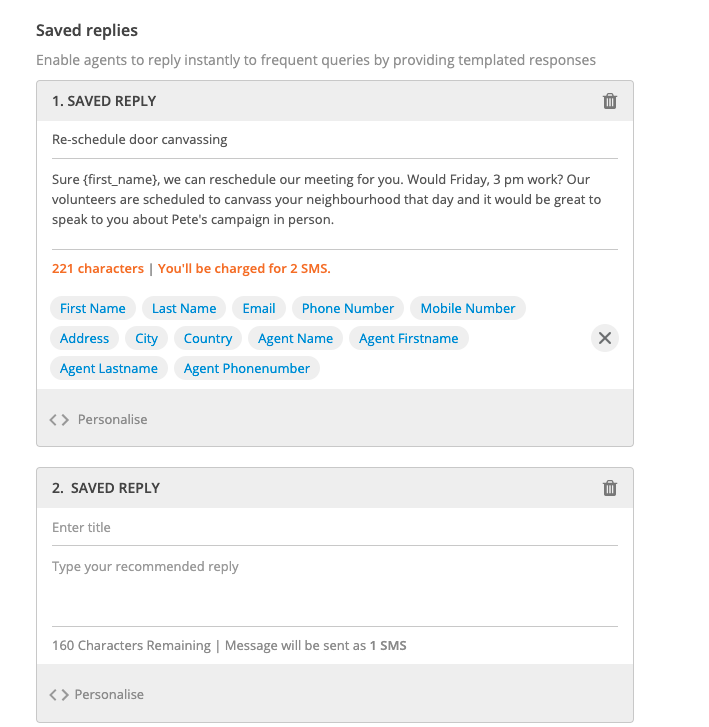 CallHub allows multiple saved responses for FAQs or repeating queries or requests during P2P campaigns. This way, the campaign manager can save several answers for volunteers to use. Volunteers can tweak them (e.g., change the date in the above example) or use them as is.
Options to send broadcasts or P2P
As a political campaign, you often choose between broadcasts (and in it, SMS or MMS) and P2P messages. During canvassing efforts, you will use:
Broadcasts to send updates, reminders, and follow-ups when there's no room for open-ended conversations.
P2P texts when you are nurturing a supporter and require an open conversation flow.
Of course, both these texting methods are applicable only after a supporter has consented to receiving your texts (which I assume you would have gotten before or during canvassing). Go for a tool that lets you choose between SMS or MMS broadcast and P2P texting campaigns as you need. Of course, you must still create separate campaigns for each. But if your lists are segmented, it wouldn't be a hassle to create different campaigns targeting each list.
Here's a complete guide on volunteer recruitment scripts: The Only Volunteer Recruitment Script Sample You Need (And How To Use It)
Rented and validated numbers
Campaigns can rent their very own country-wise numbers for P2P texts (and choose between rented shortcodes or validated numbers for broadcasts). Dedicated numbers for campaigns help with:
Creating a campaign identity (people are more likely to open and respond if they know who is texting).
Receiving incoming messages through 10-digit longcodes (or 10DLC numbers).
Related Reading: Last Minute Tips For GOTV (Phone Canvassing Script Included!)
Timezone-based scheduling
If your texts go outside of mandated hours, they may look like spam and can be marked so. You don't want that for obvious reasons. Instead, if you schedule your texting campaign according to acceptable hours in a particular time zone, the tool will automatically stop all outgoing messages after the deadline.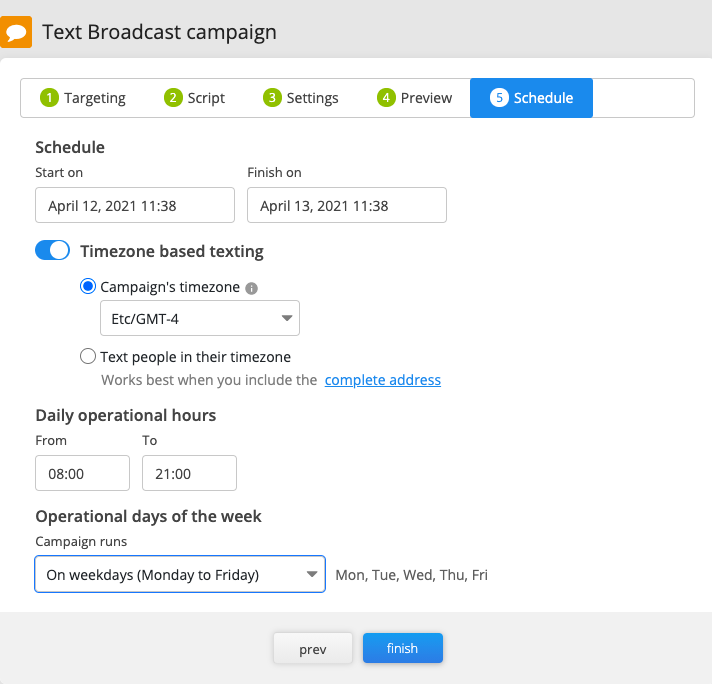 Scheduling the hours and days for outbound messages helps you stay compliant with political text messaging laws and decreases opt-out or spam rates.
Such features in texting software can elevate your campaign by combining the outreach of texts to door canvassing efforts. CallHub is a political texting tool that contains all the above features and more. Try it out for free here.
Feature image source: The Irish Labour Party/Flickr.