Political campaign software is an excellent investment that helps you manage your entire campaign process! With a good software, you can:
Streamline the campaign processes.
Allow candidates and organizations to manage their resources effectively.
Increase voter engagement.
Manage donations and fundraising events, and much more.
In doing so, a political campaign software will save you time and money. Not only that, but it would also help your campaign function more efficiently.
Let's talk about this in detail.
What can a political campaign software do?
Before we begin, get your pen and paper out and make a list of things you expect from a campaign management software. Having a fair idea of your campaign goals and how a software can assist you in achieving them will help you make better notes throughout this article.
Ready? Here we go:
1. Manage contact lists
The crux of a good campaign is its ability to focus on the people supporting it. As with any marketing plan, knowing which contacts to connect with, when to connect with them, and what to say is very important.
For example, if one of your campaigns aims to reach out to parents who want better safety measures for their children at school, your political campaign management software must be able to help you do that. You could filter your contacts by age, family data, etc., and only reach out to your intended target segment.
2. Enable outreach programs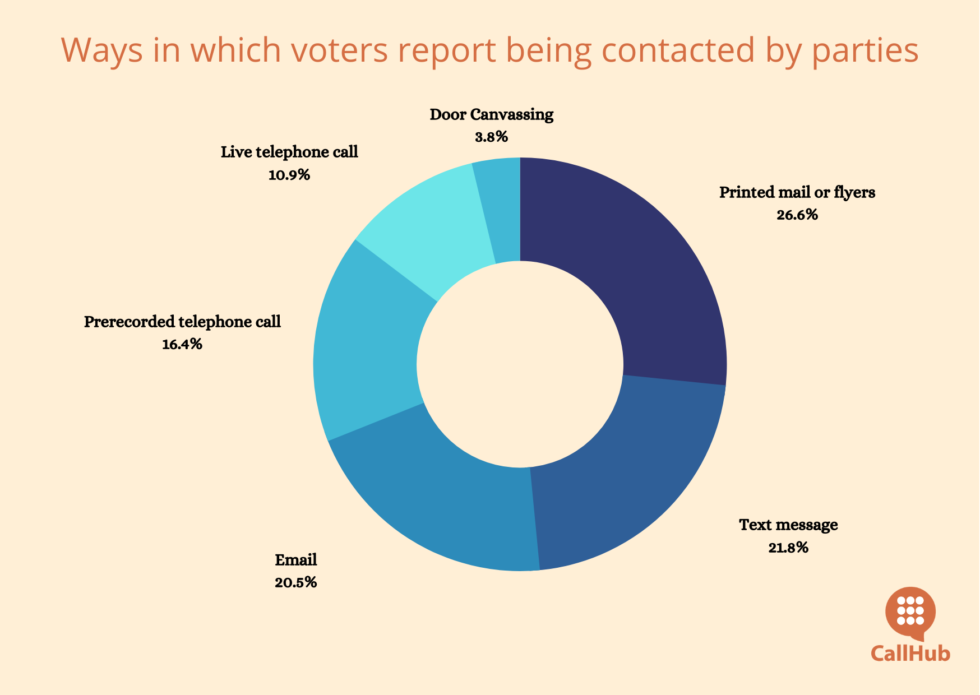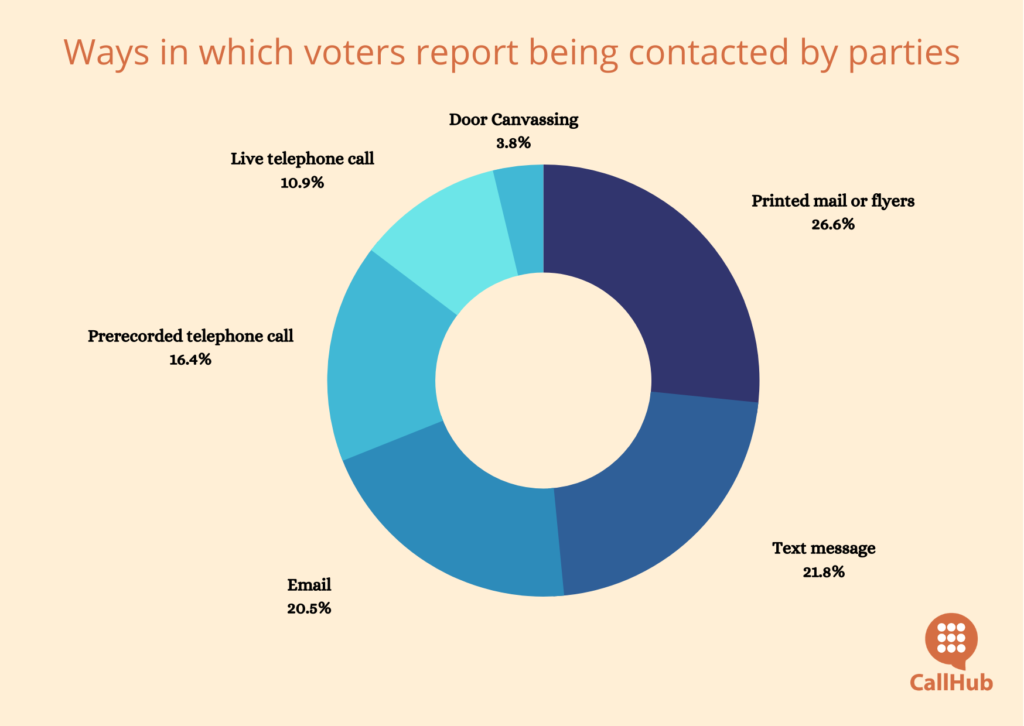 Aside from managing your contacts, a good campaign management software will also allow you to reach out to your target audience.
Some political campaign software solutions have in-built outreach tools such as emailers and video calling. Others such as NationBuilder easily integrate with communication tools like CallHub and make political outreach easy.
3. Manage fundraising and donations
Fundraising and donations are the backbones of any political campaign. Without the money to run it, no campaign can hope to reach out to as many people as it needs to succeed.
Understanding who is donating to the campaign, the amount of money collected, and the allocation of funds can be easily tracked and managed using your political campaign software. They also help you with the outreach and nurturing required for fundraising campaigns.
Read Also: Top 9 Political Fundraising Software to Raise Dollars Effectively
4. Collect crucial data and prepare reports
Data and reports are essential elements in a political campaign software. Data such as percentage of supporters, number of swing voters, candidate perception, etc., are all necessary to determine the feasibility and inform the next steps of a campaign.
The ability of a software to calculate and generate reports that are relevant to your campaign will go a long way in contributing to your success.
5. Help manage events and logistics
The number of people attending your event is a statistic that matters – whether you are declaring yourself a candidate or announcing your policies. Not only does it reinstill faith in your supporters about your popularity and chances of a win, but it also gives your campaign a morale boost.
Additionally, if you turn up in the local newspapers the next day, pictures of a huge crowd supporting you will provide social pressure to undecided but leaning voters.
How do you understand if people know about your event, are excited to attend, or if the local community is not going to make it to the event?
Your campaign management software will be there to take care of these efforts and more. Through features such as mass texting, voice broadcast, SMS opt-in, you can reach out to your supporter group and encourage them to attend.
6. Manage volunteers and staff
Allocation of tasks related to the campaign can be much more seamless with a software. Campaign managers can automate assignments, logging, and notification of tasks with such software, minimizing the risk of error. This ensures that everybody is on board and knows what needs to be done.
Volunteer management software can assign calls for the day, report collation, and more…
Once they go through the tasks assigned to them, they should also be able to log in the data they received through the campaign to the software easily.
Now that we know about important features for which to keep an eye out, let's have a look at our favorite political campaign software solutions.
Our choice for the best political campaign software solutions
We've compiled a list of the best political campaign software which address all your outreach needs.
1. NationBuilder
NationBuilder is a complete CRM solution for any political campaign. It helps leaders build and maintain their relationships with their support base, volunteers, staff, and more.
It helps you create a database, reach out to contacts in this database, and set up your website, email campaigns, social media integration, and donation processing.
Notable features:
Virtual phone number: You can set up a virtual number for your 'nation,' which tracks all incoming calls to your campaign. It helps to keep your number private. You can receive calls, forward incoming calls to another number, and record voicemails through this feature.
Email Blasts: You can set up broadcast emails, a custom theme for your mailer campaigns, and more.
Social Media: NationBuilder's best communication feature is that it allows you to connect to your campaign's social media pages. You can post directly to your social media through the software, keep track of who mentioned you on their social media pages and automatically import prospects from Facebook and Twitter.
Pricing: NationBuilder's 'Starter' pack starts at $29/mo, followed by its 'Pro' pack, which is $139/mo. You can also customize your plan under their 'Enterprise' pack.
2. CallHub
CallHub aims to do one thing really well– help campaigns with their communications needs with tools that are easy to implement and simple to use.
As a political campaign software, it takes care of your end-to-end communications needs with calling and texting. CallHub integrates with a large range of CRMs and political campaign tools including NationBuilder. NGP VAN, Blue State Digital, Ecanvasser, Salesforce, etc. You can use CallHub as is or integrate it easily with any of your campaign CRMs.
With a range of auto-dialers and texting software, we promise to adapt to any kind of campaign you might want to run– whether canvassing, surveys, or GOTV.
Notable features:
Auto dialers: CallHub has three automated dialing systems that can take care of all your calling requirements. With the predictive dialer, call productivity increases by 200%. Power Dialer helps you control the speed at which calls are made. Robo dialers can make thousands of calls simultaneously.
Text messaging software: There are different ways in which you can engage your audience through text. You can send out thousands of texts at once through mass texting. You could engage in a personalized two-way conversation with a large number of people simultaneously through peer-to-peer texting.
But first, you must build a contact list. With our SMS opt-in feature, you can collect phone numbers and more information from your audience and add them to an existing or new contact list.
Fastclick dialer: With its intelligent queuing and call routing, a fastclick dialer achieves speeds that can match and outperform automated dialers. This is the best solution for campaigns with a large number of contacts which are a mix of landline and mobile phone numbers since it is TCPA compliant.
Whitelabel solution: CallHub also offers its communication tools as a Whitelabel product. You can get our all-in-one communication platform at a great price and offer it as a complete texting and calling solution to your customers. If you're a political consultancy firm, this is definitely a product to consider. As a whitelabel affiliate, you get all our premium features– which your clients can benefit from. It's our solution but completely YOUR branding. Read more about it here.
Pricing: CallHub follows a subscription model with monthly, quarterly, half-yearly, and yearly subscriptions. Pricing starts at $0 with the 'pay as you go model' and goes up to $499/mo. Prices can be customized according to your campaign's individual needs.
3. Ecanvasser
Ecanvasser is the perfect tool if you want your political campaign software to organize your outreach efforts completely. As the name suggests, Ecanvasser is built to make the process of election canvassing really easy for users.
With a political campaign management software such as Ecanvasser, community outreach and engagement is a worry you do not need to have.
Notable features:
Walk app: The 'walk app' lets you plan and organize your field canvassing initiative. With integrated map features and list views, your field canvassing is surely going to be more efficient.
Manage your team: You can easily manage your team of volunteers by viewing their location in real-time and letting them update their profile information.
Mobile canvassing app: With this feature, you can create custom fields to capture any kind of data, build your mobile app around specific campaign goals, and rank each interaction to better understand your outreach efforts.
Surveys: You can create and push surveys while your team is out on the field. It helps them collect valuable information about voter perspectives while on the go.
Tags: Every information you collect through ecanvasser is geotagged and time stamped for easy reference later.
Integrations: Integrates seamlessly with communication tools to enable calling and texting.
Pricing: Prices start at €99 /mo and go up to €399 /mo for their 'pro' pack. You can also customize your pack according to your campaign's unique requirements.
4. Aristotle Campaign Manager
Starting out as a campaign finance and reporting database in 1983, Aristotle has become a full-service political campaign software over the years. They provide solutions for political campaigns and grassroots organizing.
Notable features:
Campaign manager: All in one campaign manager looks after compliance, fundraising, and accounting reporting. It eliminates the need for separate databases or to migrate data from one tool to another.
Campaign contribution: It allows campaigns to accept donations online in a secure manner. With real-time monitoring and easy account set-up, it is a feature many will love.
Custom call sheets: Printed and paperless templates that you can add your branding to and use to reach out to your audience.
Database management: Aristotle provides phone numbers, email addresses, and grassroots and advocacy, international and specialty data for better reach.
Thank you letters: You can keep a track of who needs to be thanked for their support towards your campaign. With their thank you letter feature, you can send out personalized notes to keep your supporters engaged and feeling good.
Donor insights: Donor insights help you figure out which donors are more likely to give, and how much. It provides insights that elevate your donor research so that your next outreach campaign targeted towards them is more fruitful.
Pricing: Prices start at $250.00 /month.
5. Mobilize
Mobilize consists of a team of highly dedicated individuals driven to develop and maintain a great community platform.
Their product is built keeping in mind ease-of-use for their customers. With simplicity at its core, Mobilize aims to drive community engagement through its intuitive political campaign software.
This app is perfect for large campaigns that want to build momentum within the team, maintain a steady level of conversation, and encourage engagement.
Notable features:
Personalized onboarding: The onboarding process is aimed at being engaging so that your members are interested from the get-go.
Member directory: Member directory helps you save, manage and segment all your contacts smoothly. You can even fast-track your networking through personalized search.
Email conversations: Members can communicate with each other via email without having to log into the software. This hassle-free communication method helps conversations flow.
Break out groups: Small groups can break out and create a space on the app to have meaningful conversations and discussions.
Private chat: You can connect with other members of the group through private chats across mobile, web, and email.
Event management: Manage events through their calendar app and calendar integrations, host events for small groups or the whole community, send personalized invites, and collect RSVPs.
Pricing: Mobilize is free to just get started. You can onboard up to 500 members at $0. For tiered member packages, it is priced at $800 per month and billed annually.
What next?
We've listed our top favorite political campaign management software. With great features, power-packed to run your campaign, these solutions are sure to lead you to success.
In addition to awesome software, an exceptional outreach strategy is a necessary tool in your arsenal. If you'd like to know more, give our article '7 strategies for effective voter outreach' a read.
All the best!
Featured Image Credit: Element5 Digital