If you're on this blog, I don't have to tell you how crucial a political fundraising software is for an active campaign. 2020 saw some of the largest amounts raised and spent on mega campaigns.
The median amount of those House candidates who raised the most funds was $20,046,330. The same for Senate candidates was $99,437,223*.
It would have been nearly impossible for these candidates to raise such vast sums without efficient campaign software dedicated to raising funds. The primary reasons being:
Cumbersome import and export of data from multiple sources.
Human errors during data entry.
Ineffective tracking.
Slow process due to manual setting of outreach, reminders, and other communications.
We have curated a list of our top 9 picks of political fundraising software that will help you overcome these challenges and raise sufficient funds for your campaign. Read on.
*Data refers to the 2019-2020 cycle, and individual amounts are taken from Open Secrets' resourceful files. The amount mentioned above are medians calculated from the top 10 fundraisers in the House and Senate candidates, respectively.
Top campaign software for political fundraising
Political campaign software has changed the game of fundraising and financial management. Industry-leading tools have automated these aspects of a political campaign, bringing in more dollars and streamlining their tracking.
In this blog, we look at the top 9 political fundraising software that use technology such as texts, AI, and the internet to get you the desired amount of funds.
Fundly: For crowdfunding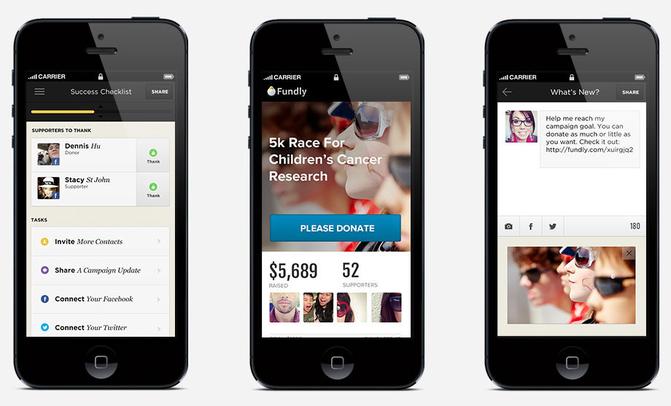 Fundly is an excellent fit for political campaigns focused on social media outreach and nurturing. The platform is designed to encourage individual donations and boost impressions on Facebook. Fundly also publishes blogs and guides to help novices develop efficient ways to crowdfund and for seasoned political fundraisers to polish and better their techniques.
Notable features of this political campaign tool:
According to Fundly, 40% of campaigns are viewed on phones. Thus, they have mobile-optimized donation pages and developed an app to encourage more donations.
They have integrated with Facebook OpenGraph to automatically broadcast key developments in your campaign. This increases social media impressions without manual intervention.
Fundly also has other ways of tuning up social impressions. For instance, they encourage donors to share a post, so your campaign appears on their network's feed. Additionally, anyone who engages with your post (likes, comments) appears in your activity feed.
The platform enables you to set up a daily, weekly, or monthly withdrawal schedule. Funds are deposited in your account accordingly. The transaction may take a day or two, but you need not wait until your donation box is full to withdraw the funds. Note that these withdrawals do not reflect on your donation meter. It will always show the total amount received so far.
Pricing: Fundly charges a 4.9% platform fee + credit card processing fee + transaction fee. While the platform fee is blanket across geographies, the processing and transaction fees vary according to country.
Country
Processing + Transaction Fee
USA and Canada
2.9% credit card processing fee + $0.30/transaction.
UK
2.4% credit card processing fee + 20p/transaction
Australia
Domestic: 1.75% credit card processing fee + $0.30/transaction.

International & Amex: 2.9% credit card processing fee + $0.30/transaction.
Average rating: ★★★★☆ (Average of 3.55 on G2 and Capterra).
Anedot: A free political campaign software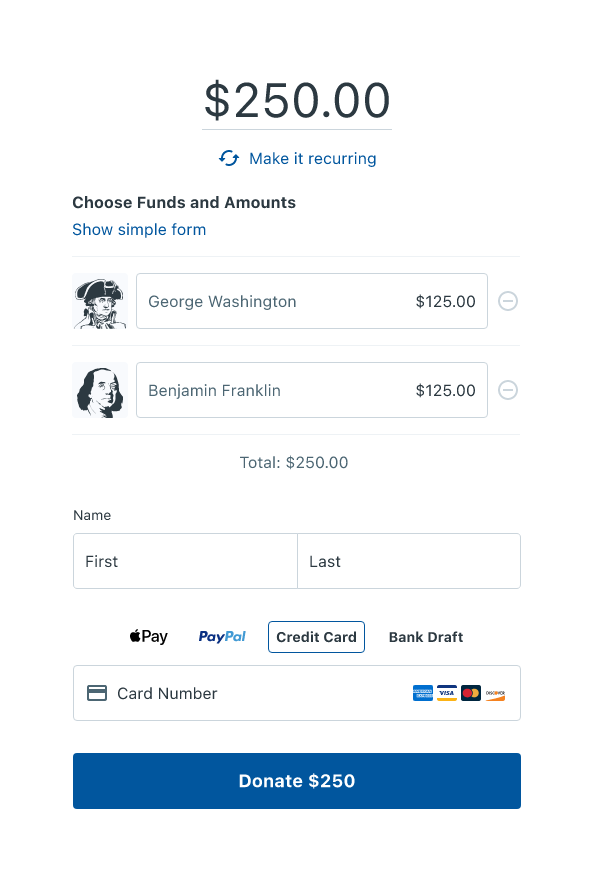 A data-driven political campaign yields results. Anedot, too, has donation forms built on "millions of" valuable data points aimed to capture more leads and direct them to convert. If political microtargeting is your forte, Anedot complements this outlook as a political fundraising software.
Plus, it charges no monthly fee and gives an option for your donors to cover the processing fee, making this platform entirely free for you!
Notable features:
Anedot designs simple donation pages that are optimized for every screen type and size- whether a smartphone, notebook or full-sized desktop computer.
It allows you to create unlimited "Action Pages" such as polls, surveys, petitions to capture leads. Sync it with a communication platform like CallHub and nurture respondents to donate.
This political fundraising software will allow you to sync with other campaigns on the platform and branch out your fundraising efforts. Add multiple bank accounts if you want the funds to diverge. Donors, too, can donate to various campaigns on a single donation page.
Anedot sends a nudge email to cart abandoners who didn't complete a form or transaction.
Use their customizable tracking options to track data on your givers and inform your fundraising messaging, amounts, and outreach channels accordingly.
Pricing: No platform fee. They charge a transaction fee of 4% + 30¢, with the option for donors to cover it.
Rating: ★★★★☆ (4.4 on G2)
You May Also Like: 6 ways to convince supporters to donate through a phone conversation
CallHub: For text and phone fundraising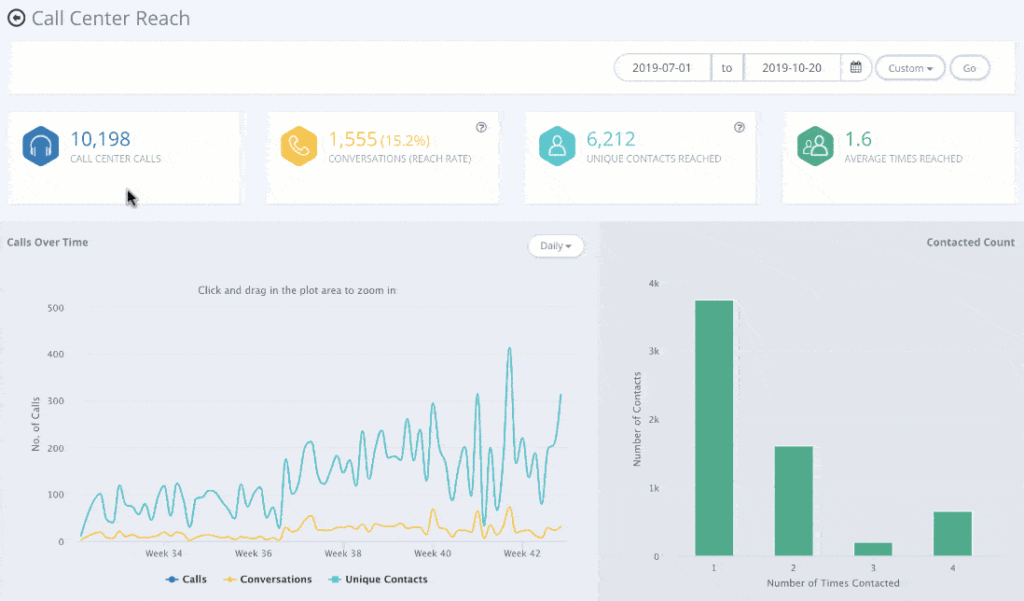 Detailed tracking of your campaigns to ensure you get the most out of your fundraisers.
CallHub is a text messaging and call center solution designed to aid political campaigns in all their endeavors- from outreach to nurturing and, of course, fundraising. Telefundraising and text fundraising have proven their worth with campaigns. CallHub makes these avenues scalable, automated, and more efficient.
Notable features of this 2-in-1 campaign software:
CallHub integrates with popular political CRMs such as NationBuilder, NGPVan, L2 Political, and many more. This enables you to sync your data and inform your text and calling campaigns with personalization opportunities.
SMS opt-in and the Fastclick dialer allow you to get consent from supporters before charging the automated tools. Stay TCPA compliant with them.
Build surveys to understand your supporters better and target fundraising messages, amounts, and methods intelligently.
Managers can track agent and campaign performance to optimize fundraisers and evolve strategies to meet goals.
Follow their blogs and guides to develop and polish your fundraising messaging and strategies. They are active on Twitter too!
Pricing: CallHub offers a four-level pricing model, starting with the pay-as-you-go "Lite" model with no platform fee. The Essentials model charges $199/month, and Scale charges $499/month. Prices for "Enterprise" and customized according to needs. You can use texting and calling, irrespective of the pricing model.
Rating: ★★★★★ (Average of 4.5 on G2 and Capterra).
ActBlue: For democratic candidates
ActBlue is a partisan political fundraising software built for democratic candidates and progressive campaigns. They have become such a popular platform that, as Jeremy G, a performance analyst says, "… donors are used to and expect this platform". If you are a progressive or democratic campaign looking for fundraising software, ActBlue must be on your list of considerations.
Notable features:
ActBlue relies heavily on digital fundraising. Thus, they enable a quick setup of campaigns, mobile-optimized donation pages, and an "always available" support team.
Add your branding to your forms and action pages.
A good digital fundraising campaign learns from responses and evolves accordingly. To this end, ActBlue offers A/B testing to trash what's not working and optimize what is.
13 million donors have saved their payment information on ActBlue. This enables them to donate with one click and benefits your campaign by saving donors' time. Sway donors your way!
With Tandem fundraising, you can connect multiple fundraisers. Donors can donate to one or more of these fundraisers on a single donation form.
Hosting a fundraising event? ActBlue allows you to streamline ticketed events to merge digital fundraising with offline fundraisers.
Pricing: ActBlue charges a flat 3.95% transaction fee on every donation. That's it.
Rating: ★★★★☆ (Average of 3.5 on G2 and Capterra).
ISPolitical: To deploy AI for political fundraising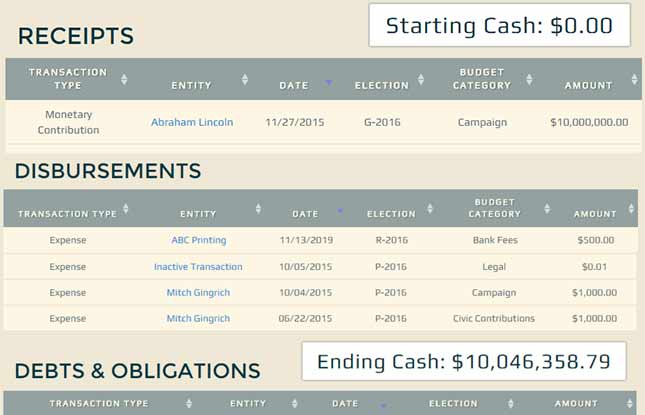 ISPolitical is a technologically driven campaign software for all things finance. The tool considers the complexity of a large-scale political fundraiser and accommodates its requirements such as advanced tracking, data generation, and, of course, compliance.
Notable features of the political tool:
Set micro and macro targeting rules to lure supporters with messaging that suits their interests, pain points, and leanings. ISPolitical's AI can hint at individuals who are ready to give and nudge MIA donations.
ISPolitical's tech-driven platform collects data points on users and informs your campaign accordingly. These can be useful not just for a fundraiser but also for future voter mobilization and GOTV efforts.
Get compliance reports with in-built AI that analyzes FEC and other agency RFAI Letters. Their "TurboFile compliance tool" notifies you to stay compliant with deadlines.
ISPolitical also takes care of other elements of political fundraising such as security (with 2 Factor authentication), filing of expenses in deposit batches, check writing, and cross-account check printing.
Pricing: ISPolitical's pricing starts at $39.99 per month. Contact their team on (800) 926-0062 or [email protected] for more.
Ratings: ★★★★★ (4.9 on Capterra)
NGPVan: An industry leader campaign software
NGPVan is an established name in the political industry, providing organization, management, and fundraising tools. As a political fundraising software, NGPVan will offer you valuable data points on your prospects, guide you through crafting your messaging and sending them at the right time in the proper manner.
Notable features of this campaign software:
A complete micro and macro understanding of your contacts, including their history, interests, characteristics. These data points will help you spark and nurture a deep connection.
Integrated online and offline RSVP pages so you can raise money for campaigns in multiple fashions.
Tag and search your supporters with hierarchical codes. This way, you know whom to ask for donations in which fundraiser.
NGPVan's credit card updater reduces churn by automatically updating Visa and MasterCard information of your recurring donors. This way, you reduce churn and raise funds with regular donors without hurdles.
NGPVan integrates with a myriad of other campaign software. This includes CallHub, which enables you to stay in touch with supporters even after a fundraiser and nurture them throughout the election cycle.
Pricing: NGPVan pricing starts at $45 per month.
Rating: ★★★★☆ (Average of 4 on G2 and Capterra).
WinRed: Online fundraising for GOP candidates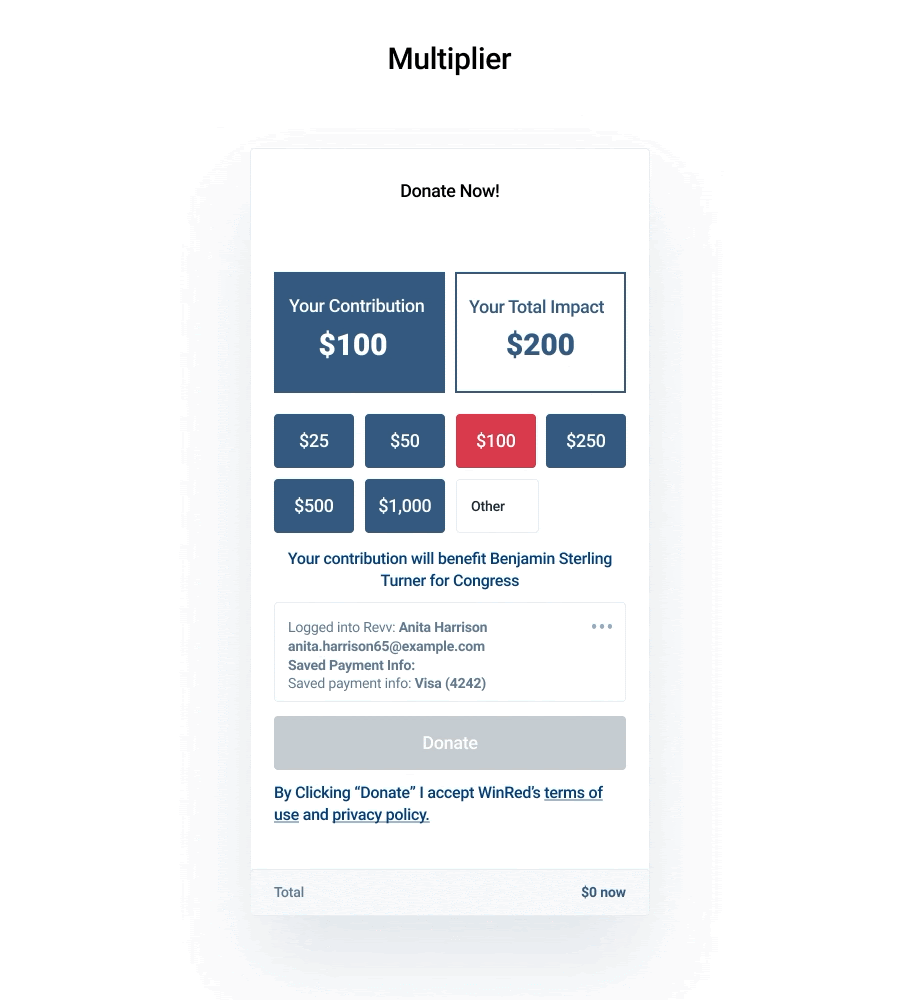 Launched in 2019, WinRed is a fundraising solution dedicated to Republican candidates and conservative causes. Their language and website are donor-centric, making it easy for your supporters to support you financially.
Notable features:
Donors can create profiles to manage donations, subscriptions, and credit card history. This encourages recurring donations and prevents churns.
Your strongest supporters can create fundraising pages on your behalf and lead their networks to donate. This follows a peer-to-peer fundraising model.
Why stop at raising funds when you can market your campaign simultaneously? WinRed offers a "Zero-touch merchandise" system where donors can get t-shirts, yard signs, and other branded merchandise delivered after making relevant donations.
WinRed offers page optimization with widgets, CTAs, and an easy-to-navigate design to maximize donations. You can refer to their blog for instructions and tips to improve your fundraiser on WinRed.
Pricing: WinRed charges a 3.8% transaction fee.
Ratings: Ratings unavailable as of July 2021.
Campaign Manager Aristotle: The all-in-one campaign software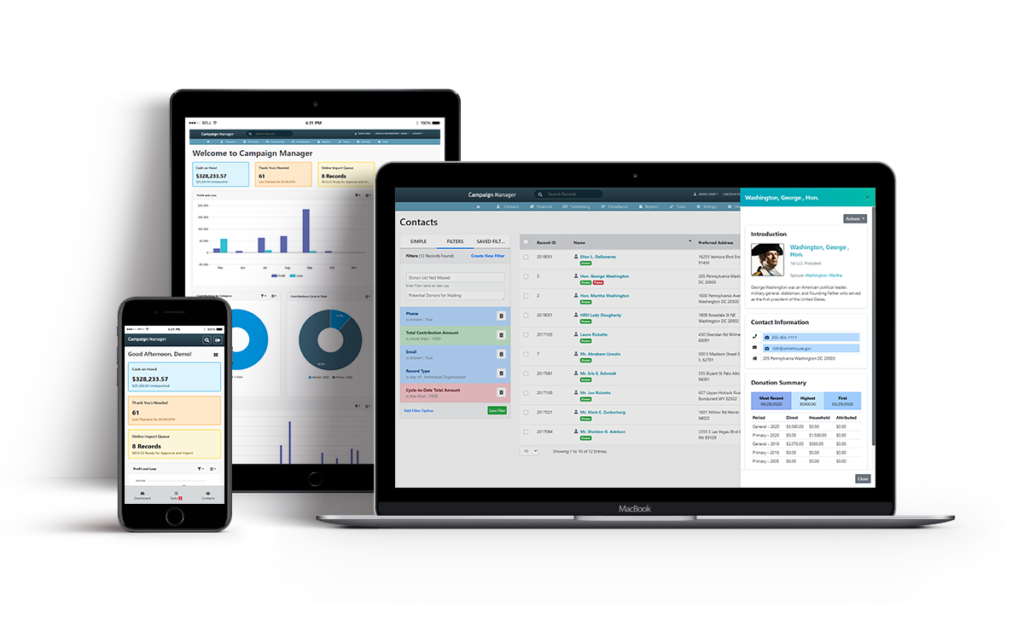 Aristotle introduces Campaign Manager, a software that accommodates all your political fundraising, management, and organization needs under one roof. Since industry experts design this political tool, your campaign can rest assured about its ease of functioning and result-oriented outlook.
Notable features:
Detailed information about your prospects, including donation history to other organizations. Such in-depth data points can inform your messaging and targeting to get the most out of every prospect.
Campaign Manager keeps track of donor files so that you build a connection with them, not just ask for funds. This includes custom call sheets (for personalization) and thank-you letters after a gift is processed.
Exhaustive reports on your campaign history and progress. Campaign Manager syncs with popular political APIs.
Manage data with centralized reports that are easy to import. Maintain clean files with sync-ups with the National Change of Address (NCOA) and the Social Security Administration (SSA).
Pricing: Aristotle's pricing starts at $250/month.
Ratings: ★★★★☆ (Average of 4.4 on G2 and Capterra).
Filpac: A political fundraising software for more than candidates
Centered toward political fundraising, Filpac focuses not just on candidates but also on committee treasurers, PACs, office bearers, and party organizations. Whether a school board election or presidential campaign, Filpac will help you raise sufficient dollars no matter what size you are.
Notable features of this political fundraising software:
Filpac offers continual appending and updating of donor profiles, so you know exactly where your supporter is and what they are doing at all times.
Use this supporter data to micro-target supporters and hit the right spot every time you seek donations.
Filpac has equal footing with offline fundraising and can help you with telemarketing and direct mail fundraisers. Additionally, utilize mail fundraising and send personalized emails to your supporters to speed up online fundraisers.
Filpac makes reporting, filing (public disclosures), and mailing easy with their in-built tools and services. So, focus on your fundraising efforts and rely on this campaign software with the paperwork.
Pricing: The installation and platform fee is divided into basic and advanced models.
Model
Installation Fee
Upgrade & Warranty Fee
Features
Basic
$1031
$600
– Data file conversion
– 30-day toll-free telephone support
– Guaranteed state or FEC compliance (through 2021).
Advanced
$1715
$500
– All the above features
– Ability to host on their remote servers.
Ratings: ★★★★★ (4.8 on Capterra)
The way forward
Without effective and continual communication with supporters, fundraising from individual donors is nearly impossible. The first step to achieving this is identifying communication methods that work. Texts and calls take the lead in personal communications, thanks to the widespread use of phones across geographies and age groups.
Maintaining such personal contact on a large scale can be tricky. But CallHub helps you streamline conversations with hundreds of thousands of supporters. Among the political fundraising software mentioned above, CallHub has dedicated integrations with
Anedot
NGPVan
You can integrate with all the other tools using Zapier.
Add CallHub in your campaign software list, not just as a fundraising tool but also as a software that facilitates outreach, canvassing, GOTV, and more. Set up a call with our support team here: https://callhub.io/talk-to-an-expert/.
Feature image source: Angie J/Unsplash.