"A lot of our folks are volunteers, a lot of them are retired, they are often anxious with technology, and they were able to use CallHub easily."

– Celine Trojand, Lead Organizer at Organising for change
Well, that is really the kind of feedback a calling software catered towards political campaigns is aiming to receive from its users. Call center campaigns are a widely used and popular means for campaigning, and making it easy to access through technology and design is imperative.
With people from all walks of life using phonebanking tools to help political campaigns, choosing a calling software that enables easy-to-use and valuable features can make political calling easier.
With that in mind, this article explores call center features, compliance laws, and integrations to look out for while choosing your political calling software. And if you've chosen CallHub for phonebanking, we go through steps to set up a calling campaign at the very end. Read on.
Read also: Case study: How Organizing for change ran a successful GOTV campaign.
Recommended features to make political calling easy
While you must have come across several political campaign tools, it is essential to know the different features that could be at your disposal once you choose the right outreach software.
We explore features that will elevate your political calling campaign while saving time and resources. Here are features that your campaign must look for:
Patch-through calling
Dynamic Caller ID
TCPA compliant dialer
A range of autodialers
Automated texts for follow-ups
List segmentation
Campaign tags
CRM integration
Patch-through calling
Perhaps one of the most remarkable features of a calling software, patch-through calling enables supporters to connect with a candidate or critical decision-makers. There are two ways in which you can use patch-through calling:
When you want to drive thousands of calls to elected representatives to represent your cause.
When you are running an election campaign and would like your agents to connect supporters directly with the candidate to foster a better connection between them and their constituents.
How does patch-through calling work?
Build a team of volunteers and educate them about your campaign.
Volunteers make calls on the call center software to potential voters to talk about your campaign.
They connect interested supporters to either senior campaign staff or the candidate themselves to solidify support. If you are rallying troops to speak up for a cause, your agents will connect interested callees to the office of their representative.
Volunteer then moves on to the next contact.
With CallHub's patch-through calling tool, you can:
Monitor live calls.
Add and manage unlimited volunteers.
Add calling scripts and surveys to each campaign.
Call from anywhere.
Use advanced analytics to analyze your campaign.
Know more about patch-through calling: Patch-Through Calls | Automated Voice & SMS for Advocacy.
Dynamic caller ID
Studies have shown that people are 20% more likely to pick a call if it reflects a local caller ID. You may be located in New York but want to make calls to supporters in Austin, TX? Dynamic caller ID is your go-to calling feature.
The dynamic caller ID feature helps you build a local presence by reflecting a local caller ID. While you may be calling from New York, your number will reflect as a local Texas number, thus increasing your pick-up rates. This feature is especially useful if your contact list contains contacts across states and geographies. CallHub will rent a number from the state capital or the largest city of the contacts' location and reflect that caller ID on their phone.
Steps to rent a dynamic caller ID
Select the 'Dynamic caller ID' feature while setting up your calling campaign on the CallHub platform.
The system then analyzes contacts in your contact list based on the area codes and rents a number from each state.
Rented numbers are added to the dynamic caller ID block.
You will be charged $2/month for every number rented. Depending on the number of state codes in your contact list, you can be charged a monthly flat fee between $2 (1 state) to $100 (all 50 states)
Know more about the dynamic caller ID feature: Dynamic Caller ID • CallHub
TCPA compliant dialer
FCC and TCPA have set out a series of regulations for calling so that people are not bombarded with calls all the time. These regulations include prescribed timings for calling as well as prior consent from your contacts if you're using auto-dialers (or robocalls) to call mobile numbers.
It is essential for any campaign to follow these regulations, failing which the campaign might be suspended. The good news is that you can use a TCPA compliant dialer to carry out your calling campaigns.
Our FastClick dialer uses human intervention to place calls, making it compliant with the regulations placed on such campaigns. What's even better? It can reach calling speeds that match most autodialers. It is ideal for political campaigns because contact lists are generally a mix of landline and mobile numbers, and a TCPA compliant dialer can circumvent that problem.
How to set up a TCPA compliant dialer?
Sign up for the TCPA compliant dialer by filling out a form.
Create a FastClick dialer account.
Set up your calling campaign by adding agents, uploading your contact list, and adding your calling script.
Manage live campaigns by controlling how fast calls are made and monitoring agents individually.
Read Also: Your Cheat-Sheet to Tick All Boxes on a TCPA Compliance Checklist
A range of autodialers
A good way to choose the right calling software for your campaign is to understand if it offers you a choice between different dialers. Every campaign's needs and outreach strategies differ and using a dialer that aligns with them will go a long way in supporting your campaign's success.
CallHub offers three dialer options to choose from:
Power dialer: Is the cost of missing out on even a single contact on your list too high? Then the Power dialer is the perfect pick for you. It dials the next contact in the list only when an agent indicates they are free for a call. This gives your agents time to focus on the call at hand, fill in notes and survey responses, etc., before getting on the next call.
Predictive dialer: As the name suggests, the Predictive dialer predicts the speed at which agents are managing calls and sets the dialing speed accordingly. It can call thrice as many supporters in the same time frame as manual dialing. Your agent spends more time on the talking part of calls, without the need to dial numbers, deal with unanswered calls, or waste time on bad numbers.
Robo dialer: The robo dialer or voice broadcast feature allows you to share a pre-recorded message with thousands of people at the click of a button. You can schedule these calls in advance and track results once the campaign is live. This dialer is perfect for sending informational messages that do not require a two-way conversation.
Choose from this range of dialers to conduct your calling campaign or simultaneously use each for different campaigns.
Automated texts for follow-up
Voter outreach through calling is very effective on its own. However, you get a winning combination once you combine the power and magic of calls and texts.
Look out for a political calling software that allows you to send text messages to contact immediately after you make a call. This is especially useful if you have nurtured them to take action, like donating to your cause or signing a petition. An immediate follow-up text will get them to do the needful before their interest fades.
Additionally, in case your call is not picked, or you encounter an answering machine, you can set up automated text messages for such scenarios as well.
Having a texting feature within your call center dashboard for follow-ups increases engagement with your target audience immensely. You can simply select the text-follow-up option on your dashboard while setting up your campaign to enable the feature:

Know more about automated text follow-ups: Automated Text Messaging – How to Get Started.
List segmentation
What do you do when you have a list of thousands of contacts but you want to reach out to people between the ages of 35-45 and living in SoCal? You segment your list!
Move over cumbersome excel sheets and filter out your contacts by creating new contact books regularly. With list segmentation features on your CRM or call center software, you can sift through lists easily and target your messages to specific audience segments.
Read Also: List segmentation – a practical guide for your organization
Campaign tags
Campaign tags can classify contacts based on how the conversation between them and the call agent went. For example, you can set tags such as 'interested', 'uninterested', 'high-value,' etc., and label different contacts accordingly.
Tags help you segment your lists later on in your campaign journey. You might want to run exclusive donation campaigns for high-value contacts. Segmenting lists based on tags identifying such connections will make your campaign easy.
CRM Integration
Organizing and managing data is no easy task. If you need to duplicate this data across different platforms that you use, it is an additional strain on your volunteers and campaign staff.
Choosing a calling platform that integrates with your CRM to enable an easy flow of information is essential if you want to focus on winning your campaign instead of managing a huge data mess.
CallHub allows integrations with the following CRM platforms for political campaigns:
NationBuilder
NGPVAN
Blue State Digital
L2Political
Ecanvasser
Action Network
CiviCRM
If you don't find your CRM here, we also have a Zapier integration that allows you to sync your database with us.
With a CRM and calling platform in sync, you're all set to begin your calling campaign.
Must Visit: App Integrations with NationBuilder – Salesforce
Political calling compliance laws to remember
Always introduce yourself, your campaign, or any other entity involved in conducting this calling campaign at the beginning of the call.
Provide your telephone number during the call or immediately after.
While political campaigns are exempt from the National DNC list, you still cannot contact individuals who have explicitly asked not to be contacted by you.
Check state-approved timings to make calls and ensure you do not place calls beyond this window.
Provide opportunities to opt out of your calling lists. You do not want angry recipients complaining about your campaign.
Regularly follow TCPA compliance guidelines to ensure you are not caught unaware by any changes in the regulations.
Let's look at steps to set up a political calling campaign on CallHub.
Setting up a political calling campaign on CallHub
Setting up a calling campaign on CallHub is easy. In just a few steps, you will be ready to launch your calling campaign
1. Set up a CallHub account
Visit our login page and quickly sign up to get started.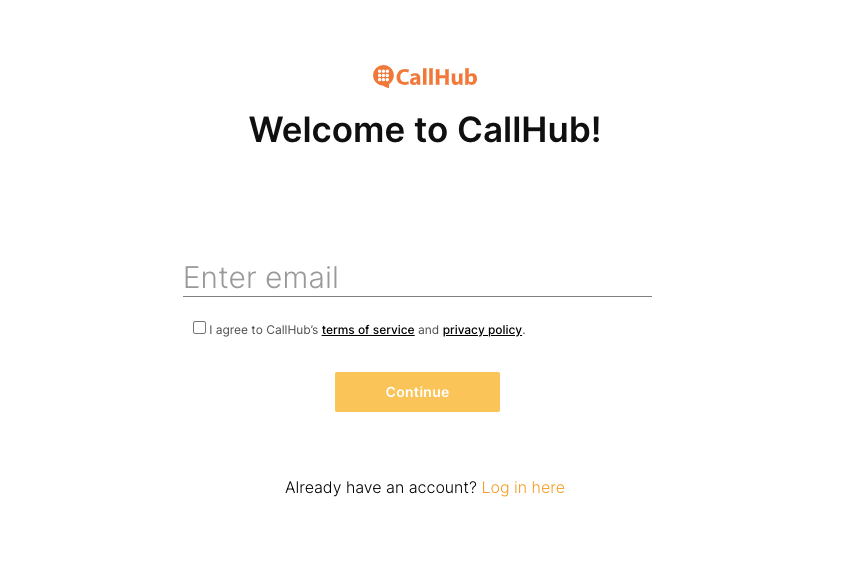 2. Set up the campaign
Once you're logged in, you can click on the call center option and begin setting up your campaign. Choose between the call center option (for autodialers) or voice broadcast to share pre-recorded messages.

3. Choose your targeting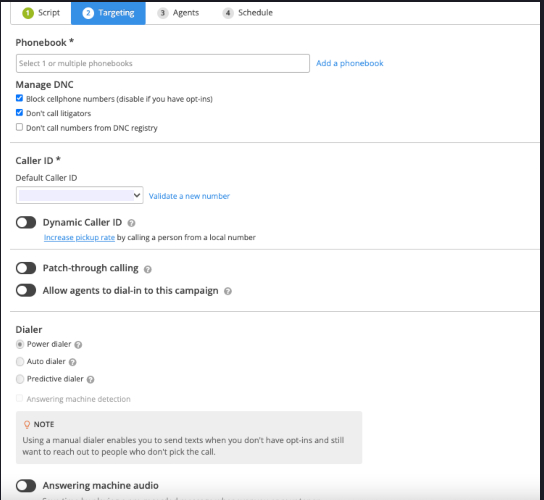 Next, move on to the targeting page. This page enables you to add the following to your election calling campaign:
Your contact list which you need to target for this particular campaign under the 'contact list' option. You can upload an excel or .slv file for the same.
Add your 'Caller ID' which is your registered and validated phone number through which you will make those calls.
You can choose to rent a dynamic caller ID that displays a local number to recipients depending on their location. For example, if you want to call someone in Austin, Texas, your phone number will be displayed as a local number and help you increase pickup rates.
Enable patch-through calling to allow agents to transfer the call to a superior in case the need arises.
4. Choose an autodialer
CallHub offers three autodialers that you can choose from –
Depending on your requirements and how they match with each autodialer, you can select the one that is best suited for your campaign.
You can also take our quiz, 'Which autodialer works best for your campaign, to get more clarity on the best autodialer for your political calls campaign.
Next, name your campaign, add a calling script, and set up follow-up texts: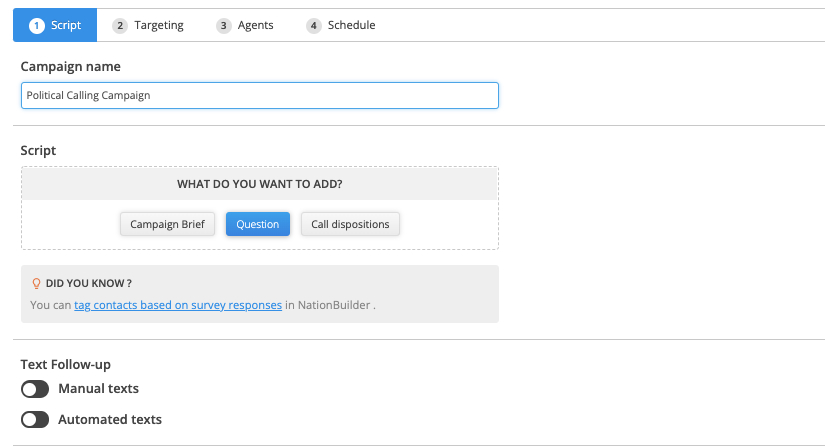 You can do the following at this stage:
Add your campaign name.
Click on 'Campaign Brief' and add your phone survey script.
Click on 'Questions' and add questions relevant to your campaigns.
Click on 'Call dispositions' and add the different call dispositions you want to indicate post each call.
Set up text follow-ups if you choose to add them.
5. Select agents for the calls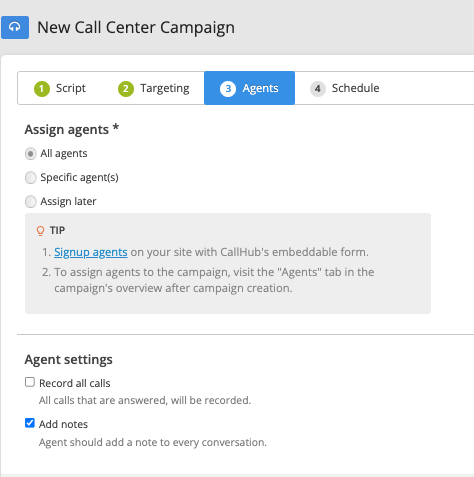 You can choose to assign this campaign to all your agents, select a particular set of agents or choose to assign agents later.
7. Schedule your campaign
How do you schedule a campaign on CallHub?
Select the start and end date of the campaign.
Activate the timezone calling button to reach out to people in different time zones and stay within the regulated hours in that state. CallHub will stop dialing numbers in a state when the time limit in that timezone is reached.
Enter your operational hours and select the days you operate, i.e., the days and timings between which the campaign will be active.
Click 'Finish,' and your campaign is ready to go live.
And just like that, before you know it, your political calling campaign is ready to be scheduled and launched!
7. Analyze reports
Once you've run your calling campaign successfully, CallHub lets you track and analyze reports so that you can continuously improve your process and specifics to get the best results.
Here are the metrics you can track via the CallHub analytics dashboard:
Compare agent performance.
Compare total calls made against the number of conversations had to measure your reach rate.
View the agent and team leaderboard to track performance.
Track your text message reach.
Follow how many agents log onto your campaign and which days.
Use the agent recruitment dashboard to understand when agents sign onto your campaign.
Understand your contacts better by viewing their history of interactions with your campaign.
Conclusion
CallHub's calling software has made political calling easy for many campaigns each election cycle. If you're looking for any of the features mentioned above, you must sign up for a free 14 day trial on CallHub today!
Feature Image Credit: MART PRODUCTION