In the fast-paced business world, communication is the lifeline that connects us with potential customers. Yet, in this age of digital outreach, one controversial method stands out like a daring protagonist in a gripping tale – cold texting.
Yes, you heard that right.
Cold texting, often frowned upon, has sparked debates among marketers and entrepreneurs alike. Some consider it intrusive and ineffective, while others praise its potential for forging valuable connections.
However, here's an intriguing fact: 64% of customers tend to hold a favorable opinion of businesses that engage with them through messaging.
In this blog post, let's explore the intricacies of cold texting, including
Its untapped potential,
Best practices, and
How you can transform it into a powerful tool for engaging leads.
What is cold texting?
Cold texting refers to the practice of sending text messages to individuals who have not expressed prior interest or consent in receiving such messages. It is often used to initiate contact with potential leads or prospects.
Here's an example of a cold text: Hi [recipient's name], I'm [your name] from [your company name]. We specialize in [briefly mention your product or service]. Interested in learning more? Let me know!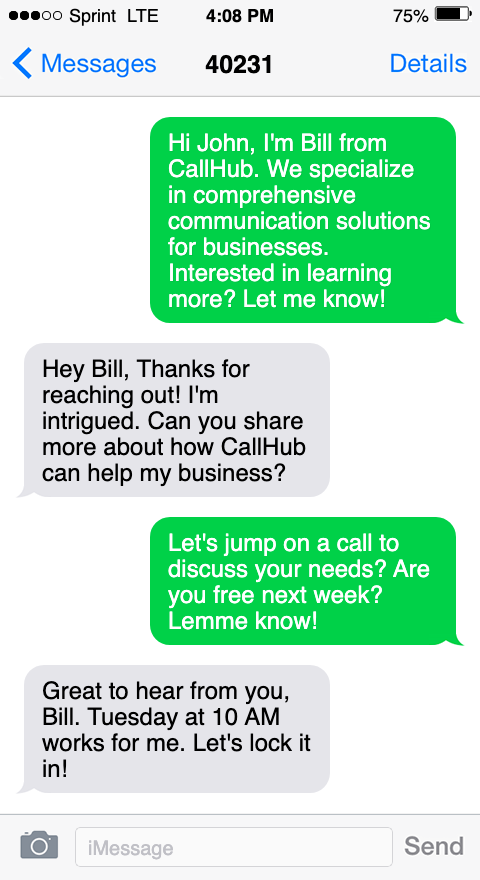 Cold texting allows you to reach out to a large audience quickly, but it should be approached with caution to ensure compliance with applicable regulations and to maintain a positive brand image.
Is cold texting illegal?
In the United States, for example, the Telephone Consumer Protection Act (TCPA) regulates cold texting for commercial purposes.
Under the TCPA, businesses must obtain prior express written consent from recipients before sending commercial text messages. Failure to comply with these regulations can result in penalties and potential legal consequences.
What happens if I engage in cold texting?
Under the TCPA, recipients who receive unsolicited commercial text messages without prior express written consent have the right to take legal action against the sender. If found guilty, businesses may be liable to pay compensation to affected individuals.
The TCPA fines for damages range from $500 to $1,500 per violation, which can quickly add up in the case of a class-action lawsuit. Historically, hotel chains, retailers, debt collectors, real estate agents, and insurance companies have been among the primary offenders when it comes to violating TCPA guidelines.
What should I do if I want to text leads?
If you want to reach out to leads through text messaging, convert cold texting into warm outreach.
Here are some key strategies to follow.
1. Collect opt-ins for consent
Implement a strategy to collect opt-ins from individuals. An opt-in is when a person willingly provides their phone number and expresses interest in receiving text messages from your business. You can collect this through online forms, physical forms, or text to join campaigns.
2. Encourage inbound messaging
According to a study by Twilio, 9 out of 10 consumers want to use messaging to communicate with businesses.
Promote inbound messaging by displaying your contact information on your website, social media profiles, and other marketing channels. Encouraging potential leads to reach out to you first ensures their interest in engaging with your business.
Promoting inbound messaging and opt-in are related concepts but with distinct differences in their approach and purpose.
While opt-in is centered around obtaining consent, promoting inbound messaging is about creating a welcoming environment for individuals to engage with the business. It emphasizes the convenience of customers who prefer to initiate communication rather than being approached directly.
3. Implement A2P 10DLC messaging
Compliance with A2P regulations, such as the CTIA SMS guidelines, can help you avoid penalties and maintain a positive brand reputation.
Use Application-to-Person (A2P) 10DLC (10-Digit Long Code) messaging, which is a more secure and reliable method for sending business-related SMS messages. In addition to ensuring compliance with regulations, it provides better deliverability rates.
To implement A2P 10DLC messaging, follow these steps:
Choose a reputable SMS service provider that supports A2P 10DLC messaging.
Register your business and obtain a 10DLC phone number to send SMS messages.
Familiarize yourself with the CTIA SMS guidelines and any other applicable regulations in your region.
Craft your text messages following best practices and guidelines to maintain compliance and deliverability.
Implement proper opt-in and opt-out mechanisms in your SMS marketing campaigns to respect recipients' preferences and provide a seamless experience.
Monitor and track your SMS marketing campaigns to ensure ongoing compliance and make adjustments as needed.
Stay updated on any regulatory changes or updates related to A2P messaging to ensure ongoing compliance.
4. Integrate cold texting with other marketing channels
According to a study by Omnisend, marketing campaigns with three or more channels achieve 12% higher purchase rates compared to single-channel campaigns.
Instead of relying solely on cold texting, develop a comprehensive communication strategy that includes a mix of
Each channel serves a different purpose and can work together to create a more effective outreach approach. This allows for cohesive, coordinated, and consistent messaging across channels.
For example, your email marketing campaigns can provide more detailed information while using SMS campaigns for quick updates or appointment reminders.
Integrate your text messaging platform with your existing marketing channels and customer relationship management (CRM) systems directly or using webhooks on CallHub. Explore with a free trial.
5. Call first
Initiate contact through a phone call before sending a text message. Cold calling establishes a personal connection and helps you gain consent from potential leads, making them more receptive to future communication.
6. Build up to the ask
A study conducted by Marketo shows that nurtured leads make 47% larger purchases compared to non-nurtured leads.
Use a peer-to-peer (P2P) texting approach where possible, focusing on building a relationship and providing value before making any sales pitches or asking for commitments. Gradually nurture the leads through meaningful conversations to increase the chances of conversion.
Cold text message templates
Here are some cold text message templates to get you started.
Template 1:
"Hi [recipient's name], I noticed your interest in [topic]. As an expert in [your industry], I can offer valuable insights. Let's connect to discuss further? Do tell me your thoughts. Thanks, [your name]"
Template 2:
"Hey [recipient's name], I'm a [your role] at [your company name]. We offer [briefly mention your product/service]. Can we chat about how it can help you? Reply 'Yes' to schedule a call. Best, [your name]"
Template 3:
"Hello [recipient's name], I represent [your company name]. Our [product/service] helps businesses [achieve specific result]. Let's schedule a call to explore more? Reply with 'Interested' and I'll share available time slots. Regards, [your name]"
Template 4:
"Hi [recipient's name], I'd like to introduce [your company name]. We specialize in [briefly mention your expertise]. Can we chat about potential collaboration? Let me know your availability to connect. Thanks, [your name]"
Template 5:
"Hey [recipient's name], I have insights on [relevant topic]. As a [your role], I've noticed [specific pain point]. Our [product/service] can help. Can I send more info or schedule a call? Reply 'More info' to receive detailed information or 'Let's talk' to schedule a call. Best, [your name]"
Template 6:
"Hello [recipient's name], I wanted to share [new development/industry trend]. Our team can assist with your [specific area of interest]. Let's discuss further? Reply 'Interested' and I'll provide more information. Regards, [your name]"
Template 7:
"Hi [recipient's name], I'm [your name] from [your company name]. We solve [specific problem]. Can we chat or share more details?"
Note: Feel free to customize these templates to align with your brand voice and specific offerings. Keep the messages concise, respectful, and focused on providing value to the recipient.
Cold texting best practices
When engaging in cold texting, you must follow certain best practices to maximize the effectiveness of your outreach.
Here are some.
Introduce yourself
According to a survey by Edelman, 81% of consumers say that trust in a brand is a deal-breaker or a deciding factor in their purchasing decision.
Start your text message by introducing yourself and your affiliation with the company. This adheres to the TCPA guidelines, helps establish credibility and builds trust with the recipient immediately.
Use vanity short codes for cold texting
To enhance your branding and make it easier for recipients to recognize your messages, use vanity short codes. A vanity short code is a customized and memorable phone number that aligns with your brand identity.
They can reinforce your brand and make your text messages stand out. Moreover, vanity short codes can be more memorable and easier to dial than standard long codes, making it convenient for recipients to engage with your messages.
For example, instead of using a random long code like "+1234567890," you could use a vanity short code like "71117".
To rent and use vanity short codes for your SMS campaigns, follow these general steps:
Choose a reputable SMS service provider that offers vanity short code services. They will guide you through the process and help you obtain one.
Confirm the availability of the vanity short code you want to use. Keep in mind that certain codes may already be in use or reserved by other businesses or organizations.
Provide the necessary information and complete the application process for renting the vanity short code. This typically involves filling out a form, providing details about your business, and specifying the intended use of the short code.
The application will go through a review process by the SMS service provider and potentially the telecommunication authorities in your region. They will ensure compliance with regulations and verify that your intended use of the short code aligns with their guidelines.
Once your application is approved, you will receive the rented vanity short code from the SMS service provider. They will assign the code to your account and provide you with the necessary details to start using it.
Note: The specific process and requirements for renting and using vanity short codes may vary depending on your country or region. Consult with your SMS service provider and comply with the regulations and guidelines set by the telecommunication authorities in your jurisdiction.
Engage in conversations
Responding to a lead within the first minute increases the likelihood of conversion by 391%.
After your initial cold text, have two-way conversations with recipients and engage in ongoing communication using 10DLC phone numbers. This is specifically designed for application-to-person (A2P) messaging and supports two-way texting.
Give an easy opt-out of cold texting
Always provide a clear and simple opt-out mechanism in your text message. Include instructions on how recipients can stop receiving messages if they no longer wish to be contacted.
This demonstrates respect for their preferences and helps maintain a positive brand image.
There are a few mechanisms you can use to facilitate the opt-out process:
Keyword-based opt-out: Ask recipients to reply with a specific keyword, such as "STOP" or "UNSUBSCRIBE," to indicate their desire to opt out.
Dedicated opt-out number: Provide a dedicated phone number to which recipients can send a text message with their opt-out request. Prominently display this number in your text message.
Opt-out link: Include a web link in your text message that leads recipients to an opt-out page. This page should have a simple form or instructions for recipients to enter their mobile number or other necessary details to unsubscribe from future messages.
Customer service contact: Offer a customer service contact number or email address where recipients can reach out to request opt-out or manage their messaging preferences.
Keep a conversational tone
Write your text message in a conversational tone. Avoid sounding overly promotional or sales-oriented.
Instead, establish a genuine connection, addressing the recipient's needs or pain points and offering value in your messaging.
Avoid links
Links can trigger spam filters and may give the impression of unsolicited or spammy communication.
If you need to direct recipients to a specific webpage or resource, provide a shortened URL or send the information directly via text.
Add a personal touch
According to Forrester, 77% of customers have chosen, recommended, or paid more for a brand that provides a personalized service or experience.
Personalize your text messages with specific details that are relevant to your recipient. This creates a more individualized experience and shows that you've taken the time to understand their needs.
Take the first step today
The future awaits, and it's time to make your mark!
Put your learnings about cold texting into practice, adapt and refine your approach based on real-world feedback, and watch your connections grow stronger and your business thrive.
Explore advanced features and discover how a robust SMS marketing platform can elevate your cold texting efforts.
Featured image: Photo by Maksim Goncharenok