You've recruited a ton of volunteers to help out with your cause.
That's awesome!
Now, how are you going to persuade them to stay?
It's not as hard as you think.
Volunteer retention is key to keeping your unpaid staffers committed to the cause. It's not as simple as throwing an appreciation party at the end of an event or providing refreshments. You must make an effort to keep your volunteers happy and committed.
We've put together 7 few tips to help you manage volunteers, check it out!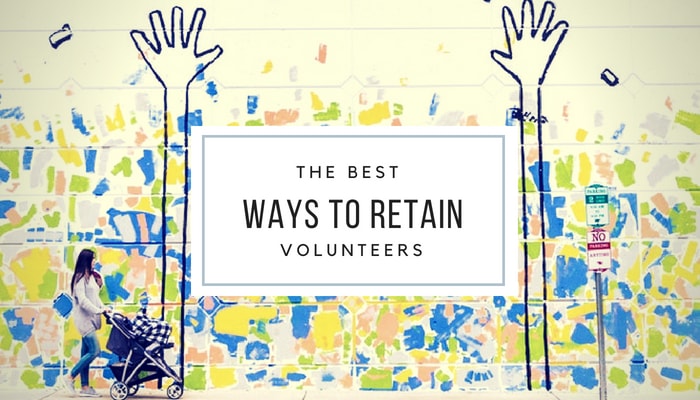 Tip #1: First impressions count
A good first impression goes a long way in retaining your volunteer base. Failing to do so, you'll end up with volunteers who never come back. While recruiting volunteers always start with a warm welcome. Make them feel needed and explain how their time helps your cause. Next, give them short introductions and background information. End with giving them a handout that sums up the entire thing.
Tip #2: Value their effort
Give equal importance to the volunteer's effort and time. Even if the volunteers show up as replacements, their time is still invaluable. Always make sure that your volunteers have the necessities to do their job, else they will just end up wasting their time. Match volunteers with tasks that they have skills for or something that they enjoy. By doing so you are giving value to their effort making their experience worthwhile. Always remember to make your volunteers feel valued.
Tip #3: Be Flexible
Bear in mind that your volunteers have a busy life outside your organization. Be as flexible as possible while creating tasks. Allow your volunteers to craft their own schedules. Some volunteers are in it for a short-term; give them opportunities which do not require a long-term commitment. Make it easy for them to help out in small ways. Being flexible is hard but by doing so helps you retain your volunteer base.
Tip #4: Show Appreciation
It might sound like a no-brainer but appreciation matters! A simple heartfelt thank you can boost confidence and make volunteers feel good. Treat them like major contributors. Without their effort, your organization will not be able to achieve its goals. Interact with your volunteers on a personal basis to strengthen your relationship with them.
You can host appreciation events once a month. Get creative, add themes and encourage everyone to attend it. You can record video messages appreciating your volunteers and play it at the party or event. This keeps them motivated and happy.
Tip #5: Help make connections
Most people volunteer to make connections, meet new people and interact with people who hold common goals. While supporting the mission of the organization, volunteers look forward to connecting with people and being seen at high-profile events. Creating such an environment will boost comradeship among staffers and aid your volunteer retention.
Tip #6: Share your volunteers' successes
Let your volunteers know how they are making a difference. Highlight their contributions and successes to show that their hard work has paid off. No motivation is greater than making a positive contribution to society. This will keep your volunteers satisfied and committed. For example, showing the smile on a child's face when they receive the food that your volunteer has prepared.
Tip #7: Let your volunteers recruit for you!
Volunteers are your best assets and letting them recruit their friends will help retain them as well. Provide volunteers with opportunities to invite their friends and family to join your cause. For younger volunteers, help them find the right medium like Snapchat or Instagram to share information and reach out to people.
Present your volunteers with opportunities to grow and together you will be able to contribute tremendously to the organization. Volunteers are key to an organization's success so don't forget to tell them that! Follow these tips to see a difference in the number of volunteers who want to hang on to your cause.