Now more than ever, campaign managers need ways to run efficient calling campaigns. What helps you do that?
A mobile app.
CallHub's mobile app is designed exclusively for phone banking campaigns.
With the app, you can:
Improve ROI with less spend on devices
Give agents the flexibility to join campaigns on the go
Expand your volunteer base by tapping into newer generations
Reduce the effort to train new volunteers
Increase productive volunteer hours due to the ease of use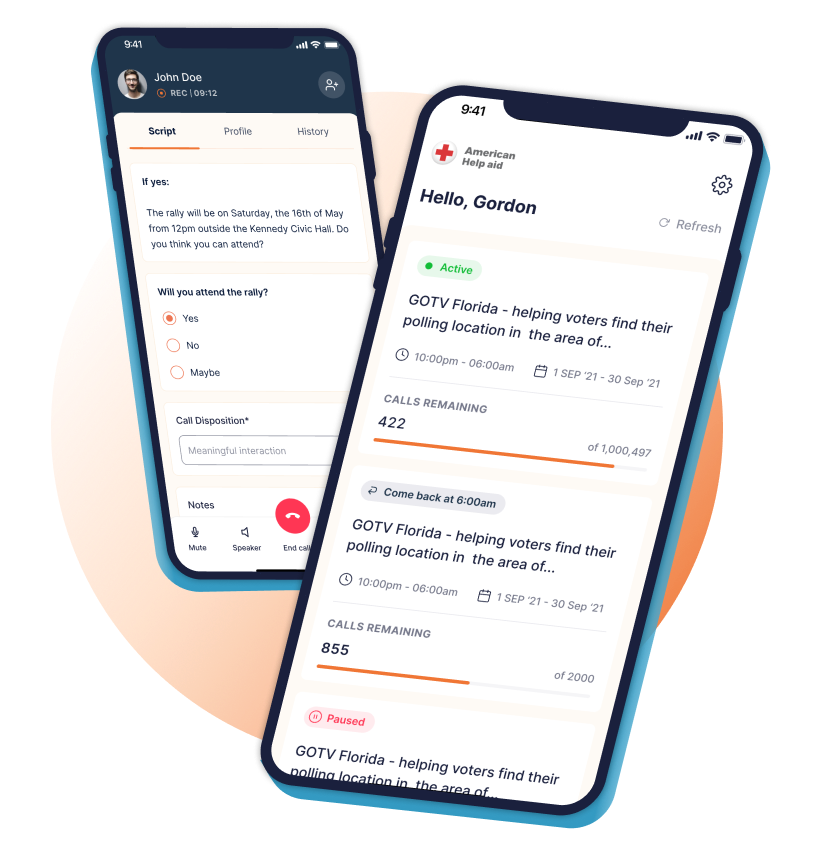 Phone banking with our mobile app is simple and scalable. Read on to learn how it helps you improve your ROI.
Optimize campaigns with access to powerful features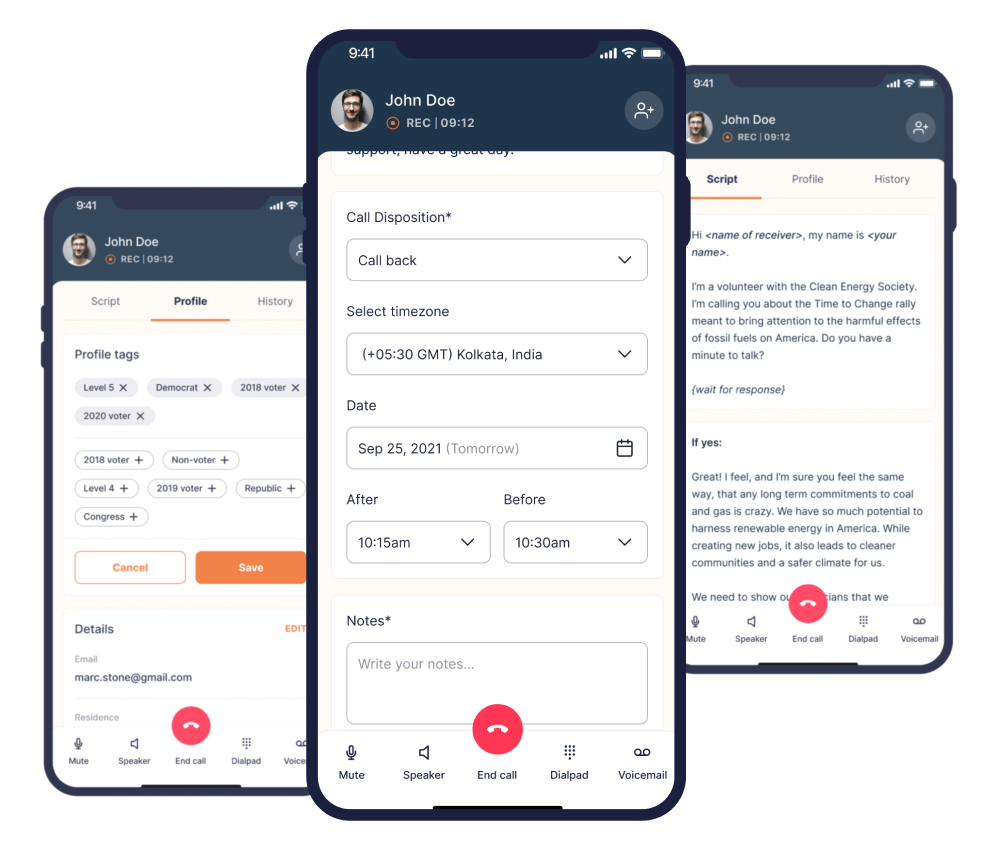 The call center mobile app lets your volunteers access everything needed for an effective call at their fingertips.
Your volunteers can add and access
Call dispositions
Survey responses, while they are on the call and after.
They also get easy access to the scripts and contact information throughout the campaign. While the scripts add as great conversation guides, visibility into the contact details helps them personalize those conversations.
Reduce campaign cost with less spend on devices
Laptops, computers, and more.
These used to be a requirement for running calling campaigns. We know you had to spend a sizable amount of money on buying these devices for your volunteers.
Not anymore.
Now, you can cut down on your campaign cost significantly by eliminating the need for these extra devices. 97% of Americans already own a smartphone. All you need to do is recruit volunteers and you're good to go.
Maximize call time with the flexibility to join campaigns on the go
We know how valuable volunteer hours are for you. The mobile app is a huge step forward in terms of accessibility to your volunteers. Imagine the increase in the number of productive hours if your volunteers could join your campaign whenever they want to, even when on the go?
The mobile app helps them do just that.
They can make calls from anywhere in the world with just a smartphone and have fruitful conversations.
Expand your volunteer base by tapping into the newer generations
Millennials look for opportunities where they can use their skill sets to support the causes they believe in. They are politically aware, active, and are much more likely to participate in campaigns as volunteers compared to older generations.
Gen Z too, has proven that it's one of the most civically active generations today. They are the most interested in creating a positive impact especially when it's measurable.
What's the best way to tap into this opportunity?
By enabling them to join you whenever they want, from wherever they are. Now, what better way to do that than using a mobile app that's always on their smartphones?
Reduce the effort to train new volunteers
Imagine all the time you can save on by automating training and onboarding for all your volunteers!
CallHub's mobile app helps you do that.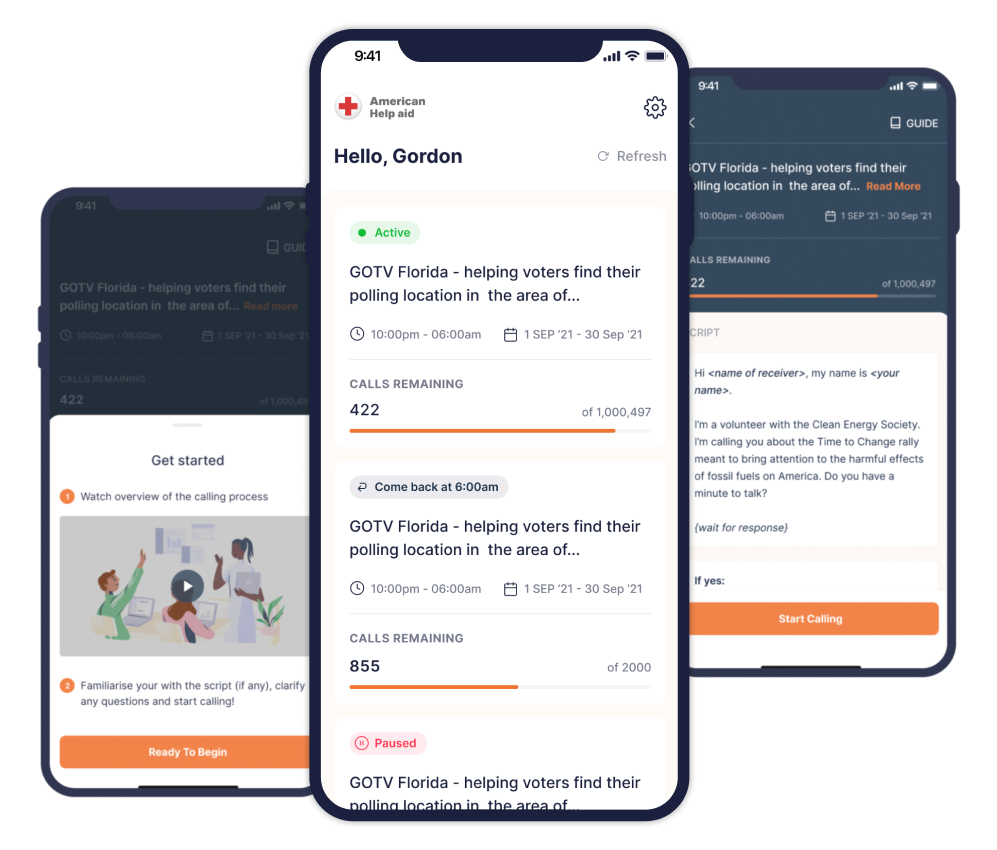 Your volunteers can access step-by-step instructions through a video to navigate through campaigns. This way, their productive hours are spent talking to your contacts and gathering data rather than figuring out the tool. Whereas your valuable time can be spent in measuring your campaign performance and optimizing it further.
Customize strategies with access to three dialers
With the mobile app, you get access to the three dialers available in CallHub:
Predictive dialer
Power dialer
Robo dialer
Here's how each of them help you.
Predictive dialer
Our predictive dialer enables your volunteers to connect with your contacts right away without having to wait for the dial tones, busy tones or reach voicemails. The dialer connects a call to your volunteer only after it's answered.
Best suited when you are prioritizing volume over personalization. For instance, GOTV calls.
Power dialer
The power dialer gives you the control over dialing by letting you start the call only when you're ready. This is the ideal choice when your volunteers need time to enter notes, tags, etc. after each call.
Best suited when you want to have conversations with each contact on your list. For instance, voter persuasion calls.
Robo dialer
The robo dialer helps you reach as many people as you want simultaneously with a broadcast message.
Best suited when you are looking at just passing across a message such as a reminder.
Other features of CallHub
With the mobile app, you also get access to:
Integrations with popular CRMs, so all the data you collect gets synced in real-time, helping you run personalized campaigns.
Contact list analysis, which discovers invalid contacts in your lists and lets you edit or delete them. This saves you the cost of reaching them.
Dynamic Caller ID, which helps improve your answer rate by displaying a local number to your contacts.
Call dispositions, which let you define a follow-up action for each call so you don't miss a single contact.
Answering machine detection so you can take the appropriate action and reach your contacts when they are available.
Live analytics and daily reporting to track your campaign performance and optimize the strategies to maximize your success rate. For example, improve the chances of reaching your contacts by scheduling the calls at the right time.
Training and support by our product specialists through phone, email, live chat, and more.
Our goal with the mobile app is to enable seamless communication between your volunteers and your audience. Whether it is to persuade your contacts into supporting you for the upcoming elections or to reach them in the shortest time possible to get them to the voting booth, our dialers have you covered.
Ready to get started?
Schedule a demo now to learn how CallHub's mobile app can power your upcoming calling campaigns.
Featured image: Photo by Andrea Piacquadio from Pexels