That's how much you save for each call center agent working from home.
If you save that much for a single agent, imagine the ROI if all your agents work from home.
The trend of virtual call centers has seen an exponential rise these past few years. It's not surprising, given the innumerable benefits they provide, which we'll go over in this article.
Apart from that, we'll also take a look at everything you need to set up a virtual call center. Whether you're planning to open a new call center or planning to switch online, this article is the only resource you'll need to get started.
What is a virtual call center software?
A virtual call center software is a cloud-based contact center software. It uses Voice over Internet Protocol (VoIP) technology rather than bulky PBX/EPABX systems.
PBX systems comprise of large switching stations (that could be as big as a room for large networks), gateways, and telephone headsets (for each agent).
To give you an idea, here's an image of a PBX system setup for a hotel that can exchange calls between 48 rooms and the reception.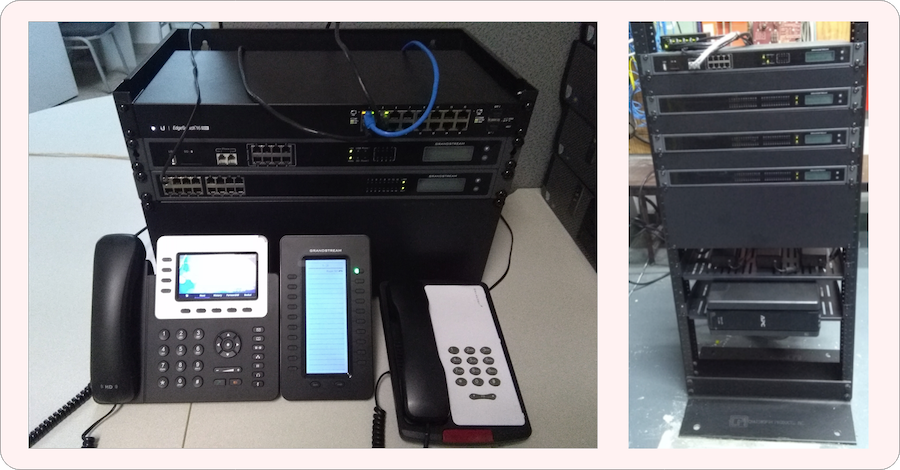 In virtual call centers, the functions of these components are handled online. Therefore, agents are not confined to a physical location. With a virtual call center software, agents can easily connect to calls through their browsers (or mobile phones).
A virtual call center software has several advantages over on-premise call center solutions.
Advantages of virtual call center software
1. Low upfront/setup costs
A virtual call center does not require physical office space for employees. This flexibility also eliminates other infrastructural costs like furniture, electricity, etc. Apart from that, there is no need for large phone systems too.
The only costs in setting up virtual centers are employee remunerations and software pricing. The minimal requirements reduce the need for significant capital for setup and deployment.
2. Geographically Adept
The way a virtual call center is set up is one of its most significant advantages. Calls routing through a browser or an agent's mobile phone eliminate location constraints.
As a result, agents can operate independently in comparison to on-premise call centers. This flexibility also allows organizations to expand their operations across regions with ease.
3. Scalability and adaptability
With virtual call centers, it is easy to scale up operations without any infrastructural or monetary requirements. All you have to do is sign up agents to the software and have them start making calls.
Seasonal expectations are also easy to manage with virtual call centers. You can recruit extra help whenever there is a need and scale down when not. With no infrastructural requirements, the process is almost effortless.
4. Easy to monitor performance
Most virtual call center software come with comprehensive analytics dashboards. Dashboards collate and organize all the metrics you need to monitor performance.
Metrics like calls made, average call duration, active agents are usually available. More advanced solutions like CallHub provide deeper insights like individual agent activity, performance comparison, and average call reach. It's also easy to record calls in virtual call centers for quality assurance.
All this information is also generally available in downloadable formats for you to keep a log.
5. Higher calling rate
PBX/EPBAX systems require a lot of manual work to dial numbers. In virtual call center software, automatic dialers eliminate the need to dial numbers manually. This, in turn, increases the number of calls per hour.
Apart from that, many calls are also sent to voicemail or are inaccurate. For such cases, having software with number verification and answering machine detection is perfect.
Automated number verification cleans your data by verifying valid numbers. An answering machine detection function automatically drops a pre-recorded voicemail to answering machines.
These features increase the time agents spend on active calls, thereby improving productivity exponentially. Try these features with CallHub for free and see how your productivity improves.
How to get started with a virtual call center software
Planning your call center
1. Choosing your focus
The focus of your call center is the service you provide. Determining it is essential to shortlist the software you will need for operations.
There are generally three options to choose from:
a. Outbound Call Centers
Outbound call centers focus on making calls to prospects. Organizations use it for a variety of purposes:
Businesses leverage outbound call centers for sales or telemarketing.
Political organizations use it for voter identification, conducting surveys, GOTV, etc.
Nonprofits or advocacies use it for volunteer recruitment, spreading awareness, gathering support, etc.
b. Inbound Call Centers
Inbound call centers specialize in receiving calls. These come in handy for:
Business to take orders, provide customer support, responding to inquiries, etc.
Nonprofits and political organizations in responding to queries.
c. Hybrid Call Centers
As the name suggests, hybrid call centers can both take and make calls. Deploying hybrid virtual call centers can be a little complex. So make thorough considerations before choosing this focus.
Hybrid call centers don't provide any specialized services. Organizations can use them for both inbound and outbound services.
2. Setting a budget
A virtual call center software comes with a price, even though it is significantly less than an on-premise solution. Setting aside a budget will help you evaluate your options better and choose the best one.
When working on a budget, keep in mind the costs that a virtual call center entails:
Subscription plan: Each software has different plans that are usually based on the number of agent accounts you're planning to sign up
Cost per call: The cost per call will dictate the total calls agents can make per month as per your budget
Add ons: Additional features you can use to enhance the impact of your campaigns. For example, telemarketing companies can invest in a text through call center feature to reinforce their pitch through multiple channels from the calling interface
Always plan for a budget that aligns with your goals. For instance, if you are chasing a revenue target, invest in add-ons that can boost your results with each call. However, if maximum outreach is the goal, set a higher budget for larger subscription plans (that allow you to sign up more agents)
Hiring the right people
1. Deciding how many people you need
To run operations smoothly, you need the right number of people to take/make calls. Recruiting more people than necessary will add to costs while recruiting less will reduce operational scope.
To avoid both situations, you can use the Erlang C staffing calculator. To get to the right number, you will need some necessary information about your operations. This includes:
Calls per hour
Average call duration
Average delay (in picking up calls)
In case you don't have any of the details above, you can start by using the industry average.
2. Establishing a recruitment process
Virtual call centers don't have geographical constraints when recruiting people. However, you still have to ensure that you hire the right talent who can help you meet your goals.
The three vital skills agents must possess, and the recruitment exercises for each are as follows:
Typing skills – Have them type out the information you dictate over a call. Use different tones and talking speeds. You should be checking for typing speed and data accuracy.
Active Listening skills – Roleplay as a customer giving them information. Have them come up with follow up questions. Check if the questions are relevant and take the prospect closer to the action you want them to take.
Talking skills – Again, roleplay as a customer and have candidates follow a basic script. Assess their tone, the points they stress on, and how well they follow the script.
Generally, businesses and some political organizations need a robust recruitment process. Nonprofits, advocacies, and political campaigners don't have to stress on it too much. However, training is crucial for all three industries.
3. Establishing a training process
Call center agents need to know how to navigate conversations to get what they want. Training recruits ensure they understand how to do so. A good training process also educates agents on best practices to use and improve the quality of interactions.
A few training exercises you can use for your agents are:
Role-playing – Have recruits play both customers and agents to simulate conversations. Getting a customer perspective will help them focus on pain points better.
Go over recordings – Play some of your call center recordings and go over the best practices. Give agents a clear picture of what they should do and what they should not.
Group discussions/debates – Agents have to think on their feet while maintaining a pleasant tone. This exercise trains them to present valid cases to overcome objections without losing their calm.
Using the right tools
1. CRM
Virtual call centers have to deal with a lot of data. This includes contact information, prospect background, conversation details, etc. A customer relationship management system (CRM) acts as a central repository for this data.
The benefits of a CRM include:
Easy data access – Agents can easily access this data from anywhere in the world.
Increased efficiency – The automatic two-way data flow eliminates the need for manual labor to update information
Data privacy and security – Data encryption and permission levels (set by the heads) ensure data privacy.
Note: When choosing a CRM, ensure that it integrates with your virtual call center software.
2. Performance monitoring tool
A performance monitoring tool provides you with relevant performance metrics. These metrics are crucial to optimize your call center practices and operations.
A useful performance monitoring tool helps you:
Track agent activity and performance
Assess performance to determine agent proficiencies and deficits.
Check the quality of the data you have (contact information)
Track all actions and conversions (to check if you're meeting your goals)
When selecting a virtual call center software, get one with an in-built performance monitoring tool. It makes monitoring more manageable and ensures data accuracy (since it collects it directly from the source)
3. Internal communication system
A close-knit team is more productive and driven to achieve a common objective. In virtual call centers with teams spread across, it becomes challenging to bring them together. Therefore, having an excellent internal communication system becomes essential to bring them together.
For virtual call centers, internal communication systems allow:
Teams to collaborate to transfer knowledge and information
Individuals (and teams) to engage with each other informally to boost morale
Managers to train and mentor agents individually or as a group
A point to note, considering email as an internal communication tool is not recommended. It's best to stick to emails for formal communication only.
Once everything above is set, the next step is to set up your campaign and get started with your call center.
Example: Setting up an outbound calling campaign on a virtual call center
To give you insight, here's a walkthrough of how you can set up an outbound calling campaign in CallHub.
Step 1: Upload your contact list.
You start by uploading your list in the virtual calling center software. You can either import it from your CRM or upload a CSV file.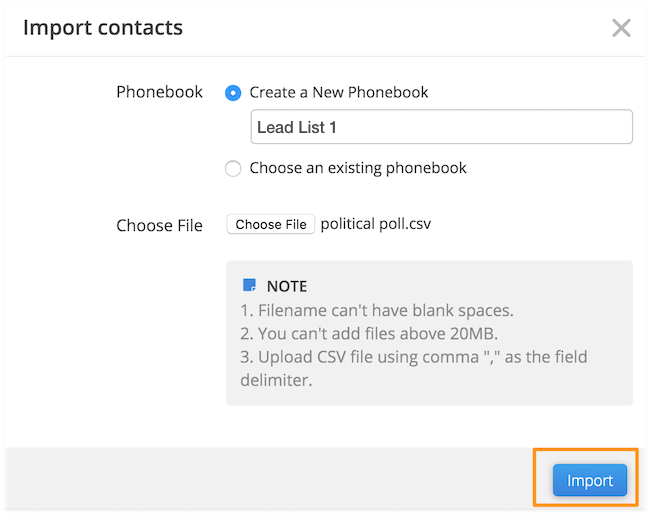 Step 2: Add a script
Next, you will have to add a script that callers will follow. You can include basic text scripts or different types of questions.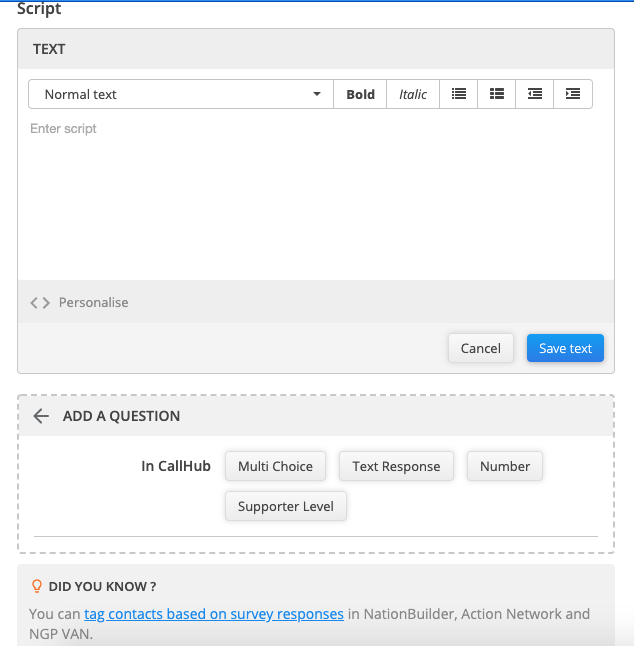 You can personalize your conversations by adding tags in the script. The data for these tags are pulled from your CRM, which is integrated with the virtual call center software.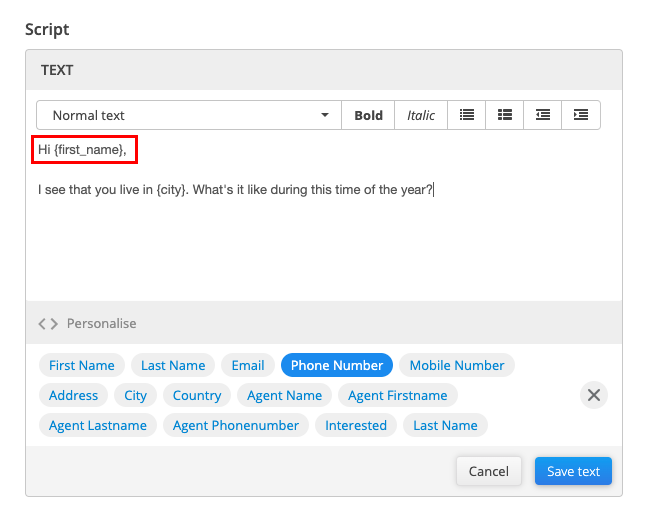 Note: The CRM integration should be done before setting up the campaign. CallHub easily integrates with popular CRMs for bi-directional data sharing. Salesforce, NationBuilder, Zapier are a few to name.
Integrating CRM allows you to:
Organize contacts: Tag contacts to categorize them in different groups
Bring in dynamic data: Custom fields (like first name, city, email, etc.) to provide agents with more personalized scripts.
View history of interactions: Interaction history (over call and texts) to navigate conversations better
Step 3: Choose the dialer of your preference
After adding your script, you have to select how you want the numbers to be dialed. Typically, there are three options available:
Power Dialer: The power dialer allows agents to make calls one contact at a time. All they have to do is click a button and the net number dials automatically.
Auto Dialer: These dialers dial "X" number of contacts for each agent. "X" is the number of calls it takes to get a live call (with other numbers being invalid or sent to voicemail). The campaign manager sets the calling rate.
Predictive Dialer: Predictive dialers are similar to auto-dialers. However, the software sets the calling rate automatically. Using statistical algorithms, it reduces the time agents spend waiting between conversations and minimizes call drops.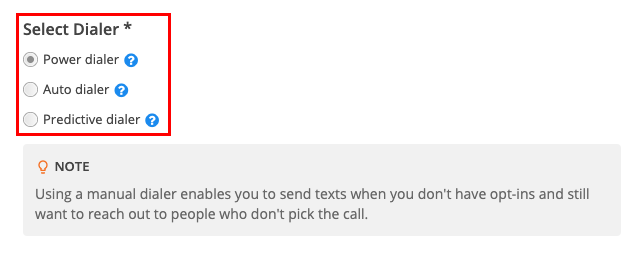 Step 4: Set up voicemail drop
To be able to leave a message whenever agents encounter an answering machine, select the answering machine audio function. Agents can then drop a pre-recorded voicemail pitch at a click of a button.

You can create voicemail messages and upload them in the media section before creating the campaign. Once you have done that, you can choose the message for each campaign from all the options.

Step 5: Assign agents
Next, assign the agents to the campaign. Based on your requirements, you can either have all agents making calls for the campaign or only specific ones.
In case you are still recruiting people, you can choose to assign them later.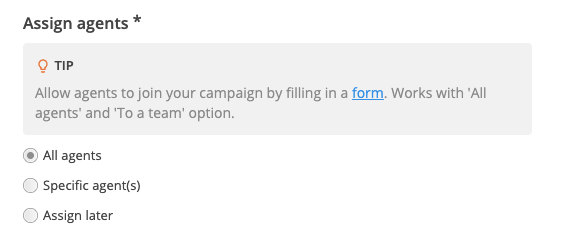 Note: To add agents to your account, select the Agents option in the sidebar and choose "Add new."
Adding agents in CallHub is as easy as adding their names and email. Once you enter the details, the agent receives a confirmation email.
After their confirmation, they can log in to their account and start making calls in the campaign they were assigned to.
You can register agents to your account before or after setting up your campaign.
Step 6: Set a schedule for the campaign
The last step before taking the campaign live is to set a schedule. The campaign schedule allows you to configure when agents can make calls.
Here, you can set:
Campaign duration: The dates (and time) between which the campaign will run
Days of operation: The days of the week your campaign should run
Daily operation hours: The exact time period during which agents can make calls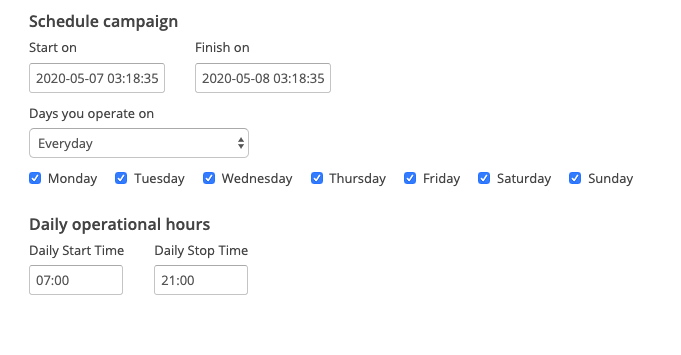 Step 7: Performance monitoring
After your campaign starts, agents start making calls. You can visit the analytics dashboard and begin monitoring:
Total calls made and average call duration
Conversion rate (updated in real-time)
Agent performance (individual, agent comparison, leadership board)
Call reach (unique contacts called, invalid/unreachable numbers) and much more.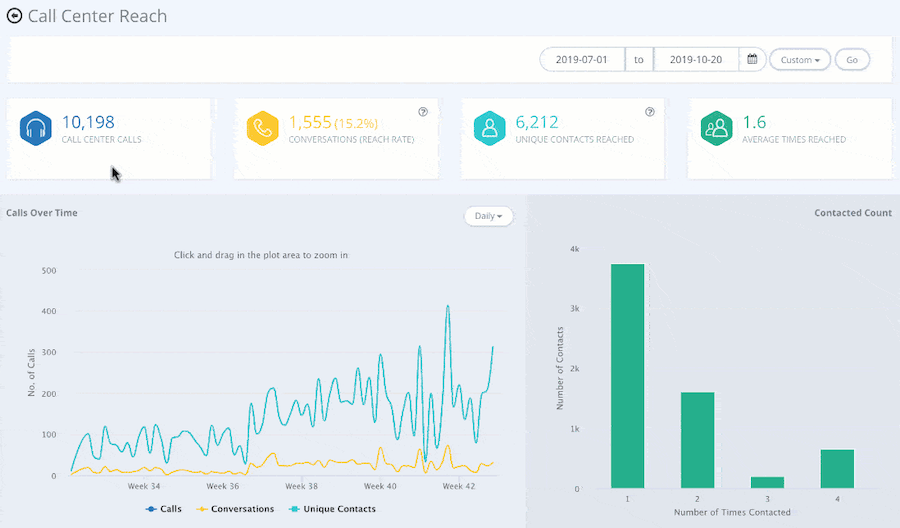 The CallHub outbound virtual call center software offers a variety of features. Each of these features helps enhance campaign performance and productivity in different ways.
You can try out all these features firsthand for free on CallHub by signing up here.
To conclude
Drawbacks like high setup costs, location constraints, and infrastructural requirements defined call centers in the past.
However, virtual call centers have changed the scene. They have set the foundation for the future of call centers. A future that overcomes not only the drawbacks of the past but also provides more flexibility and scalability.
With businesses and customer services evolving at such a rapid pace, a virtual call center software is just the thing you need.
If you're planning to set up a virtual call center, try out CallHub for free. You can sign up here and get to making calls immediately.