Phone banking and door-to-door canvassing play a big part in election campaigns. Political campaigns use door-to-door canvassing as the most direct means of communicating with voters. On the other hand, phone banking serves to reach out to voters via calls, share campaign information, solicit funds, and conduct surveys at scale.
Tools specially designed for political campaigns will go a long way in boosting the efficacy of your campaign. Canvassing and phone banking tools win elections. How? These tools help you:
Manage volunteers and agents
Determine your best door-knocking routes
Raise money for the campaign
Have conversations with supporters at scale
Micro target your outreach efforts
We explore canvassing and phone banking tools to ease your campaign processes. Read on.
Canvassing and Phone banking tools to win elections
Before you begin looking for the perfect phone banking tools, you need to be clear about your requirements. They will inform the kind of software features that will help your campaign. When looking to finalize any of the software we list below, there are some essential features that you must look for. They are:
Robodialers: Robodialer helps you share a pre-recorded voice message to your entire list of contacts or segment of it all at once. It is the easiest way to communicate emergency information, relay short but relevant messages, and stay connected with voters.
Patch-through calling: Patch-through calling is an excellent way for campaign managers to connect potential voters and supporters directly with the candidate. Use it as a campaign incentive or increase local presence in new territories.
Route-planning: Route planning features save time and effort for volunteers who are going door-to-door. A campaign manager can assign daily routes, and volunteers can follow them to ensure no locality is skipped or canvassed twice.
Live call monitoring: Live call monitoring helps campaign managers understand the quality of calls and the conversations agents have with potential voters. It enables you to improve a campaign for better results while it is still running.
Tag features: Want to know more details about a contact before you place a call or visit them? Tag features in canvassing tools allow you to understand contact history and demographic information based on the last interaction.
Fundraising: A bonus feature of canvassing and phone banking tools could be an in-built fundraising feature, an option to store donor contacts, or track any donations to the campaign.
Let's explore different software that you can implement for your campaign.
Door-to-door canvassing: Ecanvasser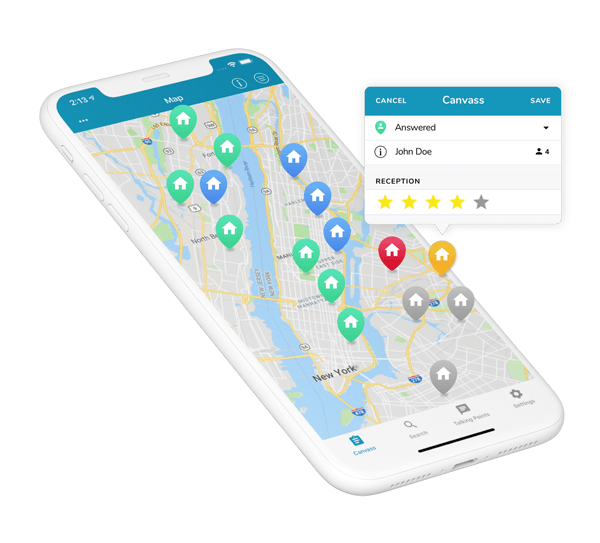 Ecanvasser has built an all-in-one political campaigning software that allows you to plan and manage all aspects of your outreach. Their software aids teams looking to save time, reduce costs, and gather key insights.
Features:
Their walk app allows canvassing volunteers to easily track their route and lets them know where they need to be. Campaign managers can track canvassing activity in real-time.
Their easy-to-navigate dashboard keeps all campaign data in one place. You do not need to shift between apps to find your data. You can integrate ecanvasser with NationBuilder, MailChimp, and CallHub.
Build your own polls, surveys, and database quickly.
Easily coordinate with your team in different locations. You can create a virtual map of all your offices to build better relationships between supporters, volunteers, and your local team.
Offers GDPR compliance for community network mapping and databases.
Pricing: Ecanvasser's software starts at $149 per month. They also offer enterprise packages that can be customized to your needs.
Canvassing data collection: Glide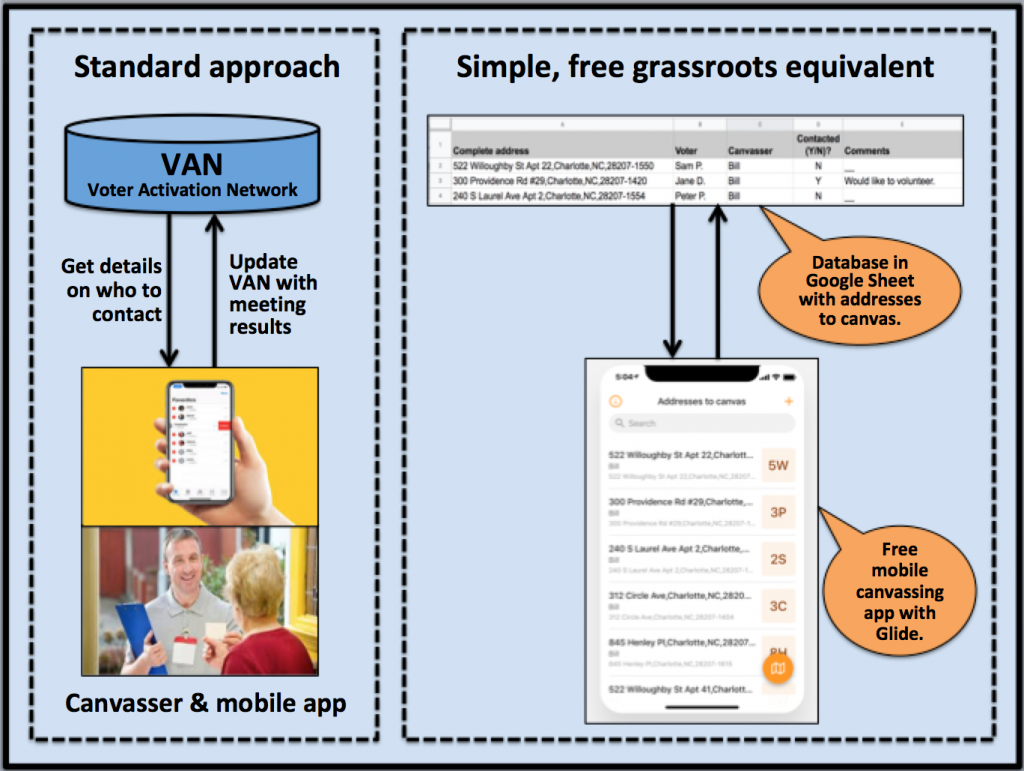 Glide is a platform that helps you build robust web pages and apps without code. DemLabs has combined the power of Glide with Google spreadsheet to create the perfect canvassing data collection tool. The result? This low-cost data collection tool that helps volunteers enter information while on the canvassing trail.
Features:
Use Glide's canvassing template to enter data while on the go.
Click on any location to receive updates and more details about the person a volunteer will contact.
Canvassers can add information about new potential voters as and when they encounter them. Data such as addresses, names, phone numbers, which canvasser contacted the new voter, and more can all be added through this feature.
Once you upload voter data or enter new information, addresses are reflected on the canvassing map for canvassers to follow and contact.
Pricing: You can contact DemLabs here to know more about this combined data collection tool.
Canvassing guide: Esri Maps for Public Policy with DemLabs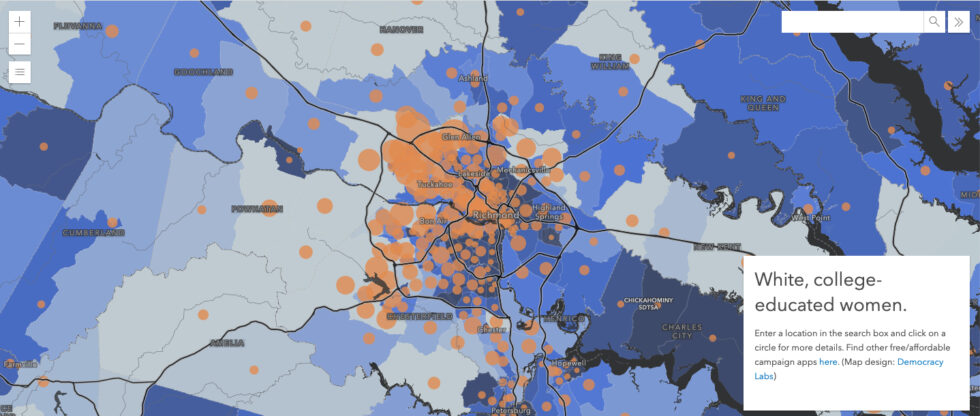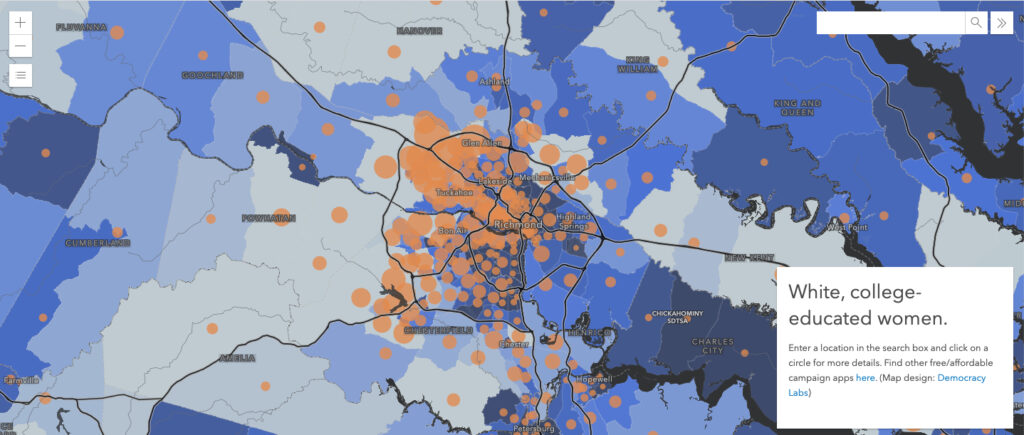 DemLabs, in association with Esri Maps for Public Policy, created a canvassing software that can help you find potential voters through demographic details. With Esri Maps, you can locate and understand population patterns in different areas and target them accordingly.
Features:
Cross-reference insights with voter lists.
Locate voters based on demographics such as race, gender, income status.
Create customized dashboards in association with DemLabs for your campaign.
Pricing: This dashboard is a free tool that you can use to plan your canvassing campaigns.
Fundraising tools: Fundly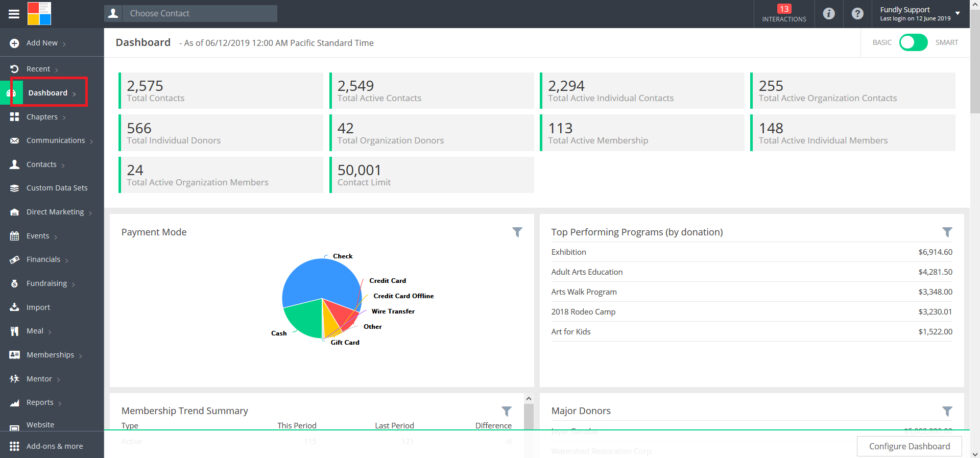 Canvassing and phone banking tools help you boost your fundraising efforts by a mile. Fundly, a crowdfunding tool can be a great partner to solicit funds from donors and their contact circles.
Features:
Create fundraising pages and add videos, images, and more to pitch your campaign.
Download the Fundly mobile app to manage your fundraising from anywhere.
Easily share information from the Fundly platform to your social media accounts to increase awareness and drive traffic to your fundraising pages.
Use their customized email templates to boost your fundraising efforts by sharing beautifully designed emails with potential donors.
Securely process payments through the Fundly platform within seven days of receiving them.
Pricing: Creating and sharing your Fundly account is free. However, they charge a 4.9% fee for each donation that you receive. A small credit card processing fee of 2.9% + $.30 will also be deducted from each donation.
Phone banking tool: CallHub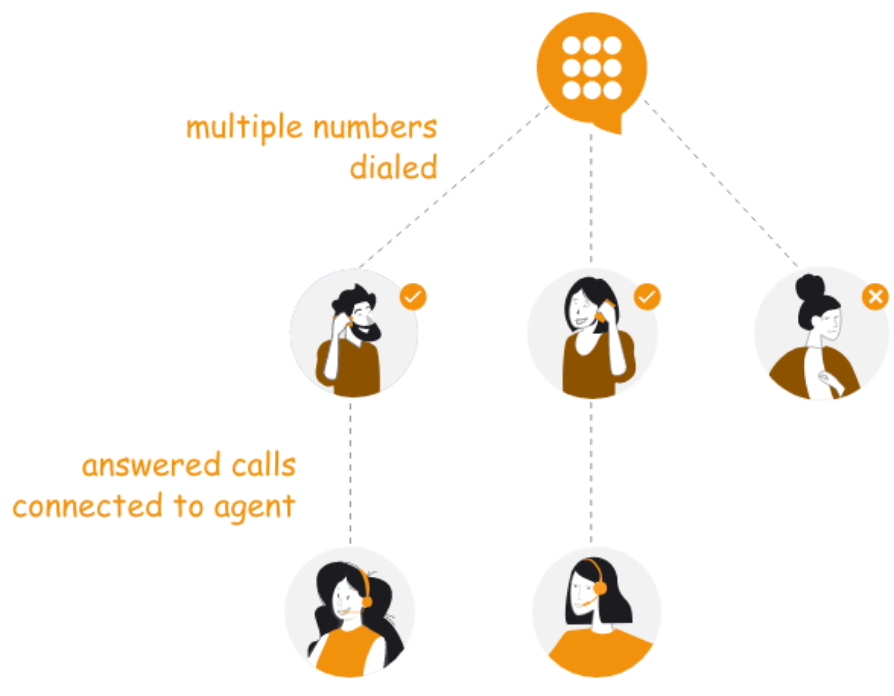 CallHub is a leading communication software, mainly catering to the outreach needs of political and nonprofit organizations. With its various calling and texting tools, CallHub's software is an excellent choice for any political campaign since it helps you reach thousands of contacts in a minimal amount of time.
Features:
Range of autodialers: CallHub offers a range of autodialers that you can choose from to increase the speed at which your agents call potential voters. CallHub's autodialers increase calling rates by three times per hour compared to manual dialing.
List segmentation: Easily segment your voter lists to run microtargeted campaigns.
Text follow-up: You can combine the power of calling and texting by immediately sharing a text message follow-up after each call. Create a lasting impression on voters and donors through immediate follow-up.
Dynamic caller ID: Increase your call pick-up rates through dynamic caller ID features. Volunteers from any geographical area can call a potential voter, and the dynamic caller ID feature will reflect a local number. For example, if your volunteers are based in New York and are calling voters in Texas, CallHub's system will reflect a local caller ID if you sign up for the dynamic caller ID feature.
Stay compliant: CallHub helps you stay compliant through its timezone calling features. Select your campaign's timezone, and the system will detect the timings to stop and start the campaign every day based on that timezone.
Pricing: CallHub starts at a $0 pay-as-you-go model. We can customize packages according to your needs through our enterprise subscription.
Digital organizing: NGP VAN
NGP VAN is designed for democratic and progressive campaigns and organizations. A campaign of any size can use NGP VAN's tools to smoothen its run for office. They provide best-in-class fundraising, social media, and volunteer sign-up tools for your campaign.
Features:
Custom donation forms to increase fundraising.
Donor management tools to ensure you nurture long-term relationships with supporters.
Logistics tools for easy event management.
They provide email sign-up forms, help you build your email lists, and increase conversions through their online action tools.
Run optimized digital marketing campaigns through their platform.
Their CRM system helps you save all your data on a single platform.
Pricing: You can know more about NGP VAN's pricing by booking a demo.
What Next?
CallHub's phonebanking tools are easy to use and set up. Volunteers from all age groups and backgrounds have reported that CallHub's ease of use has dramatically aided their phone banking efforts. Give us a try for your canvassing needs by signing up for a 14-day free trial.
Featured Image Source: Anete Lusina