The emergence of smart advocacy software has made it easier for advocacy groups and nonprofits to manage their supporter base, engage donors, and get people to take action for a cause. But with an abundance of tools available to you, the task of finding the one tool that best matches your requirements can become arduous.
We put together a list of top 10 advocacy software to help you narrow down your search.
SalsaLabs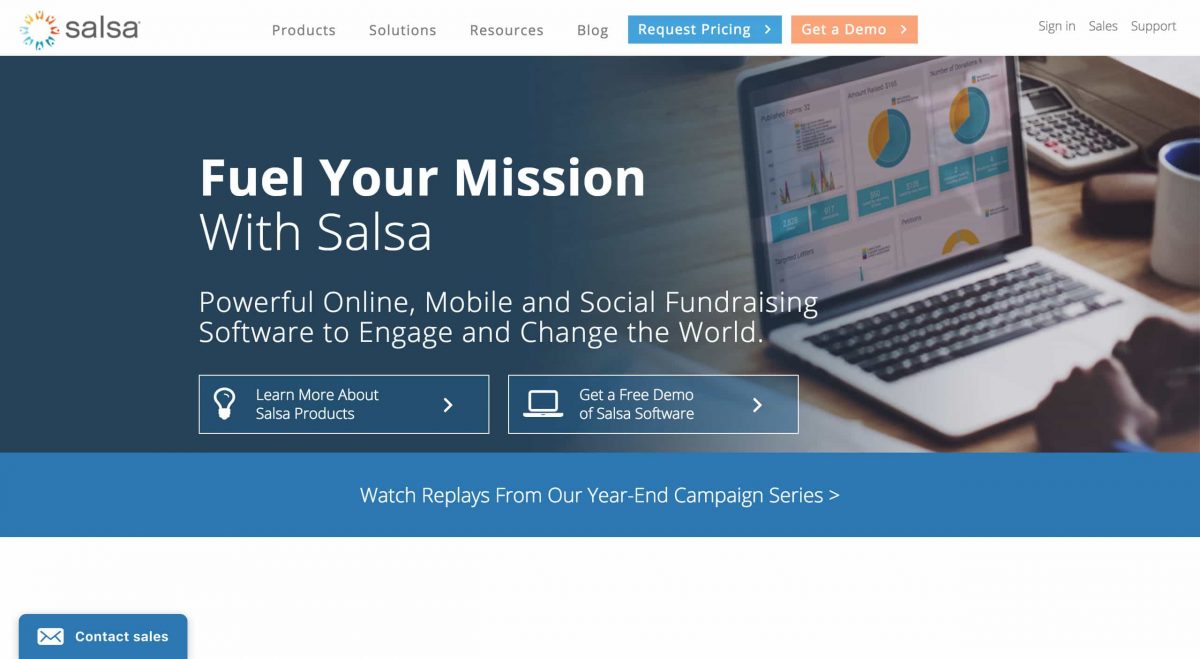 SalsaLabs was founded in 2003 as a supporter engagement platform unifying online supporter engagement and constituent relationship management. It provides online and offline tools for community engagement, fundraising, and organizing.
Features: Online Petitions, Targeted Actions, Social Advocacy, Click-to-Call Advocacy, Online and Peer-to-Peer Fundraising, Email Marketing, Social Media Marketing, Donor Management.

NationBuilder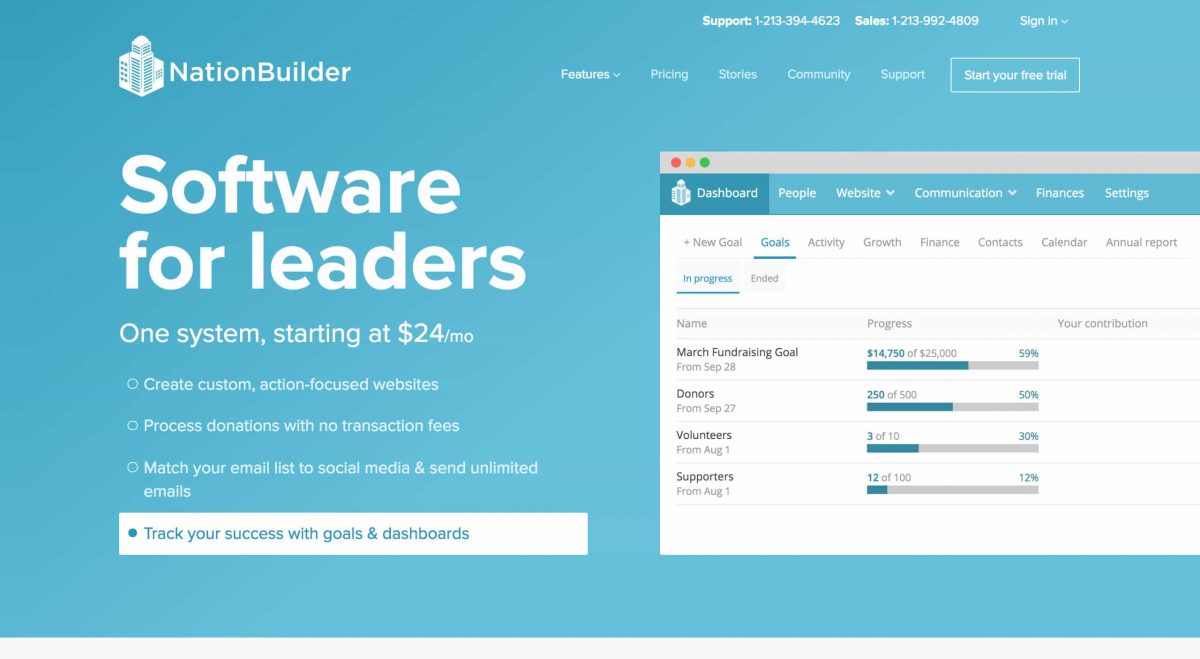 NationBuilder combines the features of a content management system and customer relationship management (CRM) software into one package. It comes fitted with a range of digital tools that help advocacy campaigns with website design, fundraising, volunteer organizing, and social media. Integrations with grassroots advocacy apps like OneClickPolitics and Phone2Action help you target legislators, government officials, and corporate stakeholders directly with your campaign messages.
Features: Action websites, Email blasting with A/B testing, Fundraising, Events with ticketing, Member Management
Pricing: Starts at $24/month

CiviCRM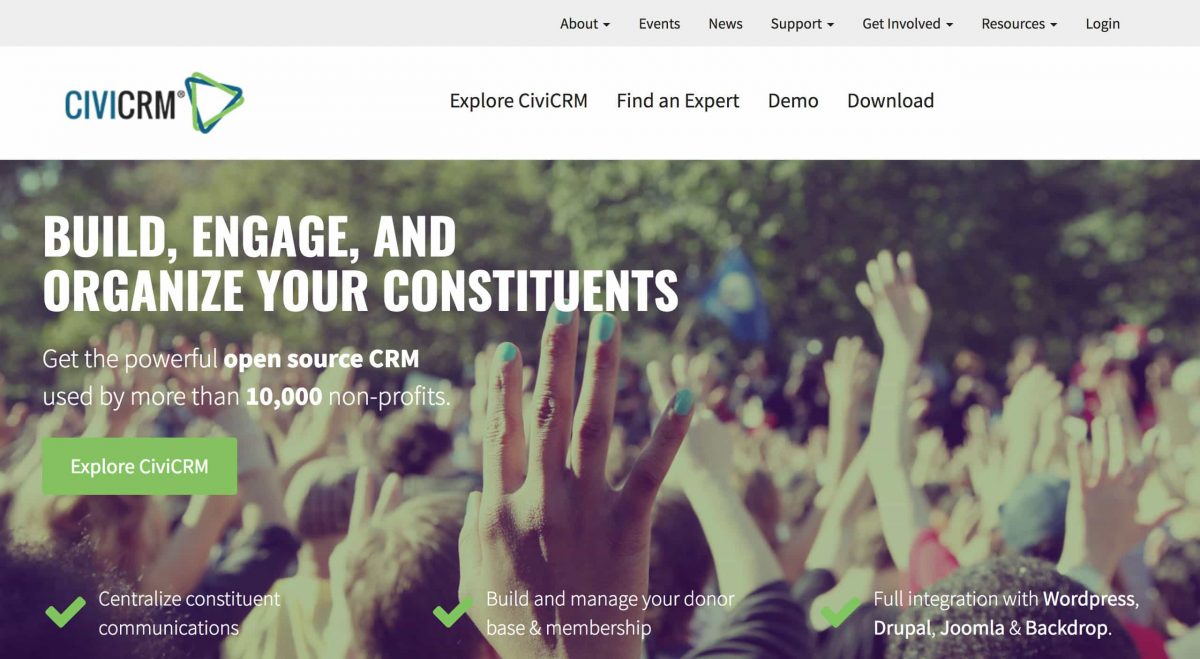 CiviCRM is a web-based open source CRM helping advocacy organizations engage supporters around campaigns. The CRM is designed to manage information about an organization's members, donors, event registrants, volunteers, and activists. CiviCRM also comes with extensions that expand its scope beyond out-of-the-box functionality.
Features: Online Petitions, Contribution Tracking, Donor Management, Event Management, Mobile Giving, Integration with website, Email Marketing, Peer-to-Peer Fundraising
Pricing: Free

Action Network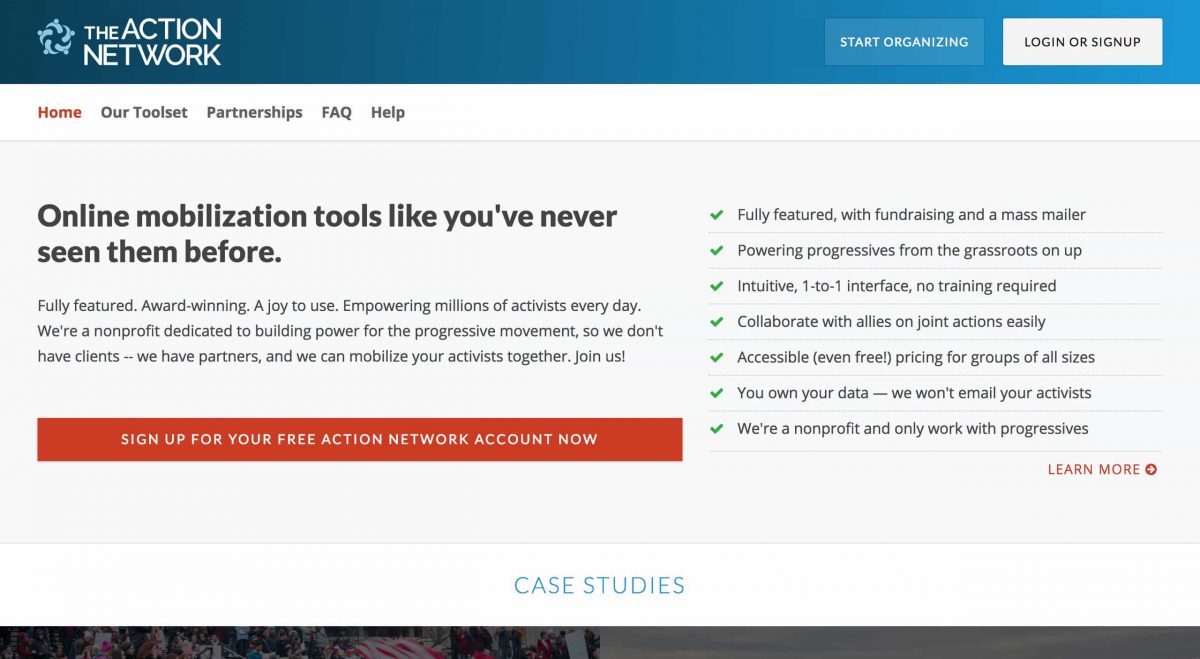 Action Network is an online organizing platform that empowers individuals and groups to organize for progressive causes. Organizers can publish actions to the public, such as a petition to an elected official, an RSVP form for a meeting, a fundraising form, or a ticketed event page to sell tickets to an event. Although Action Network does not offer websites and functionality for offline organizing, organizers can use integrations to connect multiple systems to Action Network to expand its scope.
Features: Petitions, Events, Ticketed Events, Forms, Email, Fundraising, Letter Campaigns, Forms, Ladders
Pricing: Free for individuals and small groups

Blue State Digital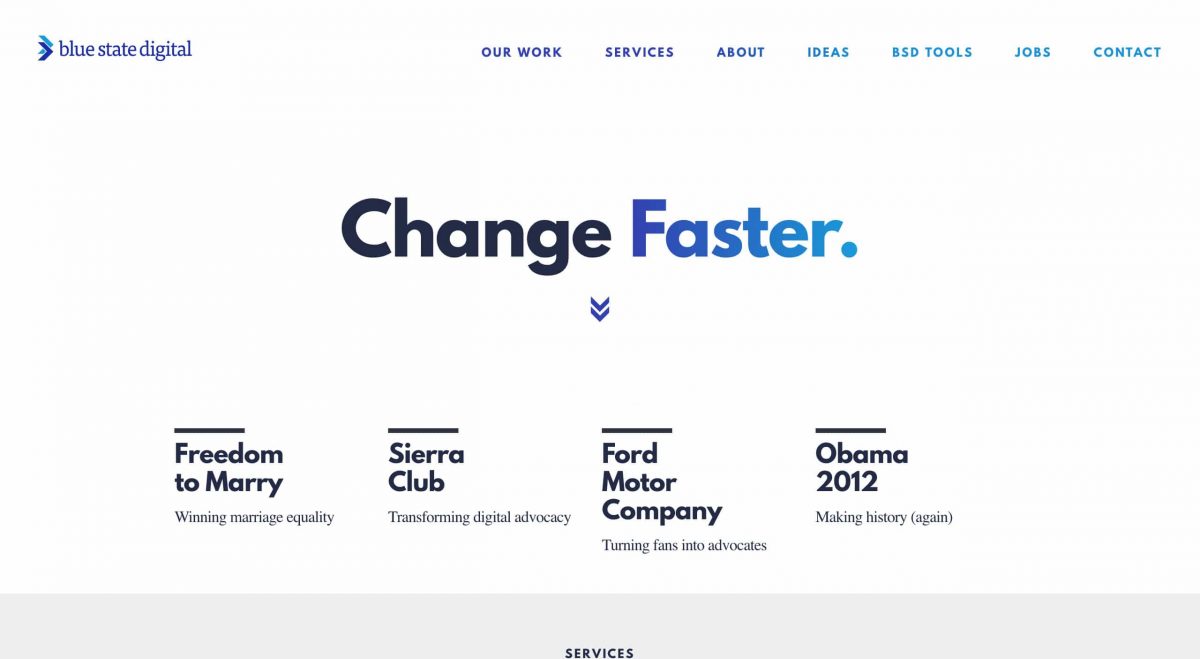 Blue State Digital is a full-service digital agency specializing in online fundraising, advocacy, social networking, constituency development, email marketing, and content management. BSD has helped clients like the Obama campaign, Labour Party, UNICEF, Sierra Club, and Oxfam America grow communities, build platforms, and transform their campaigns for the digital age.
Features: Digital Strategy, Website design and development, Click-to-Call, Content Marketing, Fundraising, Video & Photography, QuickDonate, Audience Insights, CRM Strategy, Branding
Pricing: Starts from $595/month

EveryAction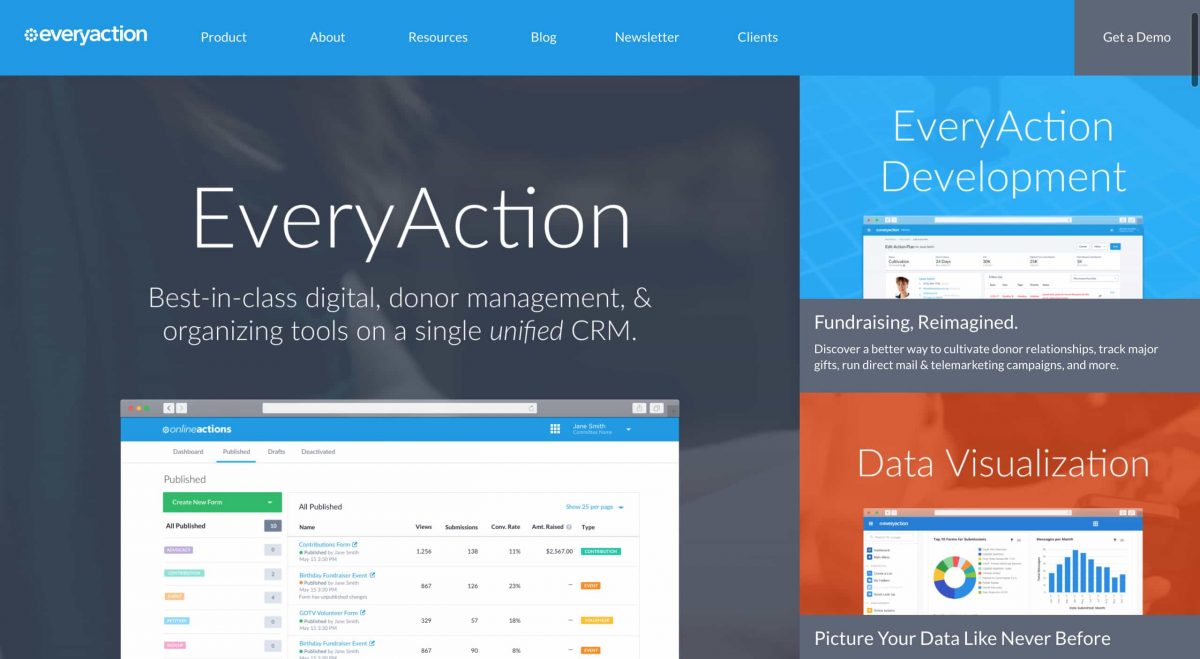 EveryAction is a CRM tool used by nonprofits to manage fundraising, advocacy, email, volunteers, and donors. EveryAction is the nonprofit arm of NGPVAN, a technology provider to Democratic and progressive campaigns and organizations.
Features: Targeted Email, Online Auctions, Online Donations, Donor Management, Supporter Management, Event Management, Voter Contact
Pricing: Starts at $49/month

Luminate Advocacy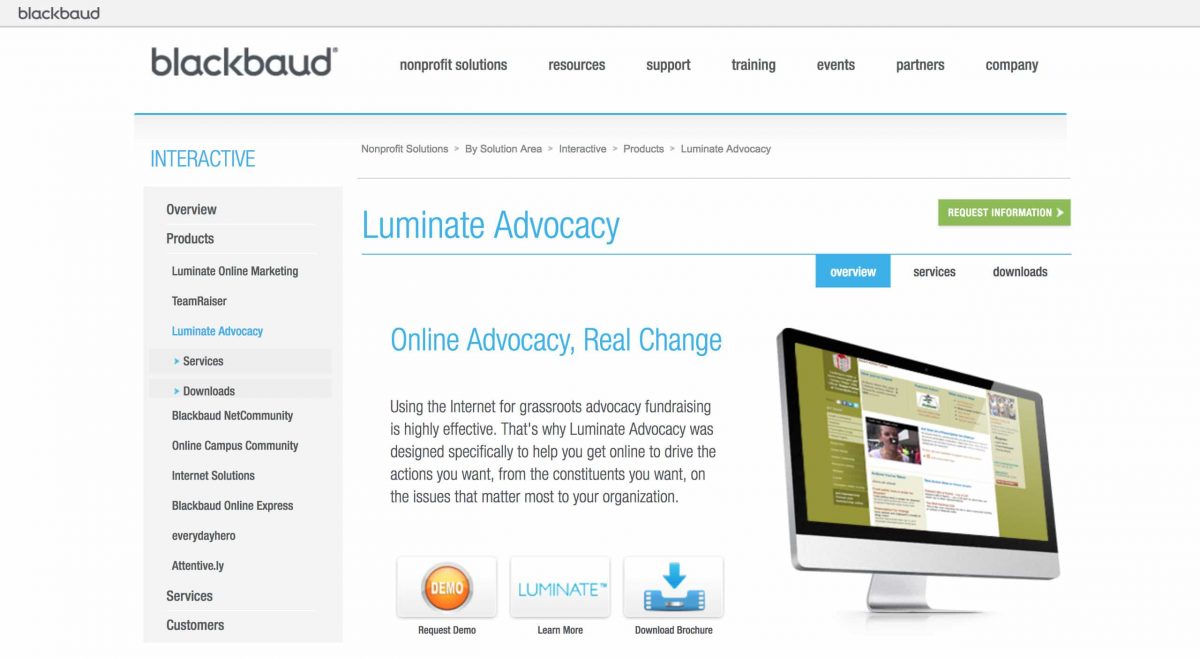 Luminate Advocacy software is an offering by Blackbaud, a supplier of software and services specifically designed for nonprofit organizations. It helps organizations grow their grassroots advocacy base, generate momentum and influence policy, and raise more money by enabling integrated campaigns for digital, social, and mobile channels. Luminate is more suited to larger nonprofits and advocacy organizations with sizeable budgets.
Features: Marketing Automation, Multichannel Communications, Personalized Email and Website Content, Personalized Action Centers, Advocacy Content Integration, Integrated Vote Data

CQ Engage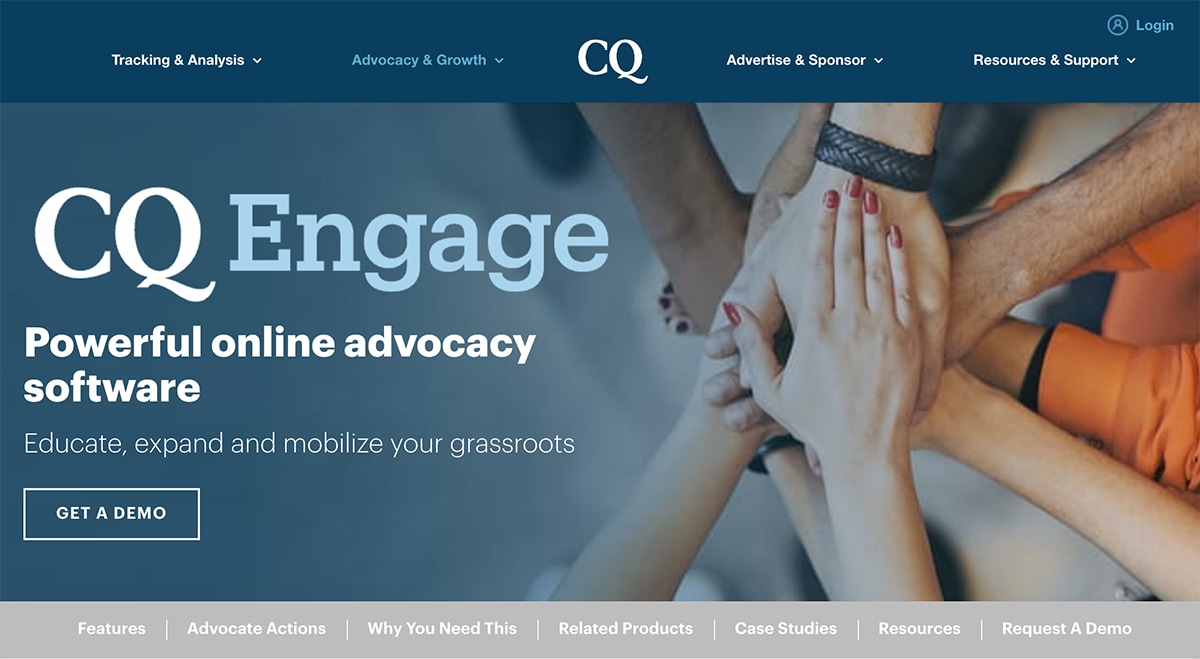 CQ Engage is an integrated software-news platform offered by CQ Roll Call, a part of the Fiscal Note family. Engage helps political, advocacy, and government affairs professionals mobilize supporters through an all-in-one, interactive, action center. Campaigners can curate news and legislative information from the CQ editorial team, empower grassroots action through calls-to-action, send targeted messages and enable social advocacy.
Features: Calls to action, targeted zip-code campaigns, email marketing, petitions, voter registration, story sharing and testimonials, letters to legislators, social media advocacy, member management
ActionKit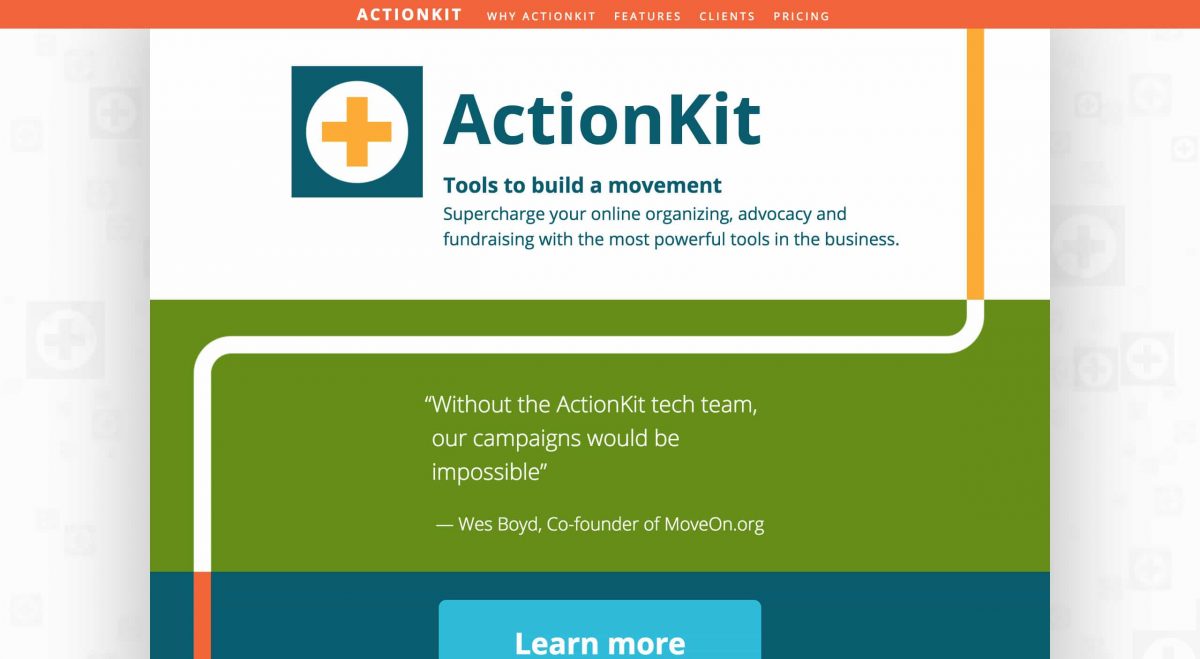 ActionKit is an advocacy software available to progressive nonprofits and political organizations. It has been used by large and small groups alike on issues ranging from gun control, disaster relief, and social justice.
Features: Blast Email, Secure Fundraising, Advocacy & List Growth, Events, International Organizing, Cultivation and relationship development
Pricing: Starts at $995/month

Muster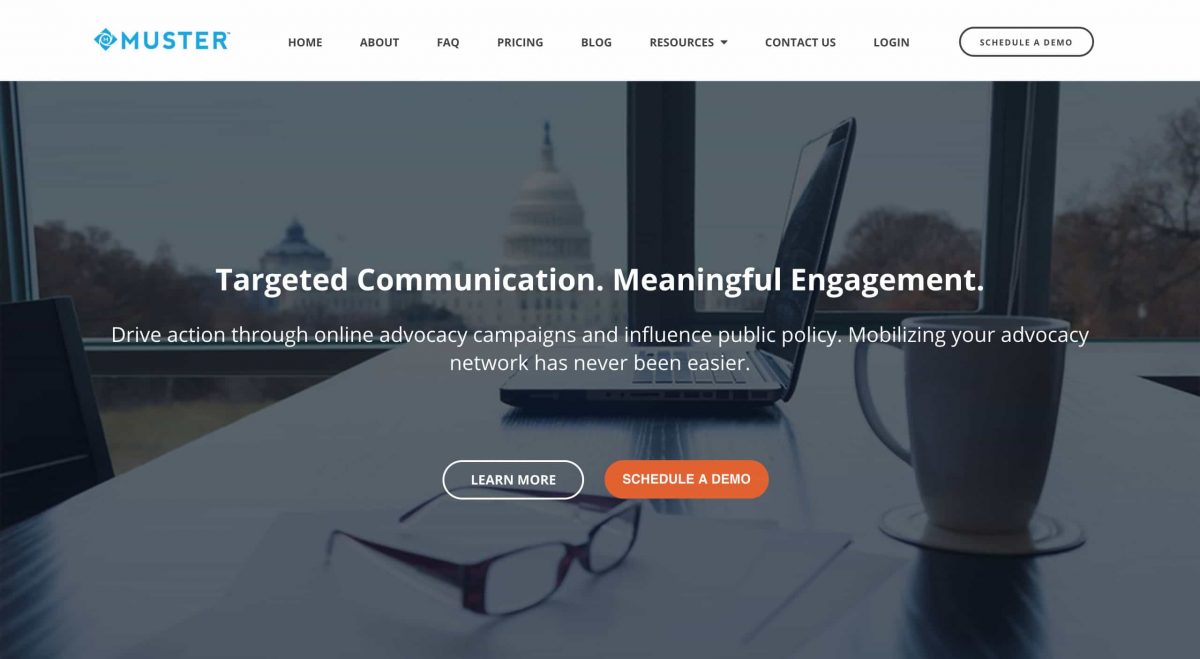 Muster is a grassroots advocacy software that enables nonprofits, organizations and advocacy groups to engage their supporter base in the legislative process. Muster uses Action Alerts to help you mobilize your network, prompting advocates to connect with their elected officials through email, phone, Twitter or US mail.
Features: Email Broadcasts, Phone Calls, US Mail (signed, stamped and delivered), Action Alerts, Contact Management
More advocacy software to consider:
Phone2Action
Phone2Action offers digital advocacy and engagement software that enables organizations to connect supporters and other stakeholders with elected officials. Their tools help organizations mobilize supporters to take action online and at events to connect with elected officials at the local, state, and federal levels.
Features: Patch-through Calling, Social Pulse, Grassroots Advocacy, Employee Advocacy, Advocacy Live, Alexa Skill
Voter Voice
Voter Voice is an advocacy software solution ideal for small-to-midsize organizations. Its easy-to-use platform enables supporters to own their issues at a government or non-government level through grassroots advocacy tools.
Features: Newsletters, surveys, fundraising modules, legislative scorecards, advocacy campaigns, targeted messages
---
Planning your advocacy campaign? Check out phone banking and text messaging software from CallHub.