If your board of directors suffers from inefficiency, your nonprofit's technology and how you leverage it might be to blame. Outdated tools and processes can slow down your board as they try to navigate them, resulting in frustration and less time to spend on your mission. However, arm your team with the right tools and strategies, and they'll transform into the productive leaders your organization needs.
When it comes to running a nonprofit, there's no time to waste, which means it might be time for a tech overhaul or at least new strategies for improving the systems you already have in place. Otherwise, you risk wasting board members' time and focus, which will negatively impact their work and your organization altogether.
While technology can be incredibly helpful, you can't just select any platforms and call it a day. You need to put thought into the types of tools you select and how you implement them in the boardroom. To help, we'll walk through four easy ways to maximize efficiency in the boardroom with technology:
Keep your board focused with digital agendas.
Meet face-to-face with video conferencing technology.
Stay in contact between meetings with communication tools.
Open up participation to everyone.
Bear in mind that no matter what tools you implement, you should set aside some time to train your board members. Even easy-to-understand tools need strategies in place to make sure they're being used efficiently. A little extra guidance will decrease the learning curve and help them get up and running quickly. Now, let's get started with our first key to improving board management with technology.
Keep your board focused with digital agendas.
Whether you meet every few weeks or only once a quarter, board meetings are the time for your directors to come together and strategize how your organization will put its best foot forward. When that time isn't used wisely, your board won't get to fully address everything it needs to. That's why board chairs create agendas. This document is the roadmap for your meetings. The chair uses it to flow between topics and make sure all crucial items are addressed within the allotted time. Going digital with your agendas makes it much easier to use them in your meetings.
When a well-written agenda is shared ahead of time in an easily accessible format, everyone can review it and come prepared with insightful comments and questions. When they get a free moment, they can easily pull up the agenda on their phones or laptops, making it super convenient to prepare for your meetings.
Simplify the agenda-creation process with online agenda creation tools, which allow the chair to streamline the format and boost team efficiency by:
Assigning items to different people. The most engaged boards are the ones that encourage active participation in the boardroom. Assign different board members to present and lead the conversation for different topics at your meetings.
Setting a time duration for each item. Simply adding time slots for each agenda item is a great way to prioritize the most important topics and keep the meeting on track. It'll help keep the meeting flowing and serve as a gentle reminder for board members to wrap up the discussion or push a topic to the next meeting.
Mark the goal for every agenda item. Is the point of a topic to simply inform board members of something, seek information from them, or arrive at a decision? Knowing the end goal of an item makes it much easier to achieve it.
Optimizing your agenda and promoting efficiency in the boardroom is easy so long as you have the right layout and tools. Having the agenda already digitally laid out is also a fantastic way for your secretary to get a jumpstart on recording minutes.
Meet face-to-face with video conferencing technology.
Over the past year and a half, there has been a massive shift to remote work and online meetings, and boards are no exception. Virtual meeting research has found that the web and video conferencing market increased 500% in the first two months of the pandemic, and Zoom alone had 350 million daily meeting participants last year.
If your board is still meeting remotely or transitioning to a hybrid approach, your technology needs to support that, which means being able to meet face-to-face even while physically apart. Video conferencing enables board members to streamline board meetings and be just as productive as they would be in-person, by allowing them to:
Read nonverbal cues. Body language is a powerful part of communication. Board members should be able to see one another to gauge emotions such as unvoiced engagement or disagreement. Video conferencing empowers them to do so remotely so they can maintain an open atmosphere even in the digital space.
Easily share documents. Video conferencing platforms come equipped with screen sharing capabilities, making it incredibly easy to pull documents up and point out what everyone needs to focus on. That way, you don't have to print off copies for everyone and struggle to help them follow along.
Just make sure you have guidelines in place for your video meetings, such as having people mute their mics, eliminate background distractions, and send a message in the chat to indicate that they have something to add. That way, everyone can stay as productive and focused as possible.
It's also important to ensure that your meeting tools — or any tools that you employ — are fully secure. Boards often discuss sensitive information that should not be accessible to anyone outside of the nonprofit.
Stay in contact between meetings with communication tools.
Your meetings are when board members collaborate on big ideas, and between meetings is when they put those big ideas into action. To maintain momentum, they need to be equipped with the right internal communication tools to stay in contact and follow up on assignments while they're apart.
Re:Charity's guide to working from home explains, "Not only must you retain effective communication with your employees, but your board members as well. Board members likely have a lot on their minds during this time, so it's important that you make their tasks within your organization as seamless as possible."
Between your board management system and other communication tools, some ways you can enhance board management outside of meetings include:
Sending out updates to the entire team at once. As a board leader, you need the ability to send out updates or urgent notices. Instead of playing phone tag or reaching out one-by-one, leverage an SMS tool like CallHub that lets you send out announcements and reach everyone using a device they almost always have on them.
Ensuring assignments get done. Productive board meetings result in a slew of follow-up tasks. Use a task management tool to assign and follow up to hold board members accountable for completing their work.
Enabling two-way communication. Make sure board members can reach out about questions on their assignments or get group input via chat.
Remember, nonprofit board members volunteer their free time and skills to put your organization on the right path. As soon as they leave the boardroom, it's easy for their focus to shift to other aspects of their work and personal lives.
Today's communication tools make it incredibly easy to develop a strong outreach plan and keep your organization top of mind. Make sure to invest in the platforms that make the most sense for your team, whether you anticipate that you'll need to send out last-minute announcements, answer questions, or follow up on tasks.
Open up participation to everyone.
When it comes to technology, a big concern is accessibility for those who have trouble with their vision, hearing, or any other impairments. Going digital doesn't mean you have to sacrifice accessibility or inclusivity in any way. In fact, you can actually make meetings and other board activities even more accessible than in-person work with the right nonprofit software.
Why's this so important? For one, an accessible boardroom communicates a desire to be inclusive to everyone, regardless of their abilities. It introduces your board to new perspectives you might not otherwise encounter and increases your entire team's ability to get up and running, even for those who might not normally need accessibility accommodations.
Boardable's guide to accessible board software explains that your technology should come equipped with features like: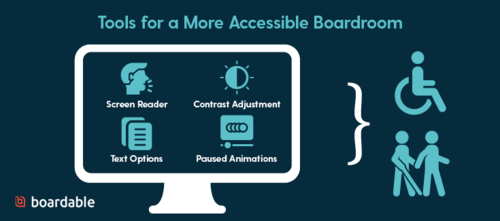 A screen reader. Those who are blind or visually impaired may rely on screen reading tools to interact with the content you share. This tool reads the content aloud, so they don't have to rely on someone else to read it to them.
Contrast adjustment. People perceive colors in different ways. For instance, people with light sensitivity or color blindness might have trouble seeing certain color combinations, so make sure any technology you use offers the ability to increase contrast, invert colors, or desaturate content.
Text adjustment. Your board members have a lot of content to read, so make sure they can easily read it with text adjustment options. They should be able to do things like increase the text size, change the text spacing, adjust the height, and change the font to improve readability.
Paused animations. Flashing and moving animations can be distracting and dangerous to some board members, such as those who are prone to seizures or triggered by visual stimuli. Make sure they can pause or hide animated, blinking, and flashing content within the platform you use.
Board service should be available to everyone, and tools that are accessible enable you to open up participation even when working remotely. Providing these extra accommodations will go a long way for your organization, so be sure to look into the different accessibility options for any platform you invest in.
---
The shift to virtual operations has uncovered some gray areas for boards. However, with the right tech and implementation strategies in place, your team can eliminate any barriers and boost efficiency altogether.
Remember, your board members contribute their free time to serve your organization, so it's up to your leadership team to provide the best experience and maximize every moment in the boardroom. A lot of that hinges on the technology you use, so make sure you employ tools that support their work and are easy to adopt, using the tips we cover as the basis of your strategy.
---
Author Bio: Jeb Banner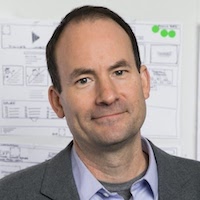 Jeb is the founder and CEO of Boardable, a board management software provider for mission-driven boards. He is also the founder of two nonprofits, The Speak Easy and Musical Family Tree, as well as a board member of United Way of Central Indiana and ProAct. Jeb is based in Indianapolis, Indiana.