SMS marketing have increasingly become an efficient and cost-effective way to reach customers and supporters. Their higher open and response rates compared to email marketing has made them the ideal choice for large companies and political campaigns alike, who have leveraged SMS messages to get their message across and garner an audience. When Barack Obama sent the now-famous text message announcing his VP pick of Joe Biden to more than 3 million Americans via a sms message, he knew how important and personal it was to the people. This clever bit of campaigning helped him rally millions of voters to his side and generate record contributions from contributors.
Here are 6 reasons why SMS has taken over from email marketing.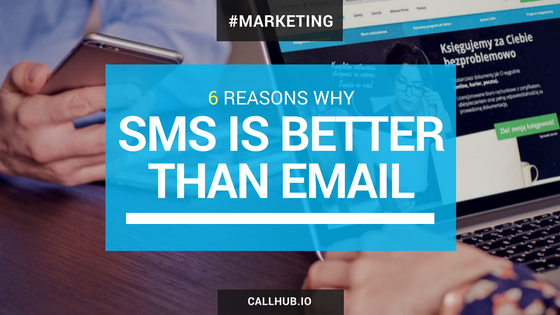 Majority of your audience owns a mobile phone
60% of people in the world own a mobile phone compared with 40% who have access to the internet. Statistics show that the number of mobile phone users has increased 4% every year since 2013 and projected to continue in this trajectory over the coming years. The number of people reached through a sms marketing campaign is much higher than that for email marketing.
Higher open rates for SMS
Research shows that 98% of SMS messages have a response rate of 45% while the open rate for emails are at 28-33% with a much lower response rate of 6%. This means that almost 3x people are reading your messages than opening the mails you've sent them.
Higher CTR
Click Through rate is the percentage of clients that clicked through to a website via the link within an SMS message. The average click through rate for links in SMS messages stands at 19% while the click through rate for e-mail marketing is at 3.2%. People generally do not have the time or the patience to read through an email till they reach the link. SMS messages which are short and up to the point have a better chance of keeping the clients attention.
Active communication with your clients
With higher open rates, SMS messages have the advantage of almost instantly updating the receiver about what you have to say. It could be anything from latest updates of a political campaign to information about the latest offers and discounts. SMS messages can be tailor made for clients based on their buying history and to update them about products they might be interested in.
Quality over Quantity
SMS messages have to keep to their word limit and only leave room for the important stuff while e-mailers tend to have irrelevant information which risks boring the client. SMS campaigns can keep the client coming back with around 4-6 text campaigns per month. In the case of email campaigns, there is no particular limit and the more emails you send, the higher possibility of a client reading it.
It's cheap
SMS campaigns may work out more expensive when you look at the per message cost but you do save on the costs that come with creating emailers. Email campaigns need creativity and design. They need to be made compatible across mail clients. With only 160 characters of copy SMS messages let you reach your audience much more cost
---
Create an account for free
[caldera_form id="CF59dac7556e559″]