callhub features
Features built for conversations that matter
Automatically dial through your list one at a time without missing a single contact. When agent clicks a button to indicate they are available, the system places the next call. Used when the cost of not reaching a contact is high.
Search through the contact list and choose whom to call. Gives agents enough time to research the contact, look through previous interactions and then click a button to place the call.
Control the speed at which calls are being made. Calls are automatically dialed as soon as the previous call ends. Depending on the quality of the list, calls-to-agent ratio can be configured as 1:1, 2:1 or 3:1 to improve connection rate.
Call people, encourage them to talk to their representatives and transfer the call to the right rep. All calls are tracked and easily monitored.
Fastest way to go call your list. The Predictive Dialer continuously keeps track of talk time, ring time, drop rate and other call center metrics to dial numbers ahead of time. So, as soon as an agent hangs up the phone, they can start talking to the next person.
Improve the chance of contact picking up the phone by displaying a local number when you call. Local numbers are available in 150+ countries.
Help maintain quality standards and guide training sessions by joining live calls – or record them for later.
Make calls via a browser or phone
If internet speeds are low or if the agent is more comfortable talking over the phone, let them switch between a web browser and landline or cellphone.
Call back at a convenient time
If contact is too busy to talk at the moment, agents can schedule a convenient time. CallHub automatically calls the contact at the right time and connects to the agent.
Gamify calling campaigns
Motivate your agents with friendly competition through badges for top callers and call center leaderboards.
Target your follow-ups by recording the outcome of every call through dispositions like 'left voicemail', 'user busy', 'meaningful conversation' etc. Calls can be added to the retry queue based on dispositions.
Quickly create the message you want to send by typing it out and converting it to audio. You can also record your own audio or upload existing audio files.
Tell people your message and let them press any digit from 0-9 to hear a follow-up message, leave a voice recording or transfer call to an agent.
Save frequent replies as templates
Avoid the trouble of retyping messages by using pre-saved responses that can be edited before being sent.
Reassign contacts
Ensure that every contact is engaged by removing contacts from inactive agents and assigning them to agents who are actively sending out texts. Live reports on agent activity makes the job of reassigning easier.
Track responses
Capture the details of every conversation on survey forms and sync them with your CRM.
Control how fast you want texts to go out depending on how many agents you have sending texts.
ADDITIONAL FEATURES
Better conversations over voice and text
One-click integrations to bring in lists, surveys and tags from CRMs like Nationbuilder, Action Network and Blackbaud. Updated contact information and survey responses are instantly synced with your CRM.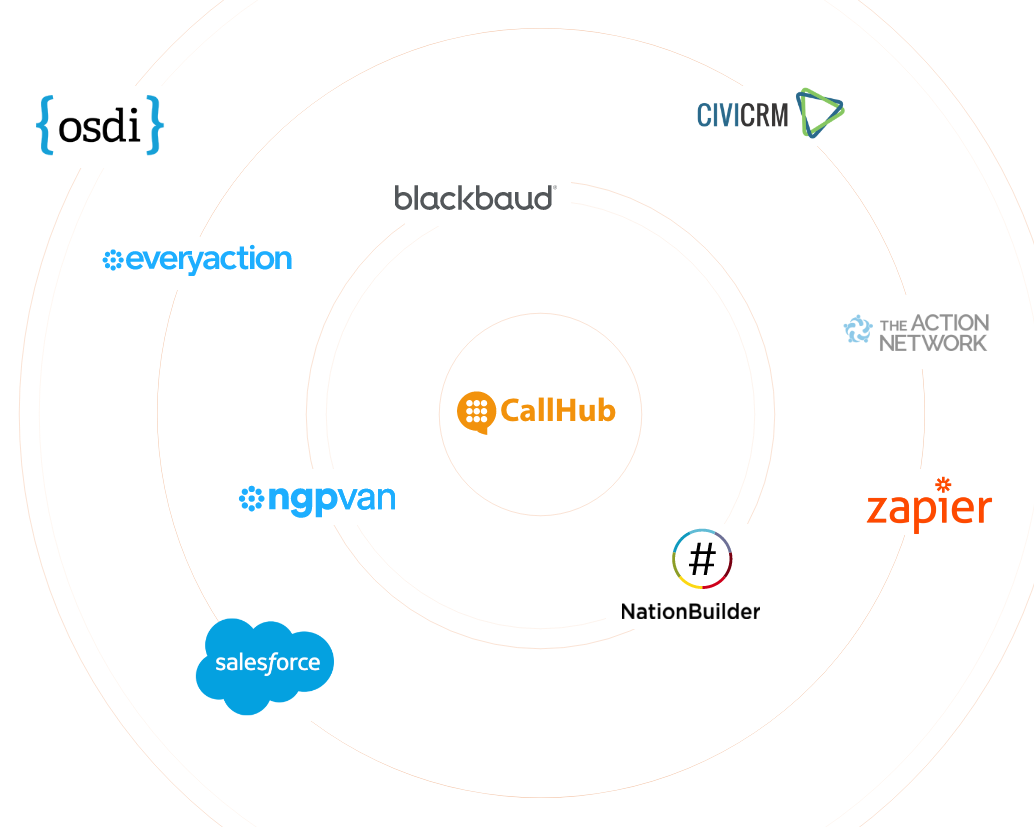 Make data-driven decisions to stay on track of outreach goals. Track call and text activity across time, monitor agent performance and filter results for targeted follow-up campaigns.
Call & Text Reach
Track the number of calls made and texts sent, see how many of your messages result in conversations and view messaging frequency to make sure you are not contacting people too often.
Agent activity
Track agent and team performance with leaderboards, compare two or more agents and see how many people you're recruiting.
Campaign Reports
In-depth look at calls and texts to help you filter through results and create targeted lists for follow-up outreach.
Use API's and Webhooks to connect CallHub to your website, database or analytics platform.
Quick response time
Our team of support engineers are on hand at all times to help you resolve any issues that might arise. We also have detailed documentation on our Help Center.
Effortless usage
More than 20,000 agents between ages 18 and 80 use CallHub to make calls and send texts. We know to keep things simple.
Got 5mins and a browser? See CallHub in action.
Try for free. No credit card required.