Phonebanking To Boost Your Grassroots Campaign
June 28, 2017 - 6 minutes read
It is evident that campaigns, big and small, are all turning to local strategies. The use of digital tools and platforms have helped campaigns shift their focus to address individual voters. Campaign messages can be tailored and volunteers can be managed to run a wide-scale ground game with the aid of these services.
While all the national and state elections are weaving their digital operations with a grassroots effort, local elections seem to be giving some practices a pass. One such activity is running a phonebank. Phonebanking is personal, cheap and easier to manage.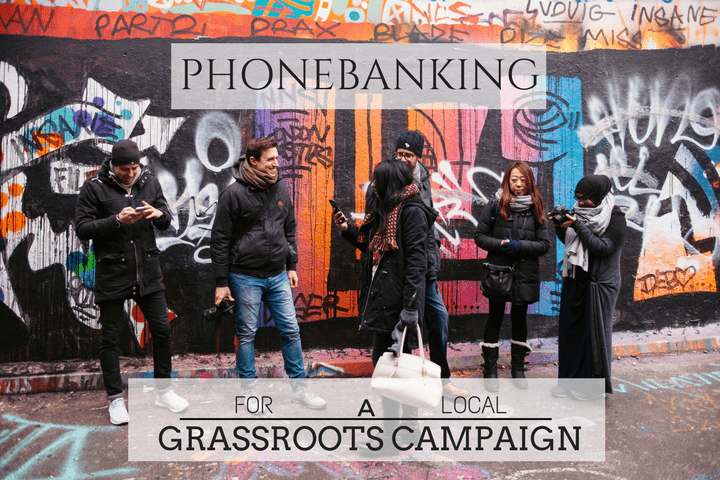 In fact, more than distributing campaign literature or social media ads, a phonebank ties-in with microtargeting practices of a grassroots operation. Here we have broken down the various ways phonebanking is necessary to run a local campaign.
Track voter responses
The key to a grassroots campaign is understanding the voters. For that, you have to get a grasp of local issues and the perspective of the local voters on those issues. A door-knocking campaign may help you get a handle on the concerns of the public. However, collecting subsequent information on how the campaign affects voter mindset is difficult through a door-to-door strategy.
With a phonebank, you can reach out to contacted voters and ask for insight. They can shed light on which of your messages are working and where the campaign can be improved. Plus it also shows the voters you care about their issues, not just the vote. Volunteers in a phonebank can also improve voter profiles on your contact list over each call, which is harder for ground volunteers.
Fine-tune your message
Each instance of contact with a voter is a chance to secure their vote on election day. Phonebanking lets you improve voter relation over every call by using a personalized script which relates to their interests.
That is not possible over direct mail to your voters. Building the same level of personalization over social media would be hard to manage. With custom scripts guided by the voter's profile, a phonebanking volunteer can deliver your campaign message fitting the voter's perspective.
Focus your outreach
A microtargeting campaign identifies which areas to focus on instead of spreading campaign efforts all over. It is better to separate the strong supporters of either candidate from the undecided or swing voters. Phonebanking ties in to help identify which voters to target, based on their social behavior and demographic. This allows for an effective grassroots outreach.
Of course, you need to conduct door-knocking and connect with people at local events. Phonebanking helps you understand which areas to focus these activities on. Combining phonebanking with voter outreach lets you come up with microtargeting strategies for every voter group.
Build donor relations
Fundraising is one of the most important parts of a campaign. With a phonebank, you can personalize communication with your donors and keep them engaged throughout the campaign period.
A phonebank lets you reach out to individual donors directly. This is much better to establish a relationship with donors than sending mail or reaching them through volunteers. With a steady line of communication with your donors and the personalization required for each conversation, phonebanking is the go-to process to win donor support.
Delegate tasks to volunteers
It is easy to get new volunteers started on a phonebank. For a door-knocking campaign or other activity, volunteers need to be trained until they can be relied upon to convey your message clearly to the audience. This is much easier in a phonebank.
You can provide scripts to guide the volunteers for a natural conversation with voters. Volunteers can carry out a phonebanking campaign with relative ease than going door-to-door. Doing the same over social media or mail won't be as personal as a direct phone conversation.
Scale up GOTV
However you reach out to voters initially or connect with them over the campaign, it is necessary to conduct a GOTV ( Get Out The Vote ) effort right before election day. It helps boost voter turnout by 5% or more.
Phonebanking lets you scale GOTV to your full potential. It is highly improbable that your volunteers would be able to go to every door right before election day. The best way to ensure you reach out to every voter who responded positively to the campaign is through a phonebank. You could scale your GOTV effort over the entire constituency this way.
As you can see, phonebanking is a vital part of any grassroots campaign. It ties in with every activity and lets you deliver personalized messages to every voter. Get started on a phonebank for your local election run and you can deliver microtargeted content to your voters at the same level as any other large-scale digital campaign.
campaign strategy
,
digital campaign
,
donor
,
get out the vote
,
GOTV
,
grassroots
,
local election
,
Phone Banking
,
phonebanking
,
voter profiling