A NEW WAY TO REACH OUT TO PEOPLE
Peer to Peer Texting for NationBuilder
One to one text marketing campaigns at scale.
Why peer to peer texting?
Use person to person text messaging for scalable 1 to 1 conversations with people. Get more people to attend events, become volunteers, raise funds, get out the vote, and convert from leads to customers all through personalized text messages.
What is peer to peer texting?
Peer-to-peer texting lets organizations send text messages to people with the help of volunteers. Each volunteer uses CallHub to send out a batch of texts and manages the responses. These batches are assigned to them. You can attach a survey to a campaign and have volunteers record information from a conversation, like if they will attend an event, or how much they are willing to donate.
As the manager, you can assign and reassign conversations to volunteers, manage the campaign schedule, decide who the recipients are and of course have all the survey data and conversations sync with your CRM.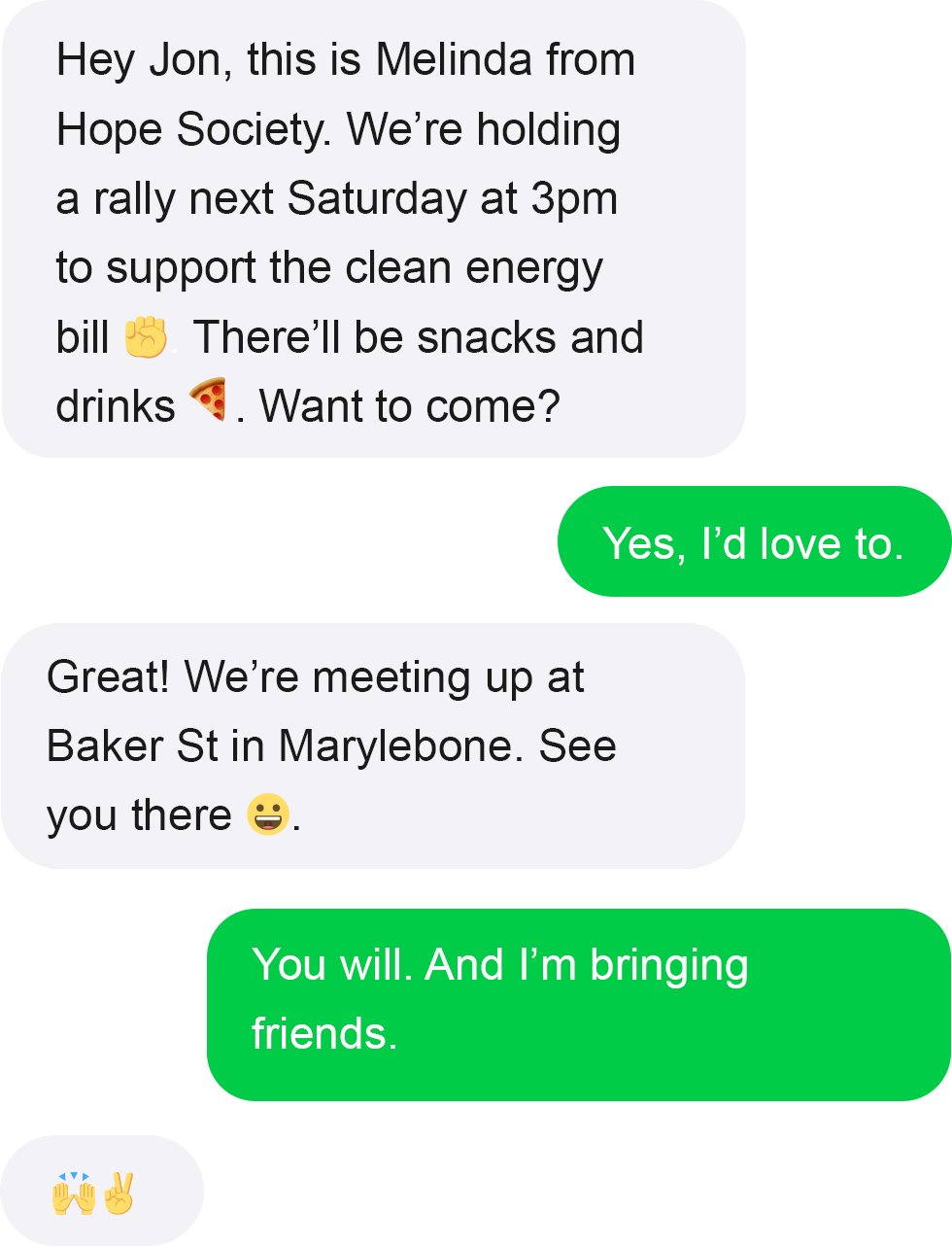 Winning Peer to Peer Texting campaigns across 3 continents
Cost effective
Start small, grow big
Stay compliant
Using Peer to Peer texting doesn't break regulation
200% higher engagement
Compared to email
Rapid Response
P2P texting is faster than phone and more personal than broadcast.
NATIONBUILDER INTEGRATION
Integrate with your favourite organizing CRM
Peer to Peer Texting has a 2-way sync with NationBuilder. Import Contacts, Lists, Tags, Surveys, and Events. Sync activity and make tags viewable to volunteers during a texting campaign.

"CallHub surpasses the other guys! Very easy to use. I compared it to several other services and am very happy that we have chosen to do business with them. The team is so friendly, easy to work with and assists wherever they can. It is a joy to work with them!"
Leslie Stubblefield, Insurance Media Services
CallHub has become my go-to platform for affordable phone canvassing campaigns, voice broadcasts and text message blasts. I used the Voice Broadcast feature in various ways, from inviting people to events to, in one case, contacting almost every household in a small province to generate leads for people wanting more information about a plebiscite that was taking place."
Jordan Bober, Director of Development and Election Readiness, Green Party of Prince Edward Island
"I really love your team. You are just super responsive and super friendly and nothing's too difficult! It's been a really good experience."
Shaun Murray, Senior Organizer, GetUp
"CallHub made my marketing program easy and also affordable. I love the dialer, the SMS marketing program and the voice broadcasts. The CallHub team is doing a wonderful job!"
Wendy Mathis, Global Quest Services
"I love this product. It's so easy to use with a very clean user interface. The price is the most economical I've seen in the industry and last but not least is the wonderful customer support. They answer all questions very quick."
Ronald Hart, Marketer, The Cloud Marketers
Plan your campaign
Build a list of people from your nation that you need to reach out to quickly and effectively. Peer to Peer Texting is ideal for outreach campaigns where you need to mobilize your audience for eg: GOTV, volunteer recruitment, fundraising and supporter mobilization for rallies and event. Peer to Peer Texting integrates bi-directionally with NationBuilder, making it easy to import contacts and sync activity.
Recruit volunteers
For every Peer to Peer Texting peer to peer campaign, you require agents or volunteers who start and manage conversations with your contacts. Decide on the number of volunteers you need based on the number of contacts you are reaching out to. A 1:100 ratio for a campaign that calls for deep interactions and question-solving is ideal. Manage and organize these volunteers easily with CallHub's volunteer team management feature.
Start texting
Create your first initial message and bolster it with a survey imported from NationBuilder. Once your volunteers start texting, track the progress of your campaign using our dashboard. If some of your volunteers drop out midway, easily reassign inactive conversations with other volunteers.
Sync with NationBuilder
As people on your nation are texted through Peer to Peer Texting, they are tagged inside NationBuilder using a tag set by you. These tags can be imported from your nation. You can also import events and RSVP people to them. All of this and more with CallHub's peer to peer texting software.
"This is a fantastic piece of software. You can accomplish so much as a small team in so little time!"
Jacob Turk, Political Candidate
No subscriptions, no minimum number of texts. Only pay for what you use. See pricing
Broadcast initial message
Combine the speed of a broadcast text with the collective handling of responses by volunteers.
Sync your peer to peer texting campaigns instantly with your CRM. Import surveys, reports, events, tags, contacts and more from Nationbuilder, NGP VAN and Action Network.
All CallHub customers get access to our outstanding 24hr customer support. Reach us through email, live chat, and a phonel. We'll help and guide you all the way.
No matter where you are, we got you covered. If you are looking to superpower your outreach campaigns to voters, supporters or customers, get started with Peer to Peer Texting today. PS: It's free to create an account!
Prompt people to sign up by re-iterating value
Try it free. No credit card required. Instant setup.
3000+ of the world's biggest organizations trust CallHub for engagement