The Internet has revolutionised political campaigns. Digital tools have changed the way you communicate with your voters. From managing your donations to organising your volunteers, a political campaign management tool or software is your one stop shop for everything. It lets you say goodbye to every traditional tedious task. However, choosing the right software is tricky. A lot of things have to be taken into account when picking up the one that suits you perfectly. Let us a take a look at some of the best of those tools available in the market. I've ordered them in terms of cost.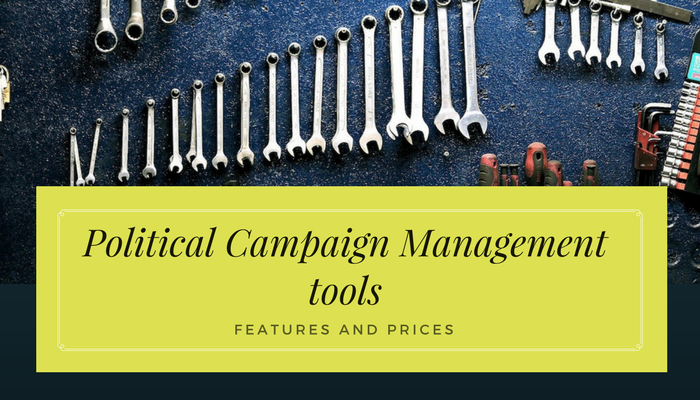 Blue State Digital is the firm that provided digital strategy and technology services for the 2008 and 2012 Barack Obama presidential campaigns. A full-service digital agency, BSD develops and executes multi platform engagement campaigns for nonprofit and advocacy organizations, political candidates and causes, and brands and businesses.
Features : Email management, online fundraising, web analytics, social networking, content management.
Starts at : $550 per month
A non-profit and political campaign management tool, Trailblazer takes care of your fundraising and donor management in an effective way. Affordable and user-friendly, tracking is much easier with trailblazer.
Features : 24/7 technical support, volunteer management, donation tracking, receipts/statements.
Starts at : $100 per month
A widely used membership management software, Wild Apricot is easy to use and has a highly rated customer support team. Used by swim clubs to political associations, the regular pricing of this membership management software costs $40 per month.
Features : Accounts receivable tracking, automated membership renewals, drag & drop website builder, dues payments & renewals, email automation & newsletter templates, mobile integration, saves time on admin tasks.
Starts at : $40 per month
Probably the most popular among the lot, NationBuilder was exclusively built for political and advocacy campaigning. It has a variety of interesting features. Their path based engagement workflow makes it easy to have personalised interactions with supporters.
Features: Free voter files, email A/B testing, custom fields, data import & export, mapping and turf cutting, e-payment processing, email blasting, text messaging, social media integration, call scheduling, recruiter and fundraiser tracking, voice mails.
Starts at: $29 per month
Designed for all types of campaigns, Aristotle is highly rated when it comes to customer service. Online donation pages of Aristotle are mobile optimised and all the compliance reports are streamlined.
Features: Voter files, Membership management, contribution tracking, payment processing, 24/7 tech support.
Price: On request
Advocacy Campaign management tools
A big name in the industry, ActionKit is used by many large progressive organizations around the world. From gun control to climate change, organisations use ActionKit to spread awareness on issues that matter to them. They work with progressive advocacy, non-profit and political groups.
Features: Blast e-mail, secure fundraising, API and developer tools, unlimited custom user fields, one-click petitions.
Starts at : $995 per month
This online organizing tool has been creating a lot of buzz lately. The Action Network is free for individuals and small groups. This non-profit tool aims to democratise political organising and focuses only on progressives.
Features : Mass mailer, letter campaigns, petitions, fundraising, easy to collaborate, in-depth strategic advice.
Out of your budget?
If you find these tools too expensive or too complicated to use, there's always the much loved Spreadsheet. It may not be as user-friendly but as a database, it works very well. For campaigns with under 5000 supporters, a spreadsheet is a great way to organise and track your campaigns. Maintain a database of all your voters or supporters and track all the interactions with them. Use Google sheets or Microsoft Excel Online to collaborate with your team members.
Features: Create reports, send mails ( Google Apps ), integrate with your CRM, create scripts and triggers, verify emails
* Integrates with CallHub
Outreach through calls and SMS
Most of the campaign management tools listed here integrate with CallHub! You can import contacts, sync activity and a lot more. We also integrate with Zapier. Zapier makes it easy to integrate with any two tools that integrate with it.
If you are keen a particular CRM, let us know and we'll check it out.