A contact center allows organizations to communicate with customers across multiple channels, including phone calls, text messages, social media, email, live chat, and more. It is a centralized system through which all communication within an organization takes place – providing an omnichannel experience to your contacts.
While it is true that most people prefer speaking to agents over a call, supporters are moving towards other platforms to engage with organizations with the evolution of technology and changes in the communication preferences of different generations. For example, 89% of people prefer text messages to communicate with organizations, 46% reported using chatbots for queries, and more.
Missing out on using different platforms means missing out on two critical aspects–
Crucial moments of engaging with your target audience.
Fostering brand loyalty.
Essentially, an integrated and automated customer communication system that accounts for the different preferences of different customers is the need of the hour. A contact center is a perfect solution for it.
Let's learn more about contact centers in the sections below and how it enables a multi-channel approach to customer service.
Contact center vs. call center – what's the difference?
To begin with, we need to learn what sets a contact center and call center apart from each other. At the baseline, both are platforms used to reach out to your contacts or let them reach you. But, it is essential to explore the differences between contact centers vs. call centers to understand which is the best fit for your organization.
The primary difference is that a contact center offers multichannel support. In contrast, call centers primarily focus on calls as a communication medium, even if they provide other channels such as text messages, emails, etc., which aid their call center operations.
Secondly, unlike call centers, contact centers can provide proactive customer service to your contacts. This means that agents will be notified if a customer is facing issues and can offer to help before a customer reaches out to them.
Read Also: Why You Need Customer Relationship Management Software
For example, frantic clicks by a customer on your website in case a button is not working can be noticed by your contact center software, and an agent will be notified.
The following image maps the differences between the two platforms clearly-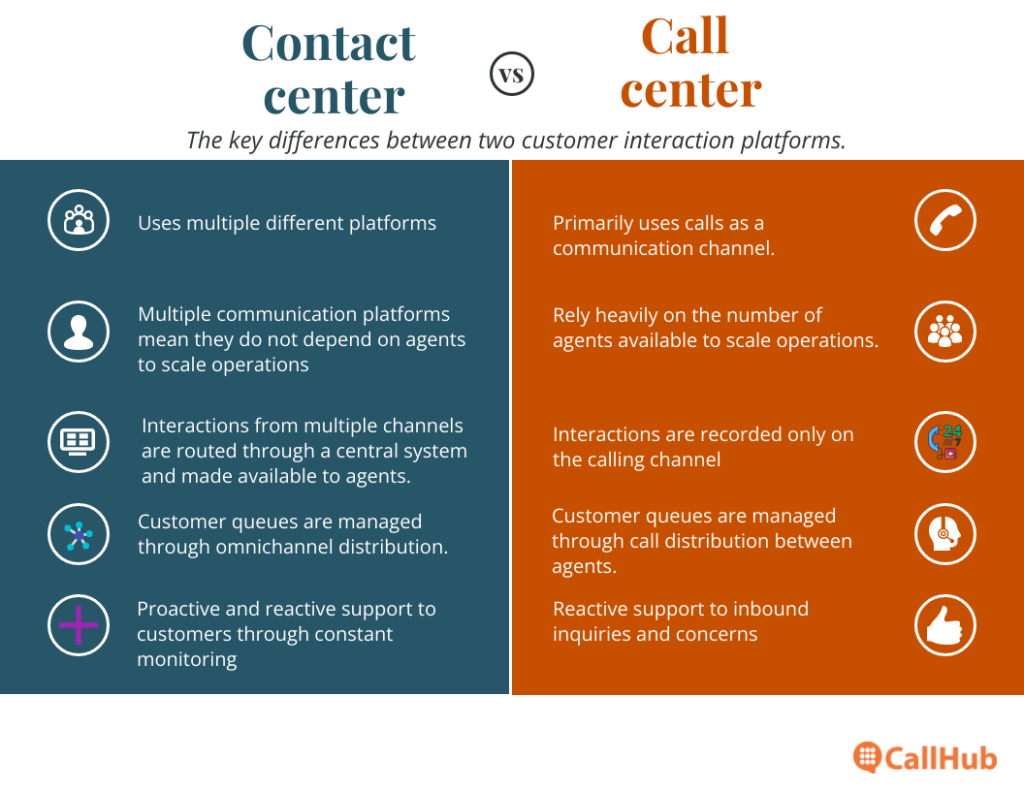 We have an article exploring the differences between contact centers vs. call centers in detail. Read Contact Center Vs. Call Center – Key Differences Between The Two
Why should you choose a contact center?
You need to opt for a contact center because–
In addition to knowing these fantastic statistics, you must also know the benefits of a contact center–
Contact centers centralize information: While it may seem like a minor feature, it dramatically impacts your team. Here's how–
Contact centers offer omnichannel support: Omnichannel support means that conversations do not take place in siloes. Instead, all interactions are available in one place – allowing your agents to refer to any customer information when needed.
Contact centers help with burnout: A platform that helps you ease the workload of your support agents? That's a winner! By centralizing all customer interactions in a singular location, contact centers minimize endless menial tasks your agents might otherwise have to take up, such as locating previous text conversations while on a phone call with a customer.
Employees can automate tasks, display relevant content, and collaborate more quickly in an intuitive and efficient manner.
Better customer information: Since all your customer information is stored in one, easy-to-access location, agents have a holistic view of a customer's interaction history.
With better customer information, you can help solve issues sooner or understand how long the customer has been trying to solve a particular problem. You can also leverage this information later on for unique insights on your customer, such as purchasing trends, marketing insights, and more.
Improve customer experience: Imagine how improved a customer's experience with your organization would be if they did not have to repeat their issue to different agents every time they call back? Or if they could simply log onto your website and get an answer within minutes using a chatbot?
Contact centers enable an overall improvement in customer experience. And when your customers feel appreciated, 80% report that they will spend more on an organization going forward.
Read Also: The Complete Guide to Text Messaging for Customer Service (With SMS Templates)
Saves time and money: Your agents do not have to attend to every query posed by a customer. Contact centers allow for self-service, meaning customer queries can be solved through automated chatbot replies, text replies, etc. Only when customers' questions cannot be solved through such an interface are they able to connect with a support agent.
Interactive Voice Response (IVR) systems: IVR systems in contact centers are designed to keep the customer experience in mind. Managers design IVR in a contact center to predict customer intent and connect them with the right support agent to solve their problems. IVR can also solve customer complaints sometimes without needing live agents.
Now that we know the benefits of a contact center, let's explore the different types of contact centers available to organizations.
What are the different types of contact centers?
There are primarily four types of contact centers–
Hardware contact centers: Organizations can choose to install a contact center on their own physical, on-premise servers. If you so choose, you must ensure that you can store these servers, have a disaster management plan mapped out, and strategize adequate processes to update your hardware.
Cloud-based contact centers: Cloud-based contact centers are hosted on an internet server, and all outbound and inbound calls are attended through it. Since it is hosted on an internet server, you can make interactions through calls, texts, chatbots, etc., accessible from virtually anywhere with an internet connection.
Hosted contact centers: A hosted contact center helps an organization minimize costs by outsourcing software, hardware, and other infrastructure to another company. The other company manages your contact center. This saves your company money and time, space, and maintenance costs.
Virtual contact centers: Virtual contact centers allow your agents to work remotely from anywhere in the world. This allows flexibility in work, allows you to operate in different time zones, and reduces overhead costs.
Read Also: 5 Call Center Communication Skills To Train Your Agents On Today
The way forward
Setting up a contact center to interact with your customers is easy. However, each organization has different needs.
CallHub offers several resources that can help you choose between a contact center software or a call center software. To begin with, you can read The Complete Call Center Software Buyer's Guide: What to Look Out For to learn more.
Featured Image Source: Pixabay