45% of worldwide donors are enrolled in a monthly giving program.
If your nonprofit does not have one, you are losing out on a large number of people who are willing to donate.
As of 2018, the concept of recurring donation became more popular, and monthly giving revenue grew by 40%.
A monthly giving program helps you:
Increase your donor's lifetime value.
Reduce your fundraising costs.
Make donations easy.
It reigns supreme in the case of nonprofit fundraising as it is a reliable stream of monthly revenue.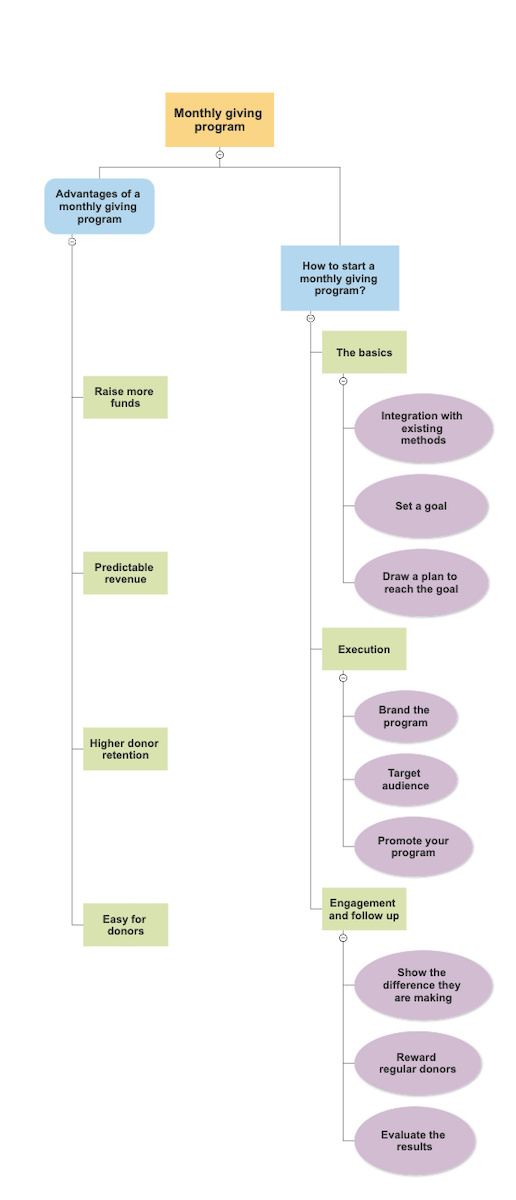 So, let's take a look at the advantages of monthly giving, and how you can start one for your nonprofit.
Advantages of a monthly giving program
Monthly giving is a great way for nonprofits to determine regular income and make long-term plans while being rest assured they are looking forward to a steady stream of income. We've explored the advantage of monthly giving in detail. They are:
Raise more funds
Predicatable revenue
Higher donor retention
Easy for donors
Let's read more.
Raise more funds
Monthly giving helps you raise more funds because it encourages people to donate more over a period of time. Donors engaged in monthly giving donate 42% more than one time donors.
Also, a large part of the population finds it more suitable to donate monthly. Millenials are also now encouraged to donate as they have to give a small amount over a period of time rather than a huge one-time donation.
Predictable revenue
This is one of the most important reasons why you should start a monthly giving program. You can plan your events and other programs without worrying about the funds.
For instance, you get $10 every month from your monthly giving program. Therefore you know by the year-end you will have $120. So, if you are planning for an event you can focus on making the event successful rather than worrying about the funds.
Higher donor retention
The average retention rate of a new donor is only 23%. In contrast, a monthly donor has a retention rate of 80%. That is a drastically high number! And this number further increases to 95% after 5 years.
This shows that your monthly giving program (if done well), will attract interested and loyal donors – who are the lifeline of any successful nonprofit!.
Easy for donors:
Monthly giving is not only relatively simple for nonprofits, but it also makes giving easy for donors because: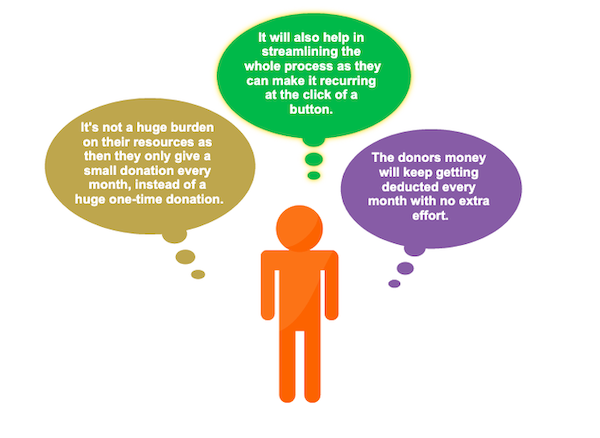 Despite these advantages, a lot of nonprofits still don't have a monthly giving program, because it is hard to set up. However, following a few simple steps can be the beginning to a highly advantageous fundraising campaign. Let's explore.
How to start a monthly giving program
We've listed a number of simple methods through which you could launch your monthly giving program. We've divided the methods into four parts:
Before you begin the campaign
The execution
Engagement and follow-up
Evaluating the campaign
Before you begin
Integration with existing methods:
The monthly giving program you launch should tie -in well with the current ways donors give.
That is, if you have a website donation form, then include a button (or a checkbox) that allows donors to make the giving monthly.
If you send end of the year emails for your fundraising efforts, then ensure that for monthly donors, the emails refer to that behavior first and then make the ask.
Some companies also remove their monthly donors from regular asks – to make sure that a donor is not bombarded with too many requests.
A monthly giving program will work better if you combine it with other modes of giving.
For instance, you can combine monthly giving with year-end donations. You can ask your monthly donors to donate a little extra in the last month of the year.
Setting a goal
A successful monthly giving program is one that has a goal behind it. These goals will depend upon: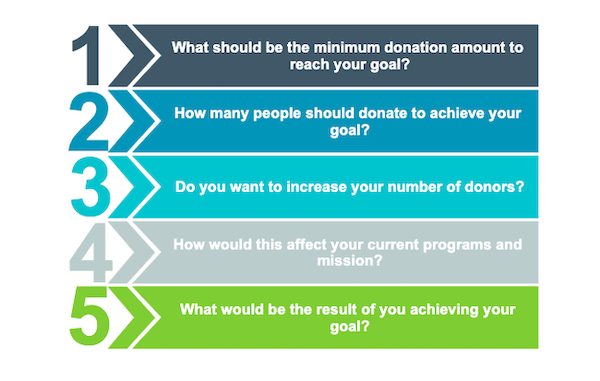 For instance, let's talk about a nonprofit food bank.
Based on the number of people they typically feed in a year. They can calculate that they need a certain amount of funds to make this happen. Obviously, there's an ongoing cost to that. So, they can fund half of it through recurring giving and a half through your regular yearly giving and other donation drives.
In this case, their goal should be something like this:
"I need to recruit 30 recurring donors at an average monthly donation of $20 by May 15 to fund half the annual cost of our foodbank."
This is how you should plan a goal. It should be easily measurable, and you can create a plan around it to achieve the goal.
Drawing a plan to reach the goal
Once you have set the goal, then comes the part where you would decide upon the road map to reach the goal.
This will include details like :
Calculating the existing number of small donors, to arrive at a donation amount that suits your donors.
Establishing a minimum target number of donors you will reach out to every month to meet your financial goals. How many donors do you wish to target for monthly donation so that you can meet the financial goals?
Outlining success metrics – How will you measure the success of your goal?
Deciding on the software that will help you in easing out the whole process, such as CauseVox and Wild Apricot.
Finalizing a monthly giving plan – You can offer multiple levels of giving. You can set a minimum donation amount. After that, give the donors the flexibility of choosing the monthly amount they want to give.
Execution of the campaign
Branding the monthly giving program:
Branding can start from the most common thing- a Name. A perfect name can make the donor believe that they are part of something special.
The name of your monthly giving program should align with your broader nonprofit brand or goal.
For example:
Charity: water — The Spring:
This nonprofit aims to provide developing countries with free drinking water and solve the water crisis in the world. The name of the program also perfectly aligns with the nonprofit.
Testimonials can also be a great way to build your brand. They can act not only as social proof but also help in showing your donors that they are part of something bigger than themselves. Such peer statements become part of compelling social and psychological encouragement for donors to take action!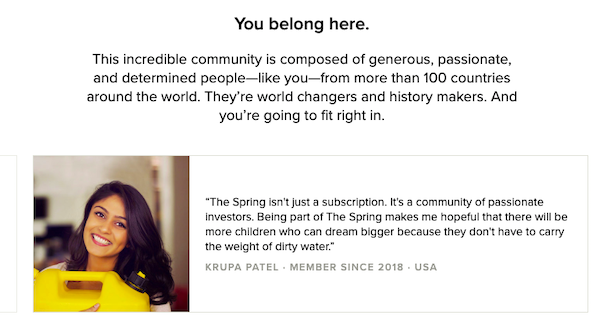 Target audience:
Before you start to promote your monthly giving program, take a look at your database. Then segment your list according to the people you would be targeting.
Don't start promoting your monthly giving program to everybody in your database. Instead, promote it to only those who would be most interested (and likely) to join it.
Generally, your target audience would be small donors. You can talk about this monthly giving program to them as they would be more receptive to it
Once your program has good credibility and feedback, you can start to promote your program to a broader audience.
Promote your monthly giving program:
No matter how good your program is, it will not be successful unless people (your target audience) know about it.
These are the broad channels that you can use for promoting your program:
Mail:
They can be broadly classified into two groups, direct mails, and emails. These are one of the best modes to generate monthly donors.
The success of this platform is mainly because it creates a more personal impact than any other channel.
Added to that, you can also include compelling content like
Personalized greeting
Include pictures and videos
Tell your story
The specific impact of donation
Challenge, deadline, and goal
Testimonials: This encourages your prospects to sign up for your program.
In comparison to email, direct mails are more beneficial in retaining donors. 70% of Americans say that direct mail feels more personal than digital ones. Response rates to direct mail are 10-30 times higher than digital mail since it makes donors feel more special. Therefore using direct mail to promote your monthly giving program will be a huge success, especially for high-value donors.
Peer to peer texting:
It can be used to have a personalized conversation with your donor. Volunteers can individually talk to the donors and introduce them to the concept of monthly giving.
You can also reach out to your lapsed donors and see if they would be interested in your monthly giving program.
If the reason for their lapse is because they can no longer afford it, then paying a small sum every month can be the perfect solution.
You can also use MMS to send in personalized greetings, pictures, videos, and even testimonials to make your ask even more engaging.
Social Media:
It is an efficient way to promote your organization's new program. You can use social media platforms like Facebook, Twitter, and Instagram to communicate.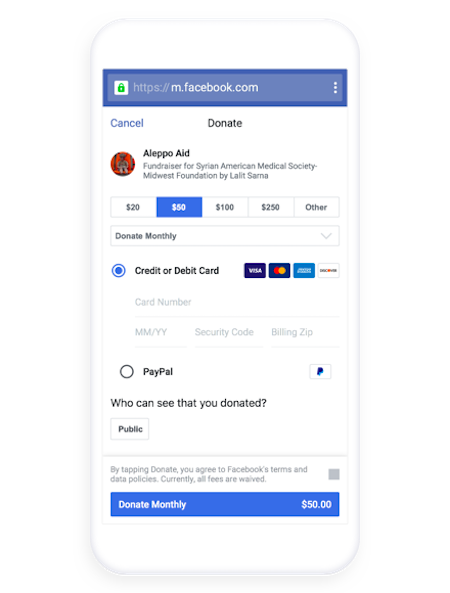 You can also use different forms of content according to the platform.
For instance: On Facebook, you can use a video to communicate with your audience as Facebook's algorithm favors videos over picture and status updates.
In the same way on Instagram, you can use pictures. On Twitter, you can write microblogs to communicate about your program.
Website:
Nonprofit websites are also an excellent channel to highlight your monthly giving program. You can do this by making a completely new page dedicated to your monthly program. After you create the page, a way to bring it more attention/traffic is by making it a pop-up or by adding it to the top bar.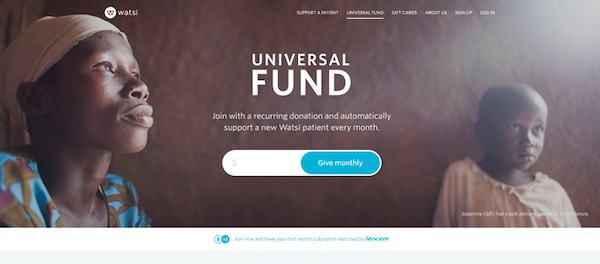 Your homepage should also have some details about your program. This will make the monthly giving more accessible to potential donors.
Engagement and follow up
Show the difference they are making:
Tie every donation amount to results so that your donors or prospects truly understand the impact of their contribution. For instance:
$15 a month, will feed a child in Bangladesh with food every day for a month
$30 a month, will provide 30 refugees with clean drinking water for a month.
$50 a month, will provide education to one girl brought back from slavery.
You can also represent the same numbers as infographics, statistics, or merely images.
Here is how UNICEF does it: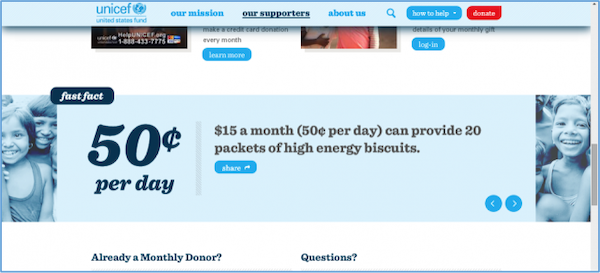 These are the factors that keep people motivated to give because they feel an emotional connection with the people they donate.
Reward regular donors:
For most organizations, the cost of retaining existing donors is about 20% of the cost of acquiring a new one. That is why they are keen to retain their donors – and launch rewards and recognition programs for long-term monthly donors.
These rewards can be anything from event passes, access to exclusive newsletters, special recognition, or even customized thank you letters.
For instance, in the case of the St. Clair Hospital Foundation. They recognize their donors in a public way through their donor recognition wall.


Evaluate the results of your monthly giving program:
Measuring the success of your program is always crucial to ensure that you are on track to reach your goal. Instead of merely looking at net revenue per month, it would help if you came up with criteria that you can measure, which are essential for your program. Such as:
Response matrix for your marketing activities. These could include open mail rate, social media impressions, website clicks on the monthly giving program page vs. the rest of the website, recurring donor ratio, etc.
Donation upgrades: As I had mentioned before, you can convince your current recurring donors to increase the donation amount at the year-end. These results can give a proper measurement of your program's success as people will not donate extra if they are not happy with your program.
So, these are the things that you should follow if you are planning to start a monthly giving program for your nonprofit.
The way ahead
Successfully launching a monthly giving program is no easy feat. Communicating with donor, nurturing donor relationships and converting people to monthly donors requires all the help you can get.
CallHub's calling and texting software is a great communications partner to nonprofit organizations looking to raise funds. Use our tools such as peer-to-peer texting, voice broadcast campaigns etc. to boost your monthly giving program. Try CallHub for free for 14 days today!
Featured Image Credit: Anete Lusina