Between the freezing temperatures, rush for year-end giving, and planning for the next year, your winter fundraising ideas could lose heat (get it?).
But that's the last thing you want. With 30% of all annual giving happening in December, this time of the year is extremely crucial for your nonprofit. You can't let it go to waste with average fundraisers bringing in less than average gifts.
To help you with that, we've done the heavy lifting and compiled a list of 8 creative winter fundraising ideas that also adapt to the new norms we need to follow.
Online winter fundraiser ideas
At this time, you can't create a plan for winter fundraisers without a few online fundraising ideas. Apart from safety, there's also the fact that 54% of donors worldwide prefer to give online with a credit or debit card.
Here are a few online winter fundraising ideas that you can incorporate into your plan.
1. Winter wear fundraisers
Designing and selling winter wear like sweaters, hoodies, or sweatshirts is a great winter fundraising idea for two reasons:
It provides donors with a tangible incentive making them more likely to donate/purchase.
The merchandise subtly markets your brand and raises awareness when people use it.
With tools like Bonfire, you don't even need significant investment for raw materials or manufacturing. All you have to do is select the merchandise you want to sell, upload a design, and promote the fundraiser. Once people start buying the merchandise, the profits are wired to you.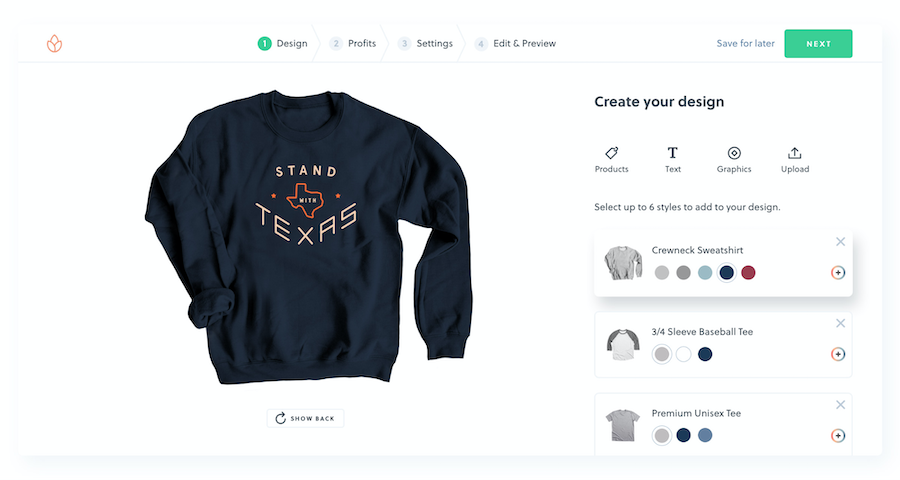 Pro tip:
Use generic designs to appeal to a larger audience: It may be tempting to design the apparel with just your logo, but it may not get many buyers. Think about it, how many times do you wear your nonprofit's t-shirt?

To appeal to the masses, you need a generic, creative design that people would be open to wearing more regularly. You can add your logo (in fact, you should). Just make it small but distinct.
Alternatively, you could also add your motto that appeals to people – for example, "Give a hoot, don't pollute." by Woodsy Owl, the owl icon for the United States Forest Service.
2. Virtual game night
The holidays are usually a good time for friends and families to bond. Make the experience more exciting for them with a virtual game night fundraiser. Here's what you need to do:
Select the games you want to play. You can choose one from this list.
Choose a video conference platform or app like Zoom or Houseparty to host the game night.
Select the incentives for winners to encourage participation. Preferably something tangible like a sweater (hey, how about something from the merchandise that you'll be selling online).
Create an e-vite to the event. Add the meeting link/app name and other details about the fundraiser in the invitation. Promote it on your social handles, and ask people to spread the word.
Send out reminders before the fundraiser begins. Sending text message reminders is a good idea since they are personal and people read texts almost immediately (at least 90% of people do within 3 minutes.)
Raise money by charging a small entry fee. Plus, you could also display a donation link during the game and remind people how the money will help.
Lastly, don't forget to have fun!
Pro tip:
Engage the whole family with different categories of games: The adults may not enjoy the games kids want to play and vice versa. Make sure the event appeals to the whole family with different options of games to play. While adults could play games with kids, let them also have the option to play games with adult friends.
Check out how to set up and send text reminders to your contacts:
→ Text message reminders: Send immediate alerts to your contacts
3. Virtual movie night
If gaming is not something your audience is into, you could turn to another common family activity, movies!
Hosting a virtual fundraising movie night is quite similar to a game night:
Select a movie that you want to show. This could be a traditional holiday movie or even a movie that your nonprofit might have created, like "Fundamental" by the Global Fund for Women. You could even conduct a survey to know what people would like to see.
With CallHub, you can automate the whole process over text. Learn more about setting up text surveys here.
Choose a tool that lets people connect their devices to stream a movie. Kast and Kosmi are tools you can look into.
Create an e-vite to the event with all the details and send it out. Make sure to include why you're raising money through the fundraiser in it. Ask people to share it with their network too.
Send out reminders before starting to increase participation.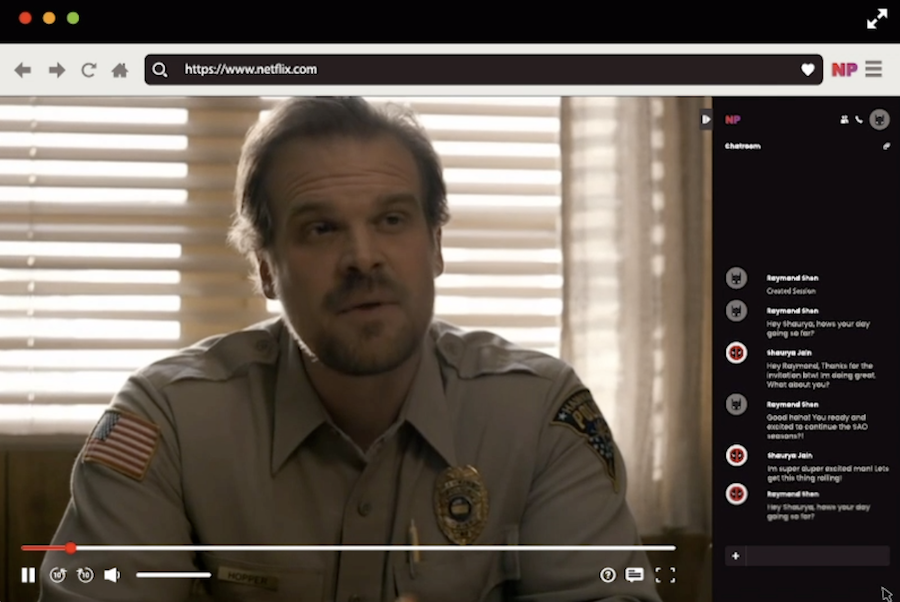 Pro tip:
Make the fundraiser more engaging with a chat option: Some tools, like Teleparty, allow you to chat and share your favorite moments during the movie, as in the image above. This makes the experience more fun as it feels like you're actually together (or at least gives that illusion).

Making the experience more exciting in this way can help you net in a larger crowd. Plus, you can also pin the donation link in the chat to serve as a subtle reminder.

You'll raise money by asking for a donation to your fundraiser. Make sure to provide the donation link before and after the movie too.
4. Peer-to-peer fundraising
Between a personal friend and an unknown organization asking for help, who would you rather support?
Your answer is probably, the friend. It is for almost everyone. With a friend, the credibility factor drives people to act. Peer-to-peer fundraising leverages this factor to help you raise more money.
For P2P fundraisers, you ask your strongest supporters to raise money on your behalf. Here's how to set it up online:
Select a platform for P2P fundraising. With tools like Classy, your supporters can set up customized fundraising pages to raise money. Alternatively, you can also enable people to set up P2P Facebook fundraisers.
Create branded resources for fundraisers to use. These include images for web pages, emails, etc., with your logo, impact statement, acceptable color themes, and other relevant elements.
Promote the campaign. Make sure that people know they can fundraise for you. You can send out an email, post it on social media, or better, send out a text blast. With the high open rates of texts (98%), you can be sure that your message will be read.
While you can run peer-to-peer fundraisers throughout the year, its importance increases during the winter when people are more involved in giving.
Pro tip:
Introduce a little healthy competition to maintain the momentum: There's a good chance that people may lose the motivation to push their fundraisers.

With a little competition, you can keep their motivation high. Display everyone's fundraising progress on a single page for everyone to see. You could also set up challenges (like the fastest fundraiser) to provide winners with incentives.
5. Winter favorite's recipe book
Who wouldn't love to cook up a traditional holiday meal during winter? But not many people would know how to. You can solve that problemand raise money for your cause with this simple winter fundraising idea.
All you need to do is:
Compile a list of winter favorite recipes you want to include in the book.
Ask people to write down the recipes with some personal tips. Ask your volunteers, staff members, and supporters to help you with this.
Design an eBook with all the recipes and tips and sell it online for a nominal fee. Create a landing page with the eBook, details about what's included, and a donation form to direct users to.
Make sure you let people know that the proceeds go to charity and to drive more people to buy it. Encourage people to share the landing page link with their network too.
You could also add an option to donate a custom amount (anything above the minimum price you set) on the landing page. Knowing that the proceeds go to charity, people might be inclined to donate more.
Here's an example of Food Writers for New Zealand selling their e-cookbook for Covid relief.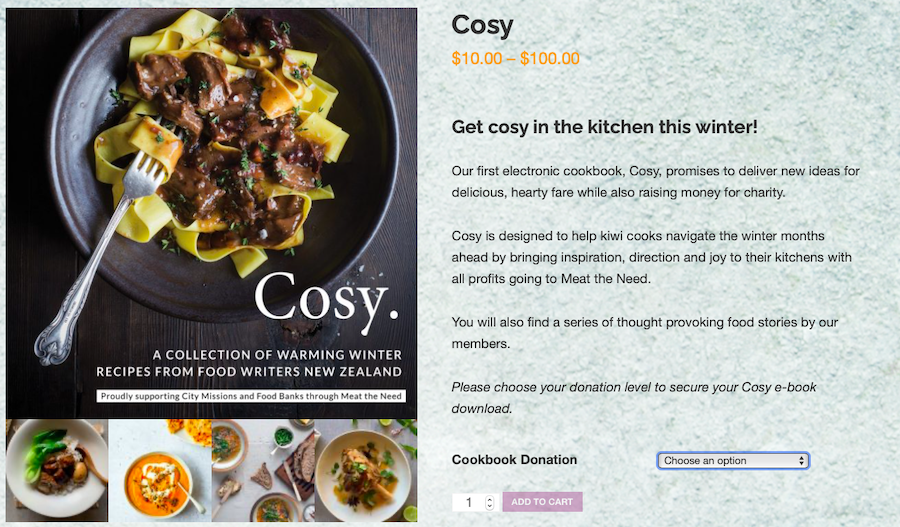 Pro tip:
Use videos to make the eBook more engaging: Apart from the recipes, add an explainer video along with each dish to make the eBook more appealing. It's easier for people to follow a recipe while watching a video
Creative winter fundraising ideas
While the online fundraisers above can help you raise good money, it's always helpful to have a little diversity in your fundraising plan for two reasons:
It reduces your reliance on one type of campaign, thereby mitigating the risk of lower reach.
Different campaigns help you reach different groups of people and hence a much larger audience. More people equals more potential donors.
So think about including some of the following unique winter fundraisers in your fundraising plan.
1. Holiday wrapping service
In the month of December, families are often stressed out by shopping for gifts, decorating their homes, etc. This winter fundraising idea can help reduce that stress by taking away one task from their plate.
Partner with local businesses to set up a gift wrapping station. You could also set up a station in a neighborhood if finding businesses is a problem.
Get the raw materials for the station. This includes wrapping paper, tape, scissors, pens, etc. Having ribbons, tags, cards, as add-ons would be great.
Decorate the station and put up signs indicating that the services are for charity and what the proceeds will be used for.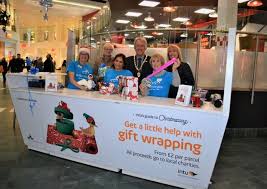 Charge a small fee for wrapping each gift. You could charge extra for add-ons like ribbons and tags.
Pro tip:
Have a donation box at the station for extra donations: Knowing that the proceeds are for charity, people may want to give more. Therefore, having a donation box is recommended. Plus, if your station has distinct signs put up about the cause, even people walking around may donate without getting a gift wrapped.
2. Hot chocolate stand
Another stress that people would have during the winter is the cold weather. You can offer to help them with that, too, with a glass of soothing hot chocolate.
A hot chocolate station is a simple, low-cost winter fundraiser that you can run in any neighborhood. All you need to do is:
Procure everything you need for the stand – hot chocolate, an insulated container to store it in, cups, cream, etc. You can keep cookies and sweets as chargeable add-ons.
Set it up in a prime location of the neighborhood. Alternatively, you could also set up a table at an event, for instance, a school football game.
Promote the fundraiser through texts, social media, and emails.
Set up a mobile donation process. Avoid accepting cash for the safety of your volunteers. You could either use an app to receive donations or set up text-to-donate.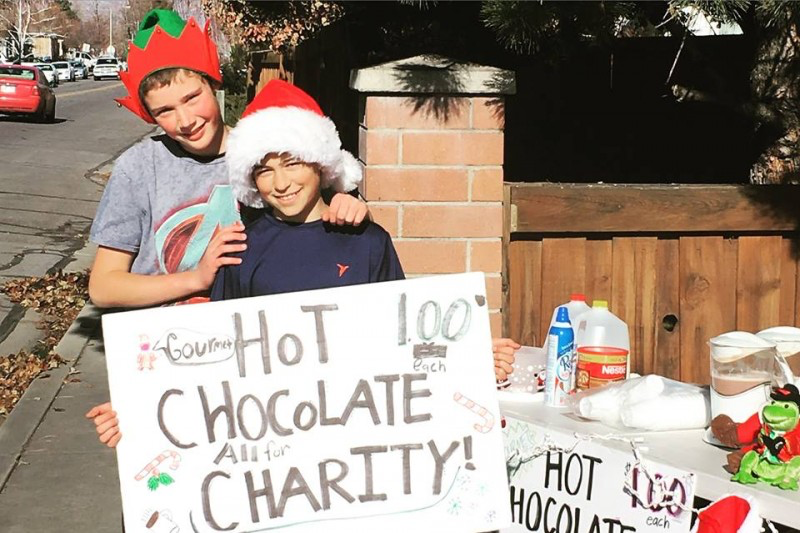 Pro tip:
Use the hot chocolate stand to grow your SMS list: While you're pouring out the drink, strike up a conversation with the people letting them know about your organization, work, campaigns, impact, etc.

Ask them if they would like to help in other ways. If they seem interested, have them send in a keyword to your shortcode. Set up a text message autoresponder to send a link to the relevant page in response to the keyword. This can help you grow your support base too.
3. Christmas tree disposal service
Let's face it; most families have no clue about what to do with the Christmas tree after the holidays. Be their knight in shining armor and solve that problem for them, and be rewarded with gifts for your winter fundraisers.
Here's what you will need to do:
Create a landing page giving details about this service. Have a form on the page for relevant details like name, address, etc.
Promote the landing page everywhere possible. Let people know that you can help them with the problem in exchange for a small gift to your fundraiser.
Rent a truck for the day and go around houses picking up the trees and take them away to dispose of them.
Most cities have a tree recycling program that will take away the tree from your hands for free. Alternatively, you could partner with an environmental nonprofit (if you're not one) and replant the trees. You can use images and the impact created from this collaboration for future nurturing campaigns.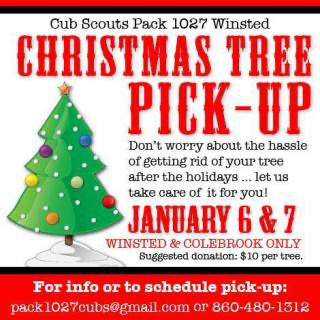 Pro tip:
Pair the Christmas tree disposal fundraiser with collection drives: Since you'll be visiting houses to collect the trees, use this opportunity to collect other goods that people may not want anymore. After the holidays, people often dispose of preloved goods like clothes, shoes, etc. Ask them to hand them over to you instead. You can exchange these goods for money through sites like clothingdrivefundraiser.com.
You May Also Like: 17 Unique Ideas for Christmas Fundraising (with Examples to inspire you)
Collecting donations from winter fundraisers
Apart from practical ideas, another challenge that you need to tackle right now is collecting donations. Since collecting cash is not really safe, you need online alternatives. The two most popular ways are:
Online donation page
Text-to-donate through SMS opt-in
Let's look at what you require for each in detail.
Online donation page
For every winter fundraiser you run, you need an online donation page. This is the page that you will come on to complete the donation process. Here's what the page should comprise:
A simple donation form with all relevant fields (name, email, pre-selected amount, etc.).
Mission statement – what you plan to achieve with the proceeds.
Diverse payment options – credit cards, debit cards, PayPal, Venmo, etc.
You can make the page more appealing with visuals that induce the right emotions like empathy and happiness to encourage people to act immediately.
With tools like Unbounce or Instapage, you can set up a landing page quite easily.
Text-to-donate through SMS opt-in
Sharing the link to an online donation page can be quite challenging. If someone's at your hot chocolate stand and wants to donate, dictating the link or putting it on a poster may not be as straightforward. Sometimes people may not read the link correctly, get a spelling wrong, etc., which may lead to drop-offs.
A text-to-donate system can help you avoid that. All a person needs to do is send a keyword to your shortcode and receive the donation page link; it's that simple.
You need a mass texting tool to set it up.
Rent/select a shortcode and a keyword of your choice for the campaign: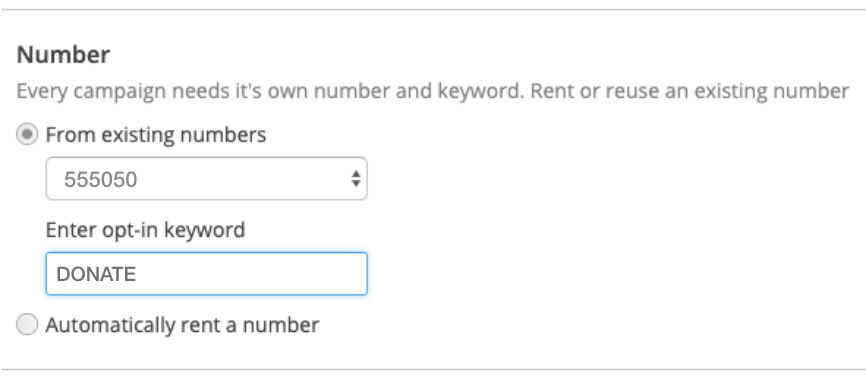 Set up the automated response to be sent (with the link)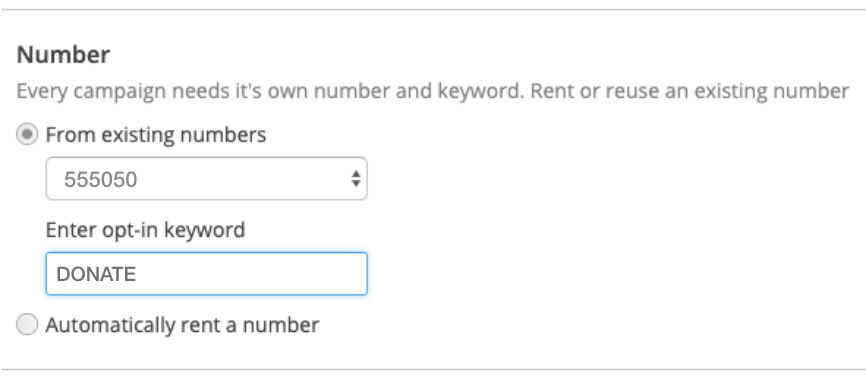 Schedule and start the campaign.
You can promote the keyword and shortcode through other channels as well to collect donations.
To conclude
Hope these winter fundraising ideas inspire your campaigns for the holidays. You could either adapt them as it is, with a sprinkle of creativity or use them as a basis to come up with your own ideas.
No matter what, keep in mind that these winter fundraisers are an integral part of your year-end fundraising, the most important time of the year for nonprofits.
To maximize the output of your fundraising, you don't just need practical ideas to implement, but the right strategies to promote them too. To know more about these strategies, check out our post: Fundraising strategies to exceed your year-end giving goals.
Feature image source: Victória Kubiaki