If you want to run for Mayor, then this article is for you. 
According to Lyndon B. Johnson, the 36th President of the United States, "When the burdens of the presidency seem unusually heavy, I always remind myself it could be worse. I could be a mayor."
To run for mayor may be tough but it's not easy getting there either. You have to win over a town or city's residents while participating as an active member of the community. On top of that, you have to launch your campaign and stay within regulations to qualify as a candidate.
All of that can be pretty overwhelming for a first-timer. Here are 10 steps to simplify the process for you.
Make sure you are eligible to run for mayor of a city
There are different eligibility criteria depending on the city you want to run in when it comes to age, required education, and work experience.
Cities with a population exceeding 200,000 people, require mayoral candidates to be registered voters in the city they are running in and be at least 18 years of age (As of 2016).
The exceptions to that rule are:
With no minimum age listed:
Baton Rouge, LA; Minneapolis, MN; Pittsburgh, PA; Saint Paul, MN; Wichita, KS; Jersey City, NJ; Buffalo, NY; Yonkers, NY
19 years of age:
Hialeah, FL (qualified voter requirement + 1 year of residence)
21 years of age:
Louisville, KY, Oklahoma City, OK; Aurora, CO
25 years of age:
Baltimore, MD; Colorado Springs, CO; Columbus, GA; Glendale, AZ; Kansas City, MO; Omaha, NE; Philadelphia, PA; Washington, DC Westminster, MD
30 years of age:
Denver, CO; Honolulu, HI; Memphis, TN; Nashville, TN; St. Louis, MO
When it comes to education, most cities may only ask for a high school diploma, while others require more advanced degrees.
In most cases, in order to be elected mayor, a candidate must have lived in the city they are running in for at least a year prior to the election. In addition, you must continue to reside in the city during your tenure as mayor. You must be eligible to vote in the city you are running in.
You will need to comply with the Resign to Run statute if it is applicable in the city you are planning to run in. 
Check with your County Board of Elections office or the office of the city clerk to clarify these requirements on how to run for mayor of a city.
Start a petition for candidacy – How to run for mayor of a city
Most cities require mayoral candidates to get a number of signatures on a petition to be eligible to run. So start gathering signatures to get your name on the ballot. The exact number of signatures needed varies depending on the size of your city or town, and the number of residents it has. 
You can obtain a petition to run for mayor for your City Clerk's Office. Check with the office on the number of signatures you need and the deadline for submission so you can plan out how you approach locals to get their signature. A sample petition might look like this: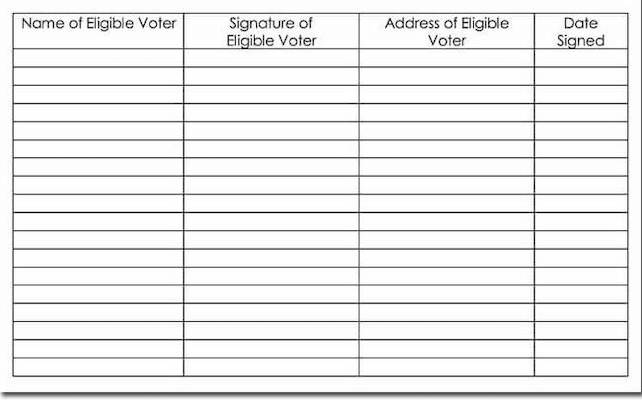 In a larger city, you might need to deploy a team of canvassers to gather signatures for you. Some other places you could obtain signatures include:
Communities that align with your policies
Fundraising events
Town halls
File your documents
You will need to fill out the necessary registration forms so that your run is considered.
You can obtain the necessary forms and rules for candidacy from your City Clerk's office.
You'll need to provide details like
Name
Proof of Residence
Financial interests
Appointment of Campaign Treasurer
Designation of Campaign Depository
Check with your city clerk's office and make sure you are submitting your documents within their deadlines. Some of these forms will have a filing fee associated with them.
Why is all this information necessary?
By providing these details, candidates keep elections fair and honest and keep voters informed. The information also helps the Ethics Board keep track of the candidates who are running and how to contact each candidate's committees.
Appoint a treasurer and other committee members before you run for mayor
Experts on how to run for mayor of a city recommend prioritizing the appointment of committee members. The forms for Appointment of Campaign Treasurer and Designation of Campaign Depository for Candidates are the first to be filled when applying to run for Mayor.
A political campaign must appoint a treasurer before funds can be accepted or expenditures can be made on behalf of the campaign. The Election Packet you receive should have the forms necessary to designate your treasurer.
Treasurers have the responsibilities of:
Signing and filing committee statements and reports
Budgeting and authorizing expenditures
Ensuring that contributions to the campaign are made within legal limits
Keeping a record of committee receipts for a period of three years from the date of filing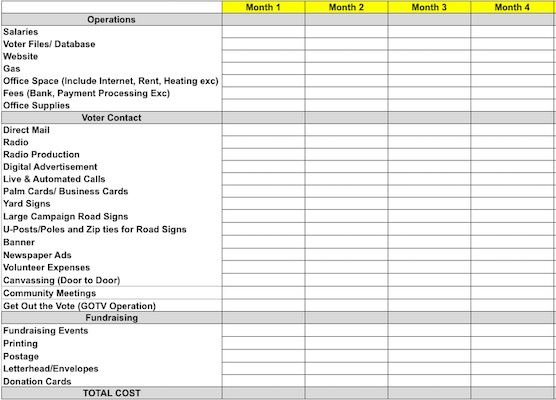 Since this is a significant responsibility, find someone you can trust to take on this role.
Note: A candidate may choose to act as their own committee treasurer.
Other committee members to appoint as necessary include: 
Chairperson
Campaign Manager
Communications Director
The committee must be tied to your campaign's bank account so that all campaign funds and expenses can be tracked.
Why have a campaign depository?
Political candidates must have a separate bank account. The campaign account helps to separate your campaign funds from your personal expenses. All donations that you receive and the loans you collect should flow into this bank account. Similarly, all payments that you make for campaign tasks should be made out of this account. This helps the government track your finances to ensure it was a fair election.
Raise your profile in the locality
Sure, a good message can convert people to your side, but for them to listen to your message, you need to grab their attention first. 
For a local election like a race for mayor, voters prefer someone who is a recognized member of their community. So you have to make public appearances among the locals to get them acquainted with you. 
Getting your name out and about among the locals is largely a word-of-mouth process. This process actually begins before you announce your candidacy, so be active in town halls and other developmental initiatives for people to see you as a leader in the community.
Host community events
Get introduced in private circles
Meet with community influencers
Diversify your channels
Community leaders and bellwethers showing their support in public is a big leg up for a candidate as well. Besides that, use billboards, road signs, and door literature to spread the word. It is important to go door-knocking in neighborhoods where you are likely to win heavy support and turn them out to the polls 
Refer to our article to learn more about reaching out to supporters for local election campaigns.
Gather endorsements to run for mayor
Endorsements from Political Parties, influential politicians, residents, community leaders, community groups, and local unions can increase your trustworthiness in the eyes of voters.
Rarely, an organization might reach out to a candidate to endorse them. In most cases, however, candidates need to be proactive when it comes to seeking out endorsements when they decide to run for mayor.
Most prominent organizations have a process for candidates to follow to apply for an endorsement. You might need to fill out a questionnaire outlining how the policies you are running on might align with those of the organization. If you're seeking an endorsement from individuals, you might send out an email or a letter along the same lines.
Well-known, local citizens might endorse you by sending in a letter to a local newspaper. These endorsements might be more valuable to your campaign than an endorsement from a celebrity. You might even appeal to the newspaper itself to endorse you, letting you reach their readership. Nowadays that extends to online newspapers too.
Here's an example from Fort Wayne, Indiana: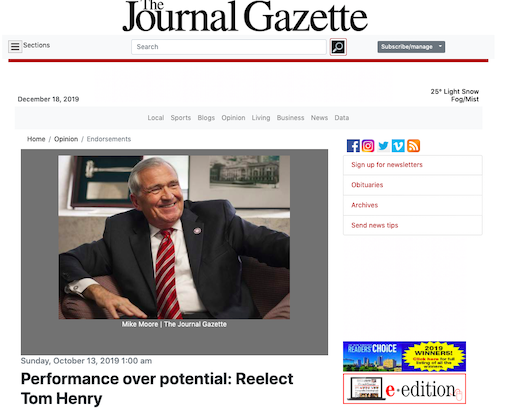 To reiterate, you can gather endorsements from:
Political Parties
Politicians
Influential locals
Community Leaders
Local unions
Local newspapers
Not only do endorsements increase the visibility of your campaign for your voters, but they can also increase your fundraising and organizational capabilities, especially if an organization can channel its members towards volunteering for your campaign. 
Recruit staff and volunteers
As your campaign gets underway, you will need volunteers to run campaign activities. They would help with collecting signatures, getting your name out, and bringing others on board as supporters and donors. Create multiple channels for recruiting your supporter team, including:
Web forms
Social media posts
In-person recruitment at popular locations in the city
As mentioned earlier, endorsements from local communities, unions, and political groups can give you a boost in terms of your campaign helpers.
Raise funds for your campaign
The most pressing challenge for a mayoral election or any local election is fundraising.  
Start by asking within your circle of family and friends and bring them on board as fundraisers. Ask for contributions from members of parties and unions who back you in the race. 
Send out volunteers to raise funds in their community. Direct mail donations are still preferred by the older generation of supporters while young voters go for online donation channels. Give voters all possible options to donate.
To summarize:
Ask friends and family when you run for mayor
Ask the groups and unions that have endorsed you
Use social media
Send text messages to supporters
Use direct mail
Send out emails
Hold fundraising events
Outline your platform
While endorsements can help indicate what you stand for to the locals, it is equally important to make the information freely available to voters who actively go looking for your policies. A campaign website can help you do that, especially if you create a separate page listing the policies and issues you are running on.
Make sure the message you convey to run for mayor is relatable by:
Addressing current problems 
Being simple and clear
Being true and credible
And finally, answering the question: "What will voting for this candidate do for me?"
Run for Mayor: communicate with voters
Regular communication with your supporters keeps your campaign on the map. Diversify your communications with supporters by reaching them:
Through media
Voters often turn to the media to keep track of elections. So you need to plan out a proper media communication strategy to get press coverage. This includes
Establishing relationships with key political reporters
Maintaining a media list for communication
Issuing press releases
Press conferences, radio and TV interviews, print interviews
Keeping all of this on track will help you build your candidate profile among a large viewership
Through personalized communication
While social media posts and broadcast media let you reach a broad group of supporters, personalized, one-to-one communication is the key to getting supporters to take action and actually turn up at the polls.
Channels for personalized communication include:
Text messages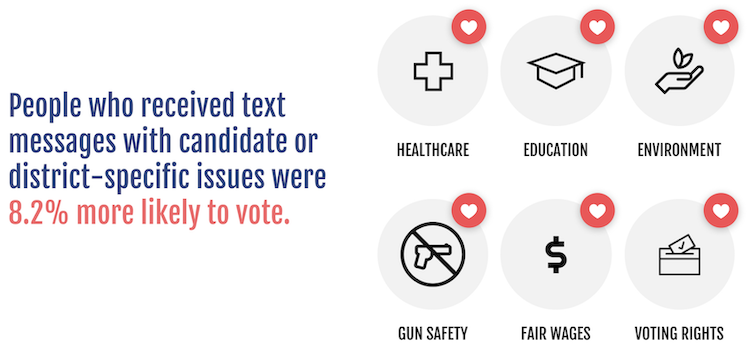 Text messaging in political campaigns came into prominence during the 2016 US presidential elections, where peer-to-peer texting was used to have conversations with voters, even ones without smartphones. It offered campaigns a way to reach supporters in a way the offered minimum disruption, compared to a phone call or a door-to-door canvass.
Learn how you can use peer-to-peer texting for your GOTV efforts
Door-to-door Canvassing
Door-to-door canvassing is a staple when it comes to campaigns reaching out to voters, whether it be for GOTV or Voter persuasion campaigns. It involves recruiting a group of volunteers to knock on doors and have conversations with potential voters.
In a study on MoveOn GOTV operations, researchers found that contact with MoveOn volunteers increased turnout by approximately 9 percentage points.
Phonebanking
A phonebank lets your campaign reach voters in a way that is both efficient and as well as personal. All you would need to get started is a group of callers, the list of people you want to contact, and a calling software like CallHub.
It's even more effective with volunteers! Volunteer-led phone banks increased turnout by 3.8 percentage points, in contrast to commercial phone banks that created less than 1 percentage point increase in turnout.
Want to have engaging conversations with your supporters? Reach them with personalized text messages and phone calls through CallHub.