If you're looking for the best tools to manage voter relationships with your campaign, NationBuilder and NGP VAN are on top of the list.
NationBuilder vs NGP VAN – Overview of the tools:
NationBuilder review:
NGP VAN review:
The NationBuilder CRM is focused on helping leaders build communities or "nations"; each being a separate and self-contained database. You can lead people to take action and maintain a history of your interaction in your nation.

The CRM allows you to create low cost websites for your campaign, in addition to capabilities like fundraising, database management, and sending mass emails.

For most of the functionalities campaigns need, NationBuilder offers them in the form of integrations.
NGP VAN is a suite of tools built to help progressive organizations build supporter relationships. This includes calling, texting, fundraising and voter data tools.

The VAN VoteBuilder database allows Democratic campaigns to build on existing voter data from state parties and share it with other party candidates. This data goes to the state party and then to the DNC.

NGP VAN EveryAction is a CRM tool for nonprofits that enables fundraising, donor management and organizing. While it does not have access to VoteBuilder, State Voices gives progressive nonprofits access to the VAN database.
How does NationBuilder work?
NationBuilder relies on integrations with other tools to offer the full campaigning suite to users.
The tools offer over 60 integrations for:
Supporter acquisition
Supporter engagement
Communication
Data and analytics
Content management
How does NGP VAN work?
NGP VAN offers native tools for campaigning efforts in addition to offering integrations.
The native tools include:
MiniVAN for door-to-door canvassing
SmartVAN, a frequently updated voter file in collaboration with Target Smart
Predictive Dialer and Robo Calls for calling campaigns
Voter database management in the form of VoteBuilder
Who do they serve?
| | |
| --- | --- |
| NationBuilder | NGP VAN |
| Nationbuilder is bi-partisan, meaning campaigns of any political affiliation can use the tool. | NGP VAN exclusively serves progressives – candidates running for state and national offices, political parties, nonprofits, and labor unions. |
Pricing:
| | |
| --- | --- |
| NationBuilder | NGP VAN |
| NationBuilder pricing starts at $29.00 per month with a free trial available. | NGPVAN pricing starts at $45.00 per month with a free trial available. |
How does NationBuilder pricing work?
Nationbuilder cost scales based on how many contacts you have in your database.
Starter pricing: $29/m – 500 to 5k contacts
Pro pricing: $99/m – 5k to 15k contacts
Enterprise pricing – custom pricing depending on the contacts database.
Advanced pricing plans also offer additional add-ons for campaigns.
How does NGP VAN pricing work?
Since the NGP VAN tool is sales-driven, with many of the customers coming in through contracts, you will have to talk to one of their experts to figure out your exact pricing.
Voter lists:
NationBuilder
NGP VAN
NationBuilder acquires voter data directly from county and state election offices. Once you request a voter file, they sync it to your campaign account. The free voter file offers data such as party affiliation, voter location, and voting history.
Managed by the DNC, VoteBuilder has extensive data on everything from a voter's political affiliation, voting history, down to who put up lawn signs for which candidates in an election.

For progressive nonprofits, State Voices offers access to the Voter ActivationNetwork, and thereby the Catalist data file, at low or no cost.


How do NationBuilder's voter lists work?
On the creation of an account or "Nation," you can request a free voter file from NationBuilder for use with their platform.
NationBuilder maintains a list of state voter files available for request, as well as when the data was most recently updated.
NationBuilder integrates with L2, allowing you to make use of their national voter file and append voter data to your list.
This voter data can be synced with tools like CallHub when you are running outreach campaigns with supporters.
Learn more about Nationbuilder's integration with CallHub.
How does NGP VAN's VoteBuilder work?
VoteBuilder collates data across every single campaign that uses it and shares that data with customers. That means you have access to the collective knowledge of every campaign that uses VoteBuilder
The platform is built to track each and every interaction you have with voters. You can target voters who are most likely to support your campaigns (depending on the information you have on them) and then track all your touchpoints with them.
The NGP VAN + Target Smart partnership gives you access to a voter file that is updated 5 times a year, including early vote data that is critical for GOTV campaigns.
CallHub also syncs with VoteBuilder, with Activist Codes and survey responses being shared between platforms.
An Activist Code in NGP VAN is used to identify someone's affiliations, activities, or interests
Learn how to run a voter ID campaign with VoteBuilder + CallHub.
Calling tools:
| | |
| --- | --- |
| NationBuilder | NGPVAN |
| Nationbuilder's integration with CallHub allows campaigns to run automated and manual calling campaigns to voters. | NGP VAN provides native tools and an integration with CallHub for calling campaigns. |
Running calling campaigns with NationBuilder:
Through NationBuilder's integration with CallHub:
Integrate Events, Tags, Surveys, and Supporter Levels into CallHub campaigns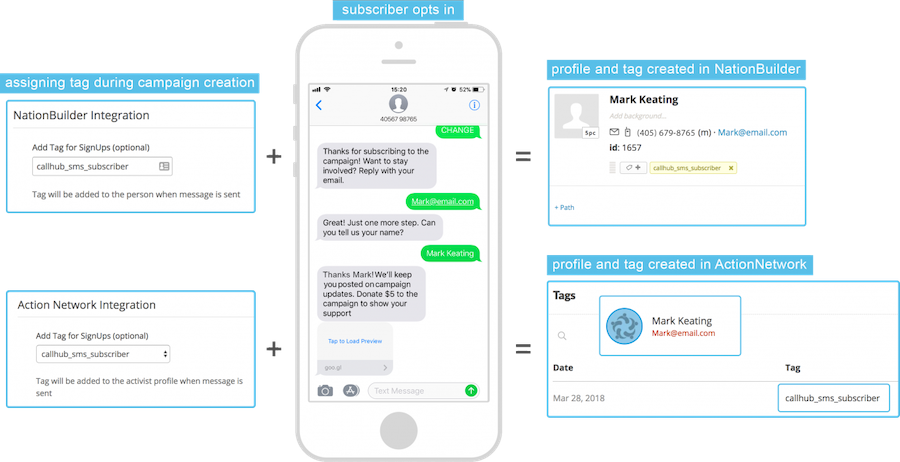 Volunteers can talk to people, take notes about the calls and fill out NationBuilder surveys
Move supporters along NationBuilder paths
You can choose between multiple dialers for your calling campaigns. For example, the Predictive Dialer optimizes calling rates for campaigns with multiple volunteers. The Preview Dialer gives volunteers time to research the contact before entering a conversation.
Related reading: How to run a political phone banking campaign.
Running calling campaigns with NGPVAN:
The native calling tool for NGP VAN offers Predictive Dialing, Robocalling, and Robo Survey capabilities.
The OpenVPB (virtual phone bank) tool lets volunteers make calls on their phones, while referring to the script and voter information on their computer or tablet.
If you choose to use NGP VAN's integration with CallHub for your calling campaigns, you can choose between a Predictive Dialer and a Power Dialer, in addition to being able to sync survey responses and tag the voters you have conversations with.
Canvassing tools:
NationBuilder
NGP VAN
Campaigns can integrate with canvassing tools like eCanvasser, Organizer, and FieldEdge for their canvassing efforts.

If you're already using one of these tools, the NationBuilder CRM is your best bet
The native canvassing app MiniVAN syncs voter data from and to VAN and puts that data in the hands of volunteers.
How does NationBuilder's canvassing tool work?
Through integrations with eCanvasser, Organizer and FieldEdge you can sync data from your Nation to the canvassing tool. This allows you to:
Import voter lists from Nationbuilder
Customize scripts and surveys
Send assignments to your team on their phone
How does NGPVAN's MiniVAN canvassing tool work?
Your campaign organizer can upload the mobilization list for canvassing to the NGP MiniVAN app, and canvassers can knock on doors without having to go to the local campaign office to gather voter routes and voter data.
The optimized routing add-on shows volunteers the most efficient canvassing routes with turn by turn instructions.
The app provides branching scripts for volunteers during their conversations with voters.
Related Reading: Tips for door-to-door canvassing.
Texting Tools:
| | |
| --- | --- |
| NationBuilder | NGP VAN |
| NationBuilder offers mass texting add-ons for users in the US and Canada. For advanced texting functionality, it relies on integrations with tools like CallHub. | The NGPVAN texting tool is a recent addition to their communication suite for campaigns.NGPVAN also integrates with tools like CallHub, ThruText and Hustle for texting |
How does NationBuilder's texting tool work?
The native text messaging tool allows you to send mass texts to supporters' phones.
Since it is currently limited to mass texts and SMS opt-in, you will have to use integrations if you want to send more personalized peer-to-peer texts to voters with the help of volunteers.
Learn more about CallHub's integration with NationBuilder
How does NGPVAN's texting tool work?
The NGP VAN texting tool is even more limited in that you do not have the option to set up SMS opt-in campaigns. Similar to NationBuilder's texting tools, you will have to use one of NGP VAN's integrations for more advanced texting campaigns.
CallHub's integration with NGP VAN lets you:
Sign up contacts with SMS Opt-in
Send personalized peer-to-peer texts to voters and supporters
You can use the CallHub – NGP VAN integration to add your VAN events to peer-to-peer texting campaigns and have the data instantly flow back into NGP VAN.

Website:
| | |
| --- | --- |
| Nationbuilder | NGP VAN |
| NationBuilder makes creating a website from the ground up easy, and you can do it all within the tool. Your website will sync with all the integrations that the tool offers. | You will need to create a separate site based on Drupal or request their Digital Services team to build it for you. |
How does NationBuilder's website builder work?
You can:
Choose from a number of stock themes
Create different types of pages – blogs, event calendars, petitions and surveys
Customize your navigation
NationBuilder has an active web developer community available to create custom websites if you don't want to use one of the stock themes
You can use NationBuidler's survey tools to create survey pages on your website or use their integration with 123FormBuilder to build complex registration and donation forms and embed them on your website.
How does NGP VAN's website builder work?
Since NGP VAN is limited in its capacity to build a campaign website, you will need to hire technical help to build your site for you.
ActionTag is an embeddable form functionality offered by NGP VAN, which allows you to add forms to your website with the help of APIs. Again, you may require the help of a developer to get this done.
Fundraising:
NationBuilder
NGP VAN
NationBuilder lets you build donation pages with integrated payment processing.

If you are currently using donation forms from services like Anedot, you can integrate it with the Nationbuilder CRM.
NGP VAN offers a pretty advanced process to collect online contributions, allowing you to create highly customizable donation forms.

NGP VAN has an integration with ActBlue that pulls in donation data and allows you to see how your fundraising campaign is performing in real-time.
How do donation pages on NationBuilder work?
The page building process is flexible (meaning you can customize it according to your need. You can build a:
Simple donate page
Paid membership signup page
Payment page to purchase items such as tickets
You can also customize what data the page needs to collect before accepting a donation.
Alternatively, you can use it's integrations with tools like Anedot and Custom Donations to embed donation forms on your website.
How do donation pages on NGP VAN work?
NGP VAN's fundraising tool lets you:
Add one-click contributions
Take donors through multi-step donation forms
Send a secondary ask to new supporters
NGP VAN also has an integration with ActBlue, a donation management tool for progressive campaigns, that lets NGP VAN automatically pull in the contribution data from the tool.
Testimonials
Here's what users have to say about NationBuilder and NGPVAN
| | |
| --- | --- |
| NationBuilder review | NGP VAN review |
| "I like that NationBuilder offers tools to identify and score the voters, and provides a rich API for integrating custom code or other tools. We used NationBuilder on a municipal campaign and it was easy to use even for non-technical people, and allowed us to generate reports for everything from the lawn sign crew to door knockers." | "NGP VAN's VoteBuilder platform is a sophisticated, state-of-the-art method for tracking interactions with voters. Depending on what data your campaign has access to, VoteBuilder makes it possible to target voters most likely to support your campaign and then to track every interaction you have with them." |
NationBuilder vs NGP VAN – What tool should you choose?
Partly because NationBuilder is bi-partisan, it has a larger community that you can reach if you need help troubleshooting or developing the tool for your own unique needs. The large selection of integrations with the CRM also means you have more options when it comes to finding the right tools for your vote outreach.
NGP VAN on the other hand is directly synced with the most up-to-date voter data for Democratic candidates. The availability of native tools means you don't have to do much to share all your voter data between tools.