As the biggest shopping event of the year draws closer, businesses are looking for ways to reach customers in ways that are:
Highly visible – This is especially true in the case of limited time sales.
Easy to engage with – If you are directing them to an online store or a product catalogue.
Text messaging is one the most prominent communication channels that businesses use to fulfil these criteria.
Take how well it does compared to emails: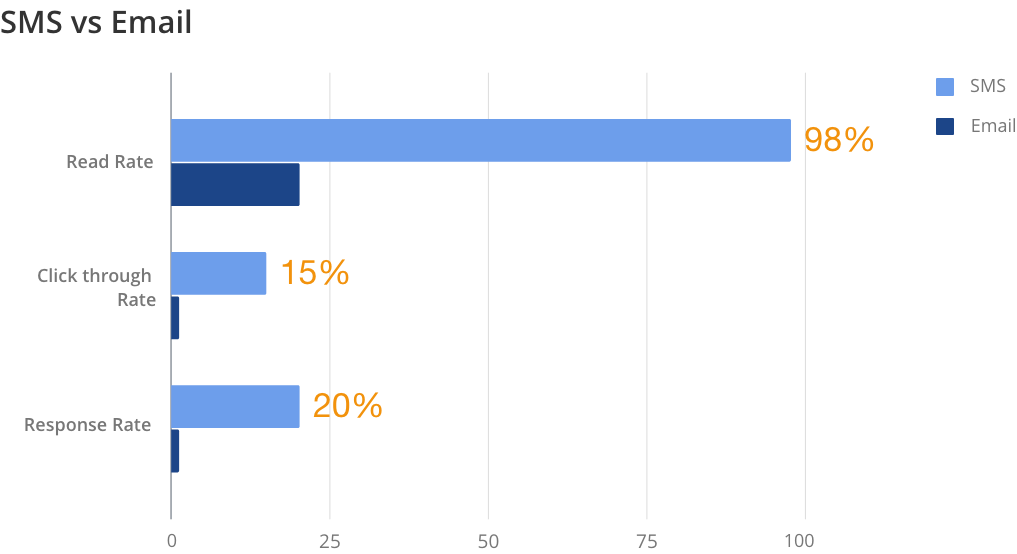 Read about the advantages of using texting for B2C communication in this article.
Whether you're encouraging people to drop by at a physical location or have an ecommerce store, text message marketing can capture their attention immediately.
Growing your list before Black Friday
Businesses need an opt-in from their contacts before they can send them text messages and stay compliant in the process.
Start building your contact list well in advance so that you can nurture your potential customers in advance of Black Friday and make it more likely that they convert.
Some ways to do this are through:
SMS – Optin
Website forms
Marketing emails
Of these, SMS opt-ins are the simplest way to start growing your contact list. You don't even need any technical help to get started. Here's how:
How to grow your SMS list with CallHub
Here's how you can quickly set up an SMS opt-in campaign to get your potential customers subscribed to your text message alerts.
Step 1: Set up a keyword
Choose a keyword of your choice after creating a free account.
When someone texts you the keyword, they're opted in to your list and can be included in future broadcast texts.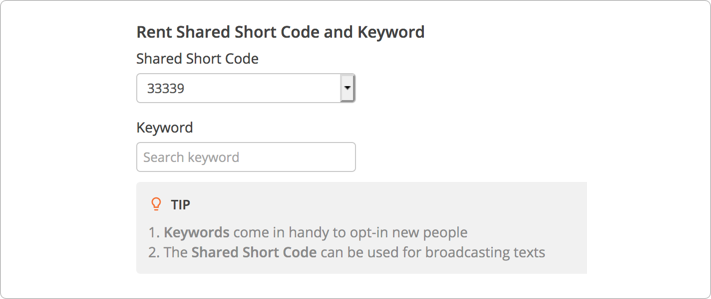 If you have a large texting program, you can place a request for a dedicated short code after sign up. A dedicated short code lets you create unlimited keywords at no additional cost.
Step 2: Set up an SMS opt-in campaign
Choose SMS opt-in from the CallHub dashboard to begin setting up.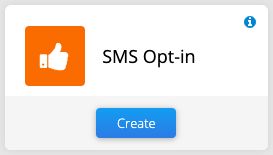 Step 3: Set up your auto-reply
The initial text that goes out should let people know what they are opting in to. For example:
What kind of texts you will be sending
The frequency of communication
How to opt out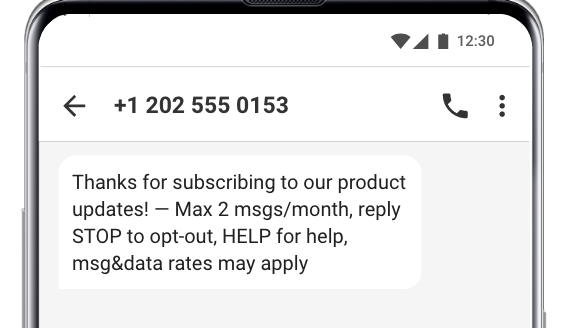 We keep your lists clean by automatically unsubscribing people who reply with STOP, END, CANCEL, UNSUBSCRIBE, and QUIT.
Step 4: Create follow-up prompts for data collection
If you choose to do so, you can collect additional data from contacts. For businesses, you might want to know what kind of products interest these potential customers, or what kind of messages they would like to receive.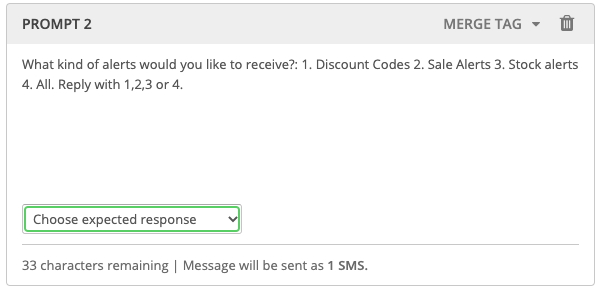 Step 5: Publish and advertise your keyword and short code
Get the word out to everyone who engages with your brand:
On social media
On your website
Through your marketing emails
Paid online ads
Print ads
You can make your CTA to opt-in more enticing by:
Offering a permanent discount to people who are subscribed to your text messages
Advertising exclusive discount codes sent to contacts through texts
Your SMS opt-in campaign will keep populating your contact list with new subscribers as they signup.
Once you have your list of contacts, you're all set to start sending them text alerts by setting up mass texting campaigns.
Tip: Keeping your keyword relevant to your brand and industry can make it easier for potential contacts when they want to opt-in.
Ex. "SHOES" if you are a footwear business.
What time do promotional texts make sense?
According to Google, interest peaks for Black Friday at midnight right before the sale.
The next peak happens on the morning of Black Friday at 7 and 8 AM, where people use mobile devices more than desktops.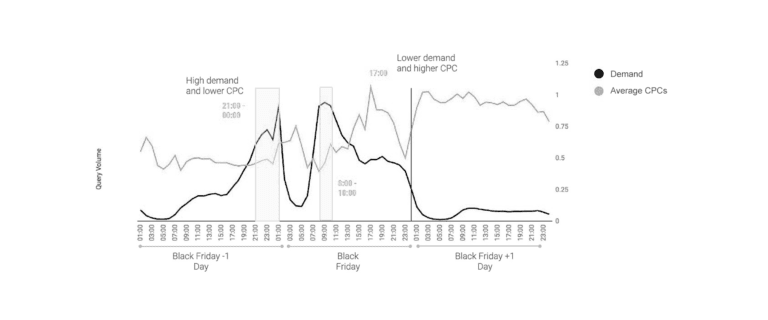 That means:
It's a good idea to send a text on the eve of Black Friday, with a teaser/countdown to midnight and a link to your store.
Sending a text early in the morning on the day of Black Friday is going to net you the best chance of being noticed.
Pre Black Friday Texts
You want to build anticipation early before the day of your sale.
This helps:
Keep your brand on your customer's minds.
Help customers prepare for the day of the sale (for example, finding what they want to buy)
Set up a drip campaign of texts that starts around 2 months before the day, keeping customers updated about sales and promotions, product showcase, etc.
Tip: Set your texting campaigns apart by personalizing your messaging. The data you collect with your SMS opt-in campaign can help with this. Segment your contact lists based on customer interests, and add a touch of familiarity by using their name in your texts.
Promotional texts on Black Friday
Send text alerts on the day of the sale by scheduling mass texts in advance.
Sale alerts
Let potential customers know as soon as your sale goes live.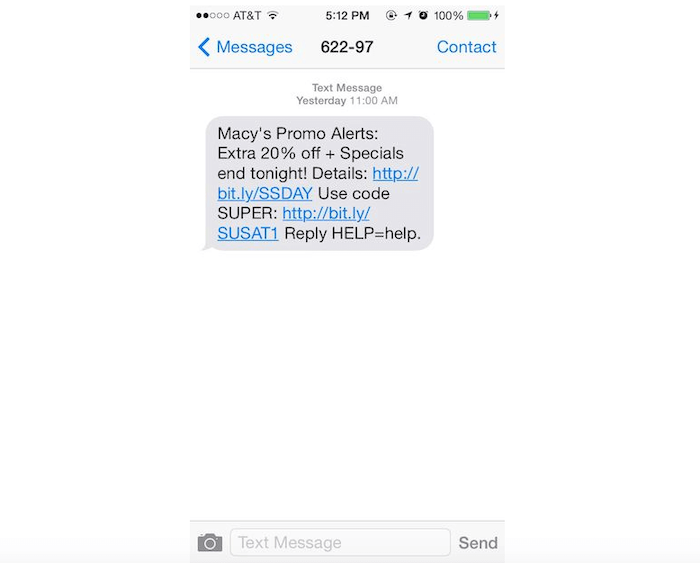 Discount codes
Send your customers codes that they can use when making purchases.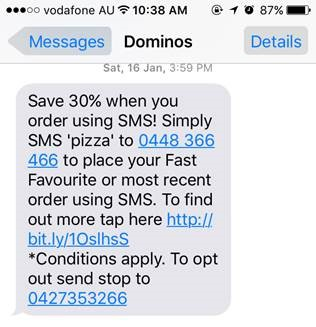 Sweepstakes
Keep the enthusiasm high by involving subscribers in contests/sweepstakes.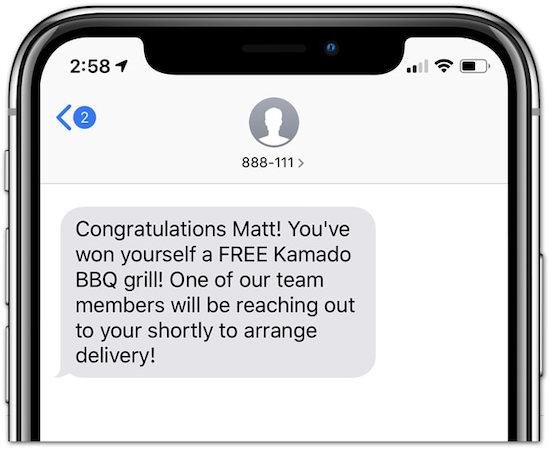 Low stock alerts
Let contacts know if an item that they have previously expressed interest in (ex. During opt-in or in their cart) is going to go out of stock. This can give them a final push to make a purchase
Tip: Sweeten the deal with MMS
Click through rates for text messages with images or other media increase by over 50%
More clicks means more potential customers. Use MMS to display the products you have on sale for Black Friday and to make your special offers stand out.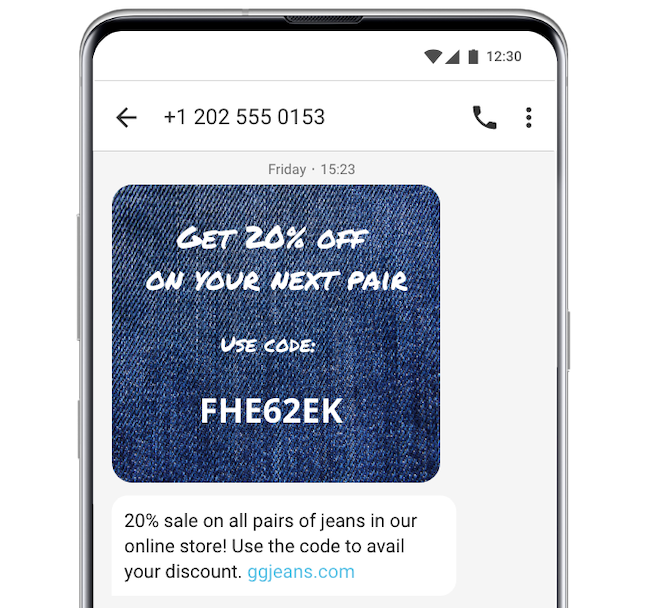 Learn best practices for crafting an effective promotional text message in this post
Feedback texts after Black Friday
Use feedback to improve your online or offline store and initiate further conversations with customers.
You can do this by sending customers a link to a survey through SMS.
If your texting service allows, you can send this survey as soon as a customer receives their purchase, or en masse a certain period of time after Black Friday.
Tips: Survey tools like Typeform and Surveymonkey allow you to create free online surveys that are mobile compatible, and send that data back to your database.
How to set up a mass text campaign on black friday
Once you have your list of contacts, you can start sending them messages by setting up a mass texting campaign.
Step 1: Set up a mass texting campaign
Choose Text Broadcast from the CallHub dashboard.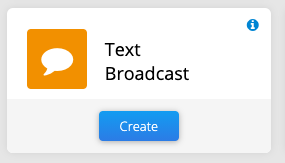 Once in campaign setup, you can name your campaign, choose the contact list you want to engage, and set a caller ID (shortcode/long code).
Step 2: Enter your message
Enter the initial message you want to broadcast to your contact list (for example a sale alert text.)
You can add images or videos here to go out to contacts as an MMS.
Step 3: Schedule it to go out
Once you schedule your campaign, your initial mass texts will go out. That means you can do this well in advance of Black Friday.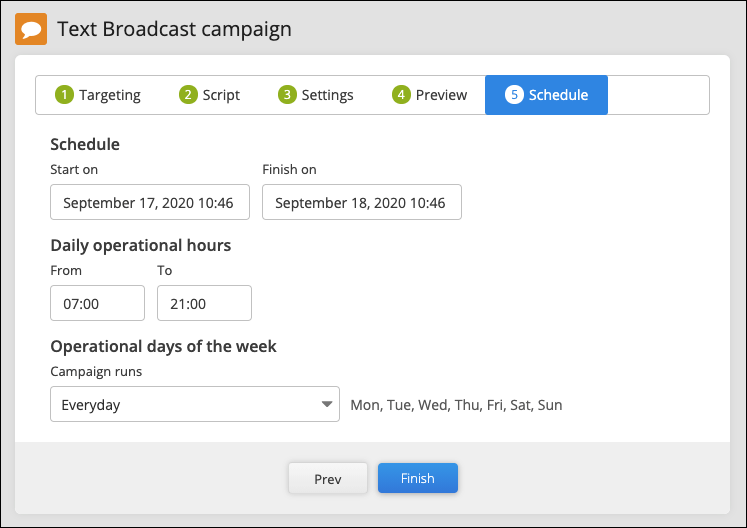 Texting after Black Friday/Cyber Monday
What's left to do after the big day?
The excitement leading up to Black Friday will have left you with plenty of engaged customers in your contact lists.
Now is the time to keep them engaged by reminding them that your shops are always open.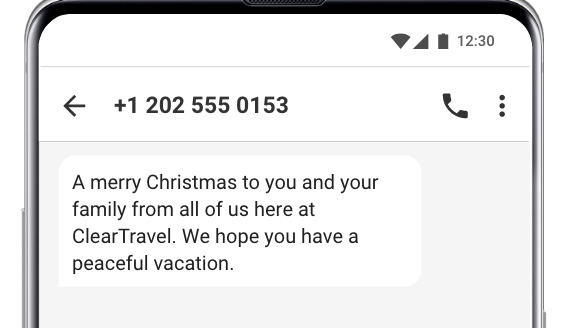 Send text messages throughout the year, promoting seasonal sales and product-specific offers.
Ready to start sending texts for Black Friday? Sign up to CallHub and try it out for free.